The stories about how difficult of a hike Devil's Path is are true folks. However, what I learned after hiking a chunk of it, is that it can be done in one day and there's also more beginner friendly ways to explore this trail if you're not ready for the full trail run.
In this article on the Devil's Path hike, you're going to learn 2 major things:
Everything you need to know and do to hike it entirely in one day.
A shorter version/s of the Devil's Path hike that's much more beginner friendly (the one I tried recently).
My experiences with hiking through Devil's Path:

Prelude:
Even though I've been visiting the Catskills for literally over a decade, I only heard about the Devil's Path hike a few years ago.
Although I love hiking in this area of New York, what stopped me from testing out the Devil's Path trail was all the information I was reading about it, and after seeing things like:
How difficult the trail is (hardest in the northeast).
How long it is (20+ miles).
And just basically vague and poorly explained information.
Based on what I saw, I figured there wasn't anyway I could explore this trail in a day, not unless I was in incredible shape.
But literally a few days ago, my friends and I decided to at least "take a look" at this day hike near NYC because we kind of got tired of doing the same exact trails over and over in this area.
And so the decision to check out the trail head and what options were available came up.
And to my pleasant surprise, the Devil's Path hike presents several options of side hikes attached to it, making it possible to explore a chunk of the Devil's Path hike, but not commit to the full thing.
Doing part of the Devil's Path hike in one day:
One such option presented to us, was a 6-7 mile loop that began at one of the most popular starting points of Devil's Path, and ended right where we began. This felt "right" to us and we decided to commit to this hike and finally give this trail a shot.
That hike, despite being shorter than the full Devil's Path hike was still very tough and arguably one of the toughest hikes I've ever done.
I'll talk about my experiences in a bit on that, but first, let me explain some basic things about this hike, because in all honesty, I found the information on it to be missing these pieces of information and it can intimidate people from exploring a part of this hike and enjoying it's beauty (like it did for me, for so many years).

Everything you need to know about the Devil's Path hike before you go:
1) What is the Devil's Path hike?
It is arguably the most popular (and difficult) hiking trail in the Catskill Mountains. It is also referred to as the "Long Path".
You can find this trail in Elka Park within the Catskills.
2) How long is the Devil's Path hike?
It's actually about 24-26 miles. You can see this article on Devil's Path on those details.
3) How does one begin the hike at Devil's Path?
So there's a point A and point B in this trail.
Usually people begin at point A which is called Prediger Road (there's a parking lot for the trailhead there) and end the trail at Spruceton Road (another parking lot is available).
These 2 points take you through 6 mountains in the Catskills:
Indian Head (where point A is).
Twin Mountain.
Sugarloaf.
Plateau.
Hunter Mountain.
And West Kill Mountain (where point B is).
The good news is that between points A and B, there are other trails and "checkpoint" areas you can stop at for refueling and taking a break (usually in between each major mountain you hike).
4) How does one hike the Devil's Path trail?
There's a few ways to do it:
A) Most people do the full hike in a few days (Catskill camping locations are available throughout the trail).
B) If you're a super athlete, it is possible to do the whole hike in one day (I'll show you proof).
C) There are also optional trails connected throughout Devil's Path which you can take to avoid having to be stuck on the full Long Path trail. This is the option my buddies and I chose (which I will explain in a moment).
5) What supplies should you bring on this hike?

Depending on which option you choose above determines which supplies you should bring. Obviously, food, water and good hiking gear are a must, but overall:
A) If you're doing this hike with an overnight intent, tents, a good backpack that carries your supplies, lots of water, energy drinks and enough food to last for a few days that you plan to the trail are a must.
B) For a one day hike, a hydration pack is very much recommended (try the Outdoor Products one), as well as amazing trail running shoes (I recommend the Salomon Speedcross 5). For food and water, energy gels, a decent pre run meal and lots of sports drinks help greatly.
C) And for the short version of the hike, you don't need all that much except water. Obviously you should star this hike after having a good breakfast meal
6) How difficult is the Devil's Path hike really?
Though I did 30% of it, I found it to be pretty difficult in at least half the areas. The incline is the most difficult part in places, and some areas do involve strenuous climbing.
7) Can this hike really be done in it's entirety in one day?
Yes, but you have to be in serious shape to do it. Below you will see one hiker who did it in 8-9 hours.
8) What tips are advised for doing the Devil's Path hike?
Plan ahead. Make sure you study the trail, the hike, the map just to get an idea of what you're going to be hiking on.
If you don't feel ready to do a full hike, just do a part of it for starters to get an idea of it.
For the one day hike, read below for more specific tips.
9) Is there cell phone reception in Devil's Path?
For about 50% of our hike, we didn't have reception and it especially happens when you're deep into the trail. Typically, being at the summit of one of the mountains or one of the starting/end points of the trail will help you have cell phone reception.
10) When is the best time to hike Devil's Path?
I would say Spring to Fall is good. I also prefer going on weekdays to be able to find a good parking spot in the trail head area.
11) What is the elevation on this hike?
7,000-9,000 feet for crossing all 6 mountains (it varies on which measurements you use).
Details on how to hike through Devil's Path in one day: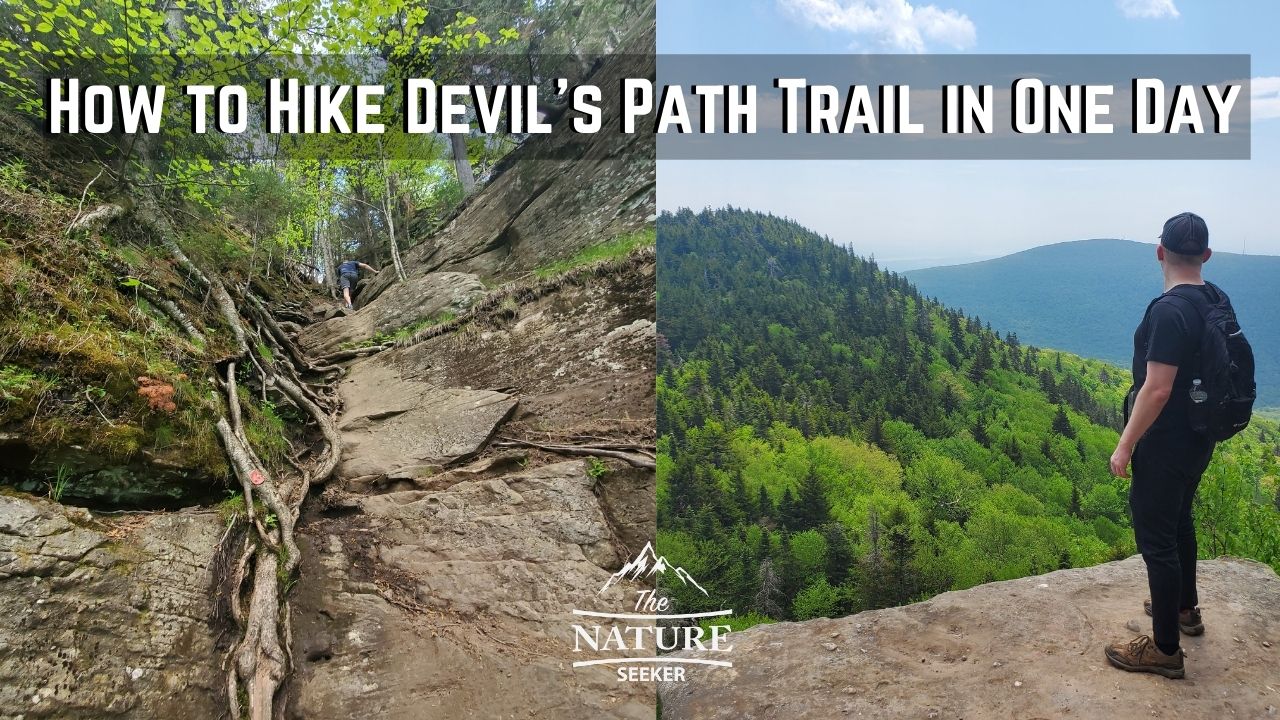 If you want to do it in one day, plan accordingly and be in super terrific shape. Otherwise, you will only end up torturing yourself (and possibly getting into serious trouble).
Start very early. You'll want to get to the trail head by around 4-5 a.m.
Stretch out for a good amount of time before you go.
When on the incline parts of the hike, go slow to avoid burning out.
On the flat parts, you can walk much faster.
On the downhill parts, you may be able to run through certain parts (but it can be dangerous).
Pacing is imperative on this long hike. See the video below for how it's done here.
Take breaks every few miles and refuel. Some people take breaks in each major section of the hike.
Be properly prepped before hand. This shouldn't be your first 20+ mile hike if you have never done something like this before.
Here is a guy who did the Devil's Path trail hike in one day (he gives great advice too):
An easier way to explore Devil's Path in one day (one or more loop trails across the 6 mountains, better for beginners):
For most people, doing the entire Devils Path trail in one day is too much, but the way this area is structured, you can do single mountain loop trails or combine 2 or more mountains from the 6 that are on Devils Path for shorter hikes. Here is an example:
I did this short 7 mile loop on Indian Head Mountain, the first of six mountains on the Devils Path trail and here's how it went down:
You begin at Point A (Prediger Road).
You follow the red trail up to Indian Head Mountain.
About 4-5 miles in, you will turn to the Blue trail.
You follow the blue trail down (2-3 miles) the mountain until you connect with the red trail again.
From there, you head back to the Prediger parking lot (half a mile).
Here is a map of it:
What to expect from hiking Devil's Path your first time:
The first 1 mile is fairly easy with very few inclines.
Mile 2-3 have numerous places with steep inclines (hard).
Mile 4-5 will have you at the top of Indian Head (great views).
The cool (iconic) spot is in the top of Indian Head (right) and it's tough.
From there, it's about 1 more mile to the blue trail (downhill).
At this fork, you can continue the red trail (Devil's Path) or head back down (loop) on the blue trail).
If you choose to go for blue trail, it's another 2-3 miles downhill (and rocky).
The trail markers are easy to see so you should be OK with not getting lost.
Most of the trail is very rocky so be aware of this.
But overall, the trail is very scenic and you can try the version we did for a "warm up" for the bigger and full Devil's Path, which as you saw already (in the video above) is possible.
At the very least, you now have choices and can more confidently approach this awesome hike and decide which option you want to do.
What to wear for the Devils Path hike:
If you're doing a day hike here, then you can wear hiking shoes and a light backpack to carry snacks. For overnight trips here, obviously you would need a bigger backpack to carry your tent and other supplies, but I'll cover more specific product recommendations in the future for this hike.
What to do after hiking Devil's Path (My personal recommendations):
If you don't intend to do anything else, then a celebratory meal or swim is in order!
And if you have energy for more adventures, then I recommend a couple of swimming holes in the Catskills for starters, but for us, we visited Peekamoose Blue Hole afterwards and it was a nice way to clean up after this hike!