NYC locals need not go far to find incredible hiking adventures and in this post, I'm going to share 10 of the best places you can do day hikes at. These are gorgeous places I revisit several times a year.
Despite taking some truly scenic road trips at least once a year to beautiful spots, for the remainder of it, I don't have enough free time or days to travel that far, and so I began doing small exploration trips across the state years ago and to my shock, found countless awesome places (like these 10 waterfalls you'll find in New York).
And many of these places I was surprised to find near NYC itself that at first I wanted to keep secret, but in all honesty, if you want to get out of the city and get some nature therapy, you don't have to go far and I'm more than happy to share these spots with you.
Most of the places on this list can ideally be reached by car, so I recommend renting one for the day if you go, and in some instances, you'll want to leave the city early to make the day trip in these places work out.
Going by train or an UBER is also possible, but it's way more freeing to have your own car to drive where you wish.
In some cases, you can cover multiple locations on this list, in a day or even a 2-3 day trip. That all depends on your physical level, how quickly you can hike and more.
1) Breakneck Ridge: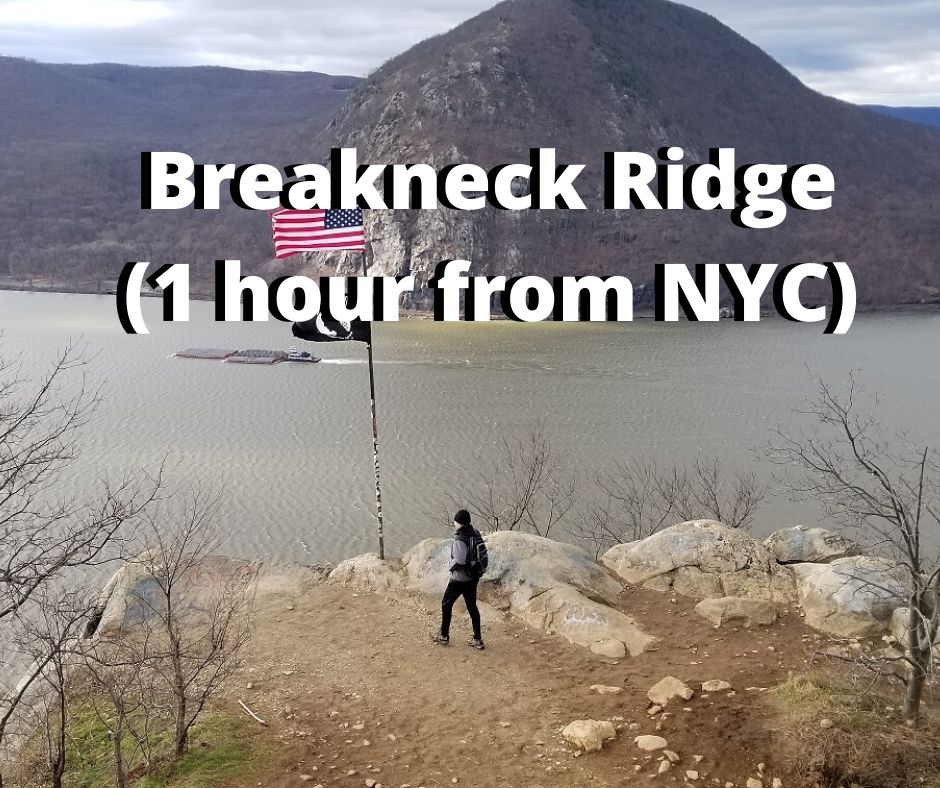 Location: 1 hour north of NYC.
Description: Breakneck Ridge might be the most popular day hike for NYC residents to take.
This is a short but steep hike that many NYC residents actually visit on weekends on day's off.
It takes the average person 2-3 hours to hike the main trail up Breakneck Ridge and aside from there, you'll also find some beautiful hiking trails attached to the main one there.
Recommendations: If you are going for the first time, try to go when it's cold or on a weekday to avoid the crowds and go with at least one friend to share the experience.
This hike is very doable in one day and by the time you return to NYC, it'll likely be late in the afternoon (provided you start Breakneck Ridge early).
2) Henry Hudson Drive: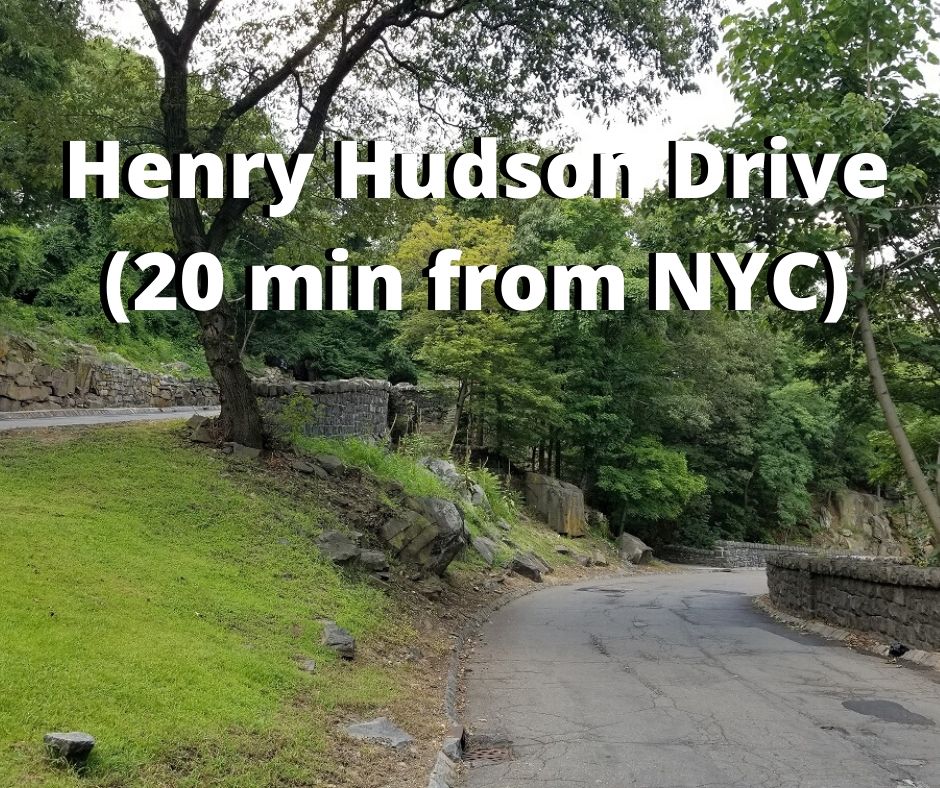 Location: This area is literally across the George Washington Bridge, in New Jersey, next to the Palisades Parkway.
Description: While this area is mainly a very scenic drive near NYC that you take, there are hiking trails, walks, bike rides. boat rides, picnics and other activities available.
You can spend a whole day in this place and enjoy all of the activities. You'll find plenty of waterfalls, trails and miles of beautiful places to walk and jog on.
Recommendations: If you're a huge nature fanatic, you may want to skip this place because it's a skinny and short region of New Jersey, right across the Hudson river.
I would recommend driving on the scenic road there at least once, especially if you plan to head north, up New York State anyway just to see what it looks like before you decide to visit it for a day hike.
3) Mohonk Preserve
Location: 2 hours north of NYC.
Description: This is a very beautiful region in upstate NY that has a nice hotel and very scenic hikes.
There is a 2 mile hike from the parking area of Mohonk Preserve you have to take to reach the hotel and the MAIN hike I highly recommend you do is called the Labyrinth which is very challenging, scenic and one of the most adventurous hikes I've ever done. It's about 1-2 miles long and takes about 1 hour for most people to do.
Then there's a hike down another side of the Labyrinth before walking back to the parking lot. Overall, you're looking at about 6 miles of hiking in this region.
Recommendations: Wake up and leave early if you wish to check out Mohonk Preserve and the hiking trails there in a day.
It's very doable and I've done it, but the earlier you start it, the better.
4) Delaware Water Gap:
Location: 2 hours west of NYC.
Description: This is a national park area in Pennsylvania that you can absolutely do day hikes on.
The main attraction is the Mt. Marcy hike that most people do which is pretty adventurous, steep and about 1 mile long (but strenuous).
Then there's an optional 2-3 mile hike down a less steeper but boring trail that'll take you to beautiful swimming holes to freshen up.
Recommendation: Again, start this hike early. I'd get to the Mt. Marcy trail head at around 9 (before the parking lot fills up) and do it on a weekday if possible. This is a very fun hike with many scenic viewpoints you'll love.
To be honest with you, the Mt. Marcy hike is the tip of the iceberg when it comes to activities that can be done in the Delaware Water Gap.
I've included a link there to 5 activities you can check out too.
5) Finger Lakes:
Location: 5-6 hours north west of NYC.
Description: Finger Lakes has some of the most beautiful nature in all of New York State I've seen and while that's my opinion, when you see something like Watkins Glen State Park, you may think similarly.
Not only that but the whole region has days worth exploration possibilities available and while day hikes are a bit rushed, they are possible here, but I would recommend a weekend trip here so you can do more.
Recommendation: I know, it sounds crazy but if you leave very early in the morning, you can get there by 8 or 9 a.m, do these 5 things at Finger Lakes, and get back by around 9 p.m.
I've done these types of day hikes before and it's really worth trying if you want to see some amazing areas, and Finger Lakes has some of the best nature New York State has to offer.
You'll see what I mean when you go there.
6) Lake George: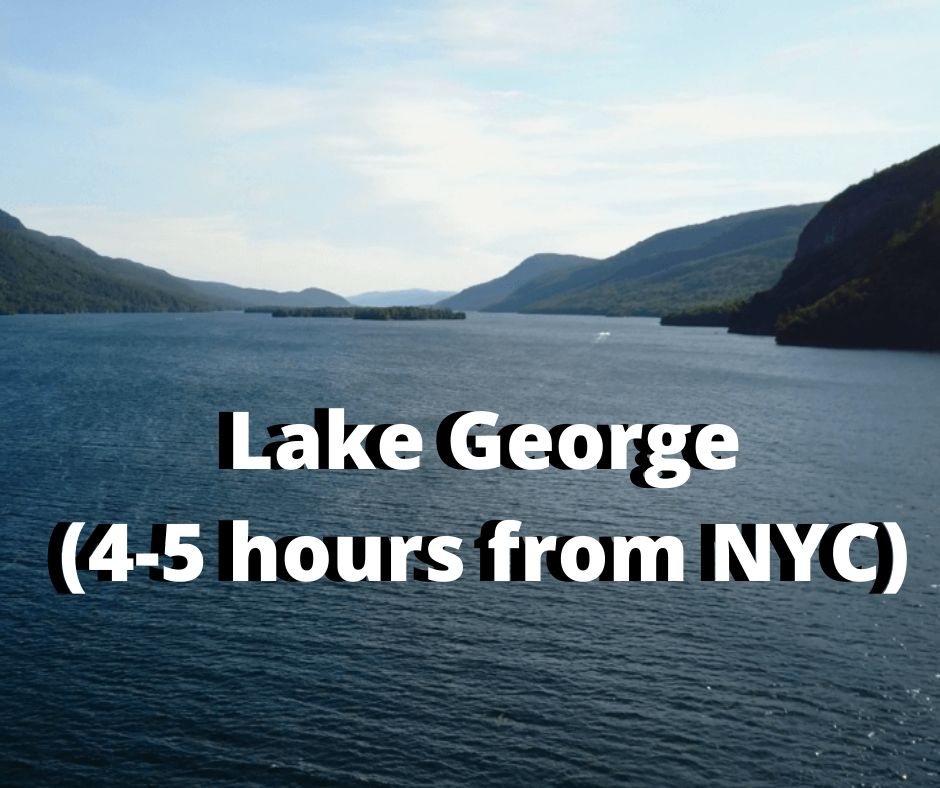 Location: 4-5 hours north of NYC.
Description: Lake George is a very scenic, long lake that has hikes all around it you can check out, and if you also leave the city early, you can get a lot of hiking and sight seeing done in this area.
Many NYC residents come here, especially during the spring and summer seasons. Prices are huge here, so going for a day hike might be a better option if you're not looking to spend a lot.
But Lake George has a lot to offer besides overnight stays. You can also rent boats, jet skis, go cliff diving and more. There's a lot to do in this region of New York.
Recommendation: Again, leave very early (when it's dark), get there around 8 am, start the hike/s, enjoy the boating and swimming activities, leave around 3 or 4 p.m and you'll be back in the city around 10 p.m.
You can get a lot done in Lake George in one day.
7) Adirondack (Poke o Moonshine Mountain)
Location: 5-6 hours north of NYC.
Description: The Adirondack region of New York State is crazy large with countless hiking opportunities, but a very scenic and hard to miss mountain/hike that you might want to check out is Poke o Moonshine.
It's right off interstate 87 (It's a very scenic road in New York) and you can also do this hike in a day.
Recommendations: Poke o Moonshine Mountain is about 1-2 hours north of Lake George, so if you want to make it here and hike the place, leave even earlier from NYC and as long as you do that, you can make this hike and a wholesome day trip outside the city.
There are trails to enter Poke o Moonshine Mountain and the views from the top and even from the bottom of it are spectacular.
This is one of the most scenic mountains I've seen in the entire New York State area.
8) Ausable Chasm: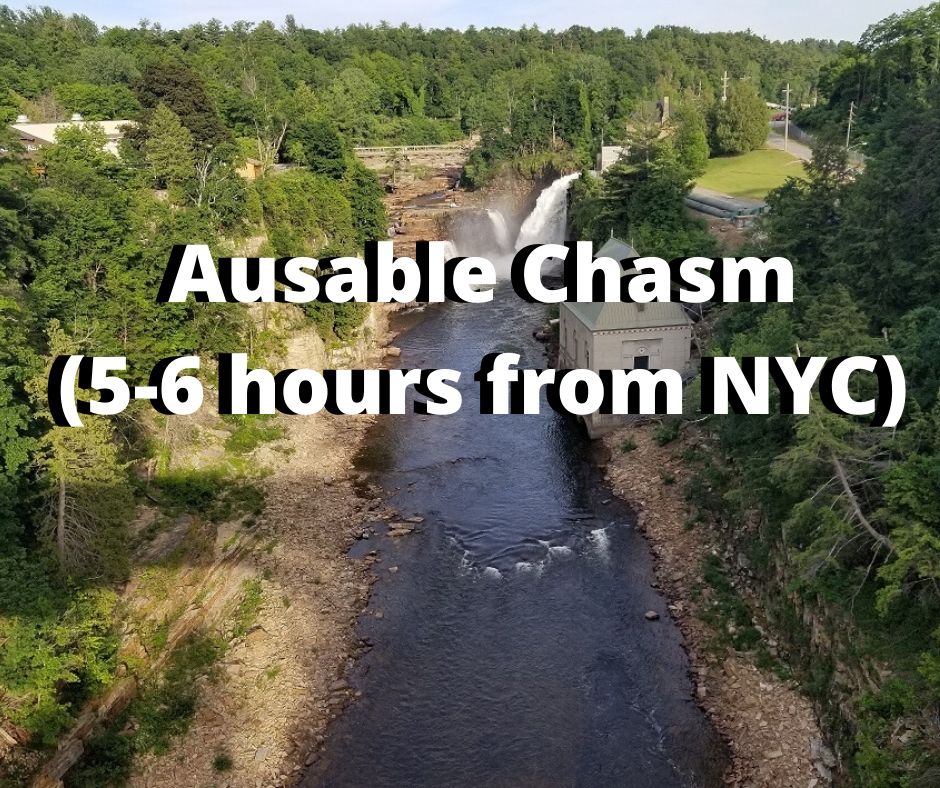 Location: 5-6 hours north of NYC as well.
Description: Ausable Chasm is very close to Poke o Moonshine Mountain so if you finish that hike early and have a few more hours, hit up Ausable Chasm because it is a very fun place to explore, with short hikes, obstacle courses and rafting opportunities.
It is one of the most scenic spots in all of New York State that I have ever seen.
Recommendation: The first time I visited Ausable Chasm, I left from Brooklyn at 4 a.m in the morning.
By 9 a.m we arrived there, explored much of this place and had so much time left over (it was around 11 when we finished) that we decided to turn our one day trip there to a whole 1,500 mile road trip across many eastern states. It ended up being an epic road trip that kicked off a fun tradition we would continue for years afterwards.
But besides that story, the point is that if you leave as early as we did, you can finish exploring Ausable Chasm before noon and head back home, arriving at around 8 p.m.
9) Smugglers Notch:
Location: 5-6 hours north east of NYC.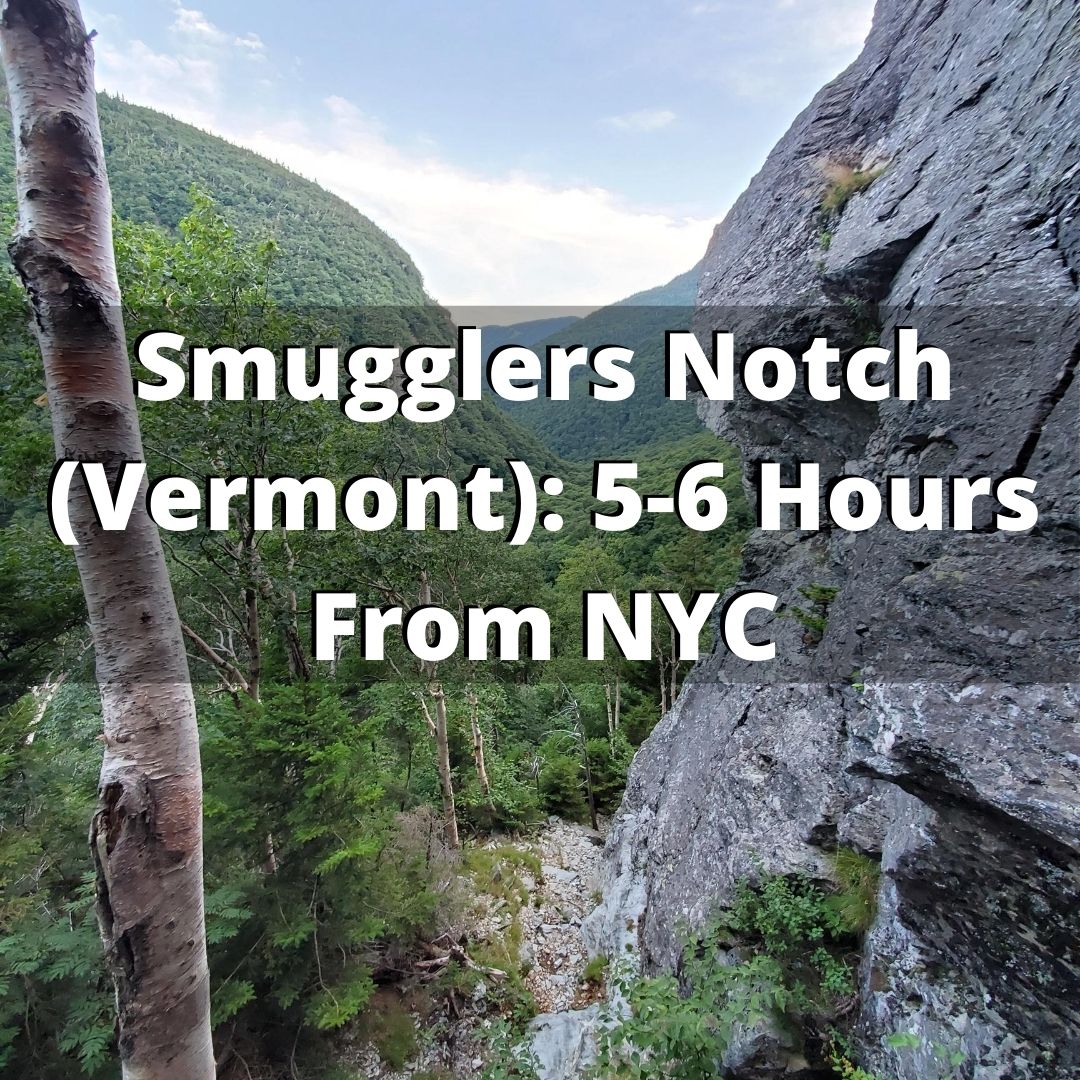 Description: Smugglers Notch is in Vermont and is pretty much east of Ausable Chasm. It is a very scenic area with hikes and scenic roads to explore.
Read this article on Smugglers Notch to see one of the most beautiful hikes you can do there.
Recommendations: This particular hike takes about 1-2 hours and if you (again) leave NYC early, making it back home afterwards isn't hard.
Just like for the Adirondacks, Lake George and Ausable Chasm hikes on this list, leaving very early to explore Smugglers Notch is recommended.
And as a bonus, if you have time on the way back down, I highly recommend exploring the Green Mountain National Forest.
It too has plenty of places to see and that is actually about 4 hours away from NYC.
10) Catskills: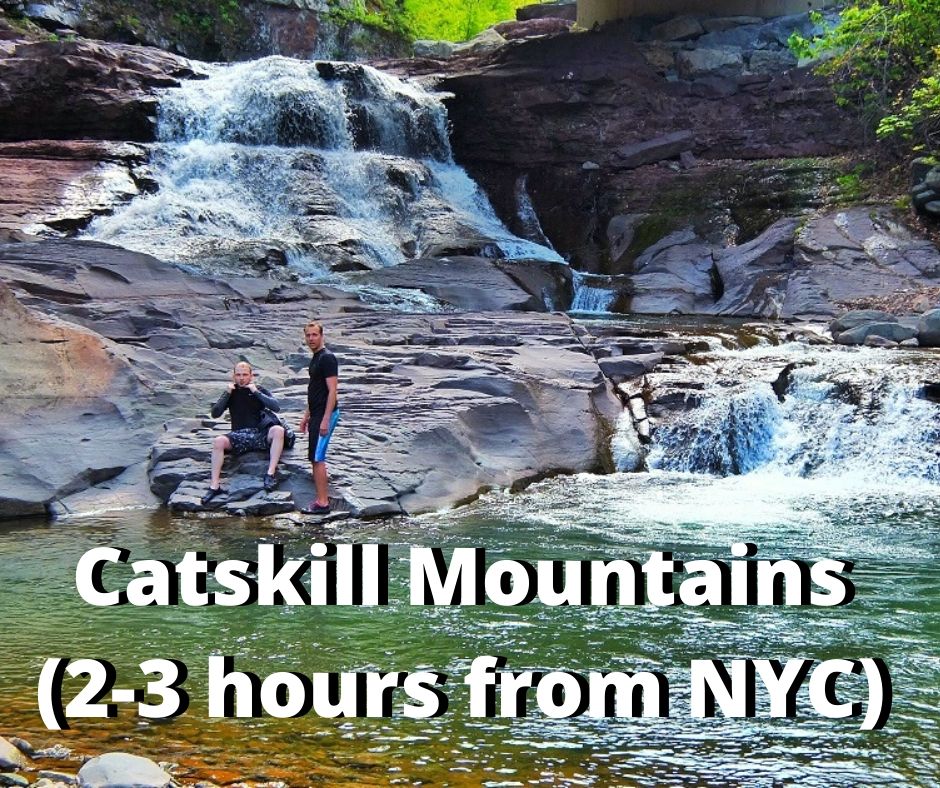 Location: 2-3 hours north of NYC.
Description: The Catskills offer a plethora of hikes and out of every single spot on this list, it's the one I visit most (several times a year).
In fact, the way I do a day hike in the Catskills involves actually doing at least 5 of them, before heading to a nice French Restaurant and then home, arriving back by 9 p.m usually.
Recommendation: Read that article I put up about how I hike through the Catskills. I typically leave at 7 a.m for this particular day hike.
It's a challenging day hike that can absolutely be done if you're up for an awesome, active adventure.
It's tough to do all 5 hikes in a single day, but it's so much fun that I just keep repeating it whenever I get the chance.
It never bores me because there's so much activity and fun involved.
Map listings of where you'll find these day hikes (if you live in NYC):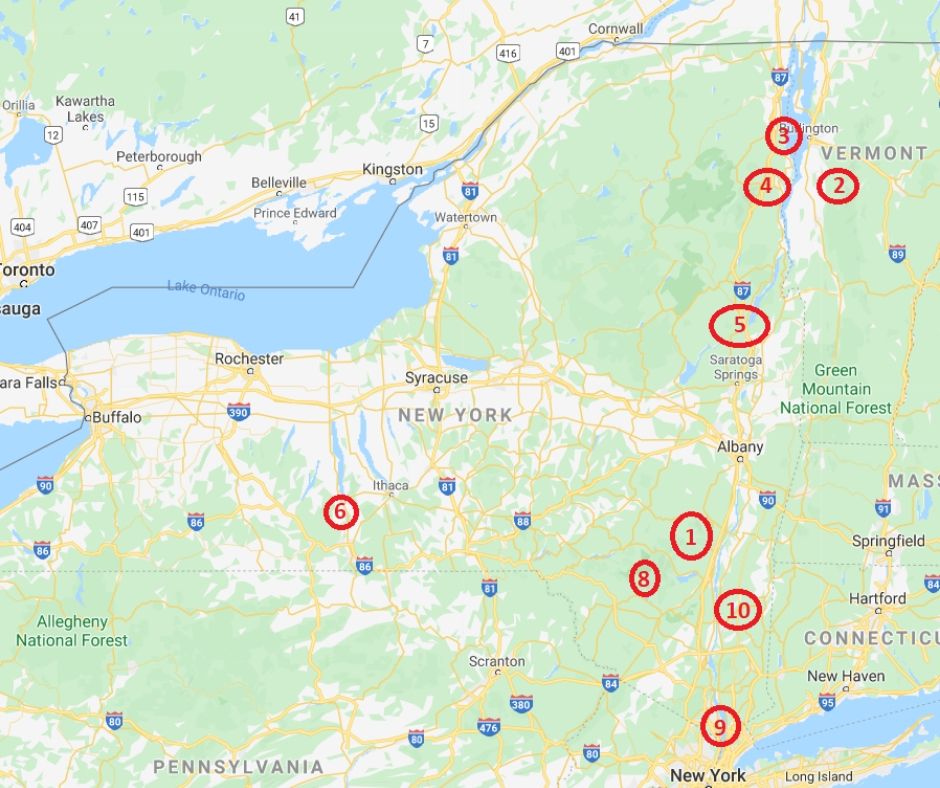 So I've given you a number of different day hiking opportunities to explore all around NYC.
Certain options, like the ones located directly north of NYC can be done in order, but again, if you feel like you can't do one of the longer options I mentioned, either do them within a few days time so you don't rush or try out some of the more closer areas I listed above.
I know some of these places are very far (like Finger Lakes, Ausable Chasm, Stowe and so forth), but I've found that some of the most scenic areas outside of NYC are totally worth waking up extra early for.
When I get tired of the city noise and need to escape, I have no problem driving a few hours to get to one of these spots, and enjoy the unusually beautiful scenery, and then drive home.
The next day, I feel refreshed and re energized to take on the city again and all it takes is one of these day hikes to do it for me.
And these hikes aren't normal walks in the woods.
Trust me, they are VERY scenic and most people I show these spots to cannot believe these places are this close to NYC. Again, for the longer hikes, if you leave really early, by the time you get to even the furthest ones on this list, it'll be early morning and you'll have all day to explore these spots.
You just won't believe how much time you have when you get there very early. If you do try one or more of these day hikes, let me know which ones you decided to go on and how it went!