I've done the Reeves Brook Loop Trail at least 4 times in Harriman State Park. It's one of the more popular and beginner friendly trails in the park.
In this article, I will explain 5 things to know and expect from hiking this trail to help you have the most fun and avoid getting lost (or hurt) here.
Here's some quick facts about the Reeves Brook Trail:
How long is the Reeves Brook Loop Trail? It's about 3.8 miles.
Where is the Reeves Brook Loop Trail Located? It's in Harriman State Park.
Is the Reeves Brook Loop trail beginner friendly? If you do the clockwise route, yes.
Where does the Reeves Brook Loop trail begin? At the Reeves Brook Information Center in Harriman State Park. There's a parking lot called "Russian Bear Parking Lot" nearby.
The 5 things to know before hiking the Reeves Brook Loop Trail:
Go here early or on a weekday.
Beginners should do the clockwise route first.
Intermediate-advanced people should do the counterclockwise option.
The 50 foot scramble might be the biggest obstacle on the trail for you.
Bring plenty of water and good hiking gear.
My experiences with hiking this trail:

As it just so happens, the very first hike I ever did in Harriman State Park was this one.
In late May, I was moving up the ladder of trail running and challenging myself to do longer routes. The option to explore this route came and though I didn't know of any trails in Harriman State Park, I chose this one because it seemed to be the most popular (which it actually is).
I looked at the map of the Reeves Brook Trail and decided to do the shortest loop and ironically that short loop I chose was actually the Reeves Brook Loop trail, but anyway, I decided to do the route clockwise. Here is a map of that trail (with my markers on them):
What to expect from hiking this trail (Clockwise):
1) The first part of this trail (red) is pretty scenic and about a 1-2 miles long. It's nice to walk or jog through it. You'll cross a nice swimming hole and river when you begin.
2) As you turn right on the orange trail (right), it'll feel a bit like you're bushwhacking and the incline is going to become a little more steeper. But it won't last long (this part of the trail is very short).
3) Then you'll get to the blue trail and that will take you through the most scenic part of the Reeves Brook Loop Trail, which includes a nice overlook (right) and shortly after that a 50 foot descent which you will have to carefully climb down. I found it extremely fun but some people might be intimidated by it. Either way, take your time here.
4) Very shortly after you descent, you will make a right to the white trail (it's easy to miss, so be aware of that). The white trail will have many switch backs downhill for the most part and have you complete the loop.
I found this route very fun to run through in most parts. The trail markers were pretty easy to spot so I never really got lost. It's much more beginner friendly.
The second time I hiked the Reeves Brook Loop trail (counterclockwise):
After doing followup research on this trail and reading some reviews on All Trails, I saw numerous people saying the counterclockwise option is the way to go and because I was very impressed with the clockwise approach, I decided to come back to this trail and try it the opposite way.
Here is the map of how you do the Reeves Brook Trail (counter clockwise):

What to expect:
1) Without a doubt, this route is harder than doing it clockwise and it's felt right away. You will be ascending on the white trail for most of it's duration.
2) Additionally, be aware that it's much easier to get lost here. For whatever reason, the trail markers in this direction of the route are harder to spot and for me personally, I did have to backtrack several times (very annoying). Read my post on how to avoid getting lost in the woods to help prepare yourself just in case this happen.
There are several switch backs on the white trail and it's easier to notice the markers going downhill than it is up, so take your time here and be sure to look carefully for them (they are there, but sometimes require more careful looks).
3) The white trail and blue fork is easy to miss (where the 50 foot scramble is) so do note that it will be on your left and you will have to hike down, towards a mountain (where the scramble is) to see the blue marker. I missed this twice.
4) But anyway, ascending the 50 foot climb is not easy and it will be a great workout for you. I did it twice because I was filming myself doing it, but I personally enjoyed the challenge.
You can see a picture of me heading towards the climb on the right.
5) Once you get to the top, you will pass by the same nice overlook of the park. From there, you will continue on the blue trail.
6) In my case, I was looking for the orange trail fork, but missed it (it was on my left and I was looking right) and continued to do the blue trail because on the map, it will intersect with the red trail eventually, just a little bit away from the orange/red fork. So in my case, even though I missed it (again, it's easy to miss the markers on the counterclockwise route), I just continued on the blue trail and it eventually took me to the red trail.
7) Running down the red trail was easy and I had a nice jog back to the parking lot from there.
The biggest challenges in this route are the more frequent uphill hikes, the scramble, and most of all getting lost and all of this is why I enjoyed doing the clockwise route more.
Stuff I recommend you wear when hiking the Reeves Brook Loop Trail:
Is the Reeves Brook Loop trail worth hiking?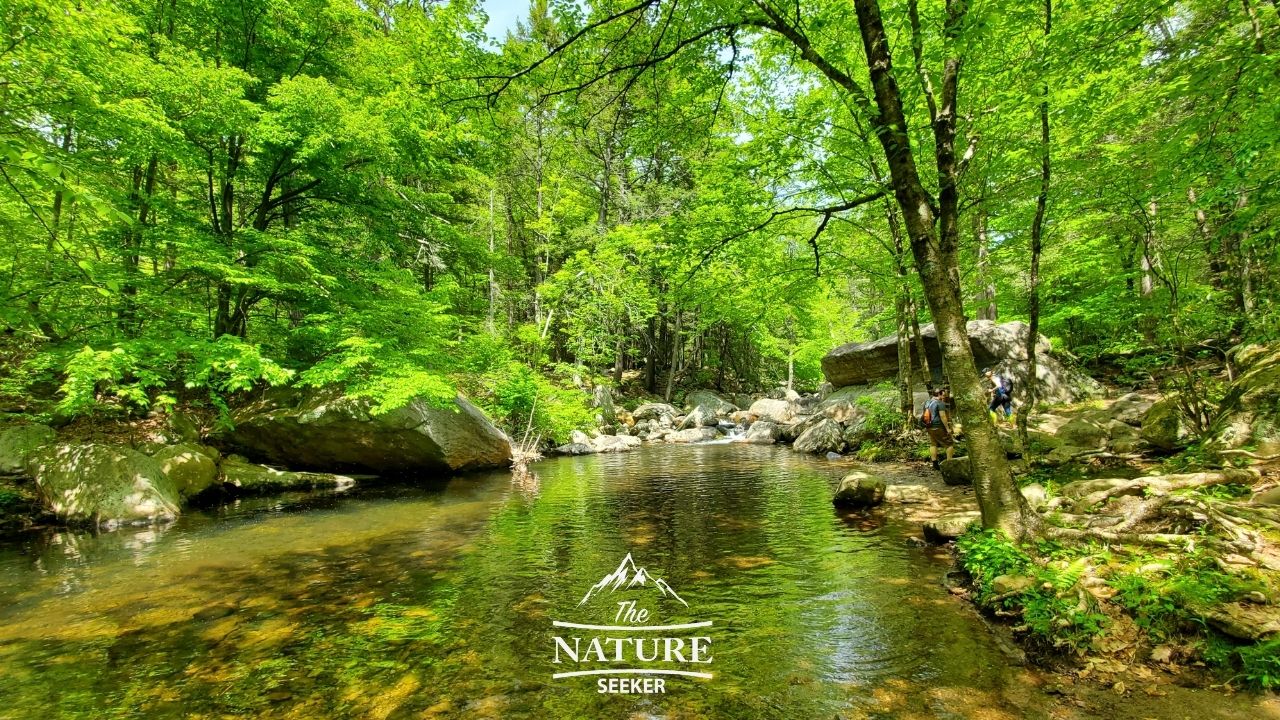 Absolutely! I enjoyed in spite of getting lost a few times and I do plan to hike it again and combine it with other connecting trails for a more challenging hike.
Update: I've hiked many trails in this park and some near Reeves Brook. One in particular you may want to consider is the Kakiat trail. It's not as simple or short, but it does give you more variety of the park.
Then there's also the Lemon Squeezer on the Appalachian Trail hike which is awesome too.
Most of what I said are things you'll find other people are saying too about this trail (it's fun, but tough if you go counterclockwise). Here is an AllTrails.com review of the Reeves Brook Loop Trail and what other people are saying about it.
Do note that Harriman State Park has many other awesome trails to explore and I've done at least 6 others so far, which took me to cool mines in the park, which are also worth exploring.
Also do note that this park is also close to the Hudson River Valley and there are many other hikes to explore there too.