I've done the Anthony's Nose hiking trail and in this post would like to share 5 important things you should know before going on it.
All things considered, this hike is pretty straight forward to do, but there's also several things worth mentioning before you try it just so you're better prepared (and know your options too).
Here are the 5 things to know about the Anthony's Nose hiking trail: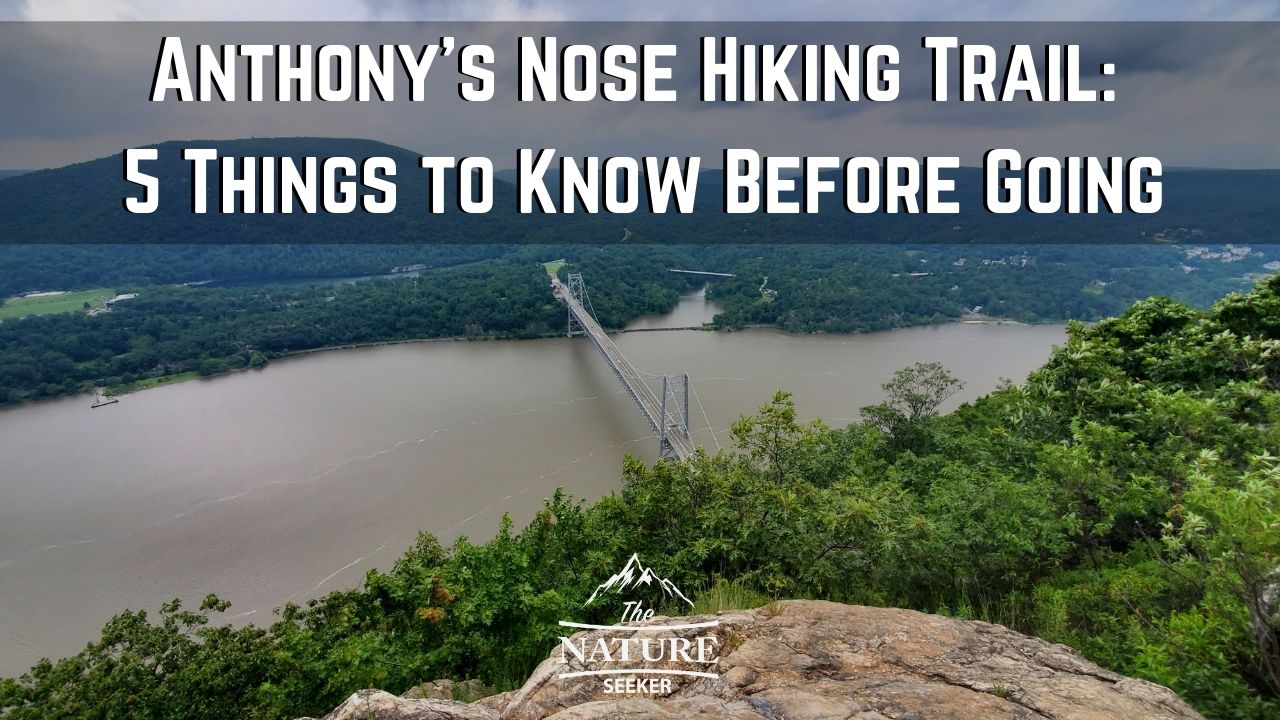 There are 2 ways to do it (a short and long trail).
It's one of the most popular trails in the Hudson River Valley.
It intersects with the Appalachian trail.
The best part of it is the actual overlook.
There are far better trails near Anthony's Nose I recommend exploring (I rate this as a 2 out of 5).
I'll quickly go over each thing in a moment, but to me, the most important part is the last one, because there's a bunch of awesome hiking trails near this one you can do in one day.
Either way, all of these make for great day hikes near NYC to explore!
1) There's 2 ways to do the Anthony's Nose hiking trail:
The first thing you should note is that it's an in and out trail (not a loop trail) and you have 2 starting points available to do it.
I've attached a map (right) indicating where you can park your car to then start the trail.
The short trail (point A) is only about 2 miles in and out trail overall.
The long trail (point B) is about 8 miles in and out.
They both cross the same famous overlook, so depending on your physical level and time permitted, you can choose which option hiking trail option suites you better.
One thing to note is that point A's entrance to this trail is limited on parking space (it's right off road 9D), while point B is a lot bigger (off route 202, so if you intend to do the point A option, start early if you want to find parking.
Additionally, point A is a bit more steep from the parking lot to the top, whereas the point B hike is a bit more of a gradual incline up to Anthony's Nose.
2) It's one of the most popular hiking trails in the Hudson River area:
I'd say it's in the top 5 hiking trails you'll find in the Hudson River Valley, and it mainly has to do with the views you find at the main overlook area. But further below, I'll also show you other trails I highly recommend checking out that are even better in my opinion than this one.
3) A small section of it intersects with the Appalachian trail:
My hike to Anthony's Nose began at point A and right as I started it, 3 hikers walked past me with giant bags. I asked them which hike they're doing, and the replied with "The Appalachian trail".
They began in Georgia and were headed to Maine (where it ends). With this version of the hike, you'll cross about 1/2 a mile of the Appalachian trail, a cool little thing worth mentioning.
4) The best part of the Anthony's Nose hike is the overlook (possibly the only good part):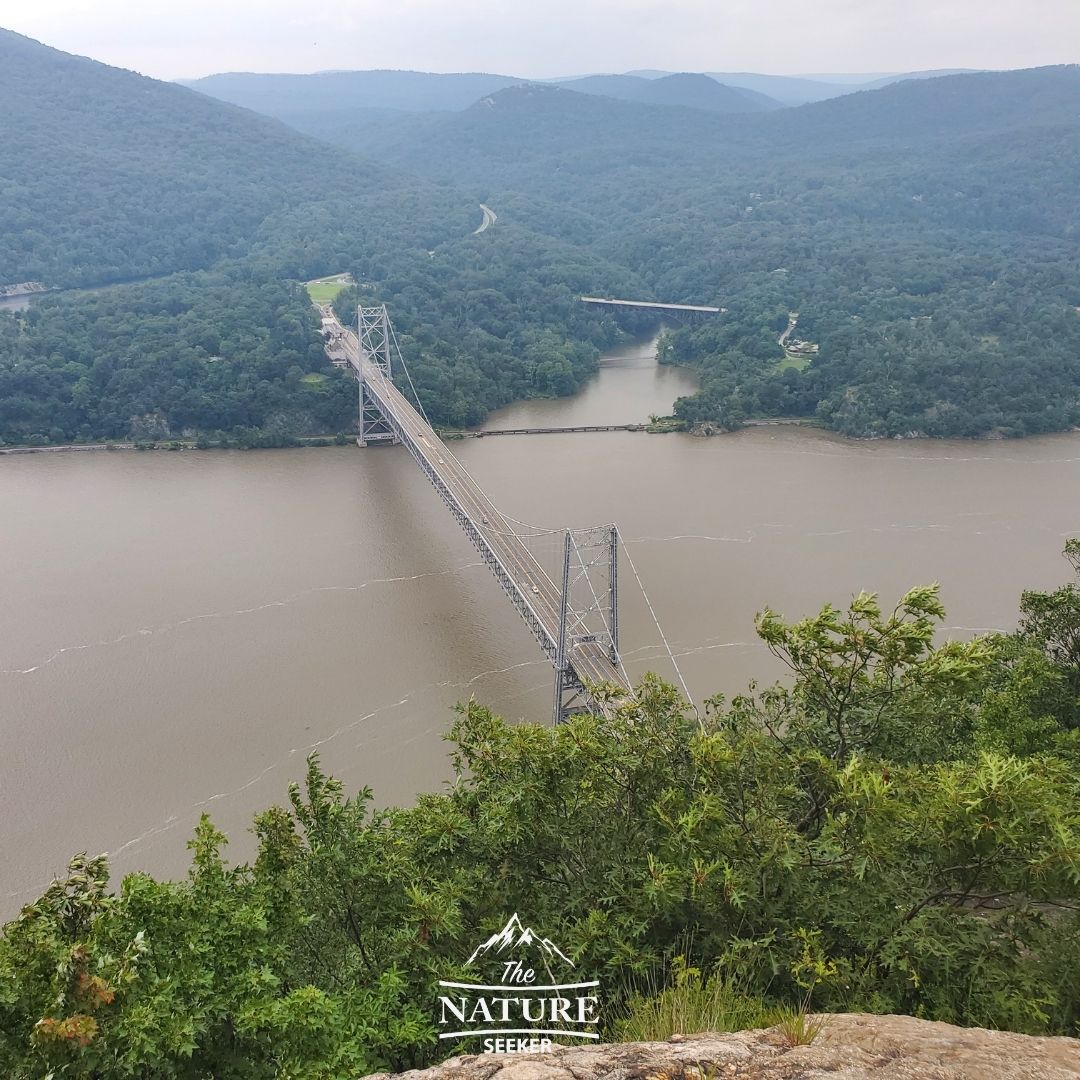 This hike might be popular, but for me, I was happy to do the short version of the trail because there were very few areas worth checking out on my way up to the overlook and when I arrived, I met 2 other hikers that started at point B.
I asked them if there's anything worth looking at from their version of the trail and the said not really, and that's mostly wooded areas.
If nothing else, the overlook is definitely amazing (as you can see). The day I went there, it was pretty cloudy (and a little rainy), but overall, the views you get there are definitely one of the best I've seen with all the hikes I've done close to NYC.
On this overlook, you'll:
But aside from that, in my opinion, there really isn't anything else worth seeing on that trail.
And this is why the last thing you need to know about Anthony's Nose is:
5) There are far more exciting hikes to explore near Anthony's Nose: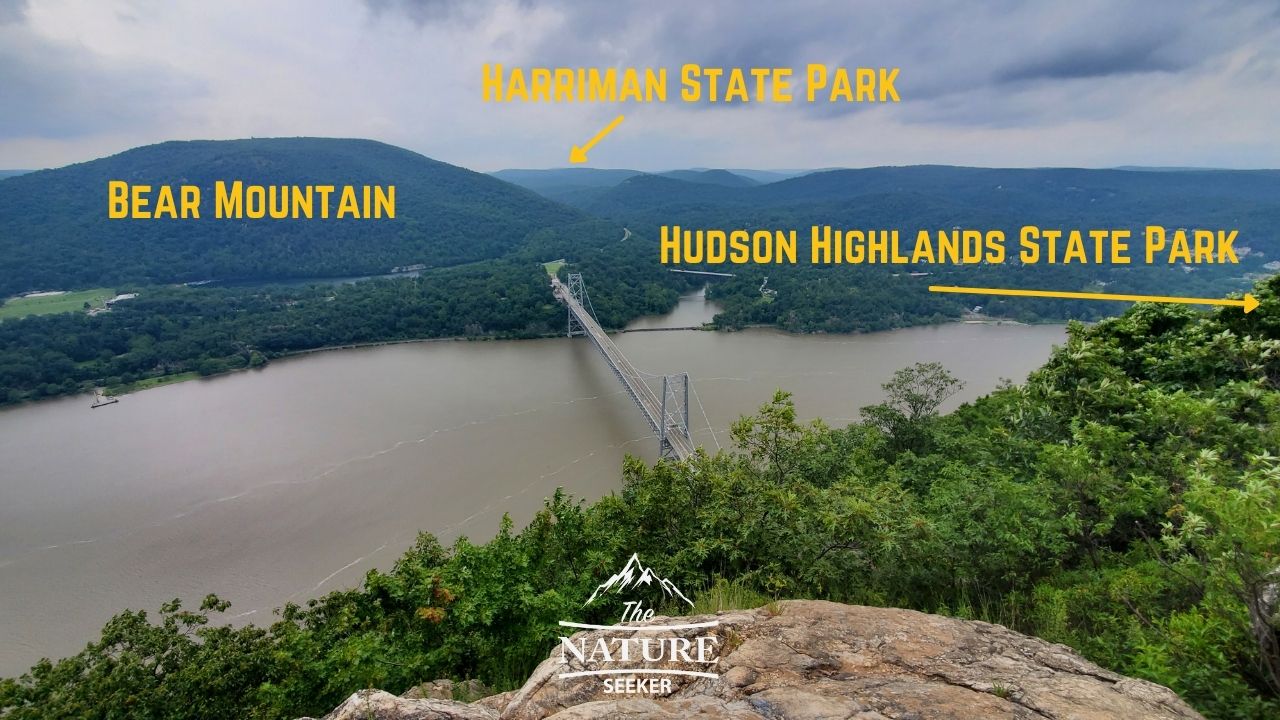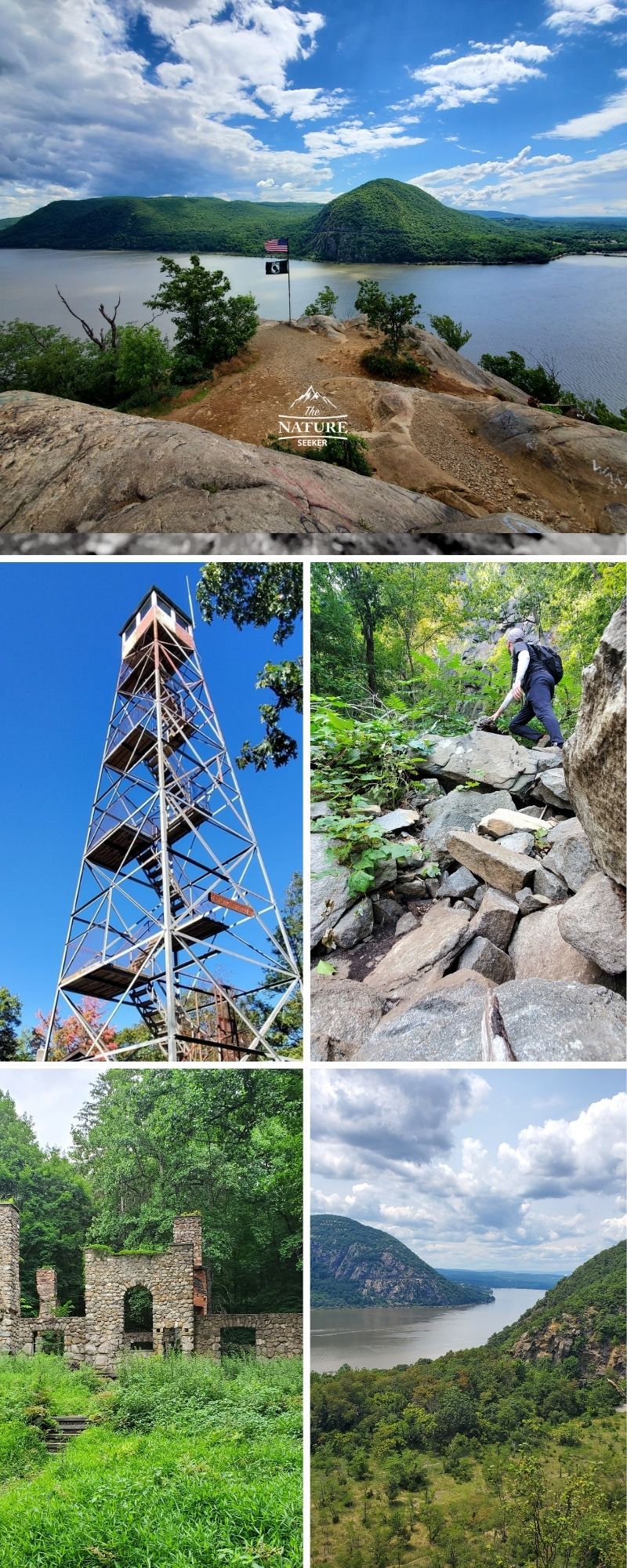 If you're like me and you enjoy challenging and adventurous (and scenic hikes), I can promise you that there's several, better options available near this location that you can check out. Here's just a few:
1) Hudson Highlands State Park (20 minutes north). Here, you'll specifically want to check out these 3 hikes:
Breakneck Ridge (great for people who love challenges).
Bull Hill Short Loop (great scenic hike for beginners-moderate hikers).
Little Stony Point (only 1 mile, but it's extremely scenic and fun to check out).
2) Next up is Harriman State Park (20 minutes away). This park has many fun hikes to explore and here are several options:
Reeves Brook Loop trail (good for beginner-moderate hikers).
Dater Mountain Loop trail (also good for beginners).
There are also a lot of other hiking trails you can check out on the map and form your own trail.
Additionally, you can also find cool abandoned mines in this park.
3) Bear Mountain State Park (5 minutes away). I'm not the biggest fan of this park as there isn't much to see in terms of hikes, but it's still better than Anthony's Nose (and it's close) so you can check that out.
4) Giant Stairs Palisades (20 minutes south). It's a fun, short hike you'll find of the Palisades Parkway in New Jersey.
5) Sterling Forest State Park (30-40 minutes west). This is a giant park by Harriman State Park where you'll find a lot of trails and fun hikes to explore.
6) Long Pond Ironworks State Park (30 minutes away too). This park isn't as interesting as the others, but I'd still place the stuff you can do here on a higher level than what you can do at Anthony's Nose!
I'm pretty sure all of these options I just listed are hiking trails you'll have more fun on than Anthony's Nose.
I'm not trying to bash it or anything and this is my opinion, but again, for me, there was nothing really fun to check out there other than the actual overlook. It's also why there aren't that many pictures of this place for me to show (because there's not much to see).
I like hikes with more than a few places to see and check out and every alternative hike I just listed has just that (and more). There's challenging trails, fire towers (Breakneck Ridge and Sterling Forest), waterfalls, old ruins, scrambles and much more to explore in all of these areas.
Best stuff to wear for hiking Anthony's Nose (other any other recommendation here):
Questions about exploring Anthony's Nose:
Is Anthonys Nose a hard hike?
There are 2 ways to do the Anthony's Nose hike. One is short (1 mile), but strenuous and the other is 4 miles in and out, moderate but long.
Can dogs hike Anthony's Nose?
Yes, you can bring dogs to hike Anthony's Nose, but on a leash.
Is Anthony's Nose part of the Appalachian Trail?
The short version of the Anthony's Nose hike intersects with the Appalachian Trail, but only for about 1/4 miles.