I've hiked the Boulder Rock trail in the Catskill Mountains many times, over many years and if you've heard about this hike and are thinking of doing it, let me give you a preview of what to expect including:
Other trails nearby and what else to explore.
How not to get lost on it.
The best places on the trail to check out.
And more.
What is the Boulder Rock trail in the Catskills?
It's a very famous hike in the Catskill Mountains that has you traveling across the eastern side of this mountain range, which overlooks the Hudson River. On it you can get great view points, a nice strenuous climb in places, and at it's top point, the famous Boulder Rock.
The trail is popular, hiked often by tourists and leads to other cool trails nearby.
Where exactly in the Catskills is Boulder Rock located?
Right by North South Lake. You can enter this trail by parking your car in one of the parking lots for either lake, and taking the blue trail through the mountains. The blue trail is the one that leads you to Boulder Rock (map location coming up).
Quick info about the Boulder Rock trail: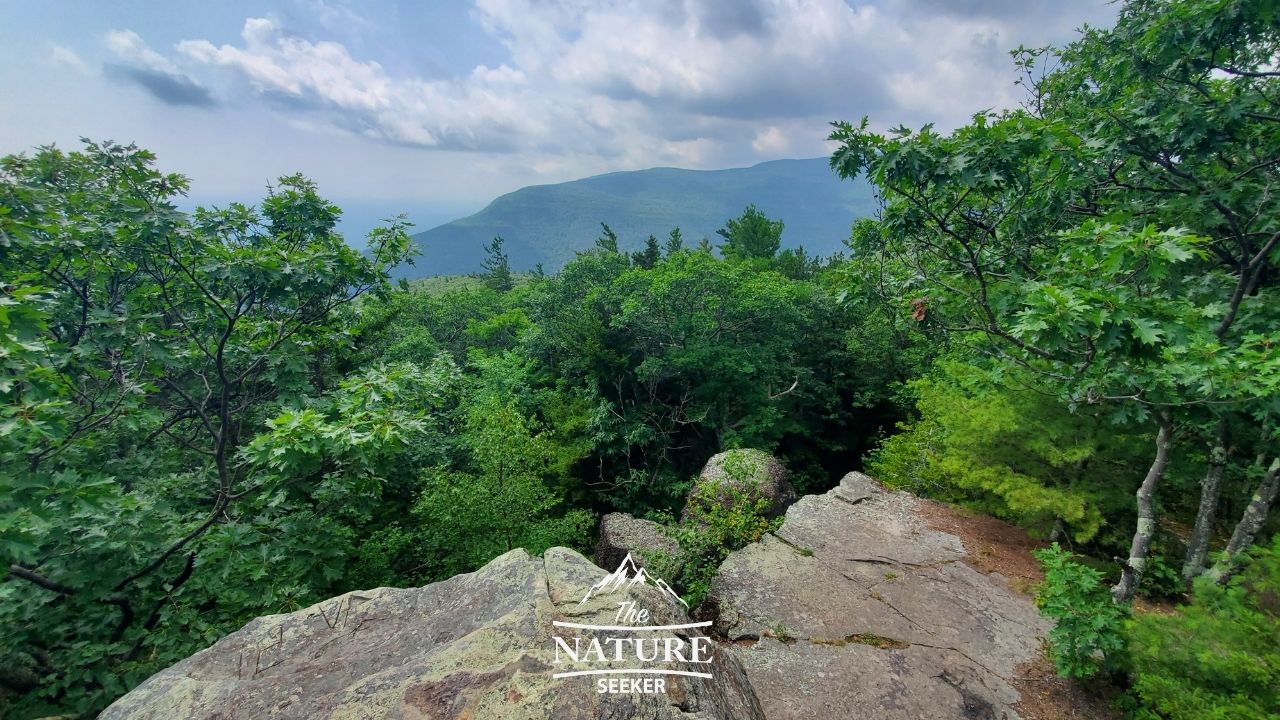 This is a near 2 mile trail and it is not a loop!
If you follow the blue trail from start at one of the parking lots at North South Lake, it'll lead you into another part of the Catskill Mountains. You would need to turn around and walk back to where you start from to ensure you don't get lost.
Here are a few ways to do the Boulder Rock trail:
Option 1:
(A) Start at South or North Lake (they're close to each other).
Hike to the Catskill overlook area (where the blue trail is).
Take the blue trail up to Boulder Rock (B).
Return back the same way.
Other options are available but this will put you on the greater blue trail (known as Escarpment) and you will need a map to navigate it better.
Here is a map (and where to find Boulder Rock on it):
That's the easiest option out of them all and it's about a 1-2 mile out and back trail (which most people do). Other intersecting trails are available, but I would only do them if you have a map and know how to navigate so you don't get lost in the woods. You have 2 options for this:
Getting an official map when you enter the North South Lake Campground from the ranger station.
Using

Alltrails

and getting maps there.
What to expect:
1) From either parking lot of North South Lake, it's a short incline to a beautiful viewing area.
2) From the viewing area begins the trailhead to the blue trail which shows the Catskill Mountain House (no longer around).
3) You will enter the woods to start this trail and it will be a steep incline for about 1/4 of a mile.
4) As you go through this incline, you will pass a beautiful viewing area: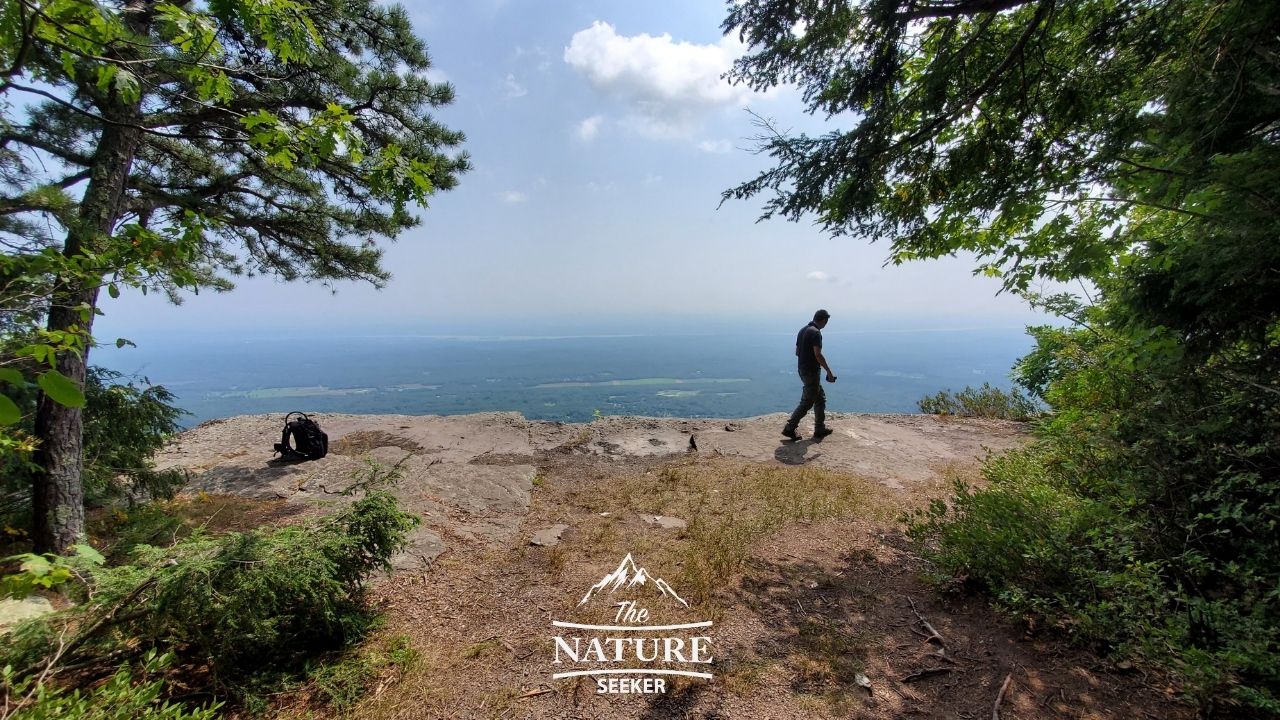 5) From there you will continue to head south along the blue trail and this will take you to Boulder Rock. There will be some inclines but overall nothing too strenuous.
6) From Boulder Rock, there will be some beautiful spots nearby to explore. Anything past that is a bit boring in my opinion. I'd just turn back from this spot and head back to the parking lot.
Recently a friend of mine and I did an advanced version of this trail and I included the map: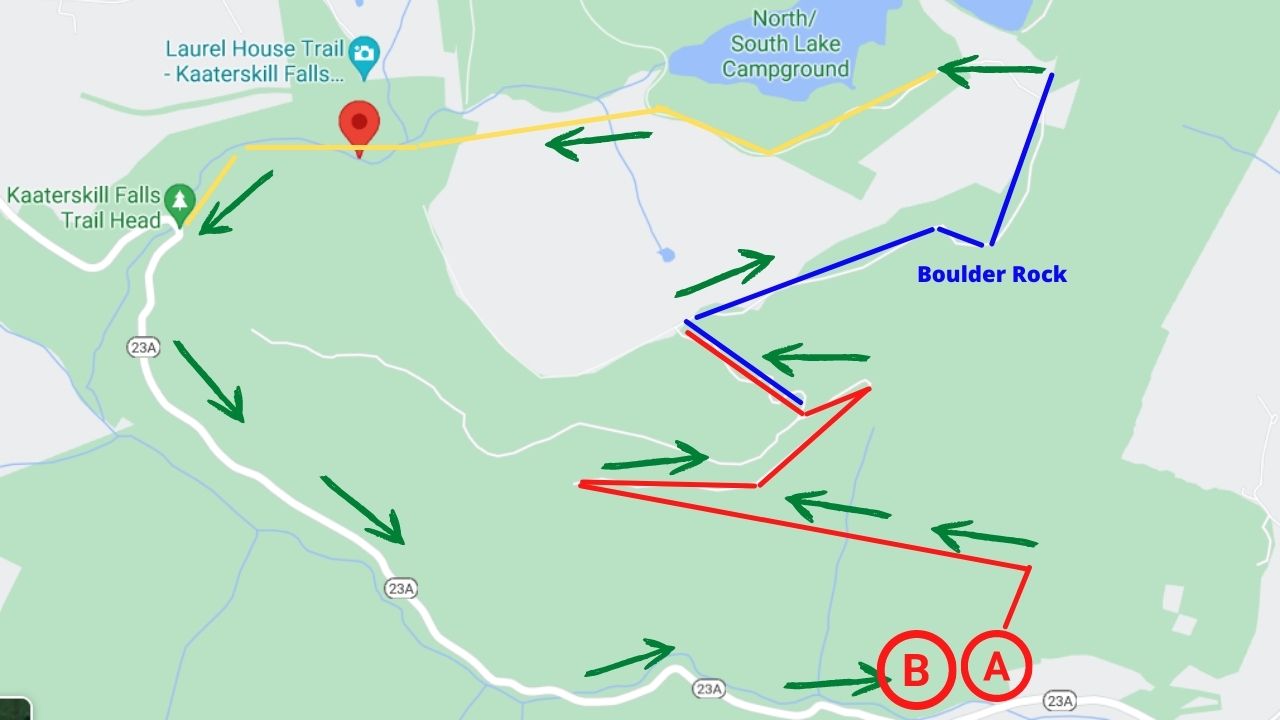 What to expect from this trail:
This was a custom made trail my buddy and I made and it didn't involve taking any official trails. This one intersected with a few on the mountain so if you wish to do this, make sure you're advanced.
1) It starts at a parking lot which for some strange reason isn't listed on the GPS, but it is large and can fit at least 10 cars (A).
2) You begin on the red trail and it slowly takes you up the mountain that houses North and South Lakes. You will see this broken down Winnebago as you start the trail: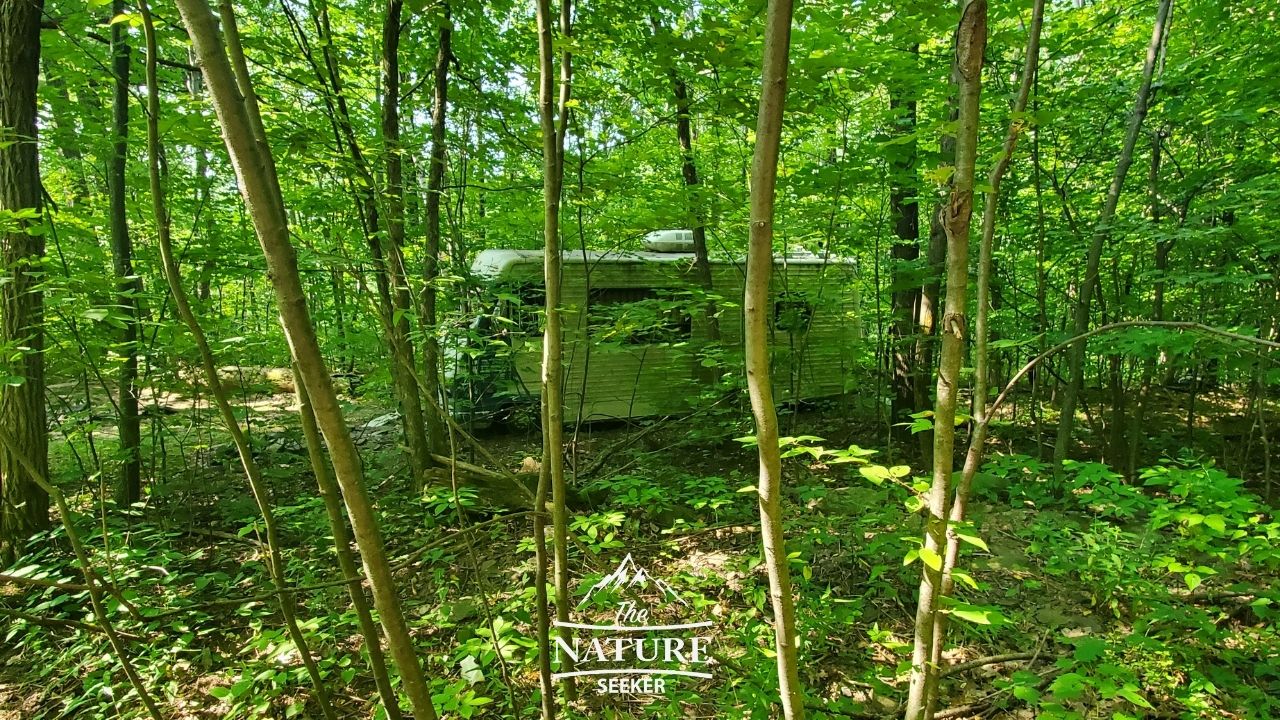 3) The trail isn't very scenic and most of the views are blocked by trees. It is also strenuous at times.
4) You will have to go through some switchbacks (zig zag turns in the trail).
5) Eventually you will see a sign for Boulder Rock (the blue trail). Take that.
6) This will take you to Boulder Rock which is basically coming to this spot on the opposite side of the mountain than the first trail.
7) From there, you can either turn back and head towards the parking lot (Point A or in this case basically B), or continue down the blue trail.
8) This will take you to the North South Lake area. You will take the yellow trail as indicated on the map above and go to Kaaterskill Falls: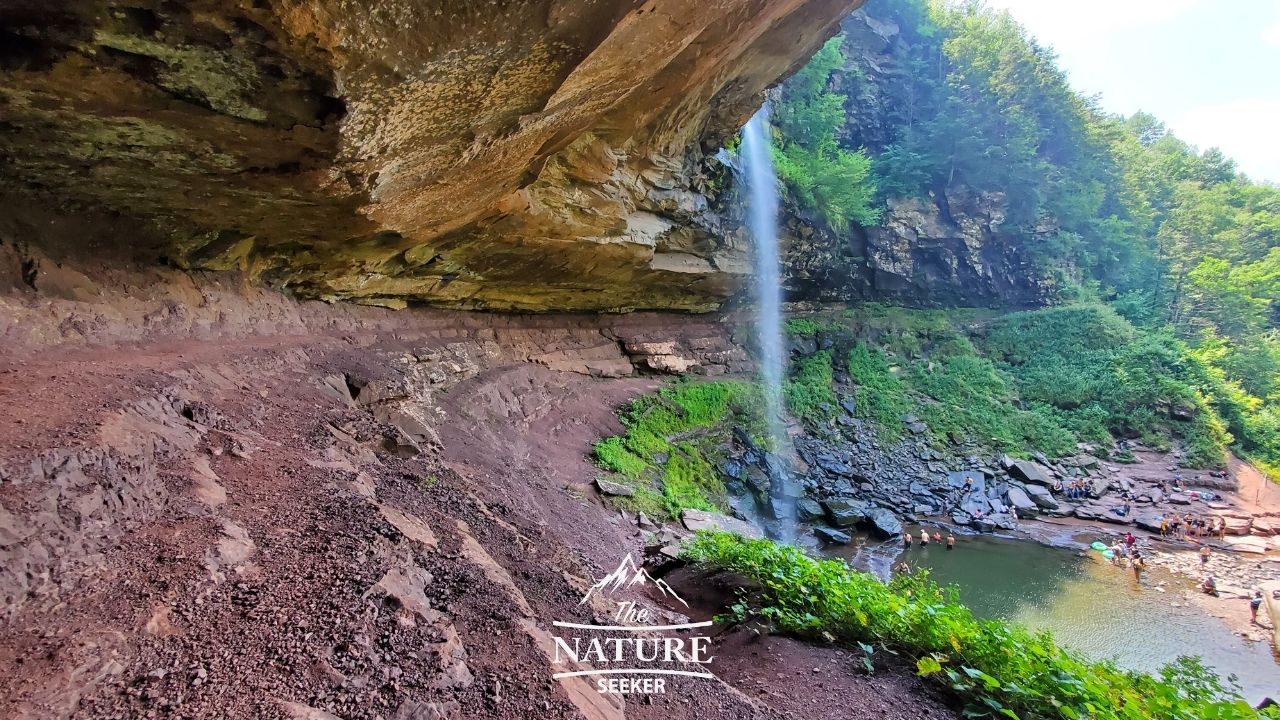 9) You will then continue down the yellow trail to the road, then take the road towards Fawn's Leap, one of the most crowded swimming holes in the Catskills.
From here, I do recommend you wear water shoes if you intend on getting wet and stepping in the water. My recommendation is the Zhuanglin Water Shoes.
10) You will then go downstream, and follow that to this beautiful waterfall in the Catskills, which is near Fawn's Leap: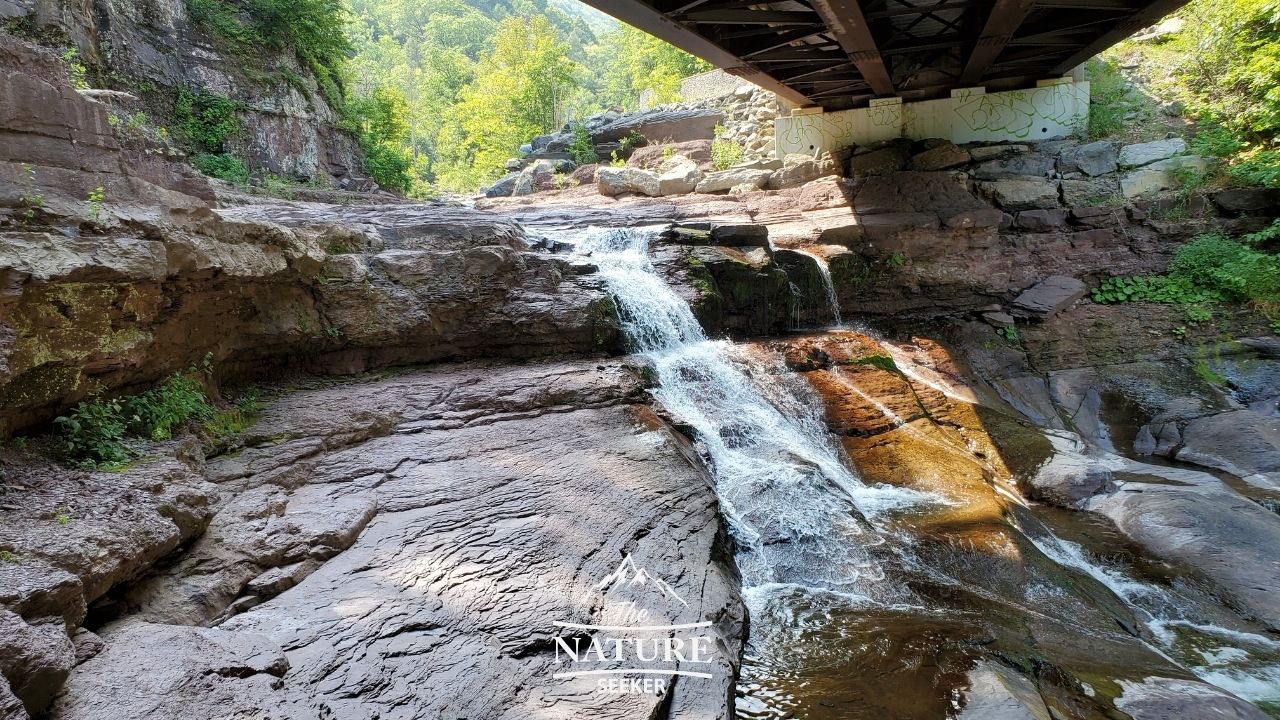 11) Continue downstream till you reach this beautiful gorge: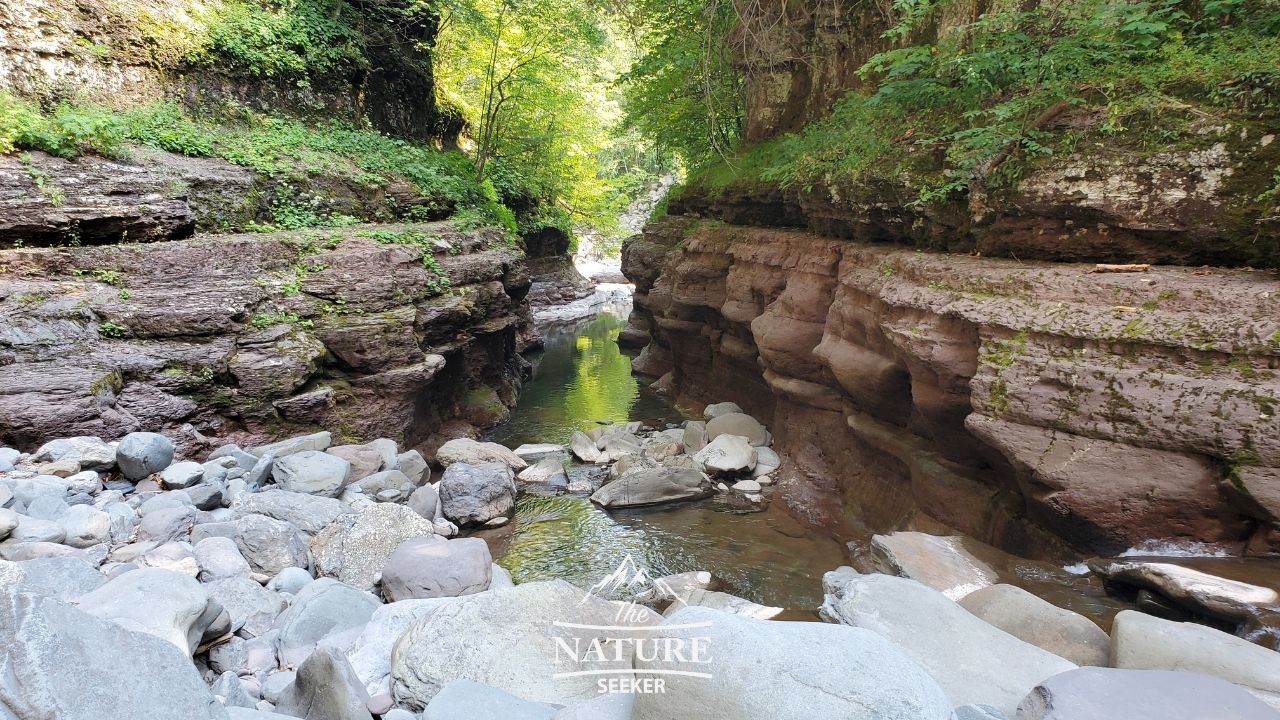 12) From there, it's simple: Keep going downstream and you'll reach Rat's Hole Park (another crowded swimming hole).
13) From there you can continue downstream or head out of the area to the road, and follow that back to the original parking area which is about a half mile from Rat's Hole Park.
The Boulder Rock trail is actually just the tip of a much larger trail:
Boulder Rock is one scenic area in the blue trail and that trail is known as Escarpment trail which spans across the southern and eastern ends of North South Lake and I recommend you explore more of it because there are a lot of other amazing sights to see along it!