14 Things to do in Lake Champlain (Around NY And VT)
There are a lot of amazing things to do in Lake Champlain (near it as well) and one of the best ways to explore this entire area is by starting in NY, then going into VT and seeing the 14 places on this list in the order I provided below.
The reason I suggest exploring Lake Champlain this way (clockwise) is because in my personal opinion there are less places to see on the NY side of Lake Champlain than there are on the VT side. So if you want to do a weekend road trip through this area, I would suggest doing it this way. But if you can only choose between NY or VT to explore this area, then go with VT only because there's more beautiful places by Lake Champlain to see there.
14 best things to do near Lake Champlain (starting in NY then VT):
Explore His Majesty's Fort at Crown Point (NY).
Drive along road 9N, a very scenic drive (NY).
Visit Ausable Chasm (NY).
Check out Valcour Island (NY).
See Fort Montgomery (NY).
Enjoy the scenic drive on route 2 (VT).
Stop at Sand Bar State Park (VT).
Bike or walk the Lake Champlain Causeway (VT).
Stop at Oakledge Park (VT).
Visit Red Rocks Park after (VT).
See the Shelburne Farms (VT).
Visit Kingsland Bay State Park (VT).
See Button Bay State Park (VT).
Explore Green Mountain National Forest after (VT).
Once again, this list is structured in a particular order where you begin in NY, on the southern end of Lake Champlain before moving north, then east into Vermont, then south to see the other places. You can easily cover all 13 of these things in 2-3 days, but if you are in more of a hurry, again stick to the Vermont side when exploring Lake Champlain and check out the spots listed above to see which ones you'd like to see most (if you can't do them all).
His Majesty's Fort at Crown Point (Lake Champlain NY side):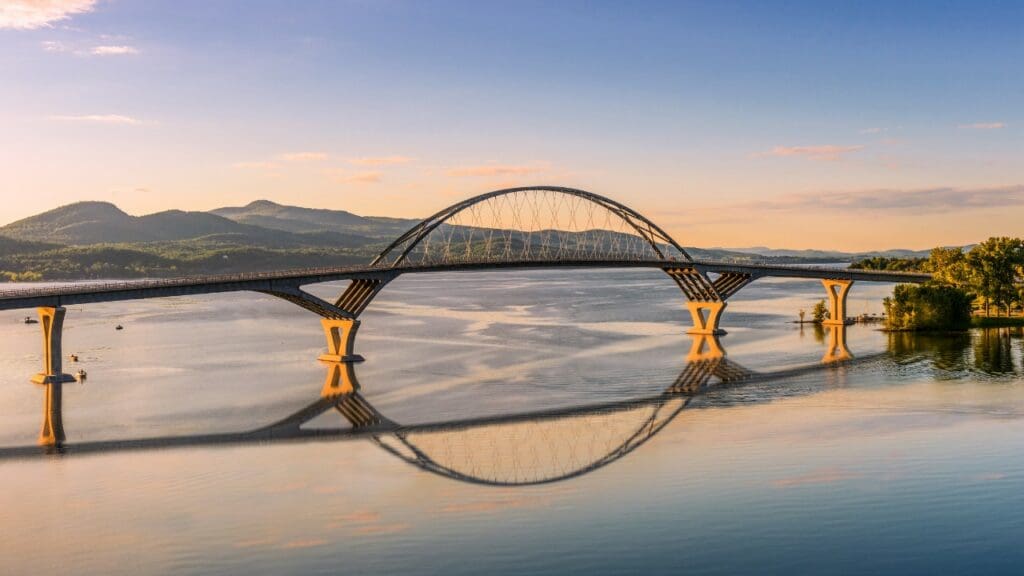 As you start your trip around Lake Champlain, this is the first major area I highly recommend stopping at. There are actually several forts throughout Lake Champlain, but this is one of the most scenic and historic spots on the NY side. This place is slightly above Lake George and there is also an option to travel across a bridge and into VT if you want (via the Lake Champlain Bridge). But overall the main attraction here is the fort and the beautiful views of Lake Champlain you'll find.
Drive on road 9N (Lake Champlain NY side):
After you finish exploring the Fort, the next thing I highly recommend is taking the very scenic drive along the closest road to Lake Champlain and that's road 9N. This is also the same scenic road which goes through Lake George, but that area is south.
In this case, you are going to be taking this road north and in the process exploring the western side of Lake Champlain. I did this drive without ever knowing that it would be so scenic and for the most part what you'll see is less of the lake in general, but much more of the Adirondack Mountains to your left with giant fields before that. The scenery in this area really makes it hard to believe you're still in NY but it's an awesome experience and one of the best scenic drives in New York State I've done!
Visit Ausable Chasm: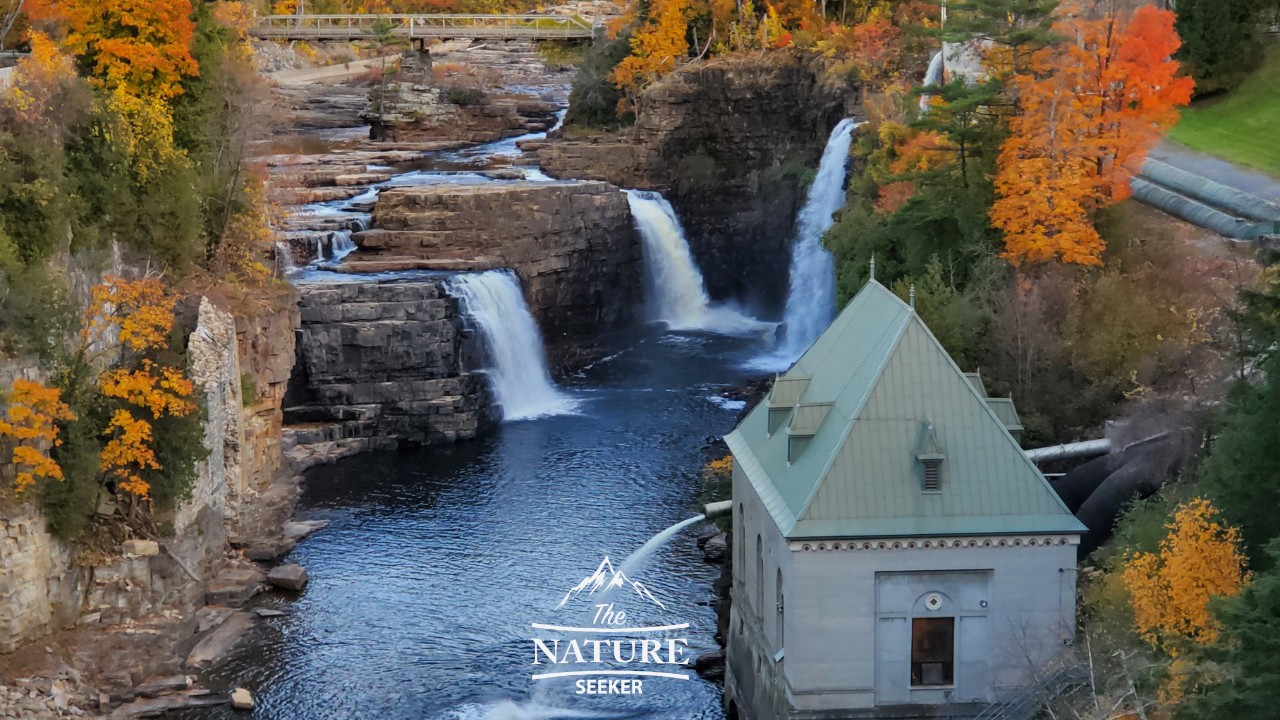 I'll make the argument that Ausable Chasm is the most beautiful place to see around the entire Lake Champlain area and you're welcome to challenge me on that (I've got a lot of Ausable Chasm photos to prove this).. Ausable Chasm is very popular tourist attraction in northern NY that is very family friendly.
You can explore a giant gorge, do some of the best Adirondack waterfall hikes there, kayak a river and really get an amazing experience. Despite Ausable Chasm being very close to Lake Champlain, you probably won't even see it there, but I'd strongly recommend making a half day stop here.
Valcour Island: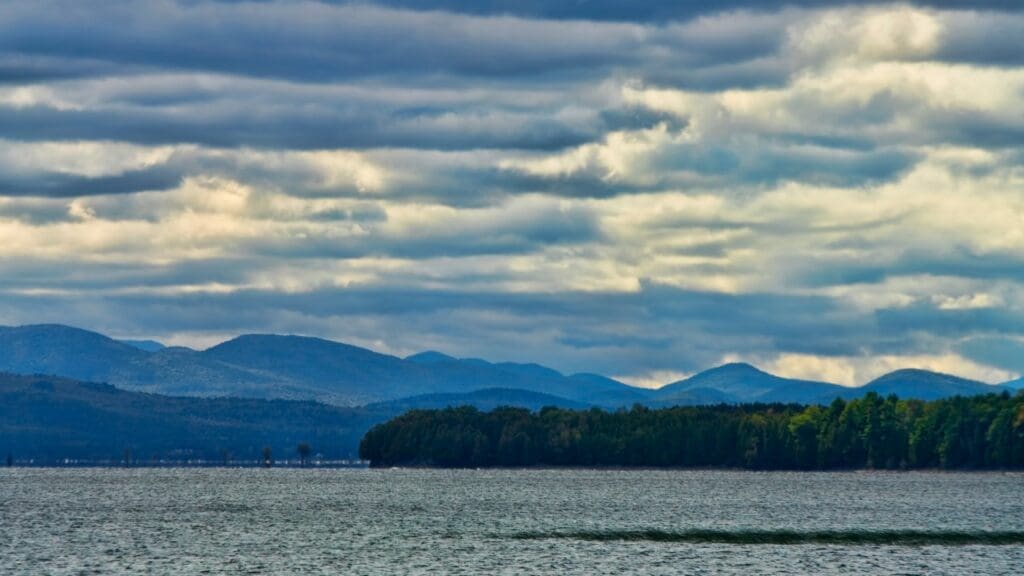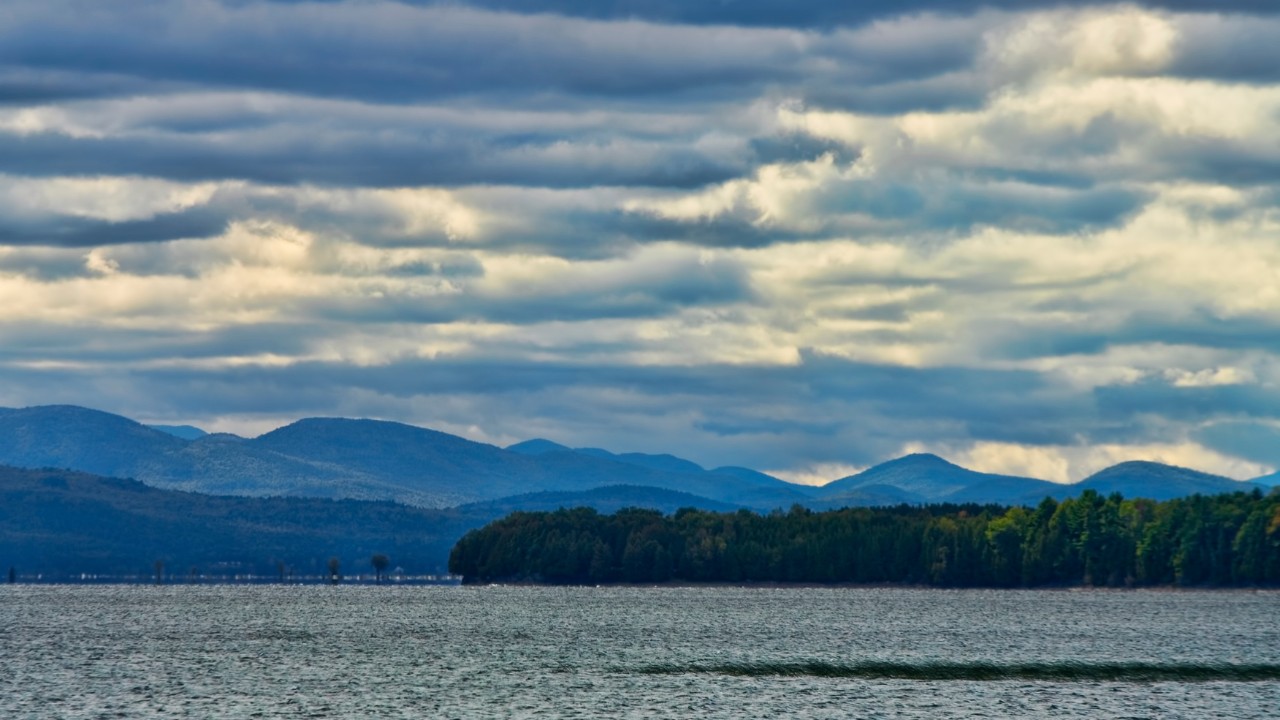 Valcour Island is an easily missed beauty in Lake Champlain (on the NY side) which you can check out after seeing Ausable Chasm. It is a giant island with a museum, lighthouse, hiking trails, campsites and more. What's even cooler is that if you wish to get to this island, you can only do it on a kayak or boat, so if you want to explore this island, adding this requirement to do it in my opinion makes it a lot more adventurous.
You'll get great views of Lake Champlain, of the island itself while you're in the water and while you're exploring the island, seeing the views of the Adirondacks to your west and the Vermont Mountains to the east. There is also a small park off the main NY road area called Stone Ledge Sculpture Garden you may enjoy too.
Fort Montgomery: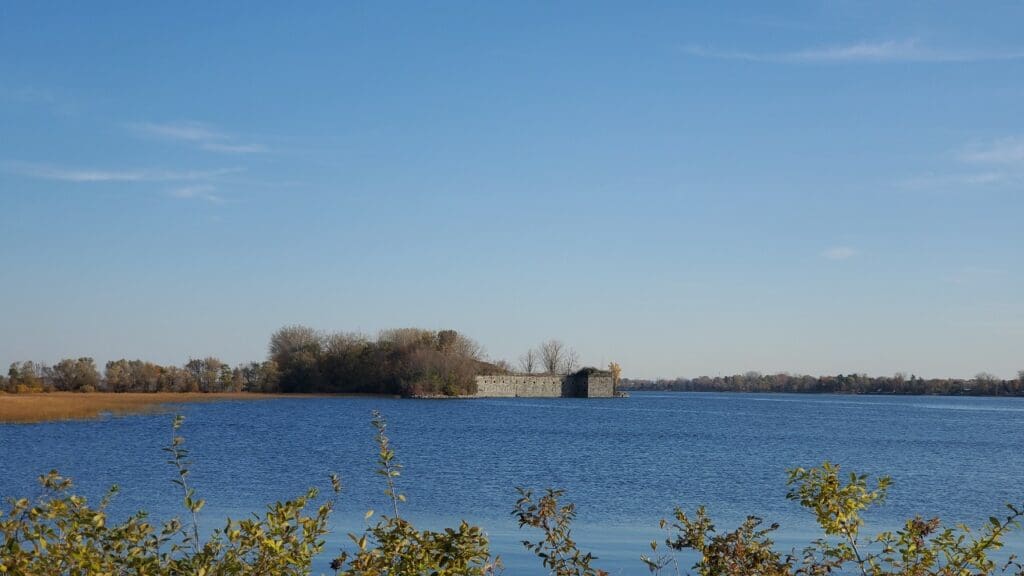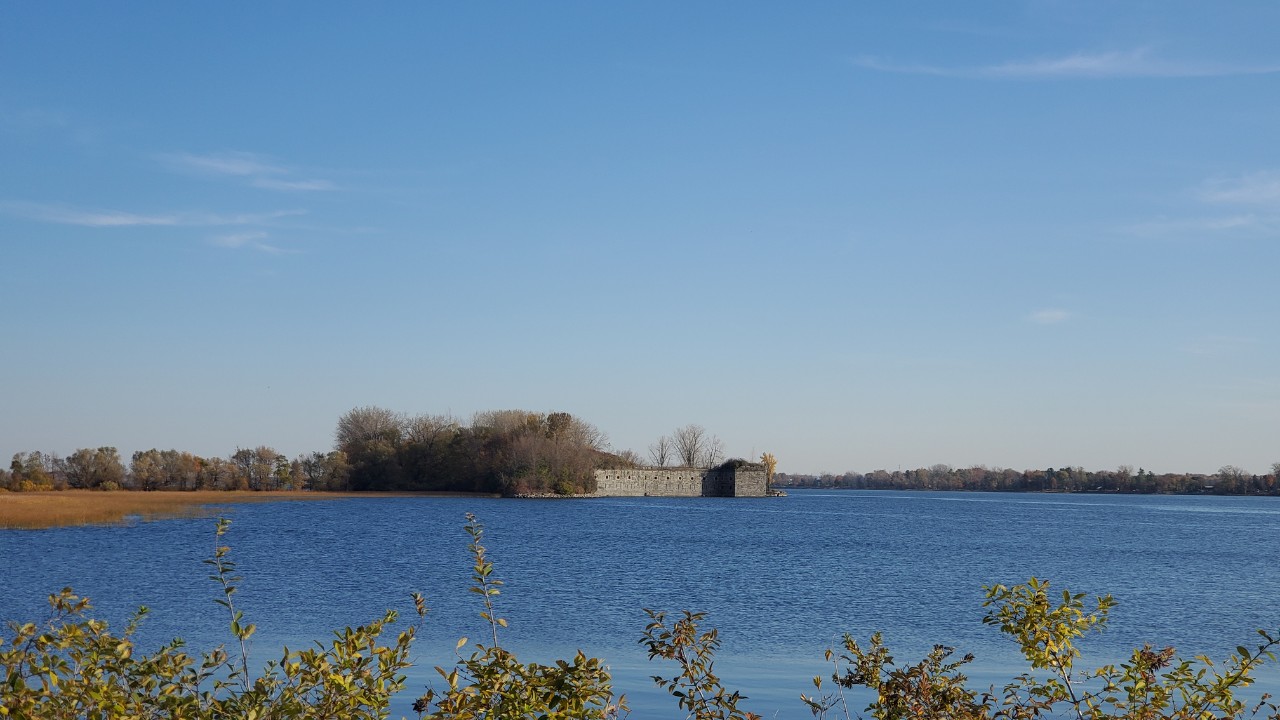 This is going to be the last place you stop at on the NY side of Lake Champlain. There is a town there called Rouses Point which is also fun to check out (there's a small park with a veterans area nearby), but the main attraction is Fort Montgomery.
The only issue is that you can't get close to it, but can see it from a port area. I've seen this fort several times while crossing from NY into VT and I think it's one of the best looking forts I've seen. Furthermore, when you go here, you will also see Canada in the distance, so there is a three way border you are in the middle of here.
Do the scenic drive on route 2 (Lake Champlain Vermont side):
After you check out Fort Montgomery, you will cross a bridge and that will officially take you into VT. You will be on road 2 which normally isn't that scenic, but I recommend you check it out during fall which is what I did recently.
As you are on this drive, you'll cross little towns, parks, ports and get some great views of Lake Champlain. There are places to see here, but I decided to skip most of them and focus on what I personally thought were the most worthwhile spots to stop at. But this scenic drive will take you at least 30 minutes to do.
Sand Bar State Park: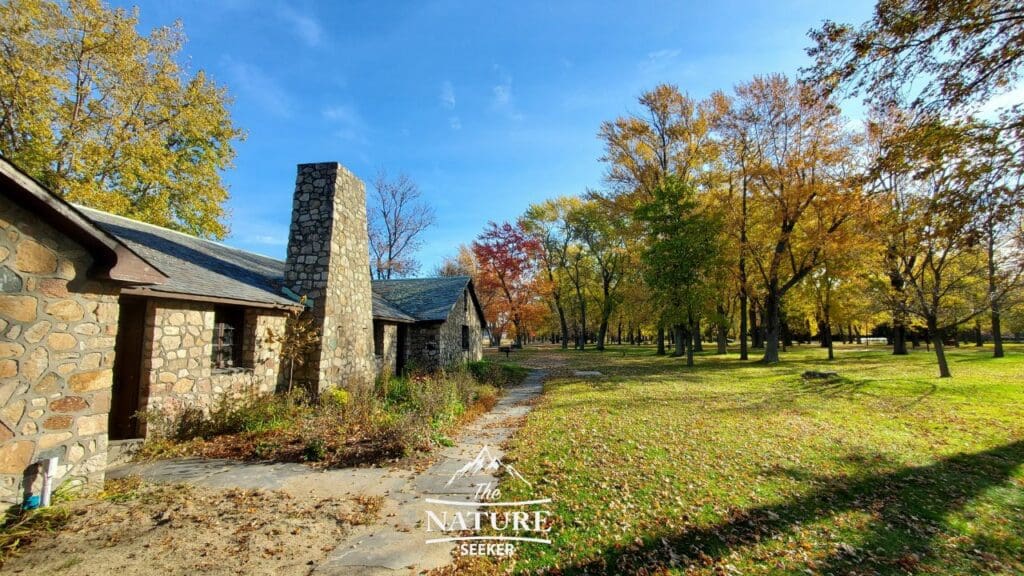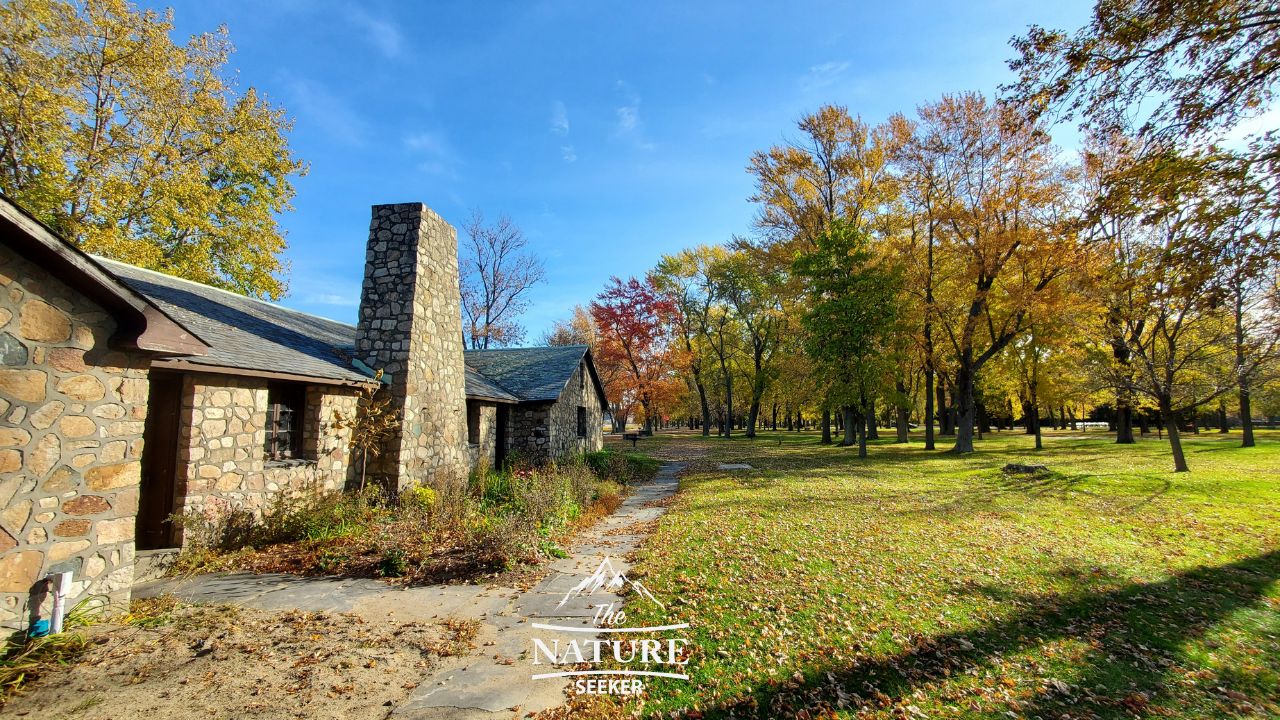 Around the end of road 2 you will come across Sand Bar State Park which I recommend checking out as it offers great views and activities around the Lake Champlain area. I believe there is a $5 entrance fee to get into Sand Bar State Park depending on which season you're visiting at, but the list of activities in this park are pretty awesome:
Kayaking.
Sunset views of Lake Champlain and the mountains.
Picnicking, BBQ and more.
Note: You will see little parks on road 2 in addition to Sand Bar State Park but in my opinion, this is the best one.
Check out the Lake Champlain Causeway: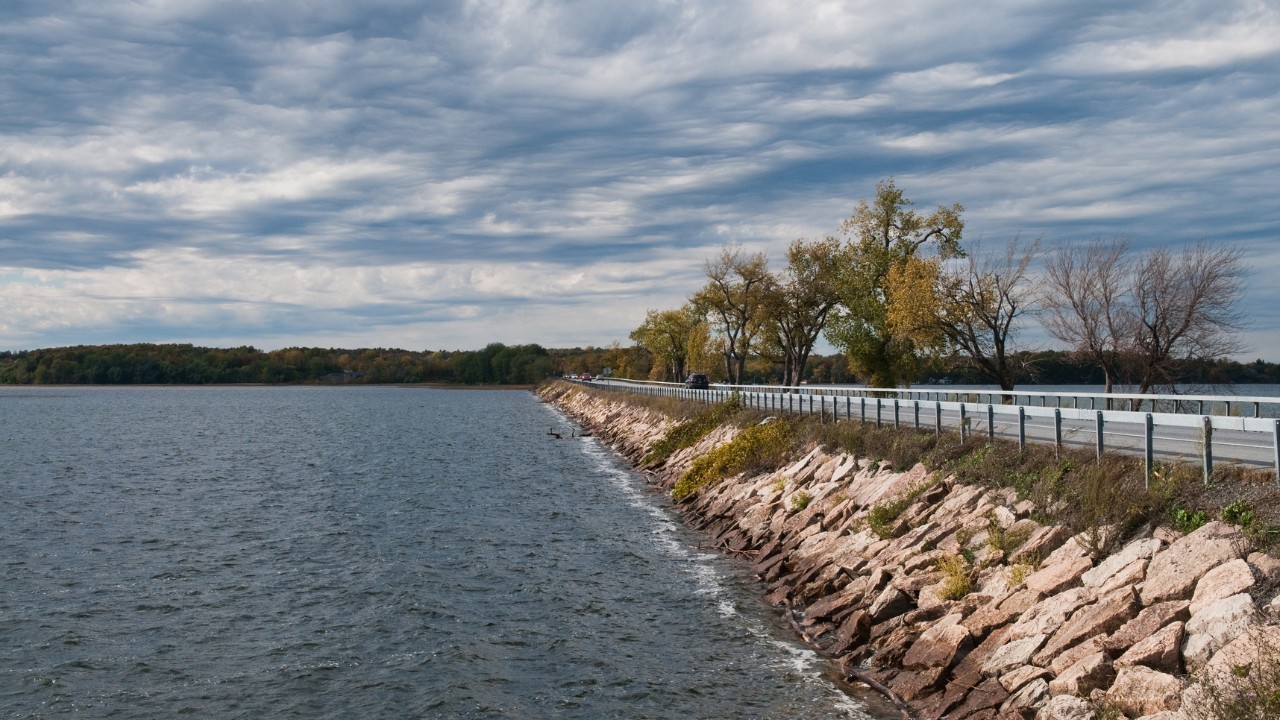 There is a famous bike trail around Lake Champlain and one of the most popular parts of it is the Lake Champlain Causeway. It's basically a long stretch of land you can walk or bike on to get great views of Lake Champlain and both NY and VT. There is one other causeway on road 2 which is for cars, but the one in this case is for biking and walking. 
It's a very scenic spot and if you do check it out, do note that there are 2 entrances to it (north and south). If you enter one way, you will have to return back the same way because there is no loop around that "trail".
Oakledge Park:
This is a very cool small park on the VT side of Lake Champlain. Basically it's a shoreline park with great views of NY (especially around sunset) and the most popular attraction there is a circle of stones you can stand in the middle of. In a way, this place kind of looks like a small version of Stonehenge. There is also a tree house attraction there to see.
At the same time, it's also very close to the next VT spot to visit on this list.
Red Rocks Park: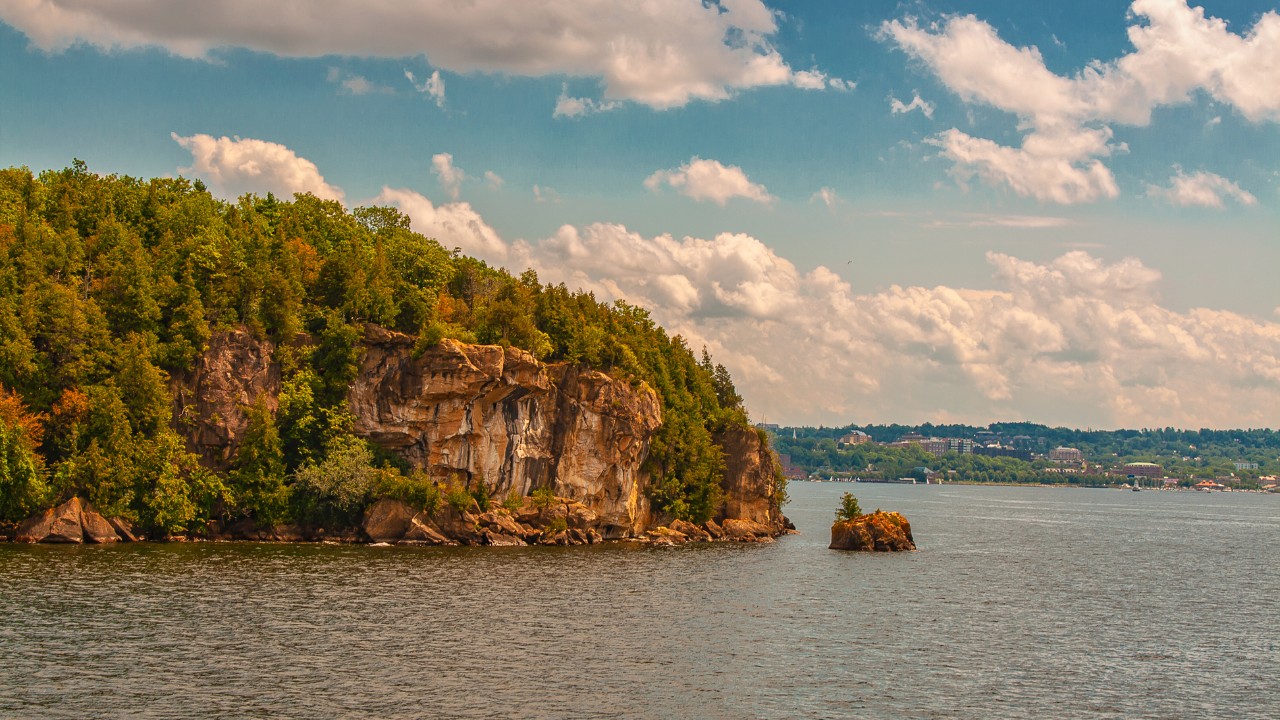 Red Rocks Park is only 5 minutes from Oakledge and is one of the most popular places to see in all of Lake Champlain. This place is also the most popular attraction in Burlington and basically has lakeside cliffs where you can swim, kayak, cliff jump and many more outdoor activities. The views from this place are also amazing and there are literal red colored rocks you can see here. Just as well Red Rocks Park also has several hikes, great overlooks and more to see.
See Shelburne Farms: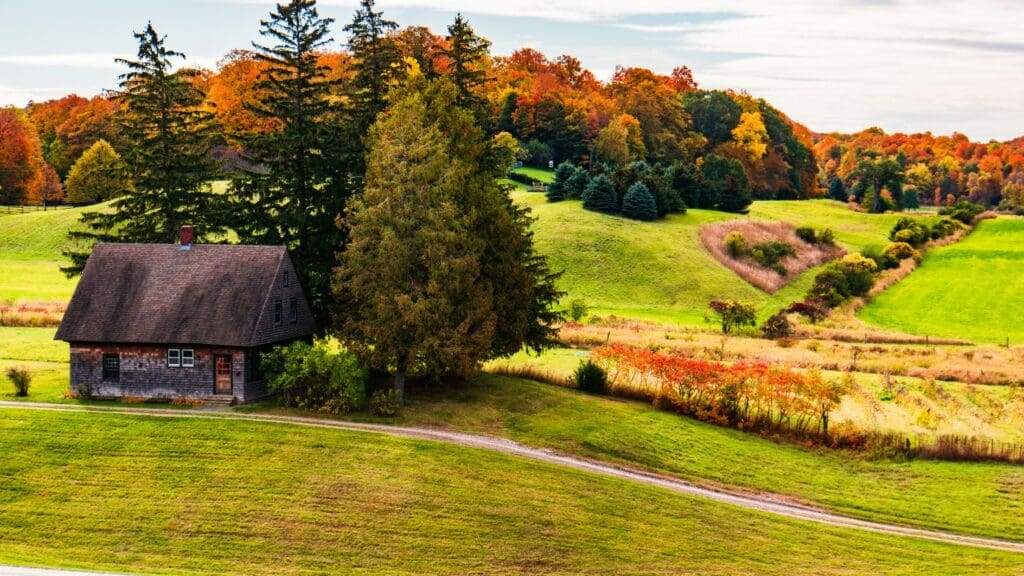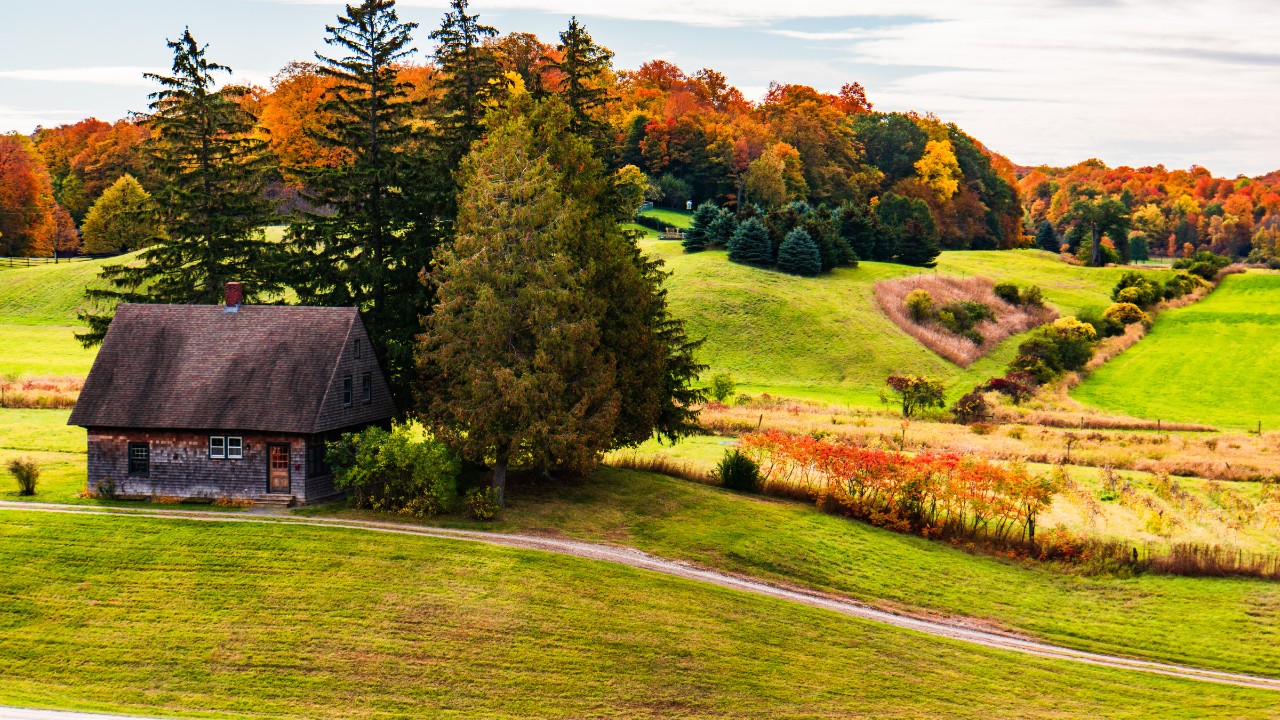 Shelburne Farms is a gigantic tourist attraction in Vermont and it's also right on Lake Champlain too. It's a very scenic and gigantic area in Vermont that is basically a combination of farms, castles, old houses, vineyards, hikes, a museum, beaches and much more to explore.
There are also places to stay at in this area, but it's an awesome place for a weekend stop as there's just so much to do there. I also recommend checking out Shelburne Farms if you're looking to see the best fall foliage in New England. And on top of that there's even amazing spots to see Vermont Fall Foliage in.
See Kingsland Bay State Park: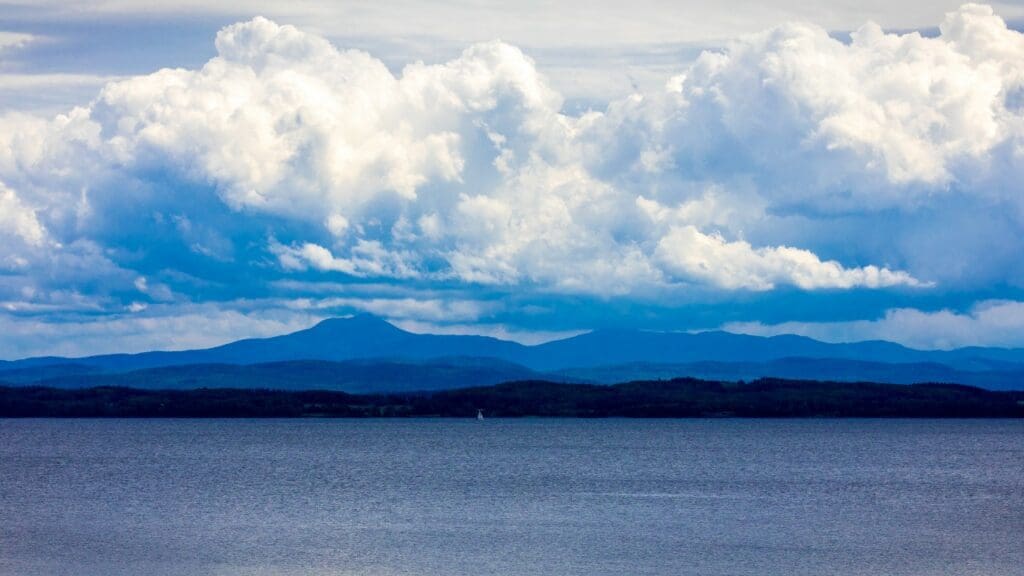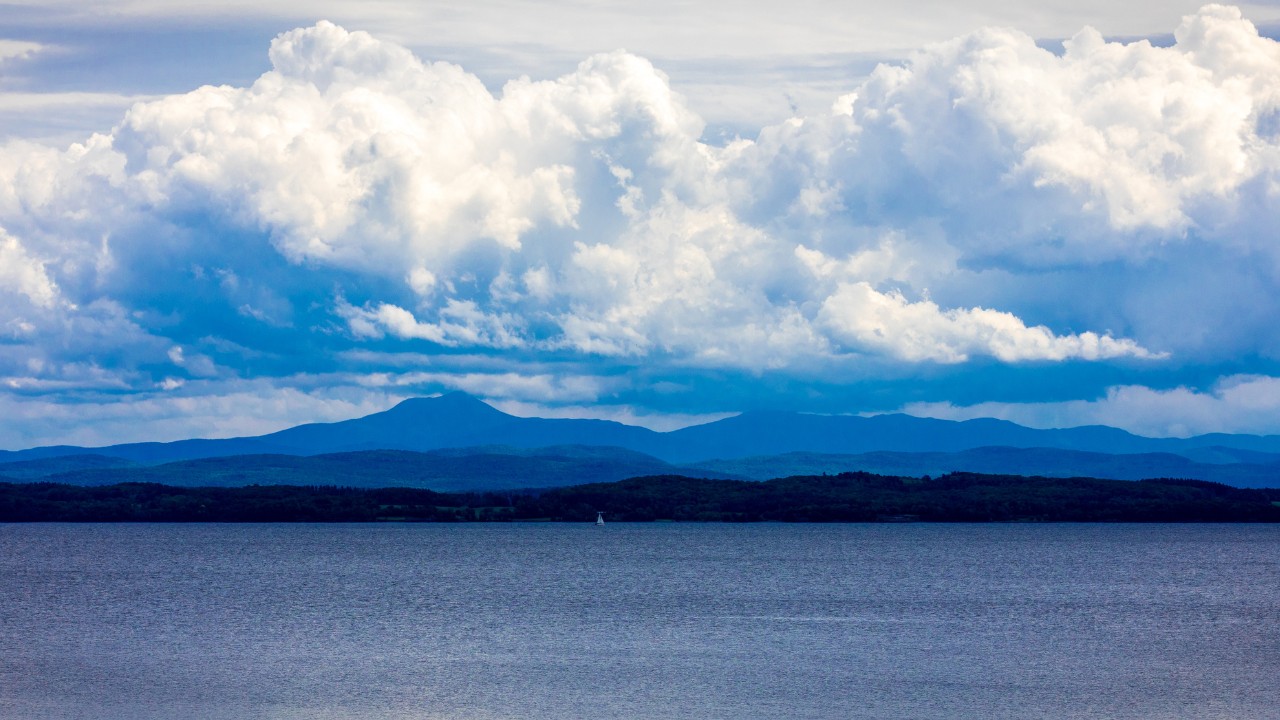 This park is further south of Shelburne Farms and it basically looks a lot like Red Rocks Park, but at the same time, it is less popular and thus less crowded than Red Rocks (because it's further away from Burlington).
And just like Red Rocks Park, you can also do the same kinds of activities there which again are kayaking, swimming, cliff jumping, hiking and much more. In terms of views, I'd say Red Rocks may look slightly better. The reason I'm comparing these 2 parks is because if you explore Red Rocks Park, it might be better to skip this one because of the similarities and move to the next thing to do on this list instead.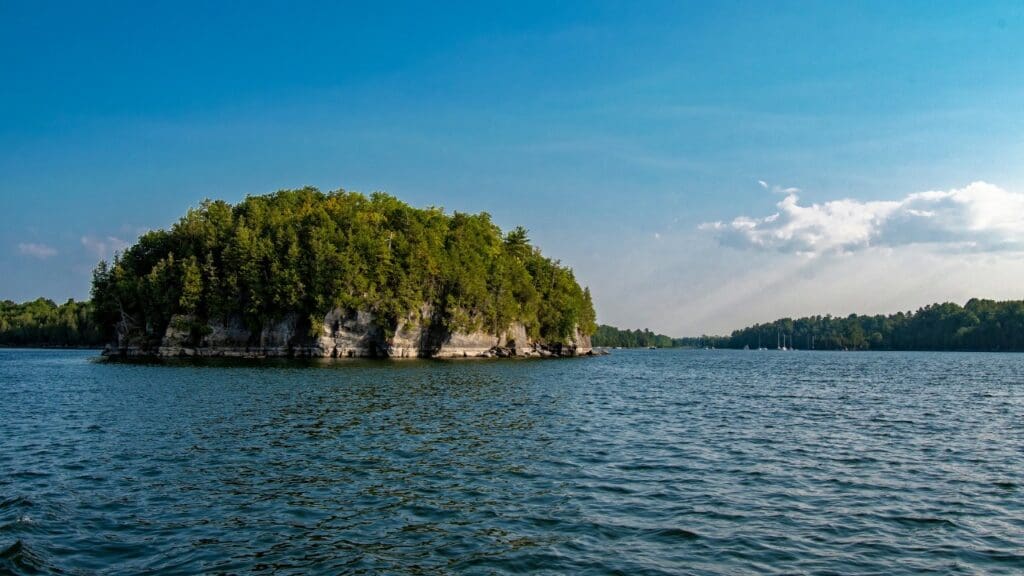 This is the last official state park on the list you'll see on Lake Champlain and while it doesn't have giant cliffs like Kingsland Bay and Red Rocks Park, it does have a beautiful beach and islands to explore.
Furthermore, because it's facing the Adirondacks too, you'll also get great views of them here (sunset views too). And just like the other parks, you can also do the exact same activities here too (if you wish to do kayaking, there's rental areas there). There is one major advantage this park has though and that is you can find cabins here. I'm not sure about the other parks above, but there are places along Lake Champlain where they're available and this is one of them for sure.
Explore Green Mountain National Forest:
By the time you finish exploring the other areas on this list, you will have 2 choices:
You can circle back to His Majesty's Fort at Crown Point (the first thing to do on this list) which will take you back into NY.
Or you can choose to explore more of Vermont by heading east (more inland) and exploring the amazing

Green Mountain National Forest

.
I do highly recommend checking this area, especially if you live in the New England area or are making your way south to NYC, as it's a great stop along the way regardless. There are many beautiful mountains, waterfalls and more to see there. There is also Smugglers Notch further north of this area which you can check out if you want to omit the other activities from this list.
Other topics and questions about Lake Champlain:
Can you swim in Lake Champlain?
Yes there are many parks with beaches surrounding Lake Champlain where you can swim at.
Is Lake Champlain worth a visit?
Yes, Lake Champlain itself is worth visiting, but much more so the parks and attractions around it.
With this list of things to do on Lake Champlain, you will easily be able to have an amazing road trip around it and if you have any personal suggestions of what other spots to add, you're welcome to share that!