I've done a lot of hiking, road tripping, and exploration across the eastern United States, particularly through the Appalachian Mountains and through these experiences have amassed quite a list of scenic drives and hikes all along this mountain range that I would like to share with you, specifically:
20+ scenic drives and scenic hikes I found in the Appalachian Mountains:
It was once 10, but it's gotten a lot bigger! But anyway, I'm going to be breaking down this list into 2 categories:
First I'll be sharing the scenic drives I've done on the Appalachian Mountains and near it (12 so far).
Then I'll be sharing the scenic hikes I've done on the Appalachian Mountains as well (Over 12 so far).
Now for the hikes, some of them will be broad and some of them will show you specific hikes I recommend you do in each location.
But also do note that many of the hikes on the list here will also be in the same areas as you'll find the scenic drives on. It just so happens that many of the scenic drives and hikes intersect on the Appalachian Mountains or are nearby!
Background: How I literally explored most of the Appalachian Mountains (by accident)!
It's crazy to think but it's true. While I never did the entire Appalachian Mountain hike entirely, only numerous parts of it, when I combine all of my hikes and road trips through this region, at the very least:
I had driven through 2,000 miles of the Appalachian Mountains.
Hiked at least several 100 miles across it.
How is that even possible? Well here's the deal:
You see, over the past few years, I had explored:
These areas, believe it or not actually cross through much of the Appalachian Mountains (and trail) and when I took a look at an official map of the Appalachian Mountains, I was shocked to discover that I really did cover most of this 2,000+ mile range.
In fact, even if we just include New York, many of the Appalachian Mountains locations you'll find are literally outside the city and so in a way, the Appalachian Mountains are sort of NYC's next door neighbor, and you don't have to go far to start exploring them. But anyway:
It wasn't even my intent to drive through the Appalachian mountains, I was just exploring beautiful spots in states I was visiting, and most of them happened to be along this range, so it worked out just fine!
So if you're into hiking, but don't want to do the entire Appalachian trail (like myself), then this will be a perfect list for you.
And if you're interested in just driving across this range and seeing the best spots, but not getting too physically involved in hiking in it or camping out on it (again, like me), then this list is also perfect for you. You can also include your own list below if you wish to add to the ones here.
First, of all, let me give you the following information:
Here is a map of the entire Appalachian mountain range:
Now this is my own screenshot of the trail and range and at least locations on it which both have hikes and scenic roads you can check out, but for a more specific look at the map of the range, you're welcome to visit the Wikipedia page on it here.
And I'm still shocked that I covered about 90% of it, again without any intent of doing so!
In fact, here is a list of the road trips I've done through the Appalachian Mountains:
1) My first road trip in the Eastern United States began outside of New York City took me through all of the eastern states of the United States, and covered about 20% of the Appalachian Mountains.
2) My second scenic road trip through the Appalachian Mountains took me through the pretty much all of the southern and mid section of this region, covering about 60% of it and also had me re-explore many of the same spots of my first road trip.
3) And finally, my third road trip across eastern Canada had me exploring the northeastern most part of the Appalachian Mountains.
But anyway, what I have done on this particular map above is labeled the most specific regions of the Appalachian mountains (green) and areas close to it which in some cases count as part of it (red).

Some of the drives and hikes I will be giving you are in the red areas too (totally worth viewing, trust me). So let's begin! We'll start with:
The 12 scenic roads you'll find throughout the Appalachian Mountains: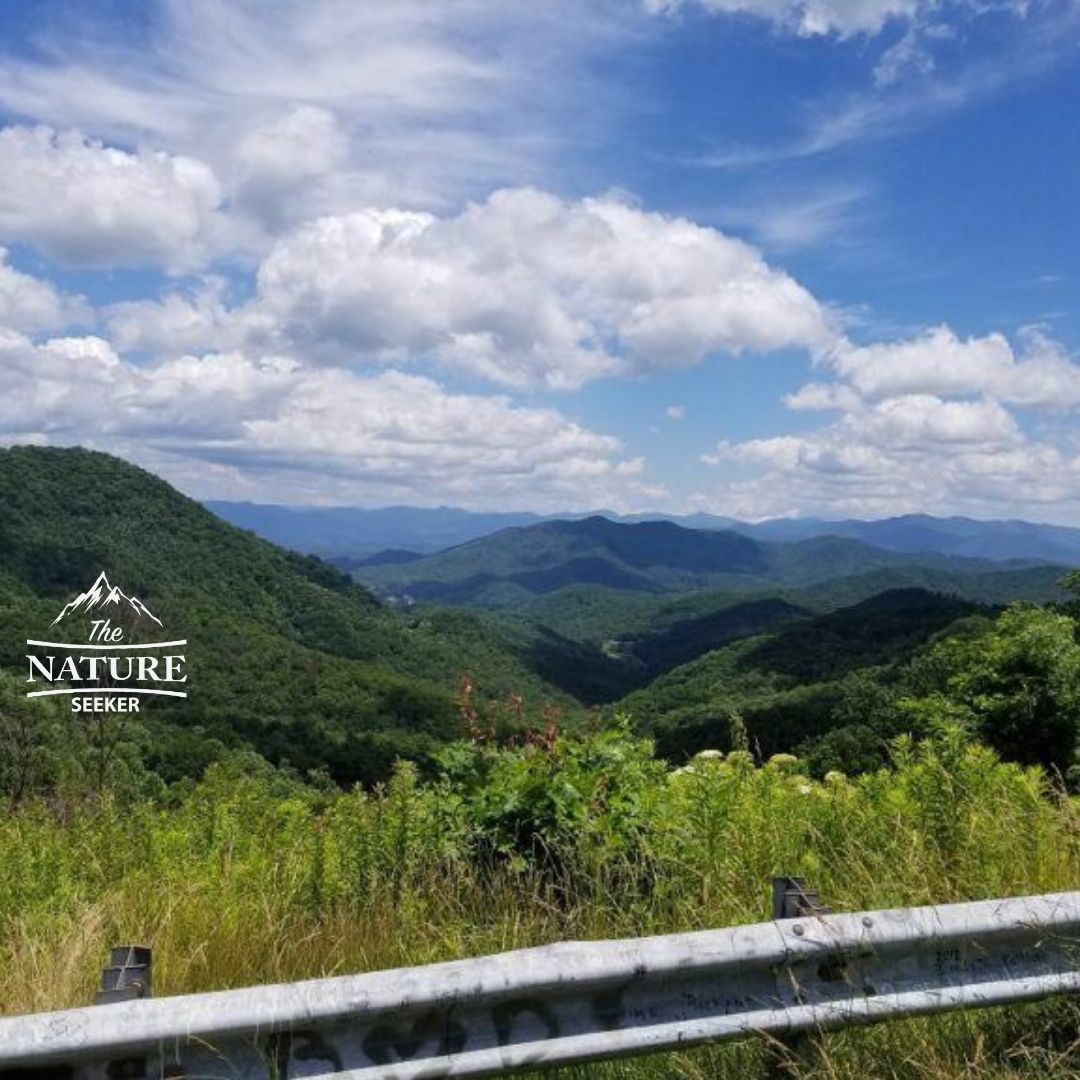 Gros Morne National Park (Road 480).
The Cabot Trail scenic (Route 30).
Bay of Fundy (Route 1).
Baxter State Park (Park Tote and Perimeter Road).
White Mountains (Interstate 93).
Adirondack Mountains (many scenic drives).
The Catskills (many scenic drives available too).
Daniel Boone National Forest (scenic drives in

Red River Gorge

).
Delaware Water Gap (Interstate 80).
Blue Ridge Parkway (most famous scenic drive on the Appalachian Mountains).
Harriman State Park (Seven Lakes scenic drive).
Hudson Highlands State Park (Scenic drive 9D).
I'll be providing more details on each scenic drive shortly but this is a quick list to give you an idea of the many scenic drives out there.
Combined, they span for over 2,500 miles and cover about 90% or more of the Appalachian Mountains.

1) Gros Morne National Park (Road 480):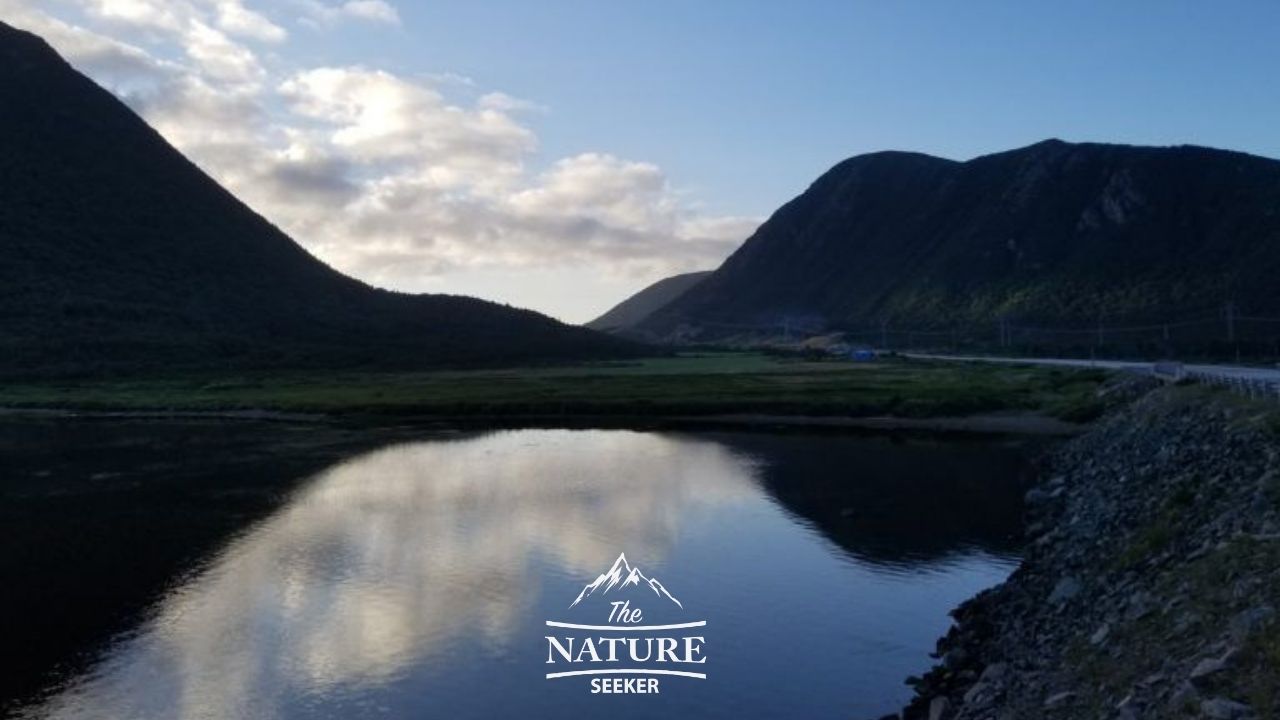 This region is unofficially part of the Appalachian mountain range and I visited it last year. Gros Morne features hikes, camping, scenic drives and a lot of wildlife.
Now for scenic roads, all you need to do is take the main road which is road 480.
That is the main drive that'll take you around the park (Gros Morne) and will you'll be able to see tons of beautiful viewpoints, towns, coastlines and more. The scenic road itself lasts about 1-2 hours.
I have also included a list of things you can while in Gros Morne National Park here. On the map, this area is at the north eastern most part of the Appalachian Mountains.
2) Cabot Trail, Nova Scotia (Route 30):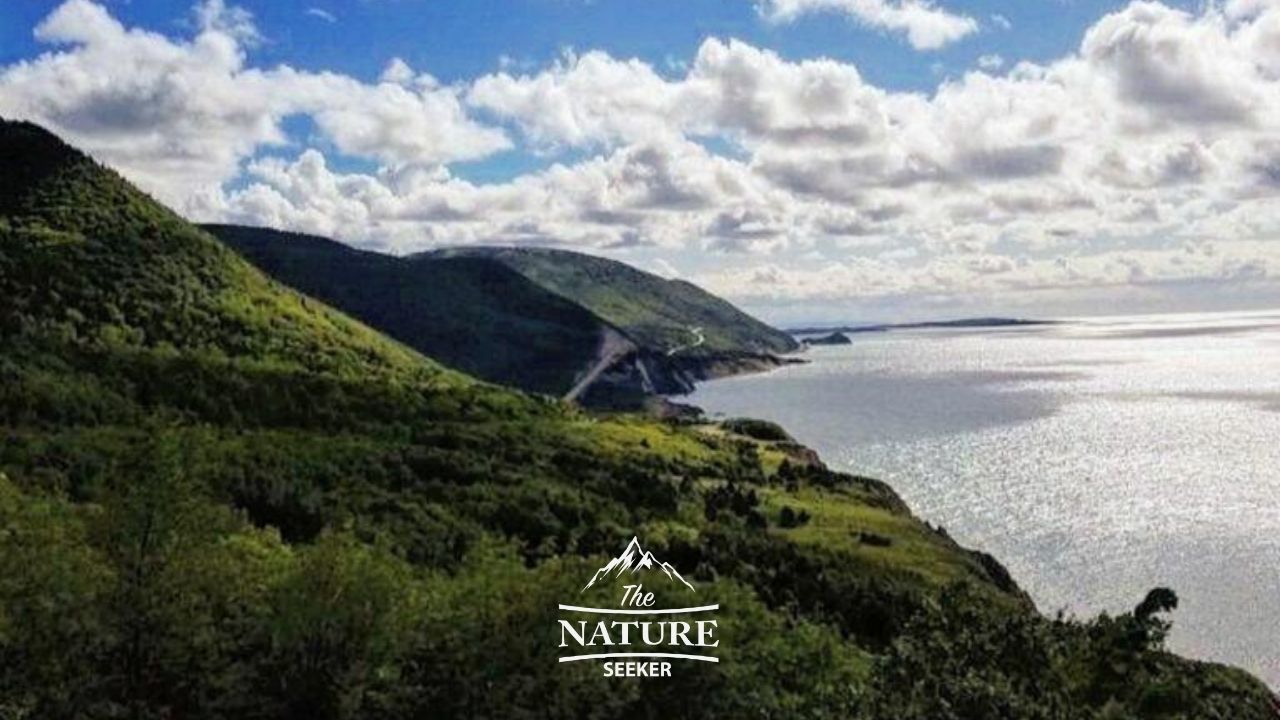 The Cabot Trail is located in Nova Scotia and features parts of the Appalachian Mountains mixed with beautiful coastal road.
That entire road itself is a scenic drive you can take and enjoy and it also has plenty of hikes around the area worth checking out.
And even if you're not much into hiking, the entire Cabot Trail is designed in a way where there are numerous stops along the road where you can stop, get out of the car, enjoy beautiful views, then continue onto the next spot on the trail.

In short, I actually think of the Cabot Trail as being like a California coastal drive, but in the eastern end of the United States (just not as warm!).
3) Bay of Fundy (Route 1):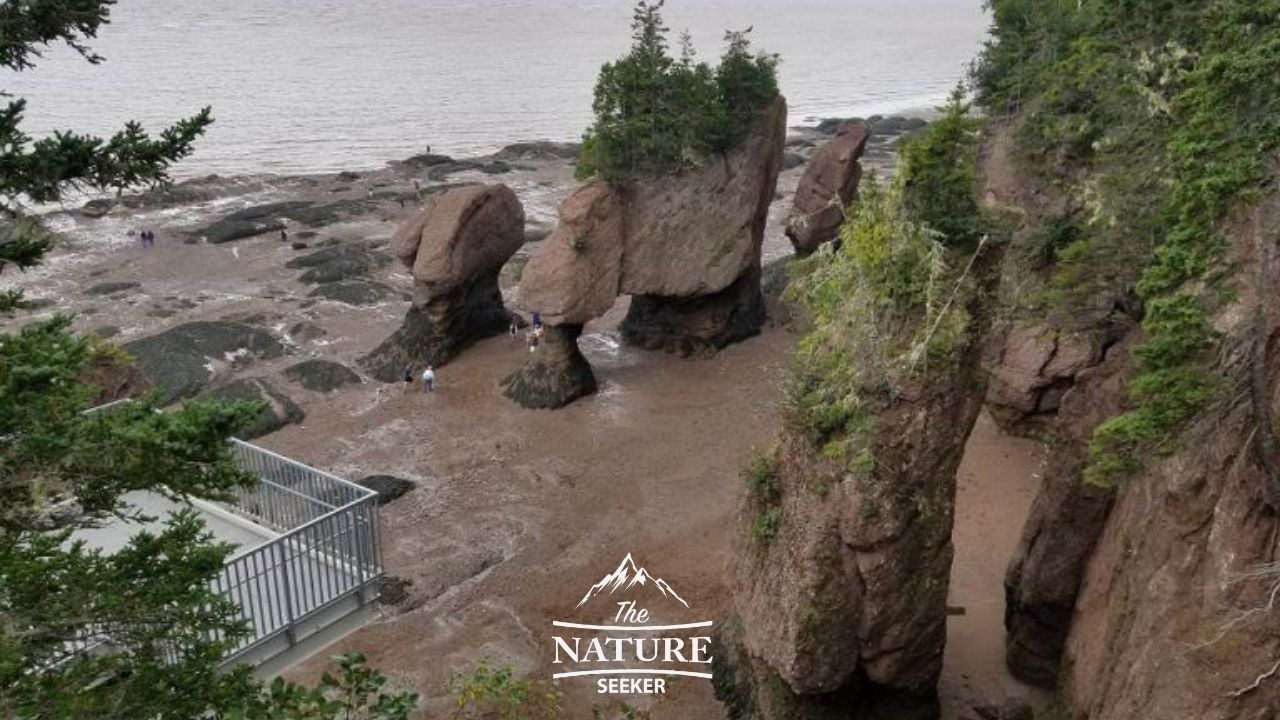 Bay of Fundy is a large body of water that includes the provinces of Nova Scotia and New Brunswick.
It has peaks and ranges near the coast you can check out and it's also south west of the Cabot Trail. I went there with my friends and here are the scenic spots in Bay of Fundy I recommend checking out.
As for scenic roads, the coastal road (road 1 and 114) there will take you across many different beaches with mountains, sea caves, and alien landscapes that are very picturesque.
Furthermore, one of the most famous things to enjoy in Bay of Fundy are the high and low tides which are incredible to witness.
4) Baxter State park (Park Tote and Perimeter Road):

Within the United States region, the Appalachian trail (not mountains) officially starts at Baxter State park (the northern end of it), while the southern most end is actually in Georgia. Some people decide to take the trail south to north or vice versa.

But anyway, let's focus on Baxter State Park:
The entire park is a giant series of peaks you can climb up to and drive through.
The main scenic drive is one road which goes by 2 names for some reason (Park Tote and Perimeter Road), which span across the entire park and feature tons of trail heads to explore.

5) White Mountains scenic drive (Interstate 93):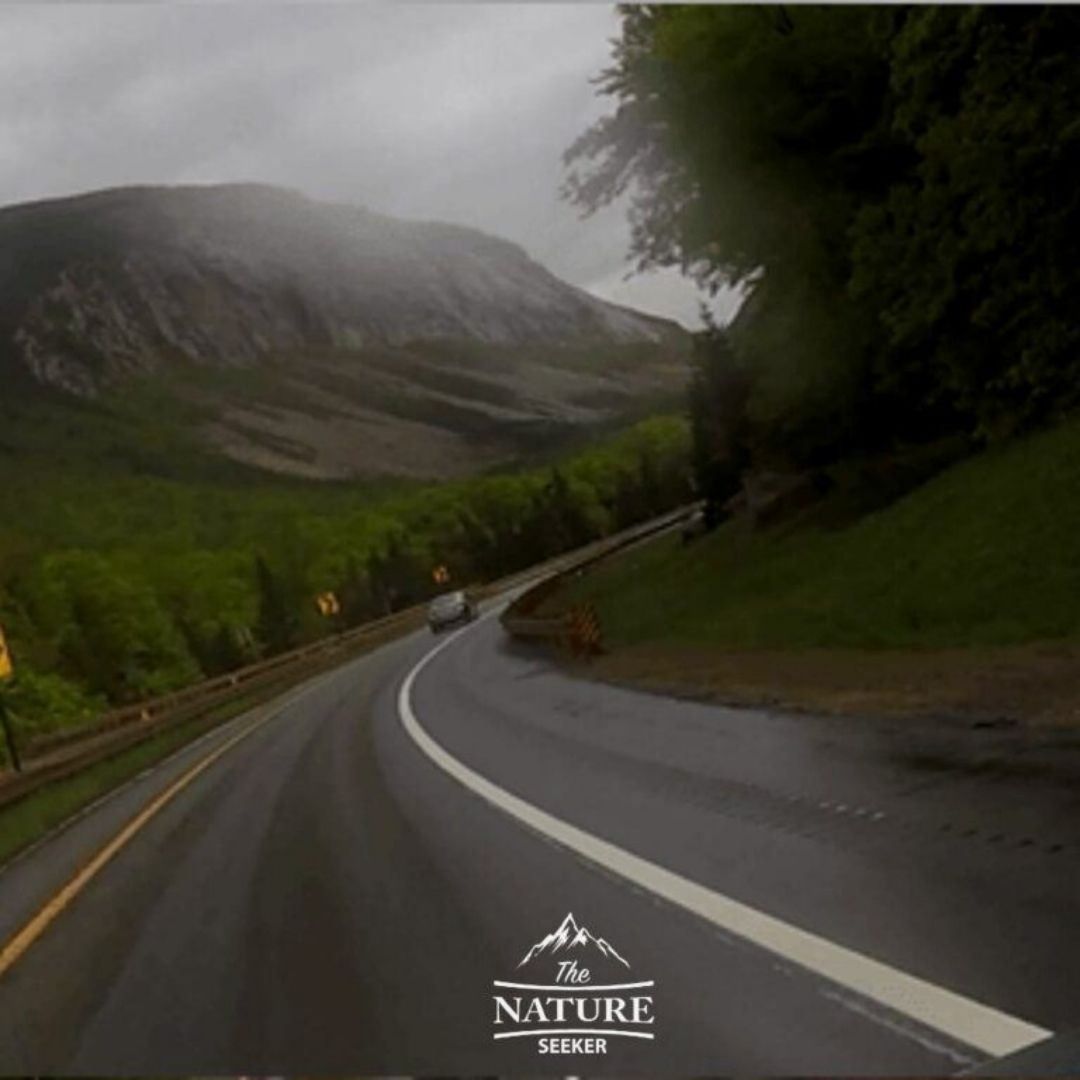 Along the Appalachian range, there are several places which have tons of peaks to check out and the White Mountains are one of them.
This area features huge elevations, one of which is Mt. Washington which is said to have the highest peak in the north east (6,000+ feet). You can also drive to the top of this peak.
In addition, the neighboring peaks in that area feature interstate roads which themselves are scenic to drive through.
In our case, we went across Interstate 93 and that had plenty of viewpoints to check out such as Cannon Mountain.
That will take you through some of the most beautiful spots in this vicinity.
The picture you see to the right is in my opinion the best scenic drive you'll find in all of the White Mountains as it's right when you start seeing Cannon Mountain (and others).
Also note far from this place is a cool spot called Flume Gorge.
6) Adirondack Mountains (many options for scenic drives):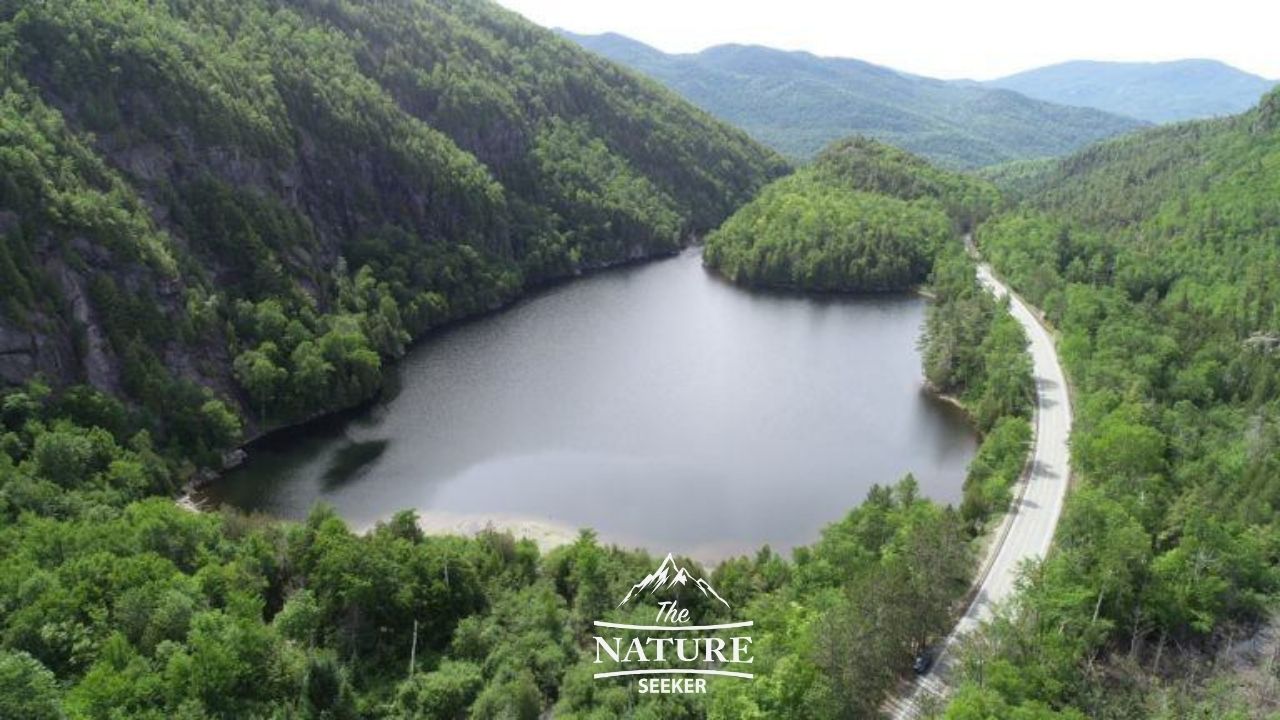 This area is located west of the White Mountains. However, this particular range is not officially part of the Appalachians (some say it is) but it is close enough to visit and if you ask me, it is a must see.
The entire Adirondack region is well worth checking out. The highest peak there is Mt. Marcy which I believe you can drive up to the peak of.
As for scenic roads, you have at least 3 awesome choices (and they are parallel and close to each other):
A) Interstate 87 will take you through this area and the next one on the list (Catskills).
B) The second is route 9N which will take you through both Lake George and Lake Champlain, each of which has many spots to stop and enjoy viewpoints from. In fact, since the Adirondacks are in New York State, here's other scenic drives in the state you can take.
3) There is a scenic drive that takes you to Mount Marcy and a beautiful called Indian Head trail, and the road to it (see above) takes you through beautiful areas like Lake Chapel which is the image you see above.
7) The Catskill Mountains (many scenic drive opportunities too):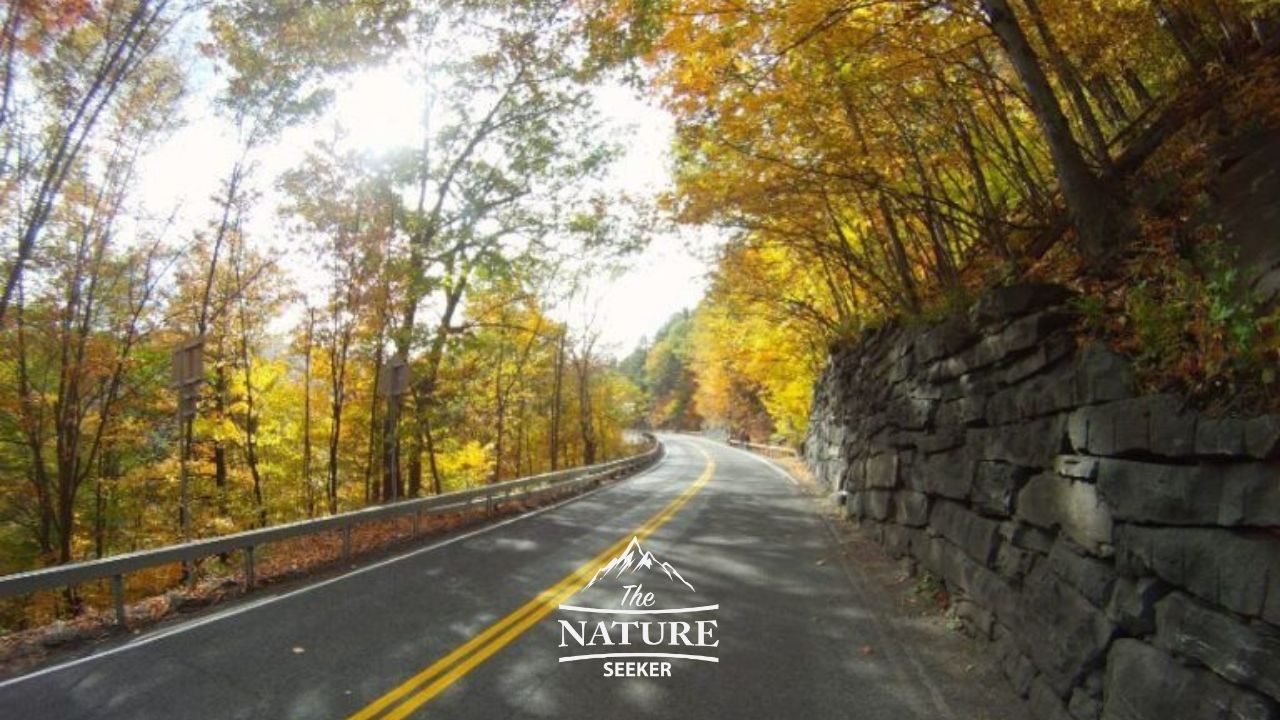 It's only 3 hours away from New York City.
But if you head directly south (if you're in #5, the Adirondack area), you will hit the Catskill Mountains along Interstate 87 and be able to drive into the park, and head on it's own scenic route known as route 23.
That's the image you see to the right (or above if you're on mobile).

That will take you across the many ranges there and into trails and waterfalls which I will be covering in the list of hikes coming up.
The Catskill area is the area I visit most frequently on this list.
8) Daniel Boone National Forest (Red River Gorge drive):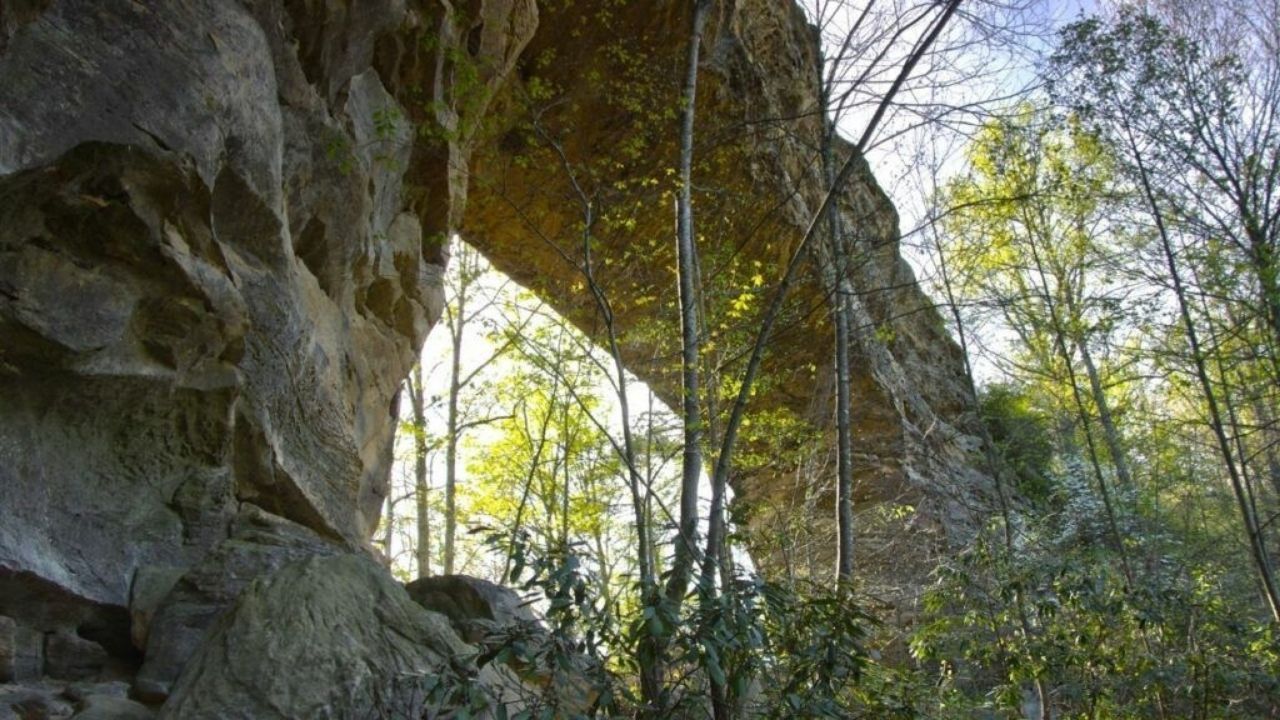 From the Catskills to Daniel Boone National Forest, you will have quite a drive and pretty much all of it will be scenic, but Daniel Boone National Forest, while also slightly out of the way of the range is still close enough to visit, before you get to the last 2 scenic drives on this list.
Daniel Boone National Forest is in Kentucky and has a beautiful scenic drive that is called 715 and there are many routes from that road such as "Chimney Top Rock Road" and "Red River Gorge" which will lead you to beautiful viewpoints that you can hike to, which are close to the roads themselves.
And pretty much any area around the 715 itself has beautiful spots to visit, especially the natural sandstone region, which is iconic for this particular area. I'll be adding a post on my drive through there for specific details.
9) Delaware Water Gap (Interstate 80 and other scenic drives):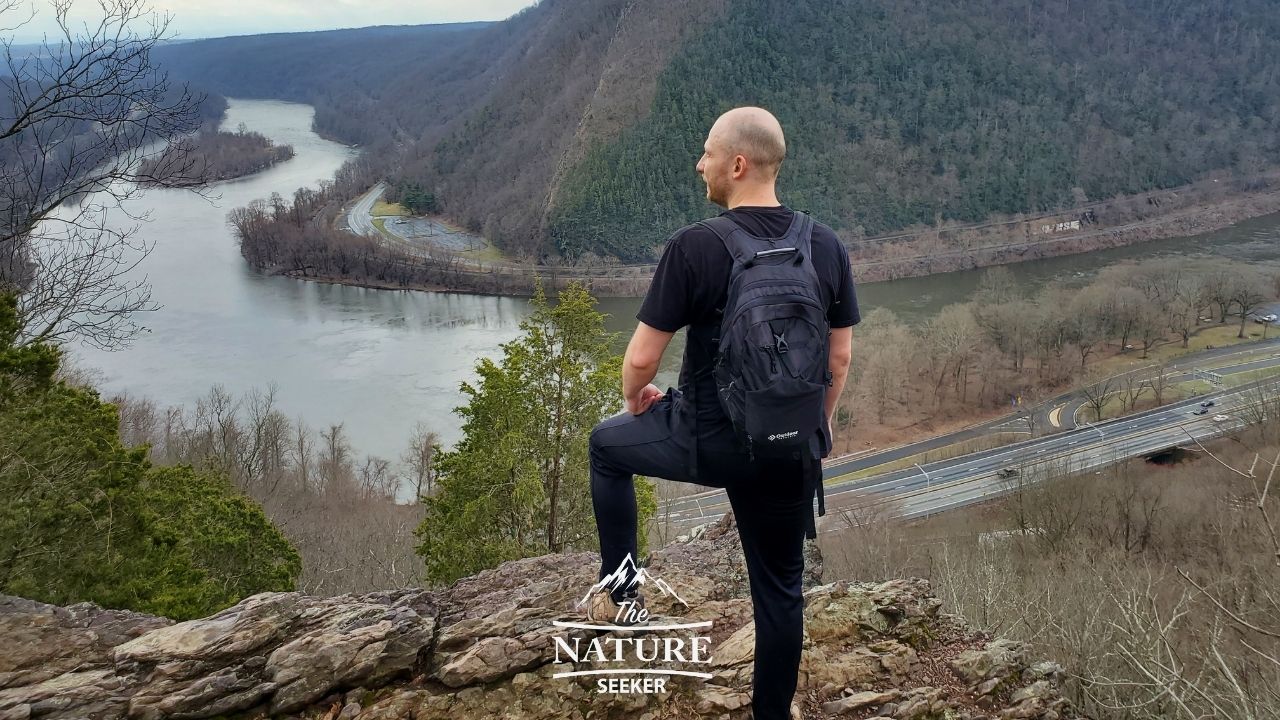 It only occurred to me in 2021, after visiting the Delaware Water Gap a second time that it's actually part of the Appalachian Mountain trail and within it lies a bunch of hikes and just as well an awesome scenic drive.
It is interstate 80 and you can take it east or west depending on where you're coming from to see this beautiful part of Pennsylvania (it divides both this and the NJ state).
The picture you see of me standing is on a famous trail I'll be sharing with you further below in this article, but just note that Delaware Water Gap is one of the most famous stops along the entire Appalachian Trail, whether for scenic drives or hikes in general.
10) The Blue Ridge Parkway (400+ miles of scenic drives along the Appalachian Mountains):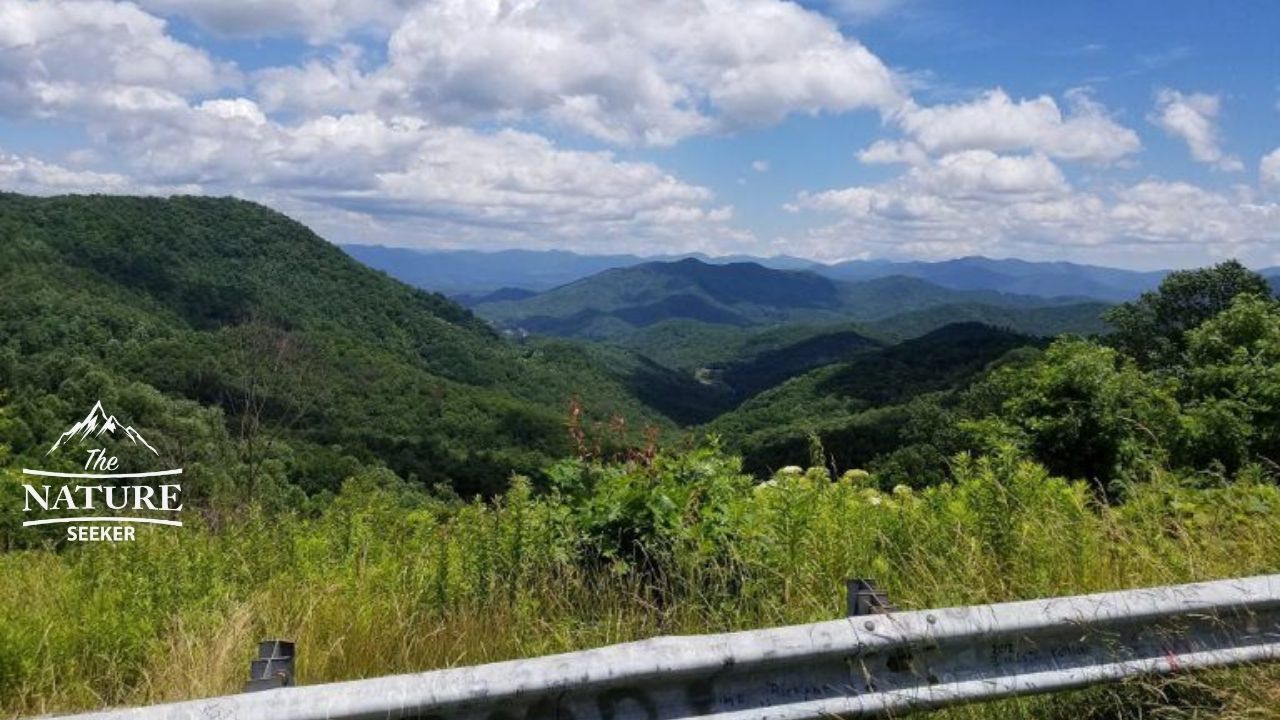 The Blue Ridge Parkway is the largest section of the Appalachian Mountains where you can drive through what's known as the Blue Ridge Mountains.
This section of the range will take you days if not weeks to drive all the way through and explore all the beautiful scenery.
It is easily over 700 miles of drives, and it takes you through many beautiful parts of the Appalachians and in states like Georgia, North & South Carolina, West Virginia, Virginia, and Pennsylvania.
There are many beautiful spots in this area to explore, besides the scenic drives!
11) Harriman State Park (Seven Lakes scenic drive):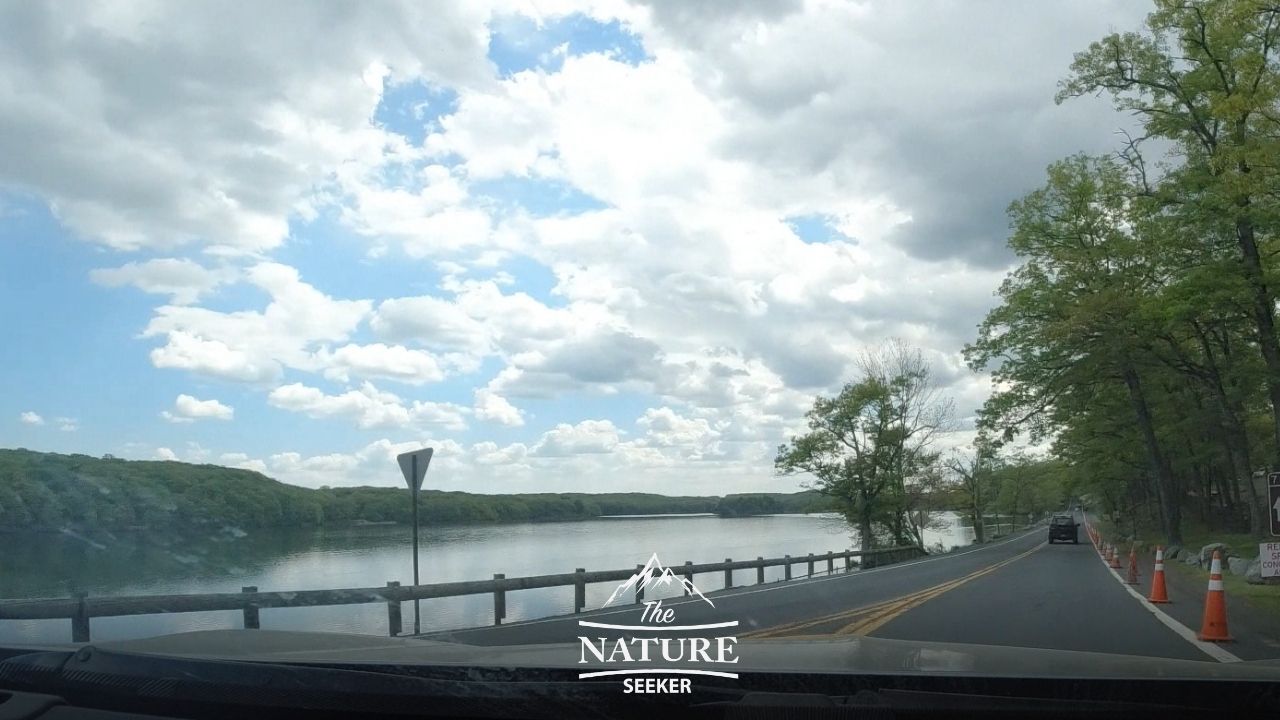 One of the closest parks to NYC in which you'll find connections to the Appalachian Trail and mountains is Harriman State Park and it is quite an awesome place for scenic drives too (and hikes as I'll explain shortly).
There are several scenic drives in this park but the main one is the Seven Lakes Scenic drive. I do also highly recommend exploring the other roads in this park as it is quite large!
Harriman State Park is a place I've begun to explore quite frequently since it's so close to me and I've also hiked parts of the Appalachian Trail in this park too (and run into a lot of people who started in the southern most end of it and have been on it for months too).
12) Hudson Highlands State Park (Road 9D):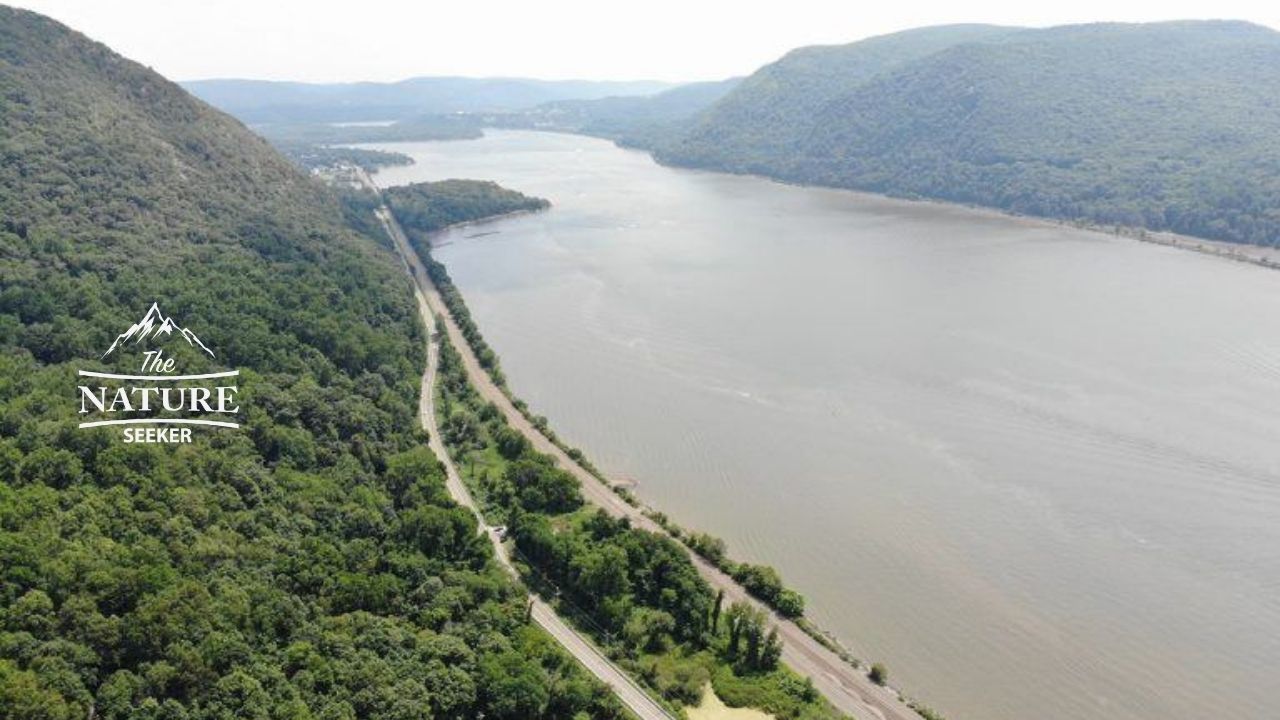 Right across the Hudson River from Harriman State Park is another famous spot with Appalachian trail connections known as Hudson Highlands State Park.
The main drive to do in that park is road 9D which will take you through many awesome hiking spots, nice views and more.
The view you see in this picture is me standing on a popular hiking trail known as Breakneck Ridge, which is explained further below, but overall, much of the Hudson River Valley has nice scenic drives and hikes to explore.
Of course, I can't list all the 100's of them, but I'll get into the most popular ones shortly below.
Now onto the 12+ hikes in these parts of the Appalachian Mountains:
Again, there are too many hikes to list, so I'll just isolate each region and give you some hiking trails to explore in each spot which are quite fun to do!
I've connected the list of 12 scenic drives to be close to one or more hikes in the area, so you can combine the drive with a nice hike to get an even better experience overall! And we'll start by going back to the north eastern most part of the Appalachian Mountains, which begin in Canada (New Foundland):
1) Gros Morne National Park:
Well this park alone has 100's of hikes. I mention a few of them here, but as a reference, the most popular hikes are:
The Tablelands.

The Lookout Hills.

Trout River (east side of it), long range traverse and more.
If you're into seriously beautiful views, those places have them, but some require permission, a reservation and a guide so keep that in mind.
You can also hike any of the peaks along the main scenic road I mentioned, there's plenty of places to stop there, and more than plenty of peaks to go up.
You will also see trail heads very often when you are on the main scenic road.
2) Cabot Trail:
Trails are all around this spot and remember, the trail itself is really one long scenic road.
You have coastal and mountain hikes that are worth seeing while you are on this path. I have listed a few places, with awesome waterfalls and scenic views here where I explain my visit to the Cabot Trail.
3) Bay of Fundy National Park:
There is a large park called Fundy National Park in this region which has plenty of hikes to enjoy. You will also find plenty of beautiful coastal areas near the scenic road that you can stop at and explore.
There is PLENTY of hikes to explore at Bay of Fundy and you can get more info on the specific areas to check out for trails and drives in that link.
This area is in the vicinity of the Appalachians but is closer to the coast, and here you'll find so many things to explore and hike through including sea cave explorations, kayaking underneath natural bridges and seeing whale sightings (among other awesome things).
I never gave Bay of Fundy its due credit because I rushed through it the first time I went here, but in the future, I will explore it far better.
4) Baxter State Park (where the Appalachian trail officially begins):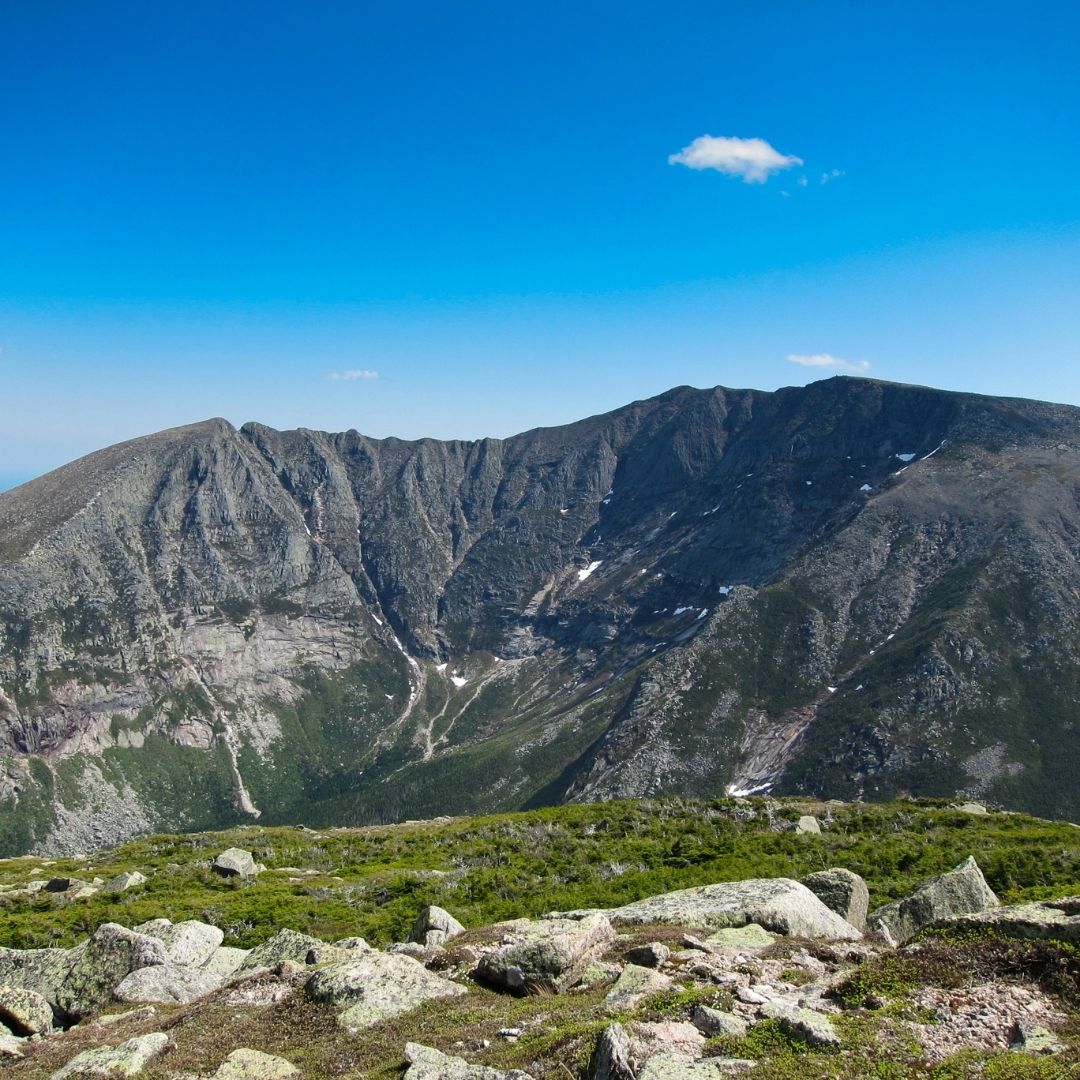 If you start the Appalachian trail in the United States and begin from it's northern end, it'll start here at Baxter State Park and besides that entire trail being an amazing hike, the particular part of Baxter State where I recommend you go hiking is Gulf Hagas (only if you're experienced).
Just a fair warning: A lot of insect repellent because this place has so many bugs that it felt like a insect plague was upon us when my friend and I went through it.
And furthermore, there is another awesome hike within Baxter State park I recommend exploring which is:
Mount Katahdin. This is the second largest mountain in the northeast (largest in Baxter State Park) and is a popular spot to check out (it's the picture you see here). I wanted to do try going up this place, but sadly, I didn't have enough time.
It IS on my list, but it's got amazing views. It is also a dangerous hike, so please know this.
5) White Mountains, New Hampshire (many Appalachian Mountain hikes available):
So there's a bunch of peaks worth exploring in the White Mountains:
For starters, I really enjoyed Mount Cannon, from which you can see beautiful views of the neighboring peaks such as Mt. Lafayette.
If you really want to challenge yourself, go up Mt. Washington, or drive up it if you want to save time and enjoy the views. Mt. Washington is the biggest mountain in the eastern part of the United States, at over 6,000 feet high.
Many of these mountains also have ski resorts, which means they also include gondolas which will take you up to the top all year long.
That's what my buddy and I did when we went there (we just didn't want to do the long hike).
6) Adirondack Mountains:
Well this park has over 40 peaks you can explore. Here is a list. But I personally enjoyed the drive and areas to check out near Mt. Marcy, the largest peak in that region. Here's just some hikes to consider:
Indian Head.
Mt. Marcy Loop Trail.
Grand Traverse (25 miles).
7) The Catskills: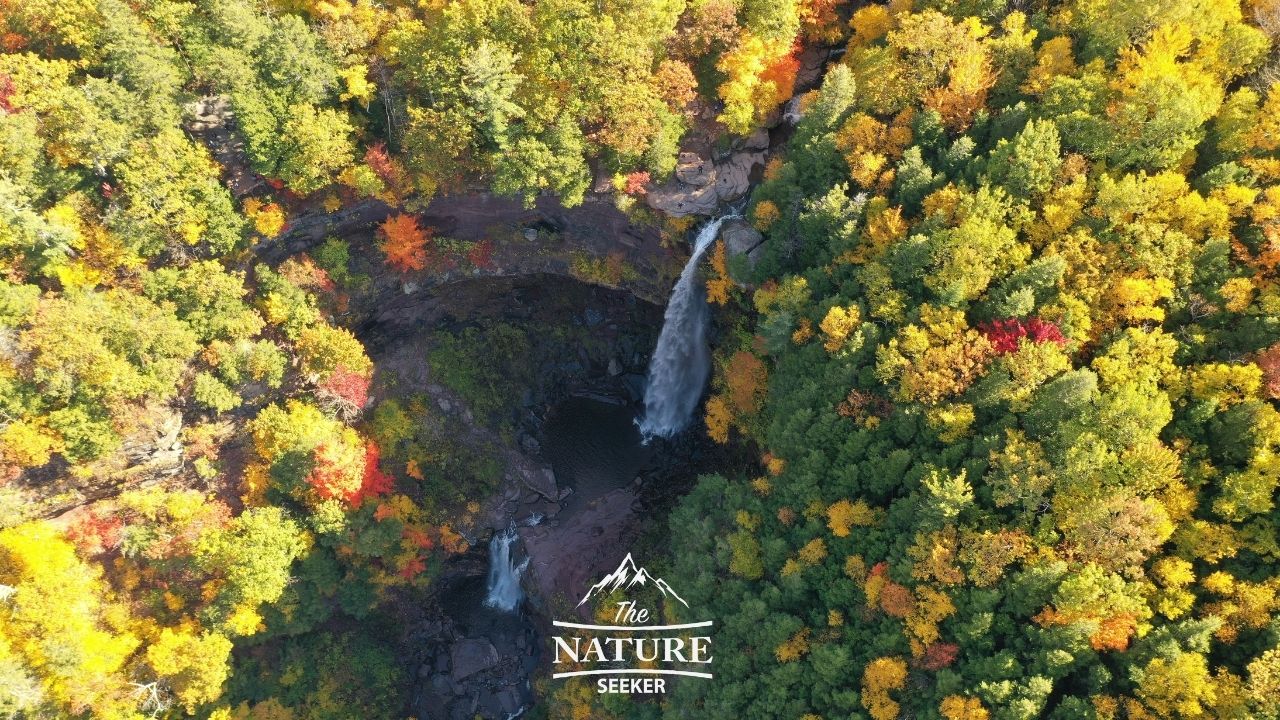 Without a doubt, you need to see Kaaterskill falls in the Catskills (above) and go on the hike which leads to it.
If you have issues with difficult hikes, you can take 2 trails which lead to this waterfall, one from the top, which is an easy walk to an overlook and even to the edge of the waterfall OR you can take the main trail, upwards to the base of the falls, which is about a mile long trail, one way.
I also have my list of hikes to do in the Catskills you need to see and hike through and just as well, here is a list of 10 hikes in the Catskills that encompass this mountain region.
Additionally, plenty of other peaks are all around the Catskills and here is a list.
There is also a very famous trail known as Devil's Path which is considered very difficult and one that crosses 3 peaks and spans for over 20 miles.
8) Daniel Boone National Forest (Hike in Red River Gorge):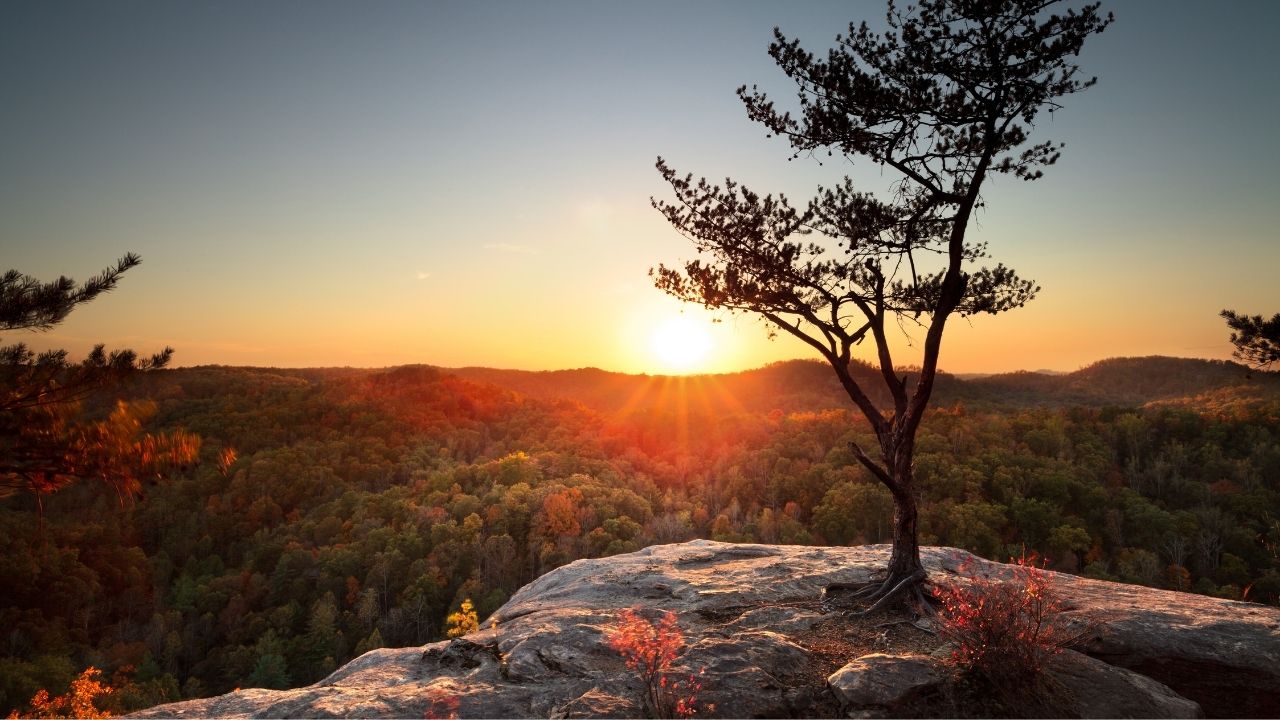 Any area near Red Gorge is a must see for hiking and general sight seeing. It offers the best viewing spots of the entire national forest area.
And make sure to check out Sky Bridge, the most iconic part of this forest.
This literally looks like a bridge, but it's made naturally from erosion. And there are more than a few similar looking spots across the Red Gorge area as well as Daniel Boone National Forest.
You'll even be able to see tons of caves here too! My buddy and I were glad we decided to head away from the Blue Ridge Mountains to explore this region.
9) Delaware Water Gap's hikes: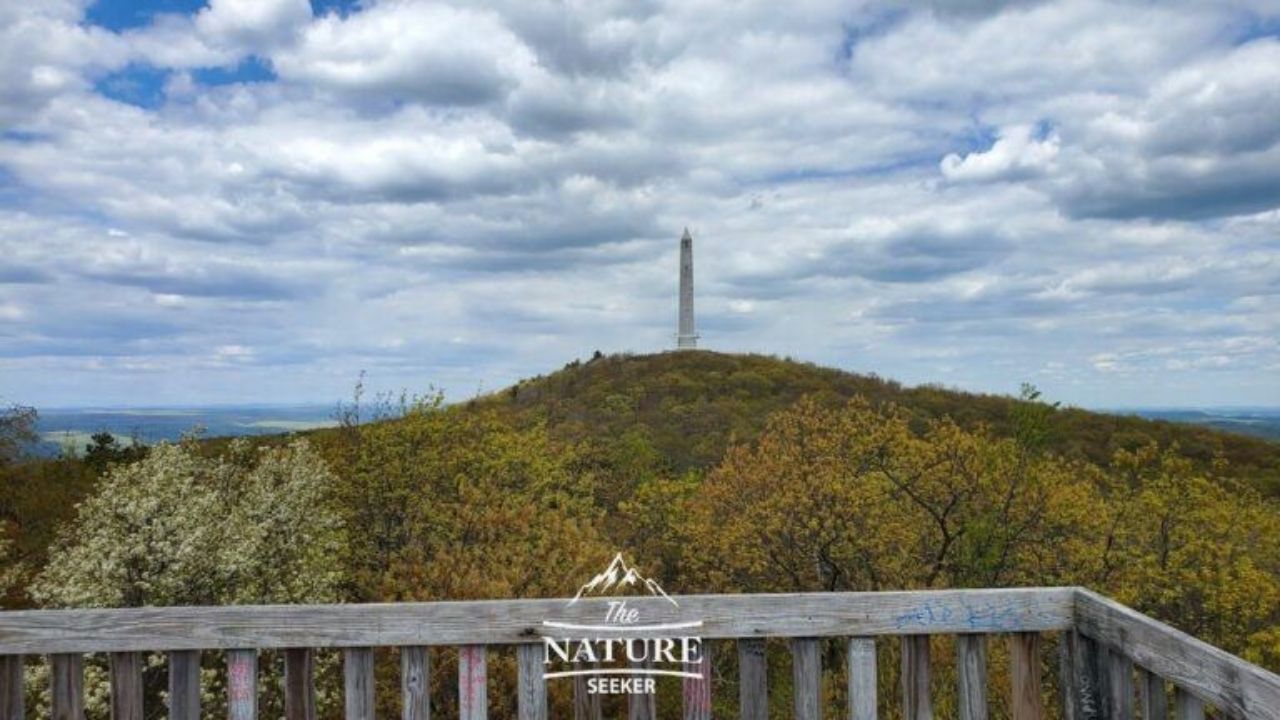 The main one I recommend is the Mt. Tammany trail. It's on the southern most end of the Delaware Water Gap and is VERY close to the Appalachian Trail too.
It's a fairly challenging hike that provides awesome views of the region as you can see to the right.
Additionally, the whole region is full of hikes, but there's one park at the northern most end of this area which literally connects to the Appalachian Trail and that is High Point State Park.
Having been there, I saw signs for the Appalachian Trail several times (it's a white color).
10) Blue Ridge Mountains (tons of hikes):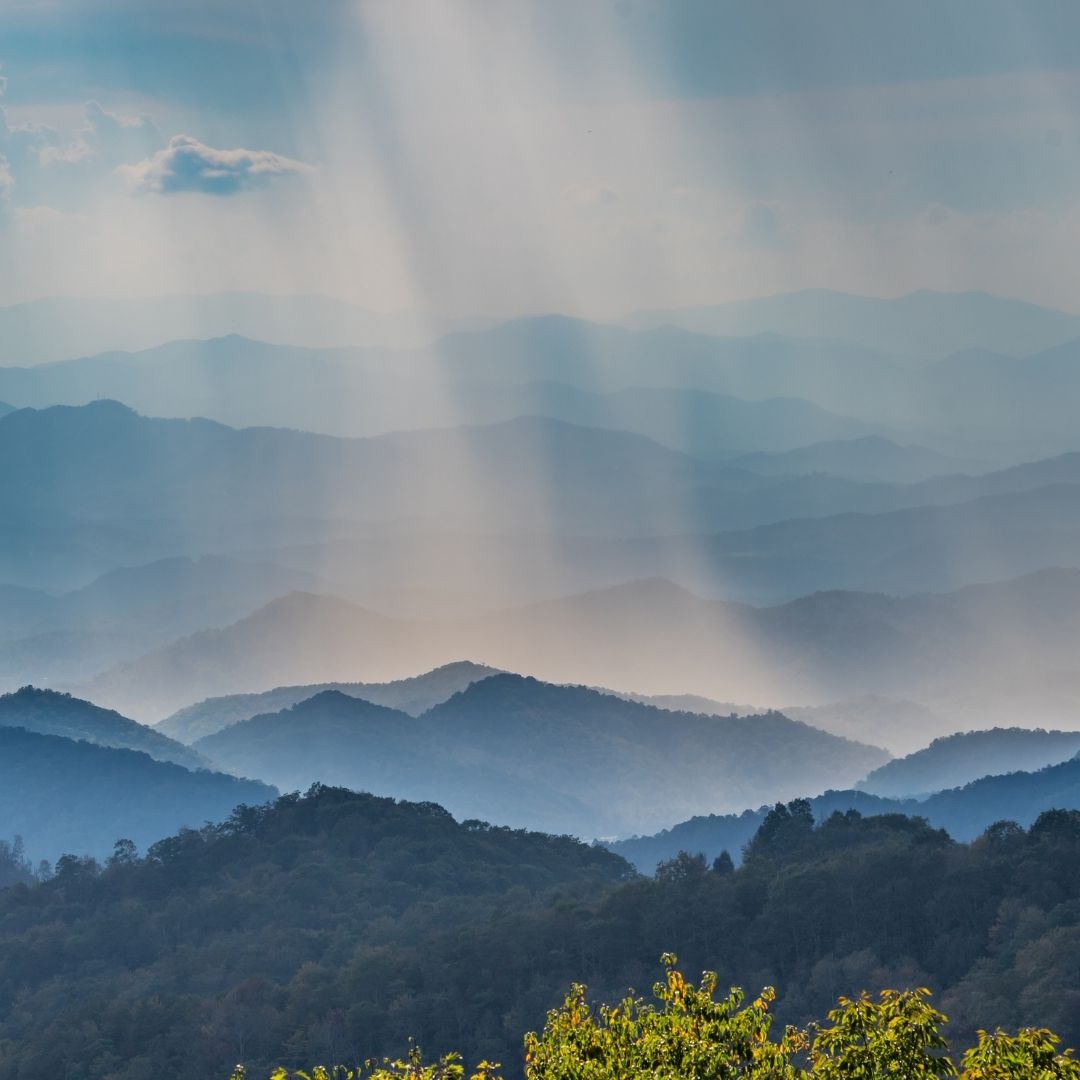 My buddy and I mainly cruised through this area so we experienced much of the scenic drive in this region, but all across it are hiking trails.
As long as you remain on the main Blue Ridge Mountains road, you will see plenty of signs for trail heads.
If you actually do the Appalachian Trail, the Blue Ridge Mountains is where you'll be doing the largest section of the trail on but at the same time, through the near 400 miles of mountains, lie tons of trails, hikes and opportunities for people of all skill levels.
In fact, if you're traveling through the Blue Ridge Mountains and want to find nearby trails, see my post on how to find easy hikes near me to see what's available near you.
It's not out of the realm of possibilities that the Blue Ridge Mountains give you access to 100's of trails, many of them leading you to beautiful waterfalls, overlooks and more, and this doesn't even include that the Appalachian Trail itself also has much to offer to you in this region.
11) Harriman State Park (tons of cool hikes):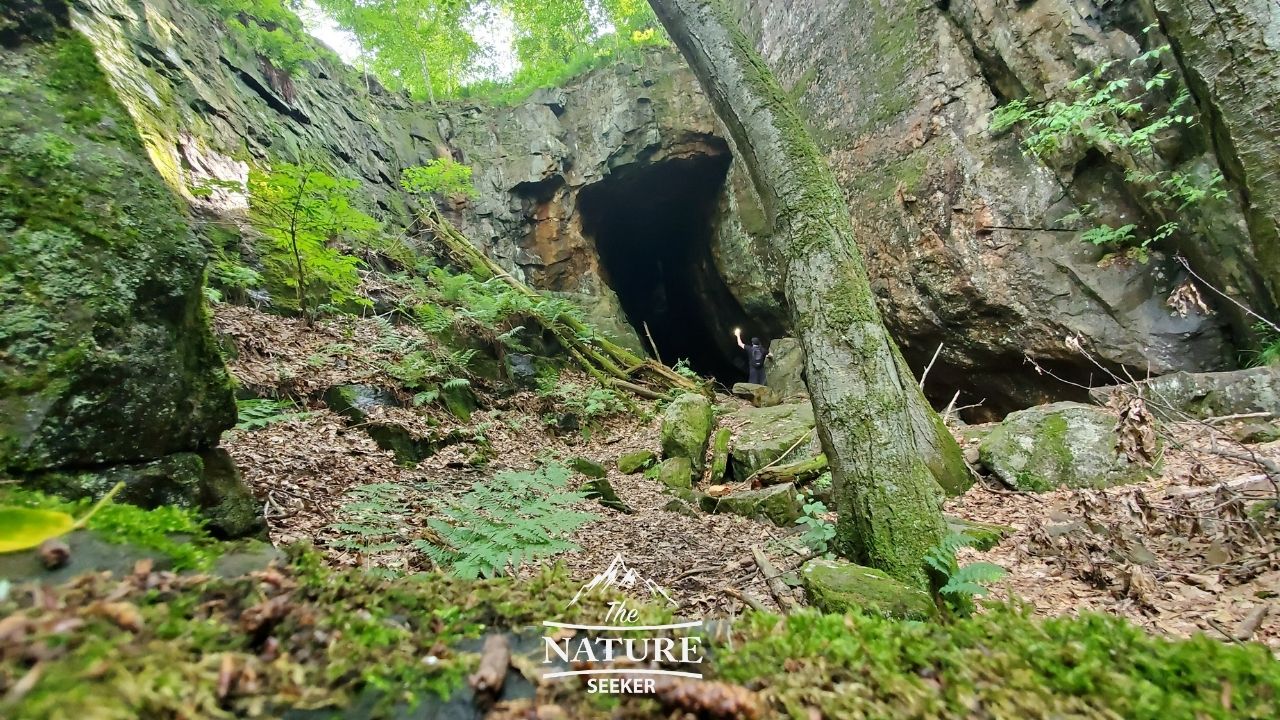 Again, the Appalachian Trail literally goes through Harriman State Park and I've crossed a chunk of it twice already.
But this park offers so many more trails worth exploring and there's many hikes available, some of which include:
Harriman State Park is just an awesome place for hiking and exploring cool stuff, period.
12) Hudson Highlands State Park (3 recommended hikes):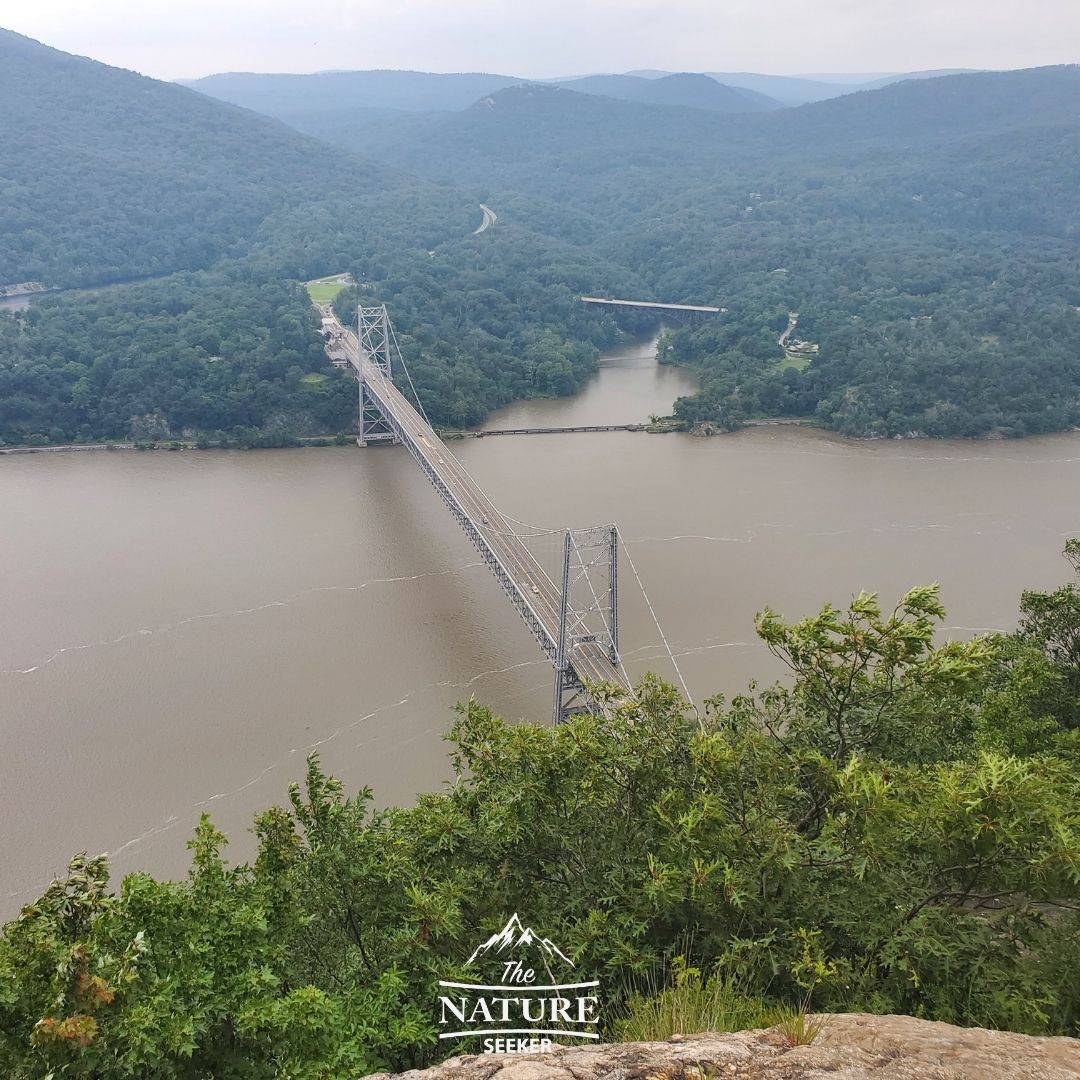 The Appalachian trail is on the southern end of the park, but there are some hikes I highly recommend checking out such as:
Those 2 are REALLY fun hikes I've done numerous times and each of those articles will show you what to expect and what's worth seeing near each one.
Then there's also a hike called Anthony's Nose, which I personally think isn't that fun (having done it), but one of the ends of this trail has you go on the Appalachian Trail, but only for about a quarter of a mile.
If you're looking to hike small pieces of the Appalachian Trail and add it to your collection vs doing the whole thing, then hiking the Anthony's Nose might be for you.
The other 2 hikes I mentioned above are in my opinion way more fun to explore and close enough to the Appalachian Trail that it's worth checking out.
Exploring the Pacific Northwest, and seeing places like the Appalachian Mountains:
Once my road trip through the Appalachian Mountains was done, I decided I needed to explore new areas, and in this case on the west side of the United States.
While the eastern United States holds basically one mountain region (the Appalachians), the west side has several:
1) The Colorado Rockies (3,000 miles) which actually go up to the Canadian Rockies too.
2) The mountain ranges of Utah (Explore the Mighty 5 National Parks to see most of them). And there's also tons of awesome scenic drives in Utah that have you cross these ranges too!
3) The Sierra Nevada Mountain Ranges (400+ miles). You'll find great parks there like Yosemite National Park, and then there's Kings Canyon National Park which is also connected to Sequoia National Park as well. The mountain ranges around these 3 national parks are bigger than the Appalachian Mountains (and also more beautiful in my opinion).
4) The mountain ranges of the Pacific Northwest basically, which go through Oregon, Washington (Olympic National Park) and more.
As much as I liked the Appalachian Mountains, I enjoyed the sights and adventures I saw in many of the above places more. The mountains are higher, the nature is more mixed and in my opinion, there's more to see. In the end, exploring all of these ranges is what I recommend you do.