I've done many road trips that truly took my breath away and hope to do many more that'll carry that experience, but I never planned to be "that road trip guy", not until I did the one I'll be telling you about today, that took me and a buddy of mine through over 1,500 miles of exploration across the Eastern United States.
After doing that trip and having the fun we did, it became a tradition and every time we would do a road trip afterwards, it would always try to top the previous one/s we did. But we'll never forget the first one that started it all, and here it is:
The eastern United States road trip really started it all: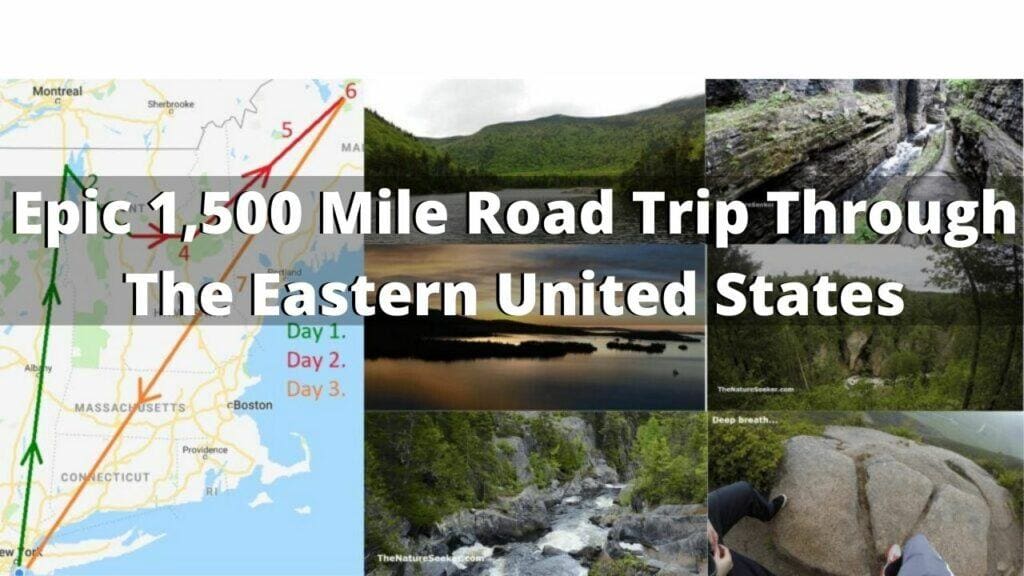 This is a trip I recommend anyone take if they're living in New York City or anywhere city related in the north eastern United States and while it centered around the North Eastern States (I did another one that took me through pretty much most of the eastern U.S from the southern side after which was across the Appalachian mountains).
Here is the summary of what we saw on this eastern US road trip:
Started in NYC.
Went up to Ausable Chasm.
Saw the Canadian Border (but didn't cross it).
Turned east to hit up Vermont and saw many beautiful spots there.
Decided to improvise and headed to the White Mountains in New Hampshire.
Decided to improvise even more and headed all the way up to Maine.
Went back down to NYC and drove through the night to make it.
Before I show you where exactly we went, let me say a few things about this trip:
Like I said, this was the first time I had ever done a road trip like this in my life (as did my friend, who was from Florida at the time, he later moved to NYC). 
And this trip was 90% improvised!
We ONLY had 1 location we wanted to see which was Ausable Chasm and after we did, we took it even further, started improvising, and checking out other spots. That made the whole experience even better and I will document each major location we visited in a matter of 3 days.
After we completed it, we enjoyed it so much, that we vowed to try something similar (and we would continue to do so, through other road trips we'd take in the future, which I have also documented on this post).
I decided to start sharing these road trip ideas with you and if you enjoy this article and want to see the other ones I took ever since, please let me know and I'll happily share the others with you!
Here are the detailed spots we visited during this crazy and impromptu road trip: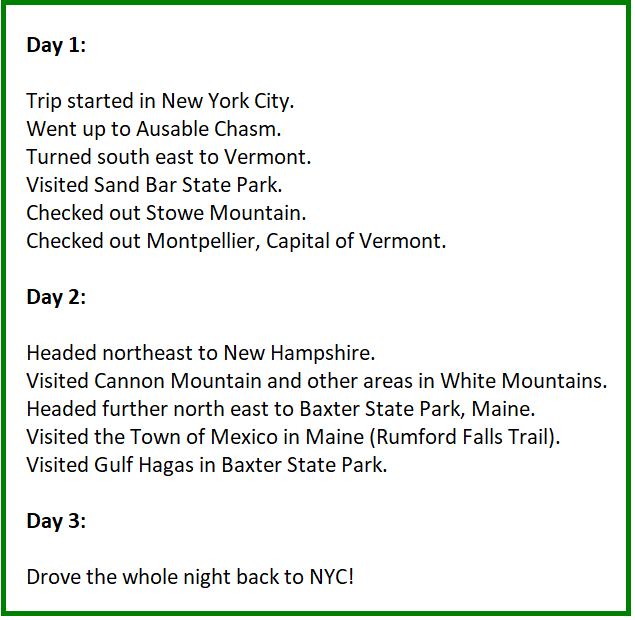 And here's a map of the 1,500 miles we did throughout these 3 days:
1) We began in NYC and went up to Ausable Chasm (a 6 hour drive).
2) We shifted east, entered Vermont, and stopped in Sand Bar State Park.
3) From there, we visited a train bridge and nearly got hit by one, but afterwards entered Stowe Mountain.
We really thought this place would mark the end of the trip, but we were just having so much fun and an extra day we could use, so we decided to see how far we could go. Now with the areas in 4 and up are what took place on days 2 and 3…
4) From Stowe, we went east and entered the amazing White Mountains. During that time we visited a number of locations there, the best of which was Cannon Mountain.
5) We were aiming to reach Baxter State Park and specifically check out Gulf Hagas. We were really trying to make good time and driving VERY quickly, and enjoying the sights.
However, we couldn't help but want to stop once we entered the town of Mexico (in Maine). Specifically, what caused us to stop was the Rumford Falls Trail, the water dam nearby and that was a very nice moment. But then we continued for about another 2-3 hours…
6) We finally found Gulf Hagas, drove through a ton of bad roads, but managed to do the hike. 
Once we finished, we ended the day by seeing an awesome sunset in the nearby town. 
7) Because my friend had to leave back to Florida in the afternoon, we decided we had no choice but to drive the whole night (day 3 technically) and so we did. And sadly, because we were rushing and it was nigh time, we didn't get a chance to enjoy the other sights on the way back. BUT on one of the other trips I'll share with you (let me know if you want to know more about it!), we did make up for it! 
We ended back in NYC at 5 am in the morning, exhausted, but truly ecstatic about what we did and this experience would forever make us want to try MORE of these kinds of things.
How this road trip across the Eastern US came to be:
My friend from Florida was visiting with his girlfriend for a week. They stayed together in Long Island a few days, but being that she had to leave 3 days before the full week ended, we decided my friend would stay with me for the remaining 3 days.
He had come to visit me before, and we did hike places in the Catskills, which we enjoyed (see those 5 things in the link), but this time around, with 3 days free, and being that we both did not enjoy the city or touring it, we decided to take a road trip.
And being that we already saw nice places in the Catskills, we decided to experiment and see what laid further north. The Adirondacks were an option, but Ausable Chasm which was also close to the Adirondacks, interested us most.
Day 1:
We decided that it was best we left VERY early (3 am) and ended up arriving there at 9 a.m right when it was opening and there was NOBODY there, thus allowing us to explore this place without having to wait at all! 
The experience was truly extraordinary to say the least…
The only downside was that it was raining, making the trail across this gorge slippery, but it didn't stop us from enjoying it!
Shifting to the east (Vermont!).
Looking back at this experience, when we finished Ausable Chasm (It was only 11 am!), we only wanted to "briefly" check out Vermont. I was convinced we should go back to New York, while my friend insisted we check out Vermont State and so that "brief" trip would end up taking us on an adventure we would seek to do again and again!
When we entered it, Sand Bar State Park was where we stopped. But looking further as to what else we could see, we decided to check out the next nearest park, which was Smugglers Notch State Park:
When we got there, it was still raining, but this time, because we were on a VERY scenic road, the rain actually amplified the beauty of the nature in this region. It made the sky darker, but that actually made the nature look greener:

That mountain you see above is a place I revisited on a future trip, and the hike I did with the same friend, was INCREDIBLE.
But once we existed this scenic road, we passed the official Stowe area ski resort and decided it was time to find a place. This is where we stopped:
To date, this Marriott is still one of the best I've ever visited. When we got there, we left our things in our room and decided we didn't want to relax. Instead, we decided to check out Montpelier which was close. Apparently, we ended up getting there when it was pretty empty and most of the restaurants were closed, but we enjoyed it.
When we headed back to the Marriott, we decided to wake up earlier to make sure we could get the most things done. 
Day 2:
We woke up even earlier than we wanted. Apparently, the high of this road trip was still with us, and we did NOT want to relax. We exited the Marriott and decided to go east.
During this time, we passed into New Hampshire across a very small bridge and after a few hours drive (and constant rain still) put us in the White Mountains area. 
One of the first places we saw when we first entered here was Beaver Lake Pond: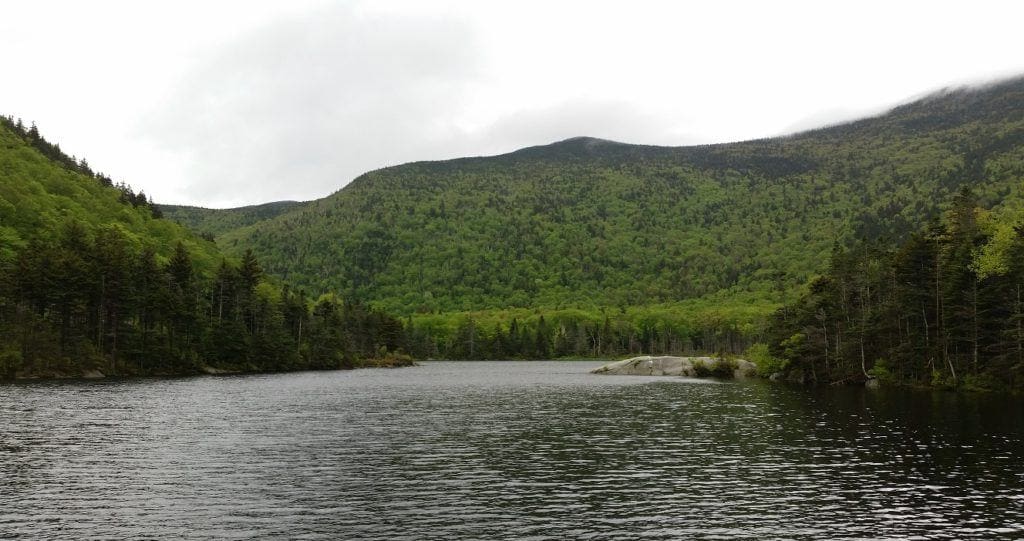 Followed by this was Cannon Mountain, which we also had to stop at, because…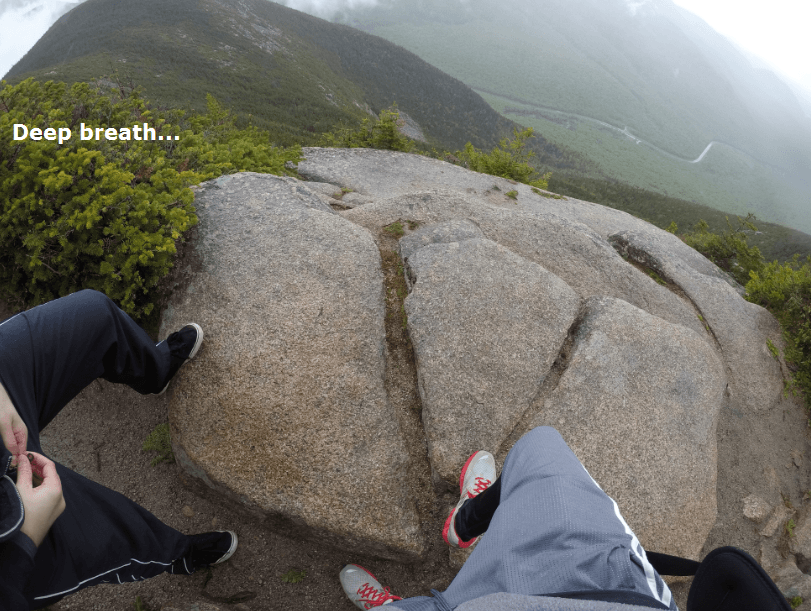 Now after we checked this place out, we decided to go even crazier with the road trip and instead of heading back to NYC, to go even further north east, the next destination idea being…
Gulf Hagas. We decided on this spot because of the pictures we saw but to get there, we needed to invest at least 4 hours into a long drive, so before we did, we got out of Cannon Mountain, got into the nearest town, and had our first oven pizza. Once we were full, it was time to go as fast as we could.
We were SET on getting to Gulf Hagas and said that unless something truly stunning appeared before us, we would not stop. And what happened?
Something stunning did stop us: Rumford falls:
While it did smell like sewage in this area, it was just so beautiful that it didn't matter. The location I just put up above is a very small park from which you can view this waterfall and there's actual "cut out" metal figures of people there. 
After enjoying this place for about 20 minutes, we knew we had to make it to Gulf Hagas even faster and so we went on, passing through the town of Mexico right by Rumford Falls. 
Also I want to say that the falls, the water dam and the whole location looked almost EXACTLY like another waterfall we passed in Vermont, and when I first saw it, I literally believed we backtracked to Vermont, and yelled at my buddy for this, until I realized it was impossible, considering we were heading east, not west. And this was a funny thing.
After several more hours of driving and some sun FINALLY popping up, we were in Gulf Hagas. But by the time we got there, we only had 1-2 hours left of daylight, so we REALLY had to hurry. We got onto the very dirty and rocky road, and headed on it, not even knowing for sure if this would truly lead us to Gulf Hagas (it would).
Before we could get into the official area and check out the hike, we had to stop at an official entrance and pay a fee, which was $18, and as coincidental as it may seem, we had to scrap all the money we had (we relied on credit cards all throughout the trip) and after checking our pockets, our bags and the car, we literally came up with the $18 (they didn't accept credit cards).
With this, we passed the entrance and headed to the Gulf Hagas trail point, of which there were 2. We got lost on the southern one, and had to restart on the northern one. That wasted us at least an hour.
But we did finally make it:
Out of the many spots I would see in Baxter State Park in the future, this location and Mount Katadhin would be my recommendations. Beware of moose and a variety of annoying flying bugs there!
And now with this final part of the trip done, we headed back to the town that was near this spot, and took some great photos of the sunset: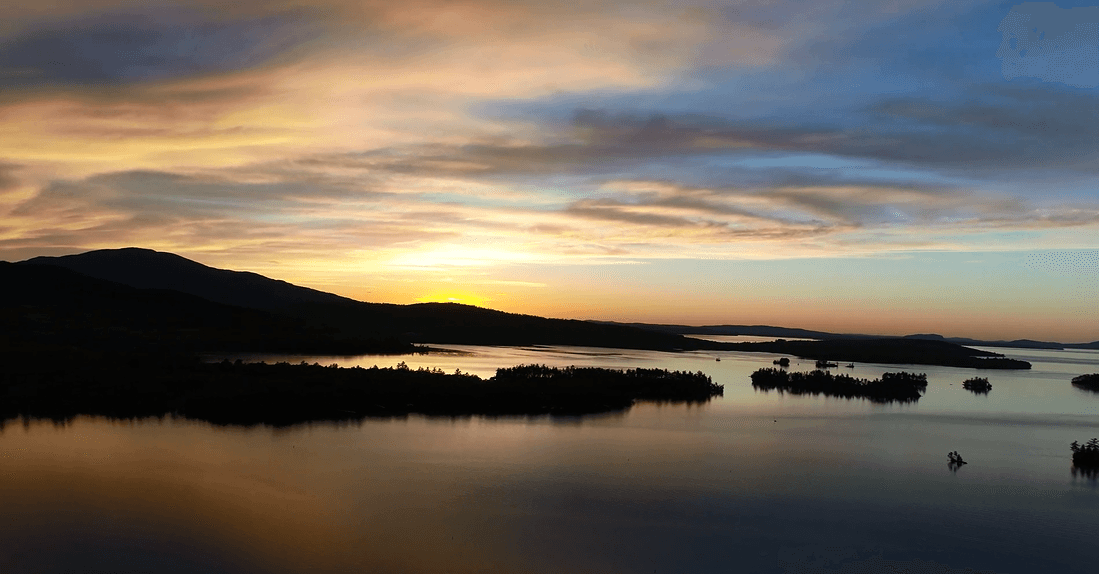 Seeing as how we managed to get SO far from NYC, we that we only had 12 hours left before my friend had to fly out, the only decision left was to drive back home the whole night and hope that we'd make it. This took us into day 3, which got us back to NYC, and planning the next road trip we'd take, which would happen 1 year from this one 🙂
Now I know that we definitely missed a lot of areas during our trip, but we were driving blind and letting the road and any beautiful adventures on it lead us further, and that made this trip extremely fun! 
If you've been to any of the areas I covered in this 3 day trip, do let me know if there were more I missed and should have seen. I'll mark them down for a future visit!
More road trips that followed thanks to this one!
Like I said earlier, we loved this impromptu road trip we did so much, that we ended up doing at least 4 more like it, and they ended up being even crazier. In fact:
Here is the second crazy and very scenic road trip we did in which we ended up doing over 4,000 miles and crossing places like the Blue Ridge Mountains and Daniel Boone National Forest.
Then we have an east coast road trip I did with the same friend and another person, which took us all the way to New Foundland!
And then I have another crazy one to share with you, which I unfortunately had to do myself, but that took me through the west coast of the United States and it was so good that I am already set to do a similar one in 2020!
And finally (well for now), we have a Canadian Rockies road trip we did in 2019. The sights this place offered trumped almost everything else we had seen up till now…
Have your own crazy road trip stories or ideas?
Tell us about them below!