I visited Bay of Fundy last year and I have to say, the online resources that talk about this spot are terrible at telling you what to do there as well as directing you.
Let me give you an example. Most of you are who are considering going there for the first time may have seen…
This famous spot is in Bay of Fundy, but: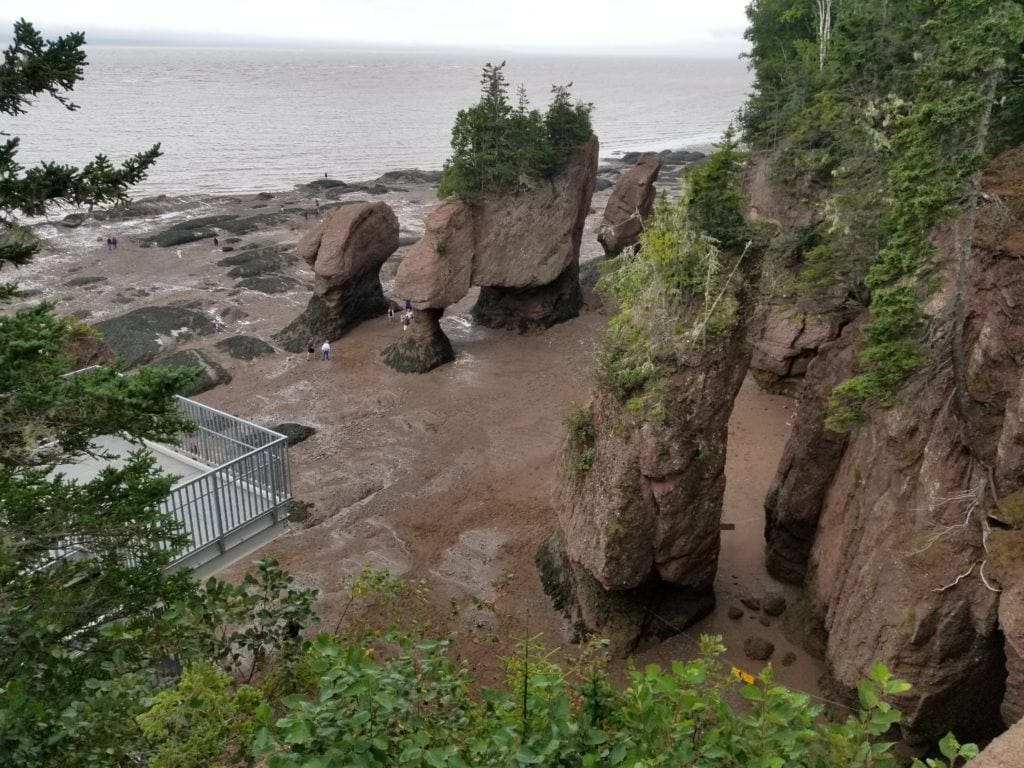 Every single resource I looked at to find the exact location to this spot said it was at Bay of Fundy. Great, but there's a problem:
Bay of Fundy itself is a gigantic location that goes through New Brunswick and Nova Scotia and with tons on the coast to choose from, we didn't know where to start.
The friends that I went with to see this location (details on the east coast road trip we did) had to figure out on our own where it was, and we did, but only after entering the large park where this location was at, and then asking locals where to find it.
We eventually did and not only will I tell you where this EXACT spot is so you can find it too (it's called Hopewell Rocks), but I'm also going to tell you about 7 things you need to do at Bay of Fundy if you go because this isn't the only spot worth seeing in the area.
Where is Bay of Fundy located?
It's located in the southern most part of Nova Scotia and it is an incredibly large location with plenty of things to do in it (I'll be going over the options in a moment).
Here is basic info and the map of this spot so you can see how large it is.
It's no wonder that for such a large area in Canada, there's plenty of things to see and do, but good luck trying to find that out online, as surprisingly the information is very vague and doesn't talk about the specific areas within this location to check out. I'll be correcting that in this blog post for you though…
Now most of the spots I'll be listing are within what is known as Fundy National Park, and it is where most of the scenic areas are. Some are inland, while most are near the coast, including the picture above.
Here is a map of Bay of Fundy: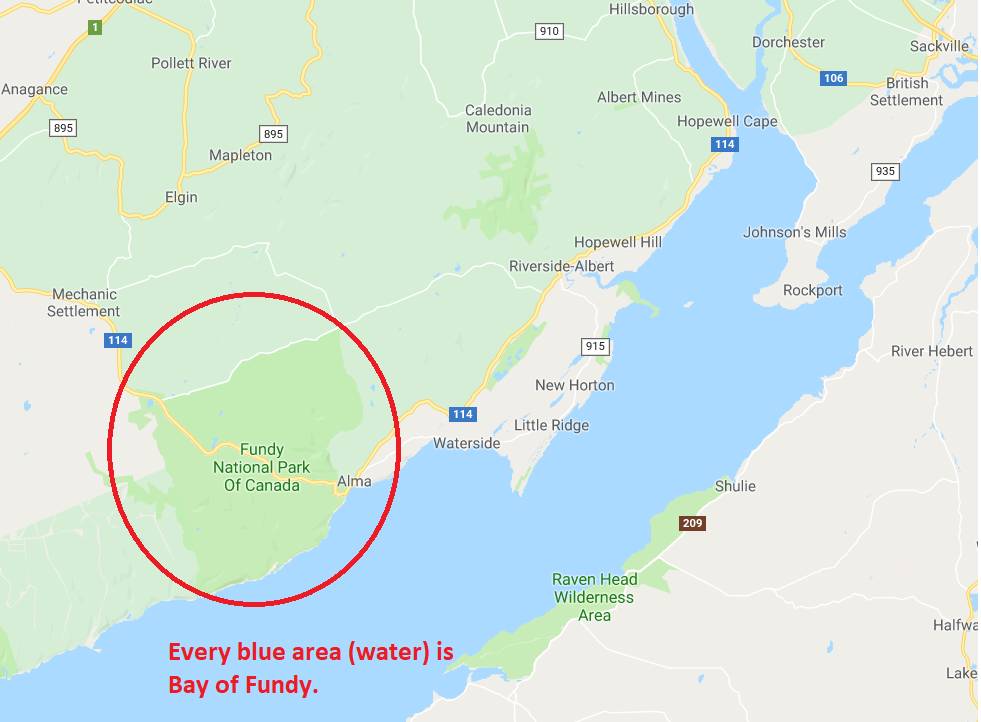 And I have also included a direct link to the map listing for the park. Here you go:
Now let's go over the list of 7 things to see here:
First, I'll start with the most iconic spot (the first image above).
1) Hopewell Cape (also called Hopewell Rocks).
Hopewell Cape IS the location that most people will see if they Google "Bay of Fundy" but like I said, the whole location is so huge and not a single site I looked at mentioned that the actual spot is called Hopewell Cape.
Here is an image of Hopewell Rocks (Cape):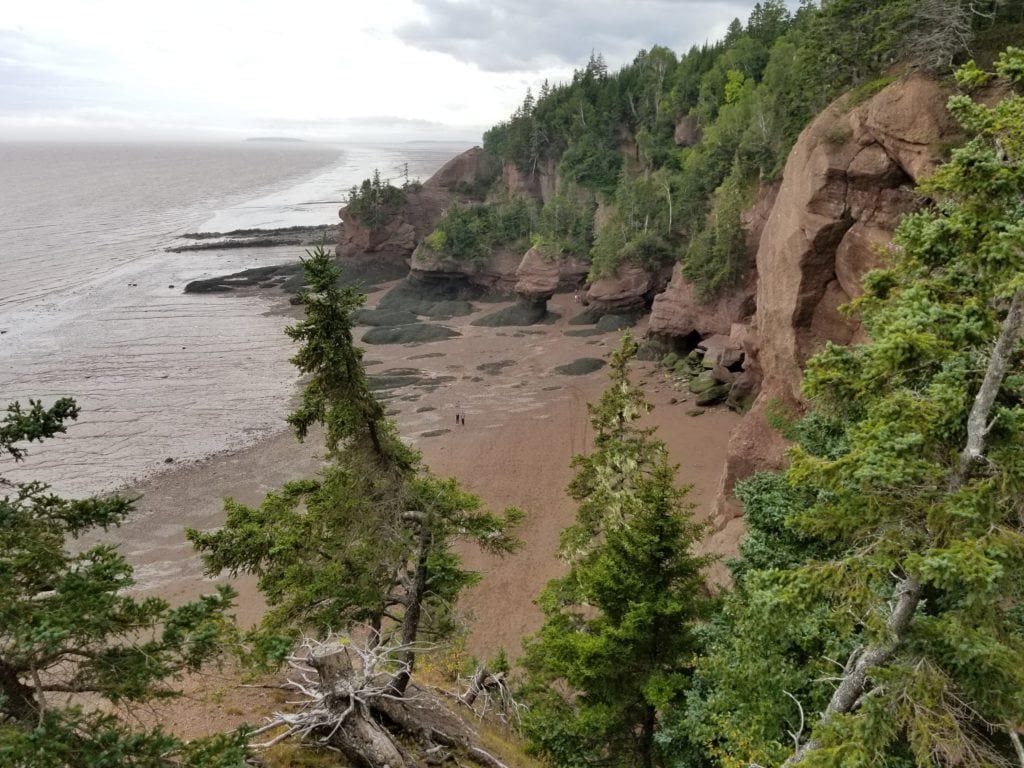 And here is the exact spot where you can find Hopewell Cape. Now look at the map of this location: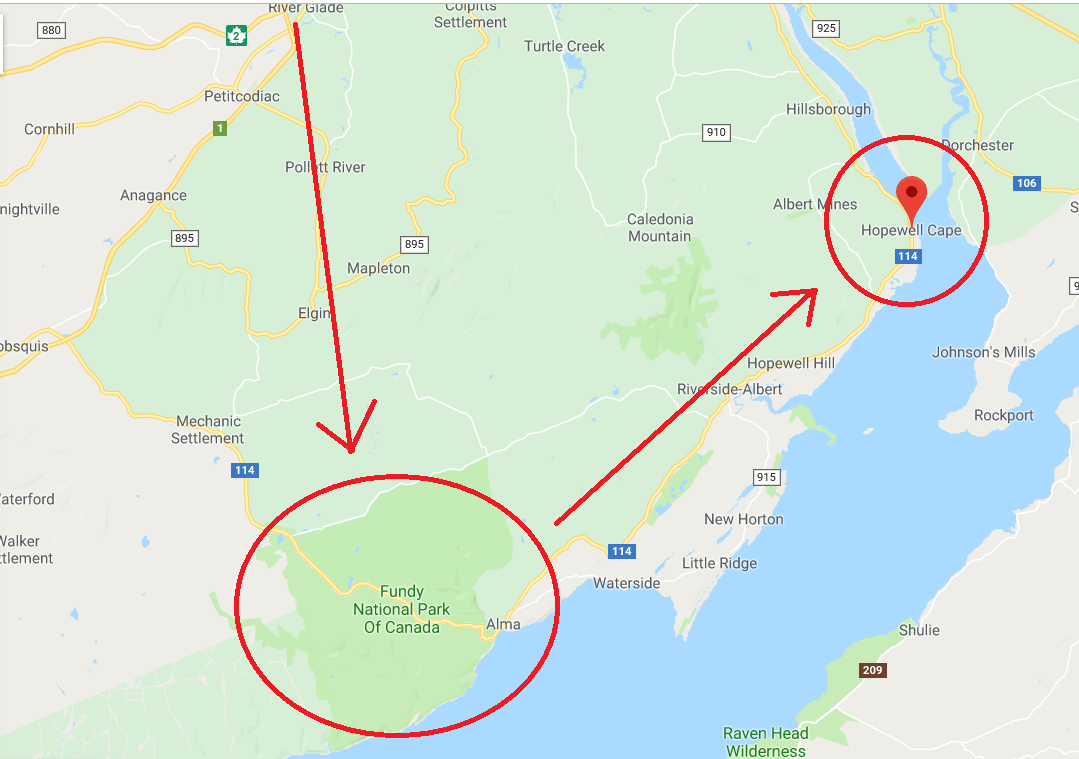 Because of bad information, my friends and I lost at least 2 hours figuring this out.
We were on route 2 (the main highway in Nova Scotia), figured we could see this spot in Fundy National Park, went off the path, down to the park, only to be told we had to go another hour north east to actually see this spot (and it's outside of the park).
So if you intend to see Hopewell Cape (and I highly recommend that you do), make sure to use the above map listing to get there right away.
2) Whale watching at Bay of Fundy.
Bay of Fundy is well known for having a lot of whales swim through it. There's boat tours you can take. In addition, there's also whale tours you can take near the northern part of the Cabot Trail, which is a location in the northern side of Nova Scotia. Depending on where you are located and how much time you have, you can choose this option or the Cabot Trail one.
3) Enjoying the high and low tides (they are the biggest in the world).
This area in Nova Scotia is very well known for having the biggest high and low tides you'll ever see and I can confirm this since when we landed on the coast, it was during the low tide period and you could see that the water fills in at least a kilometer inland.
This is actually one of the things which makes Hopewell Cape so popular. It's the high and low tides there which reveal beautiful landscapes.
4) Plenty of waterfalls to see on the coast and inland.
Because we didn't have much time (we REALLY wanted to see Hopewell Cape!), we had to skip the many waterfalls in this location, but here is a map of the many waterfalls you'll find in the park itself: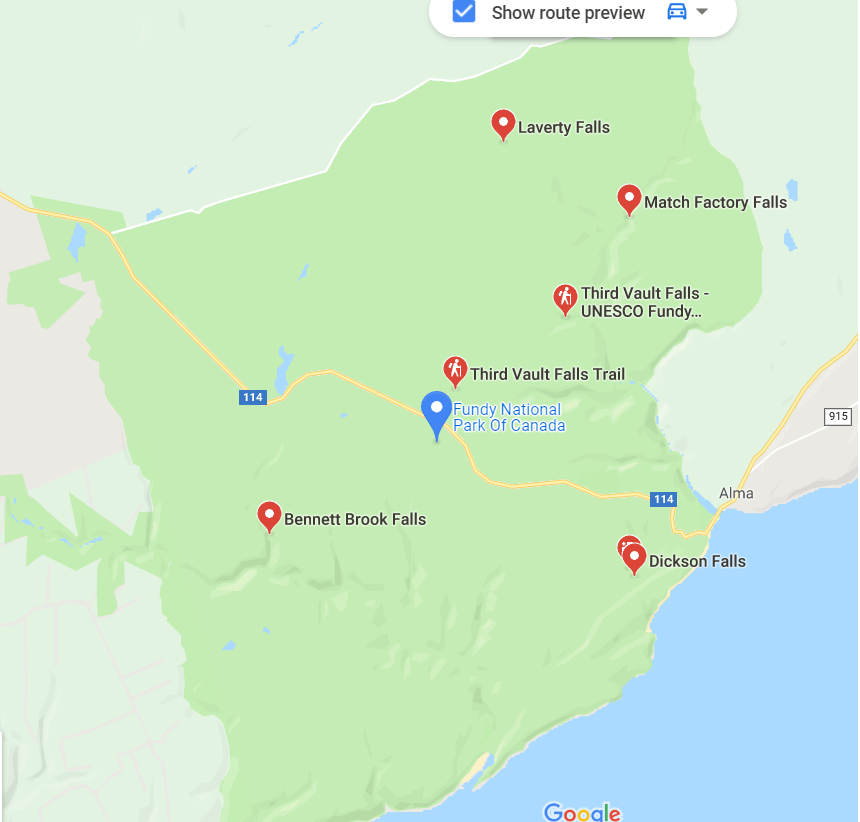 Many of them have their own man made hiking trails for easy walks, while others require moderate hikes. But if you are into waterfalls, this is great stuff. 
5) Sea caves. 
There is an iconic sea cave west of the park known as St. Martins Sea Caves and it's right on the coast, but it is about an hour drive west of the park:
As you can see, it's directly opposite of Hopewell Rocks, so we had to decide on only seeing one location (we had to make the Ferry to go see Gros Morne National Park).
6) The scenic drives along the coast are spectacular. 
Even though we were disappointed to know that we had to drive another hour to see Hopewell Rocks (Cape), the silver lining was that we got to do so while taking the scenic route. It's a great drive and you will see a few towns, beautiful beach views (especially during low tide) and there will be plenty of opportunities to take pictures.
And I have another option if you are staying in Nova Scotia for a little bit longer: The Cabot Trail, it's another awesome, scenic drive along the northern and western coast (road 114).
Additionally, if you have the options to travel anywhere, I always advise checking out the pacific northwest nature drive.
That one is more beautiful than any of these options (but still, the east side of Canada is gorgeous too).
7) The Fundy National park itself has many picnic areas.
If you love nature but aren't really active in it like we were, you have the option to camp out and picnic in the park, which itself is huge. It has plenty of areas you can stop at (including scenic areas).
Is Bay of Fundy worth visiting? Absolutely! 
My advice would be to fully understand just how bad the directions are to this place (because they literally clump all the locations I listed into one name which is Bay of Fundy, and it confuses people!) and to make sure you use this article to identify where in this large area you wish to go. 
If you wish to enter this spot through the park, I highly advise that you pick up a map at the ranger station and ask any questions on any spot you wish to see, so the ranger can mark it down on the map for you, so you don't get lost later.
Because we didn't do this, we had to make more frequent stops to ask locals where to go, which wasted time and forced us to then hurry to reach a ferry to get to Gros Morne National Park.
Don't make our mistakes!