I had the chance to cross the very beautiful White Mountains area on 2 occasions. 
Here is a summary of the 5 things to do if you visit the White Mountains:
Visit Flume Gorge.
Drive I 93, it's a very scenic drive.
Hike or use the gondola to Cannon Mountain.
Check out Beaver Pond.
Explore Lost River Gorge.
Though I didn't get a chance to explore much of this region, I will say that these 5 spots stayed with me and I'll explain why I chose to put them on this list. I will be showing you amazing photos so you can see why they are worth visiting in this article.
Also once I show you the 5 locations, I will also be giving even more awesome sight seeing locations that I found while taking the 2 trips through this region, that I am 100% sure you'll enjoy 🙂
Details on the 5 things to do in the White Mountains:
You'll find that these 5 spots are all pretty close together, so you won't need to drive too long to get to each one.
1) Visit Flume Gorge: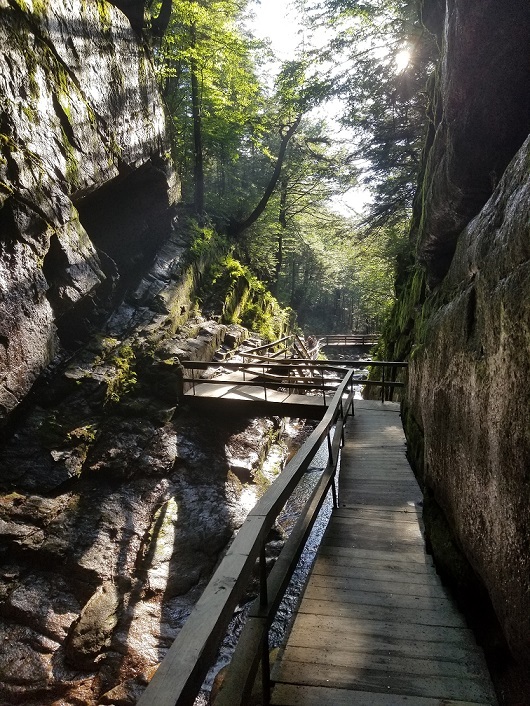 During my second visit through the White Mountains, this was one of the locations I had set as a checkpoint. 
It's a short, beautiful walk to the actual gorge from the parking area, and Flume Gorge State Park itself is also pretty small, but very beautiful as you can see from the photo I added.
The following link I just included will give you the details on Flume Gorge and what else you can do there.
I do NOT recommend hiking in this region because it's very slippery there, but you will find other, short trails within Flume Gorge that you're welcome to check out if time permits.
We only had about an hour to check this place out, but we managed to see the whole thing and enjoy the hike that was around the area.
I also believe that Flume Gorge is one of the most advertised areas within the White Mountain region.
You can see a lot of signs for this place while on Interstate 93 which will be the next region I'll discuss on this list of 5 locations, as it is truly worth driving through, particularly through the White Mountains.
2) The scenic drive through I 93, aka Franconia Notch:
During my first trip across the White Mountains, my friend and I were aiming to visit Baxter State Park and had to drive through I 93 to get there. It was during that trip that we managed to stumble onto one of the most beautiful roads which is the very same interstate, but specifically in the White Mountains region.
And just driving through this area is itself a gorgeous scenic experience (here are 10 other scenic drives in North America I recommend). There are stops such as Franconia Notch you can park at and enjoy hikes which lead to other beautiful views, specifically, Cannon Mountain (which is also on the list).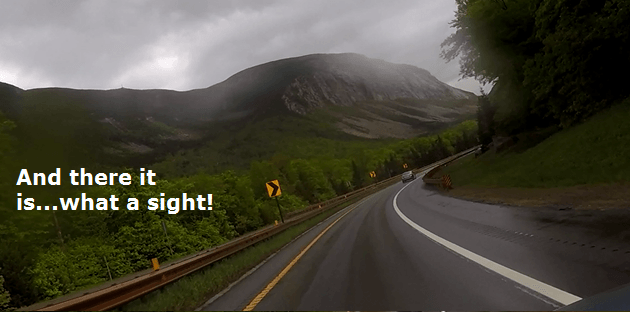 I still can't forget the first time I saw Mt. Cannon as we were driving. We did not expect to see this kind of sight!
3) Take the gondola up to the top of Mt. Cannon: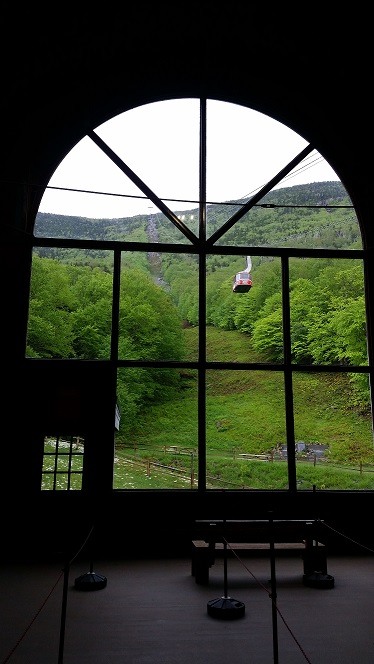 The image above where we are driving through I 93 shows Mt. Cannon (there's actually 2 of these in the White Mountains, and we visited the one on the west area). 
There is a parking area near it which you can stop at, hike up to it or use a lift (the gondola). 
The gondola itself is a great way to "cheat hiking" but considering that it was raining when we were there and we had to keep going along our trip, the gondola was our best chance to enjoy the scenery and still have time to see the other locations (I'll list them below).
Once you reach the top, there are plenty of areas to explore. Here are 5 awesome things to do at Cannon Mountain if you go.
And those are just within this specific spot. You will find other regions right next to this area, each of which all have waterfalls, hikes and plenty of other scenic locations.
But since I didn't get a chance to check them out yet, I can't really list them, but if you've been to those other neighboring areas I'm talking about (such as Mount Lafayette), let me know!
The next 2 locations I'll be listing are away from I 93, but are still stunning and very much worth seeing (and the drive itself is also beautiful).
4) Explore and even kayak Beaver Pond:
Beaver Pond was a spot my friend and I saw off the Lost River Road drive. Once we saw this area, we didn't care about what other plans we had, we needed to stop and truly enjoy this spot: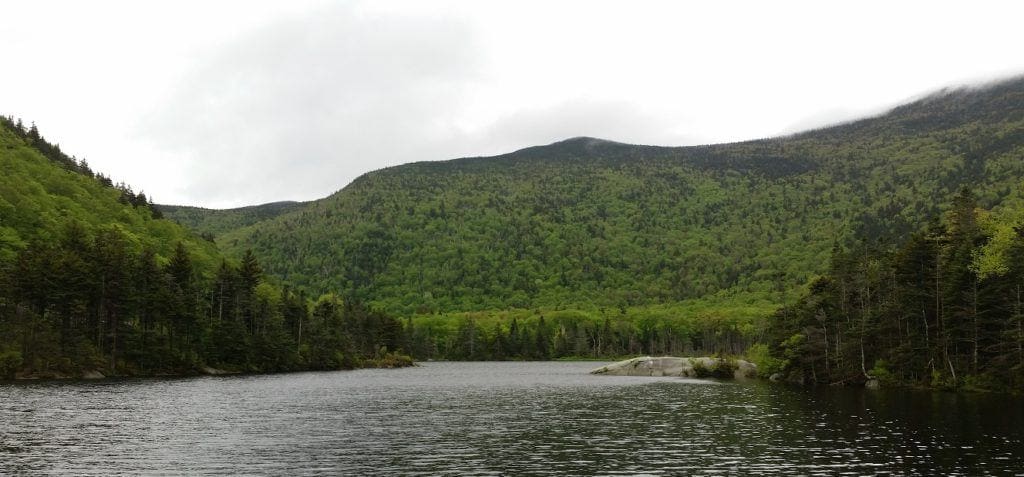 I have to say, I've been to Beaver Pond twice, and each time, no camera that I've tried using to take a picture of this place can really show how vast and engulfing this place is. When you're there, it feels like the mountains there are swallowing the lake and it's stunning to be there.
Both times I was here, it was extremely peaceful and there are picnic tables where you can just site and relax, but if you look at the photo above, with the boulder area on the right hand side, that is where we hiked after we parked and it was also a very beautiful spot to sit and relax at. That boulder only took us about 5 minutes to get to.
Kayaking from what I know is also allowed there, even though the lake itself is pretty small. If you enjoy kayaking and want suggestions, for now, I can only recommend areas in Florida, but I will update that once I try other places. But yes, Beaver Pond is a beautiful area I recommend you visit too 🙂
5) Explore Lost River Gorge: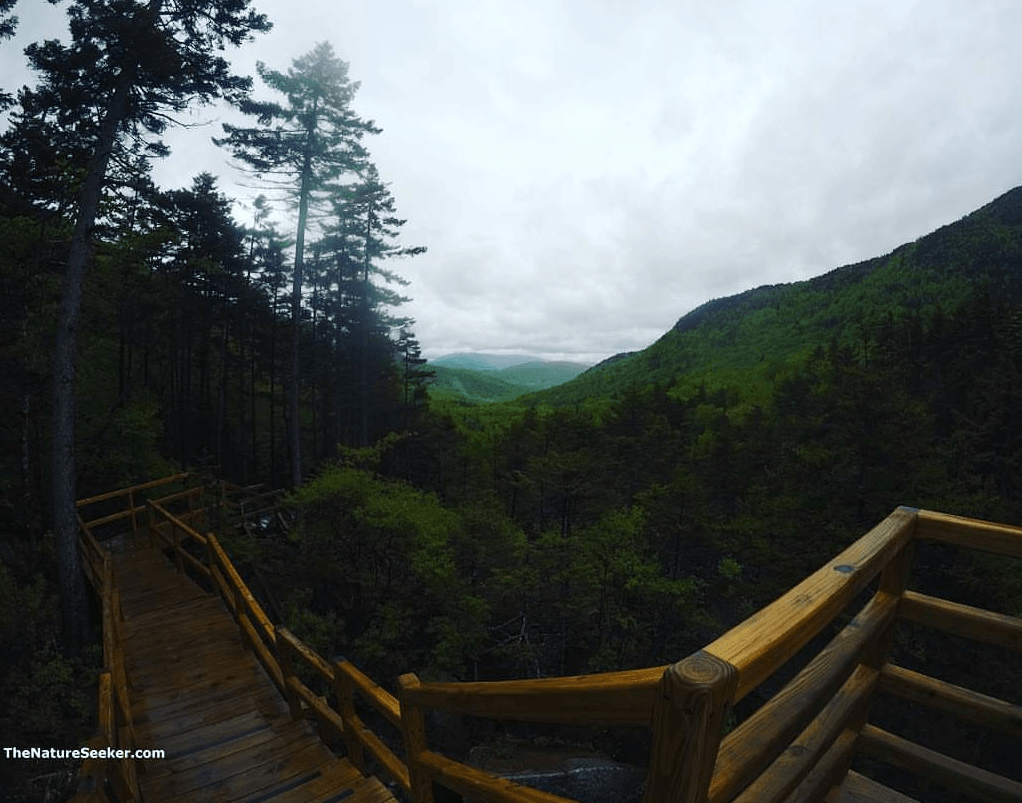 When people visit this place, they often compare it to Flume Gorge (and vice versa), but if you happen to visit Beaver Pond, or Flume Gorgefor that matter, you'll find Lost River Gorge is extremely close to them (especially Beaver Pond).
We literally signs for this place about 10 minutes after visiting Beaver Pond and decided to stop because the very name attracted us to it.
Since my friend had an ankle injury, I decided to explore it by myself and I happened to be the only person there, as it was early in the morning and was raining too.
Sadly, I only took 1 photo from inside this area (The others were erased probably when I switched phones), but it basically contains gorges, boulders and even lanterns inside some of the boulder areas.
This area is also close to the Appalachian mountain range.
There is no natural hiking involved here as the whole trail has steps and easy areas to walk through, but it will keep you busy for a few hours. Since I was in a hurry, I ran through this whole area and it took me 18 minutes (Yes I checked and I set a record!)
6 more places worth exploring "close" to the White Mountains:
To end, I'd like to quickly share details about those 2 trips I mentioned earlier, because during each of them, I had explored many other beautiful places and would like to share them with you as well if you're into nature.
Out of the 2 times I've visited the White Mountains:
The first one was accidental as I was doing a road trip from NYC, all the way up to the border of Canada which then turned south east, then up, where we hit this beautiful area and saw 3 of the 5 spots on this list.
While on this trip, here are some other places I recommend you consider visiting (these are not in the White Mountains):
While many of these spots are hours away (west) from the White Mountains region, if you're into doing road trips across America like I am, then I promise you, these spots will provide a lot of great memories!
The second time I had crossed the White Mountains area was when 2 friends of mine and I were headed to New Foundland, and during my second visit there, I had crossed the other 2 of 5 locations I will be listing in a moment. 
During that particular trip, here are some amazing places we saw, that I also recommend to you (they are east of this region):
Nova Scotia's Bay of Fundy and also the very famous road trip trail in that province called the Cabot Trail.

If you can take the ferry to the actual New Foundland province, then

Gros Morne

is also a beautiful park worth seeing!