After having 2 amazing road trips with a buddy, a third idea came up, one that would take us through much of the east coast and explore beautiful nature areas across the U.S and mainly eastern Canada.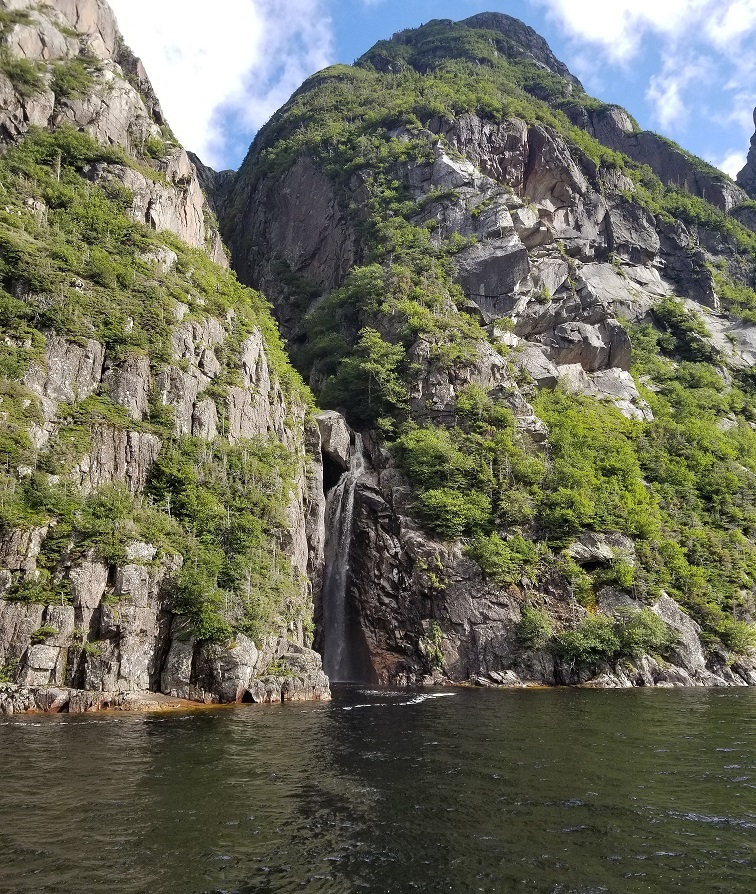 This road trip would end up being one of the craziest ones we did.
Here is how the Eastern Canada road trip went down (summary):
Started in NYC.
Went up to Maine (almost hit a moose!).
Entered Eastern Canada through New Brunswick.
Headed over to Nova Scotia and took an overnight ferry to Newfoundland.
Explored Newfoundland for a few days.
Headed back to Nova Scotia and explored it some more.
Reentered the states and ended the trip in Boston.
For a full itinerary, and exactly what we saw in each of Eastern Canada's provinces, read more below!
How this trip began:
It began in NYC, went all the way to New Foundland, Canada and then back.
During the 7 days that this took place, we drove over 3,000 miles and saw incredible nature views and destinations that I will share with you and here is one of them:
Before I move forward let me say that in the 7 days we had, we truly rushed a lot of the places we saw.
Our main goal was to reach a national park called Gros Morne, which is in New Foundland and while we did manage to see a lot of scenic spots, a few mistakes made, constrained the time we had to enjoy all the places we saw. 
So if you decide to copy this trip we did, I wouldn't recommend rushing like we did. While the drives were enjoyable, that is pretty much most of what we did, because we were always aiming to see the next beautiful spot.
How the east coast trip happened:
Since I avoid flying, but at the same time love to see amazing nature places, I had been browsing new spots to visit after the 2 previous trips I'd taken.
And one spot which appeared to look amazing was Gros Morne National Park, and specifically Western Brook Pond which is inside that park. And by the way…
Both of these were A LOT of fun and I couldn't help but want to make plans for a third. And Gros Morne was the next place I wanted to visit.
After the second trip I did with my buddy ended, I believed that I'd have to wait a long time before I'd get the chance to do a third with him, but literally a few months after the second trip ended, I got a call from the same friend telling me that he wanted to do another, and soon.
He'd also been talking to a close friend of his (they're both from Florida), showing him pictures and that friend also wanted to join us, so it would end up being the 3 of us doing this road trip. When I showed him pictures of Gros Morne and told him where it was, both he and his friend were immediately down to check it out.
And so in September, both of them flew up to NYC, and we began the trip early in the morning. While there was no specific itinerary, we ended up doing and seeing the following places in the 7 days we had:
Here is how this east coast road trip itinerary went: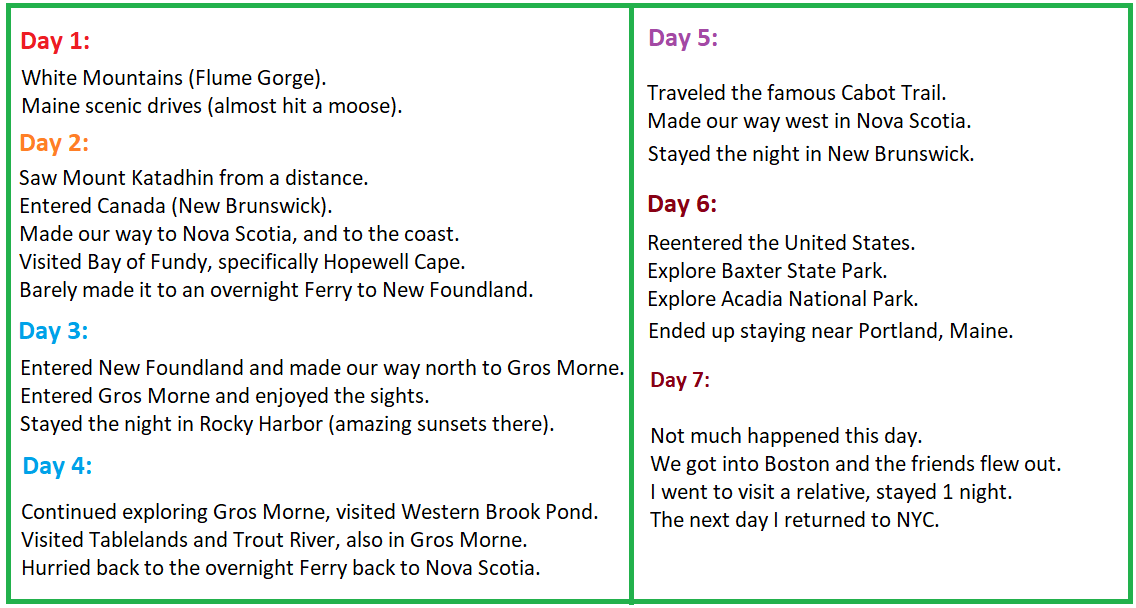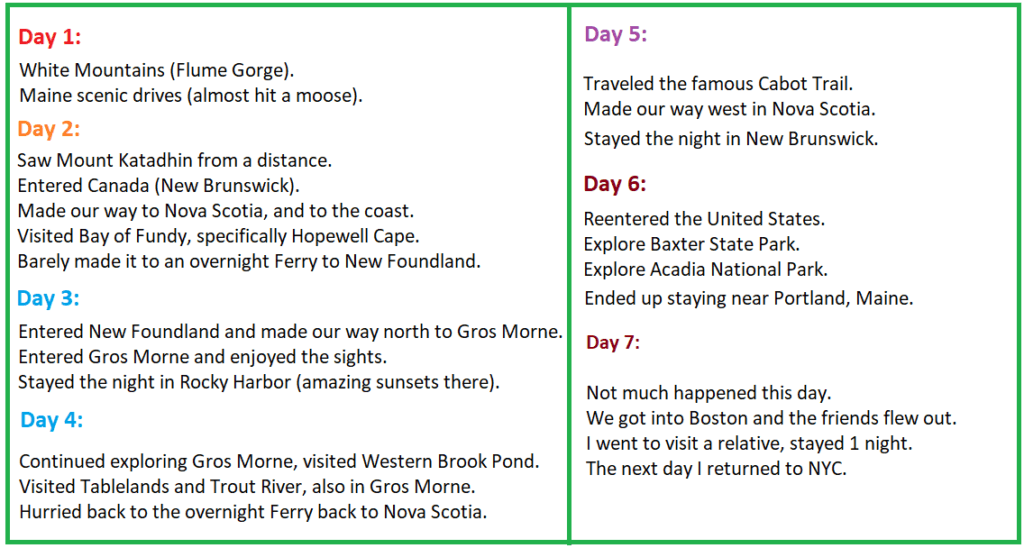 And when looking at a map of where each day took us, here is how that went: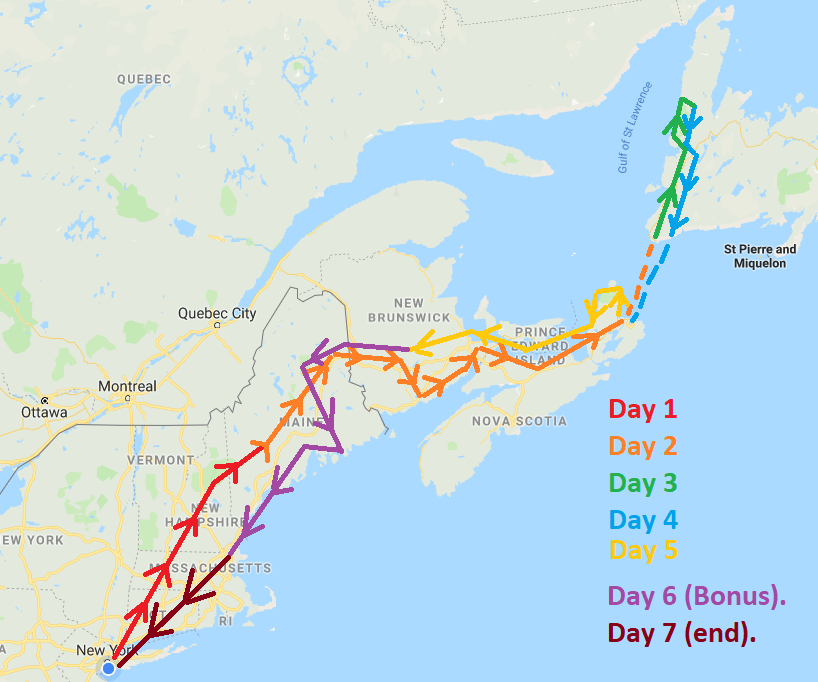 Now like I said before, Gros Morne was the most important place of this trip we wanted to visit, but how we got there and how long that took us was improvised, so the map and arrows you see above are the way things ended up and during each day, we saw amazing spots. Let me detail each day:
Day 1:
Both my friends flew into LaGuardia airport around 10 a.m. I picked them up and we immediately went north. We decided to stick to more inland areas rather than the coast because we wanted to revisit the White Mountains, a place we'd checked out during our first trip and loved.
We also saw a bunch of spots we missed the first time, one of which was Flume Gorge and that was the first main place we visited:
When we made it to Flume Gorge, we didn't have too much time to left to spend there, because the sun was setting, but we did get to enjoy views like this before leaving: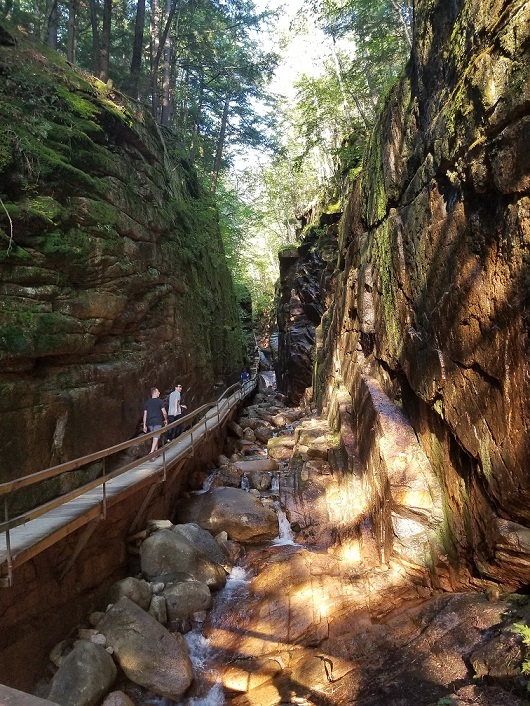 Flume Gorge is great to check out with family, and the hike is short. Plus with it being in the White Mountains, you'll have a lot of other things to see and do there.
In our case, after we left, we had some time left to check out nearby areas, and so we revisited a place called Beaver Pond, an extremely peaceful, small and beautiful lake, but with amazing New Hampshire Mountains all around it: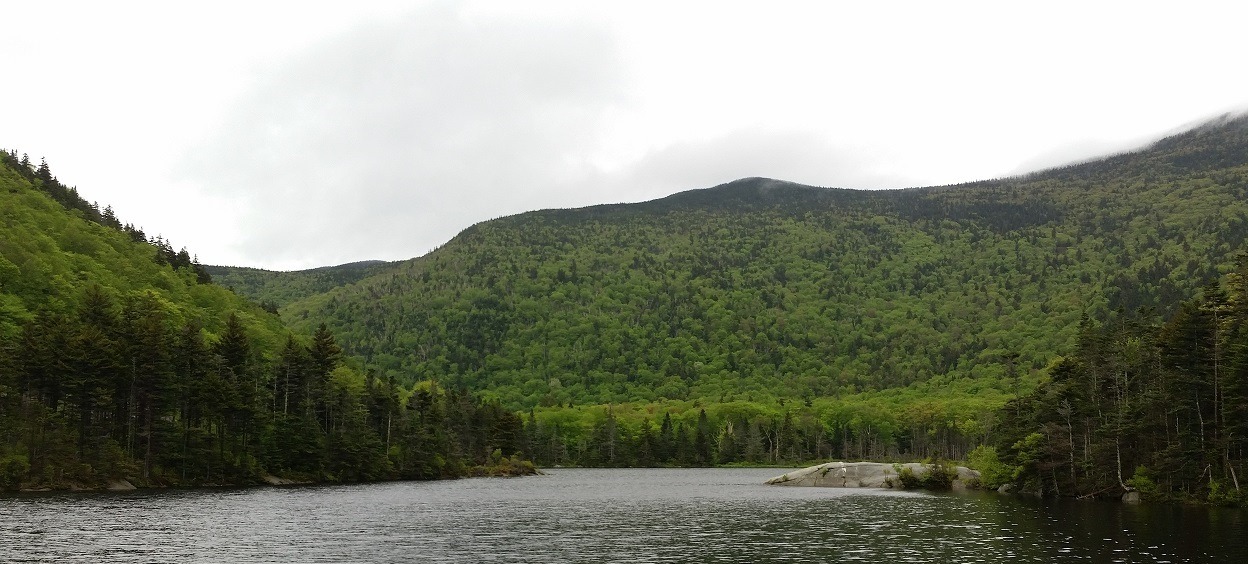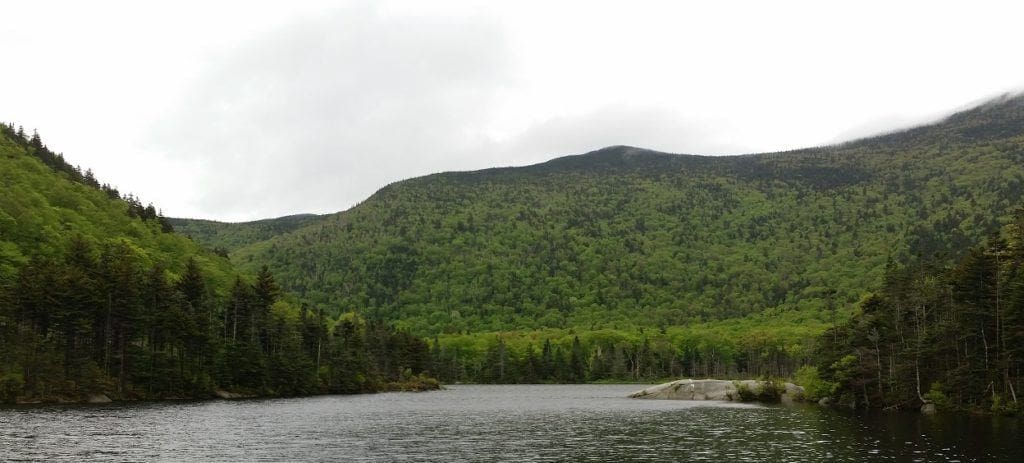 If you like how Beaver Pond looks, here's where you'll find it:
There's a hiking trail right near it, as well as another one that'll get you on the Appalachian Trail. 
Shortly after seeing Beaver Pond, we continued north and entered Maine, on a scenic road, at night. While there, we didn't really see anything beautiful because it was dark, but we did see MANY warning signs for Moose, something we didn't really take seriously until we almost hit one that same night.
I have to warn anyone who drives of hikes in moose areas: They are huge, they are dangerous and you really need to be careful, whether you hike or drive in areas where they live. 
After our close call with the moose, we stayed the night in Maine.
Day 2: 
Our main goal during day 2 was to reach Canada, explore as many places as we could, and reach the eastern tip of Nova Scotia where there was a ferry that would take us overnight to Gros Morne.
When we began the trip, we stopped briefly at an overlook to check out Baxter State Park and Mount Katadhin from a distance. We didn't have time to see it, but decided we'd try to hike it and/or visit the park on the way back. Here is where the overlook is located:
A few hours later, we entered New Brunswick, and continued east. During that time we marked a famous place we wanted to see there which is called Bay of Fundy. One of the most famous places in this region is called Hopewell Rocks: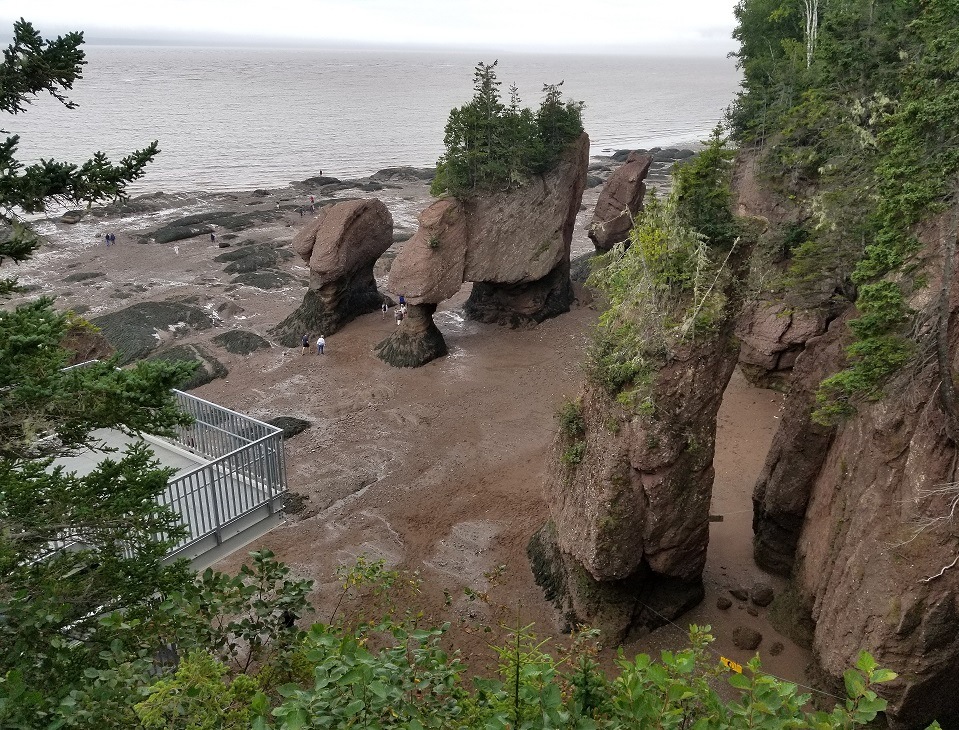 While we really enjoyed Bay of Fundy, we had a reservation to get to the Ferry by 9 pm and so we really rushed it. Our GPS took us through none official roads in Nova Scotia and apparently that would get us to the ferry area faster. While going through those spots (Near North Sydney), we became paranoid about moose, given the previous day's experience, but we managed to make it to the Ferry before disembarking.
Now when I discussed my feelings about the Ferry, I warned people that if they could fly into New Foundland, that it would be preferable and I am sticking by that. While it was exciting to get on a Ferry and travel overnight, we did not wish to experience that again, but had to go get back home.
Day 3: 
At around 7 am, the ferry made it to New Foundland, and we immediately were enthralled by the views: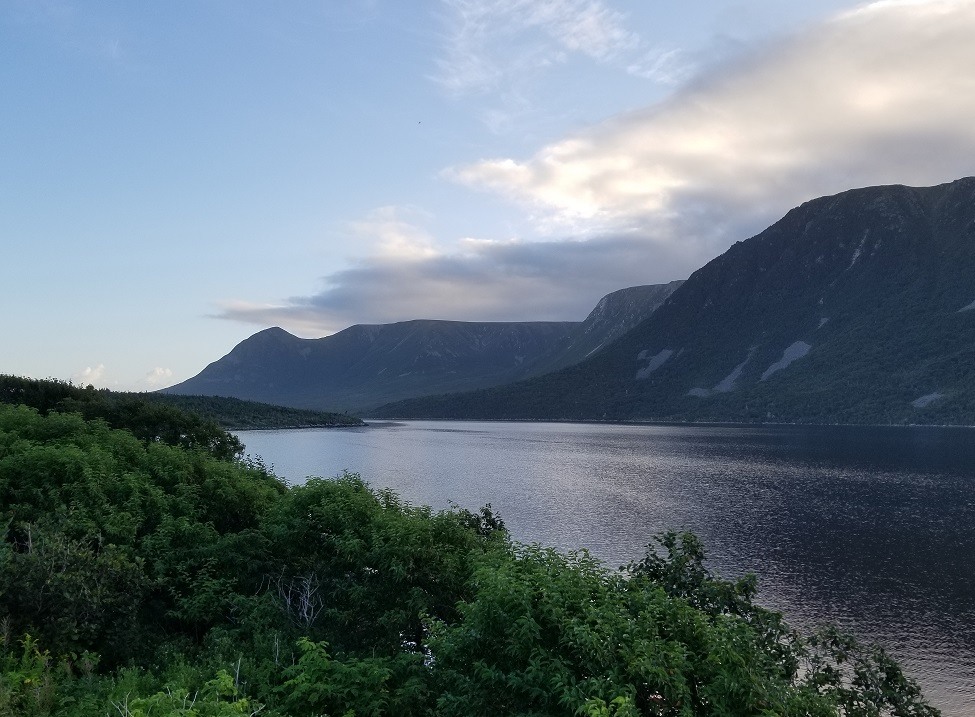 When you first dock and drive north, you'll see these kinds of spots for about 1-2 hours. After that, it will look a bit boring, until you reach Gros Morne National Park itself.
After we docked and drove for about 3-4 hours, we had finally made it to Gros Morne National Park and the entire area was spectacular.
Within the park, what we truly wanted to see was Western Brook Pond, but by the time we had gotten to it, we had to walk a long trail to a docking area to take a tour of the place, but found out that it was packed and decided to reserve a trip the next day. It is necessary to take a boat to a hiking spot in Western Brook Pond if you wish to hike there (here are other things about Western Brook Pond we learned).
Here's how Western Brook Pond looks from the trail to the dock: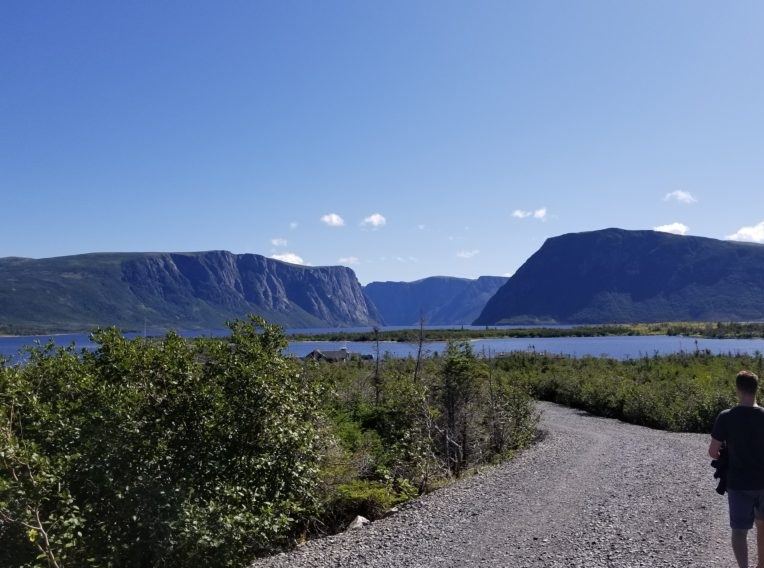 The boat will take you inside those mountain ranges above and within the pond area are beautiful sights. But being that we had time to try other things until the next day's boat tour, we decided to stay at Rocky Harbor which is right in the middle of the park itself, and during that stay, we witnessed this: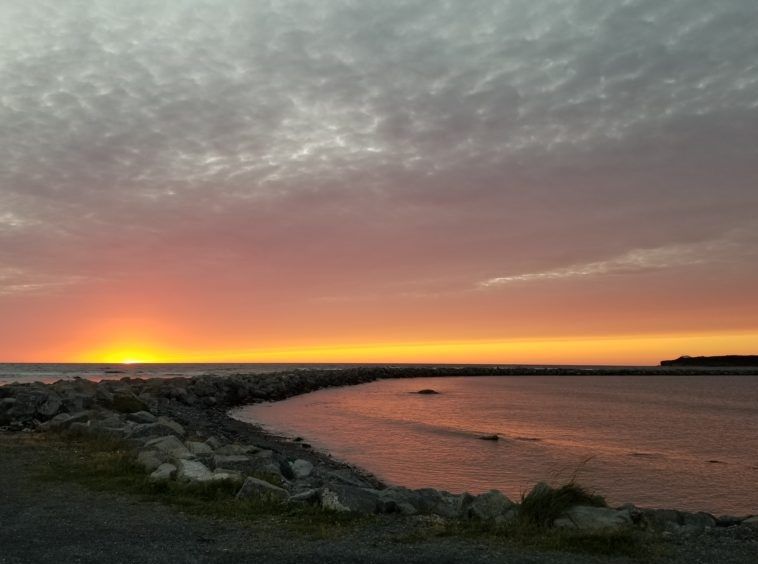 Day 4:
Today was set as the one where we'd finally explore Western Brook Pond and so we did. The first image you saw above was one of the many we took there, and the boat ride was unforgettable: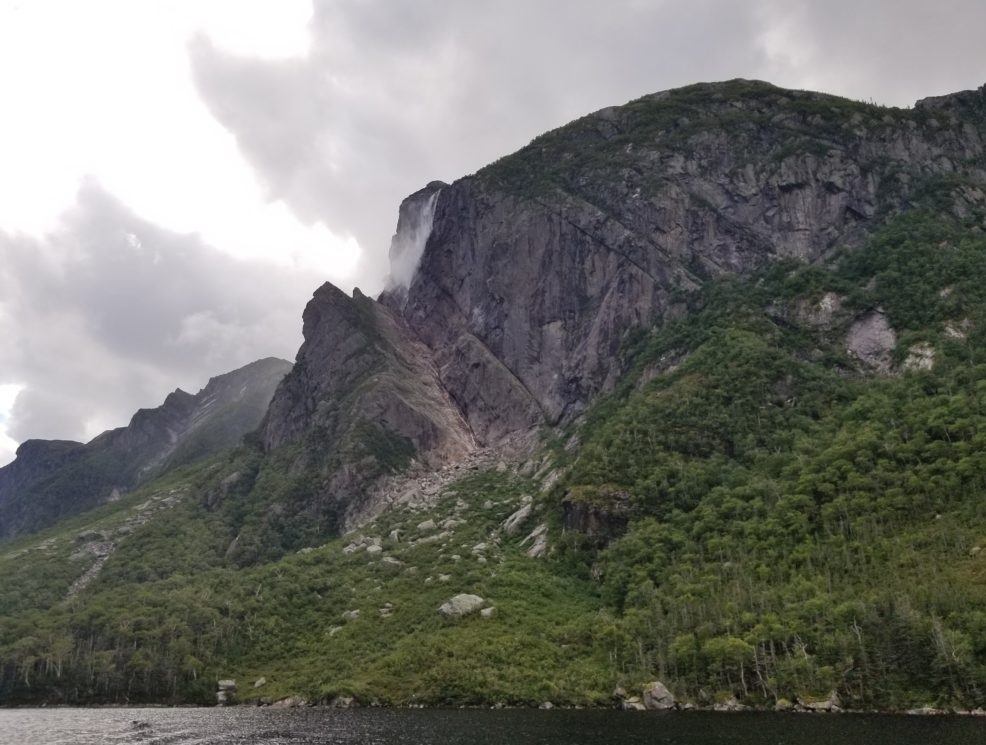 While we wanted to hike areas in this region, when we found out we needed to pay a lot of money and get a guide, we elected to only do the boat ride!
Because we only did this, we had a lot of extra time left, and while we needed to return to the ferry dock at night, we decided to explore more of Gros Morne and visited 2 specific areas of it: The Tablelands and Trout River.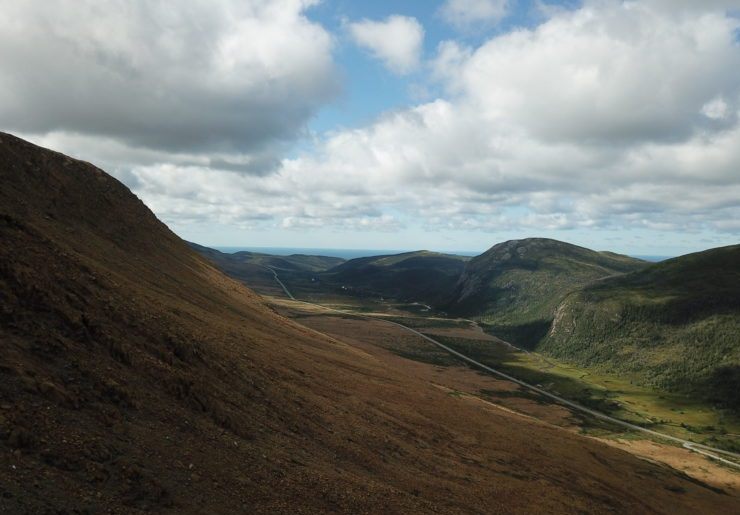 The entire park was beautiful, but after checking out the other 2 spots, it was time to head back. We also barley made it to the Ferry on the way back and docked back in Nova Scotia early the next morning.
Day 5:
While on the way to Gros Morne, we explored much of the middle and southern areas of Nova Scotia, but a new suggestion came up, which was to explore the norther area of this province and it just so happened that a famous scenic trail was very close to us: The Cabot Trail.
And with a whole day to try it and still head home, we went through ALL of it:
This trail took up most of the day and we ended up staying in New Brunswick. 
Day 6: 
On this day, we finally reentered the United States and like we agreed, we wanted to see Mt. Katahdin and so we went west to Baxter State Park.
Unfortunately, when we found out how large this mountain was and that we needed to start very early, we decided we didn't have time, and just did a drive around Baxter State Park, which was pretty boring, but if you want to hike the many trails there, the road which loops around the park is worth checking out and there are many cabins and hiking trails and if you want suggestions for fun trails to explore, other than Mount Katadhin, Gulf Hagas is also beautiful (but has many moose and flies there, so be careful).
With time left to see one last major location, we decided to see Acadia National Park, which was about 2 hours from Baxter State Park. When we got there, it was also close to nighttime, but we did get to see enough of it to really enjoy it and want to come back:
I would say that Acadia is definitely a location you need to check out if you're doing an east coast trip.
Followed by this park, we stayed the night near Portland, Maine. 
Day 7 and 8:
There was nothing major that happened these days. We were exhausted from all the places we saw, and both my friends were leaving out of Boston anyway, so I dropped them off there, and headed to NYC the following day.
This concluded the third trip I did and with all the locations I mentioned in this article, I also included links to many of them to individually show you what to do if you decide to visit them!  
Want to read about more of our epic road trips? Here they are:
We have done many and here is where you'll find a list of road trips we've been on.
Attention New Yorkers!
Want to know about shorter road trips around the city and state?
No problem. Because I'm a NYC resident and work a lot, I don't always get to do the types of long, and epic road trips, so in many cases, I've had to find areas to hike and do road trips through that are close to the city. 
So if you have a single day or even a few and want to stay within the confines of the state, I've got good spots for you to see:
If you want to see beautiful places around New York State to do road trips on, I just put a link in for that for a list of my personal spots.
Then there's also places specifically near New York City and here they are.