Flume Gorge State Park is a beautiful, short hike that's worth seeing, but before you go there, read what my friends and I found out when we visited so you have a safe experience:
Our 7 day east cost trip there took place last year and it was one of the stops along the way to Gros Morne National Park, the original end goal destination we set.
The first stop on the way there was Flume Gorge though and…
Here's 10 things we found out about Flume Gorge State Park:
1) Make sure to go there before winter hits because this park is not open then.
2) The rocks are generally slippery there especially if the water in the gorge is at a high level, so make sure you are careful. 
3) Water shoes would probably be your best bet at having a safe hike there. Otherwise, be prepared to slip, so be careful and if you have kids with you, also make sure they are safe when hiking there.
How do you know if it's likely going to be slippery there? Well when the water level is higher and it generally happens when these things are present:
Usually the first few weeks of Spring will probably have the water level be higher there, due to all the melting snow from the higher elevations going down the mountains.
4) Also anytime there's a lot of rain beforehand or during, expect there to also be a lot of potential to slip.
5) The hike to the actual spot is pretty short, about half a mile and you can even take a short shuttle ride and then walk about 500 feet to the location itself. So if you have issues walking, you shouldn't have much of an issue here. 
6) The spot itself is less than a 1,000 feet long and takes you to a new trail if you wish to take a longer route there (there's more than one way to reach the actual Flume Gorge, we just decided to take the short route to save time).
7) There are some other hiking trails right in the area itself that you can check out if you're into hiking in general.
8) The state park itself is pretty small but is located in the general White Mountains area, which itself holds tons of beautiful spots like Cannon Mountain, and other huge mountains and ski resorts which are also worth visiting.
9) There's a pretty large parking area for the park itself so you should haven't issues finding a space to leave your car.
10) A restaurant and welcome center are available before you hit the trail to the location, and you do need to pay beforehand. Our tickets cost us about $16 per person.
If you're into Gorges in general, see spots like Ausable Chasm (it's in New York State), and places like Gulf Hagas (lots of bugs, but a beautiful spot too, just for more advanced hikers). I would say both these spots are more scenic than Flume Gorge (not that it's not beautiful on it's own too!).
Here are some photos we took while at Flume Gorge:
The first is where the trail to the location begins. This is where the shuttle bus will drop you off and it's also the pick up spot. This location has a beautiful stream, a waiting area and vending machines, as well as bathrooms. But it overlooks this beautiful spot:
As you walk up the trail to the official location, you will see very flat rocks (you aren't allowed to enter there), but it provides a beautiful view of a stream that leads upstream to the actual gorge. Once you walk about 500 feet, you will officially enter the location and here is one of the photos we took: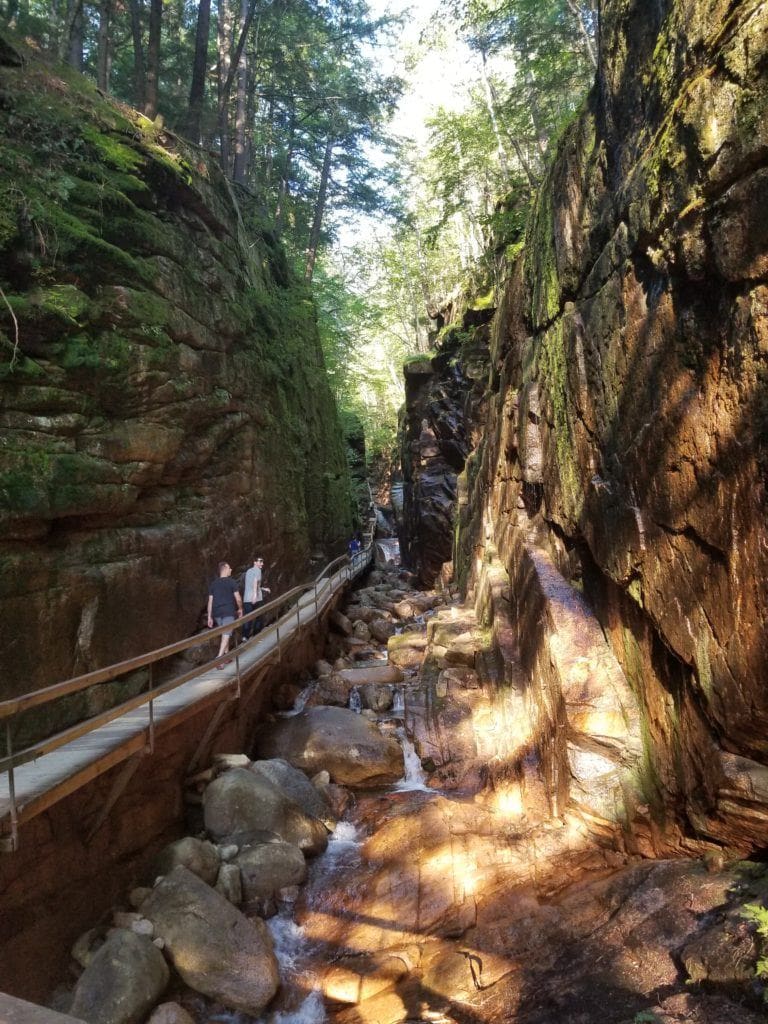 As you can see, there is pretty limited space and while I didn't see an official sign saying you can't walk on the rocky areas, I wouldn't recommend it because I guarantee you that it will be slippery, but it leads back to what I mentioned about the walkway also having the potential to also be slippery and wet wood is just as dangerous as wet rocks.
And in our case, it wasn't that slippery when we went because as you can see in the photo, the water level is low. When it's not, the water will splash along the wooden trail, causing it to get slippery.
Here's another picture showing how tight the space it is in Flume Gorge itself: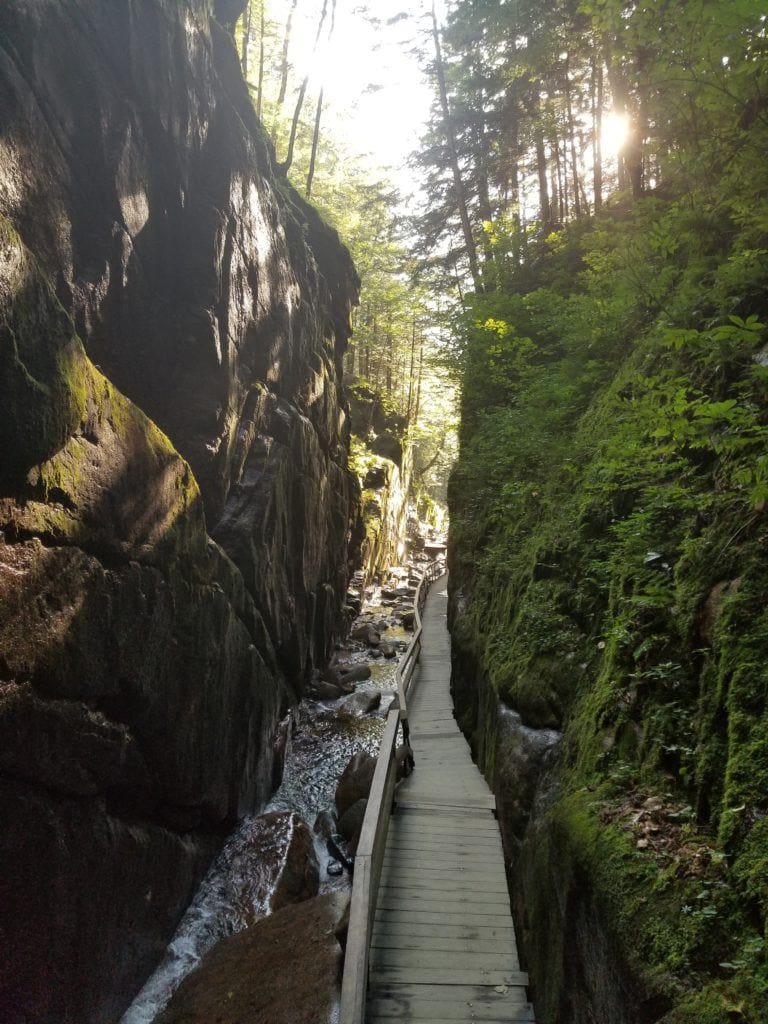 It's also interesting to see the 2 different ways the sides of the gorge look, with vegetation on one side and pretty naked rock with some moss on the other. It's certainly very picture worthy!
Our trip to this place was very short, likely a one time stop (places like the West Coast of Oregon are in my opinion places you'd want to visit multiple times, see why) but we very much enjoyed it.
So if you are in the New Hampshire area, specifically the White Mountains and don't really like big hikes and want to take it easy, but at the same time want to see some good spots, I would recommend you go to Flume Gorge as well as the greater White Mountains area.
As for us, once we finished this first leg of our trip, we then entered Maine, then Nova Scotia, and finally New Foundland to check out Gros Morne, and specifically Western Brook Pond, which has a gigantic gorge with beautiful sights, so I will be updating the blog to showcase those spots for you. 
This blog actively updates the spots myself and my friends have been to so if you're the sort that enjoys knowing the best, most beautiful spots to visit, so be sure to come back or hit the search bar for spots you're considering visiting.
Odds are, we've been there too so we can help you find it and enjoy it to its fullest 🙂