I've had the pleasure of exploring Lake George numerous times and doing many fun activities which I would recommend to anyone who also visits this area.
If you're a nature lover like myself, this is one place you will absolutely want to visit if you're already a NYC resident or just checking out this beautiful state.
Here is the official location of Lake George:
This place is in New York State, specifically in the north, eastern region, the area where there is a division between New York State and Vermont. Although Lake George doesn't officially divide both those states, if you ever want to visit Vermont, it's not far from that area.
But anyway the map is on the right and overall, you're looking at a body of water which stretches over 30 miles long and less than a mile in width, but there's PLENTY of do. I've got a list of 10 things and that should be enough to have you experience this place fully!
The 10 things to do in Lake George:
Do the scenic drive (9N).
Visit the different villages there.
Swim in the actual lake.
Rent a boat and explore Lake George.
Rent an island to camp out on.
Hike through the Lake George region.
Take a weekend trip or vacation there.
Camp out next to the lake (many options).
Do a road trip to Lake George.
Check out the water and theme parks there.
I'll show you why each activity in Lake George is worth making the trip there worthwhile in a moment, but I'll tell you that Lake George is a very famous spot, especially to NY residents. The only other spot I know that is as popular as this region is Finger Lakes (also in NY state).
But let's get back to exploring Lake George and the activities there. We'll start with the easiest one:
1) Do the scenic drive there (Road 9N):
Whether you're driving through briefly (maybe you don't have enough time to stop through) or truly want to experience the most beautiful areas of this location, there is one road you need to look for that's route 9N.
Now if you notice in the location picture above, I did highlight it. If you're headed into Lake George, look to find this road immediately, then head north or south on it to get the BEST views of this area.
The great news about route 9N is that it starts right when the bottom most part of Lake George does and stretches far beyond it, into Lake Champlain which is an even bigger and longer area you SHOULD explore if you plan on headed north!
There is also Vermont state that is east of Lake George and if you do shift east, 2 recommendations I have for you to check out are:
They are both very close to Lake George. Back to the scenic drive:
Do note that there is another road west of 9N which is called 9 and it is often mistaken for it. Road 9 is completely different, is far less interesting to explore (I've tried it). The only place road 9 gets interesting at is 2 hours north where you see beautiful mountain ranges of the Adirondacks and Ausable Chasm, but until then, stick to 9N if you're traveling through Lake George.
Want to see more scenic areas you can drive through? Here's a list of scenic drives across North America I've checked out.
2) Visit the villages at Lake George:
There are truly some amazing villages to check out while you're on 9N, including the official village, which honestly, I dislike, not because of the location but because there are very large crowds there, so I typically like to stay in areas where there are less people.
But in any case, you will find a lot to do in this village and if you continue up 9N, you will hit places like:
Warrensberg.

Bolton.

And Hague, which are all worth visiting.
There's plenty of stores, places to see and they are all right near the water, so at any point (where possible), you can see some great views.
3) Swimming:
You will find a number of locations in the villages themselves and all around the lake area where there are beaches and other potential areas for swimming. If you enjoy cold, clean water, this place is perfect.
4) Boating:
With a lake stretching over 30 miles, you can bet that there are a lot of boating opportunities. My group and I rented a few boats for the day and took trips around the area. Kayaking is also possible.
You don't necessarily have to rent a boat here, you can also get kayaks, jet skis and other water crafts and enjoy going through this place.
For us, having the boat was an absolute blast as we were right in middle of so many beautiful locations constantly. We even did some tubing, dove out of the boat and swam up to cliffs where people were jumping from.
5) Renting an island to camp out on.
With the plethora of islands in this location, many of them actually have camping opportunities and/or houses you can rent for whatever period of time you wish.
To be able to rent any one of these locations, you will have to inquire with the management who owns them and really reserve a spot months in advance because they are very popular. Once you get a location, you will have to drive up to a parking lot near it, grab a boat and go there before leaving it and camping and/or staying at the house on the island.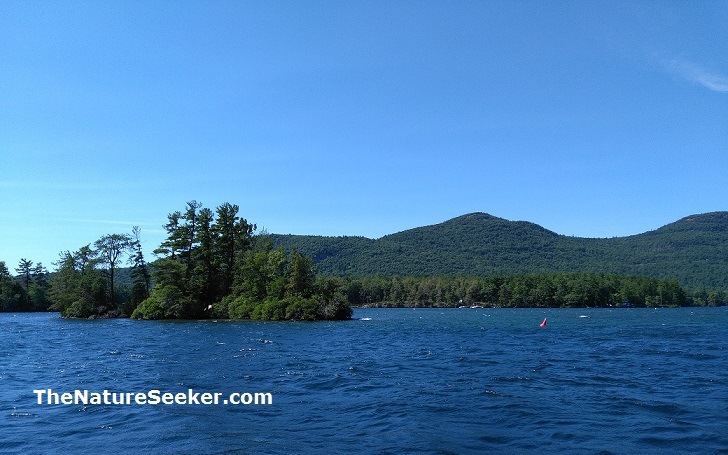 6) Hiking.
Of course there's hiking destinations in this area. In fact, this lake is almost like an epicenter of mountain ranges called the Adirondack mountains. There are so many peaks to check out and the highest I believe is Mount Marcy that has a 5,000+ foot elevation.
Now while I didn't have time to explore the hiking locations, I was told by some people who had tried it to watch out for rattlesnakes. While they are rare to see on trails, should you leave it, go deep into the woods, be very careful.
Do note that in the winter times, many of these mountains also have slopes for skiing.
7) Taking a vacation there.
Stopping in this entire area for a weekend or vacation is very worth it. With all the things I just listed and will list about the activities you can engage in there, it's really not possible to cover all the awesome things this place has to offer in a single day. You'd really need a few days at least to really enjoy all of this, so if you're looking for a vacation in the mountains, this is one area you should keep in mind.
8) Camping.
Setting aside the island camping, there's plenty of parks around this region which have camping opportunities. In fact, the group I was with was actually staying in a camping area located in Warrensberg. The idea with these camp grounds is that you rent a land, bring your own tent and food and the location itself supplies the rest: bathrooms, showers, entertainment such as volleyball, basketball, kayaking, swimming, ect…
While I personally did not stay at the camping location (because I dislike camping), I still visited them during the day and stayed at a hotel a night. The one they stayed at is called "Escape Campground". Do note they are quite popular locations just like any other hotel/island camping area in this region, so you will have to reserve these spots early.
But if one location isn't available, there are plenty, especially along route 9N.
9) Road trip!
If you're a nature lover, take a road trip though this area. I think anyone living in the areas of New York City needs to see this place especially since it's a few hours away (here's extra scenic drives and road trips to do in New York State). With road 9N stretching for as long as it does, you'll have plenty of things to see, plenty of places to stop by at and just have an amazing adventure.
Also if you keep heading north on 9N, you will eventually hit one of my favorite places: Ausable Chasm. Another gorgeous location worth stopping at! 
You'll also find this area is in between the Catskills and the Adirondacks.
10) Water/theme parks.
Did you know there is a Six Flags around the Lake George area? It is slightly south of it, but it's there and there is also a water park you can enjoy if hiking and nature isn't your thing. Personally, I am fully satisfied with the first 9 things I can do here so these parks aren't something I'd be interested in (well maybe just the water park), but it's another fun thing you can do here. 
If you've visited the beautiful Lake George area and can add to the existing 10 activities you can do around here, please let us all know! 
Also, this is a great place to cross if you're on a road trip from Canada going south or under Lake George, headed north.
If you need road trip ideas that are close by to Lake George, here's a few:
1) Here is one awesome, very fun road trip in the eastern United States I did from NYC up to Ausable Chasm, and you can cross Lake George while you're doing this. It's on the way!
2) And here's a second road trip through the Appalachian mountains I did, which started all the way from Atlanta and had my buddy and me travel north east through Lake George and all the way into Vermont (again).
3) Finger Lakes. 3-4 hours west of Lake George is where you'll find it and this area is like 5 Lake Georges! I will even say that you can do more and see more here than in Lake George itself, so I highly recommend it, especially checking out Watkins Glen State Park, one of the most beautiful spots I've ever seen in my life.