Out of all the road trips I've done until 2019, my recent one in the west coast is easily the best, and that's because of the 13 stunning nature gems I discovered.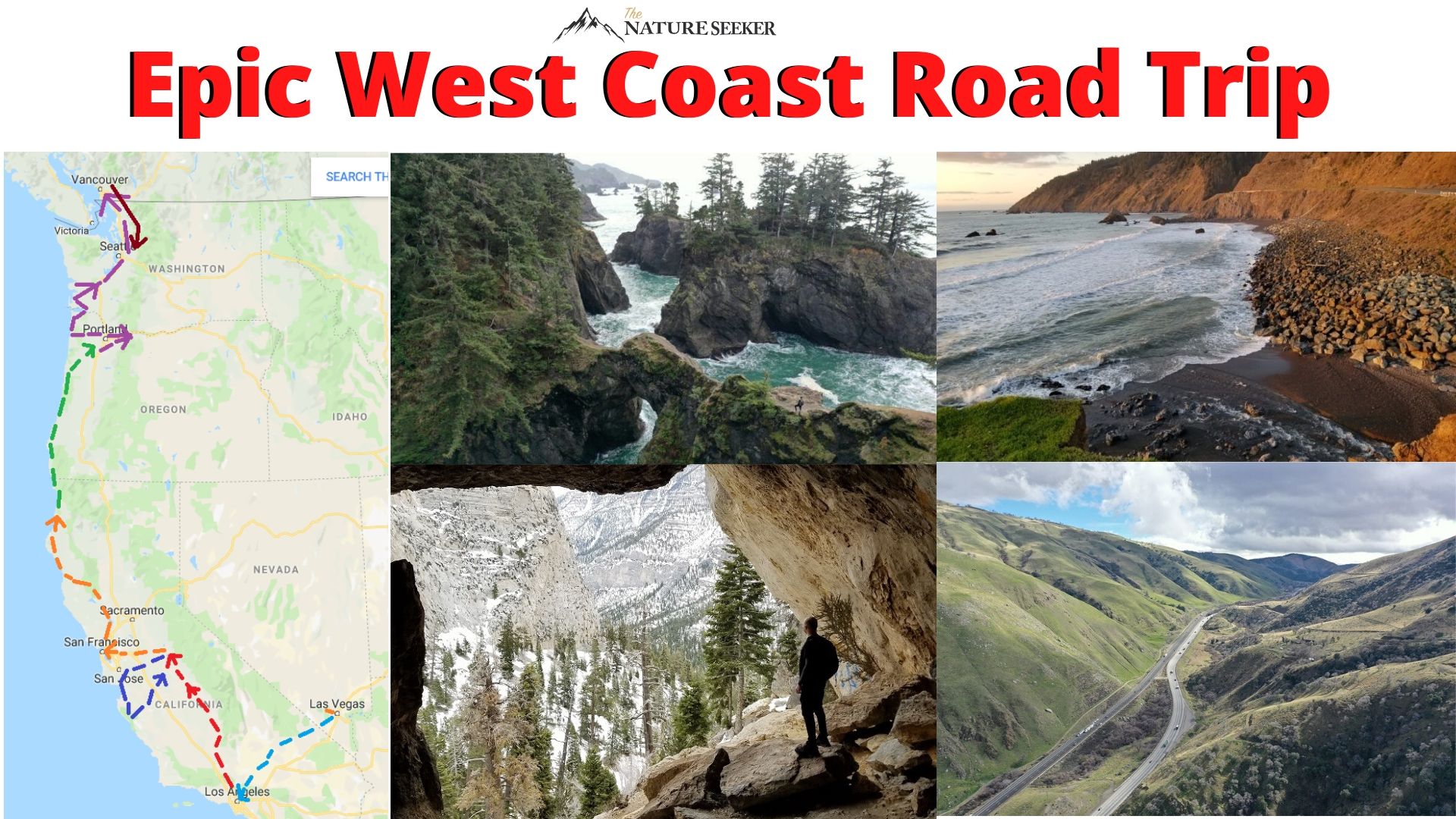 I will share all of them with you here, and give you exact map listings and areas. So if you also have 7 or more days to travel through these places, you'll have a great itinerary lined up! I've also posted many articles on this site detailing my pacific coast travels, but this one details the entire trip so you can mimic it as well.
I personally had 7 days to travel as freely as I wished, from Las Vegas to Seattle and the main goal I had set prior to starting it was to see the majestic coast of the western United States, and majestic it was, but my travels and destinations that I had lined up in addition to seeing it, made me see more than that coast and I'm glad it did, because many of the gems I found were inland, not coastal.
I'd also like to take a quick moment to mention the other awesome road trips I've done in other areas of the United States (and even Canada):
1) Here is a 3 day road trip I took across most of the north eastern United States.
2) Here is a 6 day road trip I took across the Appalachian Mountains and nearby areas.
3) Here is a crazy 7 day east coast road trip I took with 2 friends in most of the eastern United States, all the way up to north eastern Canada (New Foundland!).
And as great as these trips were, the one I am sharing here is easily the most beautiful and you WILL see why. Sadly the only minus to this one I took was that my normal travel buddy wasn't able to make it, so I did a majority of this one myself and I made it my mission to constantly send him pictures to make him extremely envious and jealous 🙂
Let's start from the very beginning (the itinerary of my west coast road trip):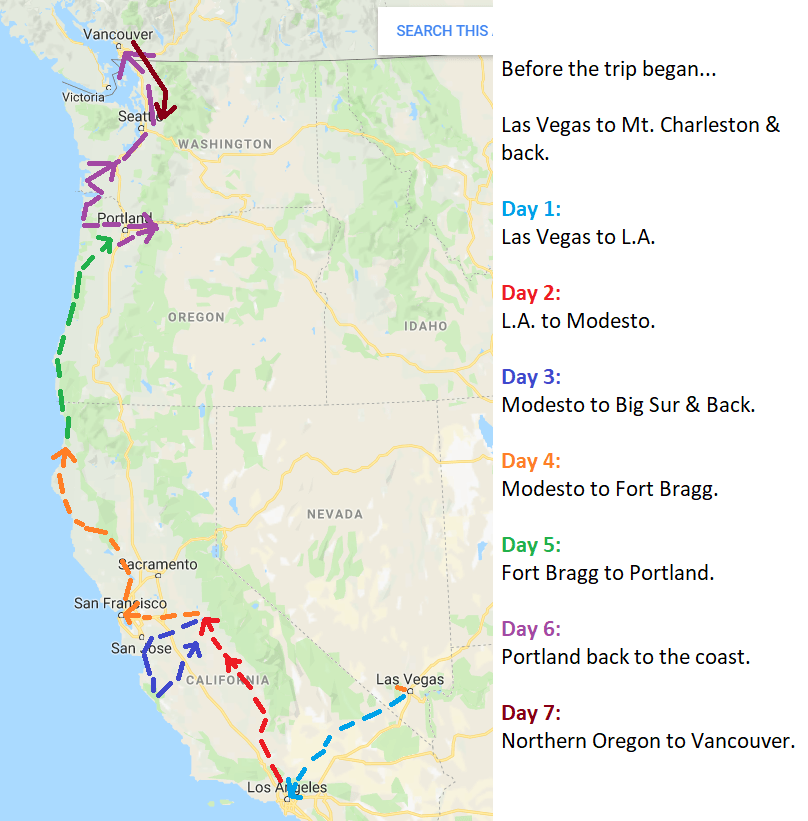 Now keep in mind, this itinerary is written up POST trip and I had no plans to travel through these spots as it's laid out above. It's just that I had certain people and places I wanted to see throughout the 7 days and destiny, as well as my GPS just took me through these spots, which happened to be spectacular.
I will be listing the official 13 gems separately throughout this article, but will be summarizing them below as well. So let's start with the first one…
Gem 1: Before the 7 day west coast road trip began, I visited Mt. Charleston.
In fact, I was staying for 1 week in Las Vegas before the entire west coast trip was set to happen. To avoid getting bored at the casinos, I took 2 friends who were also in Vegas with me, and we went to the nearest hiking trail we could find, which was in Mt. Charleston, one of the closest hikes near Vegas.
Here is information about Mt. Charleston and the places to see there, one of which is this: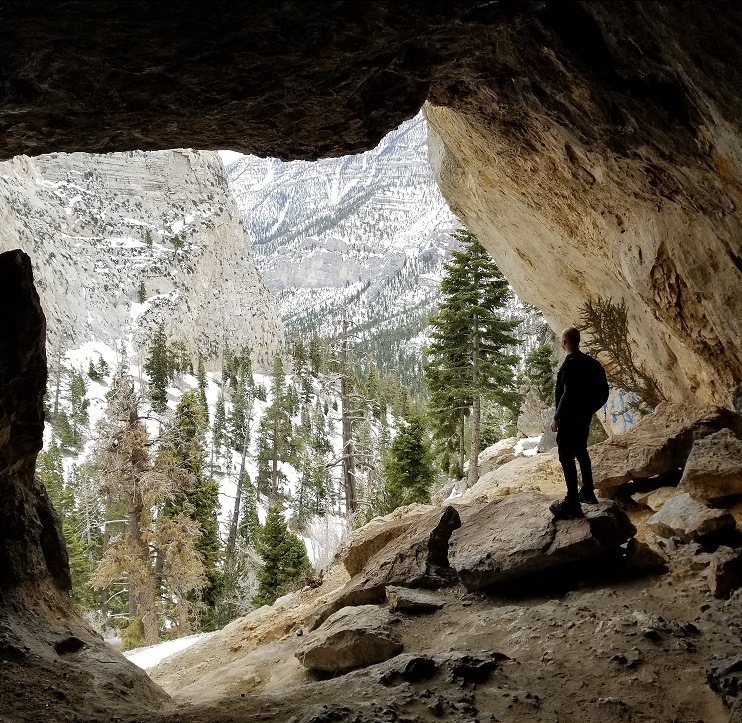 For a single day trip (if you're visiting Vegas), this place is great and truly scenic. Thankfully, because we visited it during the winter, the weather also permitted us to enjoy the outdoors more. That spot you see above is from a cave near the famous Mary Jane Waterfall within the Mt.Charleston area.
Again, the details of where this spot is and what else there is to see there is in the link above.
Gem 2: Interstate 15 from Vegas to Los Angeles.
Once my Vegas trip ended, the west coast one had officially begun. My goal was to reach a close friend living in Los Angeles before dark, but on the way, I was looking to find great hiking/nature spots to see and let me tell you, what I didn't realize until I started on the road was how beautiful and scenic the drive that was Interstate 15 would turn out to be and these are some of the many in the United States (see more scenic drives in North America):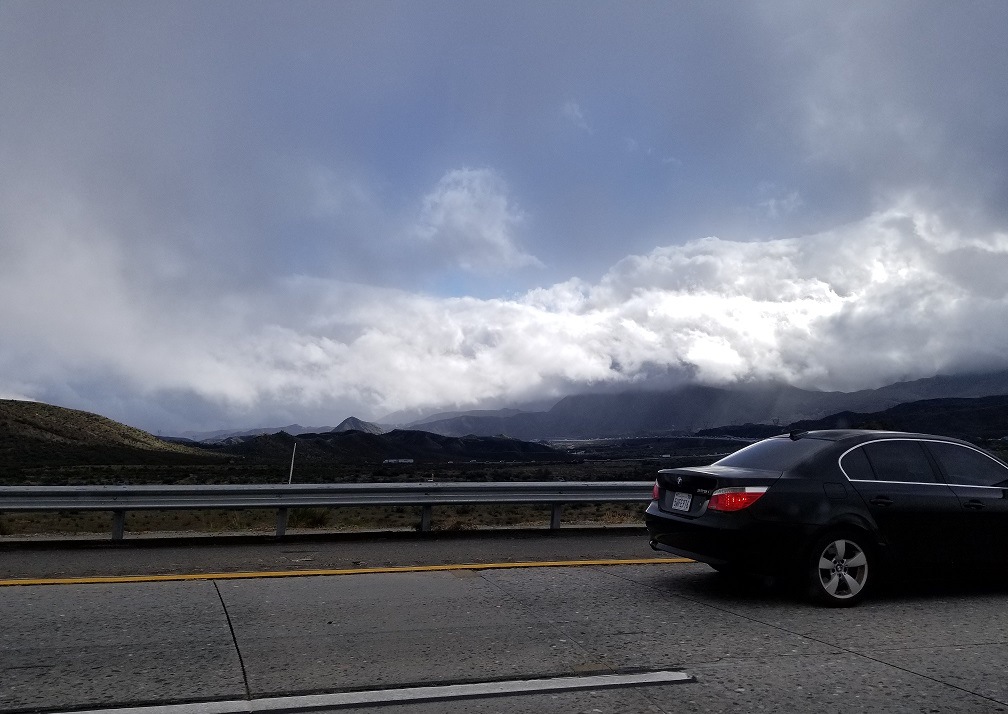 In fact for about 5 or more hours, I was constantly stunned at how the dessert landscape would slowly turn green as I went further and further south west and the spectacular mountain views I could see in every direction.
The road as well is a treat as some of them are in such high elevations, that it feels you are literally in the skies and inside the clouds, I am not kidding: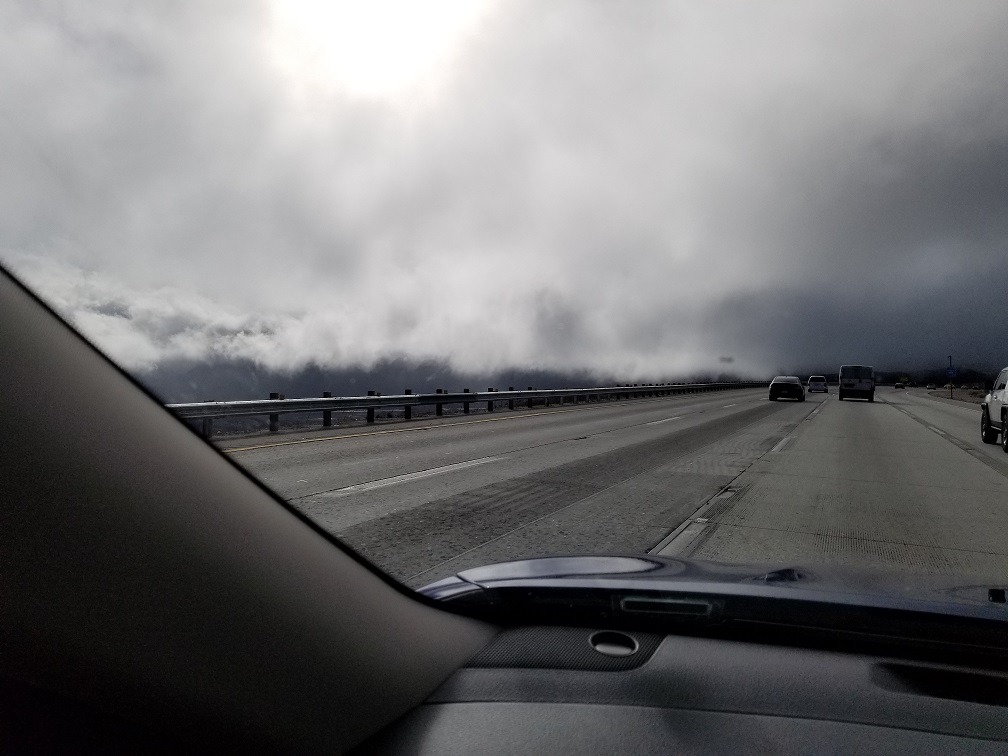 Truly, California is the most beautiful state I have seen (Their coast however is second to Oregon's and you'll see why). And while there were so many places I had the chance to visit (Mojave preserve or Death Valley), I elected to finally stop within Angeles National Forest and that was because of the next gem which stood out.
Gem 3: Mormon Rocks.
It's impossible to drive along Interstate 15 and NOT notice this area: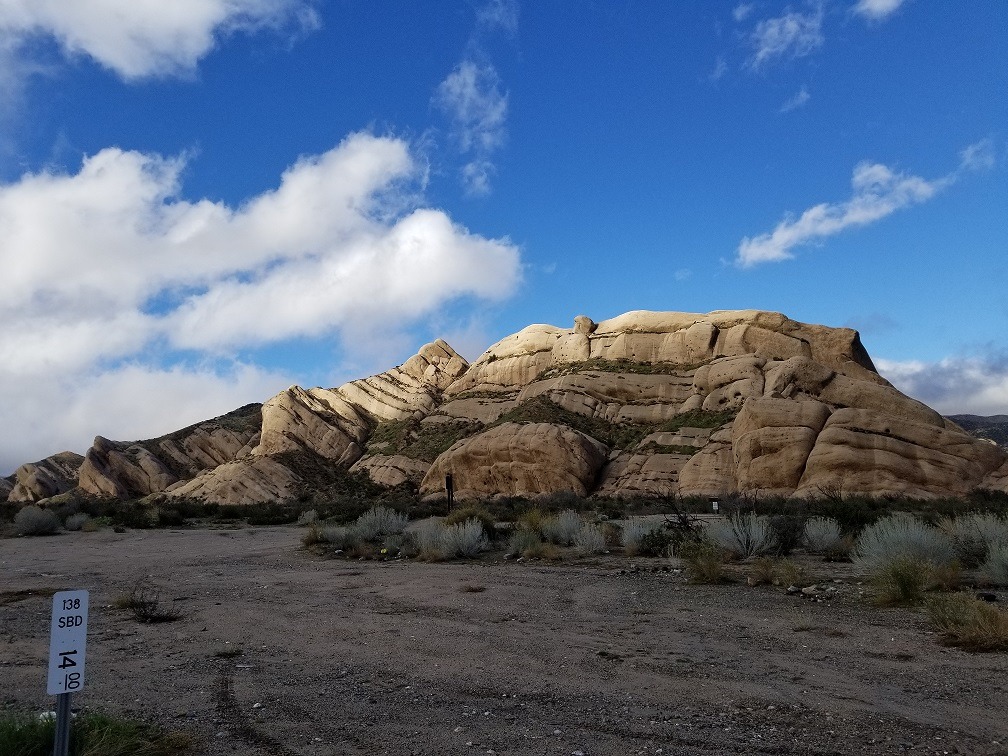 It's these gigantic boulder/rock hikes that are off the road with the Angeles National Forest 5 minutes away from it.
And everywhere around the Mormon Rocks are scenic areas just pulling you toward them and that's exactly what happened to me. There are hikes in these spots that are extremely fun looking to try, and had I had more time, I would, but L.A awaited, and I only had about an hour to spend in this area, so I elected to go into the next gem area…
Gem 4: Angeles National Forest.
The most beautiful mountainous areas you see on interstate 15 as you're getting closer and closer to the coast are mountains that are part of Angeles National Forest and while I wish I had at least another week to explore them, I went to the nearest spot in this forest, after I finished checking out the Mormon Rocks.
Sadly, I didn't take any pictures here, because I entered an area in this forest that I thought would help me get to Los Angeles but through the forest so I could see more of it, but it was snowed in. What amazed me, was how when I entered this forest, it felt and looked like Spring everywhere, but within a few minutes time as I climbed the mountains, it was snowed, with tons of people everywhere skiing, making snowmen and more. 
I was astounded by how beautiful and quickly the environment changed and wished I could stop, and eventually I did, but not to sight see, but to turn back, because as the road kept going going higher, the snow kept on piling up more and more, to the point where I reached a block gate that would not let me continue, lest I had snow chains, which I did not. 
As a result, I had to turn, head back down the same road and mountain, back through the Mormon Rocks, back on Interstate 15 and continue to Los Angeles. But I did not forget Angeles National Forest and neither will you if you visit it. I will get more images the next time I visit, but you can bet you'll find a lot of waterfalls and hiking trails there.
For now, this is all I can share about this gem:
And keep in mind, all these gems right now that I've listed, are from a single day's trip.
Gem 5: Interstate 5 in California.
Gem 5 began officially on day 2 of my trip and I was headed north to Modesto (but first stopping at Sequoia National Park), a chunk of which took me through interstate 5, which itself was also a spectacular view:
Gem 6: Pyramid lake on Interstate 5.
It is impossible to miss this particular place and stopping off there is easy. Tell me this is not a gem: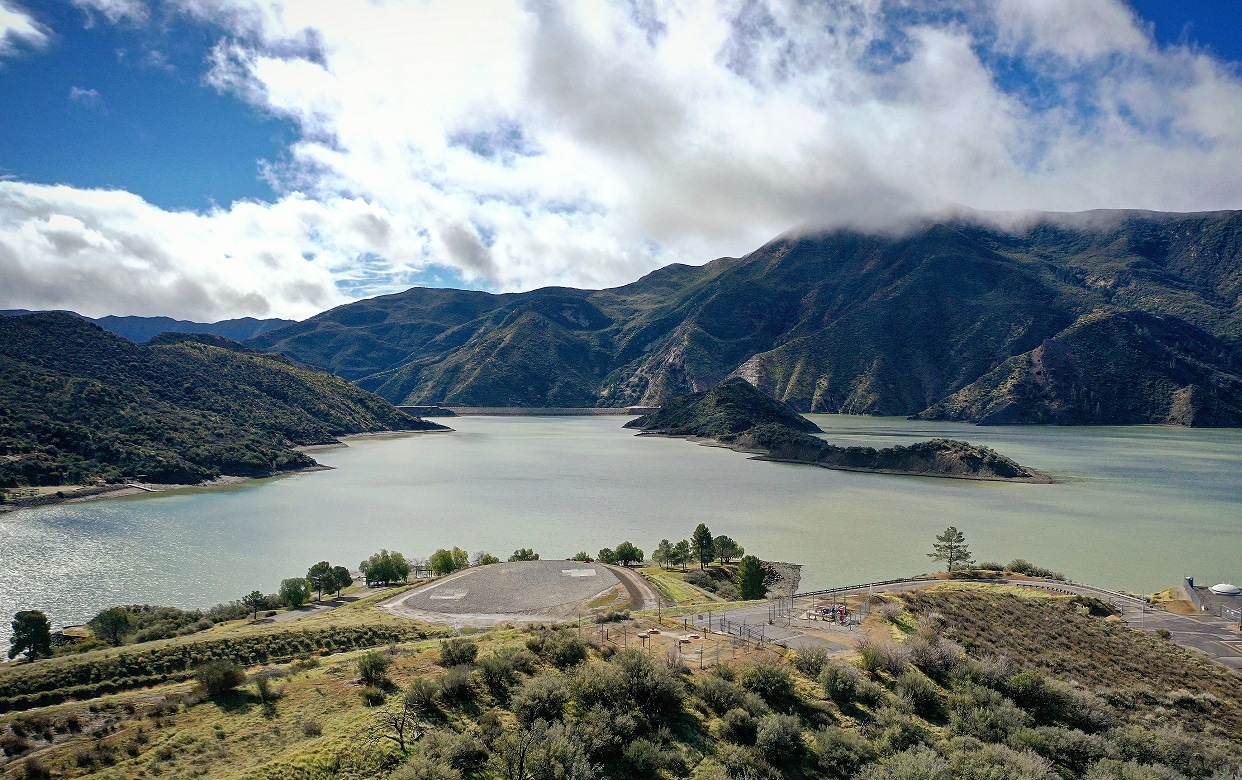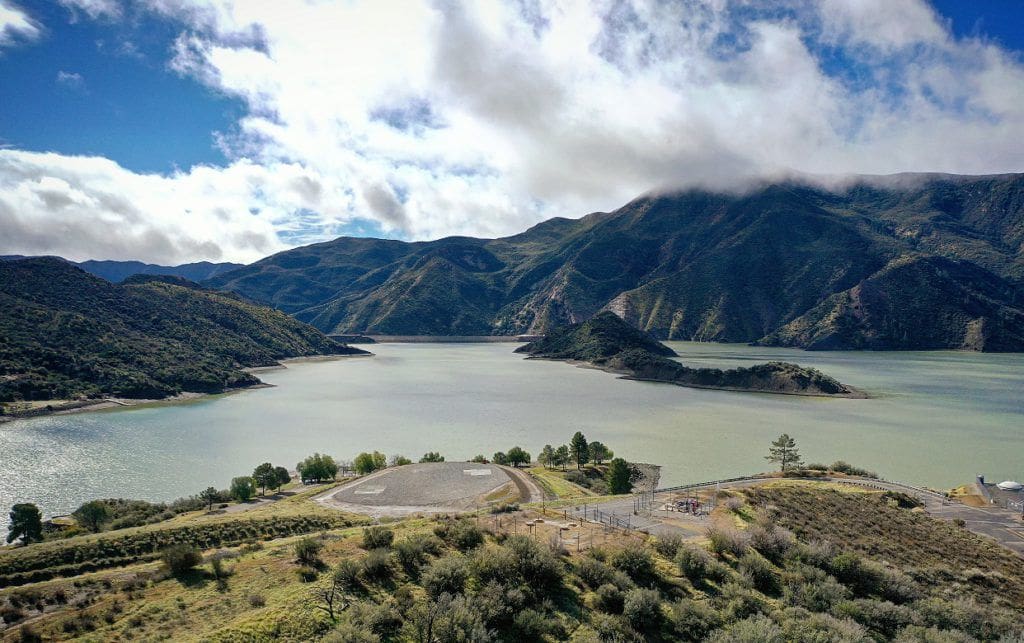 Now after I saw this spot, I was expecting to make Sequoia National Park my next recommended gem, yet because it was closed, I had to omit it. Instead I continued north, stopped at Modesto and that concluded my day 2 adventures…
Gem 7: Big Sur.
Day 3 was supposed to involve me traveling to Yosemite, but like Sequoia which was closed, so too was Yosemite and thus my plans shifted more west, to the actual west coast and I am glad it did because Big Sur is a gem that you CANNOT miss.
While the drive on the only road there is spectacular, 2 places I had time to see were McWay Falls and Bixby Bridge:


And aside from these 2 spots, Big Sur has a ton more places to see, swim, hike in and drive through.
Gem 8: A beach with jewels known as Fort Bragg.
On day 4 of my trip, I had left Modesto, and traveled to San Francisco, from which I turned north to visit Fort Bragg. There I visited my first glass beach (you can find others, one for example in Washington State by the way) where for an hour I had collected them: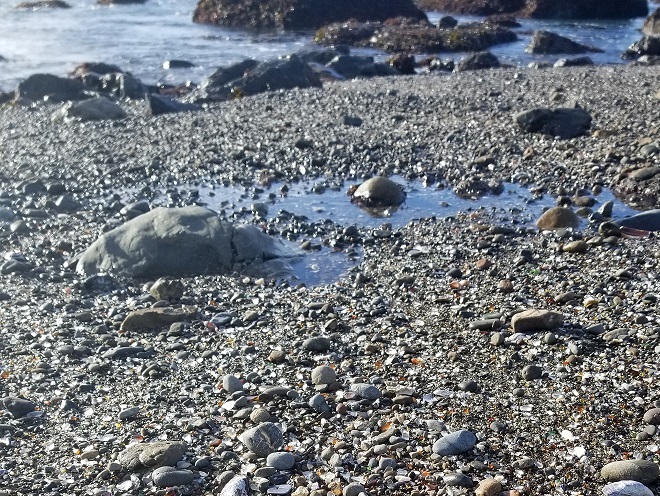 Gem 9: Another scenic drive, route 101.
Since I was traveling north, I continued on it for a few hours and honestly, there isn't enough I can say about the 101 drive, especially in this area. I got a sample of it in Big Sur, the appreciation and views I got while driving for hours, albeit slowly, was worth it: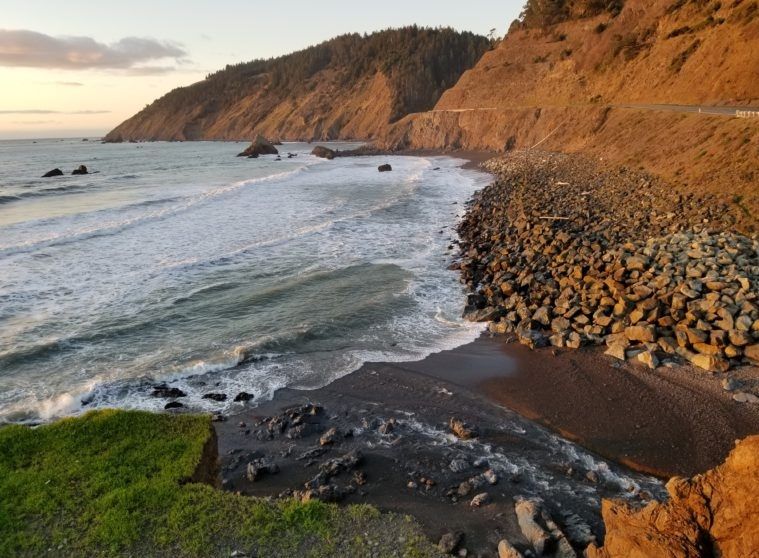 I do have to say that even though I didn't go through all of the 101 drive (Which is the Pacific Coast Highway), that if you decide to do it, don't JUST focus on the many destinations there as you might miss parts of this actual scenic drive and that itself is the gem. 
Not every destination on the 101 will be an official, famous spot, but take my advise and stop anywhere on the 101 where you feel the view is worth looking into further, because you WILL have plenty of those sights pop up.
In fact, if you want to get specific, a literal west coast road trip would likely be best done if you did nothing but traveled up the 101 all the way to Washington.
Gem 10: The drive and stops within the Redwoods.
Day 5 was probably the best out of the entire trip because it had me exploring what is in my opinion the best looking spots on my trip. It began with the Redwoods.
Most people have heard about this place and fortunately, it is VERY easy to enter, drive through and even stop in many places to enjoy hikes. I mainly drove through it, but I did stop 2-3 times to enjoy a short hike and really get close to these giant trees: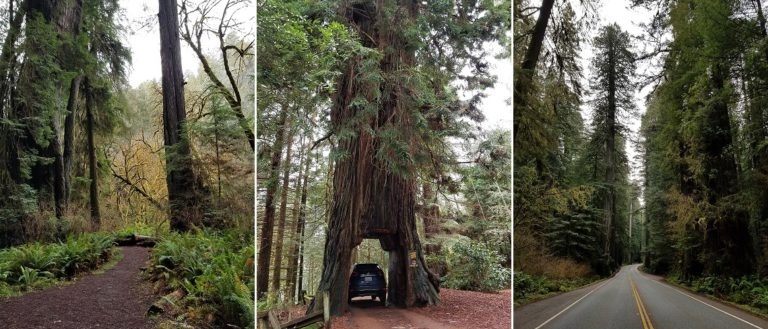 There are MANY places to stop at within the Redwoods including hikes and access to beaches, since it is on the coast, as well as many attractions. 
Gem 11: Oregon Coast, specifically Samuel H. Boardman State Park.
I had heard much about Oregon's coast before visiting it, and I have to tell you, whatever people tell you about how beautiful it is, it's actually MORE beautiful once you're there. I even think that when you compare the Oregon and California coastlines, Oregon's might be slightly better (in my opinion).
For me personally, nothing struck me as being more beautiful in this whole state's coast than Samuel H. Boardman State Park, which you will pass through shortly after the Redwoods.
Samuel H. Boardman State Park has a ton of jewels to see, and here is one of those places: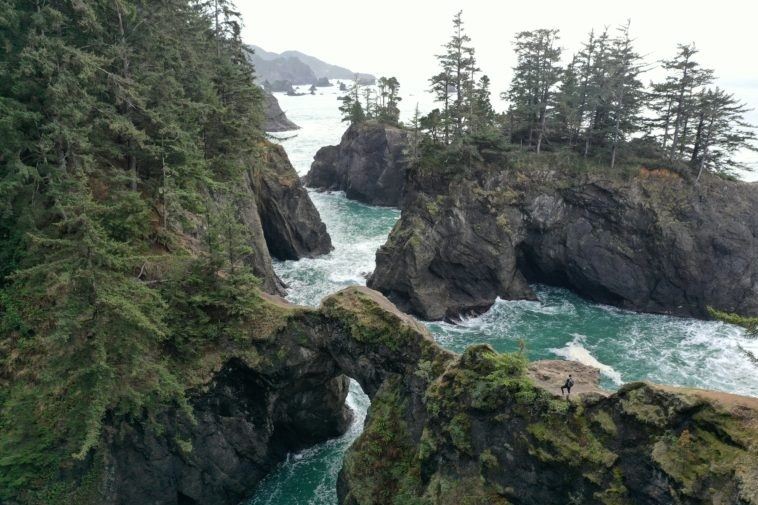 And in terms of WHERE you can find that above spot, here it is and it's called Natural Bridges.
And I'm telling you, nearly ALL of Samuel H. Boardman State Park is this beautiful. Just about everything you'll see on the Oregon Coast is it's own gem.
Note: I returned to this same spot less than a year later and added even more locations to the places I saw in Oregon, including: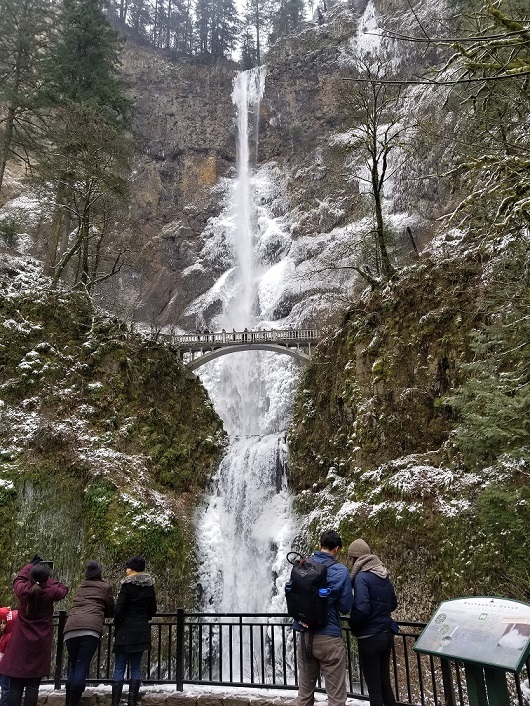 Gem 12: Columbia River Gorge area.
Day 6 began and one of the spots that I really wanted to visit was a waterfall called Multnomah Falls but to get to it, I had to turn north east from the Oregon Coast, and visit an area called Columbia River Gorge.
This place as a whole is also a gem and basically provides easy access to many scenic areas and waterfalls.
Here is a picture of Multnomah Falls:
Additionally, this place also had an entry to a famous trail called Oneonta Gorge (it looks like the Narrows in Zion National Park) but it was closed and sadly, this was one of the other main places I really wanted to see. 
Once it opens up, the good news is that this waterfall and that trail are close to each other. Most of the other places I visited were a long car drive apart.
And that is one of the other main advantages of visiting Columbia River Gorge.
Yet as awesome as this place was, the Oregon Coast was calling me back and so I shifted west, back to the coast and had to endure a massive blizzard on the way. Thankfully I reached a coastal hotel unscathed and spent the night, close to the next destinations I'd visit…
Gem 13: High Steel Bridge, Washington State.
On day 7, the official last day I had to see as many scenic spots I had. To reach this specific spot, I had to go further north, but before I did see it, I first had to cross off other locations in Oregon and even Washington and here they were:
Hug Point, Astoria and Deadman's Cove. 
Once these 2 spots were done, my plan was to visit a famous bridge called Vance Creek Bridge, but due to the road being inaccessible, I looked at alternatives and this brought me to what I consider a better option, which is gem 13: High Steel Bridge.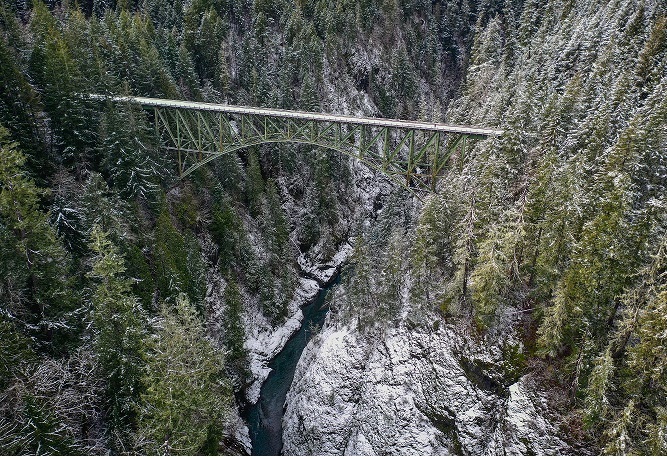 After I had visited it, my next goal was to reach Vancouver, Canada to see family members of mine and in doing so, I had to omit any other potential spots I could see on my trip, which is why despite having another day, I considered this, day 7 to be the last official one for my trip and where I'll end this post.
Overall, I have provided a 7 day itinerary of the places and gems I've visited on my west coast trip and I hope that if you're planning a visit to any of the spots I listed, that the spots I've provided are also places you'll explore and if you do, let me know 🙂
More road trips of mine:
While I said the best road trip I took was to the west coast, that was in 2019, and later that year, my buddy and I took another one which rivals the west coast one, and that was through Western Canada, where we saw places like Vancouver Island and the epic Canadian Rockies.