McWay Falls is truly a one of a kind place I had the honor of visiting twice. If you haven't already been here, you should definitely add it to your list.
But before you go, there's probably a couple of questions or expectations you may have beforehand and I want to clear it up for you before you do that like if it's possible to climb down there (it is, but it's not legal sadly).
Anyway, let's begin with this:
1 reason to add Mcway Falls to your bucket list (the view is something else):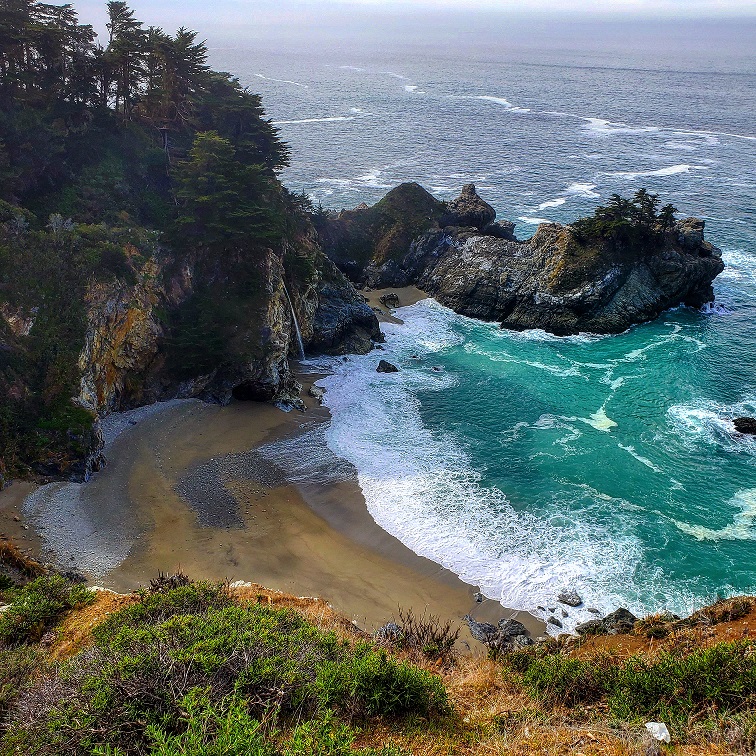 Breathtaking isn't enough to illustrate how spectacular this place is. 
I am very glad I had time to see it during my Pacific Northwest road trip in 2019.
And in 2020 I revisited it again on a western US road trip to take this picture of it:
You can literally sit and stare at not just the falls but the entire panorama of this location, all day, including during the sunset which makes this place light up and be even more beautiful if you can believe it.
But I'm not just here to praise it and tell you to go. There's actually a bit more you should know beforehand.
I wrote this article because I had a number of questions going there my first time, that I now have answers to.
And chances are, if you're a nature explorer like me and you're considering of planning on visiting Mcway Falls, you'll likely be wondering what you can and cannot do there.
Sadly, as a spoiler, there are more restrictions than freedoms when visiting Mcway Falls. 
Here are some common questions you may have about Mcway falls: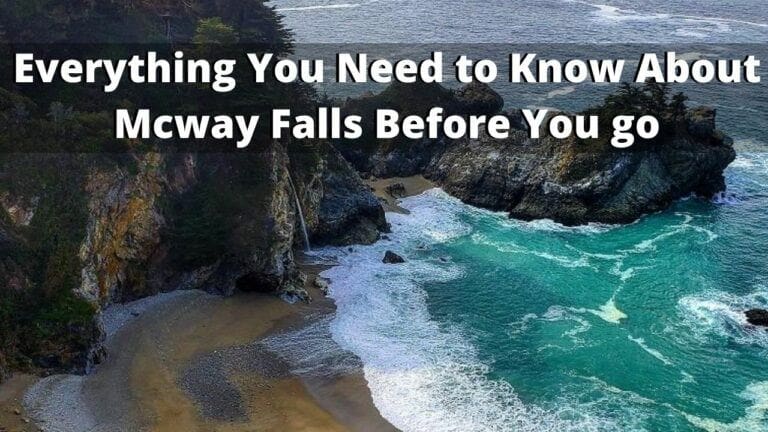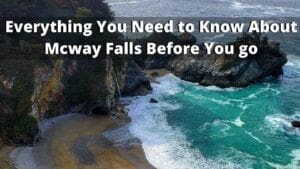 Where exactly is Mcway Falls it located?

Can you hike down to the beach and right next to the Mcway waterfall itself? 

Is it difficult to find Mcway Falls? 

Can you camp at Mcway Falls?

What else is there to see near this waterfall?
If you have any questions about Mcway falls that aren't being answered here, do let me know! Let's cover the most common ones right now:
1) Where is Mcway Falls located? 
The exact location is in a state park called Julia Pfeiffer State Park. It is located within the Big Sur region of the California Coastline. 
2) Can you actually hike down to McWay Falls?
Unfortunately it is illegal to go down there. The reason why is because of the many dangers including deaths that have happened from people trying to do that.
There is no road or path that leads down there and you would literally be risking your life to scale down there.
From what I have heard, there HAVE been fatalities from people who tried to get down there and while you can check out videos of people actually getting down to the falls and even drone shots of it (from what I know, you cannot fly drones there), it's still highly dangerous.
When I went there, I tried to find a way down and legally went through a few paths that were open to the public (besides the lookout).
I found an area that goes to the opposite end of the lookout that is right above the waterfall itself, and there is a picnic area there. But unfortunately, to actually get to down the falls, you'd need to scale down some very steep gorges and risk your life. I don't think it's worth it.
One of the locals I spoke to before I found this location did tell me some people do kayak or paddle board to the beach itself once in awhile, so you may want to ask a local park ranger if this is legal.
Here's a great video showing great angles of it (including some where the person went down there, which again is illegal):
3) Is it tough to find Mcway Falls?
Nope, it's very simple.
You can literally input Mcway Falls on your map, but do it before you enter Big Sur as the connection tends to come and go. You'll literally find parking lots right above the waterfall overlooking it. That's how I took the picture from above.
As you drive on the ONLY road in Big Sur, which is Highway 1, that is also called Cabrillo Highway, you will see plenty of signs for Julia Pfeiffer State Park and there are at least 2 parking lots near the actual location:
One which officially takes you into the park and onto a trail that leads to the lookout of the falls and…

One that is right off the highway, which takes you to an edge where you can see the location perfectly as well, as it's literally a few steps from the parking lot. The first picture I put above was taken from the parking lot so you can see how scenic that looks.
Here are the safety levels to each option:
The trail to the overlook is safe and the walk on it is too. Green.
The overlook from the parking lot in the 2nd location has no fences covering it, so don't fall off. Yellow.
And of course, the third illegal option of trying to get down there, we did talk about and you should NOT do it. Red.
Either way, you can choose to enter either location and see the falls from a distance, or hike the short trail to a lookout for it. The lookout is actually right underneath the second location (the parking lot stop off the highway).
4) Can you camp by Mcway Falls?
There is a camping spot located right above Mcway Falls that you need to reserve ahead of time and it literally has a BBQ grill, picnic and camping area. 
I've seen it once before and it gives you a great view of the area, but sadly, no way down to the actual beach.
5)

Anything else near McWa

y Falls worth seeing?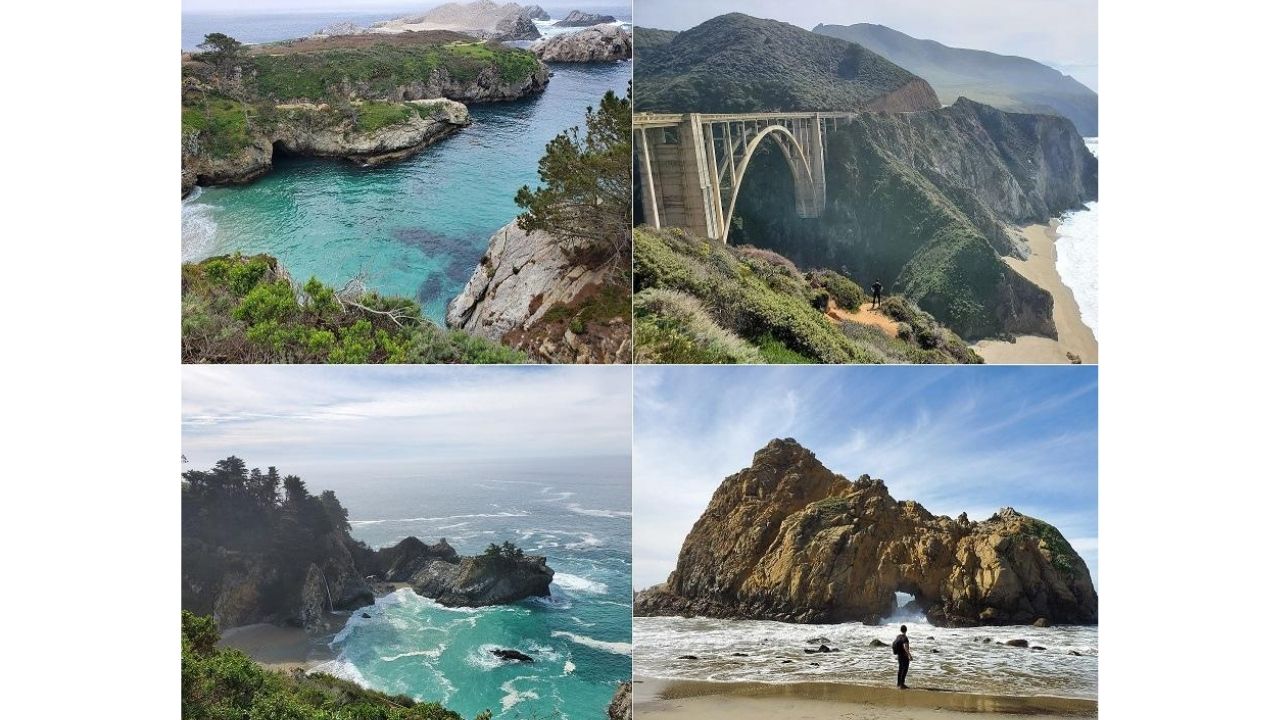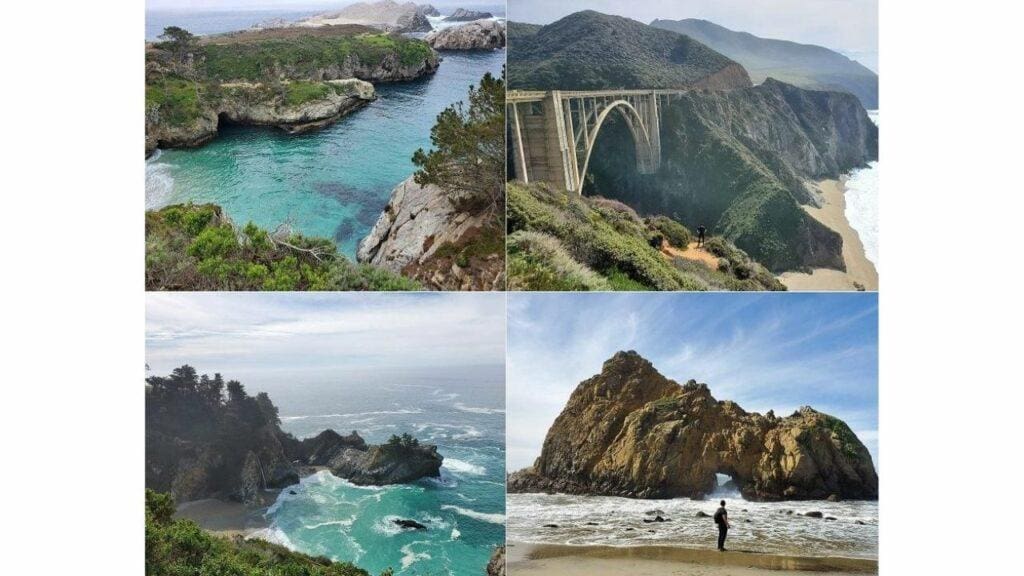 Absolutely!
Big Sur and these 5 spots in it are a must if you have the time. Here's a preview of the other places near Mcway falls that you'll find:
And if the beauty of Big Sur is something you want to keep seeing, south of this area is filled with many places like it (but Big Sur is still the best) and if you head north, well there is arguably even more beautiful nature.
I'm talking about the Redwoods, and the Oregon coast and of course the Washington coast too.
Do I recommend visiting Mcway falls?
100% yes and keep in mind that this is NOT the only scenic location.
The whole Big Sur area itself has a plethora of activities, camping, hiking and scenic views you can enjoy. Obviously, stay safe and don't do foolish things like trying to hike down to the actual falls itself, you're literally going to be risking your life and if even if you do make it, you will risk a hefty fine as it is patrolled quite often.
I have plenty of other photos and videos I took of this location on my Instagram channel.
I was truly blown away when I got there and in fact, I wasn't even supposed to be there. The very same day I went to Big Sur, I was actually supposed to go to Yosemite (I was staying at a friend's house in Modesto, which is in between both spots).
Because Yosemite was snowed in the day I was supposed to go, and closed, my plan B option was to hit up Big Sur.
Originally, I was going to do one day in Yosemite and one in Big Sur, with in hindsight, the lack of time I had, I would have ended up only making time for one location and I am VERY happy that things turned out the way they did, because Big Sur and all the places I saw there were truly spectacular. Go there.