While Vance Creek Bridge is one of the most popular spots in Washington, I want to share with you a similar, better location, that's close to it and it is called High Steel Bridge.
Visit that instead because for one, it's legal and as for views…
Here's a photo of High Steel Bridge. Tell me that's not as beautiful as the Vance Creek Bridge: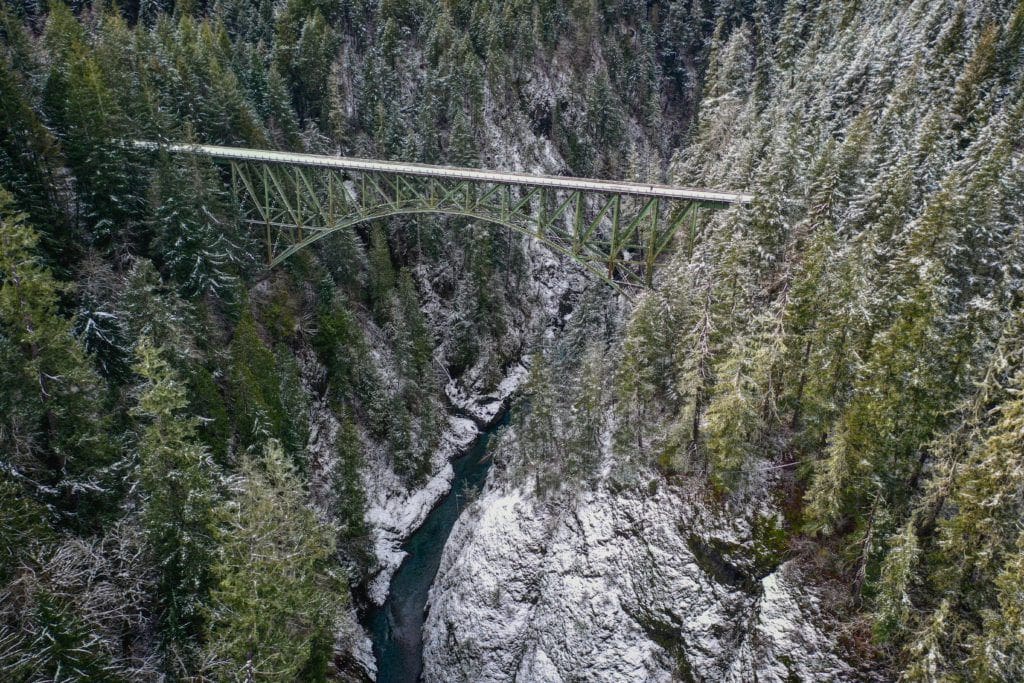 I had to go far to get that shot!
But overall, as you can see, it's not that different in terms of looks and the surrounding area is amazing.
But there are many reasons why I recommend this spot instead:
Here's at least 6 reasons I can give you to visit High Steel Bridge over Vance Creek Bridge:
It's legal to go there.

It's actually higher there.

The views are better in my opinion. 

It's LESS dangerous.

You won't get tickets or arrested for being there.

Like I said, it's actually close to Vance Creek Bridge (It's only 30 minutes away from Vance Creek Bridge).
I had a chance to visit Vance Creek Bridge, but am happy I switched to High Steel Bridge instead.
Aside from avoiding a possibly large fine, here is why I'm glad I visited this place:
Last month, I was traveling through Washington (while going through a many beautiful nature areas in the Pacific Northwest).
In this state, one of the spots I wanted to visit was Vance Creek Bridge. Yes I know, it's illegal to actually go there and yet there's tons of people who still take the risk, get the tickets and then post the photos.
Update: I mention the my west coast trip here.
While I also know that it's dangerous, I just wanted to see the area and not exactly enter the property (it's private property there). And then I would make the decision on whether or not to actually go to the location itself (if there were people, the conditions were safe, I would have considered it).
However, ALL of that fell apart when a snowstorm that hit the night before covered most of the area in it, and the access to even get to the parking area was closed and from multiple locations too, so I was basically unable to even get close to it. 
However, this setback would end up being a blessing, because a simple Google search showed me an alternative:
High Steel Bridge and with it only being 30 minutes away and actually being safer and legal to visit, I figured I had nothing to lose. And so I put the GPS on and let it take me to this spot…
While that area was also snowed in and at times it was rough to get there, it was very much worth it. Here are some things to note about this location and the difference between it and the other (illegal) spot:
1) Getting to High Steel Bridge is pretty safe. It's on a one lane road though.
The other location is an abandoned railroad which you have to hike up to and while I don't mind hiking and also like train bridges, such as the one I visited in Vancouver Island, the whole fact that Vance Creek Bridge can be dangerous and illegal to get to is itself a reason not to go.
2) You can easily drive over the High Steel Bridge and park your car near it.
Then you can exit and enjoy the views, while on the other spot, you will have to park far away, hike to the location, then climb it and risk injury or even death.
I will say though that High Steel Bridge is NOT completely safe. When I was there, the metal barriers (rails) were SO small and basically were as high as my thighs.
I was VERY scared the closer I got to the tip and because there was snow and ice, I didn't risk getting too close, it just wasn't worth it. So please be careful if you visit that spot. Some of the shots I took weren't easy but they are beautiful so enjoy 🙂
3) The views are insanely beautiful, as beautiful as on Vance Creek Bridge.
Both bridges do cross a river, but in my opinion, based on the images, and my experience, it's more beautiful at High Steel Bridge because there's also a waterfall that you can see off it (It is called Vincent Creek Falls):
I won't deny the allure of going into the other spot, for it's popularity, and the fact that it's illegal makes it even more attractive to hikers and risk takers, but people, I have to tell you, it's stupid to risk going there.
At the very least, you'll get a hefty fine, and at the very worst, you may die, as that spot is NOT taken care off, and High Steel Bridge is as it's an official road that's being monitored and updated.
I am honestly very surprised at all the things I read and saw that High Steel Bridge is not recommended by more people, across more forums.
I had to go through several sites and forums to actually see ONE person recommend it and being that I found this spot better, it's a huge surprise to see that it's not being advertised better and hopefully this post gets out to more people, so they can stay safe and see great views in the Olympic National Forest area, which is where these bridges are located.
If people knew that there existed a better alternative spot to Vance Creek Bridge, wouldn't they prefer to visit that spot instead?
Let me know below. But yeah, I think I've made the made points on why the alternative spot is better to visit.
You are certainly free to choose, but know that Vance Creek Bridge is dangerous, illegal and possibly very costly to visit if you get caught. I just don't recommend it. Go to the other spot, and you'll love it there, believe me. I certainly wasn't disappointed and it takes a lot to impress me when it comes to nature.
Looking back at all the circumstances, I'm glad I found this spot and didn't visit the other one. Considering all the snow, ice and dangers it holds WITHOUT all of that, I can't imagine how much risk I'd be taking just going there.
If you don't already know, to get to Vance Creek Bridge, involves you hiking to the location itself, then climbing up one of the pillars that leads you to the top of it, and then basically walking a "tight rope" like metal beam across to get to the bridge and that's if you end up the wrong side of it. The other side is a different hike, but it's still illegal to go there altogether…
Add snow and ice to all of that and I doubt even the craziest thrill seekers would go. I probably wouldn't have made it if I went.
Anyway, if you want to take my advice, again, visit the other spot and here is the Google location for it. 
Go there, enjoy the view (be careful) and know that you made the right, safe choice.
Oh and one more thing, the road which leads to that spot is also a one way road, which means when you're done, you will have to backtrack to get back onto a main road and go to your next destination, so keep this in mind and plan knowing that you'll have to spare an extra 20 minutes getting out of that spot and back onto the road.
Anyway, thanks for reading about my visit to High Steel Bridge and if you have visited this spot (or the other), I'd love to know if you agree with my suggestion to visit the safer spot instead.
Want to know of more cool abandoned train bridges? I've got another one for you:
I briefly mentioned earlier, that Vancouver Island has one. Here is a picture of it:
It's about about 100 miles north of where you'll find Vance and High Steel Bridge, you'll find an abandoned, but very popular (and LEGAL) bridge to visit called the Gold Stream Trestle. It is also very high up and the scenery and nature trails there are also beautiful!
It is different from High Steel Bridge because like Vance Creek Bridge, it too is a formed, abandoned train bridge, but has no railings and it is completely legal to go there too.
So if you are on a road trip and want to know where else you can find spots like this, then the one at Vancouver Island is another awesome spot.