The more I explore Harriman State Park, the more I regret not visiting it earlier because there's many things you can do there.
This place is so close to NYC and has so many adventures to offer that any nearby resident there would be missing out on not exploring it and in this post, I want to show you 6 awesome things you can do there, whether it's for the first time or if you're revisiting it again and want to try some new adventures.
Here's 6 things to do at Harriman State Park (NY):
Absolutely do the Seven Lakes drive.
Explore each of the 7 lakes in Harriman State Park.
Do the Reeves Brook hike (Kakiat trail).
Explore the abandoned mines in Harriman State Park.
Try to find Pine Swamp Mine (3 mile hike).
Do the Pine Meadow Trail (10+ miles of hiking).
Each of these adventures will give you a great tour of Harriman State Park and help you get the most out of your experience and if you're really adventurous, you may even be able to do all 5 of these things in one day!
Before I explain all of the details of these 5 things to do at Harriman State Park, I want to explain a bit more info about this park because from what I gathered in my own experiences, most people just don't know about it.
What is Harriman State Park?
It's actually one of the largest State Parks in New York State and is one about 30 minutes to 1 hour away from NYC. It offers tons of activities you can do including:
Kayaking and boating.
Picnics.
Tons of hiking trails (100's of miles).
A very nice scenic drive.
Fishing.
And much more.
It also borders with Bear Mountain State Park and is a nice add on idea on what to see if you've finished exploring Harriman State Park and want to see what else is nearby.
My history with exploring Harriman State Park:
I love exploring nature spots outside of NYC and having lived there for several decades, I'm ashamed to admit this but over that long period of time, I've only recently begun exploring Harriman State Park. Before this happened, I would always disregard this place and not consider it to be a great spot for day hikes, adventures and scenic drives.
And this is actually because I'd already explored so many areas in New York State, like:

But most of these adventures would involve me taking long several hour drives out of the city to see them and the many times that I'd visit them, I'd pass by Harriman State Park or see it on my GPS (later on this strategy was what I used to find great and easy hikes near me), but ignore going there because at least from an outer view, scenery there wasn't as "grand" as the stuff I saw further away and so I'd keep passing it by.
The moment my opinion of Harriman State Park changed forever (the first visit):
I was taking a simple day trip outside NYC with my family. We were 15 minutes away from Harriman State Park and had only 1 hour to spare and so I decided to finally go into this park and just drive through it (it only took me 20 years to do it!).
From the moment that occurred, I was instantly hooked with this park and needed to go back (and did 3 more times within several months).
And today, this park is a place I revisit again and again because there's just so much to do and explore each time I return, much of which totally fits my style of adventuring. So let's get to the places I recommend you see at this park:
1) For starters, I highly recommend doing the Seven Lakes Drive in Harriman State Park:
This was the very first thing I did when I went into this park and I always make sure to do it each time I go here. It's a beautiful drive that takes you through the heart of Harriman State Park and has you seeing some of the best places it has to offer, including 7 of it's most beautiful lakes.
If you have very little time to see this park but really want to visit it, then do the scenic drive. It'll only take about 20-30 minutes (without stops) and you can get a great scenic drive out of it.
This will also have you cross many of the stops and places to visit in the park if you like what you see and want to explore more.
Here is a drive through the Seven Lakes:
2) Explore all 7 lakes of Harriman State Park: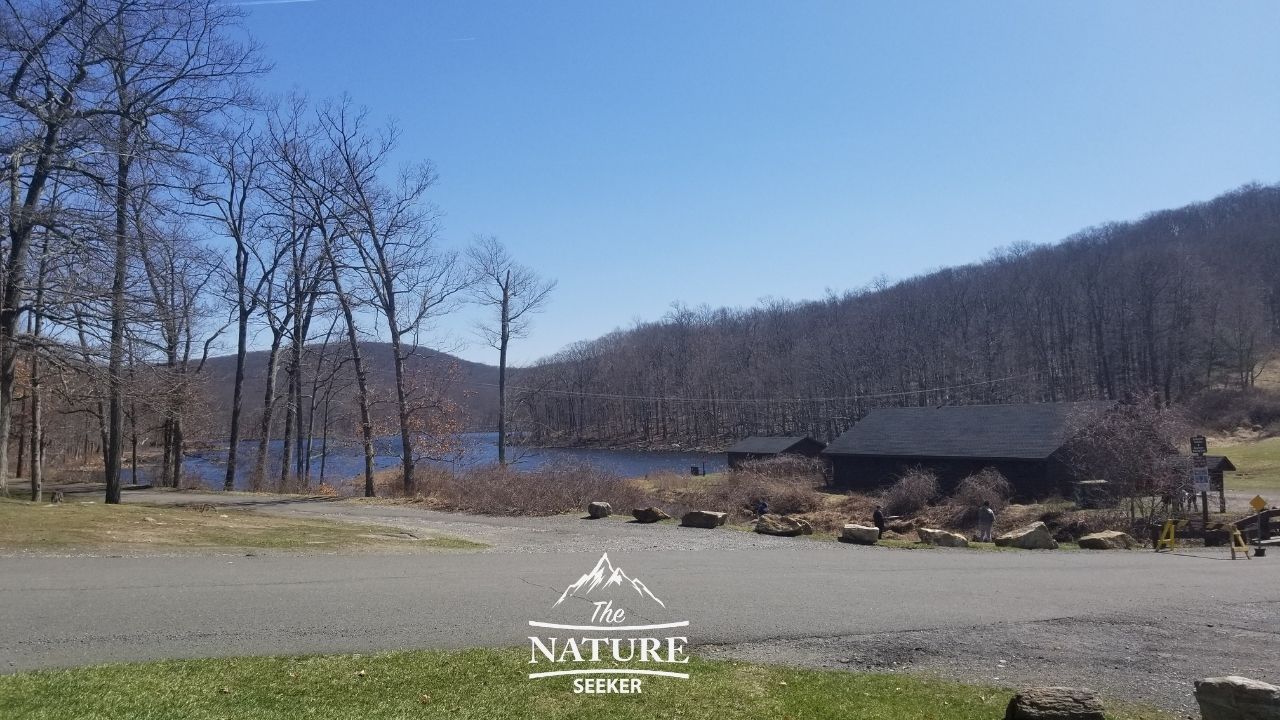 The scenic drive will take you through all of them like I said earlier and you will have the chance to stop at each lake and decide which one/s you wish to explore. Each lake offers it's own amazing adventures such as:
Kayaking.
Swimming (if you're into that).
Island hopping on a kayak in some of the lakes.
Picnicking.
Trail hikes around each lake.
Skiing and snowboarding.
And more.
So far I've only really explored 2 of the lakes at this park and whether it's a normal hike around them, a day time picnic in the area or just a nice sight seeing moment, every lake at Harriman State Park has a lot to offer for all types of people and is very enjoyable.
Note: Harriman State Park actually has more lakes and ponds than just these 7 (there's actually over 30).
3) Do the Reeves Brook Loop hike (Very popular hike in Harriman State Park):
If there's any place in Harriman State Park that always has a fully filled parking lot and popularity, it's the Reeves Brook Loop Trail, which is also connected to many other trails part of the bigger area known as the Kakiat trail.
The Reeves Brook Loop trail lies on the southern most end of the park and usually has a ton of traffic and filled up parking lots there so if you want to do this trail, come early and/or on a weekday but still expect there to be traffic. I've included a link above to details on hiking it.
Note: Some of the hiking trails at Harriman State Park intersect with the famous Appalachian trail.
4) Explore the abandoned mines at Harriman State Park:
There are several mines spread across one or more trails in Harriman State Park, most of which are accessible (but use caution). Some of these mines have been abandoned since the late 1800s and are really cool to check out. Here are some:
Bradly Mine.
Pine Swamp Mine.
Boston Mine.
Some of these mines can either be found on the official map of Harriman State Park (where you would need to find the icon for the mine and then the corresponding trail/s near it) or use Google Maps which actually shows some of them.
Note: I'm not sure if every mine in Harriman State Park is legal to enter, but do use caution for your own safety and look for any "no trespassing signs beforehand".
Also do note some mines on Harriman State Park are not part of the trails so use caution to avoid getting lost.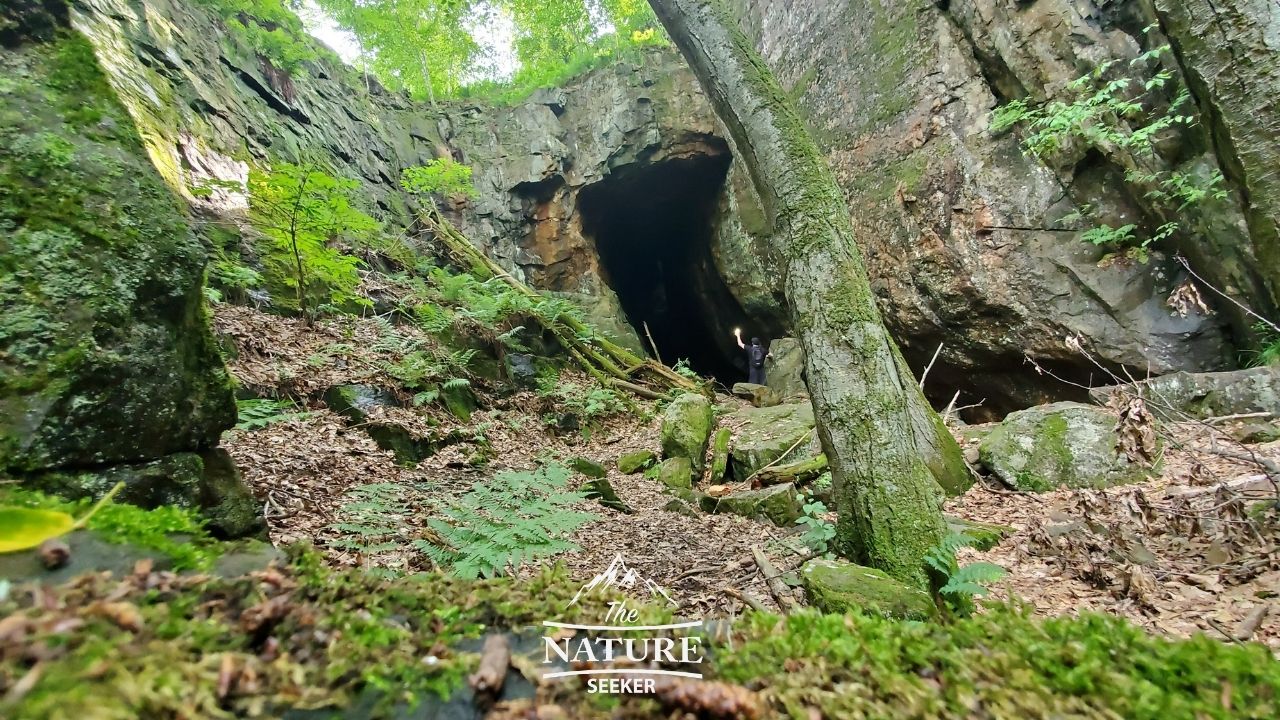 Finding mines in Harriman State Park isn't easy and I like to think of it as a treasure hunt, but I decided to add one of the mines I already found to this list because I think it's fairly easy to do and it's very close to a very nice trail that is only about 3 miles long.
When I went here, I saw no signs saying I couldn't go to this mine and fortunately had it all to myself. It's a large mine opening that goes up about 30 feet. There is a small hole at the end of this mine and I would be careful if you decide to go. There are also a lot of bugs and large frogs in this area so be aware of that too.

I've attached a photo of the trail (right) to take if you wish to find Pine Swamp Mine at Harriman State Park. Here are the instructions:
Start at the Lake Skannatati (parking is available).
Take the red trail north.
At the

red trail

fork, go left.
Continue along the red trail (west).
At the next fork, take the yellow trail.
The mine is about 0.2 miles in.
To access it, you have to find a side trail on the yellow trail.
From that trail, the mine is very close.
Continue along the yellow trail.
At the next fork, take a left to the light blue trail.
Take that light blue trail back to the parking lot (full loop).
This may seem like a lot, but the overall trail is pretty easy to navigate and not that long (about 3 miles). There are other options and trails along the way and I would only do it if you have a map and know your way around.
There is also another mine available near the yellow trail and light blue trail fork, but it isn't as pretty as the Pine Swamp Mine.
Additionally, you can also do this loop hike clockwise (opposite direction), but I found the one I did to be pretty nice and the views get better as you finish the hike at the light blue trail.
6) Hike the Pine Meadow Trail at Harriman State Park: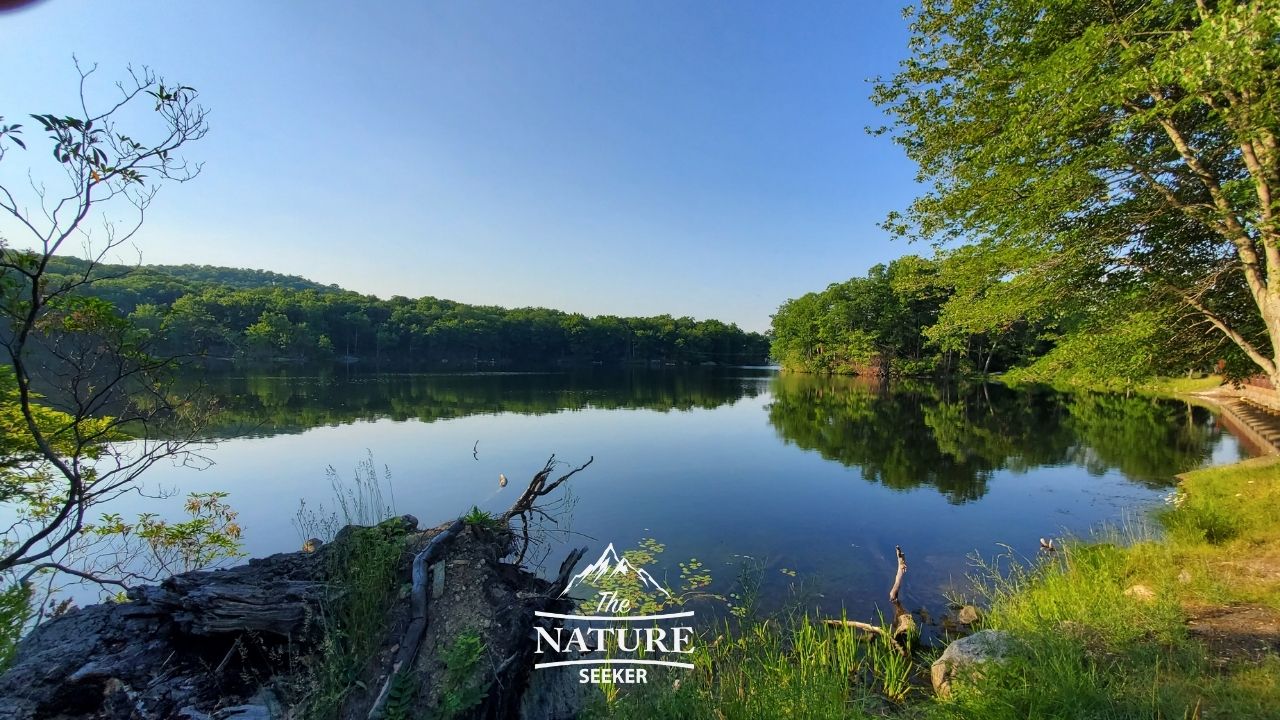 Pine Meadow Trail is one of the longer hikes in Harriman State Park (over 10 miles), but the key thing about it is that it takes you through some of the large lakes there and other beautiful scenery in the park.
In other words, the Pine Meadow Trail will help you see a nice blend of Harriman State Park. Although it is long, it is also very scenic.
5 other spots to explore near Harriman State Park for extra adventures:
1) Bear Mountain State Park (20 minutes away):
It's literally the next door park to this one and also offers a bunch of cool hikes and scenery to explore. I've visited Bear Mountain State Park twice and it's also a good place to visit if you enjoy hikes similar to that of Harriman State Park.
In my opinion/memory, the hikes there aren't as fun, but they are pretty easy and good for family adventures.
2) Mohonk Preserve (1 hour away):
This park offers some really cool hiking experiences like the Labyrinth (challenging). There's also beautiful gardens, lakes and other activities to explore at Mohonk Preserve.
3) The Catskills (2 hours away):
One of my favorite spots in all of New York State, the Catskills are a spot I visit often and whether you're into challenging (Devil's Path) or easy hikes (North South Lake), swimming, sightseeing or snow sports, you will have all of that available here.
Just as well, there are nice swimming holes in the Catskills to explore.
4) Breakneck Ridge (30 minutes away):
If you love hiking and want to experience a very challenging one, then Breakneck Ridge is where I recommend you go. It's very close to Harriman State Park and the hiking there is strenuous to say the least!
5) Hudson Highlands State Park:
This entire Hudson Highlands State Park has great views, hikes and more to explore (including Breakneck Ridge).