If you've heard of Ausable Chasm but are on the fence about visiting it, let this post and the beautiful pictures I took while there give you a reason to check it out!
I've visited Ausable Chasm 3 times and I want to share the amazing experience I had there, as well as the awesome photos I took. You need to see this place! 
The very first time I heard about it was while I was doing research on places to see above the Catskills. Among the many options, Ausable Chasm appeared in my search. And I decided to take a trip to this place with my friend.
Supposedly, this place was labeled as "The Grand Canyon of The East Coast", but later research and further trips led us to discover it was actually a title for a place called Gulf Hagas. Although I will say, after visiting both places, Ausable Chasm is better for a multitude of reasons…
What is the Ausable Chasm?
This is a "small" canyon with amazing views located in the northern most part of New York State, about 30-40 minutes South of the Canadian border. There are waterfalls in this area that are near a dam.
Here is the location of it:
In terms of length, I would say this place is about 1-2 miles long. The canyon itself is anywhere from 40-100 feet in width and the drop to the water can be anywhere from 50-200 feet high depending on where you are. 
However, despite being pretty small, there's a ton of adventurous things you can do here which I will talk about shortly. Just know that if you plan to visit this place, you are in for a pretty unforgettable experience as the nature is just out of this world. There are many things you can do there, from seeing a top outlooks, to hiking, rafting and a number of other activities and this brings me to the part about the options available and what I recommend you try there:
5 things you need to do at Ausable Chasm:
Firstly…
1) Just stand on the bridge that crosses this canyon and enjoy the scenery. 
While traveling to this place, my friend and I had some serious doubts about how gorgeous it would be. That's because after going through the kinds of adventures I did in the Catskills, it would have been very difficult to beat the sights and things we did there.
However, as soon as we passed the bridge and saw from both sides that we were finally here, that assumption flew right out the window. On one side you had 3 waterfalls flowing into 1 raging river, broken rocks and canyons, amazing nature:
And on the other: A pathway to go down to the canyon, closer to the water, and later participate in the other activities this place has to offer…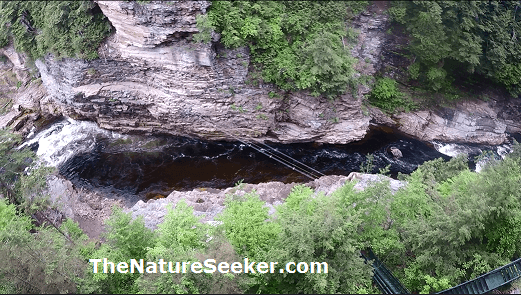 2) Walk the adventure trail.
There is an adventure trail which involves going through the harder version of the canyon where you scale the walls of it and use professional hiking gear. In fact if you look at the image above, you will see this rope like prop crossing the river. 
Well that happens to be one of the areas you will scale inside the chasm. In that one for example, you will hold onto 2 ropes and use your feet to cross along another rope to the other side of the canyon. 
3) Do the cave tour.
There is also some sort of cave tour you can take, but we didn't get around to that. We just took the regular route.
4) Check out t
he trail that scales down the canyon.
Now in order to officially enter into the canyon (or do any of the above activities other than stand on the bridge I mentioned), you have to buy a ticket (parking is available near the front entrance). 
You can take the regular route (which we did) that covers the trail that leads down the canyon and also includes a raft ride (which we also did and I highly recommend both these activities). There are also regular hikes that lead around the canyon and here are two photos from opposite sides:
Now that river you see on the left (above) is the most popular trail that you'll follow until you reach the rafting area. From there, the canyon continues, but the trail ends, and the only way to continue to explore the canyon is to take the rafts.
5) Try the rafting experience at Ausable Chasm (It's very fun).
If you Google any images of the Ausable Chasm, odds are you'll see what I'm about to show you. You're going to be taking a 15-20 minute raft ride that stretches for about 1/2 a mile. While it is short, it is going to take you straight through the chasm itself.
The ride itself will be calm most of the time and there is a short area where you will go through a pretty bumpy river ride. I would not recommend you take any expensive equipment here unless you have gear to store it. The photos I took below were with a GoPro camera: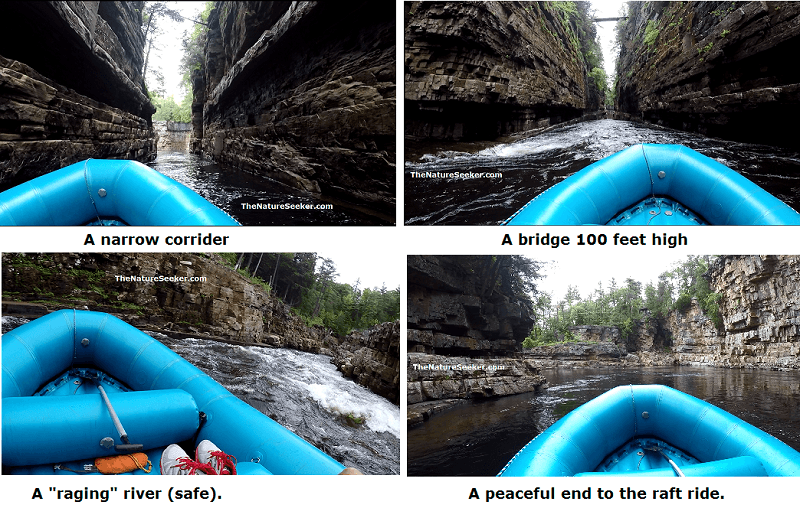 I want to make a quick note about the picture with the bridge 100 feet high. We were told by our tour guide on the raft (you have to go with one if you're going rafting) that when Hurricane Irene hit a few years ago (New Yorkers will remember), that the water and flooding was so catastrophic in this area that the level of the water was raised so high in this area that it was only 10 feet under the bridge! That means the flood from the hurricane filled the canyon up 90 feet! 
But moving on. After you finish the raft ride, a trail back to the original starting point is available (it is colored orange on the map). 
You can also elect to take a tour bus back to the starting point if you don't wish to hike back. Would I recommend you walk back instead of taking the bus? Depends if you're tired or not. The views, while not as great as the path headed into the chasm are still worth checking out.
You can also cross the 100 foot high bridge that I was talking about and have a nice look at the river from above:
Overall, if you are planning a 1 day trip, you will have PLENTY to do around Ausable Chasm (I visited this place during this fun road trip).
We kind of "ran" through the trail because we were seeking to visit other places on our trip like going east into Vermont, New Hampshire and places like Cannon Mountain, as well as other beautiful areas in the White Mountains, so this was more of a scouting trip, but we saw enough to want to do it again (and I personally did, 2 more times).
If you have a family that wants to visit a nice natural area, Ausable Chasm will definitely suite you fine. As for nearby places to visit and stay at, you have Lake Champlain and the many areas surrounding it, including Vermont on the other end of the lake to check out. 
Note: If you can't walk down to the gorge here and are looking for other beautiful spots with Gorges, consider Flume Gorge, it's a pretty simple and short hike, but I would argue, Ausable Chasm is more beautiful.
All around here, you'll have plenty of places to visit, eat at, stay overnight and continue along an adventurous trail should you wish to.
Have you visited this place? If so, what trails did you take?