Everything You Need to Know About The Highlands Trail in NJ
I recently had my first official hiking experience on the Highlands Trail in NJ, something which I originally thought was just a small/popular hike in the state.
It was only after I did the hike that I discovered that it's actually far more than I originally thought, and after doing a lot of research on it, I decided to encompass everything I learned about it with you here. So if you are planning to do a small part or even the entire Highlands Trail, this article is going to help you do that (and there are 5 main things to know). But first:
Quick info on the Highlands Trail in NJ:

Name: Highlands Trail.
Location: NJ, NY (and growing).
Hiking distance: 100+ miles (not a loop!)
Difficulty: Moderate to hard.
Hike rating:

3.5 out of 5 stars.



Easy to get lost? In some parts, yes.
Recommended hike? For beginners or general hikes, I would only do parts of this hike (plenty of options are available throughout the state/s, but to do the full hike, you will need to be a serious thru hiker and prepare accordingly for a month plus long trip) as it is easily going to take a week or longer to complete for most people.
What is the Highlands Trail? Basic stuff to know:
The Highlands Trail is the longest single trail in New Jersey. Currently its 100+ miles long and at the moment passes through NJ and into NY. It's also a trail that is expanding and based on this Highlands Trail page, it will continue to grow longer and extend into other states including Connecticut. The official start of the trail (from the west end) is in Pennsylvania, near the NJ border and currently ends in Donahue Memorial Park in NY. You will find a map of it below.
My experiences with hiking the Highlands trail:
I "unofficially" started hiking this trail when I first found it in Sterling Forest State Park. At the time I saw the markers for it and mistook it for the Long Path hike which is an entirely different (and much longer) thru hike in NY state. It just so happens that hike is actually marked as aqua vs the Highlands Trail which is a different color.
I then explored more of it (knowingly this time) in Long Pond Ironworks State Park and that is when I began understanding just how long and major of a trail this was. I intend to keep hiking parts of it in the near future.
5 things to know about the Highlands Trail in NJ:
It's marked as a dark blue (this is the color it's identified under).
It's over 100 miles long.
It extends cross state (and will cross several states in the future).
If you can't do the full trail, there's many places to enjoy parts of it.
This is not a trail that is good for beginners (even if you do a part of it).
1) Know the color markings for the Highlands Trail (

this is it

):
Besides the color marking, it is also important to note that the Highlands Trail is also marked as a diamond shape in this color. You're going to want to know this when planning a short or full hike through this trail.
Getting lost in the woods while hiking on this particular trail is always possible, but this is where knowing the color markings becomes imperative. The parts of this hike I did were in some areas marked very well and other times (like in Sterling Forest), very rare and sometimes difficult to see.
2) It's over 100 miles long (and set to grow longer):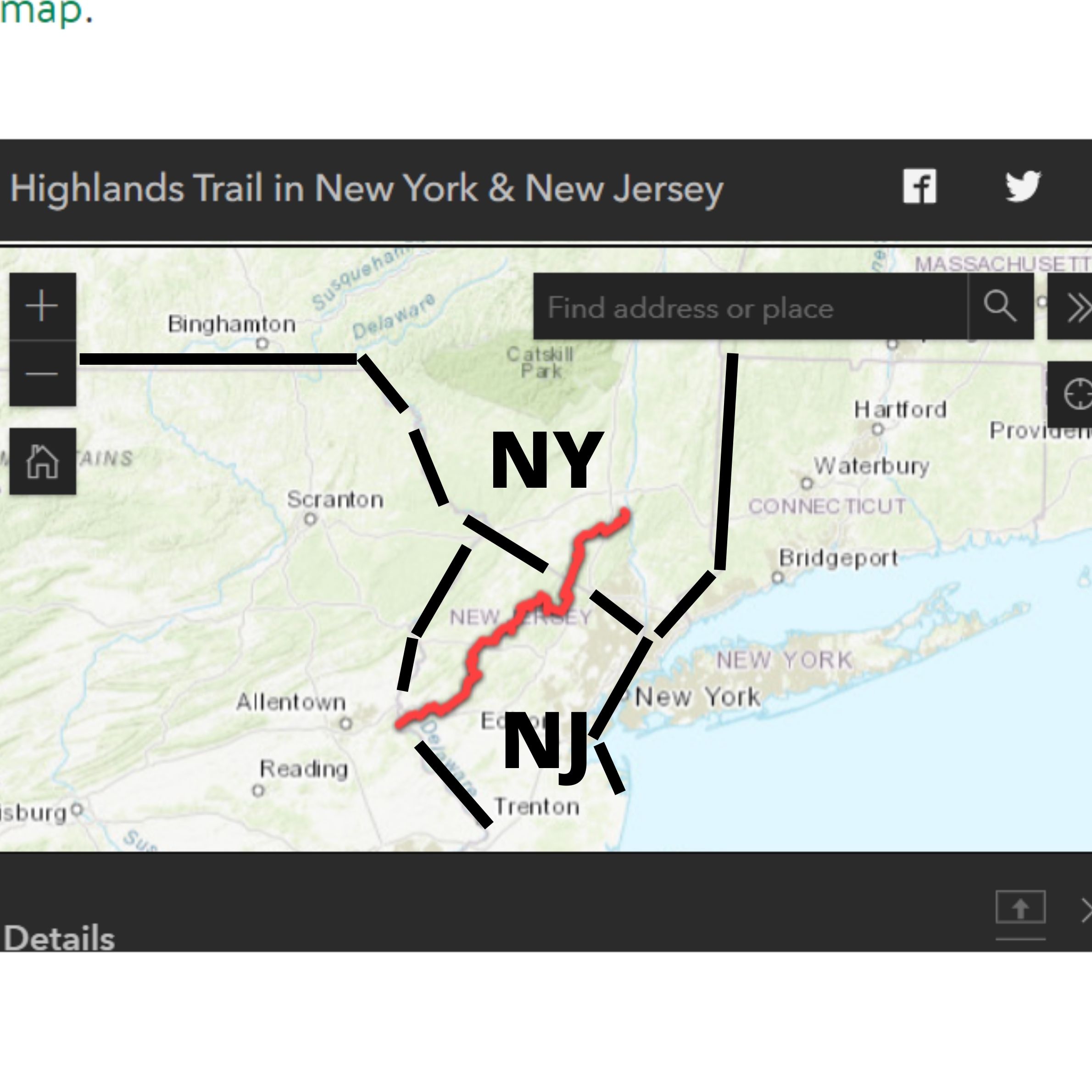 This is set to grow and it will extend east into Connecticut State, but with regards to when this will happen or how long the project will take is not something you'll find an answer to yet. Just know that if you intend to do this trail in parts or whole, you have 100+ miles of opportunities to explore it on.
3) It crosses into 2 states so far (and will cross into more in the future):
As of right now, the Highlands Trail basically crosses all of NJ and a small section of NY. I have included a screenshot of the (current) map of it. Make no mistake, this is a thru hike and as such cannot be done in a day. You CAN drive through areas by it and make stops along certain sections to check it out. Because most of the trail for this hike is developed in NJ so far, you'll want to check out the main spots there (more opportunities are available).
4) Can't do the full Highlands trail? Check out certain parts of it instead:

Not everyone has time to do a 100+ mile thru hike and therefore most people who want to enjoy the Highlands Trail can do it in small portions (like I personally have begun doing so). This is by the same strategy a lot of people use on other popular thru hikes like the Long Path, Appalachian Trail and other popular long ones like the PCT (Pacific Crest Trail).
Here are just some cool parks/areas you can explore the Highlands Trail at:
Long Pond Ironworks State Park

(in NJ).
Tranquility Ridge (in NJ).
Goose Pond Mountain State Park (NJ).
Sterling Forest State Park (in NY).
Storm King Mountain State Park (in NY).
There are also many connector trails within these parks so you can check out much more than just the Highlands Trail. One thing to also note is that in some cases, the Highlands Trail merges and continues for a few miles with other trails. For example, in Long Pond Ironworks State Park, this is the case numerous times. There is a red, green and blue trail that connects to the Highlands Trail for many miles.
5) In many cases, the Highlands Trail is not good for beginners (even if you do parts of it):
In my opinion, based on the several miles and 2 places I've done parts of the Highlands Trail at, I would say at the very least, this is a moderate trail. I hiked it in Long Pond Ironworks State Park and Sterling Forest, and each time, not only was it difficult, involved a lot of uphill scrambling and all, but the markers were also tough to spot. If you're into simple trails, look up my post on how to find easy trails near me post, which will help you do that.
Gear I recommend you wear when hiking the Highlands Trail:
1) Salomon Speedcross 5 (for your feet):
I have hiked parts of the Highlands Trail with the Salomon Speedcross. They are HIGHLY reliable in most cases (maybe not so much for wet rocks). Either way, I would not consider hiking this or any other serious trail without a good pair of hiking shoes or trail running shoes on folks. These will make it a much more fun and safer experience.
2) Trekking poles (for basic support):
If you have any sort of injury or plan to do a long hike (10+ miles), then I would recommend bringing trekking poles. Fortunately there's many choices and my pick for most people (including the ones I use) is the Trailbuddy Trekking Poles.
3) A decent hiking backpack (for water and supplies):
Anything comfortable for you will work fine here, but of course if you plan to do the FULL Highlands Trail, then you would need a giant backpack to house all you need. For short hikes in parts of this trail, maybe the Outdoor Products Hydration Pack or the Salomon Hydra Vest will do just fine (I've hiked these trails with these 2 backpacks on).
If you have any questions about exploring the Highlands Trail (in whichever state), let me know!