Salomon ADV Hydra Vest 4 Running Vest – My Personal Review
About a month ago, I decided to get myself the Salomon ADV Hydra Vest 4 Running Vest. It's a mouth full for a title I know, but in this review, I want to share what I think about it, and important pros and cons I noticed after testing it out.
Depending on what type of outdoor hikes/trails you intend to do, this running vest might be either the best thing for such an occasion or you may need something else. In this review, I'll help you understand just that.
Note: Recently I discovered the Hydra 4 vest has been discontinued for whatever reason and I am now recommending you get the Hydra 8 version of it. The great news is that:
It's basically the same exact vest (looks and feels identical).
It's a lot cheaper than the Hydra 4, but with the same quality and reliability you would get with any Salomon product.
Salomon ADV Hydra Vest 4 Running Vest product info:
Full name: Salomon ADV Hydra Vest 4 Running Vest.
Company: Salomon.
Price: $156.89 for me.
Price for Hydra 8: $90. Check price.
How many sizes? 5 (extra small-extra large).
Ideal for men and women? Yes.
Main product features: Holds 2 liter hydration pack (back), has 2 soft flasks (front), one mid sized pocket on the front, and an adjustable elastic "wire" that connects the front straps.
Do I recommend this product? For most trail runs, absolutely (even marathons). I would also highly recommend this backpack for mountain bikers as well. Get it here.
However, if you intend to go on a very long hike (especially in the summer), the main con to this product is that it can't hold much stuff and thus you may be limited on supplies.
My rating for the Salomon ADV Hydra Vest 4 Running Vest:

5 out of 5

.
Why I decided to get myself the Salomon ADV Hydra Vest 4 Running Vest:
Prelude:
For years I had relied on one major backpack for my hikes and trail runs: The Outdoor Products Hydration Backpack and honestly, it's still an awesome (and cheap) asset I keep on hand in case I need it. Here it is: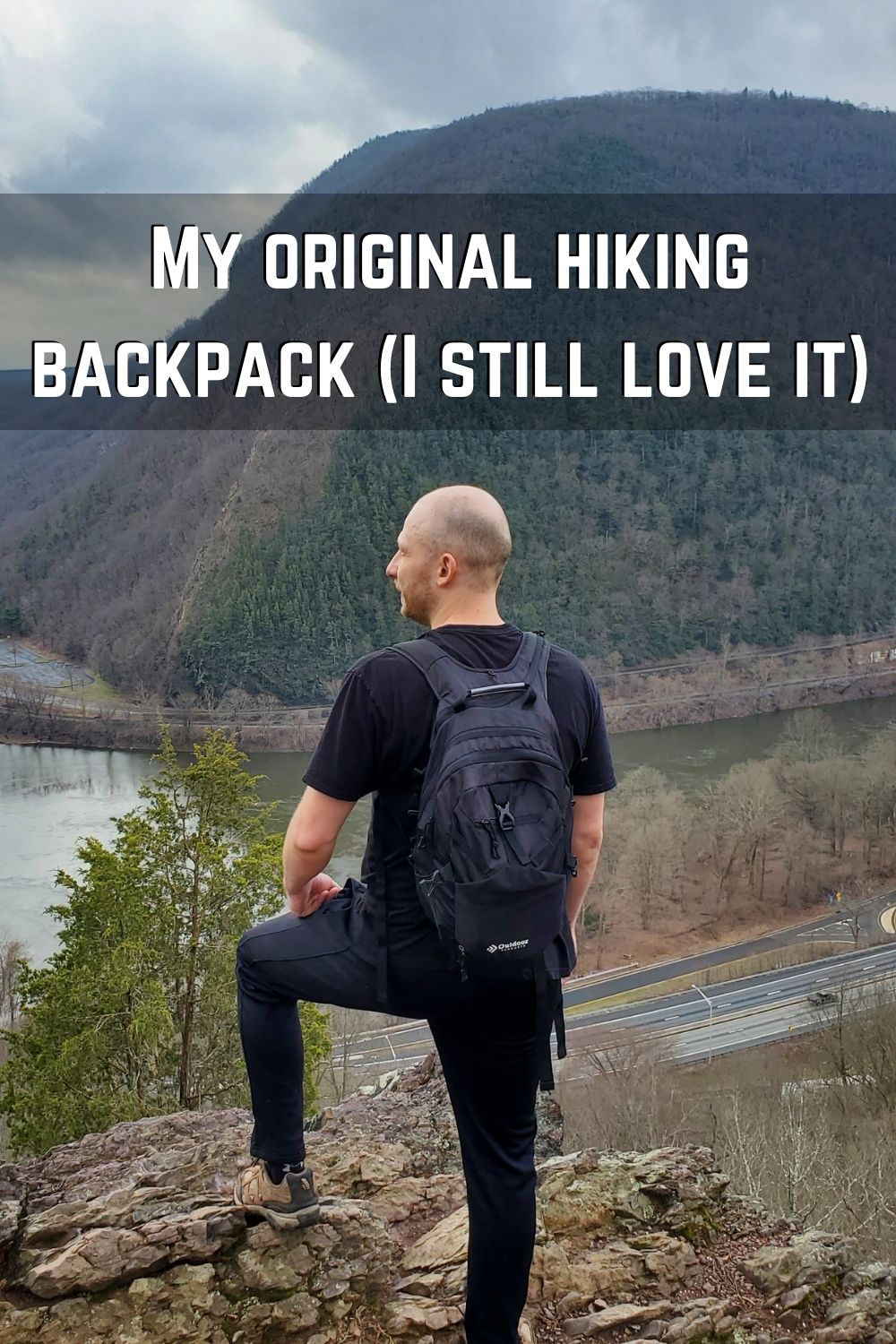 However, in 2021 I had experienced some serious and old injuries (dating back years) that were actually made worse by wearing this backpack. Let me explain:
I had major pains on my right shoulder blade area (and neck since it's connected).
I also experienced some lower back pain off and on.
The problem with carrying a traditional backpack (in this case the Outdoor Products Hydration Backpack) is that while it can hold A LOT of things (and that's one of it's major pros), it also weighs heavily on the exact areas that brought me so much pain.
In other words, nearly every time I'd go on a day hike and wear this backpack, I would often experience serious pains in those 2 areas that would put me out of hiking for at least 2 weeks and this is something I got sick and tired of experiencing.
The backpack isn't really the problem, but the injuries that just wouldn't heal up. I'm actually going through physical therapy for it currently, but until it heals up fully, I just can't continue to repeat the same cycle.
Thus, I had to adjust and get a new backpack for the occasion (enter the ADV Hydra Vest 4):
Let me just say that this particular product is my first ever hydration vest. At the same time, I've seen some seriously in shape runners using it, including a gentlemen I saw running all of the Devils Path trail in a single day (I also thought that it looked very cool). Anyway, after doing some research, I figured this backpack would be just what I needed for 2 simple reasons:
1) First, it's weight distribution is pretty equal on the front and back. My Outdoors Hydration Backpack basically put all 20-30 pounds of weight on my shoulder blade and lower back (no wonder it caused problems).
2) And second, I intend to do very long trail runs in the coming year to improve my skills and abilities and carrying this particular backpack would be perfect for such occasions.
First impressions of the Salomon ADV Hydra Vest 4 Running Vest:

I can't say they were overly good and one of the reasons why is because (again) this was my first experience with a vest. For starters, this vest is very small and a little tight on me (I was only wearing a t shirt). It was hard for me to believe that such a small product could help me with my goals (it later ended up being true). However, once I put it on, and filled up the soft flasks, my opinion changed very quickly.
I felt extremely comfortable wearing this vest, and at the same time, I did a few sample runs up and down the stairs to see how it would feel. Folks, this backpack didn't budge at all during this time and the soft flasks? The didn't move either.
Of course, I had to test it and so here's where I tested it (5 major spots and areas):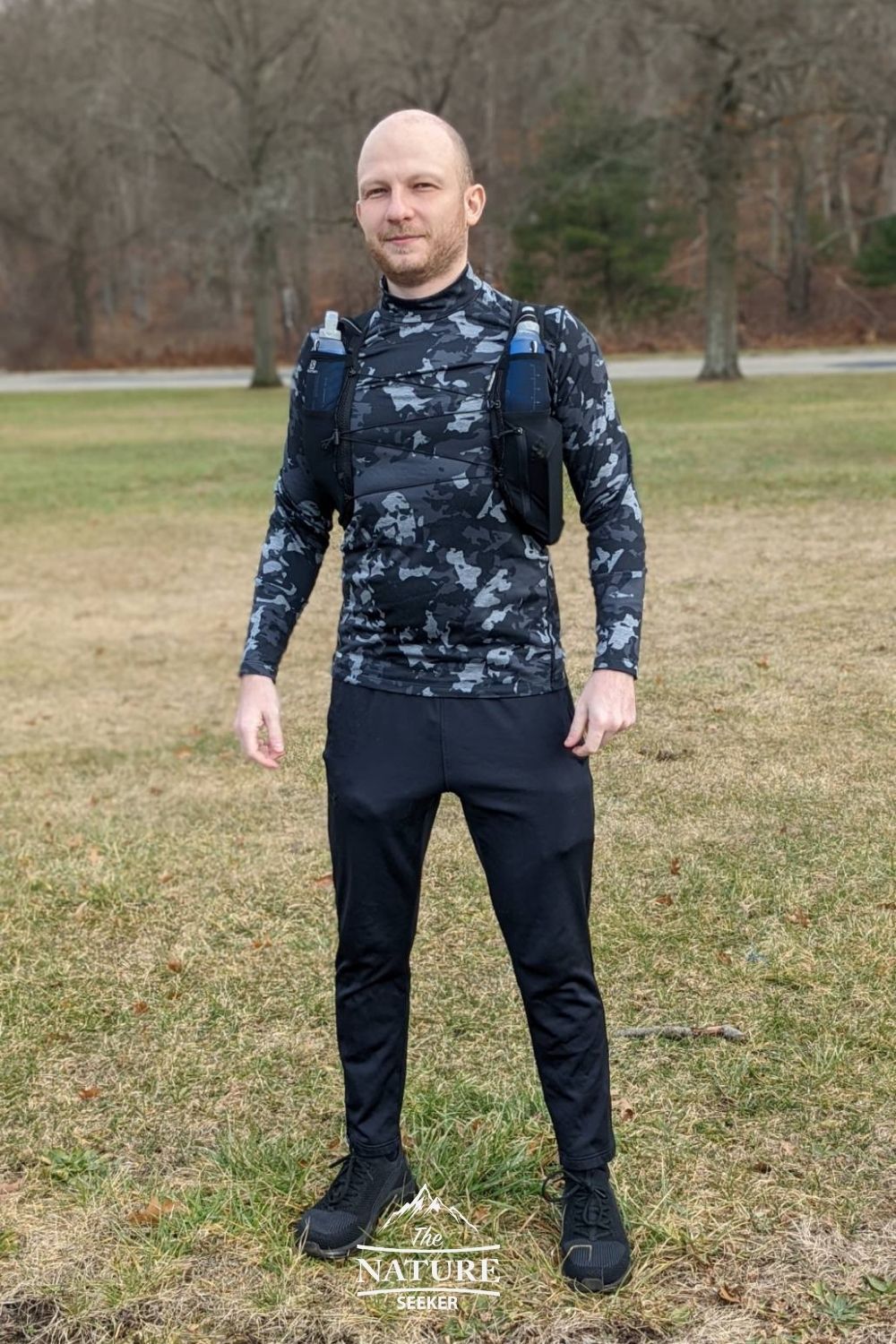 1) First, I went to Harriman State Park (in the middle of winter by the way) and wore some tight, but very insulated clothing to keep me warm while hiking in the cold.
This was perfect for the hydration vest as it was able to stay on me tightly, but not too tightly to be comfortable to wear while I was running. I have to say, that I was and still am very impressed by what this backpack can carry, despite being very small.
Other than the 2 soft flasks (which go in the front), there is a seemingly small space in the back for a hydration pack (2 liters would be ideal) which expands and can fit more than just the hydration pack. I actually carried a thermos with hot tea the day I went on this hike. Additionally, there's 1 medium-large pocket on the front strap which can hold your phone and maybe some snacks and miscellaneous supplies. It can also fit stuff like the Lifestraw which I carry on many hikes.
With 1 trail run with this backpack on, I quickly understood it's value and it's huge. But I wanted to test it out way more (I quickly became addicted to wearing it) and so I decided to take it with me on a very big trip I was doing a few weeks later:
2) I did a lot of trail running on one of the many hikes in Sedona Arizona and this hydration vest came in real handy there. In fact, I did at least 20+ miles of hiking with this on when I went there and I felt the immense comfort and application of using it on the runs I did there.
3) Pinnacles National Park: This hydration vest came in real handy here. In fact, when I hiked here, it was the first time I used a 1.5 liter hydration vest in addition to the 2 bottles in the front (since it was going to be a long hiking day). It fit perfectly (also had room for snacks).
4) Oregon coast hikes: It goes without saying by this point but the Oregon Coast had a lot of hiking trails to check out and this vest was awesome to wear here.
5) Grand Canyon: When I hiked here, I wore a hoodie and in spite of the extra layer of clothing, the vest still fit me perfectly well (as you can see):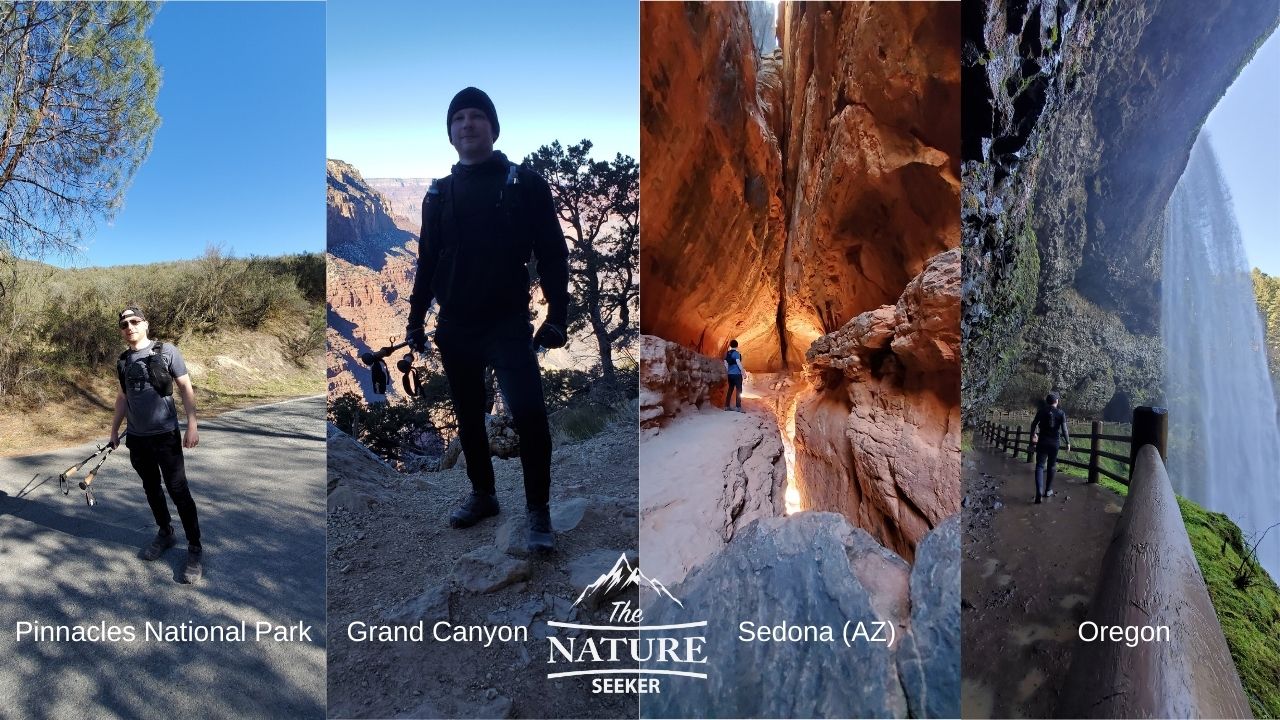 Pros:
Fits very comfortably on you (see sizing chart).
You can expand the straps if it feels too tight.
The soft flasks can hold a lot of water (500 mL).
You can fit an additional hydration bladder in the back (1.5 liters is ideal).
There's also space for other products in the back and on one of the straps.
For trail runs, I give this vest 2 big thumbs up (highly recommended).
While running, hiking and walking, this backpack doesn't budge (very comfortable for trail runs).
Not just good for trail running, but this vest is also good for biking and long marathons in my opinion.
I find running in it to be very comfortable (no strain on my shoulders).
Cons:
I would not recommend this vest if you don't intend to do trail running.
This vest won't fit you well if you wear a puffy winter jacket (it's better for people who wear tight clothing).
Obviously, compared to a regular backpack, it just can't fit as much (you sacrifice carrying more for less weight and comfort).
If you find yourself on a very long trail (15 miles) and during hot seasons, you may need more supplies and space in a bigger backpack. I don't want you to risk running out of water when it's hot and not have anywhere to refill it.
Salomon ADV Hydra Vest 4 reviews:
Based on every source I've seen (Amazon and the Salomon site itself), the reviews are generally very positive (4.5 stars).
My final thoughts on the Salomon ADV Hydra Vest 4 Running Vest:
I don't consider myself a serious trail runner (yet), but for the goals I've set in the coming year (basically to become one), to me, this vest is a perfect fit in more than one way for my needs and I fully intend to make the most of it. For example, I intend to do serious trail runs like Devils Path in one day next year, and this hydration vest is absolutely ideal for me to wear when I do this.
I would say it's better to use this vest on trail runs when it's not as hot so you don't have to carry so much water, but other than that, it's a very comfortable and cool looking product to wear for a trail run and considering the injuries I'm still recovering from, the extra benefits I get from this backpack will help my body heal up faster and give my shoulder black (and lower back) a break (the good kind that is).
Thanks for reading this review! If you have any questions about this vest, let me know!