Out of all the backpacks I own, the one which surprised me the most (in a good way) is the a specific Outdoor Products Hydration Pack I'm going to review for you today.
I've taken it on many adventures and it provides me with so much comfort and compactness that it's hard to describe in one sentence how much more it adds to my hiking experiences and adventures. And so this review will do that job.
Note: There are a lot of different Outdoor Products Hydration Packs out there, and the specific one I'm talking about is called:
Outdoor Products Trail Break 18 Liter Hydration Pack (2 liters) Black (here's the review):
Company:
Outdoor Products (Get it at Walmart).
Price:
$30-$40.
Colors:
Black and Green.
Do I recommend this backpack?
Absolutely. I bought this backpack on a whim (I'll explain in a bit) but as I began to see more and more of it's features, the value of this backpack is far more than it's price and I've been using it for over a year now on my trips, and plan to continue using it for as long as possible.
How I got my hands on the Outdoor Products Trail Break Hydration Pack:
Like I said, the decision to get it was all on a whim. I was in the middle of my Western US road trip with a friend and we stopped at a Walmart to get supplies. While there, I realized we needed more than just food, we needed a backpack too. After all, we did have to explore many places, including:
And so while browsing the backpack selection in Walmart, I found 2, one of which was the Outdoor Products Trail Break. I didn't need a big backpack, just something I could put all my major stuff in (drone, camera equipment, wallet, passport, and some food) and that would be easy to wear and trail run in and this backpack seemed to fit that parameter (I just didn't expect it to have so much more than I needed until later).
I actually ended up getting both backpacks (the other one was not a hydration pack) and so as the days went on and I discovered this backpack's uses, I was genuinely impressed by how much better it turned out to be than I expected. For instance:
I didn't even know it had a hydration pack.
I didn't know it had a rain coat.
I didn't know all the space it actually had.
I didn't know it had 3 buckle straps for extra comfort.
And I didn't know it had so many pockets for space.
Overall, I just bought this backpack just to have extra space to put my most important stuff in and it ended up giving me so much more and given it's low price, I'm shocked at how much it gives you for that.
What you get from this Outdoor Products Hydration Backpack (pros):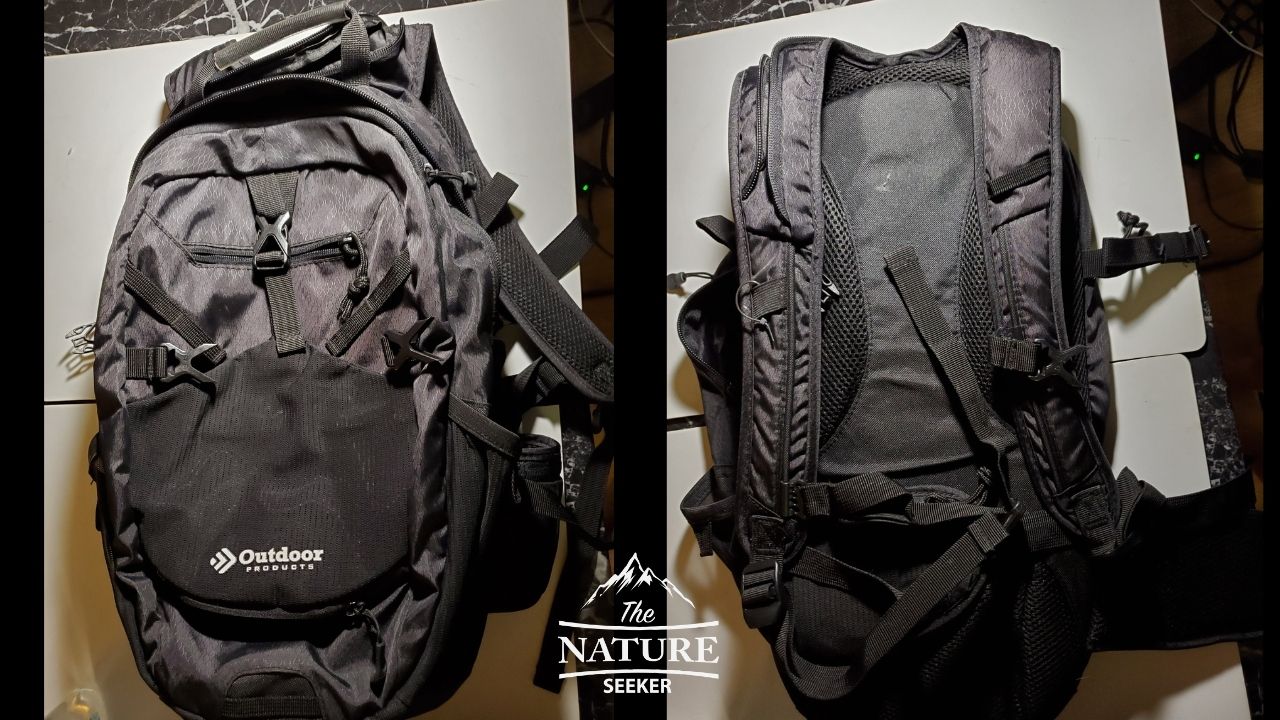 At least 11 pockets in and out.
Fits more stuff than you can imagine (seriously).
2 buckle straps (great for outdoor hiking and running).
1 buckle strap in the back (extra support).
A 2 liter hydration pack.
Very reliable backpack.
Very comfortable to wear and run with.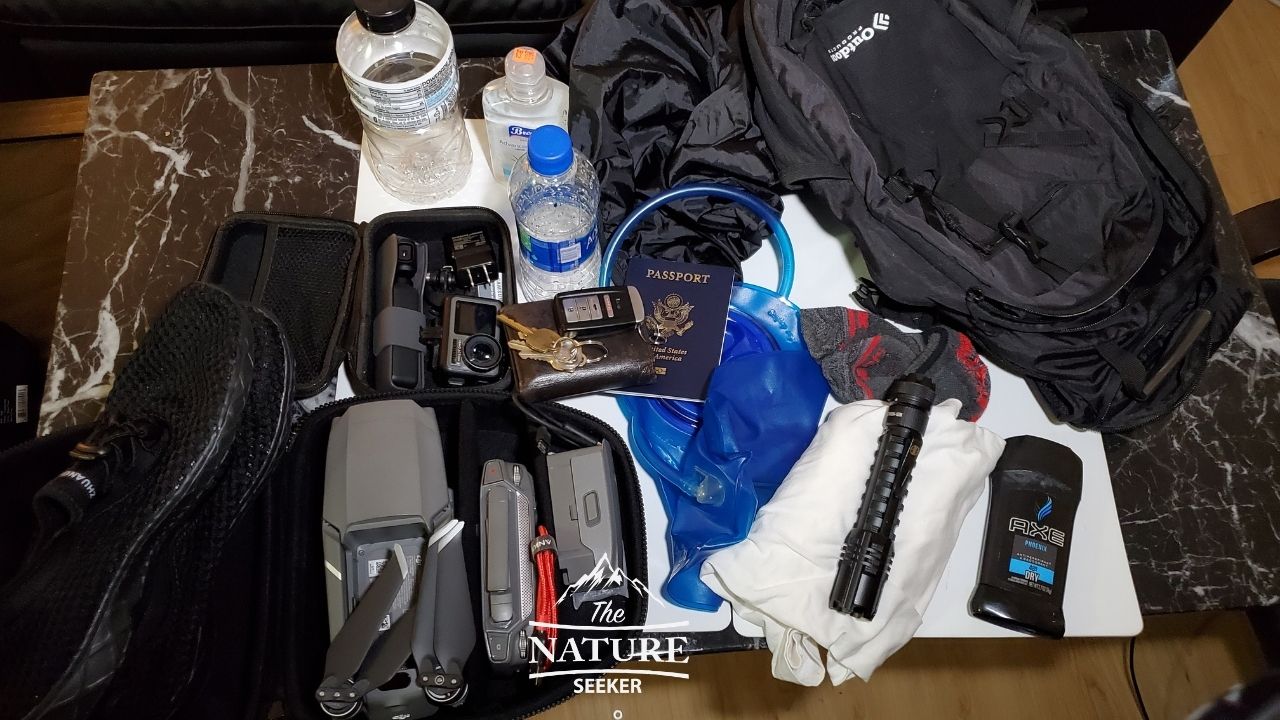 Cons:
Where I've used the Outdoor Products Hydration Backpack on:
1) Coyote Gulch (twice):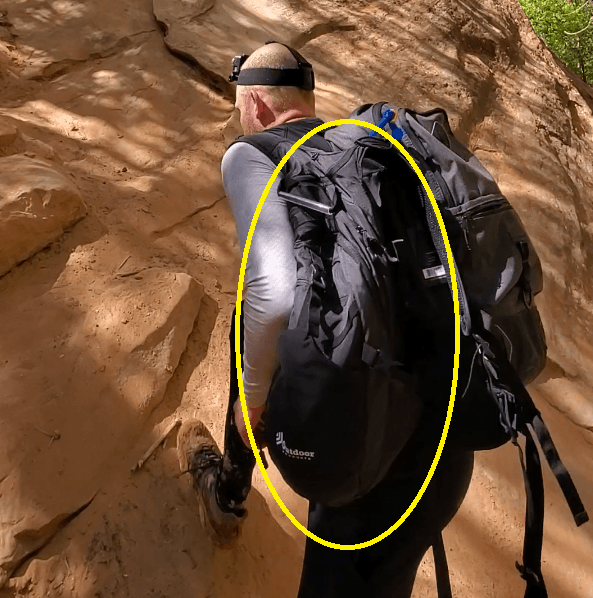 The first time I really got to experience the uses of this backpack was on the Coyote Gulch hike.
I was in the middle of the dessert with my friend and we had to walk through some really barren areas with no water and leave our car in the middle of nowhere.
I was obviously worried what would happen if anyone tried to steal the car or our stuff inside, but I made sure to take the most important essentials with me and this backpack fit them all in easily!
I still remember the day I was loading it up with all the products I wanted to put in and genuinely being surprised at much more I could put in because of all the extra space it had than I never thought was there.
You see this backpack expands as you add more, leaving more room for more stuff to be added and with the hydration pack filled up, that also played a major safety role in this hike we did.
2) Catskills:
When I came back home from my trip, one of my first major hikes would be in the Catskills and of course, this backpack just had to come with me!
While hopping on rocks and doing some serious trail running, this would be the time I would make full uses of this backpacks buckle straps which really made running with this backpack very comfortable.
3) Delaware Water Gap:
Literally yesterday I used this backpack on a famous Delaware Water Gap hike and once again, it delivered well.
I loaded it up several huge bottles of water, and the essentials. Once again, for the hike I did here (Tammany trail), it over performed.
4) Sombrio Beach Hidden Waterfall trail:
Over a year ago, I traveled to Vancouver Island and explored a hidden waterfall region on Sombrio Beach and this backpack and on this hike discovered that the backpack had a rain coat stored in there.
It was just another cherry on top of an already awesome backpack!
Overall, I must have done at least 12 hikes with this backpack on and I can tell you it adds no extra stress or worry for me. It's very comfortable and a convenient thing to wear.
5) Multiple hikes at Harriman State Park:
There's anywhere from 5-10 hikes I've done at Harriman State Park and every single time I go here, this backpack comes with me.
6) All of my hikes in a recent road trip to Minnesota:
I visited the North Shore of Minnesota (drove there from NYC) and everywhere I stopped and hiked along the way, I used this backpack at, including:
7) Hikes in the Hudson River region:
This includes:
Conclusions on the Outdoor Products Hydration Backpack:
To put it mildly: I love this backpack. As an extra accessory to house your most major products and gear, it's a perfect fit for that. And added to it, all the other major space and benefits it holds, this is really an awesome backpack, especially for it's price.