I've done the Narrows hike twice so far, once without any proper preparation where:
The first time I went, I nearly froze.
And the second time I hiked it, I came in overly prepared, but starting late where I couldn't finish it, but did several miles of the hike anyway.
Overall, I've done a number of miles in the Narrows and I have a ton of knowledge on hiking this place that I want to share with you if you're a first timer thinking of trying it by answering 10 common questions people have before they go on it and the answers to it, so you can properly prepare for it.
In this post on hiking the Narrows, I'll be covering the following topics: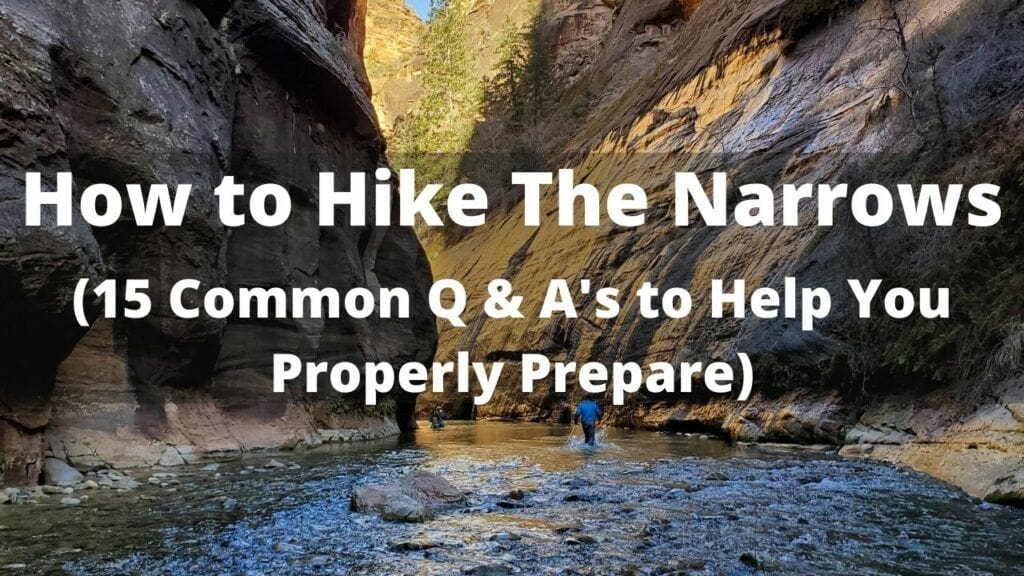 What you need to wear (Dry suites? Regular clothing? Wetsuit?)
What gear to bring (shoes, special socks, sticks).
When the best time to hike the Narrows is (What you wear and the gear you bring is determined by which season you go).
And other important stuff to make sure you get through it safely (avoid flash floods, hypothermia, ect…).
And just in general how to hike this place and have a great time.
This guide will help you properly prepare for a possible hike in the Narrows and overall, will help you have an awesome time in this place without making the kinds of mistakes I and many others made before hand.
The top reason people aren't prepared to hike the Narrows is because of this:
Lack of proper research.
Too many people who try this hike (including myself) make many unfortunate mistakes when visiting this place and it ends up ruining their experience and forcing them to turn back which is something I had to do. Don't make my mistakes, read my tips and you'll have a great time in one of the most beautiful places in Utah and probably the world.
The Narrows has to be the most fun hikes I've ever done so far in my life. And this is beyond Zion National Park, it's also everywhere I've been. I've also done the Observation Point and Angel's Landing Hike (well most of it).
The Narrows are unlike any other thing type of nature walk you'll ever do because you're literally going through a canyon, in water most of the time and seeing some truly indescribable beauty. 
A summary of the 15 questions and answers on hiking the Narrows:
Where is the Narrows? In Zion National Park (northern end of the park).
How long is the Narrows Hike? 7 miles one way.
How long does it take to finish hiking the Narrows (entirely)? 12 hours.
Where do you start the Narrows hike? At the Temple of Sinawava.
When is the best time to hike the Narrows? Summer or winter.
What gear should I bring? Water shoes for summer, dry suites for winter.
Where do I get a dry suite for hiking the Narrows? There's rentals nearby.
Should I be worried about flash floods? During July through September.
Should I try to hike the entire Narrows my first time? I wouldn't rush it.
How physically prepared should I be? Being in decent shape is enough.
When should I start hiking the Narrows? As early as possible.
Can you hike the Narrows at night? Yes.
Should I rush through the hike? No, I would take my time, you'll appreciate it more.
Does it get crowded in the Narrows? During warm seasons, yes.
Will I have enough time to explore other areas of Zion after or before? Yes if you start early.
If these answers suffice, then you should be good to go for your hike through the Narrows, but I do recommend you read further and see what to bring to properly prepare before you go as I get into more details on these same questions.
1 through 4 are simple, I don't need to get into the details:
These are simple questions with simple answers, so I'll just jump into the details starting from question 5 and onward.
5) When the best time to hike the Narrows?
It really depends on the kind of weather you like, if you enjoy crowds (or not). So let me explain it this way (2 possible choices):
1) If you are not into crowds and want to hike the Narrows when there's as little of them as possible, go during the winter season (January through early March).
There are barely any people at Zion National Park.
There is no shuttle service, so you can drive up to the Narrows Parking area.
I personally like that because I don't like crowds or waiting for a shuttle. I want to explore places in my own car, on my own time.
But be aware that during this time, the water is EXTREMELY cold, so you'll need to wear a dry suite or some other protective gear to make sure you don't freeze (tip on that coming up).
2) If you don't care about crowds, shuttle rides, don't want to freeze in the waters of the Narrows and even prefer hot weather, then go to the Narrows during the Spring, Summer and Fall seasons. The water will still be cold, but not nearly as bad as during the winter time and you'll be able to hike the Narrows (albeit with more crowds) with just regular water shoes.
6) What gear is necessary to hiking the Narrows?
1) If you're going during the winter season, a dry suite is pretty much required (next tip), lest you have a wet/thermal suite to protect your feet and legs from the cold water.
Everything else, such as hoodie or jacket is totally up to you and how much cold you can withstand. During the cold seasons, the Narrows can become a wind tunnel and very cold air can blow within it, so be aware of this.
When I went the second time through this hike, I wore a pair of under armor pants, warm socks, a t shirt and warm hoodie, and then on top of that, put the entire dry suite on. And I'll tell you, even with all that on, there were times that I was cold, and not because of the water, but because of the wind.
Also bring a walking stick and a snack because the hike is long and you may want to rest. Optionally, you may be able to get away with wearing waterproof socks and avoid the super cold water. I recommend the Showers Pass waterproof socks.
Another good waterproof sock option would be the Randy Sun Waterproof Socks (which reach up to your knees). They would offer more protection from the cold, but you would need to navigate the Narrows in a way to avoid the deeper spots (chest high in some places).
2) If you're going during the warmer seasons, bringing regular hiking clothing, water shoes, and even spandex clothing is fine. And again, bring a walking stick!
7) Where should I get dry suites to hike the Narrows and do I really need them?
The answer is, YES you do need them. As my friend and I learned, going in February means stepping into some pretty freezing water.
This was the reason we couldn't even get through half a mile of this place without having to turn back. But we did see many people wearing what we later learned were called dry suites and second time I went to hike the Narrows, during the winter, I properly prepared by getting them.
And there are stores near the park where you can rent them.
I rented mine from Zion Guru. You can get them there for $60 a day, per person. That's where I got the beauties you see to the right:
If you want to buy them, be prepared to spend a lot of money, but here is a link to one good dry suite.
You may want to consider buying one if:
1) You do trips through Narrows like hikes and/or travel through water that's super cold around the world often.
2) If you don't like wearing dry suites that other people wore before you.
Here's a picture of the dry suites I rented with my friend before we went the second time:
I know they look ridiculous (or maybe we just look ridiculous), but let me tell you they are AMAZING at protecting you from getting wet or cold.
Trust me, if you're going to go during the cold seasons, you probably won't last long hiking the Narrows without these. 
8) Do flash floods happen in the Narrows and how do I avoid them?
Yes they happen, but rarely and usually anytime between July-September is considered rainy season in Zion any time there is rain near the Narrows, there is a risk of a flash flood.
The trail area before the hike does have an indicator of the risk of floods so watch for that if you go and obviously if it's red, I would avoid it and just do these other things available in Zion National Park.
Also going during peak heat season (June) or fall seasons (after September) is typically dry season in the Narrows, so there's less risks of floods. More information on flash floods in Zion National Park.
9) Can I hike the Narrows entirely my first time?
That depends on how early you start, your physical level and if you properly gear up.
It's at least 7 miles to the other end of the hike, and after awhile, the scenery, no matter how awesome, starts to look the same. The first time I hiked the Narrows, I got about a kilometer in before I had to go back because of the cold.
The second time, I did about 2 miles before it was starting to get dark and my friend and I were starting to get bored too. There's only so much "Wows" you can have before you start to want to go back.
10) How physically prepared should I be for hiking the Narrows?

Obviously hiking 7 miles, upriver mind you (which is how the Narrows hike works) is tough, and depending on how early you start, plus your place will determine how far you get.
Don't go too far in without knowing that you will have to turn and head all the way back.
Keeping this in mind will help you figure out how far you're ready to go into the Narrows, although I will say that the further you go, the more you want to keep exploring it because it's just so beautiful there.
11) How early should I start the hike?
You should go during the early morning generally when the crowds are small and during the day when the water is warming, but preferably off season to again, avoid the large crowds and enjoy the peace there.
Do not do this hike in the late afternoon because then you'll be trying to hurry up through it to avoid it getting dark, and the sun setting there generally means the canyon will be the first to start getting dark (and cold).
Now I do think there are night time hikes available there, but in that case, bring a water proof flashlight, one that's really powerful and lasts long just in case you expect to get back when the sunsets (as I did the second time I went).
12) Can you hike the Narrows at night?
It's open 24 hours a day, so yes it's possible. But whether you want to risk going through water and slippery areas at night is something you should decide on your own.
Like I said before, the second time I went there, I got back to the parking area right when nigh time hit and there were no cars in the parking lot other than mine. There were no lights in the bathroom so I had to change in the dark. It wasn't the best experience, and it was also cold, so be aware of that.
13) Should I rush through the Narrows to get it done?
I wouldn't. Even if you start it late, it's important not to rush it because walking across slippery rocks in water is dangerous.
You'll want to take your time, and pace yourself because it's not the length of the hike there that tires you out, but navigating across the watery areas and avoiding the slips (which will likely happen anyway). That's what takes most of the energy out of you.
14) Does it get crowded in the Narrows?
During the peak seasons, yes, it gets crowded. You probably won't have to worry about getting stuck in crowds within the Narrows themselves, but what you will likely have to worry about is parking in the areas near it. You'll probably also be required to take a shuttle, so if you hate crowds, go when it's cold.
15) After finishing the Narrows, will I have time to explore other parts of Zion?
It's possible, but it depends on how far and how fast you do the Narrows hike. Typically you'll be able to do 2 main hikes in Zion if you want to do it all in one day. If you read my article on hiking through Zion in one day, you'll see the options available.
Did you know there are more hikes like the Narrows? Oh yeah: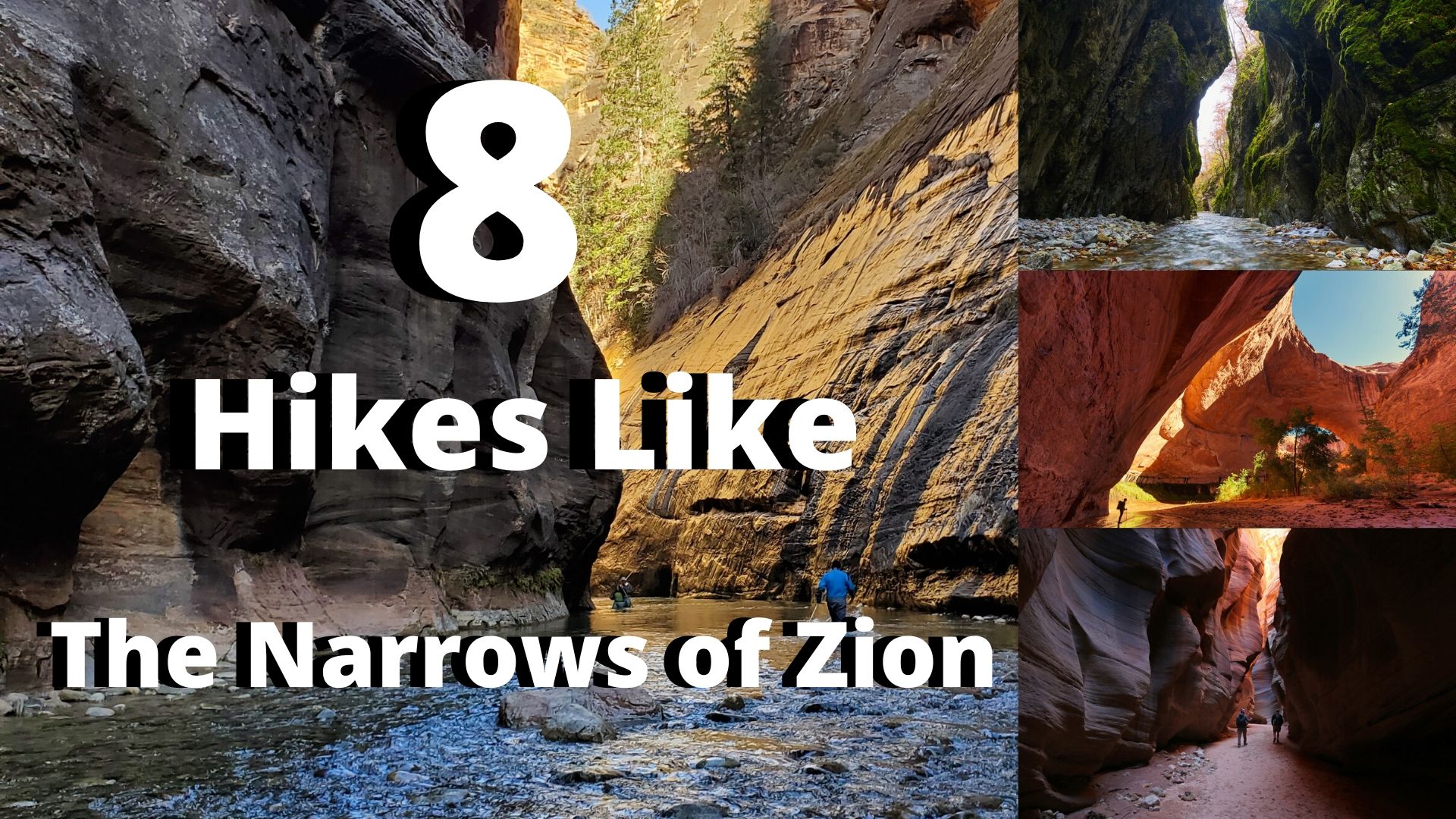 If you enjoy this trail and want to know of others that look very similar to it, I have a list of 8 hikes like the Narrows you can check out. 
These are hiking trails I've either done or added to my personal list of places to see.
I've also included map listings of each spot.
Be aware, some of these spots are very remote (like Coyote Gulch) so you don't have the civilization or safety element like you do with the regular Narrows hike, which makes it a lot more convenient if you're not too familiar with navigating.
4 other parks near Zion to explore that have similar attractions:
1) Bryce Canyon National Park (it doesn't have a Narrows, but the hikes there are very fun).
2) Capital Reef National Park. You will some river hikes, but the park looks very similar to Zion overall.
3) Arches National Park. No Narrows type hikes there, but the arches you will see there are insane.
4) Canyonlands National Park. The final park of the Mighty 5 National Parks of Utah, and it is basically an alternative park to explore to the Grand Canyon since it looks similar to it, but there are no Narrows hikes there, but incredibly nice views!
With that said, if you have any of your own questions about hiking the Narrows, do let me know below and thanks for reading!