The Narrows has to be the most fun hikes I've ever done so far in my life. There are only 2 real dangers to doing it which I will tell you about shortly but if you're going to go through it too, make sure to follow the tips I learned when I did it because it may sometimes be dangerous to go through this place.
The Narrows are unlike any other thing type of nature walk you'll ever do because you're literally going through a canyon, in water most of the time and seeing some truly indescribable beauty. 
Here's just one of the stunning photos from inside the Narrows trail:
Photos like these are going to be very common if you decide to go there and I'll tell you, having done the Narrows twice (I haven't completed it fully, but I did go deep into the canyon), it is a hike worth doing, when it's safe and you're properly prepared (when the 2 dangers are taken care of).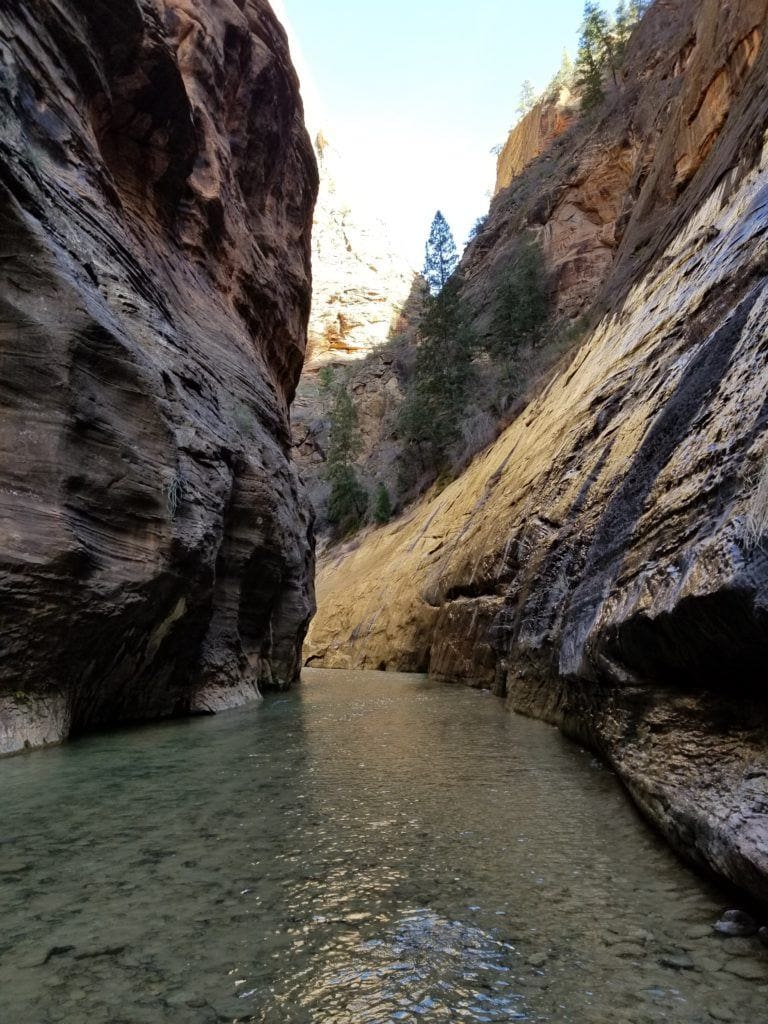 Here are the 2 main dangers of hiking the Narrows:
Flash floods. 

And the very cold water there that makes it impossible to hike through unless you have the right gear.
Fortunately most of the time, this place is safe to hike through, but here are a few tips I had discovered my first time hiking this place in Zion National Park that I'd like to share with you.
These tips include how to be aware of not just the 2 major dangers I just listed, but also how to make sure you get the most out of this hike.
1) Go during an off season. 
That way there's going to be less people there. I went in early Feb and although the water was freezing, a big plus in all this was that there were hardly any people around.
I was with one other person during my trip there and we went closer to the afternoon and even, you hardly saw anyone inside the Narrows.
In our case, we saw less than 10 people in total as we hiked through there (no body was crazy enough to hike through the freezing water like we were).
2) The water will always be cold, but you can ensure you're protected from it.
As my friend and I learned, going in February means stepping into some pretty freezing water.
This was the reason we couldn't even get through half a mile of this place without having to turn back. However, during our walk there, we ran into a few people who were wearing special gear you could have purchased right outside the Narrows, on the parking lot area where the entrance to it is. 
The gear basically consists of a special jacket and pants which fully cover your body (with a hood), as well as 2 layers of these special types of socks you put on which are waterproof and preserve your body heat, not just in the overall body from the suite, but also the feet (which is what's most important).
Note: The gear is called a dry suite (don't laugh!).
And you can rent or buy them at stores right near Zion.
Here's a picture of the dry suites I rented with my friend before we went the second time:
I know they look ridiculous (or maybe we just look ridiculous), but let me tell you they are AMAZING!
The several people we ran into who wore them (when I visited this park the first time, back when I didn't know about them) said they couldn't feel the cold and were going through the Narrows without any issues.
The only time they had to turn back was when the water got too deep for them to continue (it would be too cold by then).
So if you're going to go during the off seasons and times when it's really cold there, make sure to research these suites and see which area of the parking lot rents them out. I believe someone said they are $60 per person.
Note: Want to know where we got our dry suites for the Narrows? Sure:
We rented them at a place called Zion Guru.
The first time, we only wear water shoes and those are actually perfectly fine when its hot there, but otherwise, aim for the suite if you wish to go deep into the Narrows.
I also recently purchased myself waterproof socks like this after going on a trip in Oregon and other West Coast areas.
These things insulate your feet and also protect it from water getting in, it's something I will be taking the next time I visit Zion.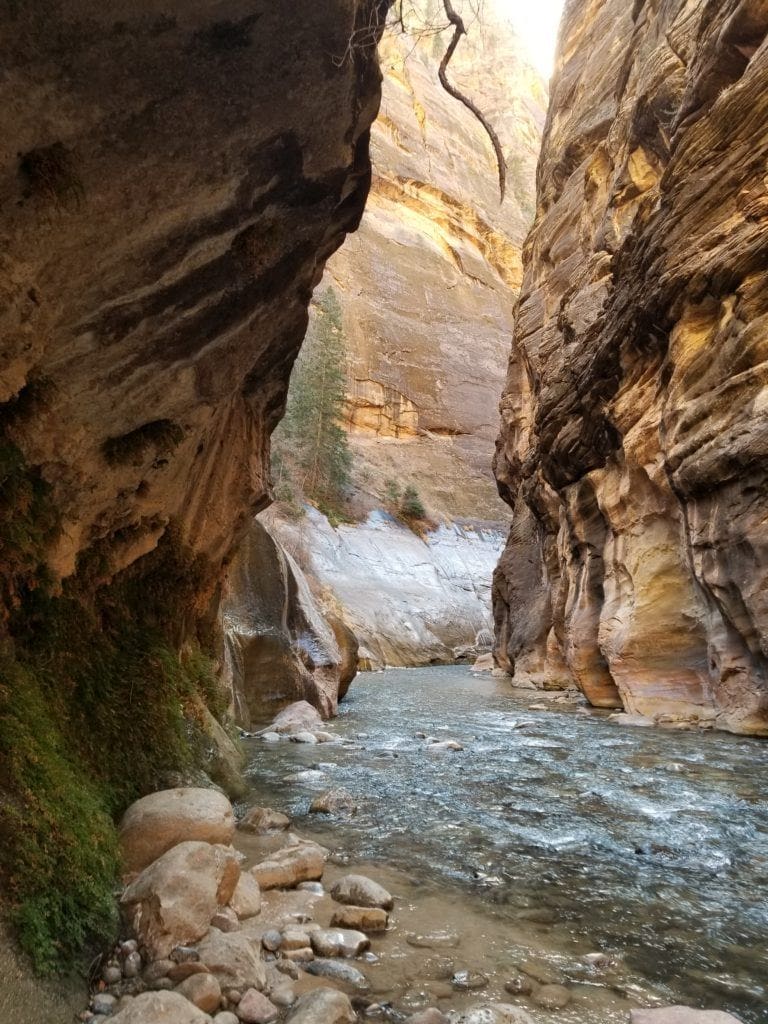 3) Let's talk about the flash floods in The Narrows and being safe from that.
Typically these things are most common when spring hits. Usually you will need to check the weather conditions and the likelihood of flash foods before going. Check this site for info.
People HAVE died in the Narrows due to these and I can tell you, while going through those areas, I imagined what it would be like if a flash flood hit and let me tell you, there is no escape if it happens, absent running back to the entrance, but the further you in are, the more dangerous it can get. 
If you go to the Narrows during periods where flash floods are least likely to hit, you should be perfectly fine. 
4) Know your physical limits. 
The hike one way is about 5 miles long and like I said, it is entirely in water. When there's less of it in the canyon, you will find open areas with dry land, but small pockets of it, but be prepared to hike entirely through water when you're there.
Also consider that most people prefer to do that hike starting upriver and then making their water down river to finish, so you will be facing a small, steady river throughout your hike, one way or another. 
Obviously knowing your physical limits here will go a long way, as you're not just hiking through rocks, but also water pushing you back, so that will affect your energy levels. 
Don't go too far in without knowing that you will have to turn and head all the way back. Keeping this in mind will help you figure out how far you're ready to go into the Narrows, although I will say that the further you go, the more you want to keep exploring it because it's just so beautiful there.
5) Go during the morning/day.
You should go during the early morning generally when the crowds are small and during the day when the water is warming, but preferably off season to again, avoid the large crowds and enjoy the peace there.
Do not do this hike in the late afternoon because then you'll be trying to hurry up through it to avoid it getting dark, and the sun setting there generally means the canyon will be the first to start getting dark. 
Now I do think there are night time hikes available there, but in that case, bring a water proof flashlight, one that's really powerful.
And of course, bring a camera with you because believe me, there are pictures there you can take that will take your breath away. It did that for me and it's hard to impress me in general. I only had a Samsung S8+ and a GoPro with me when I went, but I was able to take some amazing pictures either way.
Overall, the Narrows is a must for hikers all over the world. It is without a doubt one of the most beautiful, sought after adventures and I am glad I was able to do even a little bit of it. It is the type of hike I will come back to finish, I have to…
If you're going to do this too, make sure to follow these 5 tips, stay safe and enjoy it, because you absolutely will and it will stay with you for the rest of your life.
Did you know there are more hikes like the Narrows? 
If you enjoy this trail and want to know of others that look very similar to it, I have a list of 5 hikes like the Narrows you can check out.