The answer is it's very dangerous but before you try to do the Angel's Landing hike in Zion National Park, let me tell you if it is worth it, and if not, similar hikes you can do in Zion that will match it in beauty (but will be safer).
Angel's Landing has been on my bucket list for years and in 2018, I finally tried to do it (and it won't be the last time either!) and it was truly amazing, but also dangerous, which is why I stopped going further on it when I felt it was too much.
I'd like to share my experiences on this trail and tell you how to have the most fun and avoid the many dangers that it can have, especially towards the end of it, which is the most steep, highest and where unfortunately deaths have taken place…
First, here is who Angel's Landing is not for…
If you are scared of heights.

If you get dizzy in high areas.

If you are not a good hiker.

If you are not wearing good hiking shoes.

If you are not in good shape.
The only issues I had were the first 2 (scared of heights and feeling dizziness in high areas), but those 2 things were enough to stop me from finishing Angel's Landing and if you fit into any of the above categories of people who it isn't for, then:
I would NOT recommend this hike to you. It is VERY dangerous and you can try alternative hikes near Angel's Landing such as Observation Point. I'll explain more about that hike later below.
But if you want to know more about Angel's Landing and even try it…
Here is some basic information about this hike:
In order to reach Angel's landing, you have to follow the east side of the park road all the way through the town, the hotel (it's all on one road so you can't miss it), until you reach a lodge sign and after that, you will see a large parking area with hikers all over. This is the starting point. 
In order to start the trail, you will have to cross a small bridge, above a river (that flows from The Narrows in Zion National Park by the way):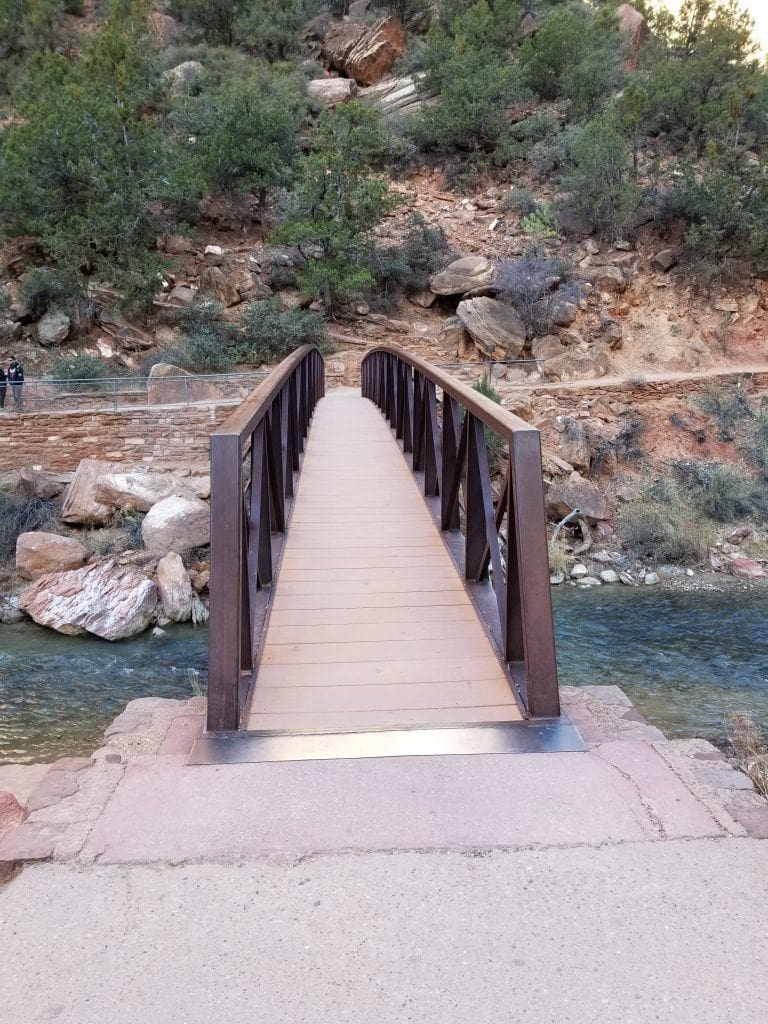 This will take you on a one road path up the trail. The trail itself lasts for about 5 kilometers and it can get quite strenuous, so take your time, don't try to spring or jog uphill. I will say that for the first 4 KM, it's a pretty straight easy road to follow, although the uphill climb is annoying…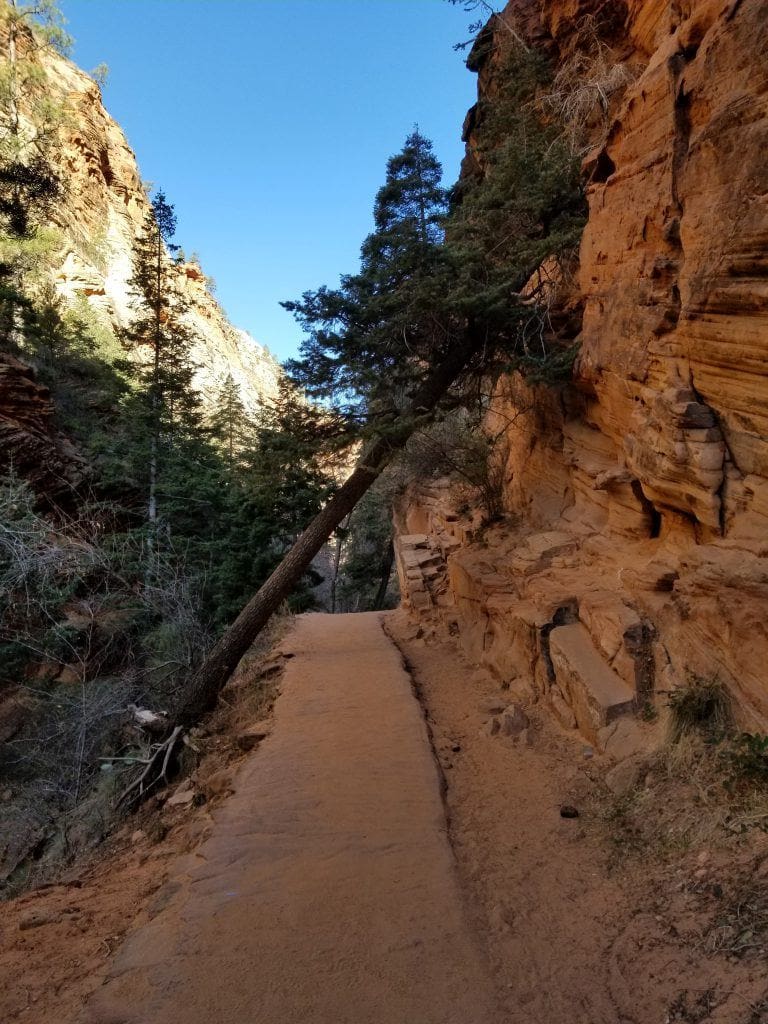 Yet while you are going up this area, be sure to enjoy the sights. Even if you don't finish the entire trail (we didn't), there's still AMAZING photo opportunities and moments where you just need to sit down and enjoy the indescribable beauty: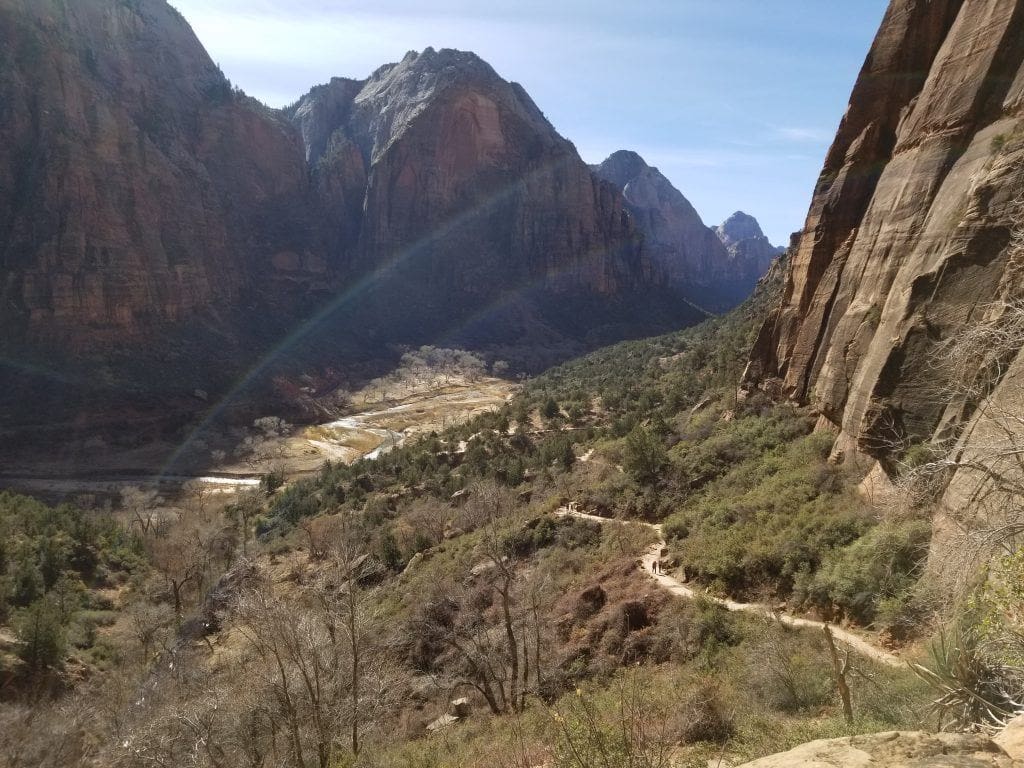 Once you reach the last section of the hike, this is where it starts to get VERY tough, scary and quite frankly, deadly.
The hardest part of the hike is the last 0.5 miles of it…
This is where you will have to really hike, climb and hold onto chains and be extremely careful as you try to reach the top (see the little guy in the picture below for a reference and it's half a mile of that following what you see):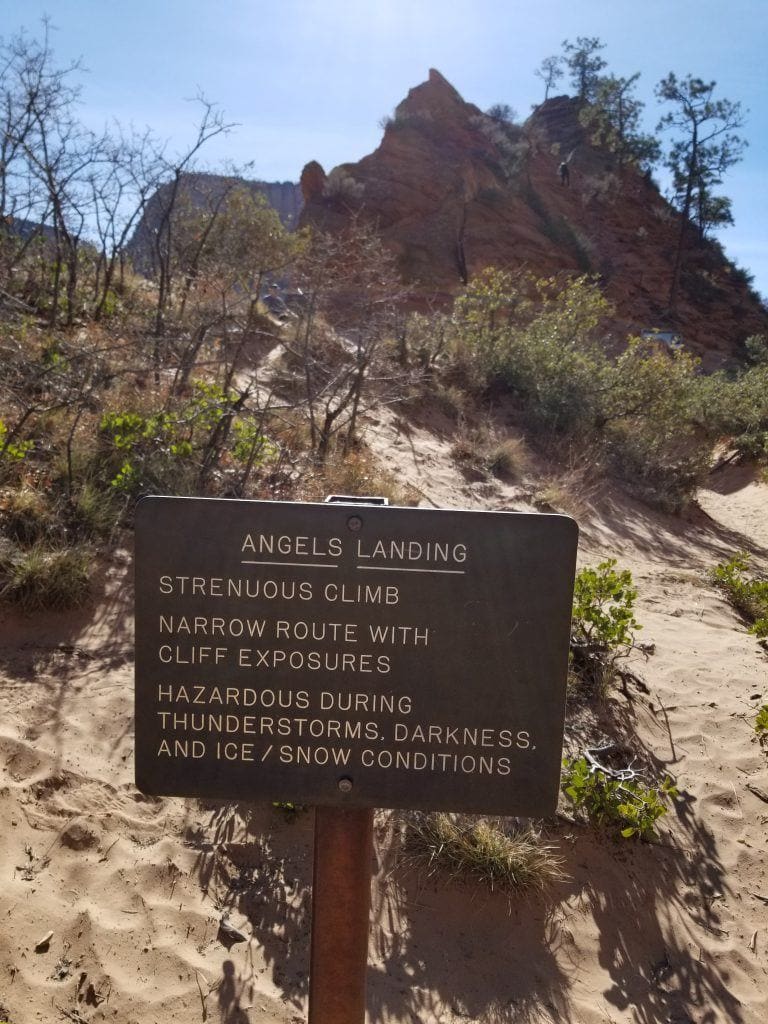 I will say that going up there, I was ready to go and didn't have any doubt I'd be able to do this hike, as I've seen so many pictures and how many people are there too, but as I started it, I began to feel dizzy, very uncomfortable and it wasn't like I had much ground to stand on. 
The slope was steep and the drop was well over 1,000 feet high and going though this ordeal for another half a mile felt like it may be too much, not to mention the fact that where I stopped and reconsidered going was the easiest part of the half mile hike, it would have gotten a lot more danger, a lot worse and a lot steeper had I continued and weighing my risks and the sensation I was feeling, I decided not to go through with it.
I do plan on returning in the future and hopefully conquering it, but I will say, if you have any fear of heights, it will be tested here. DO not feel the need to prove anything while hiking here.
You don't need to impress anyone or risk your life if you're uncertain about this hike and even if you are certain, you have to be very careful. This hike is not easy and it is more of a mental thing. You may have a panic attack and if that happens, I'd rather you have it before you start climbing than during. Should it happen during, stop, don't look down, breath, recover your focus and head back. 
As much as I would have loved to see the view and say I made that climb, 2018 will not be that year. But I do have an idea of what to expect now, so going in a second time, which I will absolutely will be easier and perhaps I'll be able to conquer that fear.
Perhaps anyone reading this who also has a fear of heights and/or has done Angel's Landing can confirm my point of view here…
There are plenty of other great looking view hikes around Angel's landing you can and should explore if you're not into climbing high and make sure to take a map with you so you can examine them. One of them is Hidden Canyon (also scary parts), observation point trail, Weeping rock and more, and that's just the hikes, there's plenty of other awesome things to do there besides that.
Also timing is a huge thing here. My advice is not to go to Zion when it's winter, meaning November through the end of January is generally not a good period to be there as there's snow and this can cause the many, already dangerous trails to be slippery, thus making them even more dangerous.
Early February is a good time to start considering a trip or taking a hike there are the snow melts, and in some cases, there is spring type weather (and few people!).
And on that note, it is also good to avoid the "on season" period which are generally during the summer for 2 reasons:
1) Too many people, meaning there's harder times to find parking and more danger as people can get in each other's way on dangerous trails.
2) It's super hot. This is the dessert and there's no worse time in the dessert like summer time…
Now this whole piece of advice I offer on Angel's Landing is preliminary because when I went, I didn't have too much time to enjoy the sights. I was in a hurry, but I did learn very important lessons about safety that I didn't think I'd need to prior to going and sharing it with you, I hope you will stay safe when you decide to go to Zion National park.
Thus far, it is the most beautiful place I've ever visited, but with that beauty comes a lot of potential danger that you need to be aware of and respect. Accidents happen all the time and the last thing you want is for that to happen. Be careful, go at the right time/s, take your time on the trails and don't go anywhere you don't feel confident going. At the same time know that you can and will enjoy PLENTY of sights without reaching the top of many of the trails peaks, including Angel's Landing.
Update: If you're in Vegas and don't have time to visit Zion National Park or Angel's Landing for that matter, check out Mary Jane Falls by Mt. Charleston, which is way closer to the city.
Still wondering if the Angel's Landing hike is too dangerous for you? Watch this video:
Here is a video showing a first person view of someone doing this hike. If watching it makes you dizzy, scared or worried, then you have your answer: Don't do it! 
And if you are excited about this hike, sure, go for it, but PLEASE be careful! 
Are there any alternative hikes to Angel's Landing? Yes there are!
I already mentioned this alternative hike, but remember it again: Observation Point and compared to Angel's Landing, it's safer and goes even higher to give you the same view of the park, and I actually did complete that one. 
I had to do an alternative hike to Observation Point since the main one was closed, but I felt so much safer doing that, than Angel's Landing that I would recommend it to anyone who isn't ready for Angel's Landing.