Sedona Vs Grand Canyon: Which Place is Better to See?
Depending on who you ask about the topic of Sedona vs Grand Canyon, you're probably going to get mixed views and it's not surprsing considering how beautiful both these areas are. But being that I've visited both areas, I want to give you as much information and comparisons as possible between both these places to help you decide if it's better to visit one place instead of the other or make it a 50/50 trip.
To start let me say that I recommend Sedona over the Grand Canyon by a lot and it's because:
It is more beautiful in my opinion (I'll showcase many comparison photos in this post).
And there are much more convenient places to stay at (more hotels, restaurants, attractions, etc…).
There are a wider range of nature experiences you can explore (hikes, waterfalls, jeep tours, mountain biking, etc…).
Whereas with the Grand Canyon what you're really looking at is:
Either a bunch of beautiful viewpoints over the canyon (it's nice but gets boring after awhile).
Or a long, beautiful but difficult hike into it.
There are also extremely beautiful sections of this area that are as good or more beautiful than Sedona, but you have to hike deep into the Grand Canyon to get there (Havasupai, Hopi Salt trail for example).
And at the same time this area is way more remote and limited to where you can stay (parts of it are also closed throughout the year like the North Rim). 
That biased opinion out of the way, both places deserve to have a fair comparison and where one is better than the other so let me do all of that right now:
Quick info on Sedona and the Grand Canyon:
Let's start with Sedona:
It's a major city in central Arizona. The city is also located within an area that has incredible red rock mountains and mixed terrain (red sand, deserts, forests and rivers). There are also many camping and hiking areas throughout Sedona you can explore in addition to the city itself which has many attractions, restaurants and lodging areas. Sedona is not a national park.
Sedona is about 2 hours south of the South Rim of the Grand Canyon.
It's about 4-5 hours from Las Vegas. 
It's about 2 hours north of Phoenix.
It's 30 minutes to 1 hour south of Flaggstaff.
You can fly into Sedona but there are no major airports (so Las Vegas or Phoenix are your top options if you want to come here).
Now let's talk about the Grand Canyon:
Firstly, it's a national park and it's located in the north central part of Arizona. There are actually 2 main places where you can visit this park from, the South Rim (most popular and packed) and the North Rim (less popular but equally beautiful, it's just closed during winter and spring). Aside from that, there are additional access points to this national park which lead to campgrounds and more remote/beautiful hikes. For the purpose of this post, I'm mostly going to stick to the stuff you see in the North and South Rim and compare it to Sedona.
Now in terms of how far it's from major cities, there's quite a few options:
It's also about 5-6 hours from Las Vegas (to the South Rim that is).
It's 2 hours from the North Rim if you're coming from Page Arizona.
It's 1 hour north from Flaggstaff.
And it's 4 hours from Phoenix to the South Rim.
There are also multiple airports close to the Grand Canyon worth considering.
In terms of my experiences with Sedona and Grand Canyon, here's what you need to know:
I've been to Sedona 2 times so far and explored at least 10 different trails, multiple attractions in the city and more.
I've so far been to the Grand Canyon once, explored a large chunk of the South Rim (upper section where most people go), and went down the South Khaibab trail for a bit. In the future I plan to do the famous Rim to Rim trail and explore other, more remote parts of this area.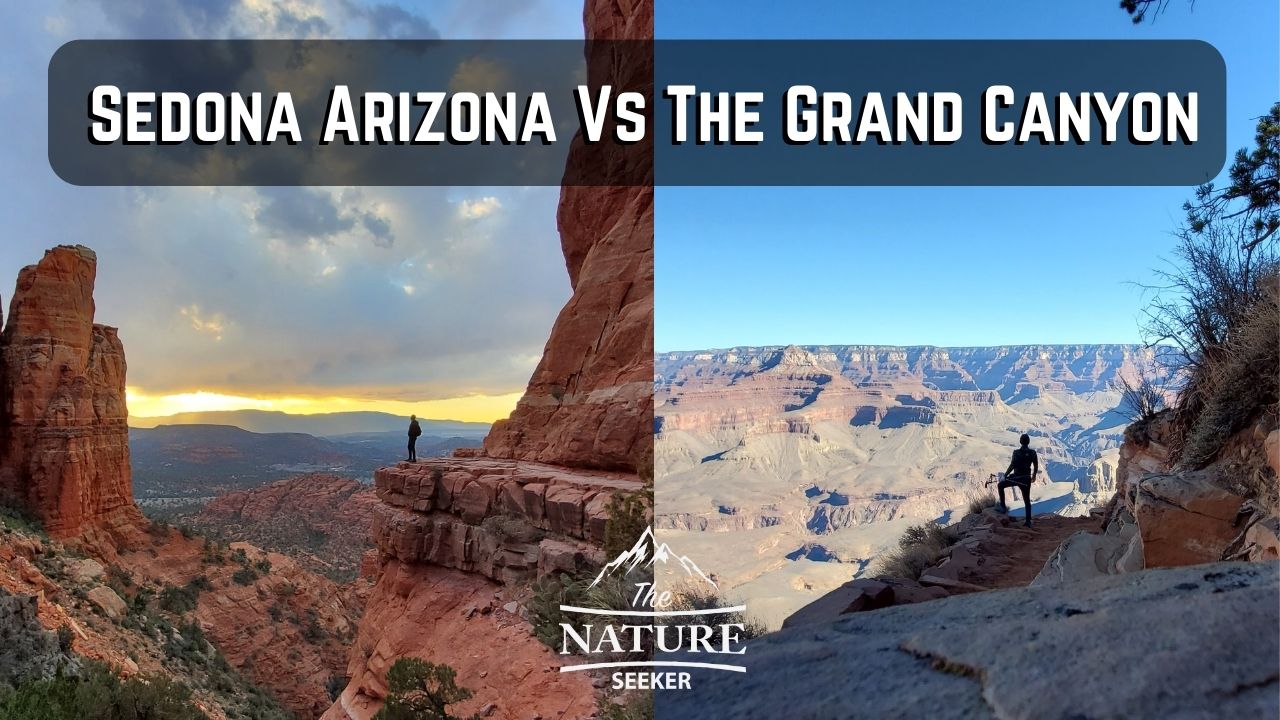 Sedona vs the Grand Canyon (similarities):
I think both areas are some of the most amazing nature places in Arizona/world.
Both areas can be easily visited (nothing difficult about getting to either one, just a long drive in most cases).
Both places have some of the best hikes in Arizona overall.
Both areas have numerous spots for viewpoints and none difficult hikes (tourist friendly).
Both have numerous hikes for more trekking/backpacking adventures.
There are many different camping spots in both areas.
Both places are very touristy (often crowded year round).
I recommend either (or both) places as great destinations for day trips from Las Vegas (or Phoenix).
Sedona vs Grand Canyon National Park (differences):
Sedona is basically giant red rock mountains (mostly). The Grand Canyon is a deep series of canyons and mountains.
The Grand Canyon is a bit more remote than Sedona (which is a city in a beautiful mountainous area).
There is more variety of nature in Sedona. With the Grand Canyon you get more nature variety the further you hike down into it.
The altitude in the Grand Canyon is about over 6,000 feet and in Sedona, it's over 4,000 feet (this affects the temperatures).
The Grand Canyon is mainly an over the top view of the area. Sedona is from a bottom up type of view (you can hike up to the mountains though).
Where the Grand Canyon is better than Sedona in my opinion: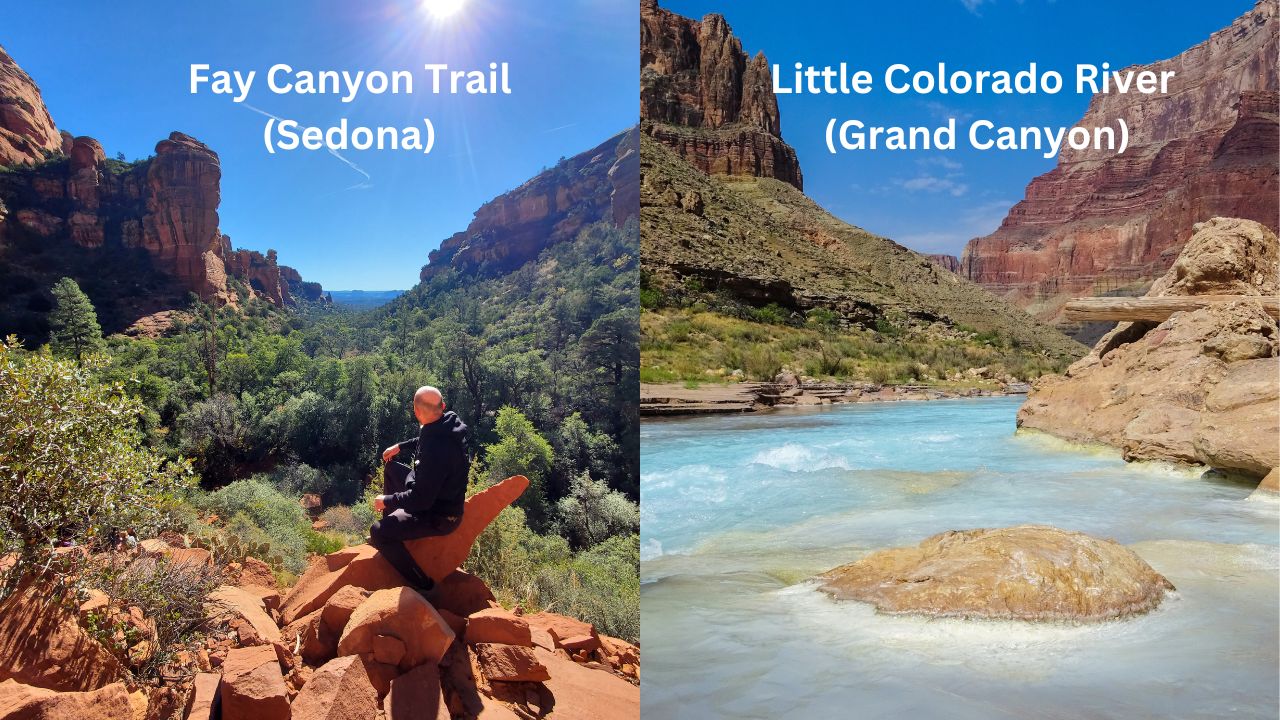 1) The Grand Canyon has slightly better sunsets:
This might differ based on who you ask, but there are some truly incredible sunsets here. There are certainly exceptions to that with regards to Sedona and in my opinion one of the best sunset spots in Sedona is the Cathedral Rock hike.
2) Stargazing a bit better in the Grand Canyon too (less light pollution):
Because the Grand Canyon doesn't really have a large town or places nearby to visit, you can see the stars better here.
3) The little Colorado River is exclusive to this area:
The Little Colorado River is something that runs deep in the Grand Canyon and it is a light blue river that is incredible to see and swim in.
4) The Hopi Salt Trail and Havasupai are tough to compare to anything:
These are 2 other areas of the Grand Canyon you need a permit to enter to and they take you to some of the most beautiful areas in the entire Grand Canyon. At the very least, these 2 spots match Sedona's top views, and at most beat whatever you'd see in Sedona in my opinion.
Where Sedona is better than the Grand Canyon in my opinion:
1) Much more variety of hiking trails and amazing views:
This really bears repeating but Sedona has so many different types of nature views and if you love variety, you'll get more of that here (rivers, swimming holes, red rocks, caves (Birthing Cave for example), natural bridges like Devils Bridge Sedona and the Vultee Arch).
Since I've done at least 10 of the best hikes in Sedona, and some in the Grand Canyon, so far I'd say Sedona wins and although the Grand Canyon has many gems, there's just more amazing gems in Sedona overall, so it's a clear winner for me here.
2) It's easier to access many hikes and attractions in Sedona:
Most of the hikes are easy to access near the town and some trails are right outside people's houses in the city. There are many remote hikes and off trails all throughout Sedona you can access like Robbers Roost.
3) No shuttle services like in the Grand Canyon:
Very often the Grand Canyon runs shuttles to prevent crowds from overpacking the parking lot (I personally don't like the shuttle stuff but understand why it's there and that's common in other major national parks like Zion National Park and Arches National Park too). But in Sedona you can freely park in most areas (but in all fairness, most of them also get packed especially during the peak seasons, but even then you have more options to park at).
4) There's better cell phone reception throughout most parts of Sedona:
Having been to many places in Sedona and in the Grand Canyon, I barely had any signal in the latter (even at many viewpoint areas where most people go) and most of the time had a great signal in Sedona, even deep into many of it's trails.
5) Winter time is better (and most beautiful) in Sedona than in the Grand Canyon:
I've been to both areas during winter and in Sedona, the temperature is way better and snow is much rarer to see (no ice unless you're on a high mountain). In the Grand Canyon, when I hiked down one of the main trails, the ice (at first) was ridiculously dangerous to go through.
Furthemore, because of the winter temperatures and the altitude in the Grand Canyon, it takes longer for the ice and snow to melt, especially in the North Rim which stays closed for about half the year (limiting your access to the park to basically just the South Rim to most people).
Of course all of these comparisons and differences are based of my personal opinions and you can find other Sedona vs Grand Canyon posts like this which have their own viewpoints as well on this topic.
In a side note, there are other national parks which are just as awesome to explore during winter, like Canyonlands National Park and it just so happens that I've already done a comparison between Canyonlands vs the Grand Canyon which you may also want to check out.
More questions about the topic of Sedona vs Grand Canyon:
Is it better to stay Grand Canyon or Sedona?
Sedona has more places to stay at in general than the Grand Canyon and it also has equally if not more amazing views too.
Is it worth going to the Grand Canyon from Sedona?
Yes but only if you can do a multi day trip because both Sedona and the Grand Canyon are 2 hours apart but have so much to do that you should devote at least a day in each spot.
How far is Sedona from the Grand Canyon?
If it's the South Rim of the Grand Canyon, then it's 2-3 hours from Sedona. If it's the North Rim of the Grand Canyon, then it's about 6 hours from Sedona.
Is it better to visit Sedona vs Grand Canyon or vice versa?
I have several suggestions for this because we're comparing 2 beautiful areas afterall:
1) First, if you can visit both, do it and decide which you like more. There's several ways to do it:
Option 1: Start in Phoenix, go through Sedona first, then the Grand Canyon and back. 
Option 2: Start in Las Vegas, go through Sedona first again (since it's closer), then the Grand Canyon and back (or finish in Phoenix).
Both these options should be at least a 3-4 day road trip for most people.
2) If you have to choose, then Sedona in my opinion is a way better option:
It's closer to major cities (and airports) for starters (Las Vegas and Phoenix in this case), it's more beautiful in my opinion and there's more stuff you can easily do there than the Grand Canyon so there's many advantages. But if you are motivated to visit the Grand Canyon, absolutely go for it but make sure to also try and get a trip going to Sedona first so you can compare them.
I personally prefer Sedona but if you agree or disagree with me or have visited both, I'd love to know your thoughts!