In this post I'm going to break down and compare 2 big national parks, Canyonlands vs Grand Canyon and help you understand their differences, similarities and whether you should devote a road trip to see one or both.
To start, I've been to both Canyonlands National Park and the Grand Canyon National Park and yes you should visit both of them especially if you've never explored the southwest US states (AZ and UT), but considering that they are both so far from each other, if you're trying to decide between one or the other, I'm going to recommend Canyonlands for a few reasons (that I'll go into more detail later):
It's easier to explore more areas there, regardless if you're a tourist or hiker.
I think it's more beautiful.
There are a wider range of things you can do in Canyonlands vs the Grand Canyon in a shorter period.
Despite that, there are advantages that the Grand Canyon holds over Canyonlands that need to be pointed out as well, from logistics to views and places to see nearby, so I'm going to provide all the info I possibly and it'll help you decide but the good news is that even if you decide to visit one or the other, you'll still get an amazing experience regardless.
Canyonlands vs Grand Canyon (where they are similar):
Both are amazingly beautiful national parks.
Both of them are accessible from the top to see into the bottom.
Both have amazing hiking trails across multiple areas.
Both have a lot of overlooks and photogenic spots.
Both parks also have amazing sights nearby to explore (that may even better than the national parks themselves).
Both parks get excruciatingly hot during the spring and summer (it's best to visit them in the autumn in my experience).
Both national parks have the Colorado River cross through it.
Both are actually mistaken for one another (I've taken pictures of Canyonlands that were mistaken for being the Grand Canyon multiple times).
Canyonlands vs the Grand Canyon (where they are different):
Canyonlands is basically a giant open crater area. The Grand Canyon is more of a series of deep canyons.
The Grand Canyon is much bigger than Canyonlands National Park.
Canyonlands is in Utah, the Grand Canyon is in Arizona (they are a 5-6 hour drive apart).
Canyonlands can be explored by car from the top and bottom. The Grand Canyon can only be explored by car from the top.
Seeing the Grand Canyon from the bottom requires a long hike down, seeing Canyonlands from the bottom can be done without hiking.
There are no major national parks near the Grand Canyon whereas with Canyonlands, there are numerous choices (including Arches National Park) and others connected via the Mighty 5 National Parks in the area.
Where the Grand Canyon is better than Canyonlands: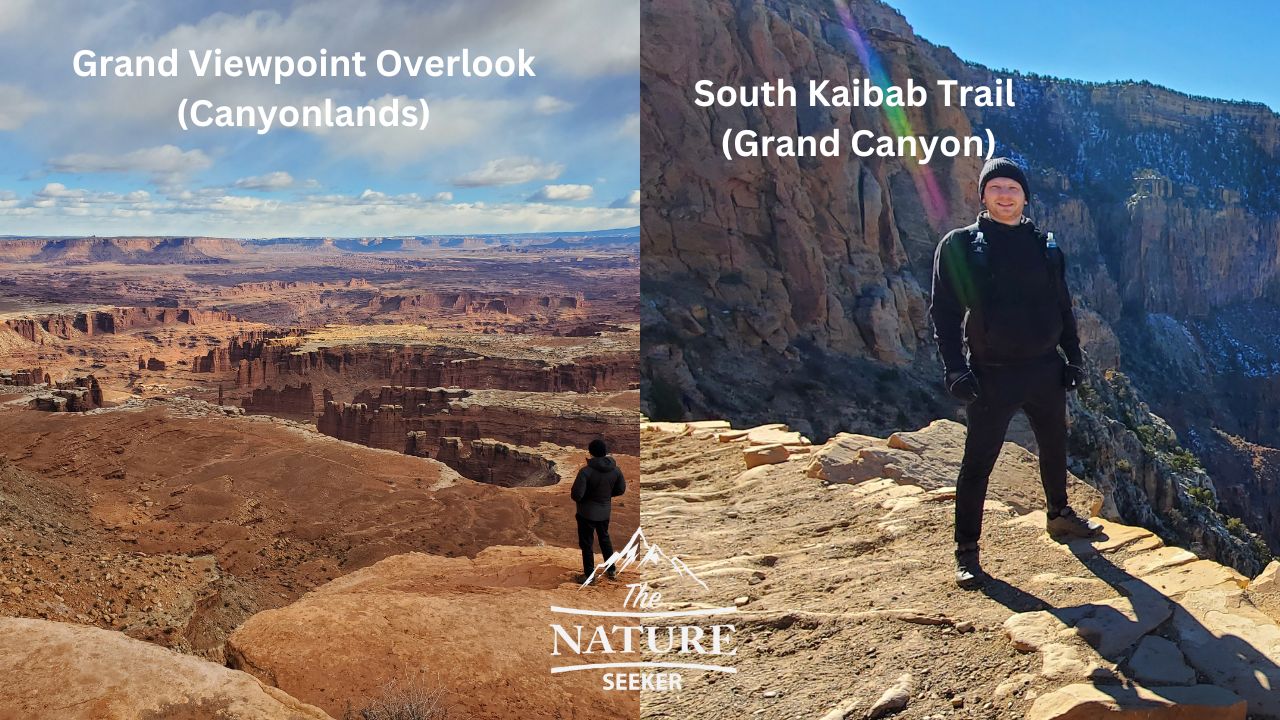 1) It is more famous:
This may not necessarily be an advantage but I know too many people who prefer to visit the Grand Canyon vs other national parks and places simply because they hear more about it.
2) There are more airport options to visit this place:
You can check out my post on the closest airport to the Grand Canyon in general, but if you're looking to fly to see this place, you will have more closer options to it than Canyonlands.
3) The hikes here are also far more famous:
Whether it's Rim to Rim, South Khabib or other trails, this park's hikes are just far more known.
4) If you prefer canyons vs open spaces, then the Grand Canyon is also a better choice:
It's a long series of gigantic mountains and canyons everywhere. Canyonlands like I said before is mostly like a gigantic open crater (although there are layers to that which make it awesome).
5) There are also 3 incredible places nearby worth seeing:
Sedona, Flaggstaff and Page Arizona. I happen to think all 3 of these places are better spots to visit than even the Grand Canyon itself (for reference see my Sedona vs the Grand Canyon post) and they are all within 2-4 hour drives from it.
6) It's better to visit this place if you're already visiting Phoenix or Las Vegas:
You're looking at about a 4 hour drive if it's Phoenix and 4-5 hour drive if it's Las Vegas. If you were to travel to Canyonlands from these cities, it would be anywhere from 7-8 hours:
Where Canyonlands is better than the Grand Canyon:
1) More lodging options nearby:
The closest major town to Canyonlands is Moab and that is an awesome city in my opinion with tons to do on it's own. With the Grand Canyon, you do have some limited lodging options for anything major (meaning numerous options), you'd need to visit Flaggstaff (south of it) or Page Arizona (north of it).
2) There's amazing national parks and spots to see nearby:
Again, the closest one is Arches National Park (30 minutes away) and it has an entirely different look than Canyonlands National Park. But on top of that there are also many other amazing spots including:
Moab itself (it has a lot of attractions and places to hike to).
Dead Horse State Park, one of the best Utah State Parks there are (and it looks like the Grand Canyon too!)
More of the Mighty 5 National Parks within 2-3 hours away (Capitol Reef, Bryce Canyon National Park and Zion National Park which is furthest).
Goblin Valley State Park.
With the Grand Canyon, I mentioned 3 amazing options for places to see and while they are all incredible, there's just more variety of things to see and do near Canyonlands National Park.
3) The overlooks in Canyonlands are far better in my opinion than the Grand Canyon:
This may seem very strange to some, but with the Grand Canyon, you have many overlooks available to check out at South Rim of the park and when I was exploring them, I found most of the views to be pretty much repetitive, even though I was in different areas of the park with different angles of the canyon.
With Canyonlands National Park, it is a completely different (and better) experience. You can check out the park from numerous over the top hikes and overlooks and every single one of them has a completely different angle/view of the park (nothing is repetitive), so I feel that you can get a way better overlook experience from that.
4) You can drive down into Canyonlands itself, you can't do that in the Grand Canyon:
There is no way to travel deep into the Grand Canyon by car, only by foot and not everyone can do that considering how far deep it is. With Canyonlands, there is a road called the White Rim Trail which you can drive to from 2 different angles, and even bike on making that a far more accessible attraction for most people.
5) I think there are more diverse/better hikes in Canyonlands than the Grand Canyon:
I've hiked a bunch of the trails at the top of Canyonlands National Park and loved it and there are also many amazing hikes in the eastern part of the park known as the Needles District. With the Grand Canyon, there are multiple trails but they mostly involve going into the deep parts of the park and out which is awesome, but it doesn't offer as much variety of experiences hiking as doing that in Canyonlands National Park in my opinion.
6) Canyonlands is fully accessible during winter, the Grand Canyon is often not:
I've visited both these national parks during winter and I personally think that Canyonlands is easier to hike, drive and explore during winter, whereas with the Grand Canyon, half of it (the North Rim area) is totally closed until May or so, and many of the trails at the top are frozen over and while you can hike them, the ice on the trails makes it very dangerous at times.
Now you may be wondering why I would mention coming to either national park during the winter. Well the answer to that is both parks have significantly better weather conditions and there's far less crowds then.
7) It's better to visit this park if you're visiting Salt Lake City:
Just like the Grand Canyon is better to visit if you're in Las Vegas or Phoenix, Canyonlands is far closer to Salt Lake City, the only major city close to it (it's a 3-4 hour drive).
The best way to choose whether to visit Canyonlands or the Grand Canyon:
If you can't see both national parks on a single trip (the best choice) and you can only pick one, then you should decide which national park to visit based on which city you are planning to go to:
If it's Salt Lake City, then Canyonlands is the better choice.
If it's anything in Vegas or Phoenix, then the Grand Canyon is the obvious choice to visit (I also talk about doing day trips from Las Vegas to this and many other places in that link so you can get even more ideas).
Now if you have an open choice as to which city to visit, then base your decision on what places there are to visit near each national park.
Here's an example to help (or make that decision even more difficult):
So if checking out the pictures above, you determine that the Grand Canyon (or Canyonlands) have better sights nearby, then that is the place you'll want to visit. And again I totally understand if that's a difficult decision because both national parks themselves are beautiful and have equally amazing places nearby to check out so if you find yourself stuck on that, you're welcome to ask me about that below so I can help you select which park to visit.