It's not common to find beaches that have waterfalls on their shore, but in this article I'll share the 8 I've explored so far that do as well as their locations and I'll tell you right now, all 8 of these places are gorgeous.
The 8 I've explored so far are mostly in the western United States as well as Western Canada and I find more places like this, I'll update this article to give you more. Let's get started:
Here are the 8 beaches with waterfalls I've found so far:
Hug Point Waterfall (Oregon).
Mcway Falls (California).
Miller Creek Falls on Secret Beach (Oregon).
Mystic Falls (Vancouver Island).
Sombrio Beach Hidden Waterfall (Vancouver Island).
Alamere Falls on Point Reyes (California).
Shannon Falls (North of Vancouver).
Third Beach Falls (Washington Coast).
And of course, the more waterfalls on beaches that I find, the more I'll add.
1) Hug Point Waterfall (Oregon):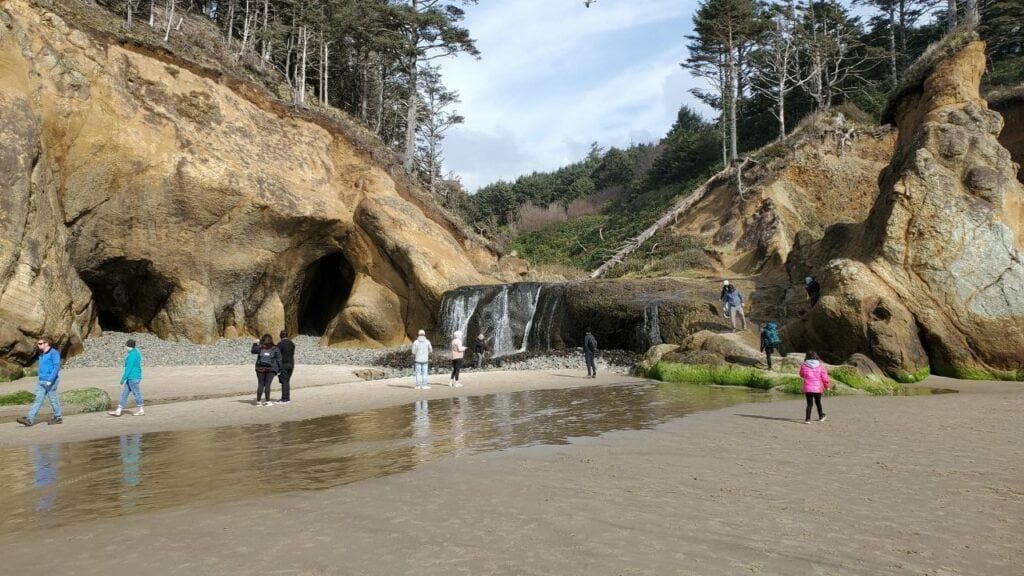 Located about 30 minutes from the famous Cannon Beach, Hug Point is one of the most famous places in all of Oregon Coast that has an awesome waterfall right on the beach. This spot in Oregon also has many sea caves (as you can see).
It is accessible whenever there is low tide and this is important. The height of this waterfall is only about 15 feet, but it's wide and very beautiful to hike up to.
I've visited Hug Point twice, once during high tide and I wasn't able to access the waterfall, but the second time during low tide when it was possible. Since high and low tides change seasonally, check when they happen to time your visit to Hug Point correctly.
There are also sea caves present on the beach here too. And Hug Point makes for a great day hike on the Oregon Coast.
2) Mcway Falls (California):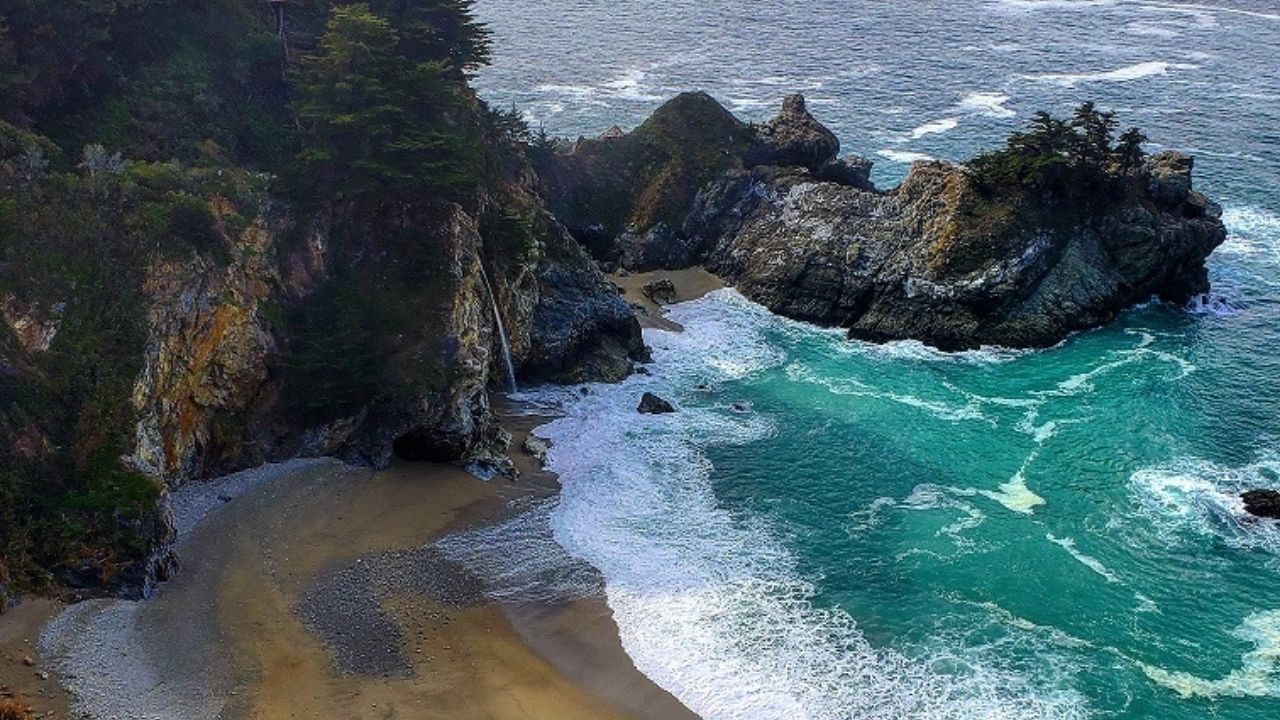 Mcway Falls is probably the most famous waterfall on the beach in all of California and possibly all of the west coast.
While it's not legally accessible (you can't go down to the beach because it's illegal, you can still enjoy a viewing area next to it or camp out right above (with a permit).
The waterfall is 80 feet high and the scenery around it is spectacular as is the region of Big Sur where you'll find this place.
So if you do visit, make sure to check out the greater Big Sur region in addition to Mcway Falls as there's plenty to explore, like the 5 spots I recommend in the Big Sur article above.
3) Miller Creek Falls on Secret Beach (Oregon):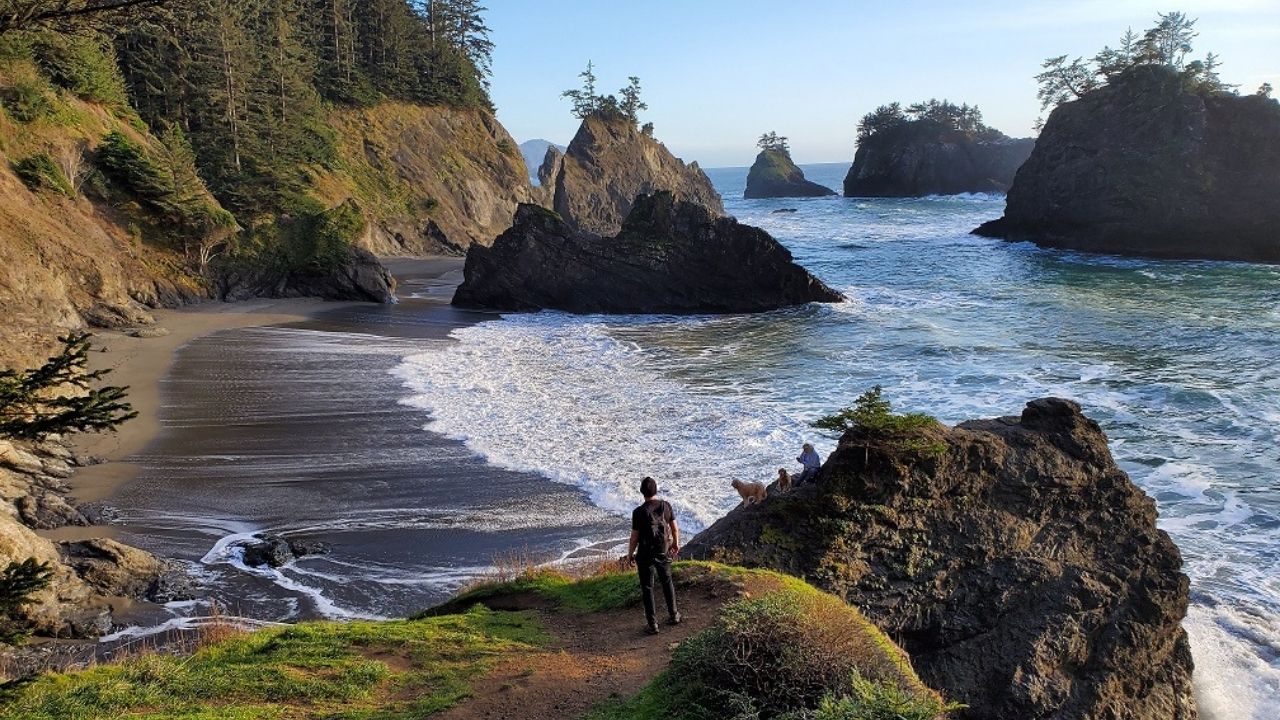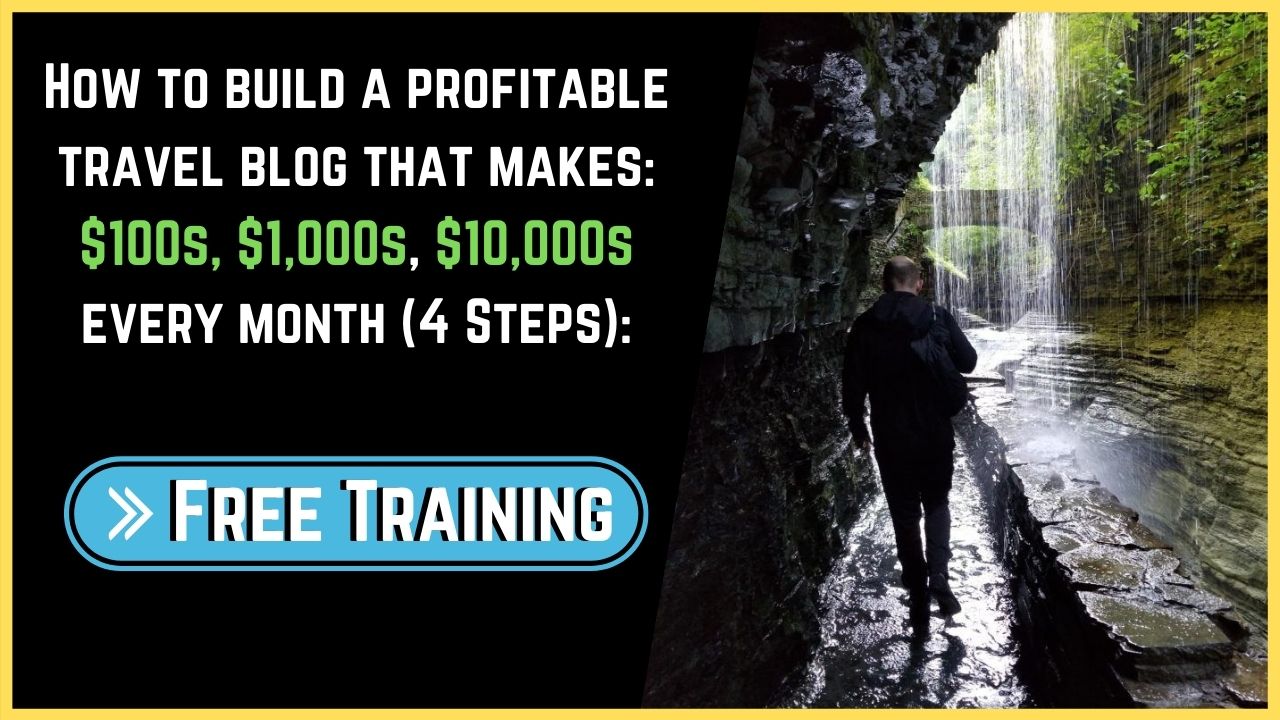 Miller Creek Falls isn't as famous as Hug Point but Secret Beach, where you'll find this waterfall is and this waterfall is about 25 feet high and flows right into the water.
I didn't even notice this waterfall when I first saw it because I was so enamored with the beauty of Secret Beach itself that it kind of distracted me.
There is something very interesting about Secret Beach though and that is that throughout it, there are actually 4 waterfalls at any point in time, and Miller Creek Falls is the most known about.
And if you do visit this place, I strongly recommend visiting Natural Bridges next door to this spot, as its also very beautiful and one of the scenic places you'll find on the Pacific Coast Highway.
4) Mystic Falls (Vancouver Island):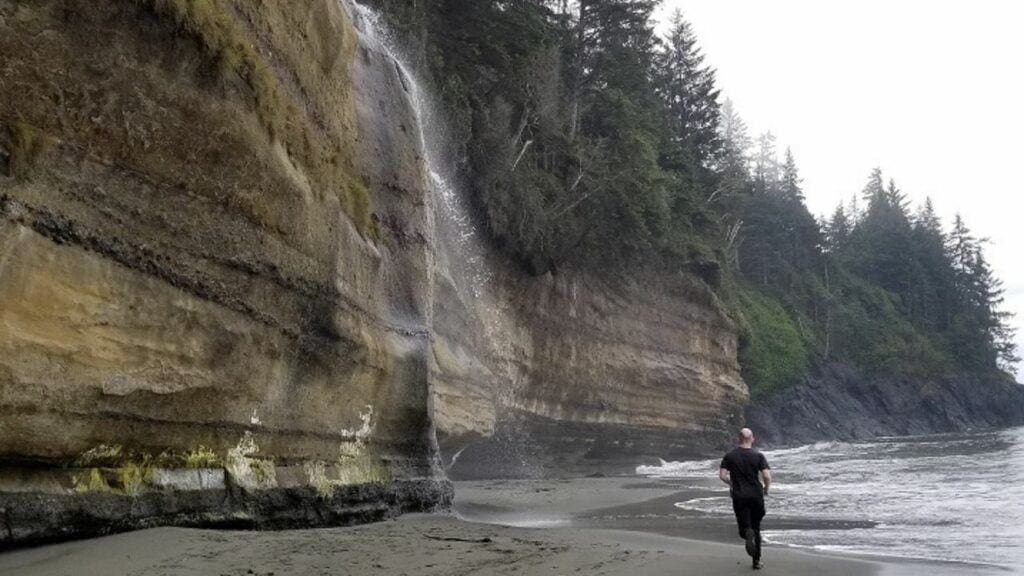 Out of all the beaches on this list, Mystic Falls is the one which comes closest to the actual beach (only about 10 feet away).
This waterfall is about 40 feet high and the landscape around it is also spectacular.
There are great scenic hikes around the area and camping is allowed close to the waterfall too by the way.
Frankly, besides Mystic Beach's waterfall, there are also many other beautiful areas to explore on Vancouver Island.
But certainly, if you go, add Mystic beach to your list because it is one of the top spots I've seen.
5) Sombrio Beach Hidden Waterfall (Also Vancouver Island):
Sombrio Beach isn't far from Mystic Beach but the waterfall you'll find here (it's hidden so you have to know how to find it), is in my opinion one of the most beautiful I have ever seen.
It's not directly close to the beach and is about 50 feet away from it, but it's located in a secret canyon and it's beauty is just something else.
The picture to the right might look great to some people, but let me say, being there is a whole other experience that is surreal and truly difficult to describe until you experience it yourself.
And don't worry, while it is hidden and some say it's "secret", it really isn't and I have instructions on how to find Sombrio Beach's hidden waterfall here if you're planning to find it.
6) Alamere Falls on Point Reyes (California):
Alarmere Falls is the only waterfall on this list that I have not yet visited. It is located on the California Coast (In Point Reyes obviously) and is about 40 feet high.
7) Shannon Falls (Northern Vancouver):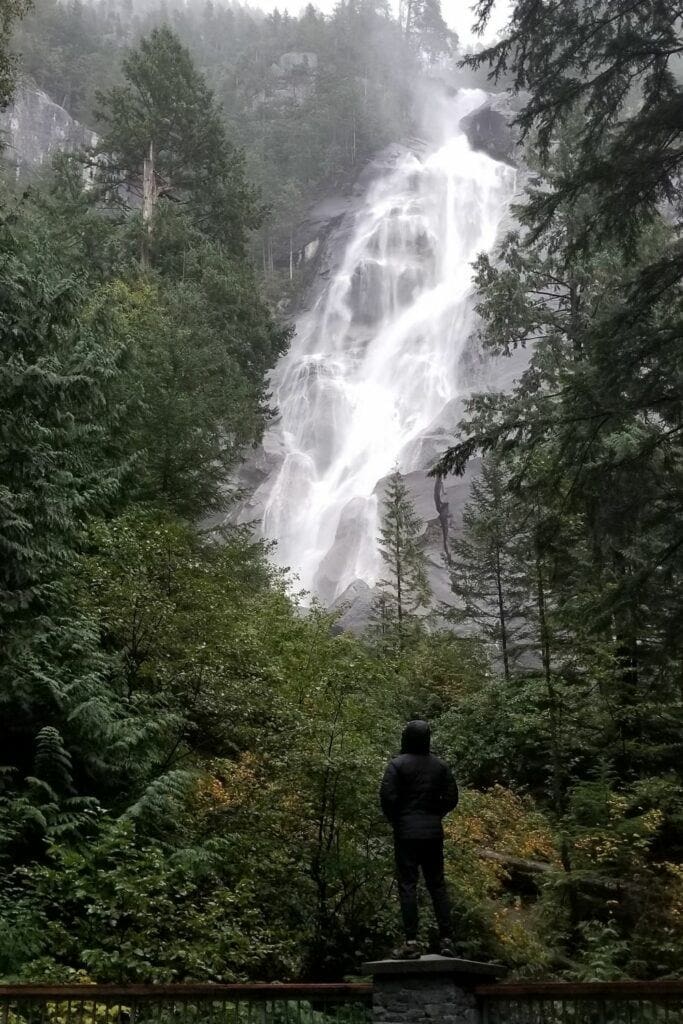 Shannon Falls is the biggest waterfall on this list that I've found (and it's not hard to miss).
It is located between Whistler Canada and Vancouver (not the island, but the city).
It's also about 200 feet away from the coastline next to it and while there is no official beach around the area, Shannon Falls is a marvel to explore if you're heading north of Vancouver and wish to see some beautiful spots.
I just couldn't make this list and not include this waterfall.
It's about 1,000 feet high and so gargantuan that you will see it from far away and not believe it's actually there. The only thing that really covers it are the trees close to the road, but don't worry, there will be an opening in the trees to allow you to see it, with an exit following that opening so you can go into the parking lot and go to the trail that takes you close to the waterfalls.
But yes, prepare to have your jaws drop when you first see this waterfall. At least that was my first reaction when I passed it and it probably will be the same for you when you get there too.
I realize with this waterfall, I'm sort of breaking the rules, but it's close enough to the beach to be part of this list and like I said before, I couldn't leave it out. It's gorgeous, gigantic and truly amazing.
8) Third Beach Falls (Washington Coast):
When I explored the Washington Coast for a second time, I was rushing to see a famous place called Cape Flattery and in the process missed this beautiful spot that was literally close to Ruby Beach, one of the places I had visited. It has an over 100 foot waterfall that I will explore the next chance I get and the beach/location here is very beautiful (and will add pictures as well). This beach and waterfall are part of the Olympic National Park peninsula.
In fact, the west coast area overall is something I recommend exploring. You may not find many beaches with waterfalls, but you'll definitely find jaw dropping spots and I share a ton of them on this website and the links throughout this article.
Other waterfalls I've explored that weren't mentioned (here's why):
There's a number of other waterfalls I've found right on the beach of many places, including in eastern Canada, but frankly, they aren't even official locations or are too small to even mention. I made this list because I really enjoy coastlines that have mountains and some of the best places to find waterfalls right on the beach are in areas that are like this.
Since I'm an east coast resident, the next area I'll for waterfalls on will probably be in Maine as the Maine Coastline is also filled with beautiful spots, especially in Acadia National Park.
If you have a list of places you don't mind sharing that have waterfalls on the beach, I'd love to know about them so I can explore them and add them to this list too.