After personally exploring Toketee Falls Oregon, I will admit that it really is one of the most stunning waterfalls I've seen, but while the hike to it is pretty straightforward, what surprised me even more was how many more amazing attractions were right by this area and this post will be encapsulating everything about the trail as well as those other activities you can check out after.
Quick info on Toketee Falls Oregon: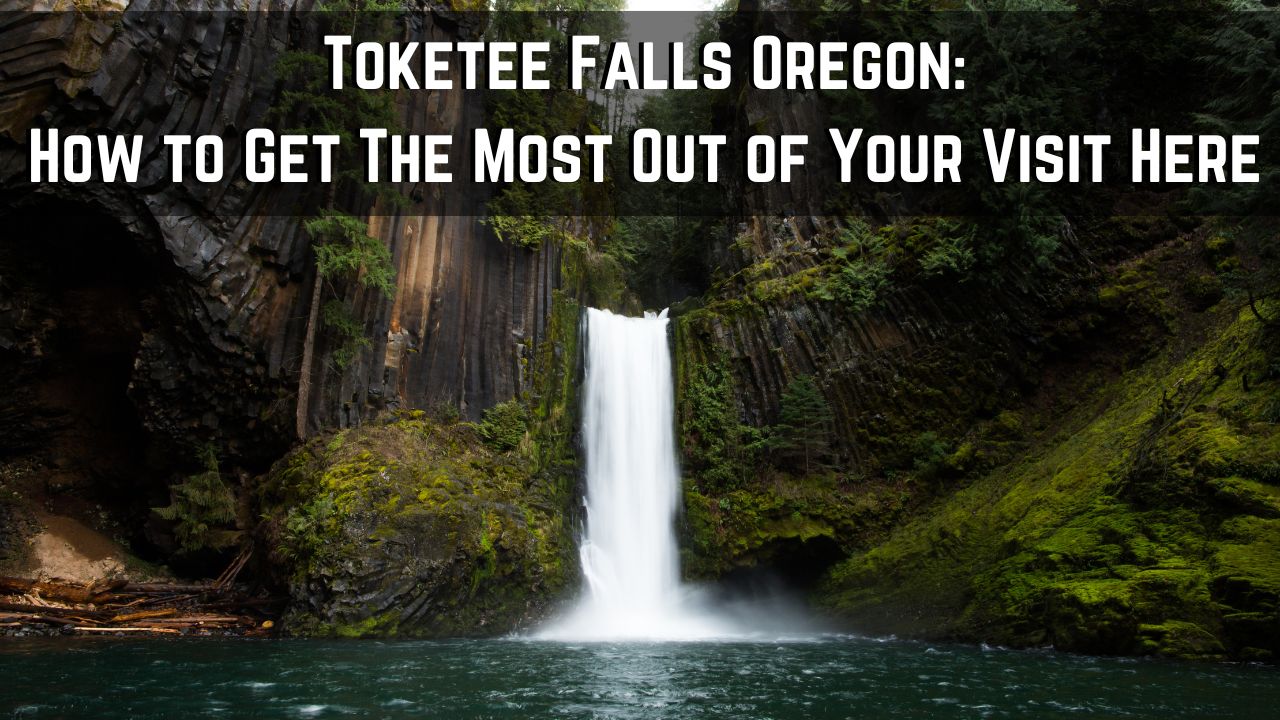 Name: Toketee Falls.
Location: Oregon, specifically within Umpqua National Forest.
Hike distance: 1.5 miles in and out (there's a top and bottom hike to Toketee Falls).
Difficulty: The hike to the top of Toketee Falls is easy, but the hike to the bottom is hard.
Rating: 5 out of 5.
Recommended? Yes! Not only was I impressed by this waterfall but what I liked even more was the other attractions near it that makes visiting this whole area even more worth it. To start, I want to share with you all the details of this waterfall hike and getting the most out of it, followed by details on the other attractions to see after.
1) Getting to Toketee Falls: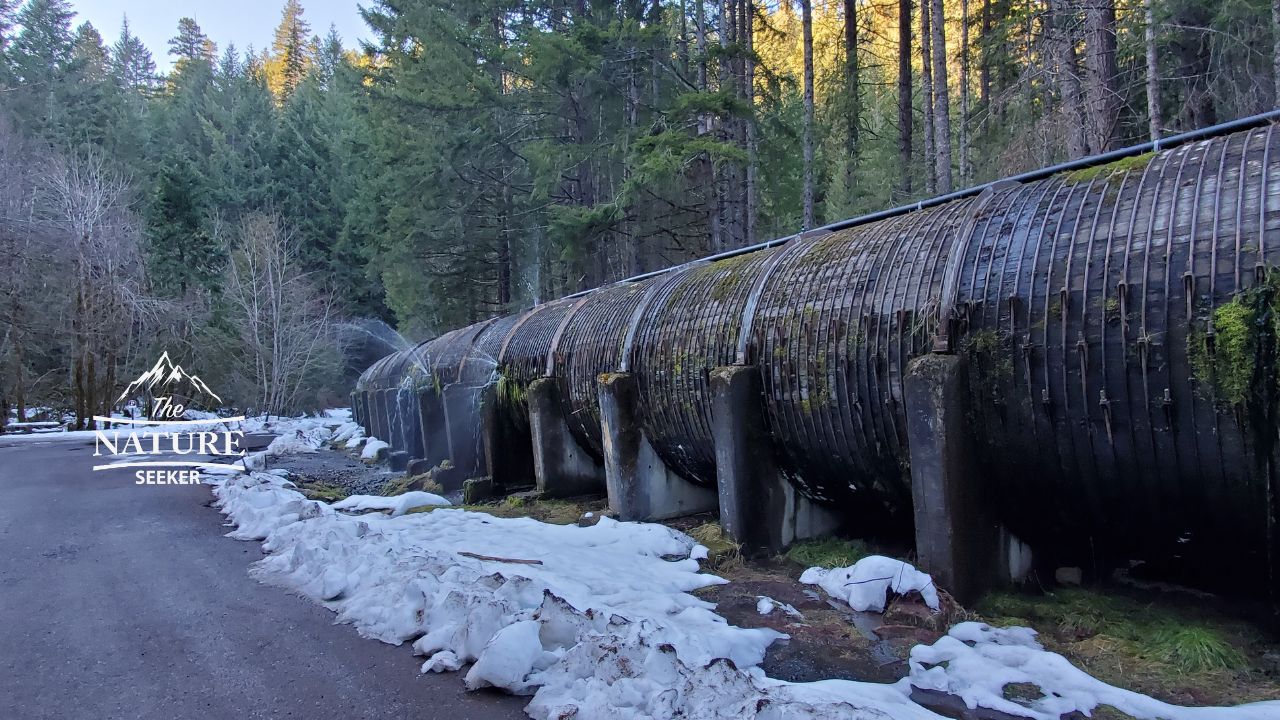 Reaching this waterfall is easy as there is a Toketee Falls GPS location. It's located in the south western region of Oregon. The "closest" towns to this area are either Brookings which is on the Oregon Coast (2 hours west) or Bend Oregon which is 2 hours north east of this place. The good news is that if you like camping, there are multiple campsites not far from the Toketee Falls trailhead.
When you park your car by the trailhead, you'll notice a gigantic water tube (It's called the Wooden Pipe) and this is one of the coolest attractions in this area to see. I originally thought that the water flow in it depended on the weather and seasonal conditions but it's actually connected to a dam.
2) Starting on the hike to Toketee Falls:
The Toketee Falls hike isn't difficult and easy to walk on. You'll basically be walking parallel to the Umpqua River from the parking lot to the waterfall. The hike starts with some stone steps mixed in with traditional trail type terrain. It slowly goes down as you walk about 1/2 a mile to reach Toketee Falls.
As you walk on this trail, you won't really see many incredible views but the good news is that the trail is short till you reach the water and while this trail isn't difficult and you don't need to wear any special gear, what I would do recommend is wearing waterproof socks because this area is often wet and soggy as was the case when I hiked here in the winter (there was also a lot of ice then). I do have a list of recommendations for the best waterproof socks that are great for this hike and also any other soggy hikes you do in general.
3) Reaching the Toketee Falls overlook:
The Toketee Falls overlook is a boardwalk with a tree in the middle of it. From it you'll get a great view of the waterfall (you'll be about 50-75 feet over it) and that's normally where most people finish the hike and turn back and that's the easy option. However, there is one more way to explore Toketee Falls and that's hiking to the bottom of it.
4) Hiking to the bottom of Toketee Falls (option B):
There is no official trail to get the bottom of Toketee Falls but there is a scramble located right by the start of the boardwalk to the overlook. It has you first scramble slightly under that boardwalk before descending further down through slippery dirt, tree roots and more. I personally found the tree roots to be the most reliable way to hike to the bottom of Toketee Falls and I will warn people that this part of the hike can be dangerous and difficult so I will recommend you be cautious and not go if you're nervous about that (you may also get very dirty if the terrain is wet).
But if you do get to the bottom of Toketee Falls, there's an even better view in my opinion of it from there plus a supposedly fun swimming hole. I didn't swim in this area but I have seen videos of people doing that and even cliff diving there (that I will definitely not recommend doing). But if you do decide to go (at your own risk), then please wear good hiking shoes (like the Salomon Speedcross 5).
5) Returning back to the trailhead: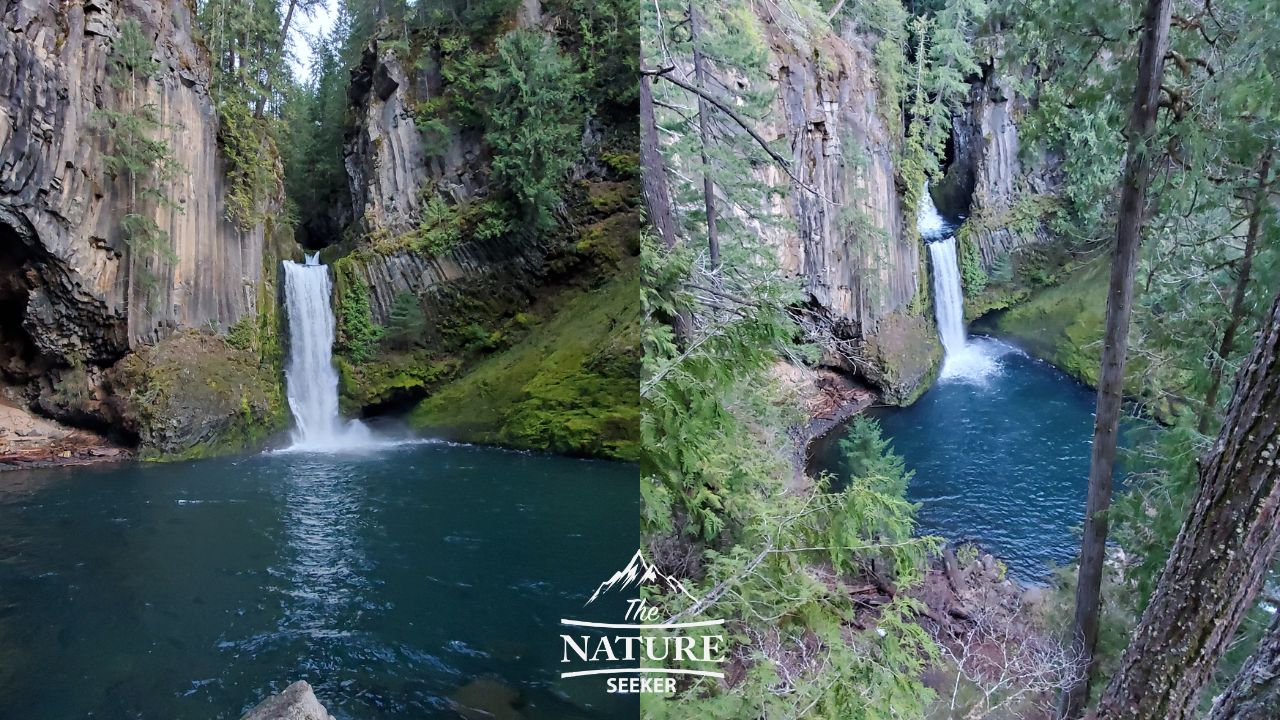 Whichever hike option you chose, you'll just head back on the same trail. If you did the regular hike to the boardwalk, you'll return back on the same trail and if you did the scramble to the bottom, you will have to climb back up to the boardwalk, then hike back on the trail. But that's really the 2 main ways to explore Toketee Falls and it's honestly just a small part of what you can do in the greater area around it.
5 more things to explore near Toketee Falls Oregon:
Since this place is located within Umpqua National Forest, there's a bunch of incredible stuff to explore nearby. Here's just a small list of specific spots I recommend you visit near this waterfall:
1) Watson Falls:
I actually enjoyed the hike to Watson Falls more than Toketee Falls. It's only 10 minutes from it and it's a 1/4 mile hike in total. You will go up a short switchback trail and the waterfall is about 2-3 times as high as Toketee Falls and these are 2 of my favorite Oregon waterfall hikes.
2) Umpqua Hot Springs:
These are only 10-15 minutes away! This is one of the best hot springs in Oregon and a highly recommended spot to check out.
3) Toketee Lake:
This is 5-10 minutes near the waterfall. It's where you'll find a boat dock, campsite and much more.
4) Slide Creek Falls:
This is located 10 minutes away and it's an incredibly skinny yet beautiful waterfall with what I presume is a swimming hole. It's a very scenic spot and an easy place to explore in one day if you're visiting Toketee Falls.
5) Diamond Lake:
This is 25 minutes from the waterfall and an even bigger lake with more to do than Toketee Lake.
More questions about Toketee Falls Oregon:
How long of a hike is Toketee Falls?
It's less than 2 miles in and out to get to Toketee Falls.
Can you swim at Toketee Falls?
There are a lot of photos and videos of people swimming at Toketee Falls but you have to get to the bottom area of it first.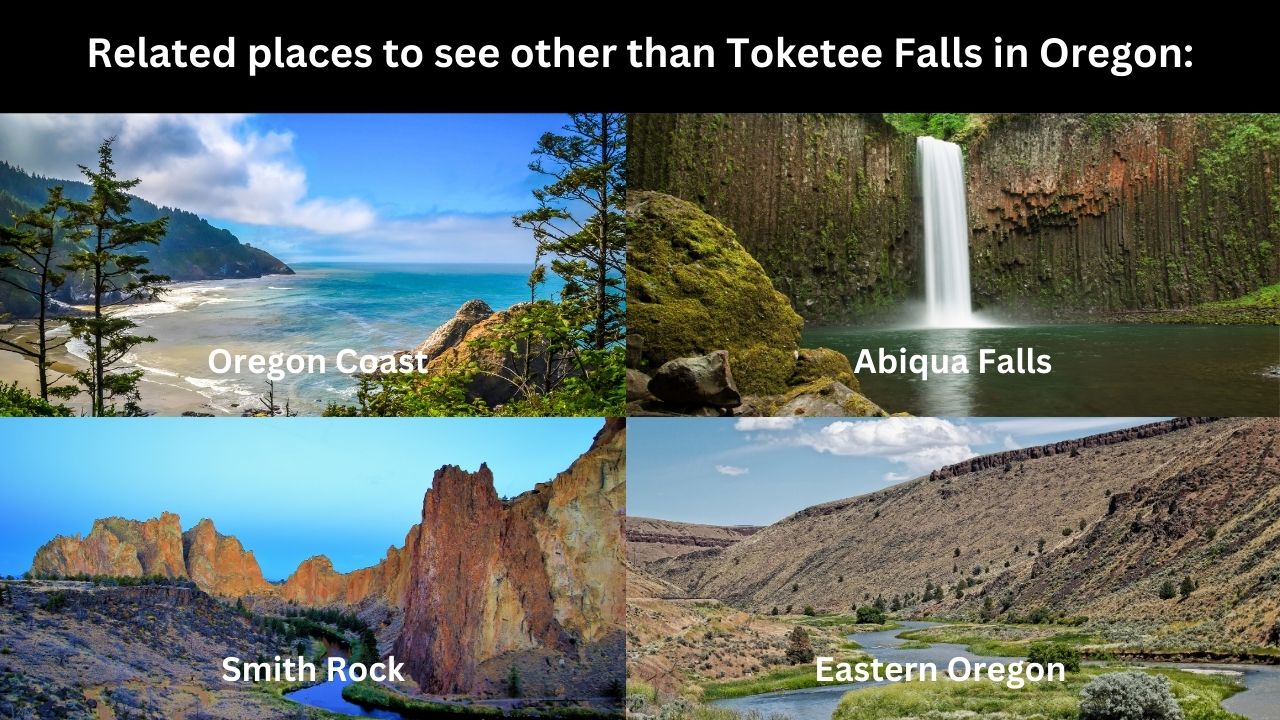 1) Abiqua Falls:
I've said many times throughout this site that Abiqua Falls and Toketee Falls look very much a like and this is another great waterfall hike I recommend you do. The only issue though is that it's about 3 hours north from it, so if you're headed to Portland after your trip, then this is a great place to see.
2) Trail of Ten Falls:
This is also close to Abiqua Falls and a famous waterfall hike. The Trail of Ten Falls literally has 10 (or more) waterfalls to see as you hike on it and the overall trail is easy to follow.
3) The Oregon Coast:
Earlier I mentioned that Brookings is somewhat close to Toketee Falls (2 hours west) and if you are headed there, I have a post on the best places to visit on the Oregon Coast that are a great but different way to explore the state.
4) Eastern Oregon:
The other town I mentioned that's somewhat close to Toketee Falls is Bend Oregon. That place is basically in the middle between western and eastern Oregon and there's lots of places to see there too including the amazing Smith Rock State Park and if you are headed further east, I can promise you that there's many incredible things to do in Eastern Oregon too including more hot springs, desert hikes and more.
5) Columbia River Gorge:
This place is east or Portland and there's so many waterfalls and incredible hikes at Columbia River Gorge worth exploring including Multnomah Falls and another amazing hike called Eagle Creek Trail (it also has many waterfalls).