Ship graveyards aren't exactly something you'd think NYC is known for, but there is actually one in existence and it's located in Staten Island, New York. It is called:

Arthur Kill Ship Graveyard (aka Staten Island Boat Graveyard):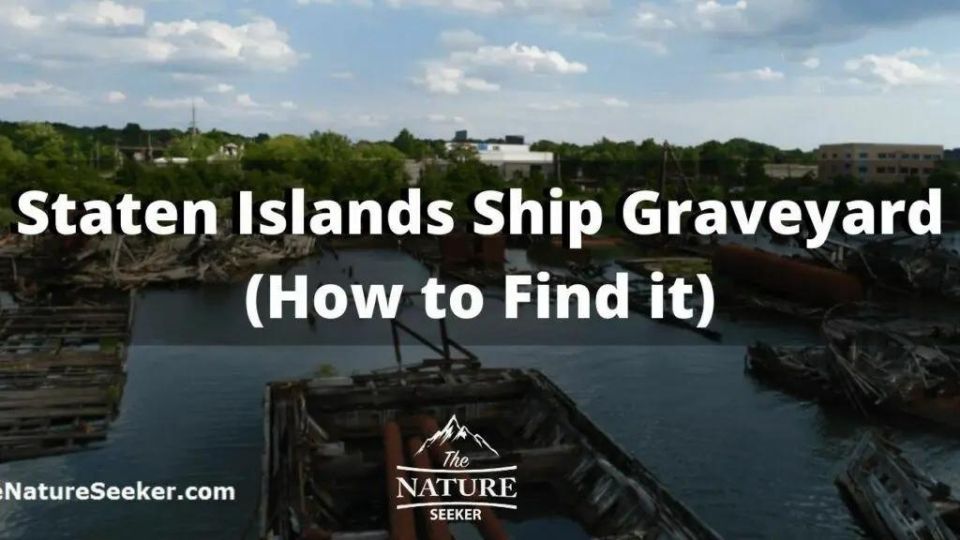 I'll show you where exactly it is and how to access it because there is no main road leading to it and the area that is closest to it is actually private property, but there is a secret path to get to it legally.
How I discovered this ship graveyard:
As much as I love venturing far away from my hometown of NYC for day hikes or longer trips like this road trip across the eastern United States, the truth is, there's plenty to see close to home.
And that brings us to the Arthur Kill Ship Graveyard, a pretty small, but wondrous place where you literally see many old, destroyed ships floating and drowning, close to one another.
I first discovered this place from a friend of mine who I go hiking with in the Catskill Mountains, who also wanted to explore it. I had no clue such a place even existed until he mentioned it.
And so we made plans to one day see it. But when that day to explore it finally arose, he had to cancel, and so I instead invited my grandfather to join me as he also likes exploring new locations.
One thing that surprised me was how clueless many of the locals near this area were when I asked them where I could find this place. None of them actually knew it, and I honestly think there are very few people in Staten Island who have ever heard of it.
Where exactly is the Arthur Kill Ship Graveyard?
You'd be surprised to know that a Google search isn't enough to help you find this location precisely, although the area where this graveyard is located is pretty small, there is NO big, official entrance or gigantic sign that says you're there.
It's basically an unofficial location.

In fact, when I was driving past it, everything GPS related told me I was there, yet there was no driveway or entrance I could take, so I ended up parking nearby and asking for directions.

As you can see from the above picture, there isn't really an exact address, just a zip code really.
Here is a map and directions on how to find the Arthur Kill ship graveyard: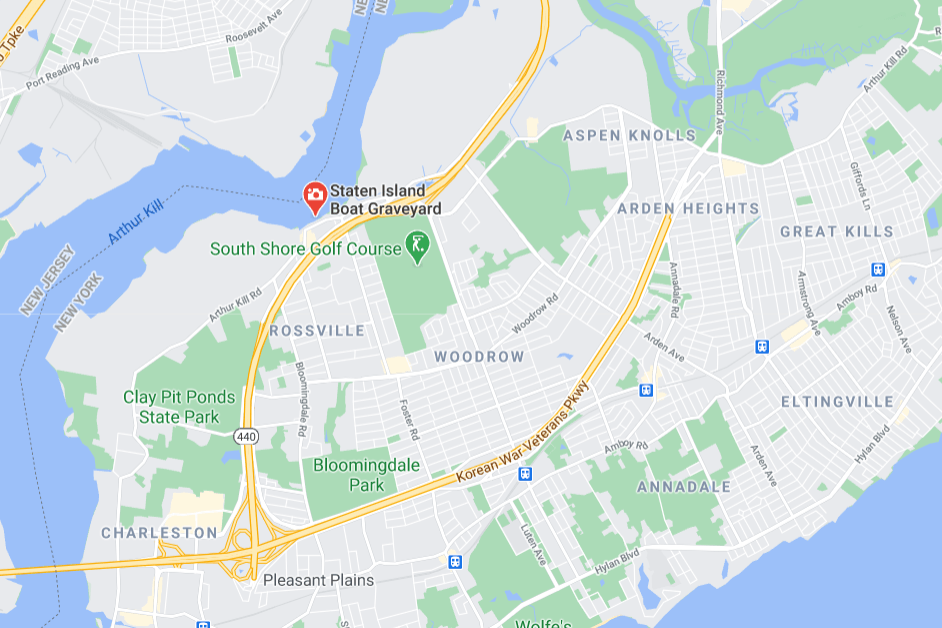 Drive toward Outerbridge Crossing on Interstate 278.
Take exit 3B.
It will put you on Arthur Kill Road.
Drive along Arthur Kill Road for about 10 minutes.
Look for a very small and old cemetery by the bay.
Once you find the cemetery, find parking nearby.
Walk past the cemetery and onto the bay itself.
You'll find the ship graveyard there.
I recommend going here when there's low tide so you can get closer to the ships.
Your first time going here might be a little bit confusing, and the locals may also be clueless on where to find this place, but your main goal is to find the old cemetery by Arthur Kill Road.
That is what will lead you to the ship graveyard and when I say old cemetery, I really mean it. This place is several 100 years old. Obviously make sure not to litter in this area and respect the property. But past it is where you will find a small hill descending into the bay,
From there you can walk around for a little bit and get pretty close to the ships. I've even heard of people kayaking there too, but I can't comment on that nor recommend it either because of the rusty and dirty water.
I've personally seen this ship graveyard twice and while it's nice to look at the first few times, it can get a little bit boring quickly, so if you're still interested in sight seeing other spots nearby and want recommendations on that, here are:
Other awesome locations to check out near Arthur Kill Ship Graveyard:
1) One highly recommend nature location you should check out is Clove Lakes Park. If ship graveyards aren't your thing and you prefer beautiful nature, you'll find it there! It's a very small park, but very scenic and has a lot of activities available there.
2) There's also another giant park very close to the Arthur Kill Ship Graveyard called Long Pond Park where you can hike, run, bike and even go bird watching too.
Staten Island is actually a pretty beautiful place if you know what spots to find and you have at least 3 from reading this article. I hope at the very least, it'll help you find the Arthur Kill Ship Graveyard if you decide to go check it out (and I do recommend doing it at least once).
Other beautiful hikes and spots to check out in New York:
Here is a list of awesome day hikes near NYC I love to explore and highly recommend!