13 Best Places to Catch Catskills Fall Foliage in 2023
Catching amazing Catskills fall foliage is actually pretty easy considering that the whole area is a gem for this stuff, but having explored these places for a long time, there's a few specific spots in this region that stand out even more and in this post I'll be showing where they are and how to reach each one! Some of these will be hikes while others will be scenic drives and/or specific attractions. 
13 best places to see Catskills Fall foliage in 2023:
Hunter Mountain Fire Tower
Bashion Falls bridge
Minekill Falls State Park
Artist Rock overlook
Sunset Rock trail
Kaaterskill Falls
Mountain Top Arboretum
Overlook Mountain
Windham Mountain summit
Plattekill Falls
Wittenburg Mountain summit
Giant Ledge trail
Peekamoose Blue Hole
When is the best time to fall colors in Catskills? Typically the latter end of October, 3rd or 4th week. In some cases depending on the temperature you may also be able to see peak fall foliage in the first week of November too.
Hunter Mountain Fire Tower:
The Hunter Mountain Fire Tower is located on the very summit of Hunter Mountain and it's one of the best places for seeing Catskills Fall foliage. Getting to this area does require a 3.5 mile hike (moderate, one way) but if you enjoy hiking and getting great fall views, this hike is worth it. Also worth noting is that there is a Hunter Mountain scenic skyride available that'll take you there but it closes in late September, so you won't be able to use it for this.
Bashion Falls bridge: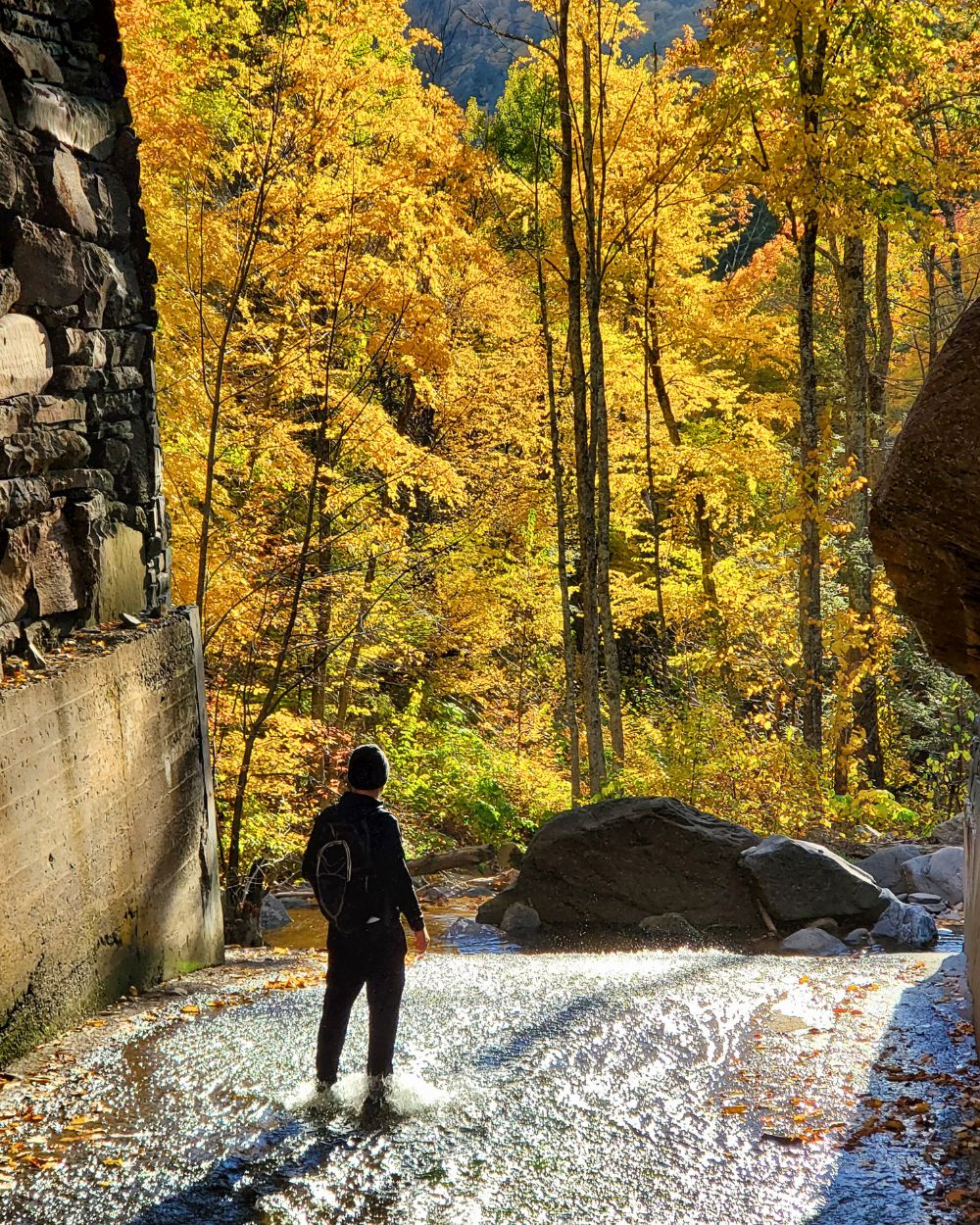 Bashion Falls and the bridge next to it is one of the most scenic places to witness Catskills fall foliage in my opinion. The waterfall itself is incredible but the bridge next to it where the water continues to flow is where I personally think you'll get some of the most amazing Catskills fall foliage photos from! Getting to it isn't very easy though as the closest parking lots to it have been closed indefinitely so if you want to reach it, there's a few choices:
Park at the Laurel House trail parking lot and hike down there (you'll also see Kaaterskill Falls), then back up (3 mile moderate hike).
Have someone drop you off right by the Kaaterskill Falls trailhead and then meet you at the Laurel House Parking lot (1.5 mile moderate level hike).
Personal tip: Start at the Laurel House trail and work your way down through Kaaterskill Falls, then Bashion Falls, then back up. It'll have you cross out 2 major places on this list and the trail itself will also be incredible.
Mine Kill Falls: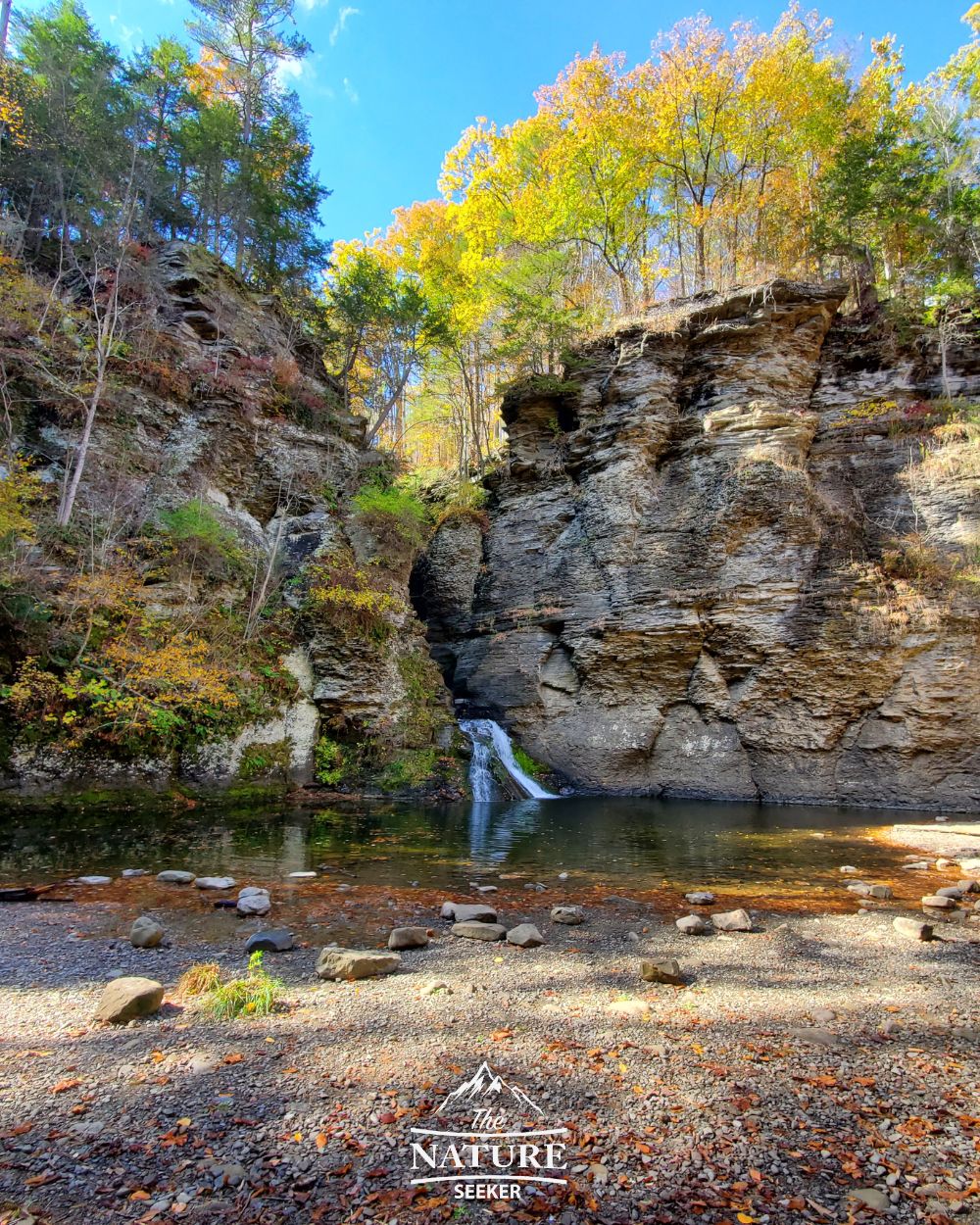 I've been to Mine Kill Falls many times and this waterfall plus the hikes in the area make for some amazing fall foliage experiences. Normally this place isn't too crowded either. You can see the waterfall and decent fall foliage views from the top platform overlooking it.
Personal tip: There is a green trail next to the overlook area which takes you down to the waterfall too and I personally think the views are way better there, plus the hike down to it and the connecting trail next to it will make for some great fall foliage hiking.
Sunset Rock overlook:
In my opinion this is one of the top overlooks and hikes in the Catskill Mountains, and it's 100x better during peak fall foliage. To do this hike, you will want to start at the North Lake parking area (located in North South Lake NY), then find the blue trail which heads north and follow that. This is a short, but moderate level hike that'll take you to an overlook of the 2 lakes. 
Personal tip: If you like the view at Sunset Rock, I'm going to recommend you continue north on the same blue trail until you reach Newman's Ledge and if you can go another 2 miles north of that, North Point is also an amazing spot for capturing fall foliage views, but the hike gets more and more difficult.
Artist Rock trail: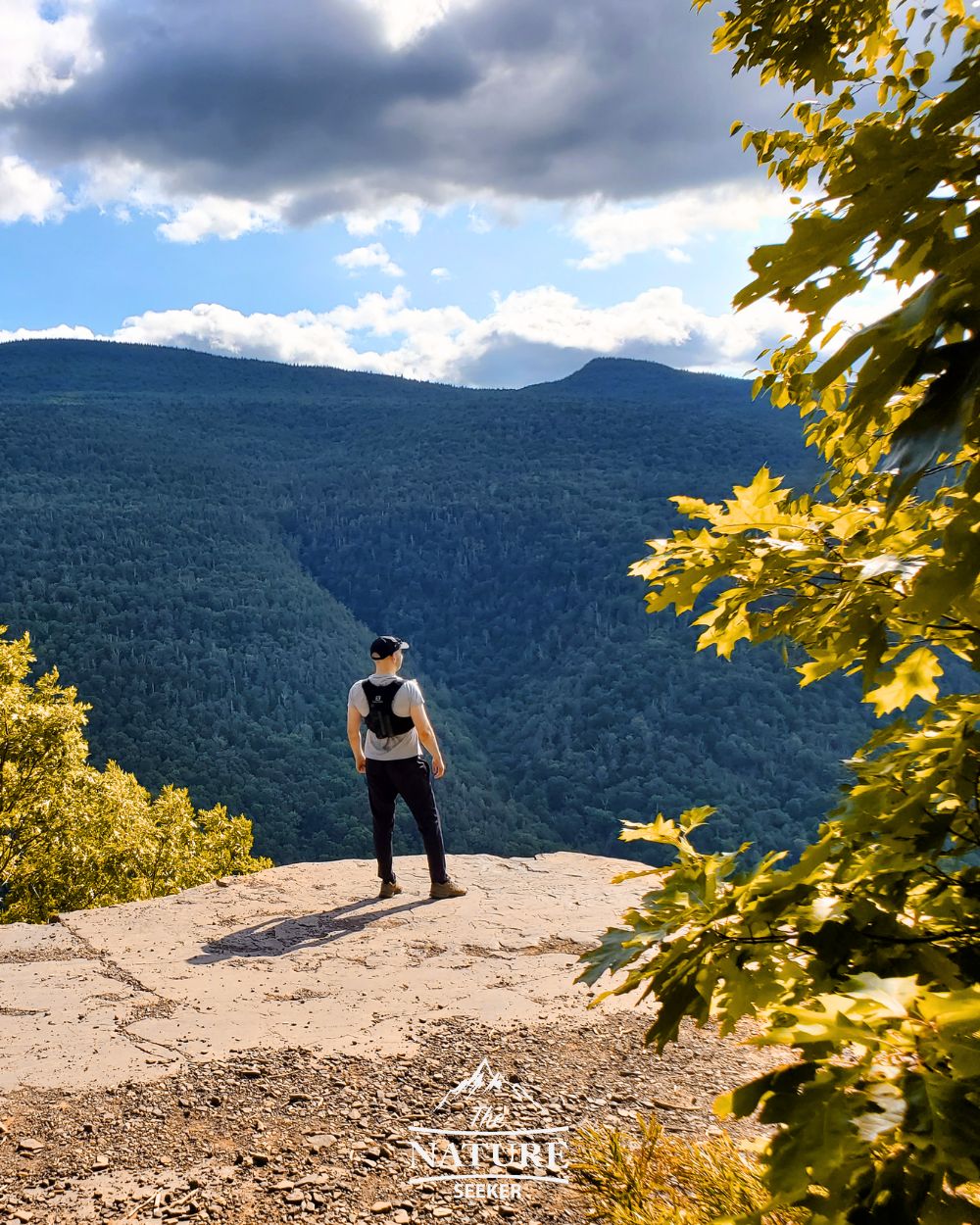 What you have here is an incredible fall foliage hike through one of the best hikes in the Catskills and that is the Escarpment trail. It's blue and it's also the same exact trail which connects to the Sunset Rock overlook from above, but because it's so long (25 miles), it's better for most people to do bits of it. In this case from the parking lot, you'll hike only about 1 mile to reach Artist Rock (then back). It's a great hike overall and you'll also be able to see great overlooks of the high peak mountains there. 
Personal tip: If you keep following the blue trail past Artist Rock, you will come across Boulder Rock and more incredible overlooks (it'll be another 3 miles from Artist Rock). That trail will continue past North Lake which you can exit from and return back to the Escarpment trailhead, making it a loop trail (8-9 miles total).
Kaaterskill Falls: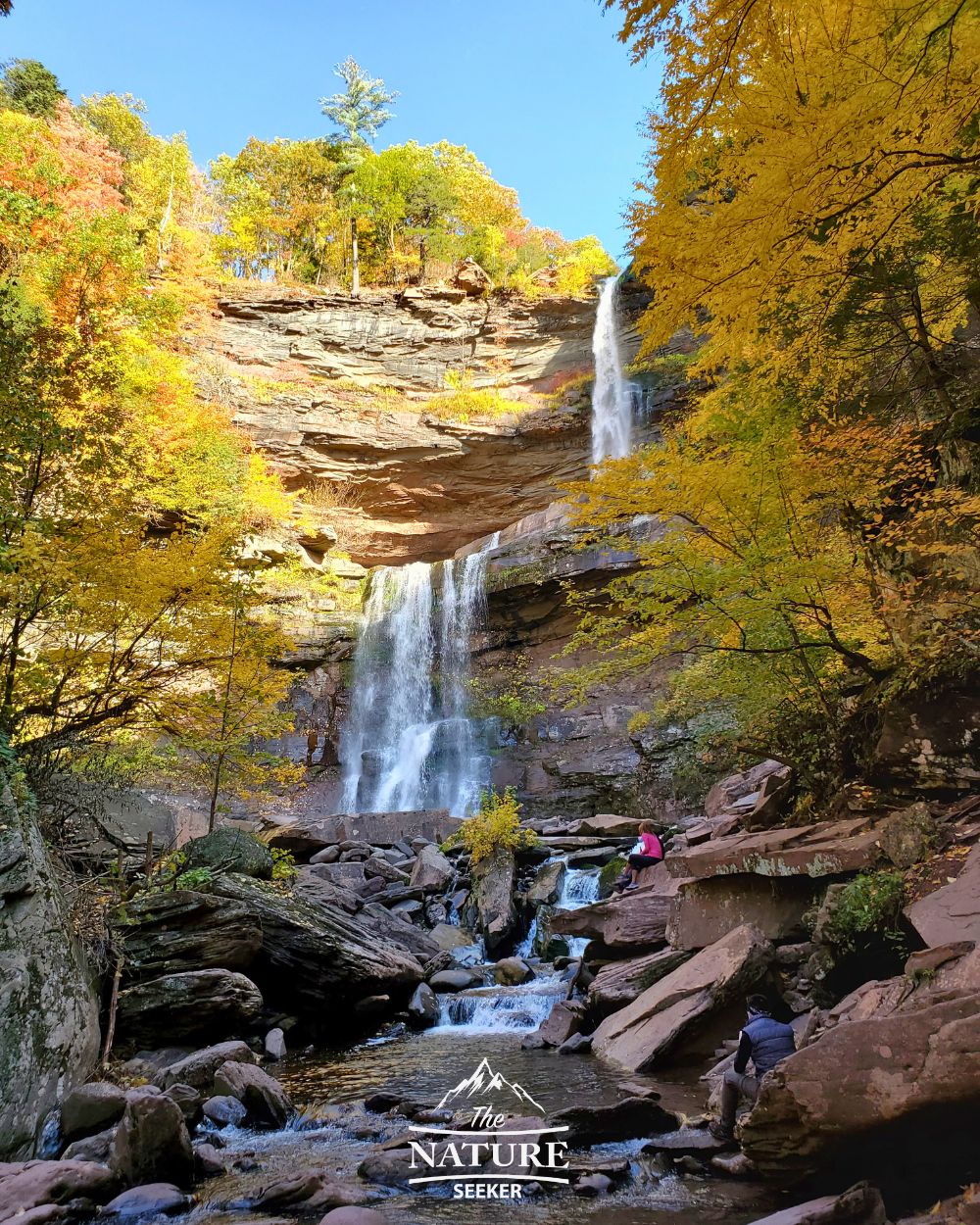 Kaaterskill Falls is my favorite waterfall to see fall foliage from. It's easy to find numerous angles for amazing photographs and experiences there. In this case, you'll start at the parking lot (Laurel House trailhead) and walk down to the viewing platform. From there you can also go to the yellow trail which will take you to the middle and bottom levels of the waterfall where the views will be even better!
Personal tip: Start at the overlook area, then do the entire yellow trail which will take you through the whole Kaaterskill Falls hike. If you also remember, I suggested continuing down that same yellow trail to Bashion Falls, then back up (it'll make for an even more awesome hike and fall foliage experience).
Mountain Top Arboretum: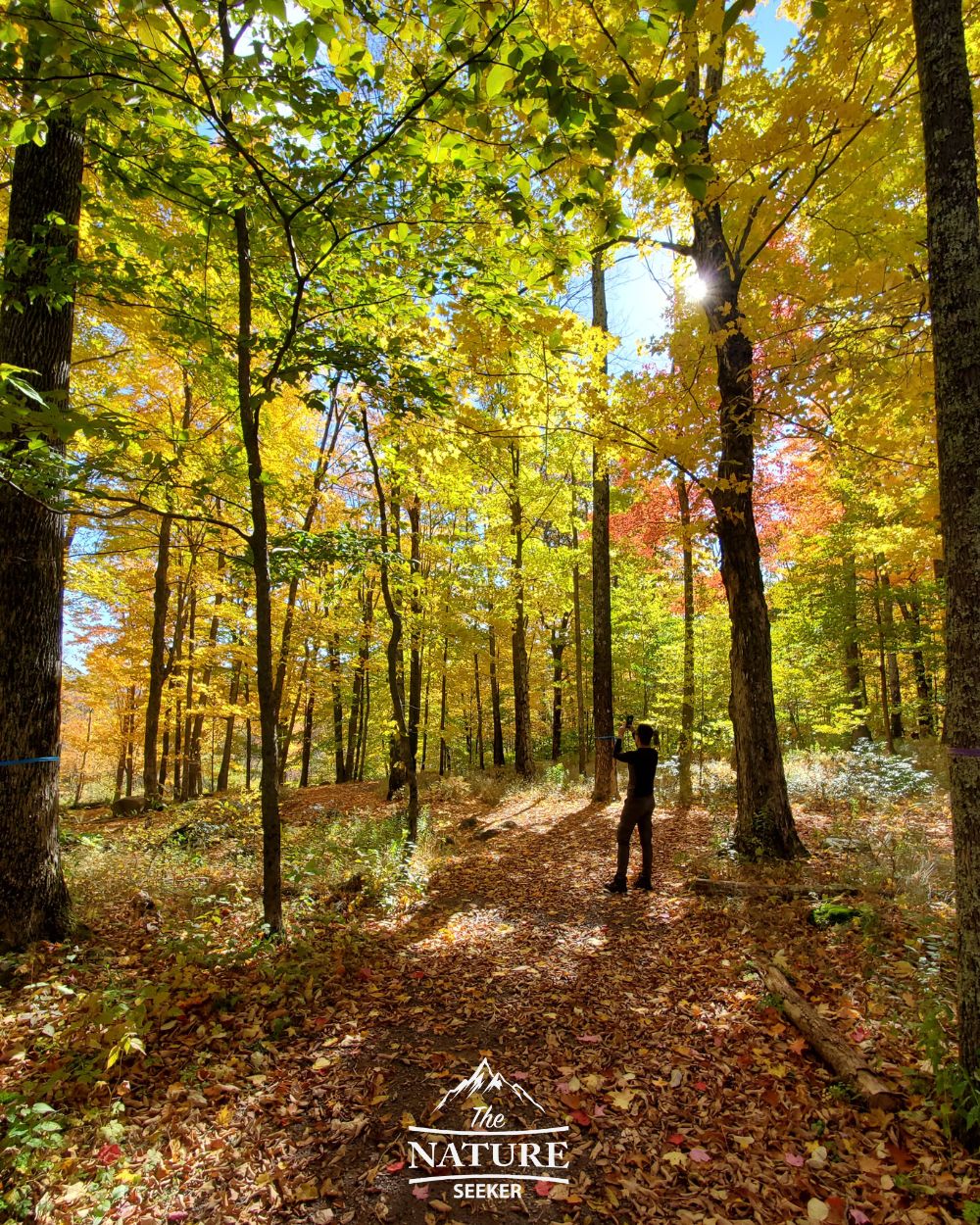 Throughout the many years I've explored the Catskills, one of the most amazing places I've ever "accidently"discovered was the Mountain Top Arboretum. It's a beautiful botanical garden with nice fields around it. I also happened to explore it during peak fall foliage and that experience was just breathtaking. If you're looking for amazing Catskills fall foliage areas but don't really want to do much hiking, then this place is a must visit.
Overlook Mountain: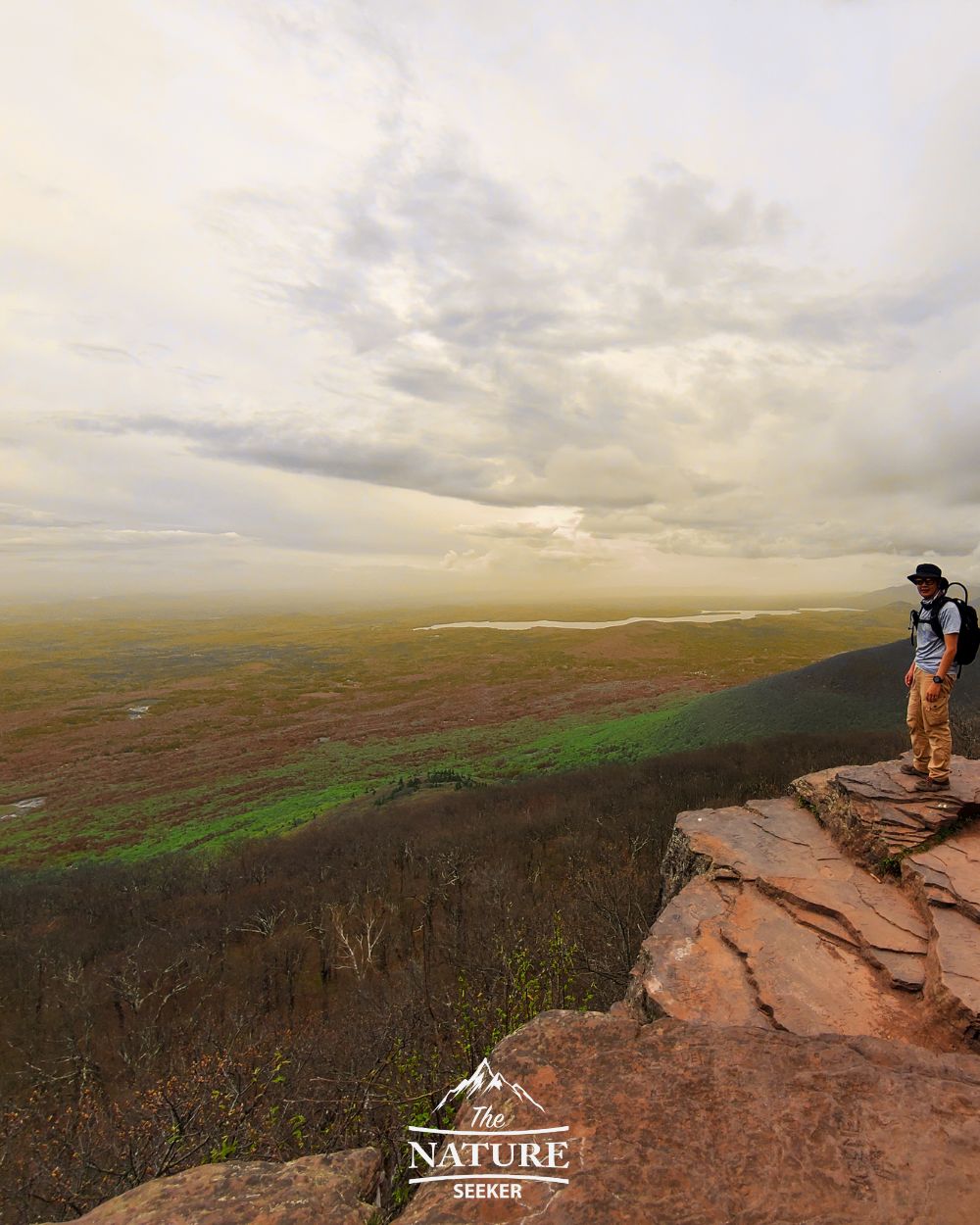 This is a 5 mile moderate level hike that offers an wide array of fall foliage experiences. For starters, the main trail leading to Overlook Mountain is a bit boring, but during peak foliage, it's going to be awesome. Next you'll cross the ruins which are 2 abandoned buildings as you reach the top and they'll make for great photogenic spots during peak foliage.
Personal tip: The 2 main reasons I am strongly recommending you do Overlook Mountain trail during autumn is what follows after the ruins and that is an incredible overlook of the Hudon River Valley and another Fire Tower hike nearby which provides incredible views of the northern Catskills.
Windham Mountain summit:
The Windham Mountain summit is another awesome area to get amazing Catskills fall foliage views from. This is a 3+ mile trail until you reach the summit that is moderate. Like Hunter Mountain this area is also a ski resort and actually has a sky ride, but it too is unavailable after October, so the only way to reach the summit is via this hike. Just as well, you should also know that this also on the same trail is the blue Escarpment Trail mentioned earlier.
Plattekill Falls:
This is my 2nd favorite waterfall in the Catskills which is even more amazing in the fall. The closest parking lot to this area is pretty small but if you can find it, the hike to the waterfall via the yellow trail is short and worthwhile. 
Personal tips: If the parking lot is full, then you can also find extra space in the Huckleberry Point trailhead that's about 500 feet away from it. Additionally you can also explore the blue trail next to the main parking lot which will make for great fall foliage experiences too.
Wittenburg Mountain summit:
There's many people that consider the overlook at Wittenburg Mountain to be the most amazing overlook in all of the Catskills and that's not even counting the fall foliage views from there which in my opinion make it even better. Hiking to this place is a bit challenging as it is about a 2.5 mile moderate level hike until you reach it but the photo above of the view is good in your opinion and you like hiking during fall foliage, then absolutely do this hike!
Personal tip: While this trail has you cross 2 amazing peaks in the Catskills, there's an add on hike that continues to the Slide Mountain trail which I recommend to have you see 3 peaks instead. It's going to make for a 9 mile difficult hike, but it'll be worth it.
Giant Ledge trail: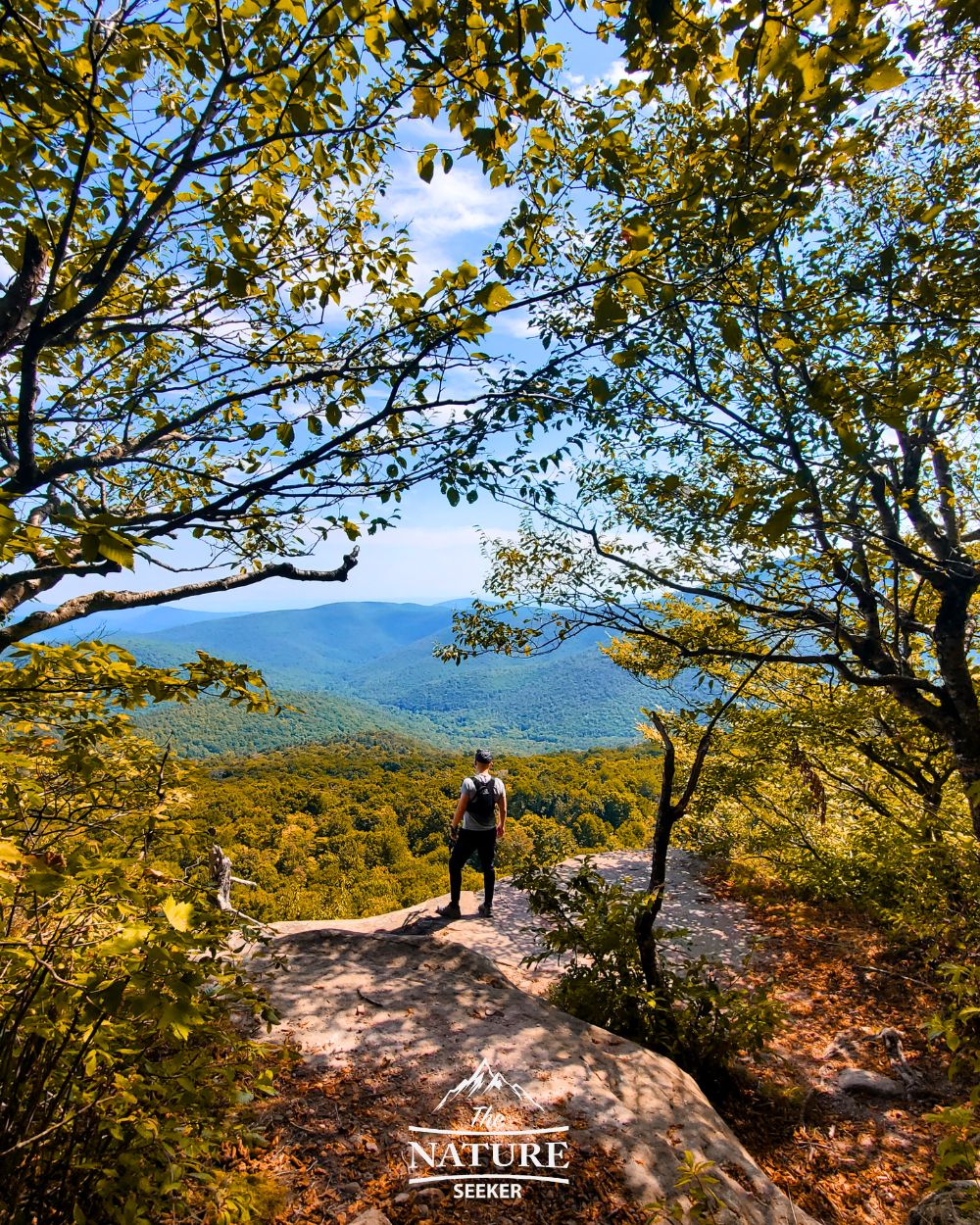 With every season except fall I would not add this hike to the list, but because we are talking about Catskills fall foliage, then this hike makes the list! The Giant Ledge trail is a 4 mile one way hike through deep wooded areas and to amazing overlooks. During fall foliage this whole experience will be even better.
Personal tip: When you reach the Giant trail overlook, you can continue past it for about 2 more miles to see 2 more amazing peaks and overlooks. 
Peekamoose Blue Hole:

Peekamoose Blue Hole is one of the most incredible swimming holes in the Catskills and the fall foliage views you'll get here are going to be stunning. The hike to the blue hole from the parking lot is very short and easy. 
I do also have to mention that this area requires you to get a permit before going ($10 per car) and it is also very littered and crowded too, so please be sure to respect this area and not do that stuff (it's common sense, but honestly a lot of bad people have ruined the beauty of Peekamoose Blue Hole throughout the years because of this).
Personal tips: Try to get this area very early and I also recommend checking out Buttermilk Falls close by. Peekamoose Blue Hole also has a hiking trail near it which you may want to check out too if you want to get even more amazing fall foliage experiences.
If you have any other places and spots you don't mind recommending for catching amazing Catskills fall foliage, please share that below!