Over the many years I've nature traveled, I've developed 5 specific ways to find stunning waterfalls near me and I'd like to share them with you today.
And just as well this also applies for finding waterfall hikes too. These strategies aren't for finding "regular" waterfalls that are a dime a dozen out there. No, this is meant for actually finding incredible looking falls and added to that hikes that lead to them to make it an unforgettable experience.
These waterfall discovery strategies work regardless of what sort of trip you're doing including:
Just a day hike outside your residency.
Perhaps you're on a road trip and just looking for the next amazing waterfall near you.
Maybe you're just traveling to a city but want to find beautiful waterfalls along the way.
Or you're just a fan of waterfalls and want to add more of them to your list of explorations.
Just as well, you may find some of these strategies not only lead you to find incredible waterfalls, but awesome hikes as well, all making for unforgettable experiences.
Let's get started:
1) This is the best way I find waterfalls near me (including hikes):
Use Google Maps and plan ahead of the trip!
This strategy is for people who are strictly looking for waterfall hikes near their area, maybe if it's for a day trip or even on a day trip that's part of a bigger road trip. All you have to do is this:
Open Google maps.
Expand your area to how far you're willing to drive.
Type in waterfalls and hit search.
Filter out the waterfalls you want to see based on the good reviews only.
You can also filter out which falls you wish to see based on how close to the road they are (shorter hikes).
Plot your day trip according to how many waterfalls are close enough to one another so you can see more.
Usually you can fit in 3 or more waterfall hikes in a single day trip if your pace is good and the distance between the waterfalls is close enough.
The example here shows a point A-B and the tons of waterfall hikes and opportunities between these 2 points I can do.
Case in point: Literally yesterday I did several day hikes outside New York City and the region I was exploring was the Catskill Mountains. Thanks to this strategy, I was able to explore 3 new waterfall hikes that day including:
Artist Falls.
Bish Bash Falls.
And Glen Falls.
Additionally, these waterfalls led to great hikes my friend and I did in these places:
North South Lake in the Catskill Mountains.
Exploring Bish Bash State Park.
And more.
All of this was done in a single day!
2) How I find waterfall hikes near me when I'm already on the road: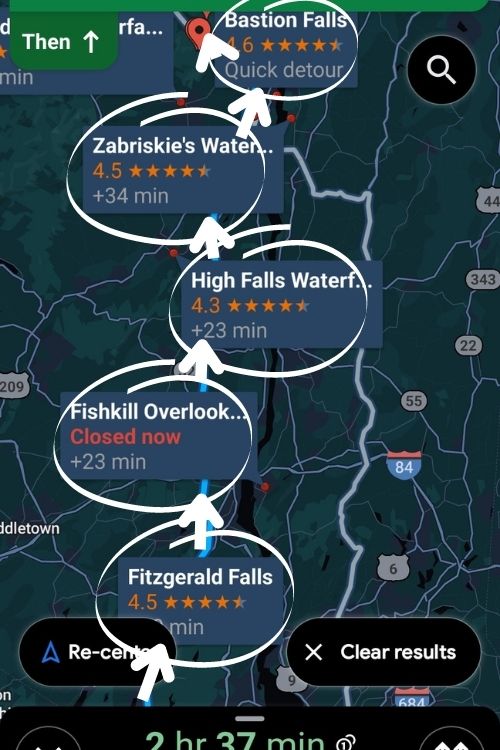 There's a simple context to this: Let's say you are taking a drive from point A to B, didn't do any prep work on which waterfalls were on the way and are looking for waterfall hikes between these 2 points that you can explore on the way to B. Here's how you do it:
First, input your point B on your GPS.
While the drive is happening, use the search option in your GPS and type "waterfalls".
A list of nearby waterfalls that are close to your main drive will pop up (with ratings).
Again, choose the best ones that are close enough to the main drive.
I included a screenshot of my GPS doing this while I was taking a drive up north from NYC.
In my case, Google found at least 5 major waterfalls and to be fair, if I used the first strategy and were driving in the same direction, I'd likely also find the same exact ones, but this is a good strategy if you are too busy (or just forget) to prep.
Now this is also a strategy where you can make the map larger to see more potential waterfalls, but I have found it's better to keep the range at around 50 miles away from your position as sometimes it helps the GPS refresh and find new waterfalls.
Sometimes you will need to click the refresh button, but the point is once you see the list before you, then you can simply add one or more of them to your existing drive without going off your original course.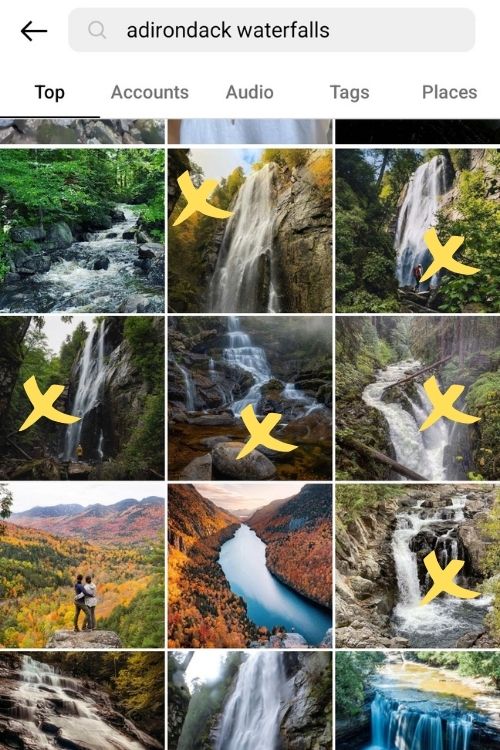 One of the best apps for this is Instagram. Here's an example of how I personally use it:
Let's say I'm planning a road trip through the Adirondack Mountains (a large mountainous area in northern NY State that has tons of waterfalls).
I know it has a lot of them but I want to get a view of the best looking ones out there and make a list of which ones I want to see. Here's how I can use Instagram to do it:
1) I'll open up Instagram.
2) I'll use the search option and type in something like "Adirondack waterfalls".
3) I'll get tons of images of people sharing their experiences here, and click on all the waterfall pics I like.
4) I'll then look at each image and make a note of the name of the waterfall or waterfalls I see.
5) I'll then either open up the location of that waterfall (if it's provided) straight from Instagram (it'll open up Google maps) and then save the location.
6) Or I'll just make a list of the waterfalls I find using this method, then plot them on Google Maps and see which ones are along my path or close enough to it so I can make the trip.
This strategy works very well because you can get a long list and preview images of the waterfalls and choose which ones you'd like to explore.
Note: Not every single picture I find will show me where it is so sometimes you may have to dig further and see more pictures that do have location details or perhaps someone in the comments of the photo section (or video) shares the location.
4) How to find waterfall hikes near you when there is no phone reception: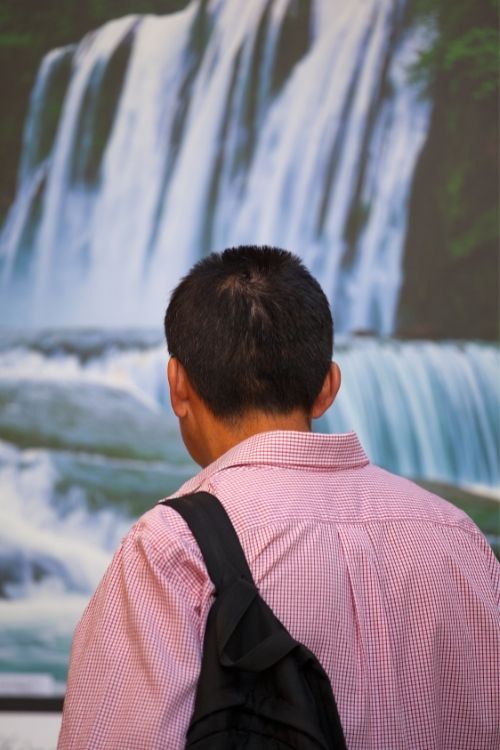 Very often, the most beautiful waterfall hikes are located in remote regions where cell phone reception and GPS is just bad or none existent and if you find yourself in this situation and still want to find amazing spots, there's actually a few methods available to you:
1) First, try to go to a small town in between the areas with bad reception. Odds are your GPS will work there and you'll be able to find available waterfall hikes near you.
2) Second, try to plot your trips through mountainous regions. For example, if I'm doing a road trip, I'll try to plan them so I cross giant mountainous areas like: The Catskill Mountains, the Adirondack Mountains and if it's out of state, let's say I'm in New Hampshire, I'll try to plot my trip to go through places like the White Mountains.
I do this because there's a good chance that these areas have a lot of beautiful waterfall hikes to explore and even if I don't have any cell phone reception, there's a good chance that I'll come across some beautiful scenic drive or a sign for a waterfall, maybe even see it in the distance as many roads that go through mountainous regions are usually not far from them.
3) Third, I said this in my how to find easy hikes near me post, but I'll say it again: Ask locals! Whenever you stop at a town, ask locals (politely) where there are nice waterfall hikes to explore.
5) Fourth, generally speaking large parking lots located in the mountains mean there's something good to see and there's also a chance you'll see a trailhead with pictures on it. Check out the trailhead and look for waterfall mentions or pictures. If you see them and it's to your liking, you just found another waterfall hike to explore!
Keep in mind that these strategies are impromptu and should be used as plan B's in case you couldn't find a waterfall hike ahead of time to explore. I usually plan ahead with what to see in terms of waterfall hikes, but I keep these simple strategies as side options in case it comes up and that's because sometimes the waterfall hikes you'll find are actually secret. And that leads to the last example:
5) Finding "secret" waterfalls near you (especially ones that aren't on Google Maps):
While Google Maps is great to use to find tons of potentially beautiful waterfall hikes near you, many times you may come across a situation where the best waterfalls just aren't listed on the map and you will have to find them yourself. I would classify these are "secret waterfalls".
Here's a few strategies I've implemented over the years that have helped me find them:
1) My Catskill Mountains waterfall hike example: I often drive on a scenic road to get into these mountains and there's a particular bridge I cross underneath which lies a beautiful waterfall, but you won't see it listed on Google, nor any signs for it.
How do I know it's there? Because I listen! Waterfalls can often be heard from your car so make sure you take the time to do that and stop and look when it pops up. And the thing is, the name of that waterfall is Moore's Bridge Falls, yet you won't find it on Google Maps at all.
Another thing to consider is that bridges are often located over waterfalls too, so that's another example.
2) My Oregon waterfall hike examples. I found at least 2 waterfalls by seeing gorges with rivers off the road. I would stop and follow those gorges upstream and they would actually lead me to insanely beautiful waterfalls that weren't listed on Google Maps (I've included the images of these waterfalls to the right).
This strategy won't always work, but if you spot a gorge and a stream inside it, there's a good chance that stream leads to a waterfall not too far away. The very terrain it's located on which are gorges and canyons almost makes it a rule.
3) My Smugglers Notch example. I found a popular waterfall and swimming hole in Vermont using one of the above strategies, but what I also discovered was that this area was very popular and crowded. However, I decided to go "off trail" and found that just by following the gorge and river upstream, I discovered a section of the gorge which had a secret waterfall that I had to swim to! It was an amazing experience and there was literally no one there!
4) North Shore Minnesota. I was on the hunt for a secret waterfall that hardly anyone knew about. I had found a parking lot with a stream that had led me there.
Have your own strategies for finding amazing waterfall hikes near you? Share them below!