I have been fortunate enough to have traveled through both the coastlines of Maine and Oregon and if you were to ask me which state is more beautiful, I'd probably tell you it's Oregon and I would say that without even thinking much about it.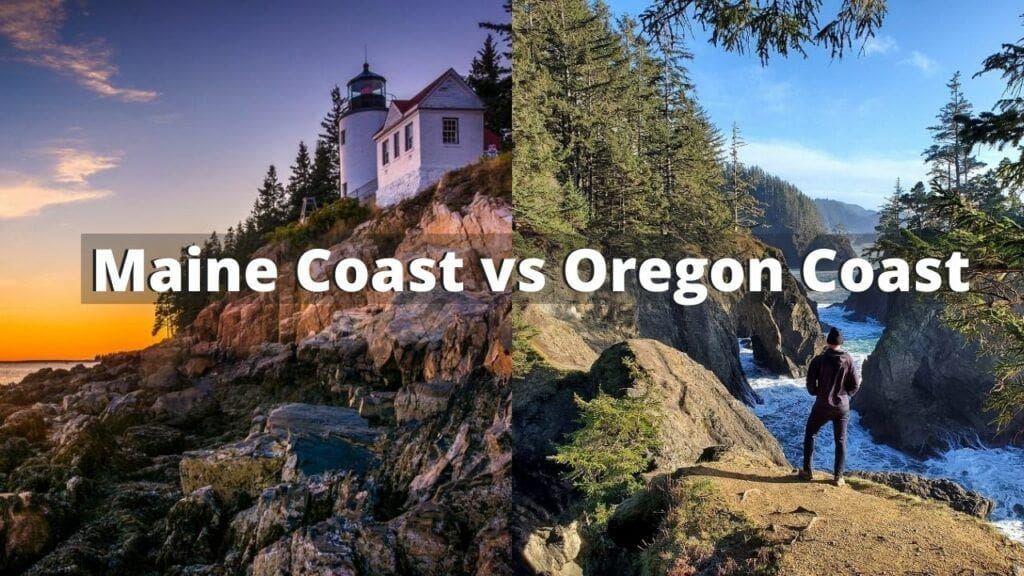 Despite being an east coast resident, you'd think I was a bit biased towards the coastal states near me, but the truth is when I got the chance to visit the west coast and travel across the Pacific Coastal Highway (twice), I literally went through all of the Oregon coast (my second time) and I had never seen anything like what I saw there.
Now this doesn't mean that Maine's coast is a joke. Not at all, in fact, it is quite stunning and I'll share exactly which spots I checked out here.
Here are some comparison photos of Maine and Oregon's coastlines: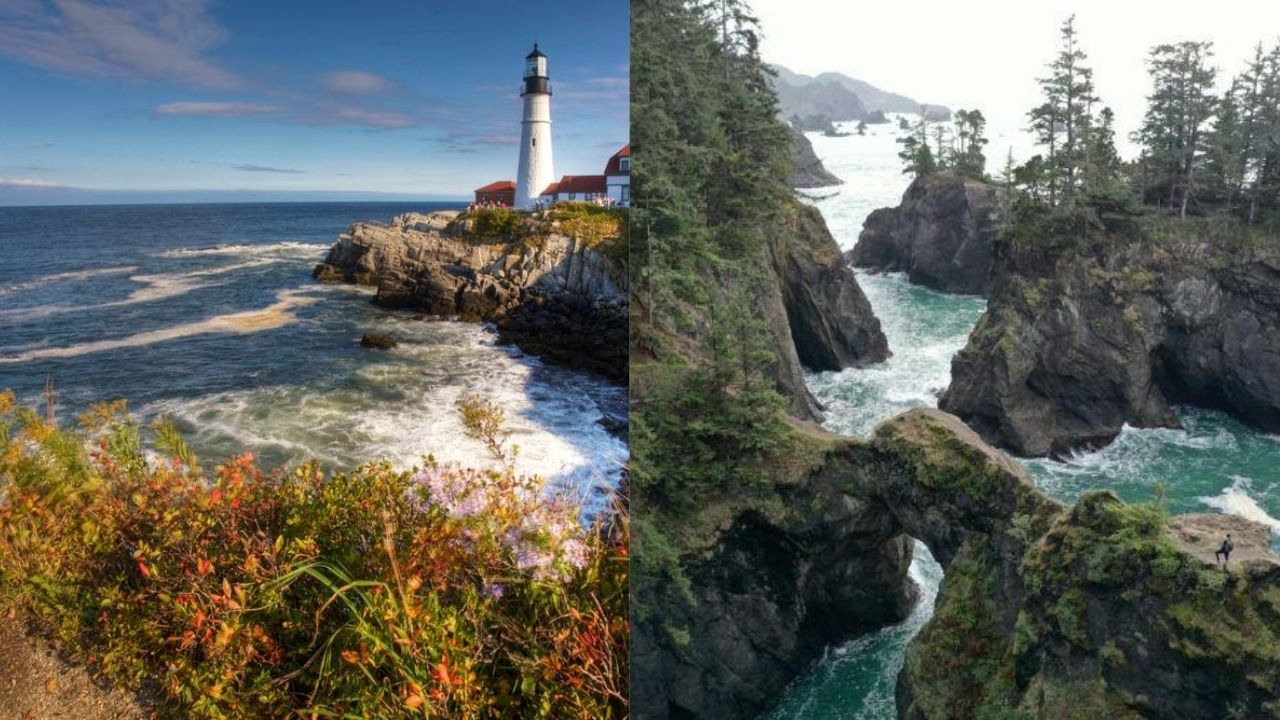 And don't worry, I have a lot more of them to share with you in this article!
My history of road trips through Maine and Oregon: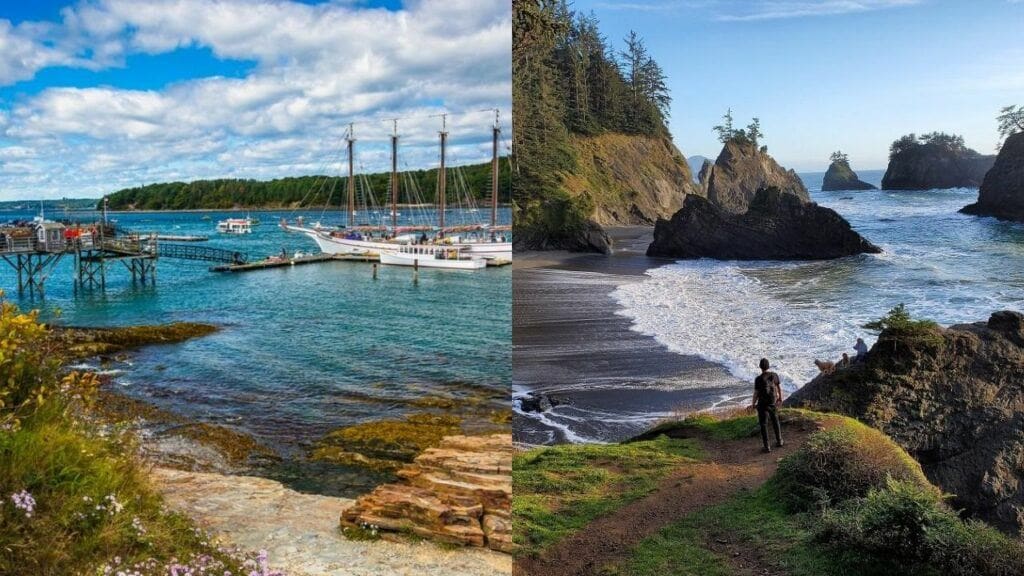 I have done 2 road trips in the east coast:
As for Oregon, I have so far done 2 trips there too:
Anyone who has visited both states will probably tell you this:
And that is that you should probably visit both states and decide for yourself which coastline is more suited to you, but I can tell you that both have a lot to offer for nature lovers like myself and you will not be disappointed by what both states have to offer in that regard!
If you agree or possibly disagree, let me know below! But let's move on to comparing these beautiful states:
The similarities between Maine and Oregon's coasts explained:
Much of the coastlines in both states have rocky nature, cliffs and sometimes mountains right in the ocean.
Both states are located in the northern ends of their respective coastlines. Oregon is northwest U.S. Maine is northeast U.S.
As you head more and more north in each coast, you'll gradually see more rocky, mountainous nature, including on the coast.
There are numerous trails, hikes and scenic areas to see in both states.
Tourism wise, you have a ton of stuff and do in both states (boating, lighthouses, nature adventures, ect…).
Both places have a city called Portland and they are pretty close to their respective coasts.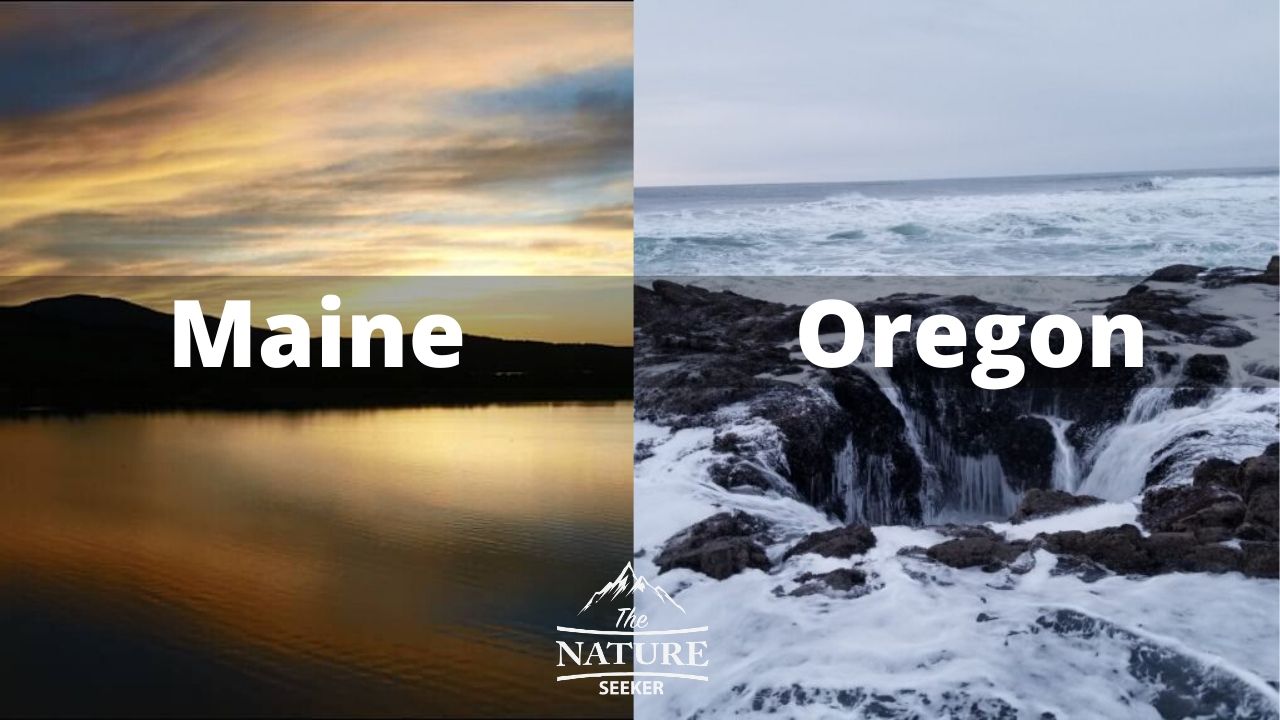 The "main" differences between Maine and Oregon's coastlines explained:
Oregon has an official road which will take you right by the coast (Route 101). Maine doesn't have this kind of road.
You will likely get more value from a road trip through Oregon than you will through Maine because of the 101 road.
Oregon has more exotic nature in that the nature is more diverse and the mountains are bigger on the coast.
I argue the nature in Oregon is more scenic and beautiful than in Maine (even though Maine is awesome).
Some would argue that Maine's sunsets are more beautiful than in Oregon. I think it's similar.
Seasonally, you'd probably get more out of Oregon's coast. It's less cold there during the winter and less warm there during the summer than in Maine.
The most scenic spots in Maine's coast worth seeing:
Acadia National Park is a must. It'll probably have you see the most beautiful of Maine's coast there.
East of Portland is also worth seeing.
If you wish to travel further northeast and hit up Canada, then you can check out Bay of Fundy and see even more beautiful nature there.
The most scenic spots on the Oregon Coast worth seeing: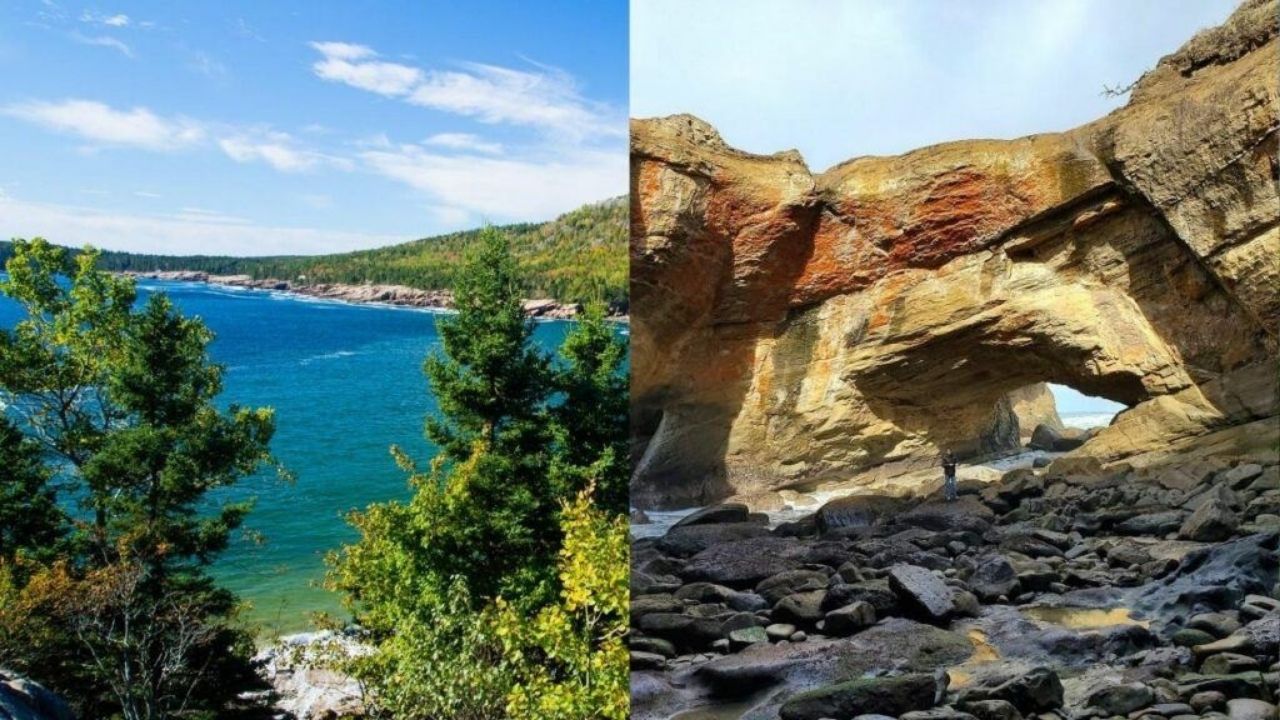 My thoughts on which state's coast is better:
As I said before, I'm going with Oregon personally and if you agree or disagree, I'd love to hear from you below.
But of course if you live in places like New York City or are visiting the east coast states (the northern ones) and want to see nice coastal places, of course Maine is well worth visiting.
Maine and Oregon also have a lot of hiking trails to explore! Want to know what to wear?
Acadia National Park will present a ton of opportunities and as for Oregon, well that's just 100's of miles worth of opportunities of explorations and potentially amazing adventures (see my Oregon Coast post). And in general, you'll be able to find tons of hikes using this guide to how I find easy hikes near me.
What about California's coast? How does it compare?
I actually compared California's Coast to Oregon's Coast awhile back and I slightly give the edge to Oregon still, but if you were to ask me how Cali's coast compares to Maine, I'd give a slight edge to California (here are 10 spots to explore on California's Coast), simply because there is so much more of it.
California's coast stretches for over 800 miles and there is so much diverse nature across that region, from flat beaches, to mountains on the coast, and then we have places like the Redwood National Park area. All of that really makes for a lot of exploring there if you're interested in something like that.
Other coastal spots (Washington, Minnesota) and how they compare:
With Maine, you have more specific regions which have the more beautiful spots to see. And I would say the same thing if you asked me about the Washington Coast as well as the Minnesota North Shore too. But of course, the best thing to do is see all of these states and decide that for yourself.
The United States has so many beautiful places to explore, not just on the coast and it really doesn't take a lot of research to make a list of places to visit in this beautiful country.
That's just my opinion and once again, I'd love to hear yours regarding this stuff!