While briefly traveling through Iowa in 2021, I had done a little research to see if it had any awesome nature places to explore and one of the first options that came up on the list was Wildcat Den State Park.
At the time I was very surprised at how beautiful this place was according to the pictures I saw (and later learning of even more amazing places like it all throughout the state) but due to logistics, I had to skip it and head towards my main destination that day which was Hocking Hills State Park. Long story short, I was driving from Rochester Minnesota to New York and this park was too far south out of the way.
Since that time, I had kind of forgotten about it, but while researching some new places to explore (midwest areas and parks in this case) on a future road trip through the area, I rediscovered Wildcat Den State Park again and this time have carefully researched what to check out when I eventually go and being that you're reading this now likely planning to do the same, this list will help you get ready:
5 things to do in Wildcat Den State Park:
Check out Pine Creek Crist Mill.
Do the short scenic drive (181 st) inside the park.
Explore the historic spots around the park.
Camping.
Do the main Wildcat Den Trail (best option).
Bonus: Explore the nearby parks to Wildcat Den!
Aside from these 5 main things, the park is great for families and anyone seeking to do hikes, explorations of amazing terrain and getting a very interactive adventure.
This park is amazing if you know what to do and here's the first thing to check out:
1) See Pine Creek Crist Mill: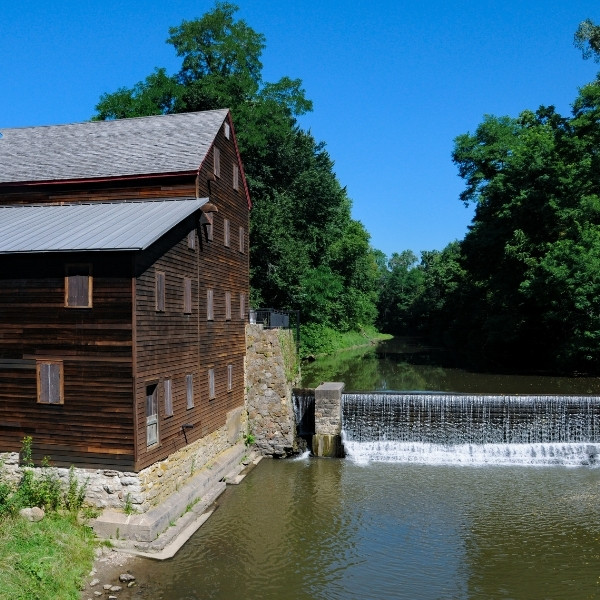 The Pine Creek Crist Mill is likely the most iconic part of Wildcat Den State Park. You can see right by the entrance of the park and if it's open enter it to get a good museum experience of the area.
There is also a small waterfall dam right outside it with a bridge nearby. You can also explore other historic buildings right by the Pine Creek Crist Mill including Melpine school, a Mill Shelter and a nice view of Pine Creek.
2) Do the short scenic drive inside the park:
There is one road that crosses inside the park (181 st) and it's not even a mile long but if you've seen most of the things in the park already and want to fill up on activities, this simple drive before or after you visit to the park would help complete that. It is also the main drive which takes you to the campground at the park too.
3) See the historical areas in the park:
Wildcat Den State Park actually has a lot of history which include both the buildings and structures that were made in the park (including Pine Creek Crist Mill) to the main hiking trail you do in the park which crosses several spots that have historical significance.
If you enjoy these types of activities than in addition to the amazing nature here, you will also find a lot of historical things to explore in the park.
4) Camping: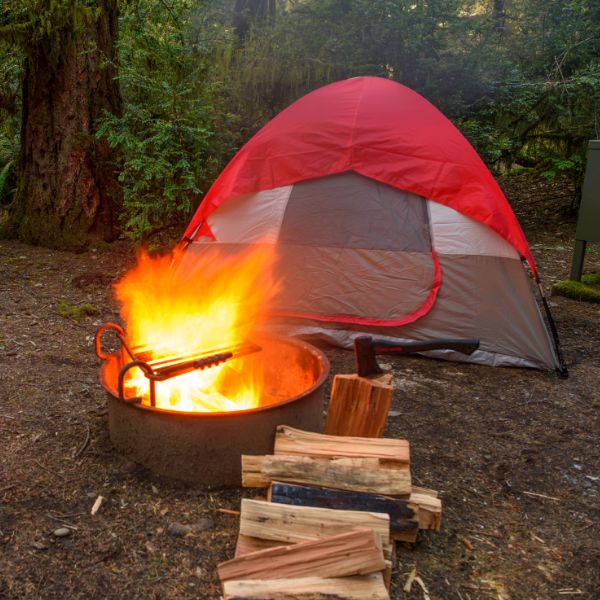 There is 1 campground in the park and it's obviously called Wildcat Den Campground.
Now the thing about this campground is that it has a few sections and each one is better for different audiences. For example, in this park, you have the following classifications of camping/places to stay:
The main campground areas.
A shelter spot for hikers.
A mill shelter as well.
You do need to reserve a stay in one of these areas. Here is the Wildcat Den Campground reservation site to do that.
In terms of amenities, there is only water and a restroom provided. The rest such as showers and so forth are not available here.
5) Explore the Wildcat Den trail (main attraction):
Most of the images you will see of this park come from this trail and for me personally, I like to spend nearly all my time in nature places exploring the best sights and if that is your goal when visiting this park, then this is the trail you'll want to check out. However, what you need to know is that there really is no "main trail" in this park.
There are actually 6 different trails available across Wildcat Den State Park and each of them is about half a mile. However, if you want to get the most out of your hiking experience in this park, then there is a custom trail option available which will take you through pretty much all of these trails.
The entirety of this trail is 4 miles and there is some scrambling involved (moderate hike), but Alltrails has a good map of this here.
Just as well, you can see the official Wildcat Den State Park map for details on this, but I'd follow the Alltrails map in this case because it's easier to navigate.
This custom trail is good for adventuring in general and helps you see the main sights, rock formations, caves and more in the park so most of the images you see of this park can be found on this trail.
More hikes like this:
6) Bonus: Explore parks near Wildcat Den State Park!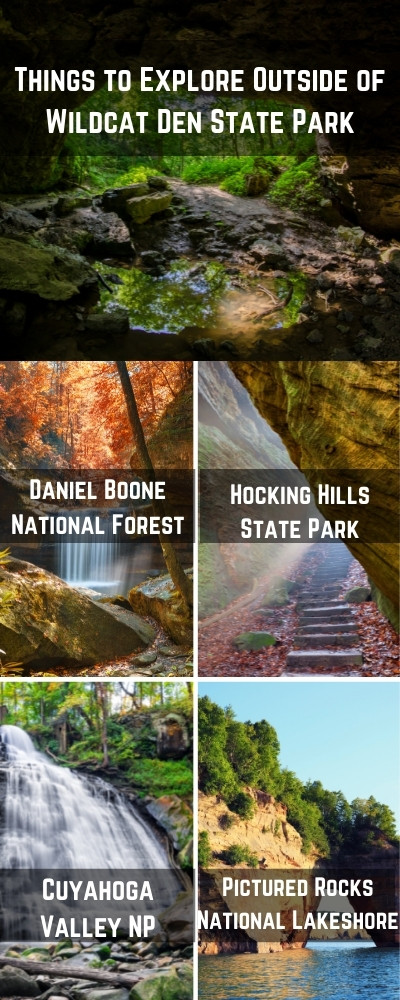 If you're road tripping through the midwest of the US and exploring parks like this, then the good news is that Iowa and nearby states/areas near it also have amazing parks like Wildcat Den State Park to check out. Here is just a small sample of what else is available:
1) Maquoketa Caves State Park:
This park in my opinion may be even better than Wildcat Den. It's also small but has a bunch of caves and awesome hikes to check out. If you're into stuff like that, then I highly recommend you plan a visit to Maquoketa Caves State Park, and it's only about 1 hour from it.
2) If you are headed far north of Wildcat Den:
Then you should see places like Amnicon Falls State Park (very small but very scenic park). And just as well check out the Upper Peninsula of Michigan overall especially places like the Apostle Islands and Pictured Rocks National Lakeshore, all amazing places.
Also depending on how north you are planning to go, there is also the North Shore of Minnesota (great coastal and hiking spots).
3) If you are traveling east:
Then you can explore even more of the midwest and places that may even be better than anything I've shared so far. Here are just some spots to see:
Other questions about Wildcat Den State Park:
Are dogs allowed in Wildcat Den State Park?
Yes, you can bring dogs to Wildcat Den State Park, but have to keep them on a leash.
If you have any other suggestions of what to do in Wildcat Den State Park and/or what else to see in Iowa, I am happy to hear your suggestions!