The midwest US continues to astound me, mainly for the stunning nature areas it has and a perfect representation of that can be seen in Maquoketa Caves State Park, a place you have to visit if you're in Iowa and love the outdoors and if you are planning to visit, then this post will help you really get the most out of that experience.
Here are 5 things to do in Maquoketa Caves State Park: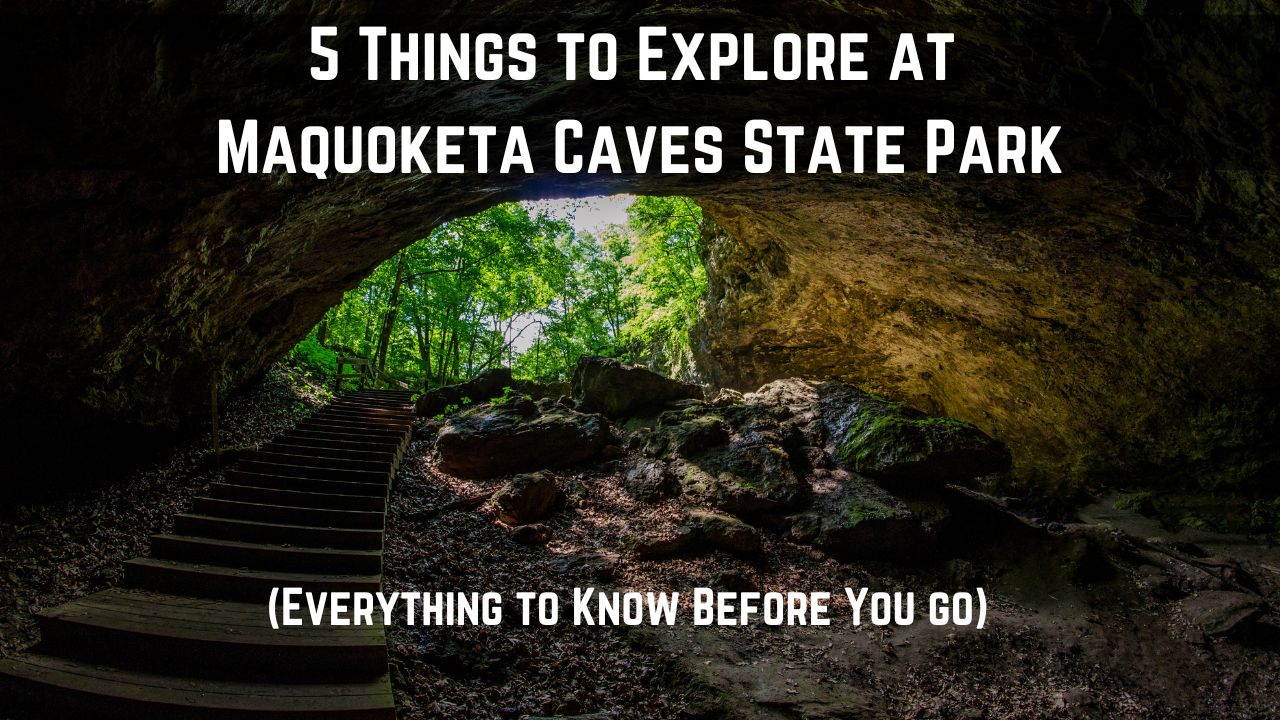 Do the main park trail to explore all 13 caves (6-7 miles).
Explore small sections of the trails (depending on your hiking level).
Explore the none cave trails (overlook areas).
Camping and picnicking.
Canoe or kayak down the Maquoketa river after.
Now just about every activity on this list feels like an obvious thing to do if you visit the park, but the truth is that Maquoketa Caves State Park is pretty small overall so the activities are sort of packed together.
But one of the most important things you'll want to do if you go here is exploring the actual caves trails available and that's where you'll want to know which one to take (if not all of them).
1) Do the main park trail (explore all 13 caves and landmarks):
The main feature of Maquoketa Caves State Park are obviously the trails that take you through the caves (the main attraction), natural bridges and Easter eggs in the park.
The great news about them is that they are all connected in one way or another so you can do small sections of it (the next activity) or you can do the whole thing in a 6-7 mile moderate-hard hike (depending on your skills).
For this specific activity, you're going to want to get the Maquoketa Caves State Park map here.
One that map you will start at the Visitor center.
You can start north to go through all the places in the park in ascending order.
The trail itself will not be a loop, but more of a zig zag throughout the park.
It'll be about 7 miles long and take you several hours to do.
Do note that while certain caves and parts of the park are easy to walk through, if you intend on exploring everything, you will have to crawl through certain spots and it will be very dirty, wet and muddy in places which is why this activity is best for people who understand that and are ready to do is (and are properly dressed).
2) Explore small sections of the trails instead of the whole park:
If getting into tight caves and getting dirty isn't your idea of fun (or maybe you're not healthy enough to do it), then you can omit that from your visit by only exploring only specific parts of Maquoketa Caves State Park. Here's what you need to know about that:
Since the main attraction of this park are the caves, you can just explore the large, open cave areas where it's easy to go into them without having to crawl or get dirty.
I've included an image with the the list of caves that are:
Green (large, open and easy to walk through caves).
Yellow (you can walk in them but may need to squat in some spots).
Red (crawling, tight spots, muddy and lights in areas required).
By using this info with the map of the park, you can circle those caves on your map and then plan a trail walk to see only them.
The good news is that if you are already doing the main 6-7 mile trail, you don't really need to adjust your trip because you can walk past the difficult ones and continue onto the easier ones whether you decide to explore all the caves in the park or specific ones.
The only time I'd adjust your trails is if you are tight on time and/or don't want to do the full 6-7 mile hike in the park.
Note: Some caves actually do have bats.
3) Explore the none cave trails (overlook areas):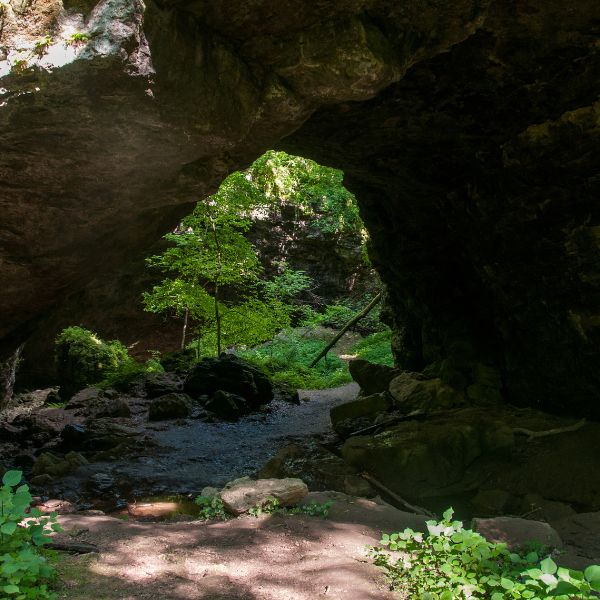 If you do the main cave trail but want to know what else you can explore around the park (or you don't want to go down all the steps into the caves), another great way to see Maquoketa Caves State Park is from the overlook trails which take you above the caves so you can see them from atop.
It's certainly not as "interactive" or scenic but it's another thing you can do at this park if you want to mix it up on top of doing the main trail.
Here are some of the trails available for that:
1) Valley Overlook trail (eastern end of the park, about 0.5 miles).
2) Upland Prairie trail (south west end of the park, about 1 miles long).
3) Ridge trail (northern end, gets you close to the caves and is about 0.5 miles long).
Note: There was a famous "Hula Hoop Tree" that was actually taken down a few years ago.
4) Picnics and camping: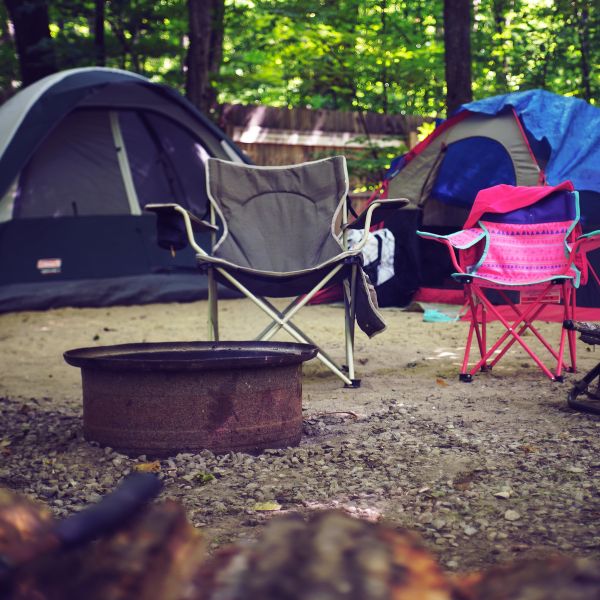 While the park is small, there is one major camping area called Maquoketa Caves State Park Campground.
To stay there you will need to reserve. Here's a page to reserve spots in Maquoketa Caves State Park.
Depending on your needs, you can choose camp sites that have electric charging areas, and others that are RV friendly. Showers and other amenities provided too.
As for picnics, this can be for people who camp there and/or those who are just looking to take a break in the park.
There is a playground area available too although it's probably way more fun for kids and their families to just explore the caves in the park instead.
Having traveled through the midwest US, I can tell you that this area of Iowa probably has bugs and maybe even ticks to worry about (not so much bears by the way) so just bring things to prepare for that.
5) Canoe or kayak the Maquoketa river: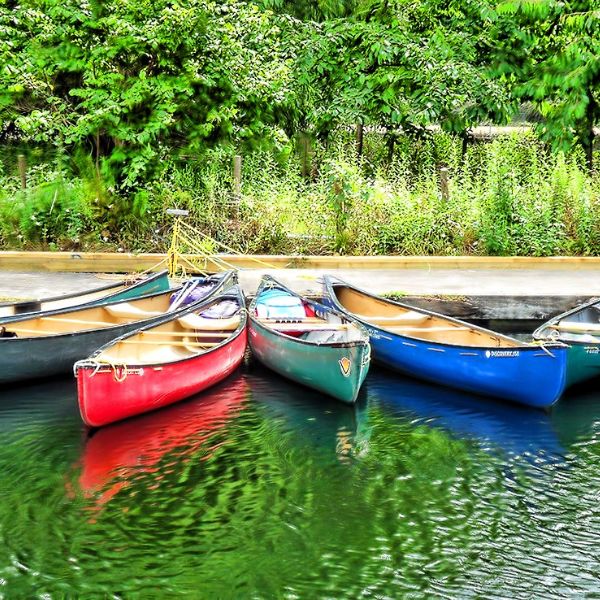 Kayaking the Maquoketa river is probably best to explore after you've hiked in the park.
While it's probably more fun to just explore the park, if you do that once and want to mix it up, finishing up the day with this would be a perfect option.
I found 2 areas for rentals. One was north west of the park (about 3 miles) but there aren't many reviews.
Then there's another about 4 miles south east of the park, literally in the town of Maquoketa that gets good reviews.
Here's the Maquoketa boat rental area. One cool thing is that you can also do tubing here.
Other questions about Maquoketa Caves State Park:
How long does it take to go through Maquoketa Caves?
It usually takes 3-4 hours to explore the entire Maquoketa Caves State Park.
Are Maquoketa Caves free?
Yes you can go into Maquoketa Caves State Park for free.
Other parks and places that look like Maquoketa Caves State Park:
1) Hocking Hills State Park. This is the first major park that came to my mind when I first discovered Maquoketa Caves. It's even better in my opinion because it's bigger (and also more crowded). But I do recommend you go here too (It's in Ohio).
2) Cuyahoga Valley National Park. This park resembles it in some ways too.
3) Daniel Boone National Forest. This gigantic region in Kentucky State has a lot of places that look a lot like Maquoketa Caves too (but it's way more remote there).
4) Wildcat Den State Park. This is the closest (amazing) state park next to Maquoketa Caves State Park and I would strongly recommend visiting this place too if you have the time (full details of what to see there coming up soon).
I'll be doing more details about this park and a "virtual" tour in the near future but in the meantime, if you have questions let me know!