For the past few months, the main trail to Observation Point, in Zion National Park has been closed. But did you know that there exists another, alternative and legal trail you can take to reach the same overlook?
Here's a preview of how to get to Observation Point (when the main trail is closed):
To get to Observation Point legally when the main trail is closed, you'll want to head through the alternative trail to it known as the East Mesa Trail. It will involve having to leave the park out the east end and enter a road that leads back into the park from another entrance up north.
I'll show you a map of this trail and how to get to it. It's not difficult to reach or hike to Observation Point from it, and because we don't know how long the official trail (East Rim) will be closed, it's better to use this alternative trail in the meantime.
Here's a picture I took at Observation Point following this alternative trail:
Note: This picture was taken during the MAIN trail closure, so I was able to get to this point using the alternative one I'll be telling you about.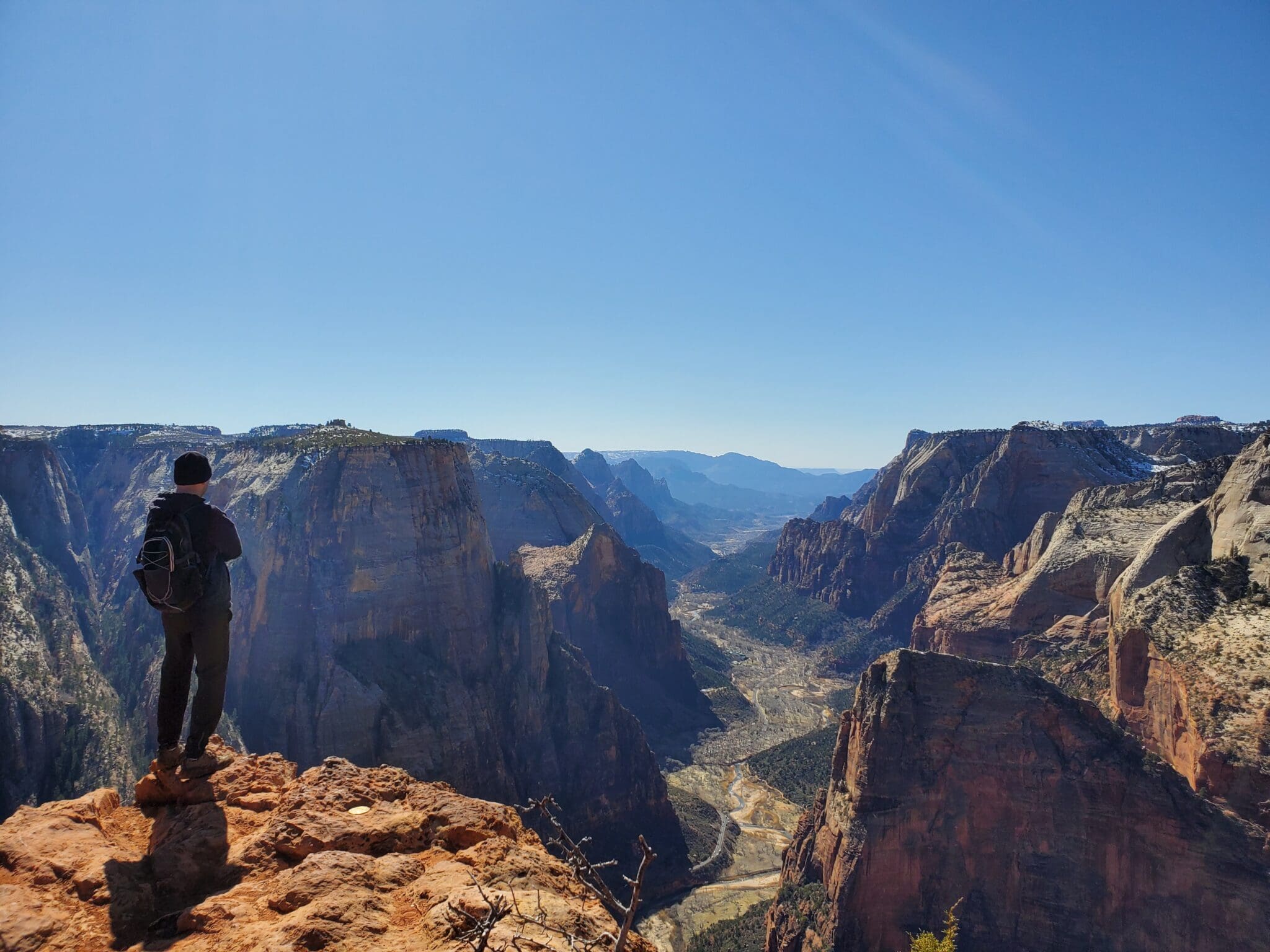 If you're reading this article, the chances are, you probably don't know about this alternative trail, but you will shortly.
I'm going to tell you about this "secret trail" to Observation point, including how to get to it, provide you with a map to follow and help you enjoy the beauty of Observation Point's overlook in spite of the main trail closure (and again, this alternative trail is totally legal to access).
Why is the main trail to Observation Point (Called East Rim) closed?
The National Park Service site for Zion National Park has reported that a rock fall on the main trail is responsible for the closure and until it's cleaned up, the main one won't reopen.
Considering how slow and in my opinion unreliable NPS is at getting stuff done quickly (this closure has been going on for weeks now with no definite date of reopening). It's about an 8 mile hike from this main trail (there and back).
A few days before I was planning to visit Zion National Park, I checked the NPS site and saw this closure occur.
This first made me consider omitting visiting this spot and possibly revisiting Angel's Landing, but thankfully, a Zion local told me about the alternative trail I could take to still see this beautiful spot.
The alternative route to Observation Point is called East Mesa Trail.
Now you may find online info about the East Mesa trail or East Rim trail also closing, but when I asked the local who told me about it and the ranger at the welcome station to Zion about it, they did tell me it's still open.
Apparently, there's multiple trail heads in East Mesa to reach and the one I'll be showing you is legal to access.
Just in case, ask whichever ranger you talk to when entering Zion National Park if it's available. The ranger I got was a bit "aloof" to the whole thing until I asked him about the specific trail, to which he said "Oh yeah, yes it's accessible".
So if they don't say anything, mention it and see if they know about it and know if it's opened or closed.
Here is how to hike to Observation Point through the alternative East Mesa trail: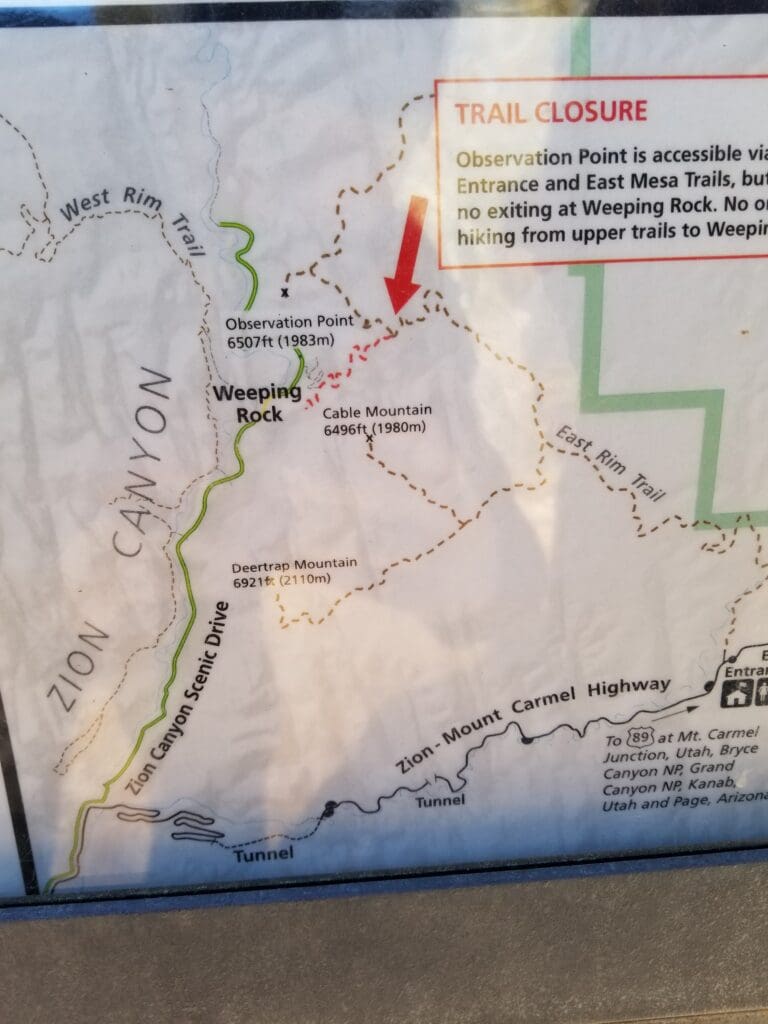 The first thing you'll want to do is take a screenshot or download this map (or ask for it in the visitor center of Zion):
As you can see where it says trail closure is part of the East Rim trail that is connected to "Weeping Rock" and that is the official Observation Point trail that's closed off.
The first thing you need to understand is that Zion has 2 main entrance points:
One from the west (where I entered it) and one from the east.
Regardless of which entrance point you're coming into Zion National Park from, in order to access the East Mesa Trail which will take you to Observation Point, you'll want to…
Be outside of Zion National Park to even get to the trail head which is East Mesa, so don't worry about exiting the park, it's part of the process.
I'll be detailing each step of the drive to the East Mesa trail, followed by instructions on how to navigate through the trail itself (which is easy) shortly, but it's really the drive that can be a little bit confusing for first timers, like it was for myself and the buddy I went with.
It's easy to think the road you use to get to East Mesa Trail doesn't go anywhere and want to turn back.
Don't make this mistake because it really will take you to the trail head, and the trail will take you to Observation Point like I said before. 
The summarized instructions to reach this trail head and see Observation Point:
Enter North Fork County Road outside of Zion National Park (2-3 miles east of the eastern entrance of Zion).

Head north and stay to the right (you'll cross a resort, don't go into it). Follow signs for East Rim trail.

You will likely have to cross a VERY muddy road that spans for about 1-2 miles (have a 4×4 or all AWD car).

If you find the car you're in can't go further in the road, stop the car on the side (there's open areas on the road) and walk.

Walk further north and you will see signs for Observation Point and East Rim trail (one or the other).

The road will take you to a trail head, and you'll make your way WEST on the trail for about 3 miles. 

This 3 mile hike is fairly simple and will take you to Observation Point.
Here is another good map showing how to navigate:
Here is a Google map listing for the trail head (just in case):
If this map listing doesn't take you through the same steps I just showed you above, then follow the steps instead. It's really not a difficult road or trail to reach, but it's the off road aspect of entering this area that can suck and there are many turns along the way that seem enticing.
Just follow the map and look for Observation Point signs (there are multiple ones, but they can be far apart sometimes). Here is an example: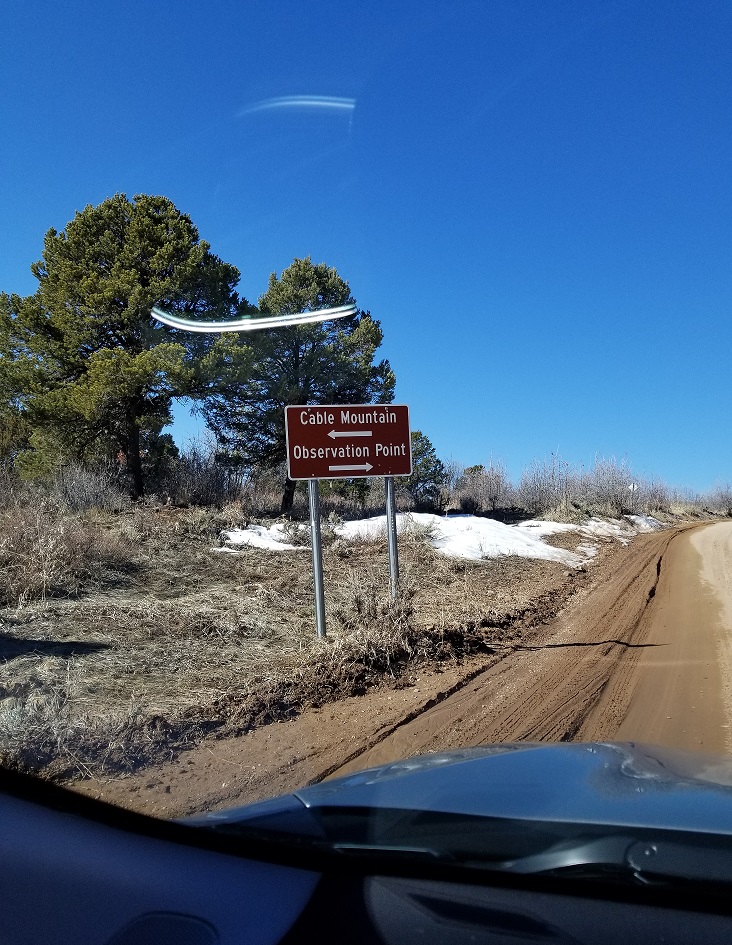 During warm and hot seasons, getting to the East Mesa trail head should be easy, but we did it during the winter, when there was a lot of snow, icy and wet areas, making the mud very deep, slippery and difficult to bypass on the car we were in. It's even a miracle we were able to drive so far into this road to begin with. I think even a 4 wheel drive car would have problems.
About a mile before the trail head, we decided to stop the car for fears of it getting stuck, parked it in the nearest area possible without obstructing traffic and walked on foot to the trail head: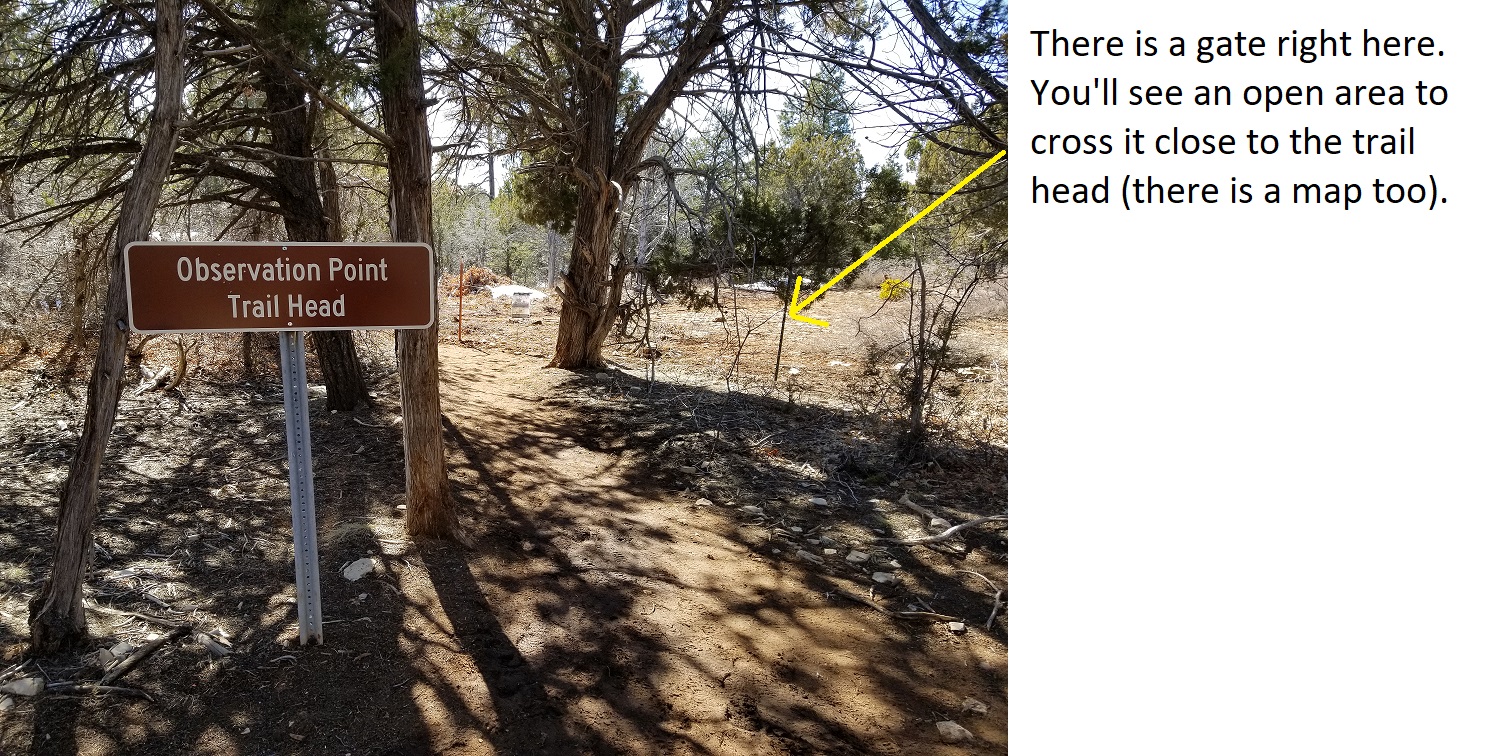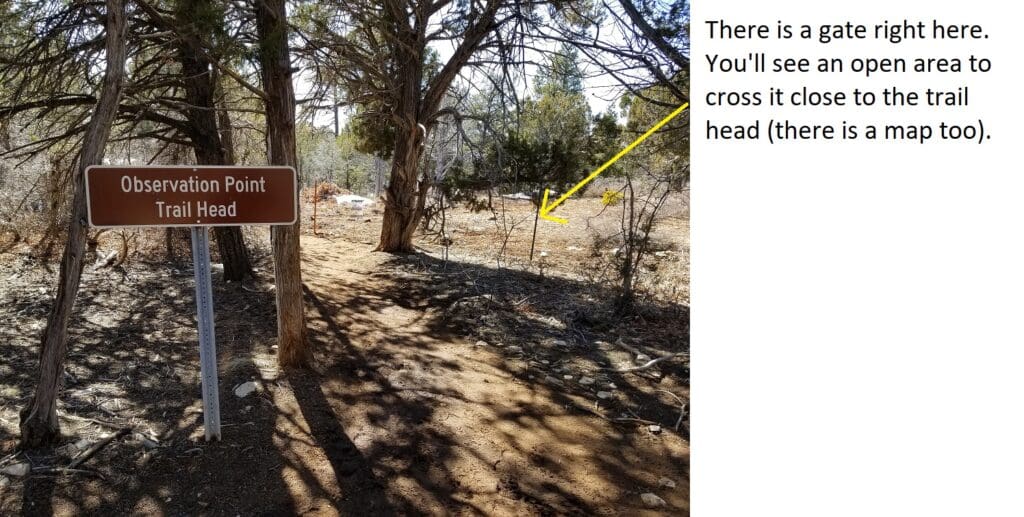 Just a heads up…
Once you reach the trail head, like the image above says, there is a gate right next to the trail head sign and on that gate is a map I pasted above. Right next to the map is an entrance PAST the gate that will start you on the 3 mile trail to Observation Point.
Don't make the mistake of following the gate, because the entrance past is actually easy to miss. Remember, it's right next to the trail head and right near the map on the gate itself.
What to expect from this alternative trail:
Once you pass the gate, it's a very easy trail to navigate, but it will take you a few hours to reach the Observation Point overlook.
For us, it was simple to follow the trail as we could easily see plenty of footprints all leading there (and back).
This trail is apparently not well known, since we only saw 2 other people while we were there, but rest assured, it WILL take you to Observation Point, while the main trail is being fixed up.
And of course, once you to get to Observation Point, enjoy the views!