As someone who has driven through both the coasts of California and Oregon, I have to say, it's very difficult to decide which is prettier. I mean, look at this and tell me it's easy to pick one:
Which would you say is prettier? Tell me below! Here's another:


I'll show you even more, but while you can compare these 2 spots and have your own preference, I think it's pretty foolish to think one is that much more beautiful than the other.
Both coasts are spectacular, have so much to see and you should drive through it the coast in both states if you have the chance (and Washington's Coast too). Oh and I did this comparison on a single Pacific Northwest road trip explained here.
Let me show you the areas of the California and the Oregon Coast that I've driven through: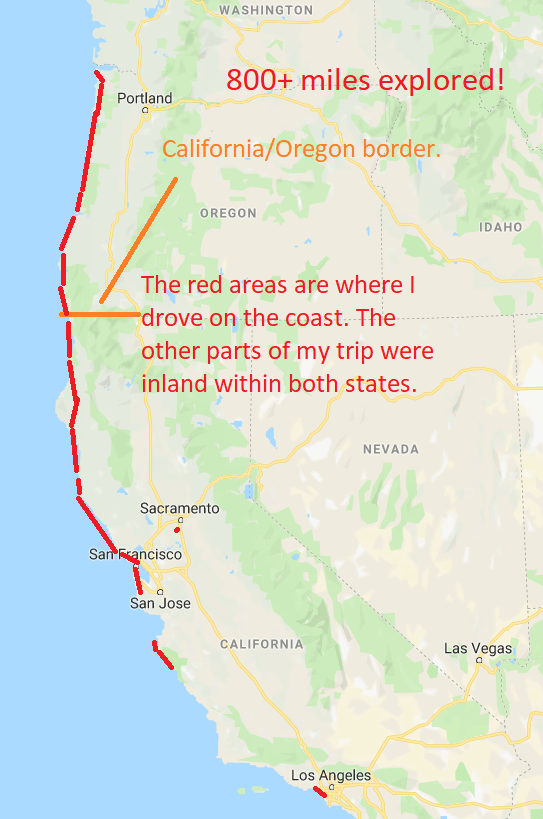 It wasn't the entire western area FYI, as I was tight on time and many parts of my trip were also inland, but I marked the areas I crossed in both states (and I will list the most beautiful spots) and it was basically 100's of miles that I explored:
I didn't drive through the ENTIRE coast because of time constraints (the speed limit on the coastal highway is pretty slow) and also because both these states have so much amazing nature areas deeper within each state worth seeing.
There were some places I really wanted to see between LA and San Jose, but my trip plans forced me to readjust and to visit these missing areas the next chance I get.
Let me explain the similar things you will see if you cross both states near the water:
1) You will see plenty of gigantic boulders and even mountains in the Pacific Ocean. 
2) You will see a lot of diverse nature, corral reefs, different colors of the water, ect…
3) You will see a lot of natural bridges and even arches throughout these states. 
4) You will see breathtaking nature that you will want to stop to truly take in. I know I did.
5) You will see and get a lot of hiking opportunities. Both states have a lot of popular hikes in these regions.
6) You will see more than 1 waterfall literally near the ocean (Hug Point, McWay Falls, Secret Beach are great locations for this).
7) Oregon's coast has many camping spots and so too does California, and I have a list of northern California camping locations you can check out but the point is that all throughout the Pacific coast highway, you can find plenty of spots to camp at near the beach.
Is the nature really different in California and Oregon's Coasts?
Yes actually, and here's one example of how different they can look:

These are the most noticeable differences I saw with both the California and Oregon coasts: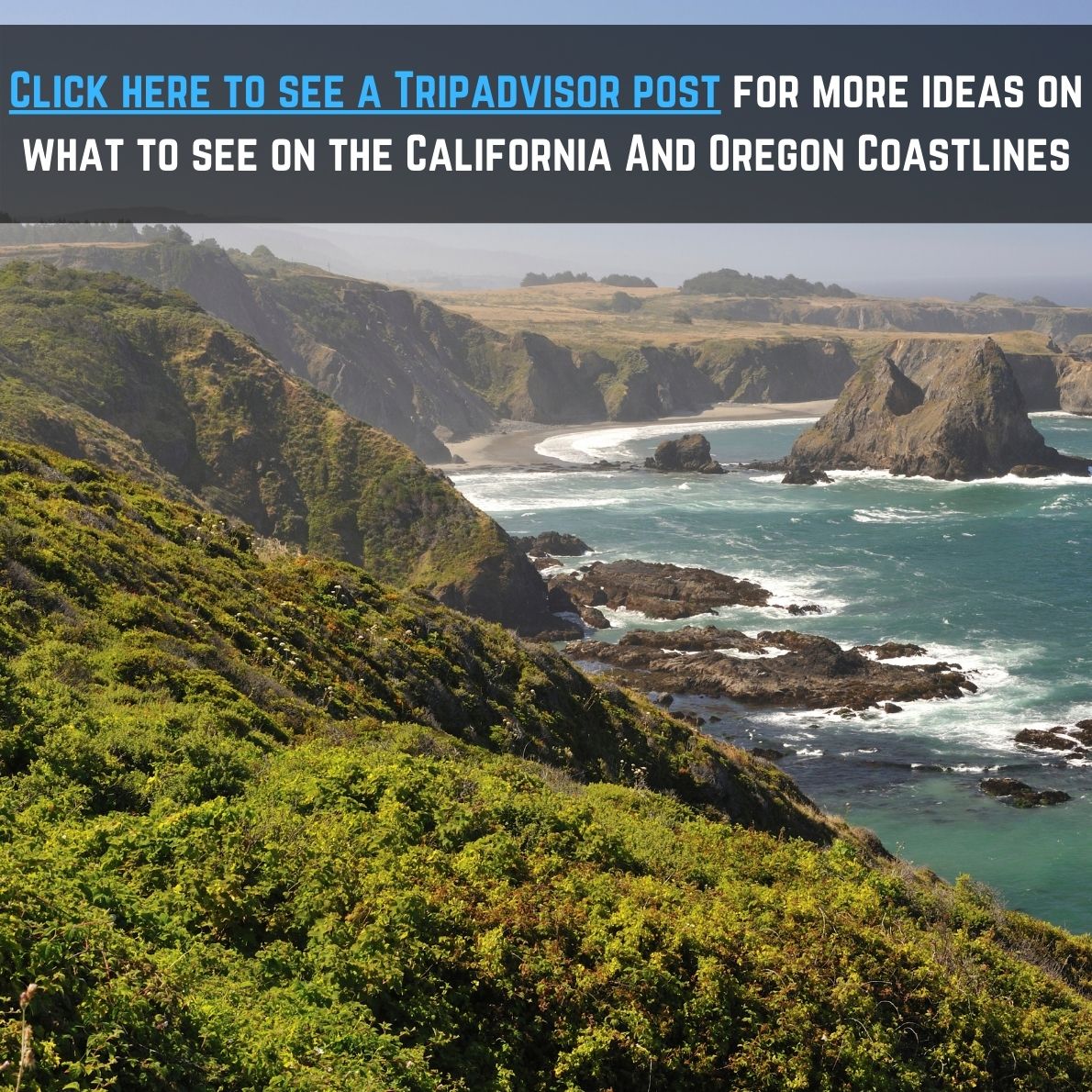 For California: For me personally, I felt the nature I saw along the California coast to be more "tropical" and "warm" in the sense that the atmosphere felt more bright and this is especially true as you head further south into California. As you cross the northern coast of California, the nature does start to resemble Oregon's more and more.
With Oregon, it felt different, yet still amazing in that it felt more "cold" and green at times, yet also a lot more "spikey" meaning that the natural bridges there were larger, the mountains and boulders were also a lot bigger in many areas than what I saw in California. 
What I am typically more drawn to is northern nature. Whenever I travel south to places like Florida and beaches for example, I expect the land to be more "flat" and tropical and while I enjoy that, whenever I travel North, I expect to see mountains, waterfalls, elevation changes and that sort of stuff attracts me more so because I prefer places where I can do more active things and I get that in northern areas.
Then there's places in the east coast of the United States, like in Maine, and spots in Canada like Nova Scotia (Bay of Fundy and Cabot Trail) and New Brunswick that I explored in this eastern Canada road trip, and the coastline there also has it's own mountainous areas on the coast, and while they are also beautiful, California's and Oregon's coast surpass it in my opinion like I have said in other articles.
The great thing about both these states however is that with California for example, you get a mix of both these things, whereas with Oregon, it's more stereo typically "northern" and since I said I prefer northern nature, this is why I would say Oregon's coast attracted me a LITTLE bit more to it.
But I will give you more photo comparisons in this article and:
I would love to know 2 things from you:
1) If you've never been to either state's coastal areas, just based on the photos I gave, which do you think is prettier?
2) If you have been to these 2 states, which one do you prefer and are there any specific locations that I missed which you recommend I see the next time I go.
Here are the specific areas I visited in both states:
In California:
Big Sur (and places like Mcway Falls there).

Fort Bragg, specifically Glass Beach.
The Redwoods (these are literally on the coast too!).

San Francisco. I briefly visited this area and only saw the downtown area and the Golden Gate Bridge. 

Areas near San Jose (they had natural bridges, but honestly, it wasn't that amazing).

Russian Gulch (that area looks closer to the Oregon coast stuff I saw and it's beautiful).
In Oregon:
I visited Samuel H. Boardermann Park (this in my opinion is the best spot in all of Oregon).

I checked out Hug Point. 

I also visited Whaleshead.

I crossed the dune areas.

I visited Brookings, Astoria and a few other towns in this region.

I've seen many sea cave locations in Oregon too.
In these areas I just listed, for Oregon, here are the 10 recommended coastal spots.
Out of all the Oregon Coastal spots I saw, this was my favorite (video):
What I recommend you see in both California and Oregon Coastlines:
Being that there's over a 1,000 miles of coastal areas between these 2 states and the main road there has a small speed limit, if you're tighter on time, and want to see the truly spectacular sites, there's 4 places I recommend you visit:
In California, you definitely need to check out Big Sur and the Redwoods (several areas of the California Coast have them).
In Oregon, definitely see Samuel H. Boardmann Park, specifically Natural Bridges and Secret Beach.
It's these spots in both states that in my opinion offer the best scenery (from what I saw) and will help you decide which is prettier. Here's a preview:

It's photos like these that make deciding which is prettier so hard and again, foolish to even ask because why not just visit both places? And if still think you can choose, let me make it harder to decide: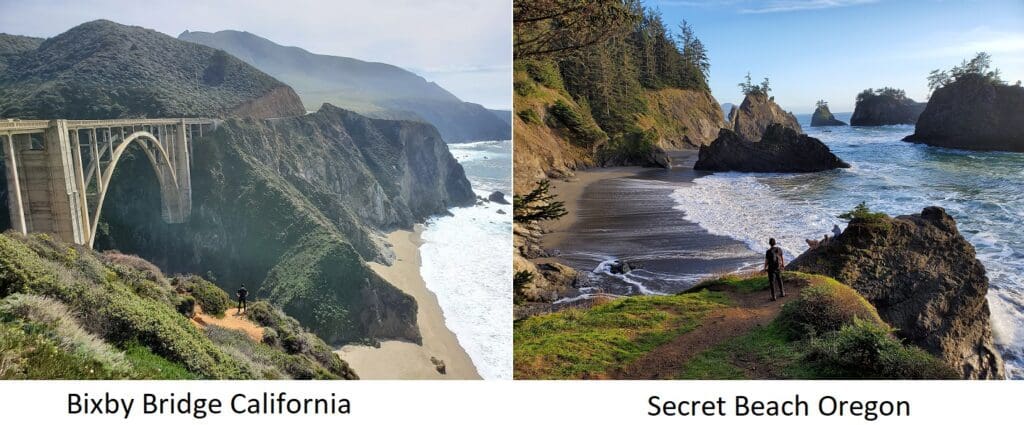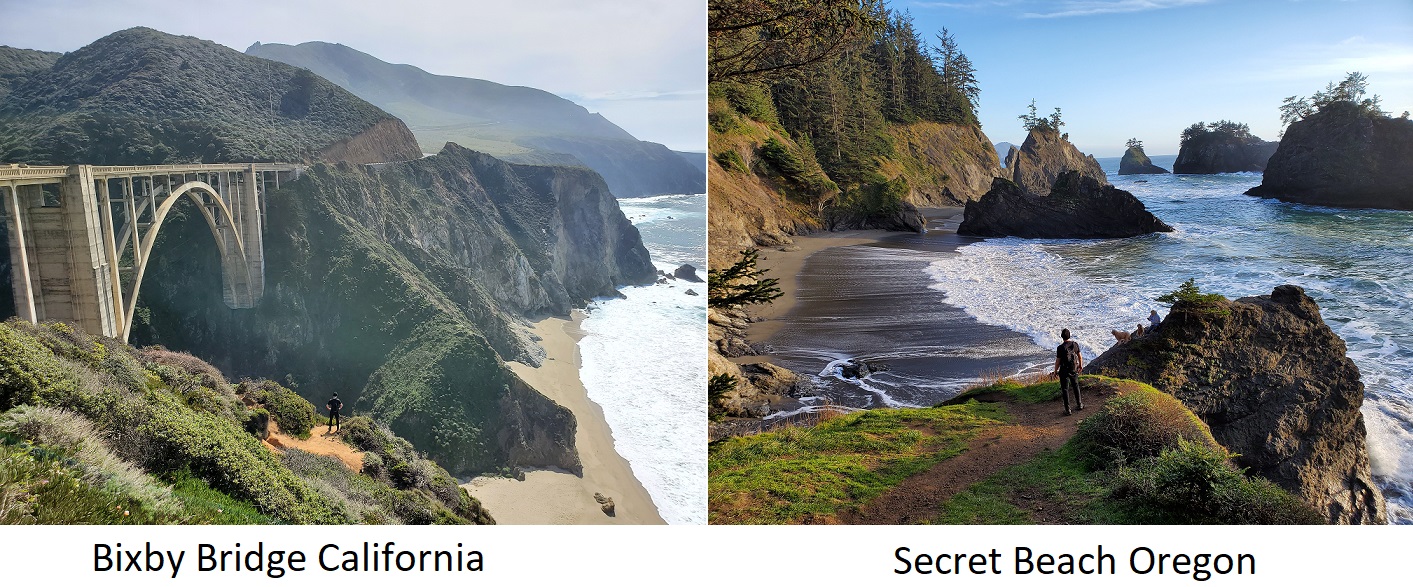 Again, the ideal thing to do is visit both these states and enjoy all this scenery. But obviously, if the trip you're planning only centers around a certain state, just visit the areas in that state only. But make sure to mark down the other state for a future visit because you will not regret it.
My first trip around the west coast and seeing these places is making me plan on a daily basis how and when to go back there and when I do, I'll cover these spots again and try to see more of the coast from both spots. So again, I'll ask, which state's coast is prettier?

Great gear and footwear to use when exploring the Oregon and California Coastlines:
In 2020, I did a western US road trip where I covered even more areas of the coastlines of California and Oregon. Some of these photos were already updated above, but here are more:
And here is another one showcasing the Redwoods in California (they are right on the coast) and Devil's Punchbowl in Oregon: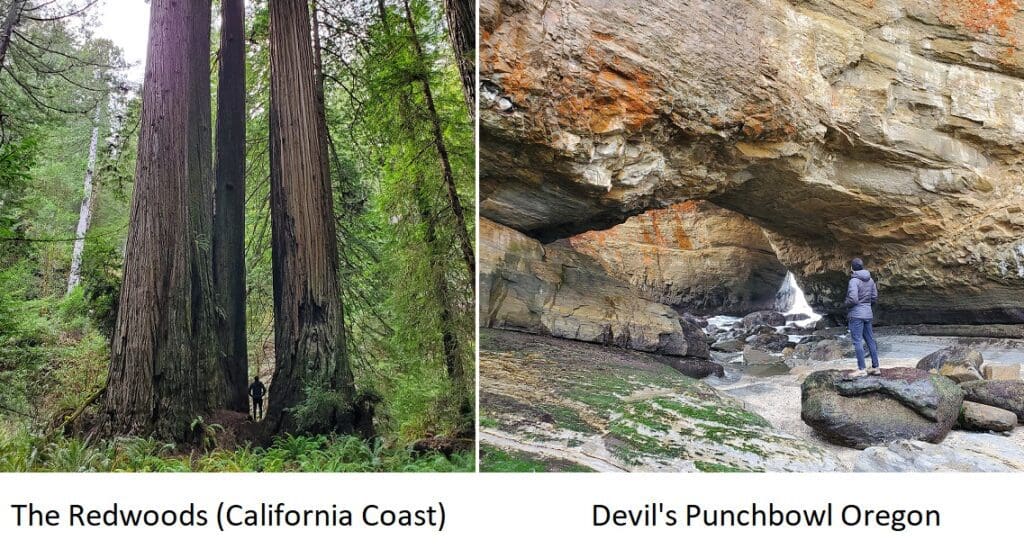 So yeah, good luck telling me which coast line is prettier (I'd love to hear your thoughts anyway!).
Update: Comparing Oregon's Coast to Maine's.
Very recently, I noticed people were making comparisons about Oregon's coast and Maine's and so I decided to also do an article comparing them. Check that out if you're interested in seeing Maine state!