After hiking much of The Narrows trail in Zion National Park and really enjoying it, I wondered if there were alternative places like it.
Here's a preview of some of these hikes that look like the Narrows:
Halls Creek Narrows
Death Hollow Canyon
Zebra Slot Canyon
Coyote Gulch
Oneata Gorge
The Barracks
Bulkskin Gulch
Chute of the Muddy Creek
Now I was able to find these 8 destinations thanks to a lot of research, mostly done on YouTube and thanks to it's related search suggestions.
And while none of these hikes are not as popular as the Narrows (this is good since it'll me an less people visit them), I will share the same videos that I discovered these places from and let you decide if they are worth hiking.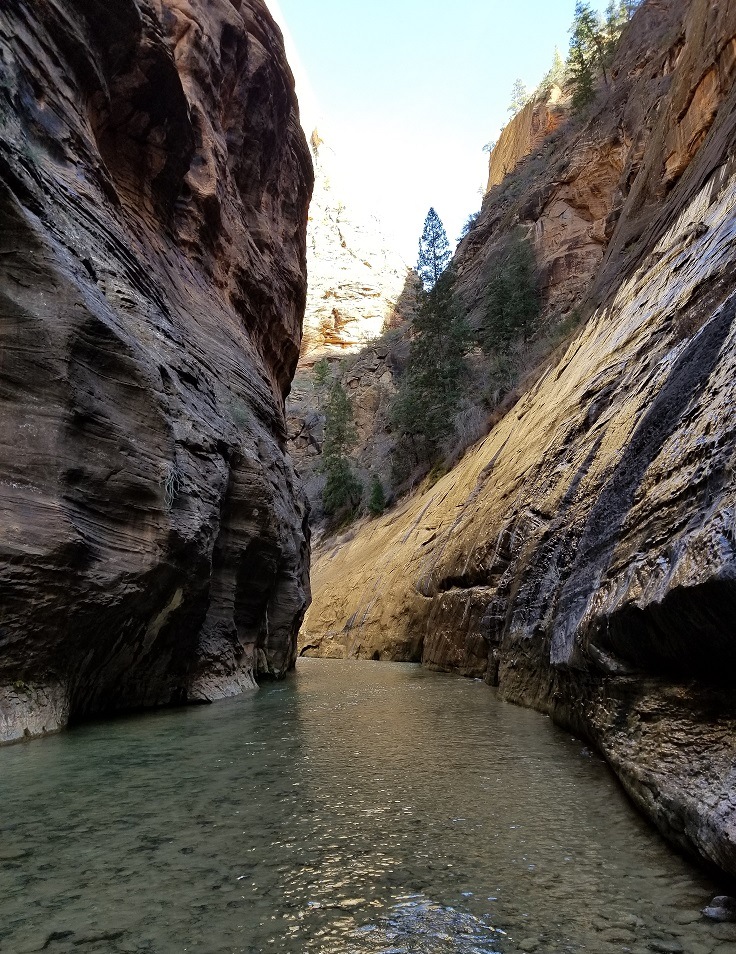 It's hard to compare any hike in this world to the Narrows, because this place is itself unique, and the park (Zion National Park) is truly amazing too. I mean look:
But I'm certain that you'll probably see some of these options to be even more beautiful and worth visiting (let me know!).
Also, as of right now, I have only visited 1 of these alternative places, and sadly, it was closed due to a fire and the trail is being repaired, and while this current article will show and describe how to find these places, once I visit them, I will update and share my own images, videos and experiences too.
5 reasons these 8 places are worth visiting:
1) You'll likely see a lot less people in most of these places since like I said it's not as popular.
2) They are ALL gorgeous and some are very challenging for adventure seekers.
3) Most of the hikes in these places are simple, but you should go with other people for safety.
4) Many of the hikes on this list can each be done in 1 day.
5) 7 out of the 8 of them are in Utah, while the last one is in Oregon so if you're already planning on seeing the Narrows, these other hikes are all in the same state.
There's more than 8 places like The Narrows, but here's why I chose them:
The Narrows hike can be classified as a gorge, a slot canyon or even both, and Utah for example is a state which has MANY slot canyons, but most of them do NOT look like the Narrows, which is why I selected these choices:
All of them are trails that take you into the water and into a gorge/slot canyon, like you would experience with the Narrows.
Here are the 8 alternatives hikes and places that look like The Narrows:
As beautiful as the Narrows are, you may find that some or all of these alternatives are even more beautiful.
1) Halls Creek Narrows
This trail looks remarkably similar to the one you'd see in Zion National Park, except there's less green vegetation. Here is where it is:
If you can get to this place in none flash flood seasons (winter and summer are usually the best times, not early spring), you can do a day hike through this play, which is about 3-4 miles long. Here is a video that gives you a tour of Halls Creek Narrows:
2) Death Hollow Canyon
While looking up all these popular slot canyons on YouTube, Death Hollow Canyon came up in my related searches and obviously, I had to click to see what it was. Even though the name of this place seems scary, from the actual video of 2 people doing this hike, it is far from that and is actually pretty peaceful:
There are numerous places from which you can enter Death Hollow Canyon, but being that I haven't yet seen it for myself, I'll just link you to this page which shows you the different spots to enter it from.
3) Zebra Slot Canyon
This place is a mix of a traditional slot canyon where you can get into very tight spaces, but it leads you into a river and canyon and in some parts of this area, it can get tight and chest deep.
As for videos, I did find this particular one which I believe is most informative on what to expect and see in the area:
4) Coyote Gulch
This place and the last one on the list are the hikes I want to do most of all (Note: In 2020, I tried to do it, and almost made it!). I've seen SO many pictures of Coyote Gulch on Instagram and I think it may even be more beautiful than the actual Narrows themselves. It basically has incredibly large and panoramic natural bridges and insanely scenic hikes.
This place is not far from Zebra Canyon (or the other spots, as they are all in the Escalante, Utah area), but from what I have researched, you need to get down to the gorge area via a rope and this will take you through the VERY calm river area and these kinds of sights:
Now in this region, you can stay overnight and it does require a permit, but if you do a day hike like the woman did in the video, you apparently won't need one and personally, this is what interests me most. While the Coyote Gulch trail spans for over 10 miles, the day hike portion is about a few miles to the kinds of scenic areas above.
Coyote Gulch is a place I don't really want to link to in Google maps because there's a few points of access and I don't know which one is best, but the girl in the video above explains where she started her trip from (here's her blog). I would recommend you ask locals in the area where they recommend you stop should you decide to do this hike.
Update: After checking it out personally I have a blog post on Coyote Gulch here which will explain how to navigate it properly, whether it be for one day hikes, overnight stays, or something else.
5) Oneonta Gorge
This is the area I attempted to visit during my Pacific coast trip, but as I said, a fire caused it to close.
There was no estimate on when it would open again when I visited (the last time someone updated the reviews, it was in April 2019, and it was still closed then), but you should keep checking if you decide to visit this area (it's in Oregon):
Accessing this place is probably the EASIEST out of all 8 choices.
You literally park your car nearby and enter the trail which is a few 100 feet away. It then takes you about a mile into the gorge (in water) and ends at a waterfall. I was VERY tempted to enter this location despite it being closed, but seeing all the giant icicles when I was there, the burned debris and on top of all this, the snow, I decided it wasn't worth it, and headed back to the Oregon Coast.
I dare say, this trail, like Coyote Gulch may be even more beautiful than the Narrows too and this video may show why:
6) The Barracks
Another awesome suggestion came up today on YouTube for hikes and this one happens to literally be next door to Zion National Park. It is called "The Barracks":
The great thing about this one is that it's near the east entrance of Zion and I do recommend you actually go into the park and do the scenic drives there. But either way, here is what The Barracks trail looks like:
7) Buckskin Gulch
I'd heard about this particular gulch when I first made this list, but apparently there is a Narrows type hike that goes into it, and the potential here is major considering how long this place is to hike. For a great tour and video of Buckskin Gulch, check out this video:
This is where you'll find Buckskin Gulch:
8) Chute of The Muddy Creek
Consider Chute of The Muddy Creek a type of "dirty Narrows" because you're walking in mud that's literally a river. It is a great fun hike if you don't mind getting a little bit dirty, and to show you this place well, again I am linking to the same people who I showed you exploring Buckskin Gulch. They are called Mediocore Amateur and they run one of the best hiking YouTube channels I've ever seen.
Here is a video of them hiking the Muddy Creek:
As for locations, the best one I could find from AllTrails.com.
In 2020 I explored much of Utah and while I wanted to cover the areas on this list, I was only able to have time to explore Coyote Gulch. I did however explore 4 out of the 5 Mighty 5 National Parks in Utah and I highly recommend visiting those places too. These "Narrows like" hikes are more out of the popular areas so you may have to be a more advanced and in shape hiker to get them done.
Have your own hikes like the Narrows to recommend?
I'd love to know more of them and would happily add them to this list. And if these hikes are places you've already explored, I'd love to know how you feel they compare to the Narrows and if they are better! Thanks for reading!