I have traveled through the entire coast of Oregon and explored about 80% of the Washington Coast too.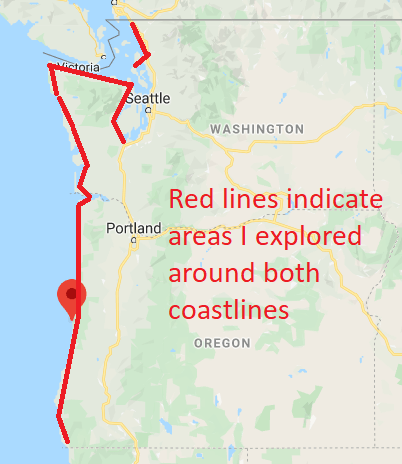 Most people including myself will tell you that both coastlines are beautiful, similar in many ways and doing a road trip through both these states is what would be best to judge which one you like more.
But in this article, I am slightly leaning more to recommending you travel the Oregon Coast above Washington's and I'll show you comparison photos to indicate why, as well as explain what the main differences are.
Both these states are next door to one another, so you'd expect the coastlines to be similar, and yet if you travel through both spots, that's not really the case, with the exception of a select few spots.
And you're going to know exactly where the best spots to see in both states are by the time you finish this article and decide that for yourself.
Let's get this started!
Here's a preview of what the Oregon and Washington Coast offer: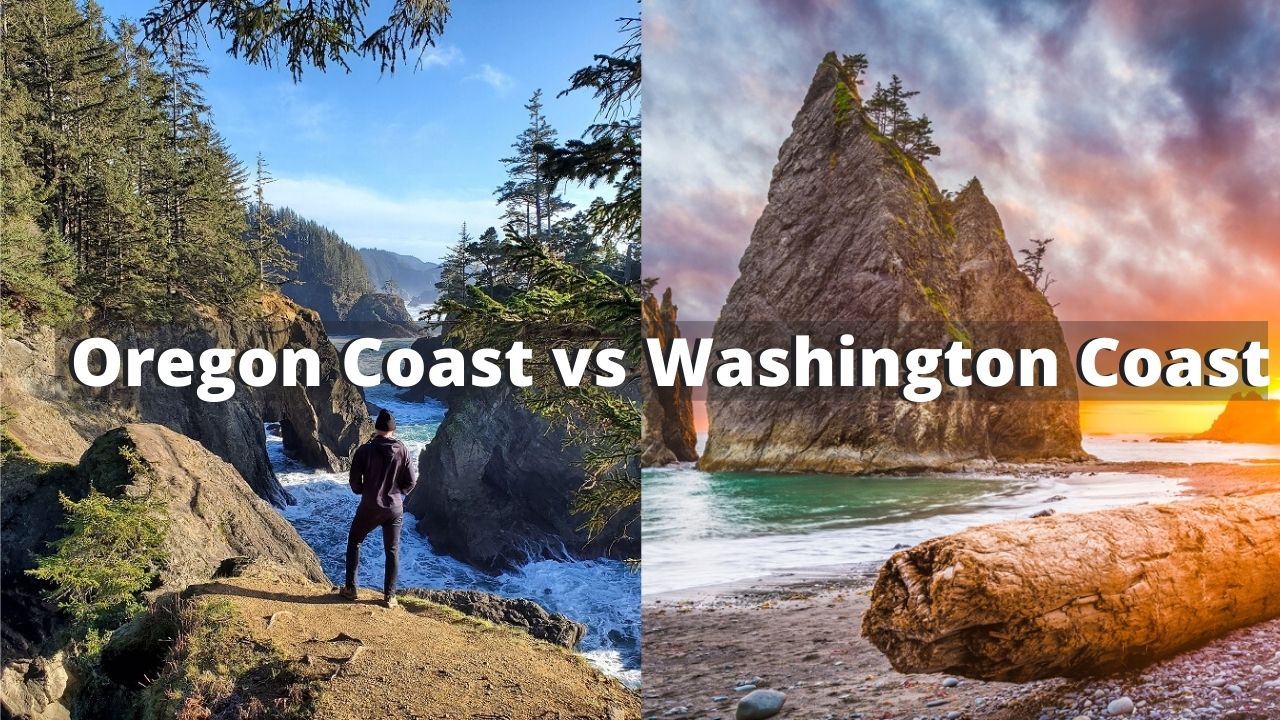 Similarities between the Oregon and Washington coasts:
There are many areas in both states that have huge mountains in the water.
There are many areas in both states which have extremely scenic views.
Both states have secret spots like Secret Beach and areas in Cape Flattery that you can find.
There are areas in both states where you can't even tell which state you're in because they look similar.
For hiking, kayaking, and exploring, both of these states have much to offer.
There are numerous areas in both states I'd rate a 10 in terms of it's beauty.
You can also find Tripadvisor posts here on the Washington vs Oregon coasts.
Both states have numerous places to check out sea caves at. For example, see this post on Oregon coast sea caves (Cape Flattery has many of them on the Washington Coast).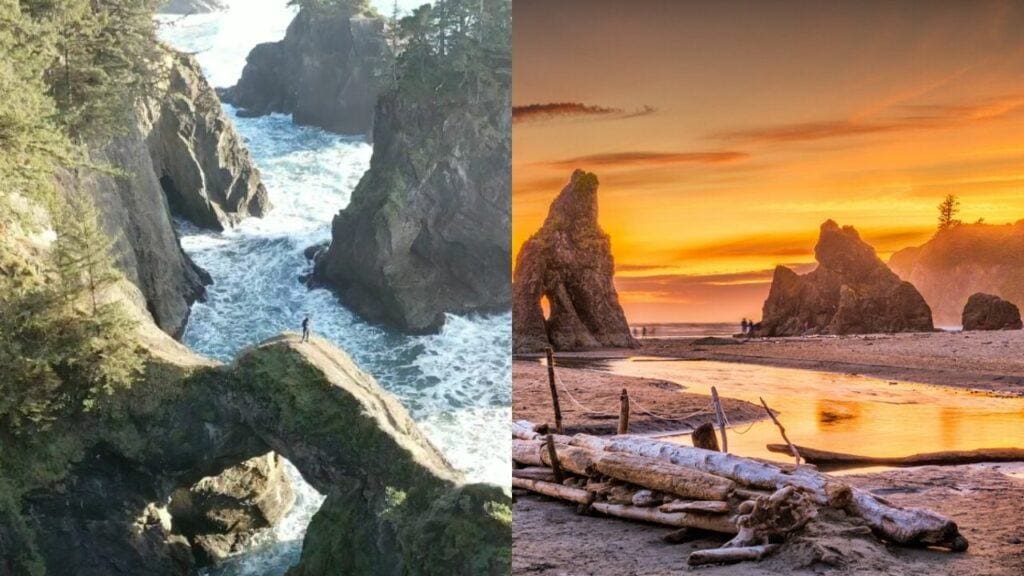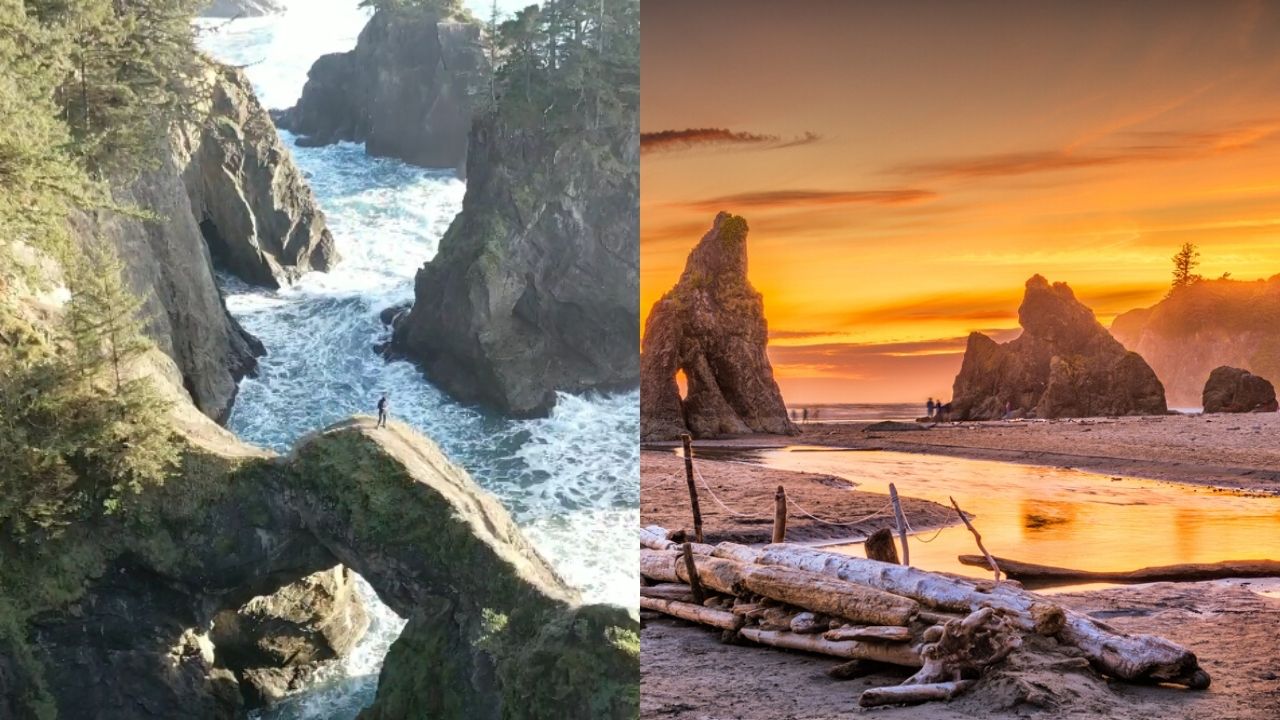 Differences between the Oregon Coast and Washington Coastlines:
Based on what I saw, there are more mountainous and scenic coastal spots in Oregon than in Washington.
The 101 road in Oregon is more scenic. In Washington State, there are many boring spots on the 101.
It's easier to find more scenic spots in Oregon on the 101. In Washington, many times the 101 road veers into deep woods.
It's easier to see more from a road trip through Oregon than in Washington due to the way the 101 is set up in both states.
The western end of Washington is where the best spots are. The eastern side is more boring in my opinion. Oregon is good across.
You'll find yourself stopping more in Oregon to see the sights. In Washington, you'll likely have to drive longer through boring routes to get to the really beautiful spots.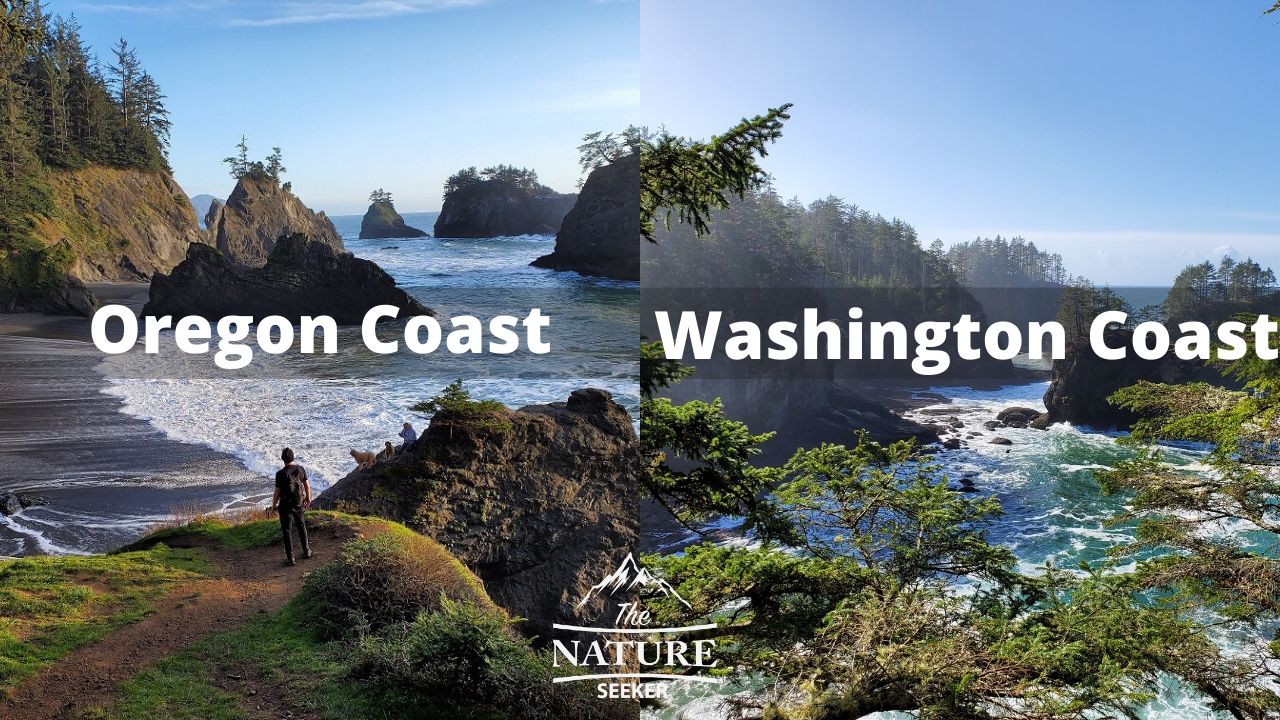 The best places to see in both Oregon and Washington's coastlines:
Because I've seen so many beautiful (and boring) areas in both states, I created a list of the best spots in both states so if you wish to follow in my footsteps (or road trips) that I've done and save time, then here you go:
My favorite in Oregon will always be Natural Bridges as well as these 10 day hikes in Oregon that are amazing to try and in Washington, Cape Flattery and Olympic National Park are so far is my top pick. And when you see these and the other spots I've listed, it's hard to find any coastal spot in the east or west coast that matches these 2 states. Here is why:
And that's why Natural Bridges is my favorite spot (so far) in the entire western and eastern coast regions I've explored.
Just as a heads up, regarding the western and eastern coasts, I've compared Oregon to California as well as compared the coasts of Oregon to Maine, and Oregon is still my top choice in every single comparison of coastlines, though I am not discounting the beauty of those other spots, as they too are worth seeing.
How to get the most out of seeing both state's beautiful coastlines:
What you can do with the list I've provided is put them all on a GPS map. If you're looking to see everything possible on these coastlines, then you have 2 different ways to do it:
1) First, starting from Seattle and working your way around Washington's coast and finishing in Southern Oregon (Brookings).
2) Then there's the opposite version where you start from the southern most part of Oregon (if you do, take a few extra hours to visit the Redwoods in California, as it's not far and is very beautiful) and work your way up to the western side of Washington.
I personally prefer the second option because it lets you see more because Oregon's coast is right there to travel and since the western end of Washington is the prettiest, you'll get to see more of that there too. As I said, I traveled through the eastern side of Washington and didn't find it to be that beautiful. I was much more intrigued by the western side of that state.
You can really get just about most of the main attractions of both coastlines done in a few days. And if you take your time, then a 7 day road trip through these states is in my opinion more than enough to see it all.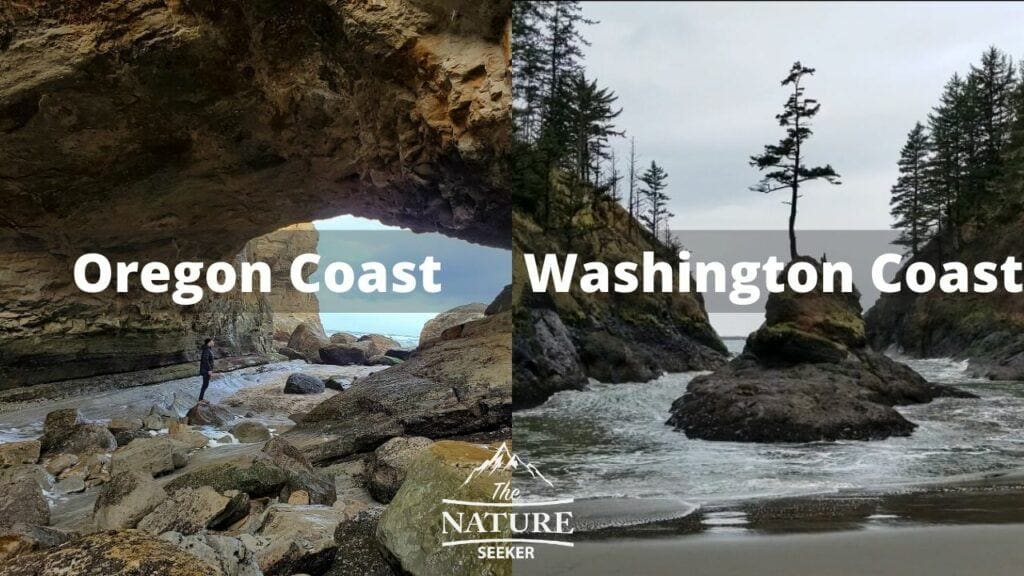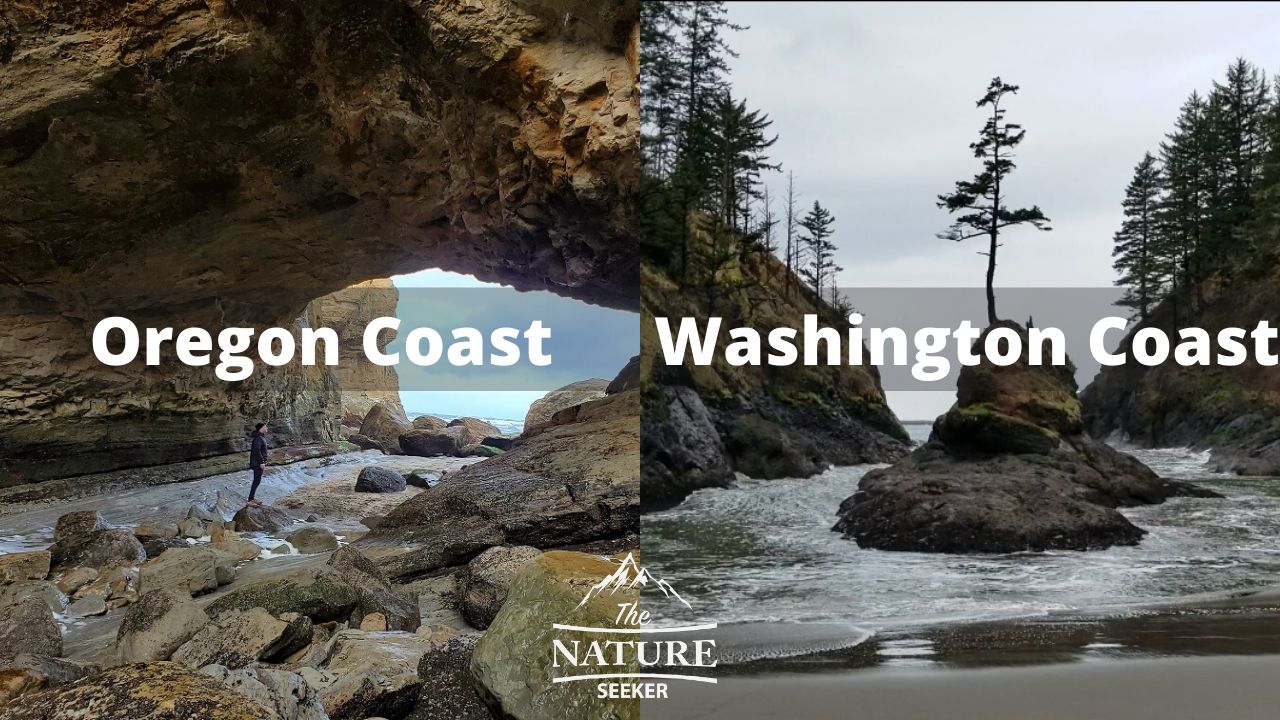 Plan on hiking parts of the Oregon and Washington coasts? Wear this:
I can't begin to tell you how amazing the hikes are along both these coasts and I'm pretty sure if you're going to visit either one, you'll see that yourself. Most of the hikes in the most popular places don't require any fancy footwear or gear, but if you want to do more serious hikes (which I've left links to), then you may want to wear this:
When is the best time to visit the Oregon and Washington Coastlines?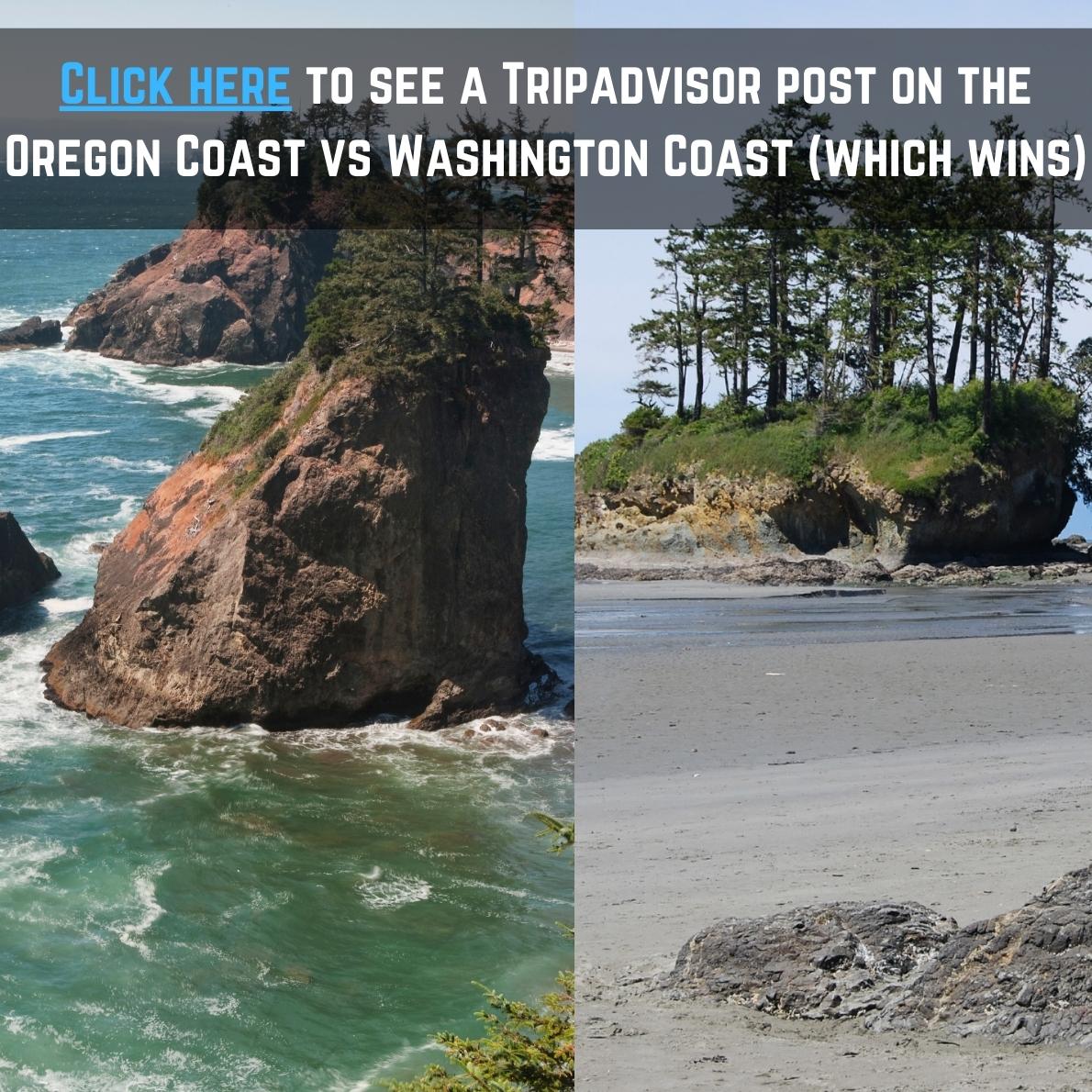 If you don't care much about swimming or warm weather, then traveling through these states during the fall and winter seasons is good because you will likely see very little traffic or crowds.
Each time I've done a road trip through these areas, it was during the February and March months (one time in September on a western Canada road trip) and every time there were very few people, which I loved.
The weather also wasn't that bad and with the exception of a few rare snow storms, the region in Oregon and Washington is basically a giant rain forest climate so the cold weather is quite easy to get over.
I've had moments where I drove through snow storms in deep Oregon and when I got to the coast, it was as though the snow never even hit these spots. You might also get some good info on when to visit these coasts here on a Tripadvisor post.
If on the other hand you don't mind crowds and large traffic, then yeah, traveling through both these states in the Spring and Summer seasons is doable too. I just prefer less people and more space to travel, and so I do it on the off season months.
I hope this travel guide to seeing the Oregon and Washington Coasts has been helpful to you! If you've also traveled through these areas, I'd love to know which you preferred more and if you can recommend more spots!