I purchased myself a pair of the Skechers Arch Fit Recon Harbin shoes and in this review want to give you my thoughts on how good they are, specifically for hiking (which is what they're made for anyway).
Overall, they are good for basic hiking trails, and there are numerous pros I see, but also cons and if you're into hiking and considering getting them, I would say they are good for most outdoor environments, but certainly not as good as others that I have tried. Before I break that stuff down, let's examine the basics:
Skechers Arch Fit Recon Harbin product info: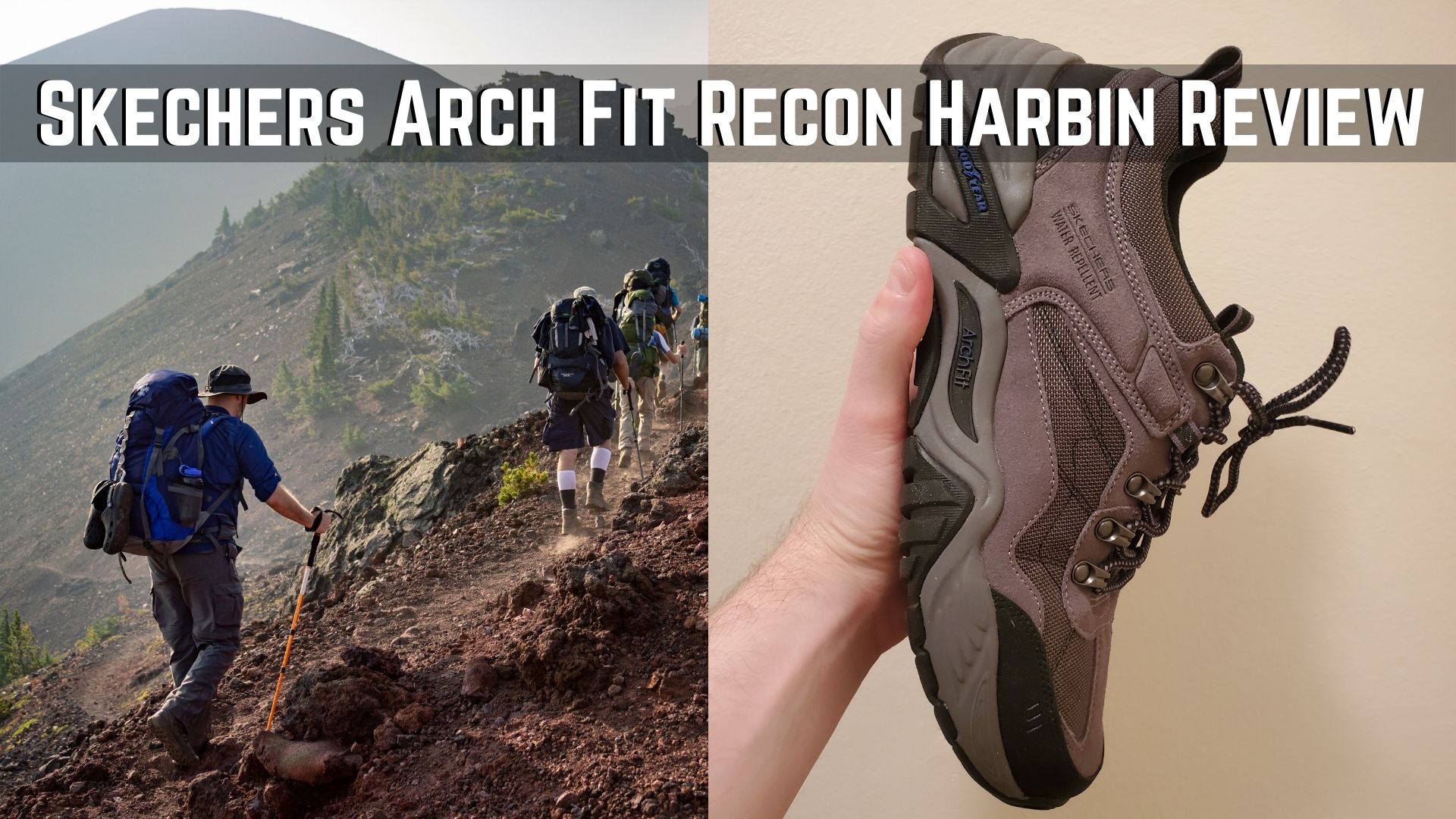 Full name: Skechers Arch Fit Recon Harbin
Company: Sketchers.
Price: $90.
Available colors: 2.
Is it really waterproof? Yes, they have GTX technology.
Available for both men and women? Yes.
My rating:

3.7 out of 5



Now in addition to my personal rating, I've also cross referenced other reviews of people who have tried them and generally speaking, the reviews are 3+ stars and in most cases 4+ stars, so overall:
Here's the average rating for the Skechers Arch Fit Recon Harbin shoes:

Pros:
Good for basic hiking.
Good multitude of uses (rocky roads, concrete, gravel, trails, ect…).
Good protection offered across the board.
GTX technology makes these shoes basically 100% waterproof.
Long lasting shoes (can be used for 100's of miles and possibly years).
Good traction for most environments.
Surprisingly good traction for water related hikes (I had very few slips in the water hikes I did).

Cons:
Not something I'd feel too comfortable taking on a long hike or trail run.
I'm not a fan of the shoe laces (takes strong effort to tie them so the shoes are tight on you and even then, it doesn't feel like it's tight enough).
When in water (and getting out) the shoes felt heavier.
How I got my hands on the Skechers Arch Fit Recon Harbin shoes (and what I think of them):
I was in a Skechers store awhile back looking to buy some casual pairs of sneakers. I was exploring the store and just looking at what was out there. At the time, I had no clue this company actually had sold shoes for more outdoor environments like hikes so I was naturally shocked when I first saw the Skechers Arch Fit Recon Harbin shoes sitting on display and adding to that curiosity, seeing that they had gore tex technology also surprised me.
At the time, I figured only special type of hiking shoes like the Salomon XA Pro 3D GTX trail running shoes had that kind of fancy stuff, but I was wrong. My curiosity to find out if Skechers could deliver a great outdoor shoe got the best of me and I purchased a pair for $90.
Initial tests and first impressions:
Afterwards, I had a few situations in which I wore them but mostly for city/concrete walks. They felt comfortable stepping in, but what was annoying for me was how it took A LOT of strength to tie the shoe laces together so that the shoes would feel tighter on my feet and I wouldn't risk spraining my foot. That in my opinion will the 1st of 2 major cons these shoes have. If you change the shoe laces for them, perhaps it'll be better.
The second thing I noticed is that it's not really a shoe I'd enjoy trail running in and this is taste specific. It is good for outdoor walks, hikes and even climbs and they will do the job in most circumstances (sometimes average, sometimes better than that), but for a serious trail run where explosive movement is involved, I don't think they are made for that and since I love that type of hike, this is ultimately why I am sticking to my usual trail running shoes: The Salomon Speedcross 5.
How the Skechers Arch Fit Recon Harbin shoes compare vs others I've tried: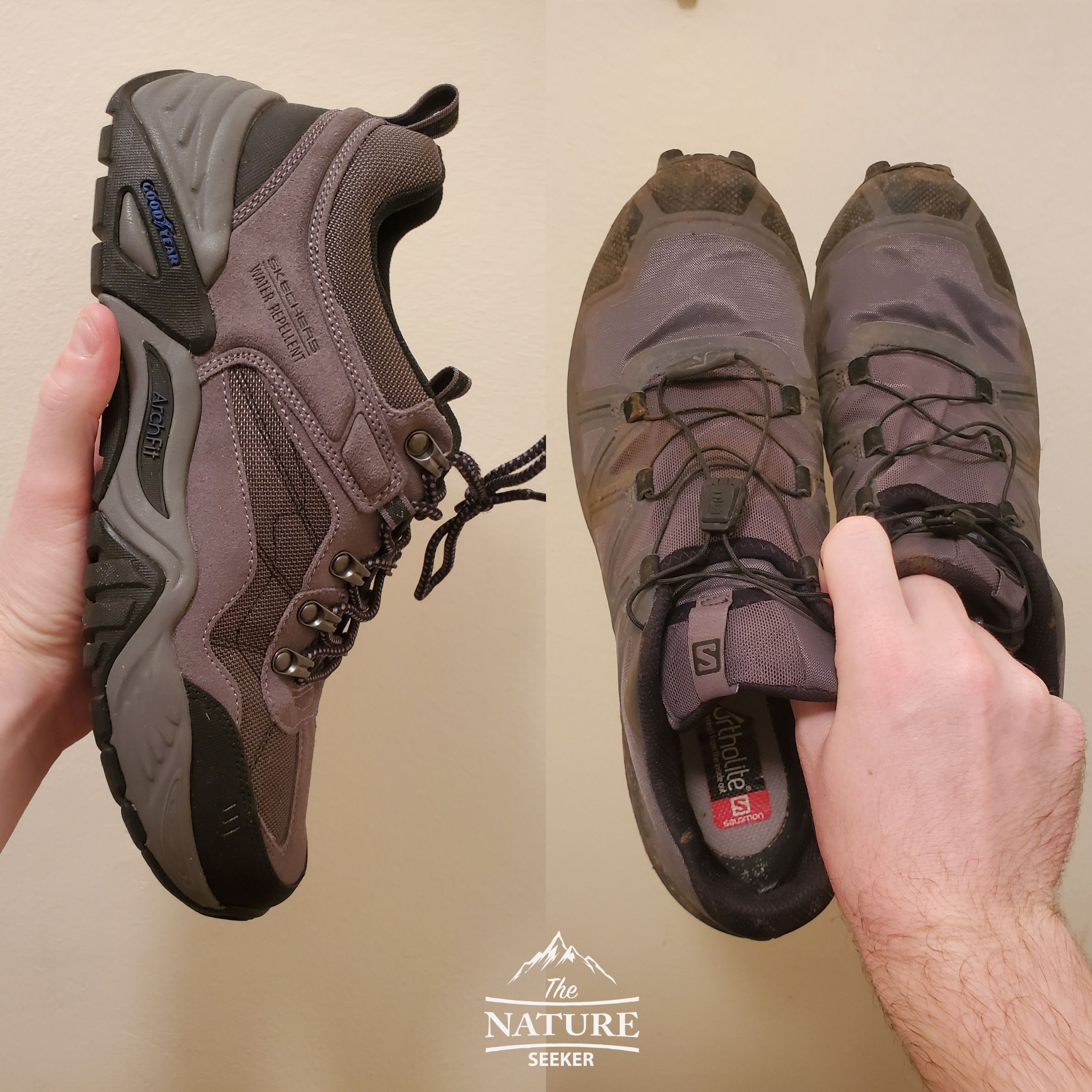 1) Skechers Arch Fit Recon Harbin vs Salomon Speedcross 3, 4 and 5:
I would score the Skechers brand at a 50 out of 100.
The Salomon Speedcross shoes I own would be an easy 99 out of 100 and that includes the 3, 4 and 5 (most recent).
They are just superior in my opinion for hiking, and especially trail running (better traction, comfort and mobility across the board).
Once particular area where the Skechers would win against them is in long term resilience, as it is tougher (but these shoes are meant for hiking, not so much trail runs).
And this is something common with trail running shoes vs hiking shoes out there.
But overall, for quality, mobility, and a bunch of other factors, the Salomon Speedcross 4, 5 and up is my clear winner.
2) Skechers Arch Fit Recon Harbin vs Merrell Moab Speed hiking shoes: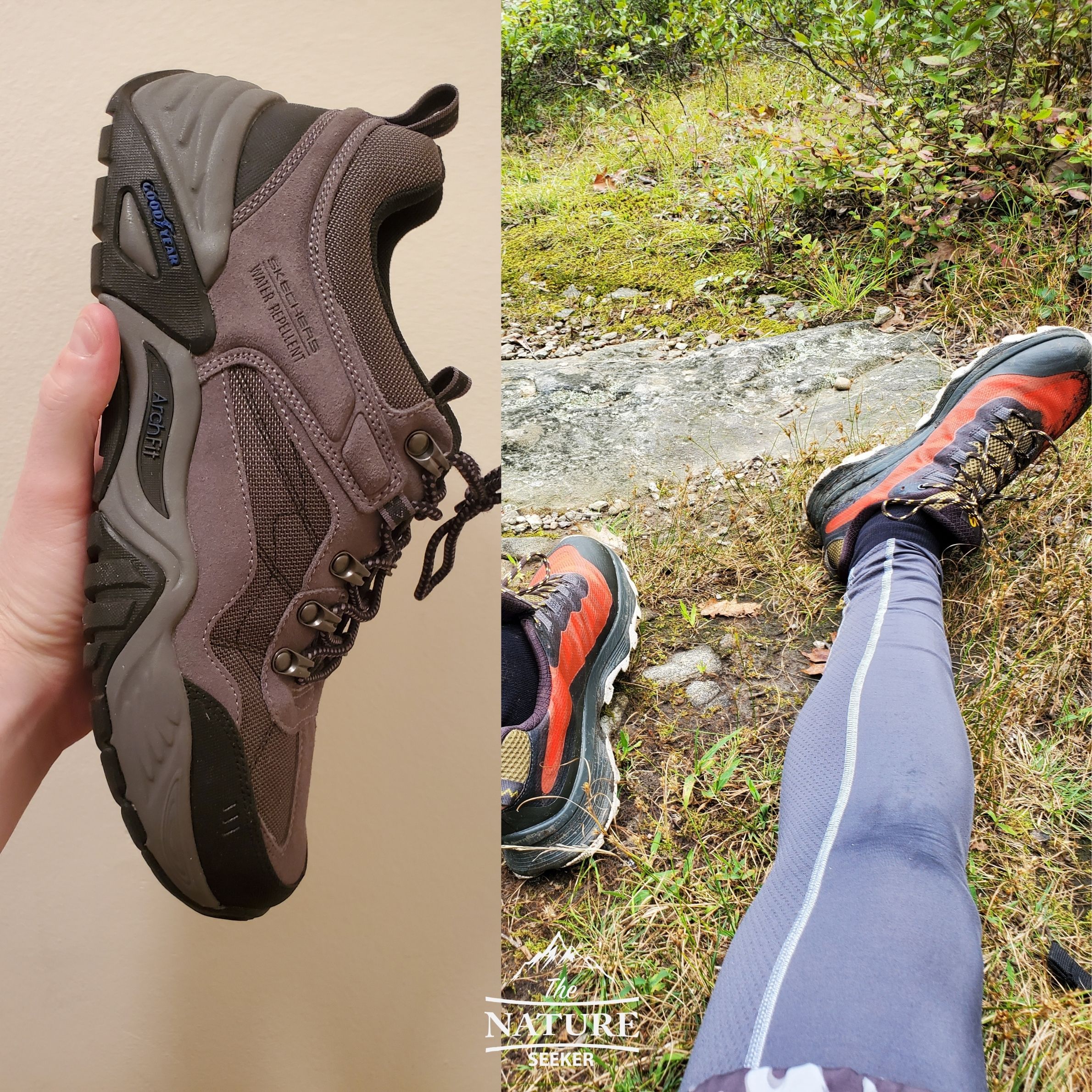 I would rate the Skechers at 60 out of 100 here.
The Merrell Moab would be 90 out of 100 (still the winner).
Ironically enough, even though the Merrell Moab Speed hiking shoes are not that far apart against the Skechers brand as much as the Salomons are, they are much closer alike than against the Salomon brand and here's why:
A) The Merrell Moab speed hiking shoes also have regular laces (but they are way better than on the Skechers brand).
B) Additionally, I'd say the Merrell Moab speed hiking shoe is good for both hiking and trail running (I've tested it in Harriman State Park on a 17 miles hike and trail run and they performed amazingly well).
C) Comfort wise, I also think the Merrell Moab is better than the Skechers.
D) The only advantage the Skechers shoes hold here is that they are waterproof.
So overall, if you're serious about buying hiking shoes like the Skechers brand, but want close but better alternatives, this is the one I'd suggest you get.
3) Skechers Arch Fit Recon Harbin vs Ozark trail shoes: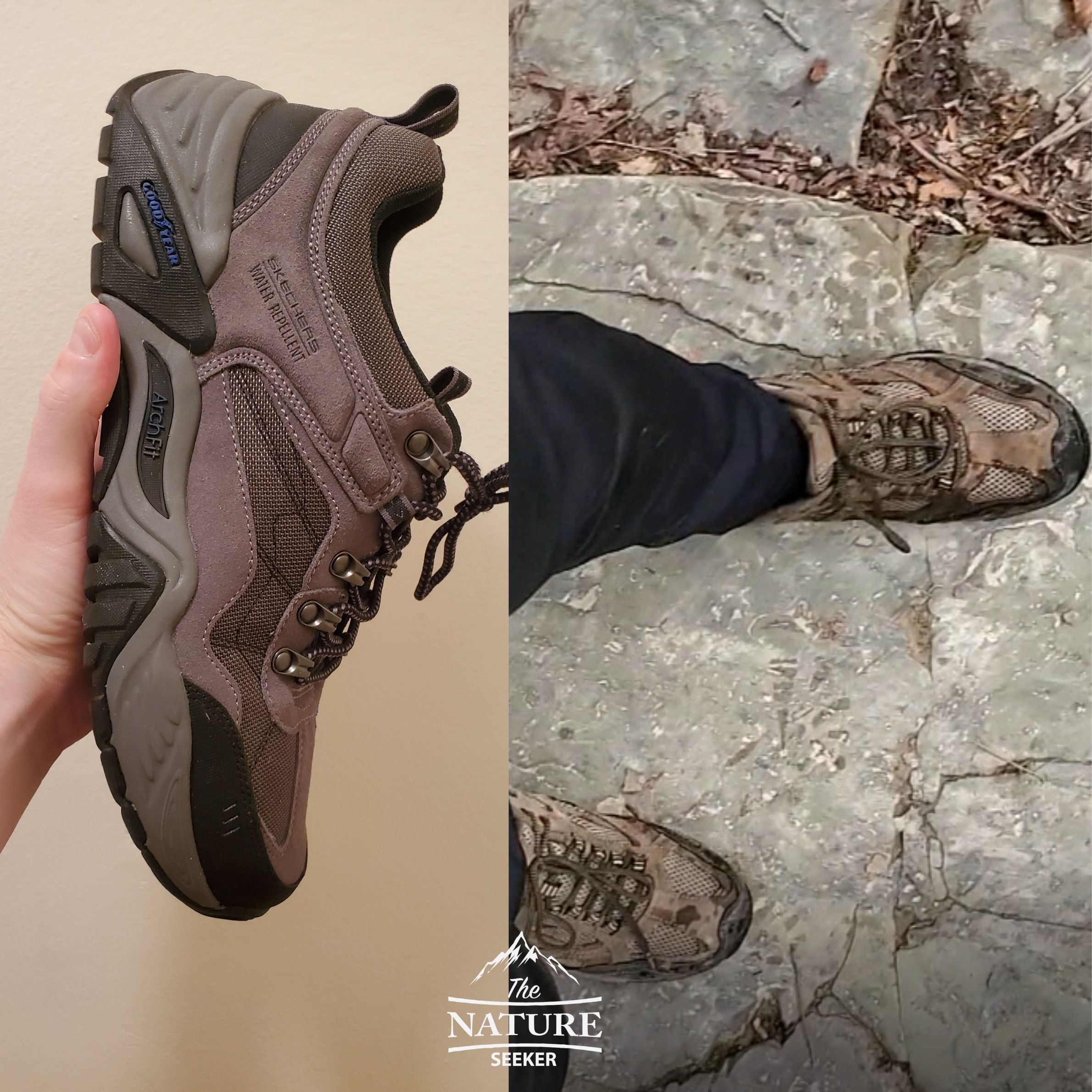 I would rate the Skechers brand around 70 out of 100 here.
The Ozark trail shoes would be about a 60 out of 100 here.
This last comparison isn't exactly a battle between high quality shoes as the Skechers brand is considered high quality and the Ozark technically aren't (at least if you base them on price), but having worn the Ozark trail shoes for so many years and on tons of hikes, I can tell you they are amazing and only $30 at that.
Comfort wise, they win against the Skechers brand, but they are also a bit more loose on my feet, which makes them less safe on hikes that involve more speed walking, so in that regard (plus not being waterproof), makes the Skechers brand superior.
Now as far as I know, these shoes (Ozark) were discontinued and frankly that is very disappointing considering how much I enjoyed wearing them on many of my hikes and road trips.
Conclusions on the Skechers Arch Fit Recon Harbin shoes:
For beginner hikers, they are an excellent choice and for anyone who just spends a lot of time outdoors (construction, walking outside, ect..), they are also great shoes for those occasions. Basically if you intend to wear these shoes for casual outdoor experiences, they are a good choice.
But overall, for serious hikers and especially trail runners, I do think there are better options out there (like the Speedcross and Merrell Moab shoes).