Salomon XA Pro 3D GTX Trail Running Shoes Review
I have a bit of experience running around in trail running shoes, but the (deep breath) Salomon XA Pro 3D GTX was my first ever experience wearing the waterproof ones this company puts out (as well as in general).
Normally, I'll wear regular Salomon trail running shoes (the Speedcross 3, 4 or 5) and waterproof socks, but I wanted to see just how amazing these ones were, so I stopped by a local outdoors store to test them out and in many ways, they really do deliver, but not so much that I'd put them above the tried and tested Speedcross, but this isn't a comparison between them, it's a review of the GTX version, so let's get to it:
Salomon XA Pro 3D GTX Trail Running Shoes info:
Full name: Salomon Men's XA Pro 3D Gore Tex Trail Running Shoes.
Company: Salomon.
Price: $150 (check pricing here).
Available colors: 5+ (see colors).
Is it really waterproof? Yes. If you're fully submerged, your feet will get wet. However, the shoes won't retain water.
Available for both men and women? Yes.
My rating:

4 out of 5.

Recommended? Yes. Generally speaking, these trail running shoes are excellent for most outdoor adventures and when you consider my rating, and others out there, here is what the average rating for them is across the board:
Disclaimer: I've worn this pair of the Salomons for a short bit and haven't properly tested them, but I feel confident in giving this review for several reasons:
I own 5+ pairs of Salomon trail running shoes (none of which are gore tex) and have hiked/ran over 200+ miles in them combined.
I have extensive experience in using this product and can easily see/feel how this specific model would perform.
I have also compiled ample research online of others who have used the Salomon Men's XA Pro 3D GTX Trail Running Shoes for further reference/evidence.
Salomon XA Pro 3D pros:
Gore tex is the main feature to this (it really is waterproof).
Good resilience and reliability.
Good for hikes, trail runs and most off road/concrete running.
Pretty comfortable (depending on who you ask, for me it was fine).
High quality trail running shoe.
Cons:
I've seen mixed reviews from users on this shoe.
Gore text is nice, but it might be a bit overrated (I'm perfectly fine with the Speedcross).
Like most other trail running shoes, these one's "kryptonite" is likely wet wood and wet rocks.
It isn't a cheap trail running shoe ($150).
I don't see any need to wear this in dry weather regions (only where it's wet/cold).
My first impressions of the Salomon XA Pro 3D GTX Trail Running Shoes: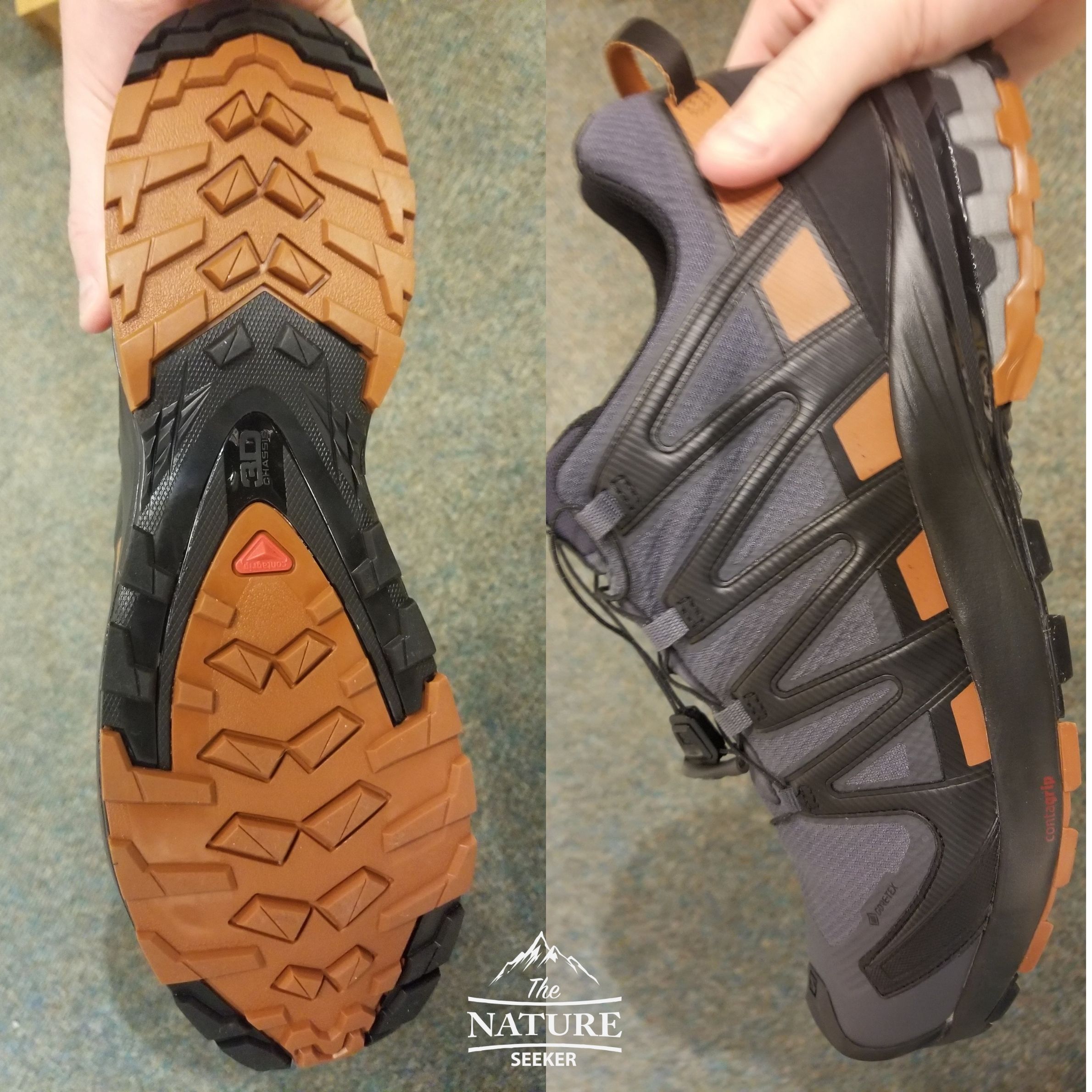 They are very comfortable.
They're easy to walk around in.
Compared to the Speedcross, these ones feel a bit more "full". I guess the extra layer of gore tex is to thank for this.
Until I put these shoes on, I had never worn any sort of trail running shoe with gore tex technology. I just wanted to feel what it was like and to be honest, the design of the shoe was not much different than what I had come to expect and feel from the Speedcross shoes I'd been wearing/using for years and that frankly is a compliment to this product because I am a loyal fan to these shoes.
And before I move further, let me say I have extensive reviews on my experiences with the existing Salomon trail running shoes I still own and happily wear for my hikes (Speedcross 3-5):
At the time I had "tested" the GTX shoes (I'm tired of repeating the never ending full name of this one), I had been on the fence about buying them or the Salomon Speedcross 5 (I elected with the latter and am happy I did that, but that's a tale for later), and upon getting home and searching up more reviews for the GTX version, I had found some interesting information:
I also researched other Salomon XA Pro 3D reviews and here's what I found:
Depending on which site you find these reviews on, you may get different views. There are 2 primary sources I had used to determine if I would buy these shoes, or just continue sticking to my Speedcross (and compiling a larger collection):
1) First up is Amazon. Most of the reviews are very positive (like my first impressions) and the rating is 4.5 out of 5, but some have mentioned a lower decline in quality and in (perhaps rare cases) defects. Having owned several Salomon products for years, including the Hydra 4 Trail Running vest, I am confident that most if not all Salomon products are top notch.
2) Second is the official Salomon site (and this is where it got interesting). With over 120 reviews, the average rating for this product is surprisingly a 3.5 out of 5 (not overly positive basically) and reading through the reviews, I had seen a pretty common theme: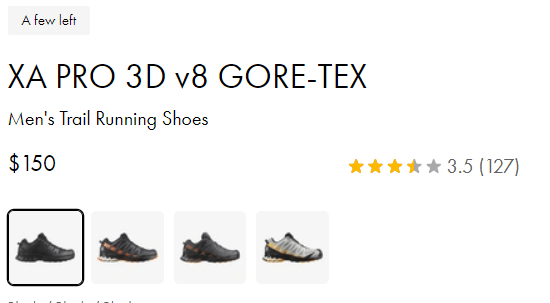 Durability diminishes for the most negative reviews where something goes wrong (sole breaks off, something deteriorates, ect…). Another type of review I had noticed is that several people (from both Amazon and the Salomon site) had also mentioned a previous version of this shoe being a lot better.
Fortunately, every negative review had a response from Salomon itself with reassurance of improvement.
More questions about the Salomon XA Pro 3D GTX:
Is Salomon Pro 3D good for hiking?
Any Salomon shoes including the Pro 3D is good for hiking.
Why I'm sticking to the Speedcross over the Salomon Men's XA Pro 3D GTX:
I had hoped this shoe would be my first commitment to trying out GTX shoes from a reliable company and I had been very close to buying them, but there are 2 factors that stopped me from it:
1) I am already a super happy customer with the Speedcross 4 and 5 I own (I still run around in my 3's to this day too). They are super reliable, extremely resilient and I have never known defects with the Speedcross shoes I own. So I'm just playing it safe and continuing to get what has always worked for me.
2) There weren't that many, but enough negative reviews of the GTX version of this shoe that just didn't sit right with me. I like the idea of gore tex technology, but I run around actively in environments (with my Speedcross shoes) that would be "perfect" for this GTX model and yet I'm perfectly fine doing it.
There's a part of me that believes this GTX technology is overrated, at least with respect to trail running shoes. I just make sure to always wear waterproof socks which use similar GTX technology (like the Randy Sun waterproof socks) and that combined with already reliable shoes (the Speedcross) is what gives me an amazing experience running in nearly any outdoor environment.
So if you are on the fence about the Salomon Men's XA Pro 3D GTX trail running shoes, here's a few things to know:
1) There's a good chance they will be awesome shoes for you to wear.
2) If you have doubts about the GTX technology (don't, because it's waterproof), but don't want to pay up an extra $20, get yourself the Salomon Speedcross 5 shoes instead. You will get massive reliability, it will be $130 and I'm certain you'll be as happy as I am with it.