While it's pretty easy to find good Blue Ridge Mountains cabin rentals all throughout the region, the truth is that few other a great combination of things like:
Beautiful views of the actual Blue Ridge Mountains.
Great sunrise and sunset views.
Are close to major scenic places of the Blue Ridge area (lots to see nearby).
Aren't run down areas in questionable backwoods areas.
Are actually cabins (lots of hotels, motels and so forth).
Great cabins for large groups like families.
Great for couples.
Many highly favorable reviews from others who have stayed there.
And overall high quality, scenic cabins (inside and out).
The following 5 have most if not all of this:
Here are the 5 best Blue Ridge Mountains cabin rentals to check out: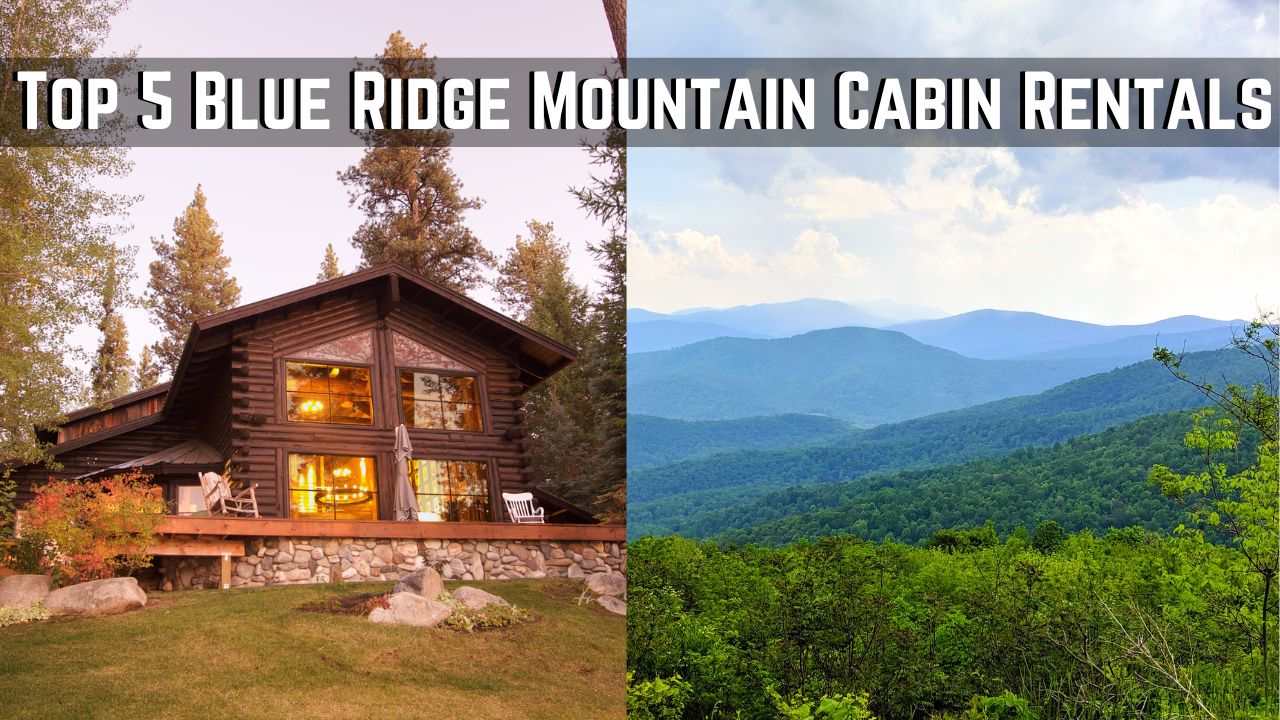 Mudpuppies & Moonshine cabin.
Blue Sky cabin.
Briar's Hollow cabin.
Carolina cabin rentals.
Harman's Log cabins.
For this list, I'll be providing everything you need to know including:
Info on each cabin.
Where it's located (map) on the Blue Ridge Mountains.
What there is to see nearby since these cabins are in different states through which the Blue Ridge Mountains run through.
1) Mudpuppies & Moonshine cabin:
Location in Blue Ridge Mountains: Western North Carolina, specifically by the town of Gatlinburg (outside Smoky Mountains National Park).
Description: Mudpuppies and Moonshine cabin is in my opinion great for families or a group of friends (up to 6) to stay at. The great news about are the following things:
1) It's a very well cared after cabin.
2) Lots of entertainment activities inside and outside the cabin: board games, pool, etc…
3) Its close to Gatlinburg. I've been to that town and it's great to spend time there after nature traveling but the point is that town has a lot of great places to eat at, entertainment and stuff to do.
4) It's literally right by Great Smoky Mountains National Park and that is probably the main reason you may want to consider this cabin. You can see the official page for this cabin here.
Places to see nearby if you stay at this cabin:
The national park.
Do the gondola ride in the town.
Gatlinburg.
Specific nature places like Baskins Creek Falls, Alum Cave, Ben Morton Overlook, parts of the Appalachian trail and much more (see my how to find easy trail hikes near me so you will have a great itinerary ready).
2) Blue Sky cabin rentals: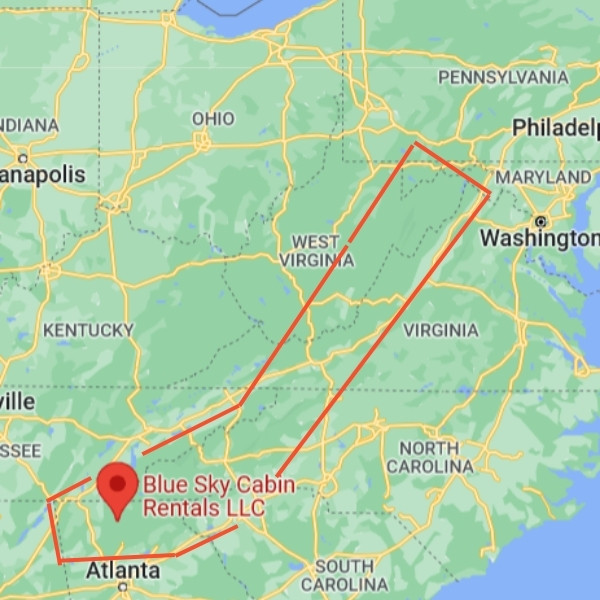 Location in the Blue Ridge Mountains: Southern tip of the region (in Georgia State), specifically close to the town of Ellijay.
Description: Blue Sky Cabin rentals in my opinion also a great spot to stay at if you're starting out a Blue Ridge Mountains road trip from the south (this place is about 2 hours north of Atlanta). You can also see the best scenic drives and hikes on the Appalachian trail here to get some ideas of what else you can check out during such a long road trip.
There's actually several different cabin options available from single to couple and family/friend (large) options, but this area is also close to several cool towns and fun spots to check out (nature and none nature).
Places to see nearby if you stay at this cabin:
Fall Branch Falls.
Rock Mountain Summit trail.
Do mountain bike trails in the mountain regions there.
Long branch trail.
Lake Blue Ridge is nearby too (good for picnics/day trips).
And more.
3) Briar's Hollow cabin rentals: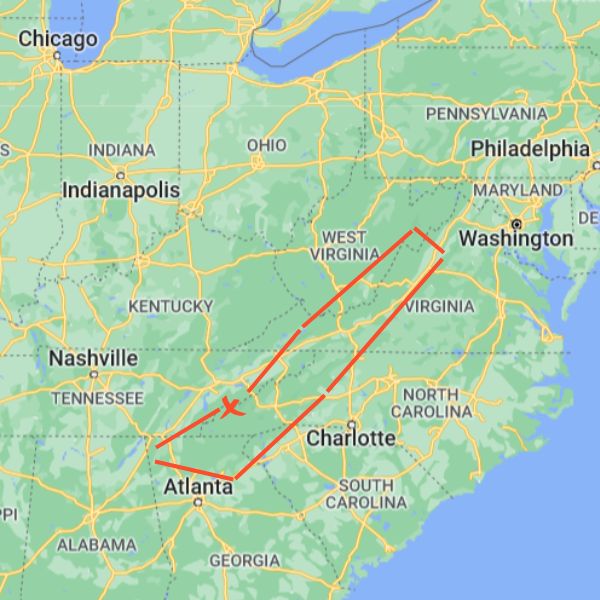 Location in Blue Ridge Mountains: Literally in the same area as Mudpuppies and Moonshine cabin (basically by Gatlinburg and Smoky Mountain National Park too).
Description: Pretty much the same advantages I listed for the first cabin on this list (Mudpuppies and Moonshine cabin), you can say the same stuff for Briar's Hollow too and they offer a lot of choices too (multiple rooms for however many people).
And for that matter, these 2 cabin spots are not the only ones in the area. There's others (good ones too so you have more choices), but Briar's Hollow is one of the best rated ones.
Places to see nearby:
Literally the same exact places you'd want to check out if you were staying in the Mudpupplies and Moonshine Cabin.
Note: I've included a link to Briar's Hollow Cabins above because for some reason directly looking for it on Google doesn't produce accurate results for me.
4) Carolina Cabin rentals: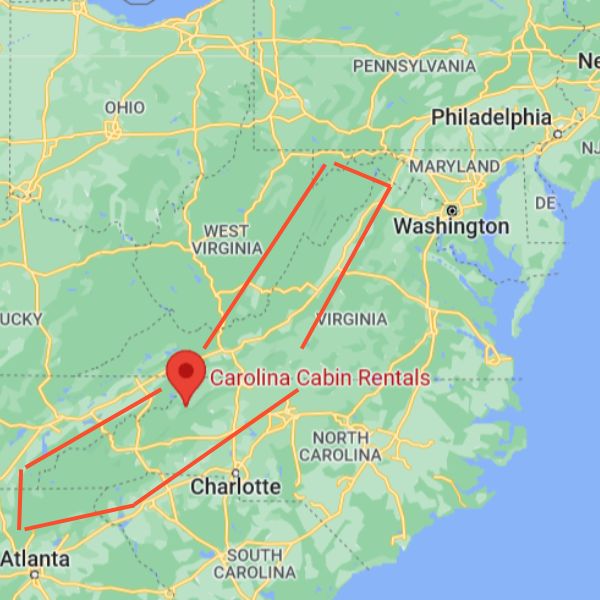 Location: Western section of North Carolina.
Description: Carolina Cabin rentals is another awesome central area for finding tons of incredible cabins. If you look at their site and map you will see dozens if not 100's in the area near it (probably the most options on this list) and you can select them based on what types of amenities, cabin sizes and advantages you want. Me personally, I like any cabin with mountain views (which is an option to choose from).
The ratings are excellent and another awesome thing is that the deals (especially in the fall) are incredible meaning you can rent large/high quality cabins for very little.
Places to see nearby:
More of the Blue Ridge Mountains, specifically the Blue Ridge Parkway (scenic drive).
I'd highly recommend Grandfather Mountain State Park too (overlooks, hikes and more).
5) Harman's Luxury Log Cabins:
Location: West Virginia, close to Blackwater Falls State Park (one of the most popular parks in the Blue Ridge Mountains area).
Description: The last cabin rental on this list (Harman's Luxury Log cabins) is around the northern side of the Blue Ridge Mountains and it's probably in the more remote parts of this region.
But there's also a lot of cabins available for different groups (small-large) and on top of that, the views, and access to tons of great spots, as well as very high ratings make this cabin worth exploring.
Places to see nearby:
Blackwater Falls State Park (really nice waterfall and park).
Seneca Rocks hike (love this trail and views).
Many other waterfalls (see

my how to find waterfalls near me post

).
Smoke Hole Caverns (good tourist area for families).
And more.
Questions about renting cabins in the Blue Ridge Mountains:
How much does it cost to rent a cabin in the Blue Ridge?
Generally most cabins in the Blue Ridge Mountains are $100 to over $600 per night. The pricing depends on the size of the cabin, how many people are staying and if it's peak season or a holiday weekend. There are many cabins in the region and it's not difficult to find good prices for them.
Can you stay at a cabin in the Smoky Mountains?
The closest good cabins are right outside Smoky Mountains in Gatlinburg and from there, it's only takes 5 minutes to drive into the national park.
Does Georgia have cabins?
Yes there are many cabins you can rent in Georgia.
Does Blue Ridge cabins have wifi?
Yes many Blue Ridge cabins have wifi included. The closer the cabin is to a major town, the more likely it will have better quality wifi and other good amenities.
Other recommendations about these cabins and exploring the Blue Ridge Mountains: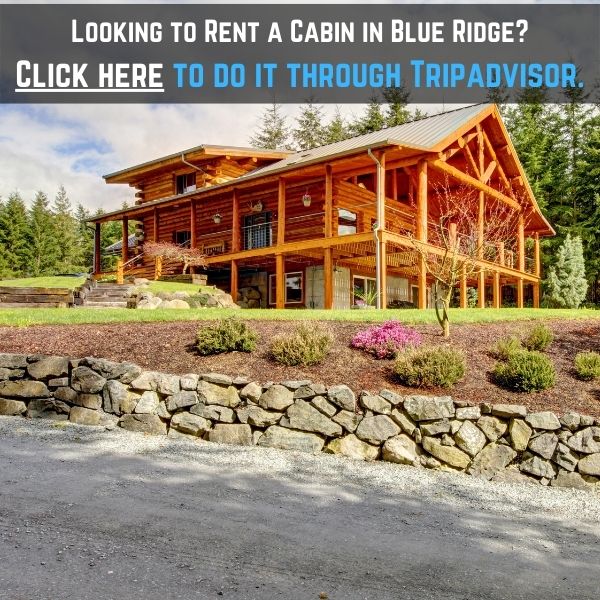 Generally speaking if you're looking for cabin rentals in this area, you're likely to only spend time in this one area. However many people like to travel and drive through the Blue Ridge Mountains and I've included a link there to help you isolate great spots to see if you do a road trip on it.
Other than this, the cabin rental list here gives you access to a ton of great experiences, both from within the cabin and the many things to do outside of it and if you have any recommendations for other choices that weren't listed here, share them below!