Gulf Hagas Review. Think Twice Before Hiking Here!
I went to Gulf Hagas only once in my life (and never came back since). It was supposed to be the last part of my first major road trip through the eastern United States that I took with a friend. We found out about it while viewing areas to check out in Maine.
When we saw what Gulf Hagas looked like on Google, we couldn't resist seeing it for ourselves. And so we took what ended up being a 5 hour drive (we started from Vermont) all the way up there. But let me tell you, after seeing and experiencing what we did, we were quite disappointed and annoyed at the things we had to "face" when being there. 
Everything from the fly infested trail.
To getting lost.
To having to dodge moose all over the land.
It wasn't easy, and while this place is really beautiful, if you're not prepared to face these specific challenges, I wouldn't recommend you go here. Read this article first before you do that so at least you could be better prepared than we were.
Gulf Hagas really is beautiful (before you get to the bad stuff):
We reached this place off road 6. You'll find a beautiful town and lake, but then begins an ascent up a cliff that takes you into the wilderness area and that's where things get interesting. You see the thing about Gulf Hagas is that it is a pain to reach and even more of a pain to hike to with all the bugs and moose in the area.
While it is in the greater Baxter State Park area (Southern end) and cross the famous Appalachian Mountains trail, There is no official road and there are very few signs that lead there. Also when you actually find it, know that it is itself a few miles of elevated canyons and waterfalls. And while it is beautiful, you have to trade that with potentially having bug problems when you're there, moose and difficulty to reach.
Originally, my friend and I found this place through some sites we were looking at while in Maine. Our goal was to find something with extraordinary nature scenery. When we originally found this place, we also found that it was called the Grand Canyon of The East Coast, a title I think better belongs to Ausable Chasm, even though both areas are gorgeous. 
The dangers and risks of Gulf Hagas explained (again):
You'll be very lucky if you don't run into any moose, but expect to see them there.

Dealing with the flies there is a major torture! I'm not kidding, these things could be used as torture methods.

Finding the trail head from one of the points is annoying (we had to start at the other).

Overall, this is a pretty easy hike, but with major dangers and annoying bugs to deal with, which is why we hated it.
Now if you still want to go to Gulf Hagas (it is very pretty there, I cannot deny this), here's how to do it:
Directions to get to Gulf Hagas:
1) Road 6 is the main road that gets you CLOSE to the area, but you will have to "off road" to reach the area itself.
2) You will pass by a small airport at the top of a cliff (that's a sign you're in the right area), but the road there is very bad, it has a lot of gravel, dirt, holes and being that I drive a sedan, it wasn't easy to get through it, so drive safely and slowly.
3) Now there will come a point where you will see forks in the road (in the off road area), stay on the MAIN road and yo will eventually see signs for Gulf Hagas. Eventually when you follow this road for about 20-30 minutes, you will stumble onto an official entrance area, which is just a house. You will have to pay an entrance fee, per person to enter. 
4) If you are resident of Maine, it will be slightly cheaper for you to get in, I believe it was $9 per person. You will also have to register with the front desk and give some personal information including details on your car. I guess they do this for insurance purposes.
5) Next comes the fork and a decision:
After you pay the entry fee, I am certain the person who registers you will tell you how to get there and give you a map. However, be aware that there's 2 ways to enter Gulf Hagas, both of which are quite annoying, but there is a preference since my friend and I went through both entrances.
6) First of all, you will have to drive past the main office, down the same bad road, for quite a distance, then you will reach a fork. 
7) If you take the left (the easier route in my opinion), it will lead you to a small parking lot and a trail (it is labeled blue on the map) that starts you off at the top of this place and has you hiking down (downstream) to reach Gulf Hagas.
8) The other (if you turn right) will start you off on the opposite and more difficult path, and have you hiking upstream to reach Gulf Hagas.
9) That's where my friend and I started and let me tell you, it was horrible.
We were following the blue trail for a short bit, until the signs stopped showing. All we saw was signs for the Appalachian Trail and mountains (marked red). After awhile, we found ourselves crossing streams and going through places that had no directions or signs:
In hindsight, we should have remembered what the lady (main office) was telling us, and so after wasting an hour at the upstream path, we decided to get back into my car, head back up to the downstream trail.
On our way there, we saw a moose! And let me warn you, this place is FULL of them. There are tracks (and other UN-pleasantries lying about if you know what I mean so be very careful, travel with other people and make noise to scare away any nearby moose.
I wasn't kidding. Gulf Hagas is swarming with Moose: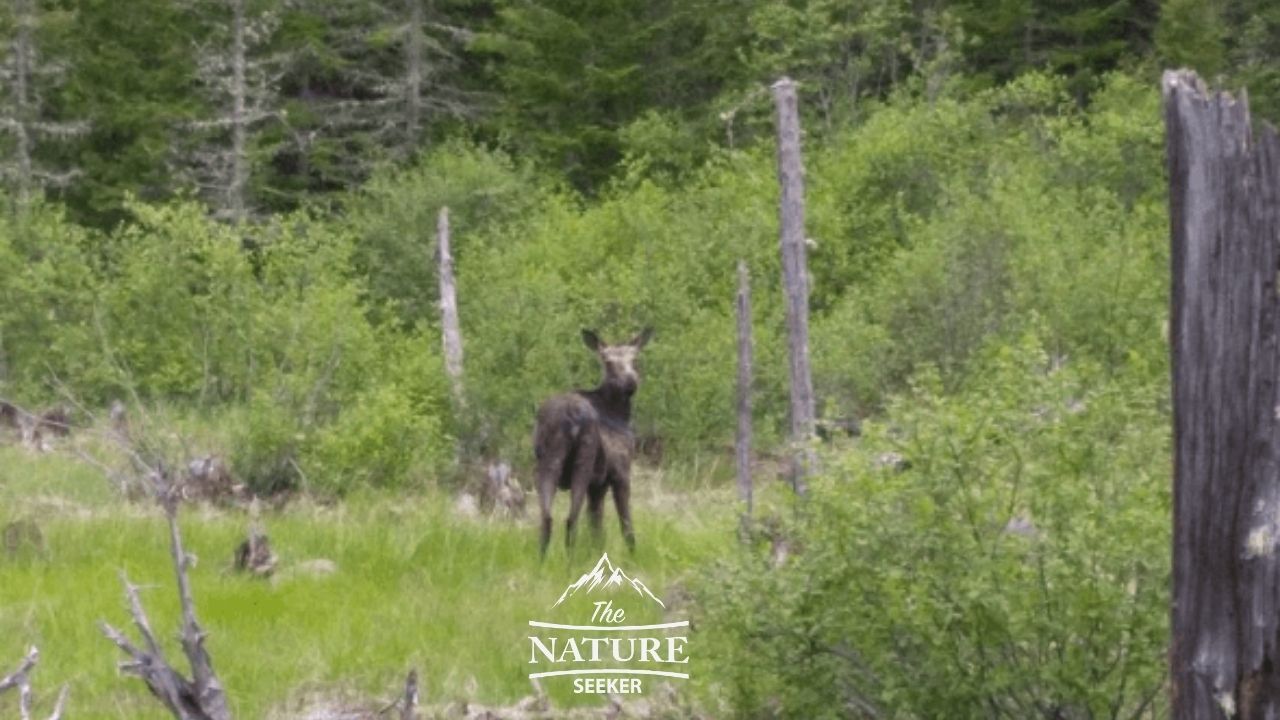 Anyway, you will see the main (blue) trail labeled on trees there. Obviously, you will want to follow it. Now the official trail to Gulf Hagas itself, from the parking lot is about 1.5 miles. Honestly, it felt more like 3, but perhaps it was because we were constantly going up and down.
Anyway, be VERY aware of the same problem we had and that was we often didn't see blue signs for quite awhile when we were on this trail. There were times we often wondered if we should head back or not, but persistence in seeing this place kept us going and eventually, as you go get closer, you will see more and more blue signs.
I really wish they put up more of them. You will also see some pathways made by people (wooden logs on the ground made for walking on).
That's how you'll know you're headed there (besides looking at the blue signs).
By the way, one very annoying thing I found is that the river is ALSO labeled blue and the directions on the trail map can sometimes be mistaken in that you can think one blue path on the map is the river and not the trail. I wish they had a different color for it.
I know locals who read this will probably think I'm a fool, but I still think it could have an easier ordeal. This path was annoying to follow and there's one thing you really need to watch out for which I think is far worse than the moose:
Flies. Get something for them, seriously.
I have never in my life seen so many flies packed into one area.
The only other place that came this close to having annoying flies eat me was at Red Gorge which I explored in Daniel Boone National Forest. 
We were swarmed by them all throughout this trail and it was a horrible experience. My buddy actually felt their wrath far more than I did and not only that, but he also injured his ankle prior to our trip, so the poor guy was limping around constantly and forcing himself to run away from these merciless flies.
I can't deny that I found that funny, but I was also getting swarmed by them too, but at that point, anything comedic to relieve us of the torture those flies put upon us was welcome.
One thing though you may find helpful is that pine trees are great at repelling them. We noticed a great deal less of them around these spots.
Complete the trail and you will find the beautiful Gulf Hagas:
There are some really steep rocks in this area, but it is quite gorgeous and there's plenty of opportunities to film and take pictures like this one: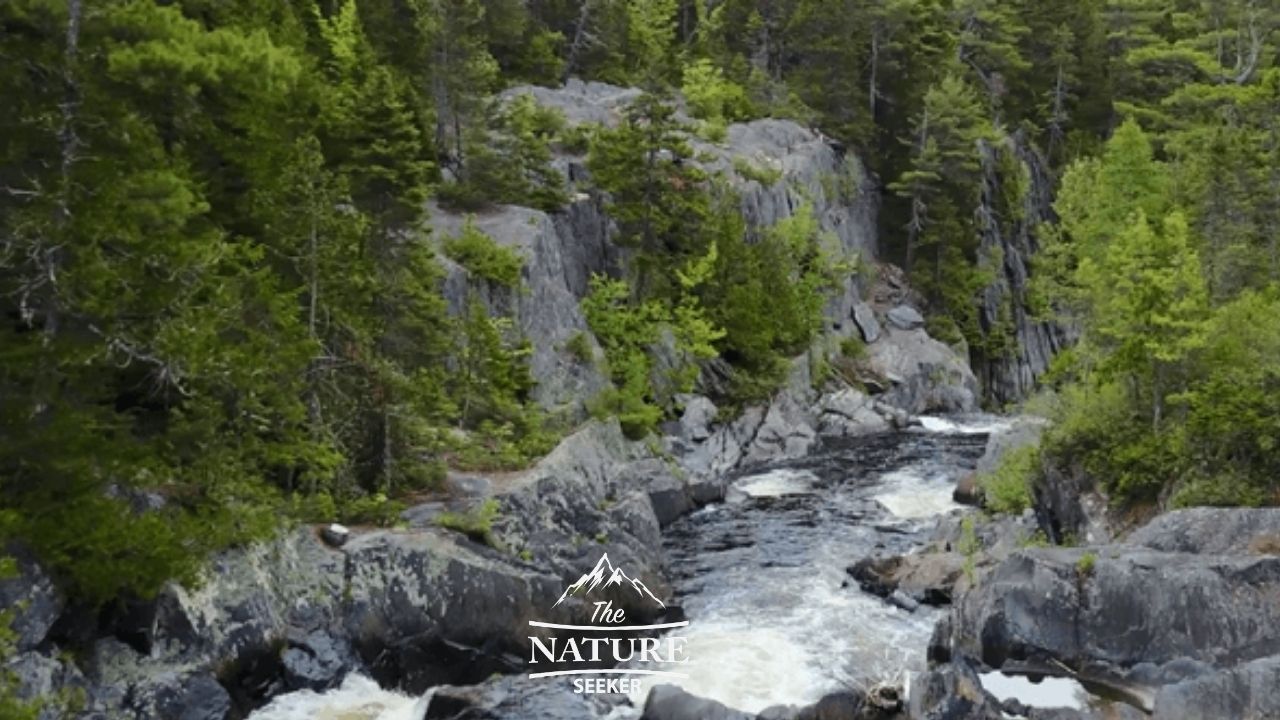 Unfortunately though, our visit to this place couldn't be extended as:
A) The flies kept swarming (One flew in my mouth as I was taking pictures).
B) The sun was setting, we had no flashlights and needed to return as soon as possible.
But of course, on the way back, the flies kept coming relentlessly and we did make it back barely. Hopefully if you visit, you won't have such a hard time finding this place or dealing with bugs (or moose). I wish we could have seen the rest of the trail, but as I said, time was just too tight for us to do this.
Common questions about Gulf Hagas:
How long does it take to hike Gulf Hagas?
The whole Gulf Hagas trail 8-9 miles (loop) and most people take about 4-5 hours to complete it.
Can you drive to Gulf Hagas?
Yes there are 2 parking lots available. One is by the bottom of it (you hike upriver mostly) and the other is near the top of it (you hike downriver mostly).
What town is Gulf Hagas in?
The nearest town by Gulf Hagas is called Brownville.
Can you swim in Gulf Hagas?
Yes there are areas where you can get down to the river and take a dip (be careful of the currents).
Why Gulf Hagas was probably a 1 time visit for us:
I suppose it should be clear with everything I mentioned about flies and there being not such clear directions, but I will admit the place itself is quite amazing to view and hike on but to get there is annoying and there's a bunch of obstacles, moose fecal matter to cross and A LOT of flies swarming the area.
You will have to consider the distance it takes to get there and the short amount of actual viewing there is to see when you're there and decide for yourself.
There is the Appalachian trail in that area, but there's not much to see from the area we wandered into when we originally got lost. If you don't already know, the start of the northern end of the Appalachain trail begins in that region and heads all the way down through the Blue Ridge Mountains. But with regards to Gulf Hagas, I hope my warnings about it will help you decide if it's a hike worth doing or not.