With all the hiking and exploration I do, it's safe to say the backpacks I use get pretty dirty. And every once in awhile I have to wash them which brings me to today's post on how to do that (in 5 easy steps).
The truth is that whether you're like me and use backpacks for hiking or just regular ones, sooner or later it'll get dirty (or something else will happen to warrant a full cleanup job). And it'll get dirty from the following things:
Left over wrappers.
Left over crumbs from food, crackers, ect…
Stains from being on dirty floors, chairs, ect…
And in my (hiking) cases, they can get:
Sandy.
Dirty.
Muddy.
Dirty from my sweat (that's what hiking with backpacks does to them).
Ect…
But the good news is that these 5 steps I'll show you are pretty simple to use and it'll take you only a few minutes to do them and clean your backpack from whatever dirt it has.
And overall, if you use a specific backpack, it's just good policy to clean, wash and air them out every few months. You never know what could end up festering inside it if you don't.
Here is how to wash a backpack in 5 easy steps:
Empty out the backpack from whatever debris is in it first.
Use a large brush to wash the backpack from the outside.
Then focus on the inside of the backpack and wash it there too.
Wash the backpack with water (rinse it).
Air out the backpack under the sun for a few hours (inside and out).
It really is that easy and honestly, it shouldn't take more than a few minutes to do.
So let's get into each of these steps so you understand them clearly and you'll see how simple they are to use.
But first:
A note about using machine washers to clean backpacks:
You can honestly do it if the backpack is resistant to water and there's no label saying you can't do it and if you check the label for instructions on washing, you should find it. I personally do this with my Salomon Hydra 4 Vest pack, and it's an easy strategy (in this backpack's case).
Most backpacks, especially hiking ones are designed to withstand rain so using them in a washer will do the trick in most cases but this should only be done if there's a major problem with the backpack.
For instance, if you spill some sort of drink, oil or something that basically makes it impossible to clean with a brush. In those cases, you'll want to use a washer and if you do, make sure to:
Open up all the compartments and zippers so the washer and soap can reach those areas.
But if you elect to do it manually, here's the 5 steps to making it easy:
1) Empty out the backpack from any debris there is:
Besides the most important thing being that you shouldn't have anything inside the backpack before you wash it, you should also try to clear it from anything that has gathered inside it by doing things like this:
Turning the bag inside out and shaking it so anything that's inside falls out (dirt, crumbs, ect…).
2) Use a large brush or scrubber to wash the backpack from the outside first:
I typically use a floor type brush because it just gets the job done faster.
What I'll do is put soap on it (any will do), then under warm water, and first do a basic scrub of the backpack.
I'll cover areas like the:
Every compartment (inside areas too).
Every pocket (inside areas as well).
Shoulder straps.
Back panel (this gets the most sweat).
The bottom of the backpack (this gets the most dirt).
Every 20 seconds or so, I'll rinse out the brush, apply more soap and continue with the other areas of the backpack until I finish the job.
Obviously, any areas of the backpack which need the most washing is where you'll want to focus on.
3) Use the same brush but now focus on the inside areas of the backpack:
Some pockets can be turned inside out, but for the most part, you'll want the backpack to be clean and clear of anything before you do this. Use the same brush for most of the inner areas of the backpack and also wash it with water and soap.
For smaller pockets and hard to reach places for the brush, use a smaller brush. In most cases, a simple toothbrush will suffice.
4) Rinse the backpack in water:
This will basically get rid of the soap and the dirt it's cleaned up too. You can do a couple of things here for that:
You can use a shower to rinse out the backpack from the inside and out.
You can put it under a sink and do it there.
Here you can experiment with whatever will get the job done quicker, but make sure the water reaches the surfaces and inner areas of the backpack which you cleaned up with soap, so it gets it out.
5) Air out the backpack to finish the job:
You can do a few things here such as:
Leaving it out in the sun for a couple of hours.
For inner areas of the backpack which don't really get any sun or air, you can do a few things there too:
You can use a hair dryer to reach those areas.
You can insert newspaper into those spots so it absorbs the water.
And that's it, that's how you manually clean a backpack. Remember to check that the material of the backpack is washer friendly first before doing this and in most cases, if it is, you can apply the manual steps to do clean it after.
How often should you wash your backpack?
That depends entirely on what you're doing with it. If you're leaving crumbs of food in it, obviously, I'd clean the backpack first and stop doing that.
If you're into hiking like I am, then once after every hike is fine. In some cases, I've not washed my backpacks until months after they accumulated dirt because it just didn't warrant it.
Is washing a backpack even necessary?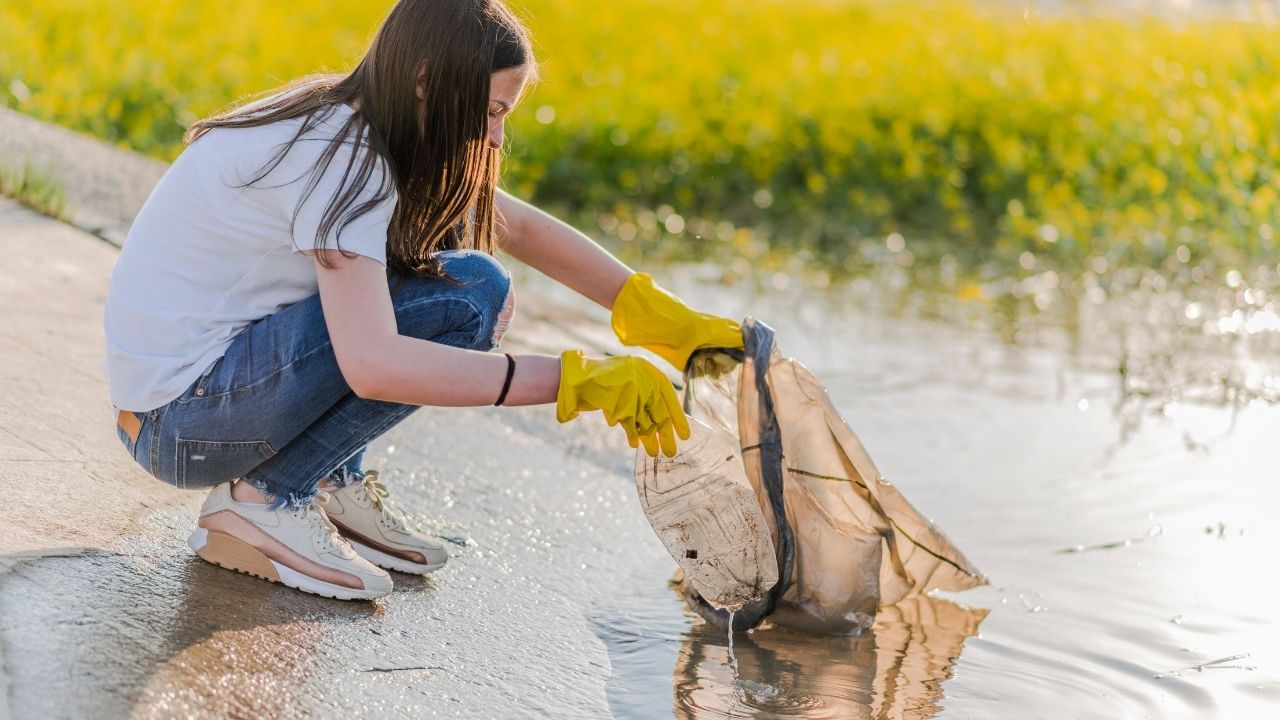 If you're reading this now, obviously it is and if you have that thought in mind, just do it. The most obvious reasons why you'd want to wash a backpack are:
You really like it and want to keep it clean.
Some stuff like sand accumulated in it which could affect what you put inside it (like electronics).
It just fell in somewhere or you dropped something moist or oily in it that makes it necessary to clean.
It fell into some seriously nasty water and needs cleaning.
For me, I've washed my backpacks in the following situations:
Either way, these steps will make that east (unless you opt to do the washer option to make it even easier).