Coyote Gulch has has been a place I'd been wanting to visit for years ever since I saw a picture of the Jacob Hamlin Arch and in late February 2020, I finally got my chance to do it. 
However, if you know how I do things regarding hiking and outdoors, you know that I very much dislike camping and staying in the wilderness overnight, especially the dessert.
To do it in one day.

To see the amazing Jacob Hamlin Arch.

To see Coyote Natural Bridge.

To experience the beauty of Coyote Gulch overall and not have to camp down there.
And in this article, I'll be showing you exactly how to accomplish these goals too if you are also seeking to do the same things.
Expect to see the following spots in Coyote Gulch if you go: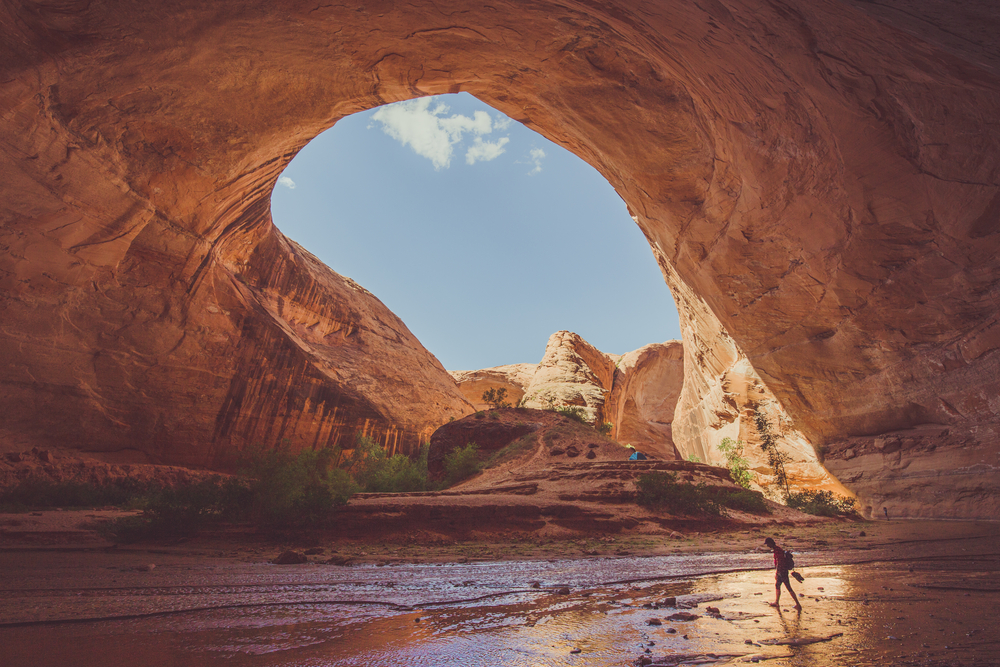 This is the Jacob Hamlin Arch and thankfully, the methods to doing Coyote Gulch in one day involve seeing this spot (and others!).
Disclaimer: I'm going to be perfectly honest. My attempt at going through Coyote Gulch in one day didn't work out fully and this is due to multiple circumstances that hit my friend and I when we got there (more will be explained in a full guide to Coyote Gulch later).
However, the mistakes and lessons I learned from my first experience there helped me properly plan for this spot the next time I go there and this article is going to be showing you the correct and proper strategy to getting through Coyote Gulch in one day. 
Because I was so confused and worried the first time I went there, I want to share how to do things properly so you can enjoy what I wasn't able to do the first time.
Note: If you are an experienced Coyote Gulch hiker and see any information in this article that in inaccurate, please comment below and/or give me your suggestions.
The fastest way to hike through Coyote Gulch in one day is via these 3 trails:
1) Moki Stairs, also known as the Sneaker Route or Jacob Hamlin Arch Trail (Best option). From it is 1 to 1.5 miles to the Gulch.
2) Water tank trail. This is an unofficial trail, but from it, to reach Coyote Gulch is about 1.5 to 2 miles to reach the Gulch.
3) Coyote Gulch Access Point. This is a parking area which is close to the Water Tank trail and also is about 1.5 to 2 miles to the Gulch.
Each of these trails allow you to see some of the major and most popular parts of of Coyote Gulch quickly before going back and if you do this, the trip will end up being under 10 miles (round trip).
Now while it seems very simple to navigate Coyote Gulch in a single day using this map, it isn't.  
Here are 8 very important things you need to know before you do a

day hike

in Coyote Gulch:
These come from my own experience and VAST research I did on the area to help you avoid all the confusion (which is easy considering how vague the info on this area was when I looked at it online).
1) Expect a confusing hike no matter which route you take.
It is VERY easy to get lost on these trails because they aren't paved or marked too well and I promise you, that if you're not careful, getting lost is likely (it happened to me). There were several moments where we followed footsteps on what we thought was the official trail, only to get lost and have to navigate back. 
The way around this problem is to use the above map and the GPS on your phone and if you have a compass app and/or real compass, use that too as a plan B.
There are surprisingly a few areas in Coyote Gulch which have reception, but even if it does goes out (which it likely will the closer you get to the Gulch, let alone into it), you will still be able to use your GPS compass to navigate yourself to the Gulch (and back once you exit it).
Download that map from above and use your Google GPS to help you navigate these trail JUST IN CASE.
2) These 3 trail heads all lead to the same area of Coyote Gulch.
And that is they'll take you to the top of Coyote Gulch, near the Jacob Hamlin Arch and from the entire Gulch area, this is the only spot where it's realistically possible to hike down to it. Every other area is just a drop and impossible to hike down through.
There's one problem though…
3) You're going to have to climb down to Coyote Gulch (Near Jacob Hamblin Arch) from these 3 points. Expect a

dangerous

climb and bring rope.
The descent into Coyote Gulch is about 100 feet down and the slope is pretty steep. So if you're not experienced or are very scared of heights, I'd strongly reconsider trying these 3 trails and just go for the more longer ones like Red Well, Hurricane Wash and Crack in the Wall.
But if you are someone who is ready to risk it (and many do), bring at least 100 feet of rope with you to use. There are people who claim that you don't need the rope to scale down into Coyote Gulch, but everyone I talked to said it is best to have it handy just in case.
You will descend into the Gulch from this area and the good news is that finding your way back to this spot is easy, since it's close to the Jacob Hamlin Arch. You'll make your way back there when you're ready to exit and use the rope to climb out there and head back to whichever parking area you started from (back track). 
4) If hiking down to Jacob Hamblin Arch is too scary via the green trails, consider one more day hike trail option (it's a lot longer, but doable).
While the 3 I showed you ARE the shortest, if you have a fear of heights or aren't really into using rope, then you will have one more option to try to hike Coyote Gulch in a day.
Here is a map of the other trails in addition to the 3 short ones of Coyote Gulch (these distances are my estimates):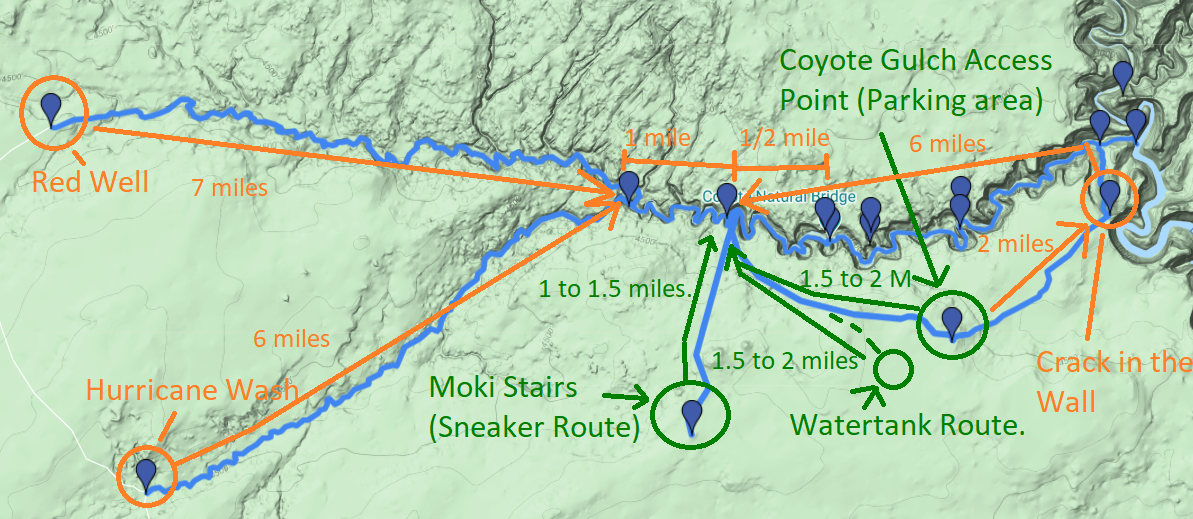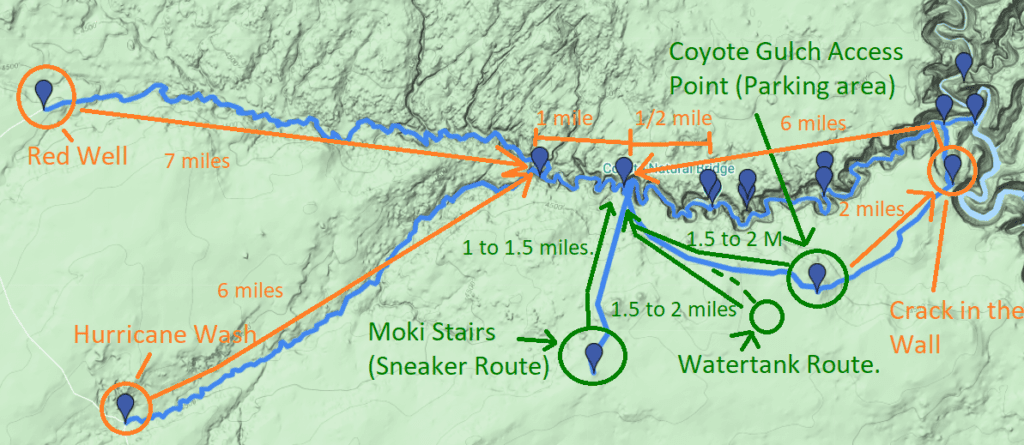 Now these orange trails are more safe to walk on, but a lot longer. But at least you wouldn't have to climb down to the Gulch.
The shortest option of the orange trails would be starting at Hurricane Wash, and walking to Coyote Natural Bridge.
This would be about an 8 mile hike/walk one way, but it would allow you to see the most beautiful arches in Coyote Gulch, before turning back to Hurricane Wash and doing another 8 mile hike back.
16 miles may be doable if you are good at walking, but compared to the green trails, it's a lot longer, so compare these 4 options and weigh which ones you are ready to do.
5) If you plan to climb down via the green. short trails, look for the white bird symbol on the Gulch.
That symbol will be easy to see when you get to the descent area (it's how you'll know where to go down).
If you're going to take one of the 3 trails I showed you, remember, you'll need to hike down to Jacob Hamlin Arch, but there is a marker that you'll see on the canyon wall that will show you that you're in the correct area where you can actually do it and it's this white symbol some people call a bird, others think it's just a sign, but here it is, you can judge it for yourself:


6) Use a GPS to get you to one of these 3 trail heads. 
You can get to them without the help of a GPS, but the signs for these trails are small and there are some important turns on the Hole in The Rock road you need to make if you're going to get there. Using a GPS just takes a lot of headaches away from this process.
So before you enter Hole in The Rock road, set your GPS to one of the locations I'll be showing you. The great thing is that they aren't far from each other and even if you set one, but decide to go to another route, they'll be close enough to each other so you'll be able to make it.
7) Start one of these trails early. 
I don't know how long you intend to hike through Coyote Gulch when you try your one day hike but the earlier you begin, the better. We started our trails around 11 a.m and due to the mistakes we made, we lost a few hours and that was what cost us the trip overall.
Start at least at 7 or 8 a.m.
8) Bring water, no matter what season it is.
I was there in late February and thankfully it wasn't hot, but the sun all day was out and I was sweating a lot. Bring 2-3 liters of water for each person. You're going to want to drink a lot on these trails and hikes.
Let's talk about the 3 routes which will help you do Coyote Gulch in one day:
You can choose any one of these points and through the directions you'll get, be able to hike to, down and through Coyote Gulch (many areas of it) in a day.
1) The Sneaker Route (Most popular and easiest option for a day hike).
It's amazing to me how little SPECIFIC info I could find on this spot, expect mentions of it on sites and maps.
But the general consensus is that the Sneaker Route (officially known as Moki Stairs on Google Maps) is the most direct and easiest to get to the top of Coyote Gulch and climb down into it (1-2 miles from the parking lot).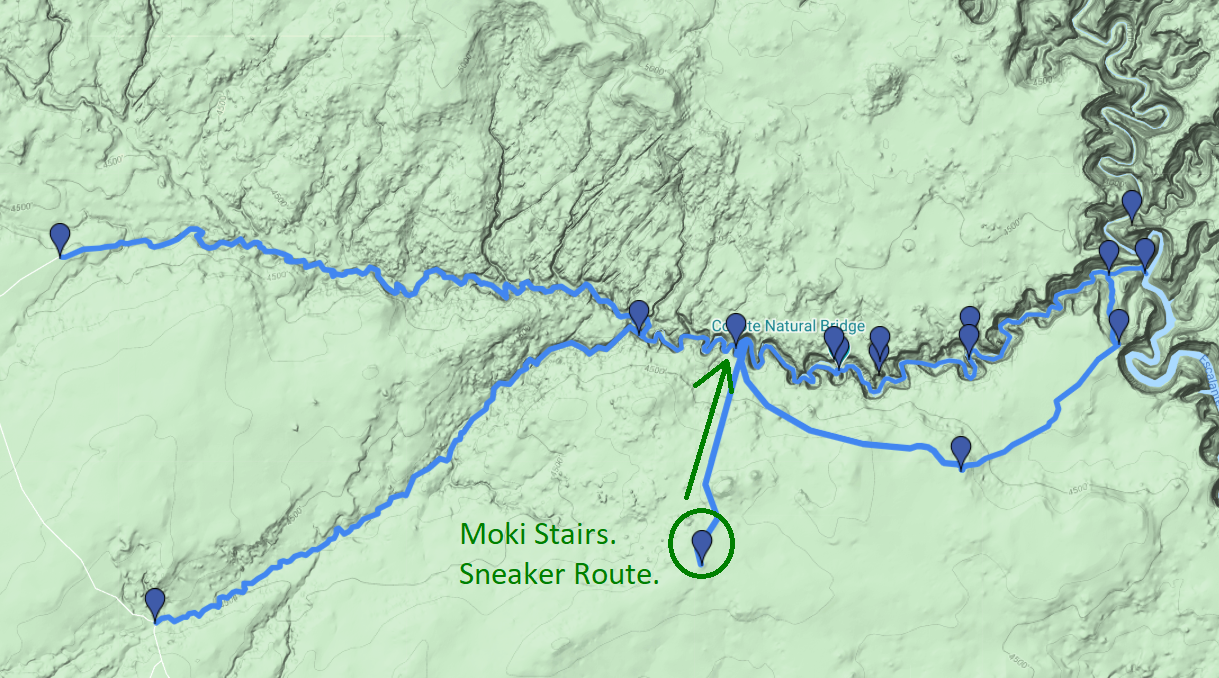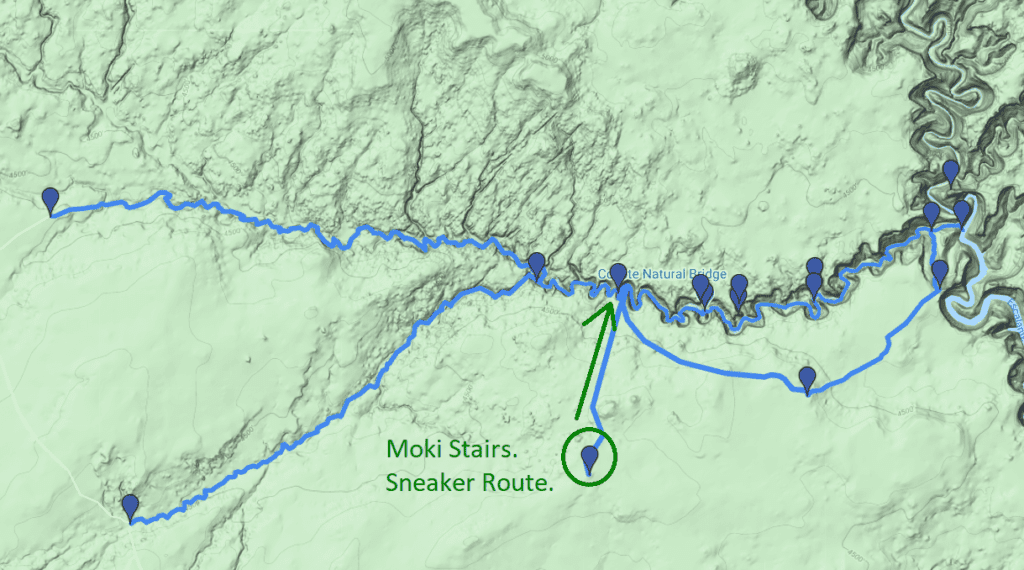 Here are directions to the Sneaker Route (Moki Stairs):
Note: It's actually very annoying to find directions to Moki Stairs and the only way I was able to do it was selecting a starting location, so if you are going to use Google Maps to get to Moki Stairs (Aka Sneaker Route, Jacob Hamlin Arch Trail), make sure to change your starting position to wherever you are actually starting from to get the accurate directions from Google:
Now if for some reason this Google map option doesn't work, use your GPS to find one of the other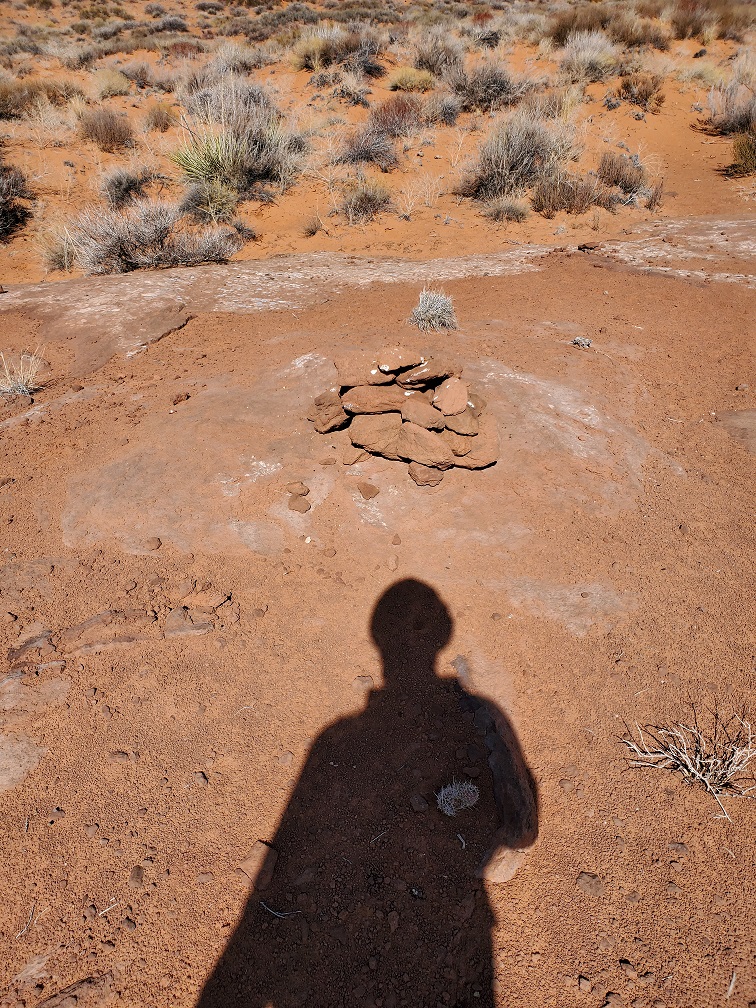 2 trails on this list. That's how I did it.  And since they are all on the same road, you will see signs for Moki Stairs (or the other aliases it's known by). 
Walking the trail to Coyote Gulch (descent area).
As you park on the Moki Stairs area, you will likely see a trail with footprints on it leading north.
Use it, but don't rely on it, as footprints and trails in Coyote Gulch easily scatter everywhere, and if you follow the wrong ones, you will get lost, so rely on the compass and GPS signal if you have it to get to the Jacob Hamlin Arch.
There are also areas of the trails you are on which won't have sand or footprints to see, but large rocks with markers like these (right):
Use these markers as confirmation you're on the right track, but remember to use the GPS too and follow it to the actual Jacob Hamlin Arch area. This is ultimately where you're going anyway.
Always remember that even if you get lost, you can navigate your way back to the starting point by using the compass/GPS.
The good news is that because these trails aren't that long and because you will likely have reception in many areas, you should be OK.
2) Coyote Gulch Access Point (where we went):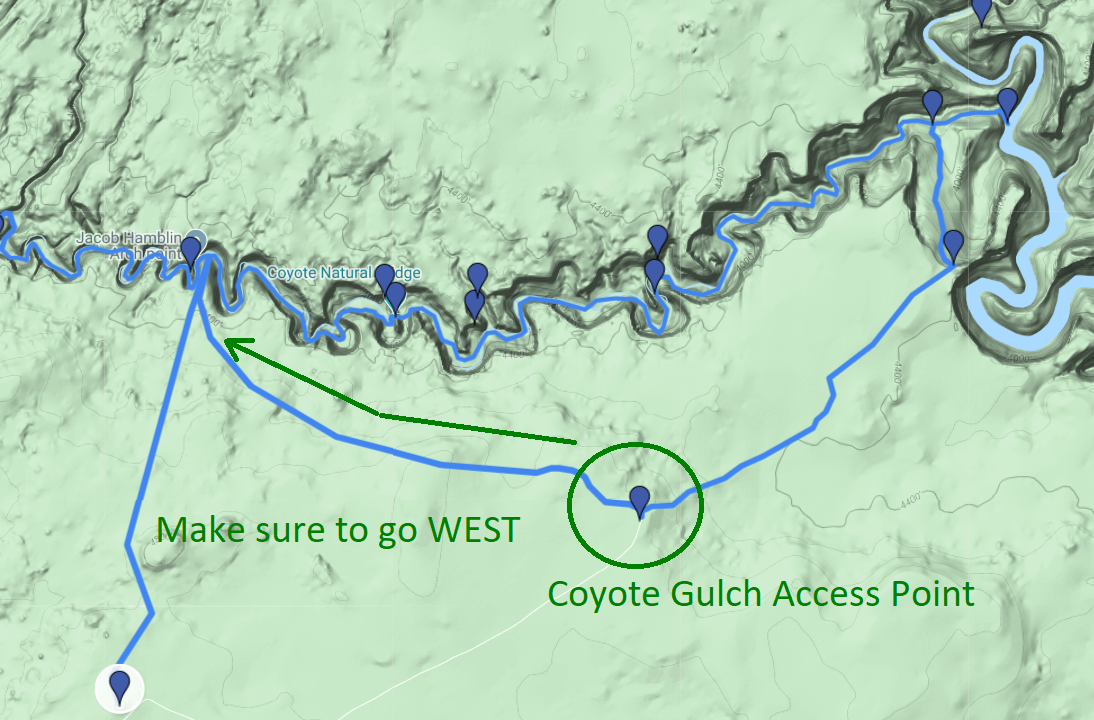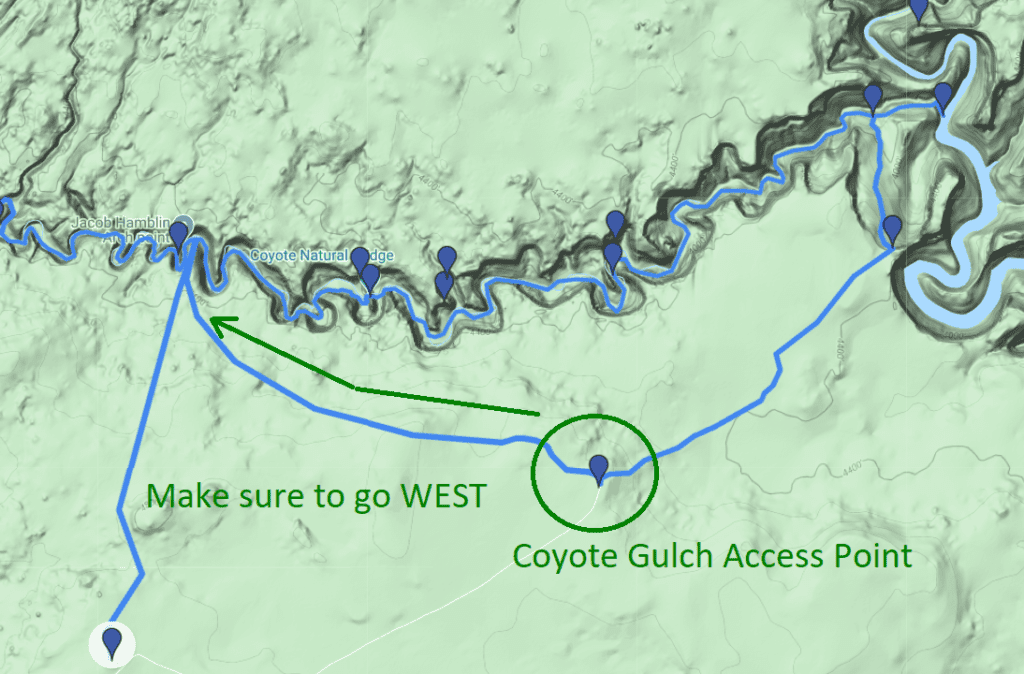 This trail is more east of the Moki Stairs and it was the one a local mentioned to my friend and I who were nervous about going (we didn't know which trail to take until after).
Here is a map to Coyote Gulch Access Point:
This trail is the one which is easiest to access by GPS out of the 3 options because your maps will find it. The other good news is that this trail and it's parking area (at least for me) had cell phone reception.
But to get to the Gulch from it (the bad news, sort of), you will need to follow a WEST BOUND unofficial trail which very quickly peters off and stops looking like a trail, so you will have to rely on your GPS, follow it west to Jacob Hamlin Arch to reach it.
Do NOT make this mistake on this trail:
On the parking area of the Coyote Gulch Access Point, we saw a very obvious looking sign and trail head and assumed it was the right way to go.
We also saw a giant canyon in the distance and assumed it had to be Coyote Gulch. We were wrong, because this trail took us EAST to a completely different entrance point of Coyote Gulch which is Crack in the Wall (it is NOT a one day trail area). And the canyon we saw was actually the Escalante River area, not Coyote Gulch!
We had to go west, and going east on this obvious looking trail made us have to double back to restart the right approach.
So if you use Coyote Gulch Access Point, and you want to do a one day hike, do not go on the obvious trail that goes EAST.
Head west and use your GPS compass to make sure you're doing it right!
As you head west, you will see the Gulch to your right: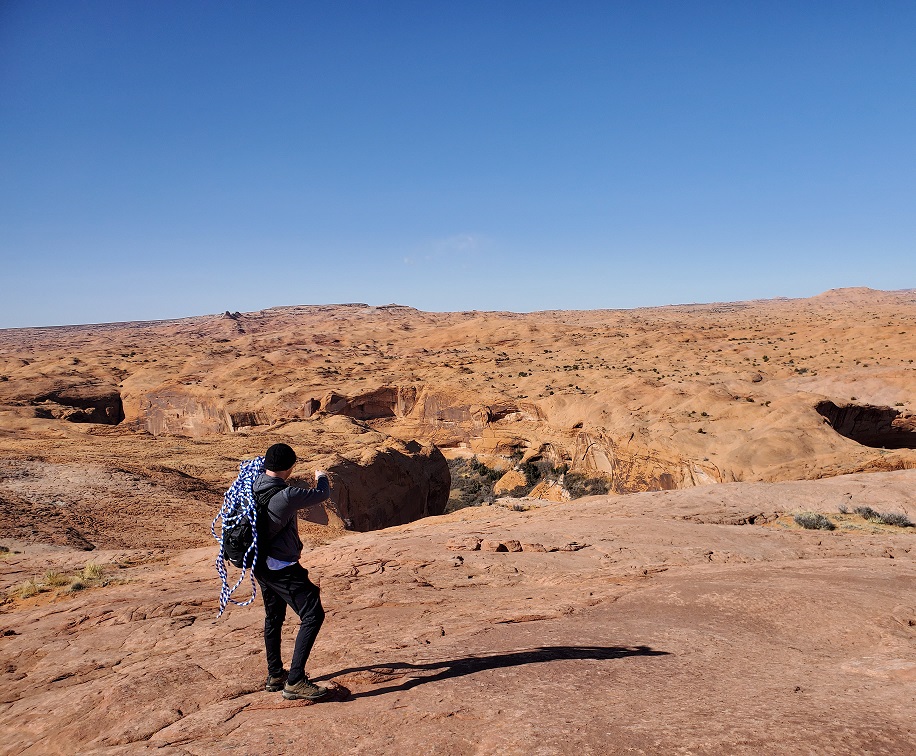 As you follow your GPS map and head west, you'll reach the same area with the white bird sign which will indicate you are in the right place to find and start your descent into Coyote Gulch.
From there, play things by time keeping in mind that you need to get back to your car before it gets dark (or too cold). So if you take 2 hours to get to the descent area, expect 2 or more hours to get back after you ascend back up the Gulch, leaving whatever hours in the day in between to hike Coyote Gulch.
3) Water tank route (unofficial but popular and easy trail):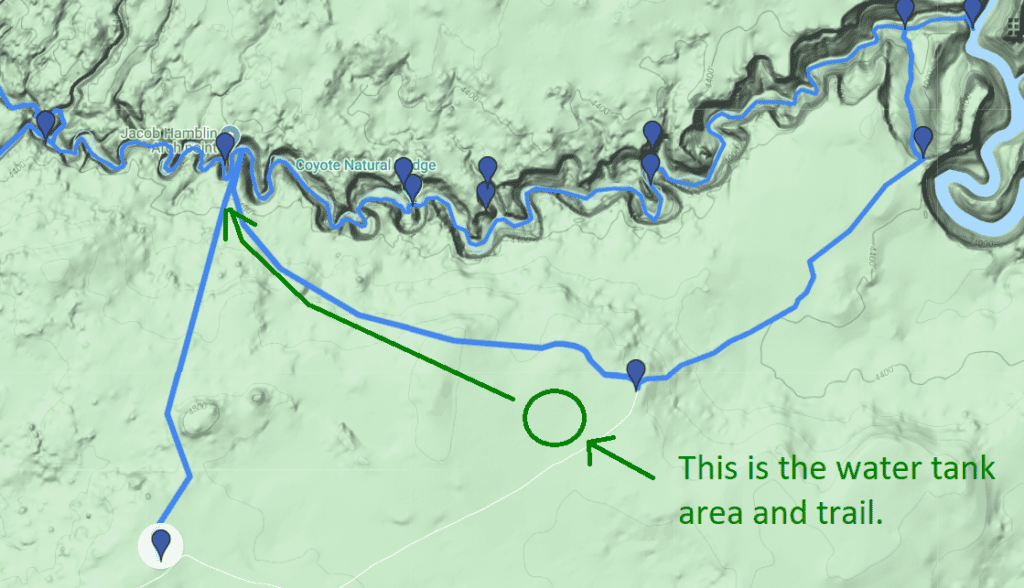 The water tank trail is what I originally set out to find when I was looking at information on Coyote Gulch but because this place isn't marked on a GPS map, nor can you actually see it on a regular map, I couldn't find it. 
I only found it AFTER I was driving out of Coyote Gulch Access Point and only then did I realize how close it was to it. 
The water tank trail is also a popular one and I see a bunch of YouTube videos about this area being recommended to do day hikes to Coyote Gulch on. However, what most of these sources never do is actually SHOW YOU where this trail is. Fortunately, I will:
How to get to the water tank trail in Coyote Gulch:
Remember the second trail, aka Coyote Gulch Access Point? Put your GPS to do there.

Right before you reach that access point, you'll see a left turn and this will go up a hill.

Take that turn and it will lead you to the water tank and the trail to Coyote Gulch (To Jacob Hamlin Arch).
The water tank area is easy to see and you'll know exactly how it looks, when you reach it:
As you can see, there is a sign to the left of the photo which will help start you on the trail from there.
You'll follow the trail north west.

It will lead you to rocky areas, where you won't see the trail anymore, but you will see markers (like from above).

Follow those north west (and remember to use your compass to ensure you're headed the right way!).

Once you get to the descent area, again, look for that white marking (bird) to know you're in the spot to go down to Coyote Gulch.
Other good sources of information on doing day hikes in Coyote Gulch:
One of the best places I found for information on this topic was BemyTravelmuse.com. The same founder of this site made a video on hiking to Coyote Gulch via the water tank route:
Ranking each trail option to Coyote Gulch. Which is the best one for a day hike?
If I were to rank them, it would be:
Sneaker Route (1).

Water tank Route (2).

Coyote Gulch Access Point (3).
Remember, the distance from the parking area to the actual descent spot is pretty much the same, but getting to that spot is what makes each trail different. I did the most annoying one (3), which went off the trail, but thanks to using my compass I was never really lost and this is something I highly encourage you to use as well.