How to Find Hole in the Wall Waterfall on Vancouver Island
I have had the opportunity to check out Hole in The Wall waterfall in Port Alberni but I had to find it the unofficial way since the main trail to it was closed. Should you find yourself in the same situation, this post will help you hike to this place.
Quick info on Hole in The Wall waterfall: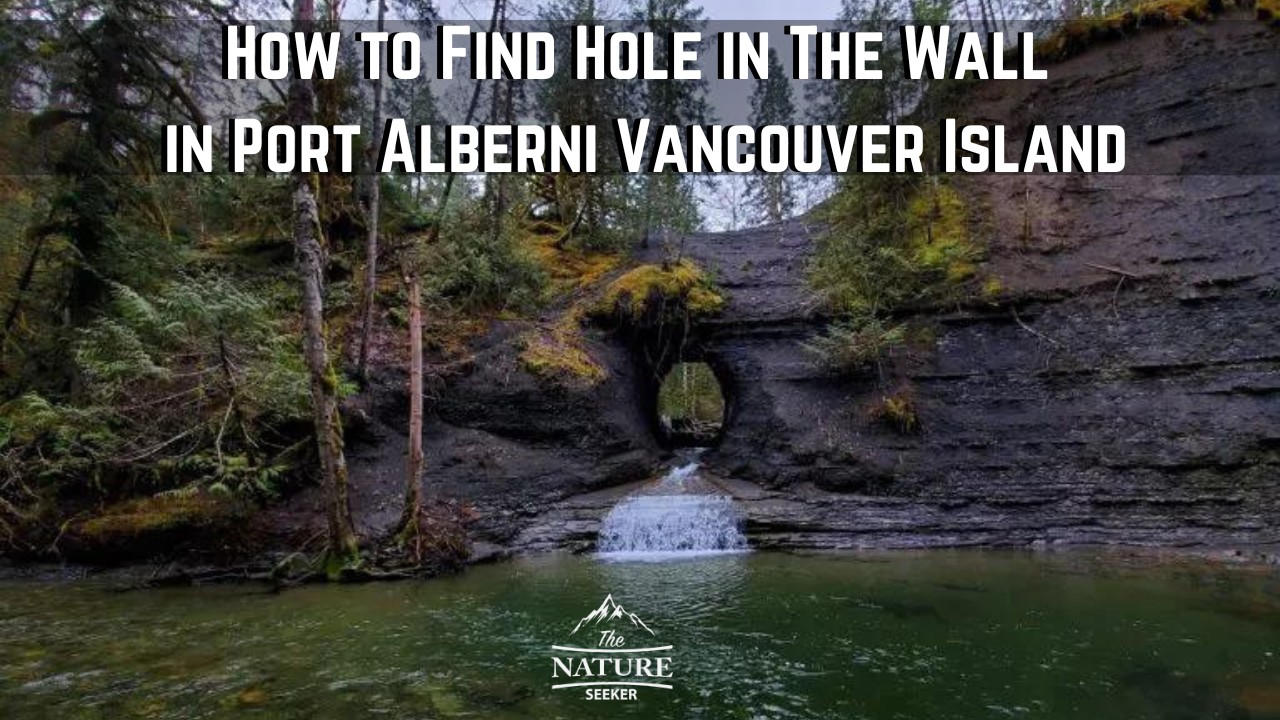 Hole in The Wall is a beautiful hole rock formation with a small waterfall running through it. It's located very close to Port Alberni on Vancouver Island. If you're trying to visit this place from Victoria, the drive to the trailhead takes about 2 hours.
There are also a bunch of other hikes, more waterfalls and overlooks nearby to check out after.
In terms of reaching it, you have 2 options. One is more official (going off Google maps) and the other is unofficial.
You may have to use the unofficial method because at least in my case, when I tried coming here, the official path was closed and I ended up finding a custom made map showing me how to find Hole in the Wall through the unofficial method.
Directions to Hole in The Wall in Port Alberni (2 methods):
1) Use Google maps to find Hole in The Wall trailhead, then hike to the waterfall:
Here's the map to find Hole in The Wall. Now this is an updated listing of the spot and it may very well be all you need to reach the waterfall.
You'll park your car off the road by a railing and follow the signs to Hole in The Wall from there (1/2 mile hike). Now you should know that this area can only fit a few cars (maybe 5) so my advice is to try and get to this place as early as you can. When I got to this area, there were only 2-3 cars but I barely managed to fit mine. As far as I know, that limited space issue hasn't changed.
Why you may need to follow a second method to reach this exact trailhead:
What happened to me was that when I went here, my GPS didn't take me to this (now) official trailhead. It instead took me to a place called Stokes Creek Falls trailhead which is about 500 feet east of it and at the time. That trailhead would take you to a parking lot which would connect with the trail that takes you to Hole in The Wall.
The problem however was that the entrance to the Stokes Creek Falls trailhead was closed and I had no idea where to go, but upon looking around I found that someone left a map and I'll include it just in case. That map took me to what is now the official Hole in The Wall trailhead area.
2) Using the "unofficial" map to reach Hole in The Wall: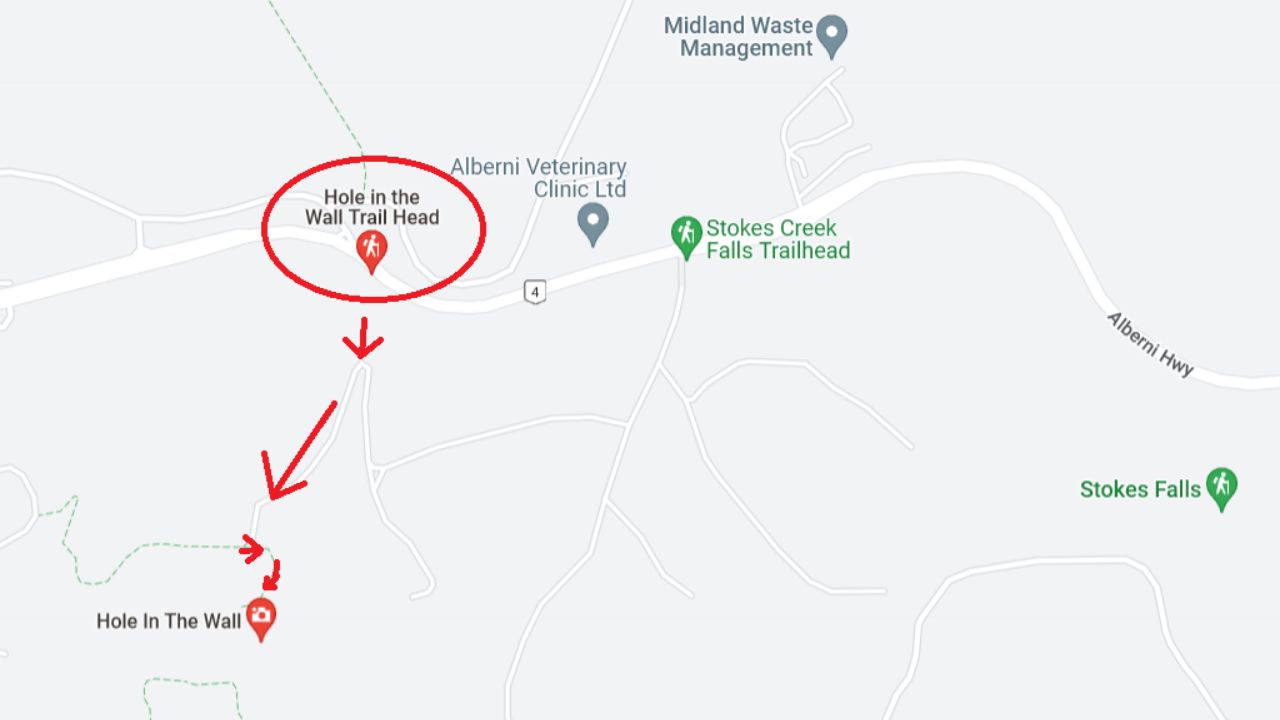 Now again, it may very well be the case that you won't even need to use this method or map but I'm including it in case you run into the same issue I did (Incorrect GPS listing and a closed road) and again, this map will just help you find what is now the official trailhead to Hole in The Wall.
When I came here the first time, someone drew a map of where to find this area and left it on a tree by Stokes Creek Falls and it was thanks to it that I was able to find it.
But I've updated this map and included arrows to show you how to navigate to Hole in The Wall from the parking area. It's easy without the map too but just in case, it'll be an extra resource for you to use just in case.
Once you park your car off the road, you're going to see a sign on a tree that says "Hole in The Wall" and you'll follow that trail. It'll take you through a short forest walk that will then open up.
There will be some turns here and there, but overall, if you follow the map I included above, you're going to be fine. You can also find Hole in The Wall on Alltrails but overall the walk (it's not even a hike) to reach the waterfall is very simple.

Things to expect once you reach Hole in The Wall: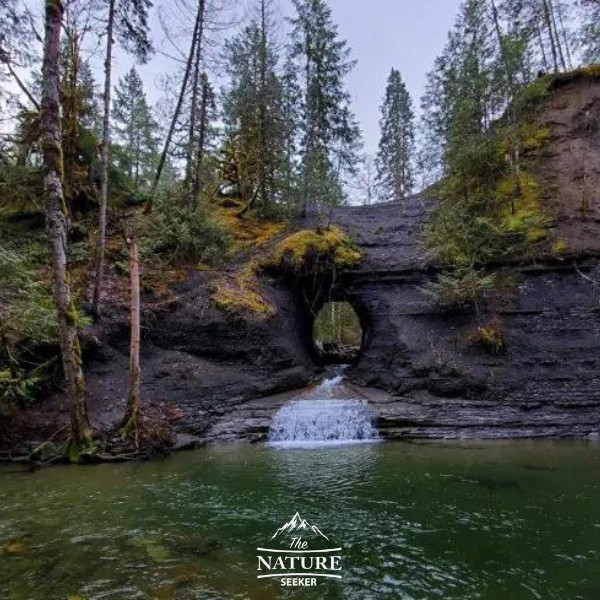 The trail to the waterfall isn't very scenic until you actually reach it. Once you do, you'll see the beautiful waterfall inside the Hole in The Rock formation.
You'll also see 2 logs across from it which you can walk on (provided it isn't slippery) to get a great photo of the waterfall (or a selfie).
When I went here, I was by myself, the weather was cloudy (as it usually is in Vancouver Island), but that made the scenery and experience even better in my opinion.
Overall, I highly recommend checking out this spot, but at the same time not to miss out on what else is available close by (a mistake I made when I was there because the map listings weren't updated for me).
Other questions about Hole in The Wall:
How long of a walk is Hole in The Wall Port Alberni?
It takes about 15-20 minutes to walk to Hole in The Wall from the trailhead area.
How do I get to Hole in The Wall in Port Alberni?
You'll need to park at the Hole in The Wall trailhead, then walk about 1 mile to reach the spot.
8 more places to check out near Hole in The Wall:
The following places I'm recommending can all be found on your GPS.
1) Port Alberni:
It's a good area to find swimming activities (like kayaking), a place called Canal Waterfront Park and where you'll also find good places to eat and stay at. There's also great mountain and bay views to see.
2) Stokes Falls:
Remember that trailhead I said was closed? Well if it's open, you can also do a second hike to Stokes Falls from there. The waterfall isn't that large, but it's bigger than the one in Hole in The Wall and it's another thing to check out.
3) China Creek Falls:
It's a beautiful waterfall and it's south of Port Alberni. The hike to reach it isn't difficult but the road might be a little rugged.
4) The Lookout:
Great overlook area slightly north of Hole in The Wall.
5) Macmillan Provincial Park:
It's a beautiful park with a large lake and gigantic trees that are almost as large as the Redwoods.
6) Maplehurst trails:
This is a nice easy hike through a forest and there are little gnome statues around the area.
7) Horne Lake Caves:
A very popular cave exploration in Vancouver Island. You can get guides to take you through the area.
8) Sombrio Beach waterfall:
This is actually very far from Hole in The Wall (2-3 hours), but it's so far my favorite place on all of Vancouver Island. Sombrio Beach waterfall is actually hidden off a beach path but if you can find it, it's extremely scenic.