Vancouver Island has a plethora of breathtaking nature spots to see and one of the best ones I've personally stumbled upon was Hole in The Wall Waterfall. I'll be showing where that place is and exactly how to find it.
You may be reading this article right now because you:
1) Heard about Hole in The Wall Waterfall.
2) You're visiting Vancouver Island and are looking for great nature spots to explore and this one came up.
Either way, if you enjoy nature, then you're going to love this spot because it is very scenic.
Now hiking to it is pretty easy, but the circumstances I found myself in while looking for it made that process a little bit tough.
And I will explain that shortly, but fear not, I will show you the exact directions to this area so you can enjoy it! 
There is basically another path you have to take to reach it.
Why the official Hole in The Wall waterfall area is confusing to reach:
The good news is that you can find Hole in The Wall Waterfall on Google maps. In fact, here it is:
This place is located within Port Alberni in BC. You should start your journey to this location by plotting this into your GPS, and it'll take you to the "official spot".

The drive to it takes about 2-3 hours if you're coming from Victoria. However, if it was so simple, I wouldn't have to write this long post on how to find Hole in The Wall.
Here's the problem with the official spot (at least when I went there):
There was a bit of confusion I encountered when I tried to access the waterfall through where the GPS led me to and here is what happened:
When I first heard about this place and saw that Google Maps had a listing for it, I set my GPS to it and followed it from Victoria (the same one I put above).
The drive there took a little over 2 hours (without stops). I assumed the GPS would lead me to the trail or a parking lot, from which there would be a short to moderate hike to the waterfall.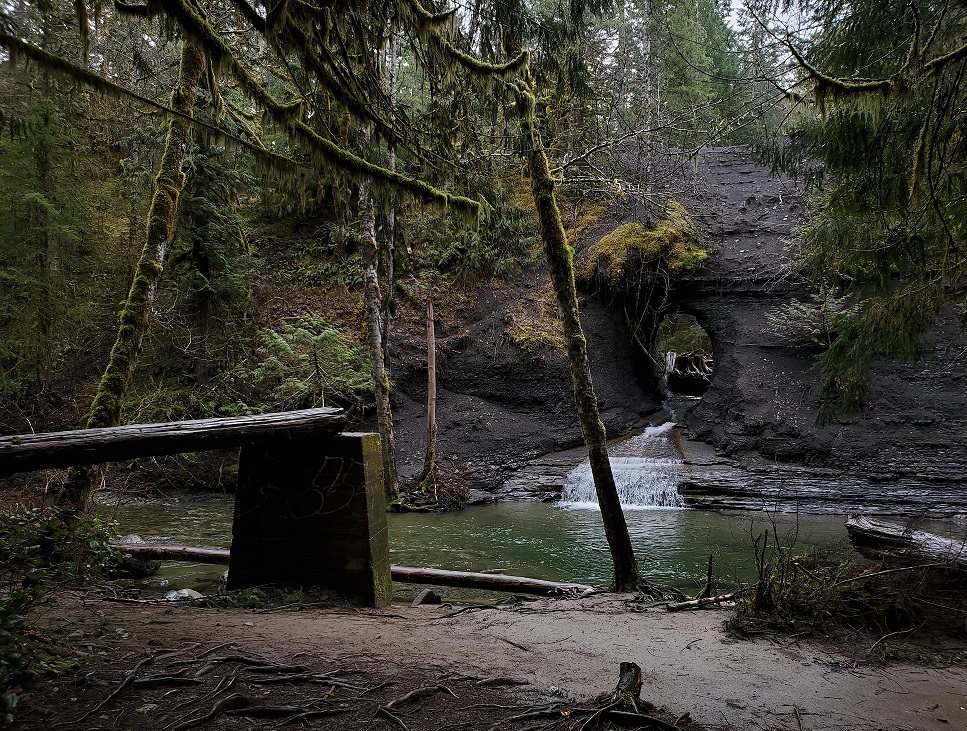 What ended up happening was that the GPS coordinate got me to the official road leading to the Hole in The Wall Waterfall, BUT it was closed. Yet my GPS said that the location was open and by the way, with respect to other beautiful spots in Vancouver Island, one of my favorites, which is the hidden waterfall on Sombrio beach, I had a similar experience.
I considered driving in anyway, but saw signs for cameras and decided not to risk it. But what was I supposed to do? Just drive back after coming here for 2 hours? What a waste that would be…
There had to be a plan B to this situation (and there was):
As I was getting ready to get back on the road and keep looking for another way to legally get onto the trail and see Hole in The Wall Waterfall, I noticed a very obvious looking trail head right next to the entrance I couldn't enter.
I decided I had nothing to lose, parked my car nearby, and went to it. At the very entrance (trail head) of this place, I saw a map which was drawn by someone showing me where exactly Hole in The Wall was, and it was not on the trail I was about to embark on.
Here is the "official map" that'll get yo

u to Hole in The Wall Waterfall: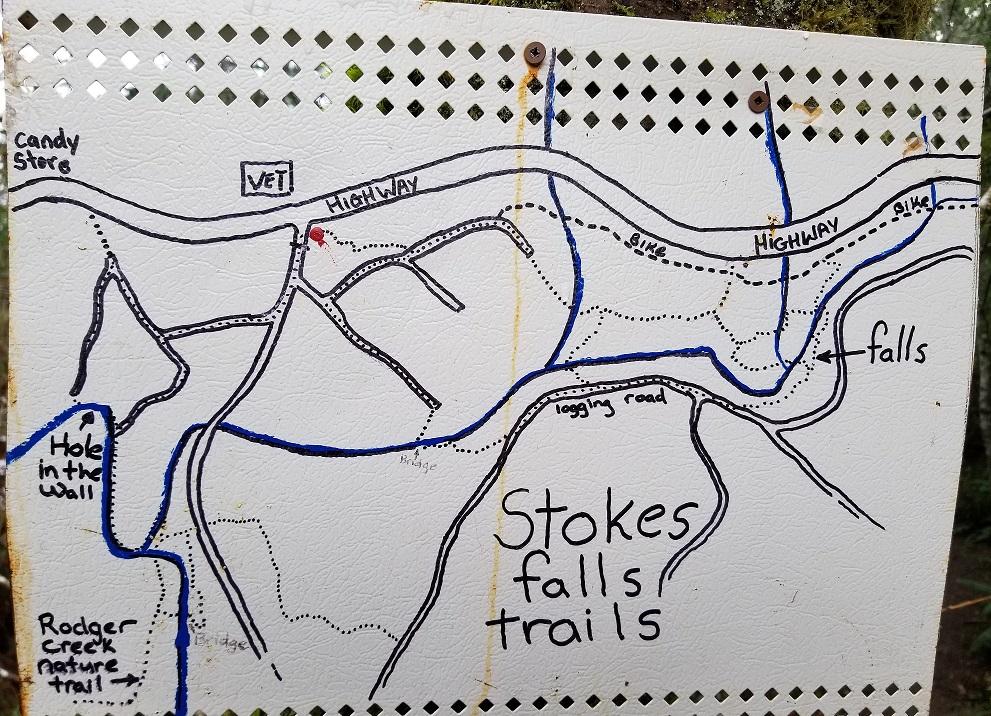 Now I took this photo on my phone and let me tell you, it helped A LOT in finding Hole in The Rock.
And let me say thank you to the person that drew it (if they ever read this article) because if it wasn't for it, I would have wasted a lot of time and probably even would have ended up having to turn back.
Thanks to this map, I was able to reach Hole in The Wall, so thank you!
How to properly read the map and reach Hole in The Wall Waterfall:
So I don't know if the original and official trail to this spot is temporarily or permanently closed, but this updated map will correctly lead you there anyway.
Here's what you need to understand: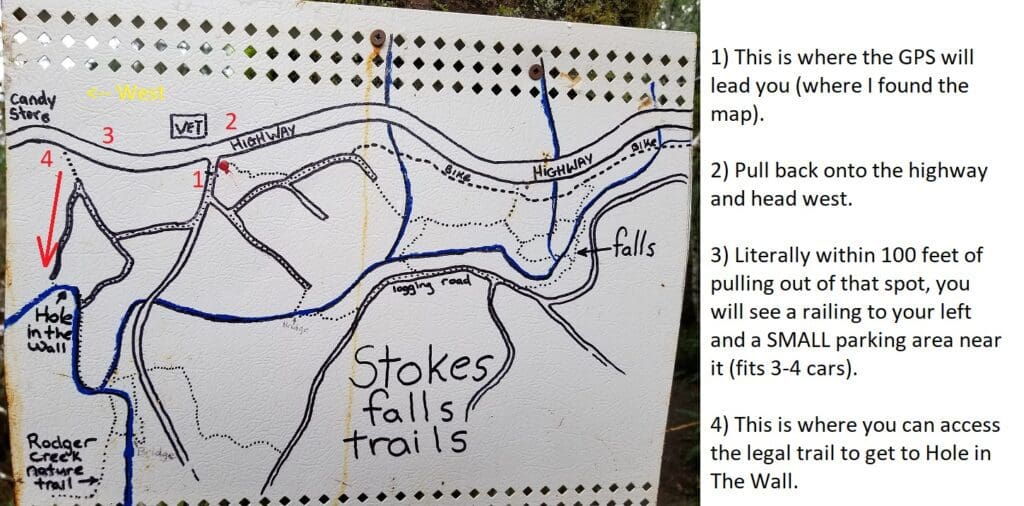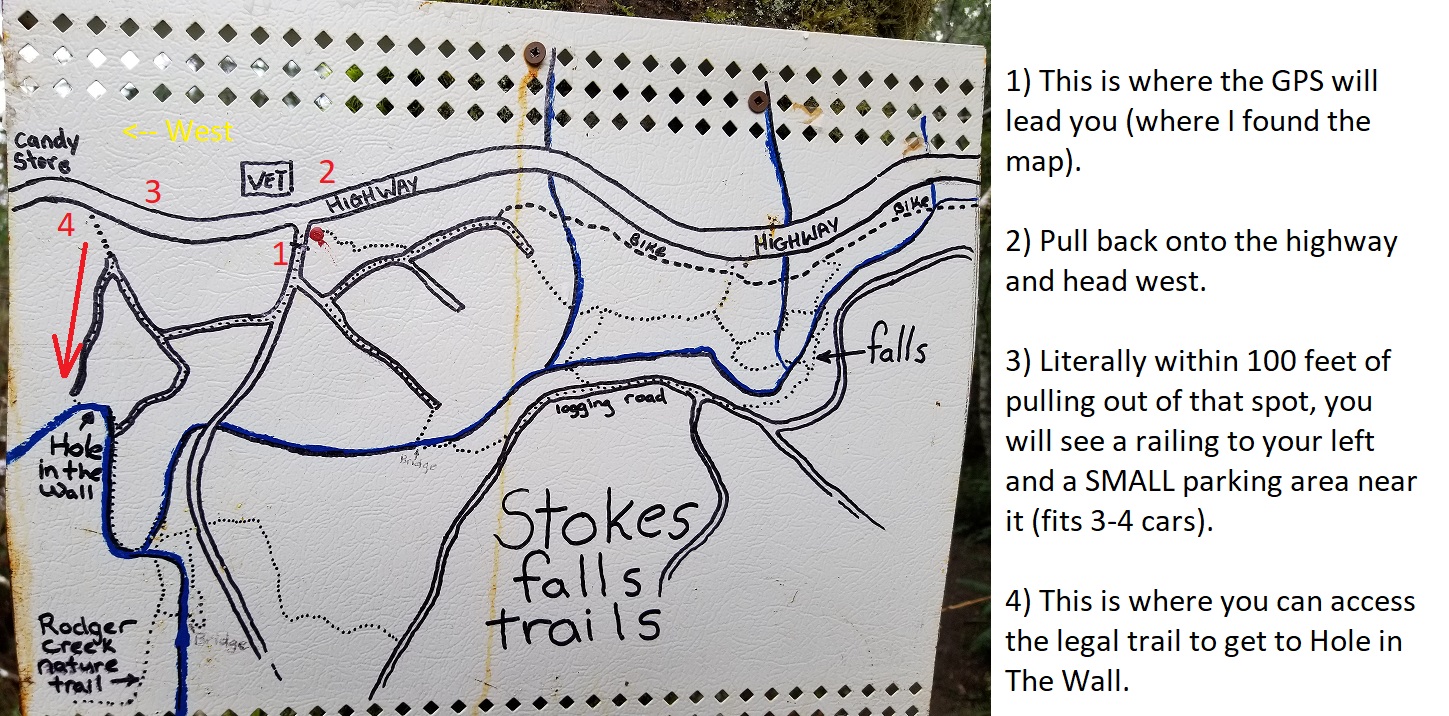 So when I got to the closed trail entrance, I was at point 1 on the map.
I had to pull out of the road, get back onto the highway and head west (point 2).
The alternative trail to Hole in The Wall Waterfall is only about 100 feet away from the official GPS entrance (Point 3).
I'm not kidding when I say that it's hard to spot (point 4). But it's there. I was lucky to see cars near spot 4, parked by the railing and that's how I knew this was the place to park at. I did, walked a few feet downhill and started the trail to Hole in The Wall.
And once you're there, it's easy to reach the trailhead to Hole in The Wall:
You're going to see a few of these signs as you make your way through the trail and there will be some turns here and there, but overall, if you follow the map I included above, you're going to be fine. There aren't that many turns and the overall trail is pretty straight down on a fairly easy road to walk on.
How long is the trail to Hole in The Wall?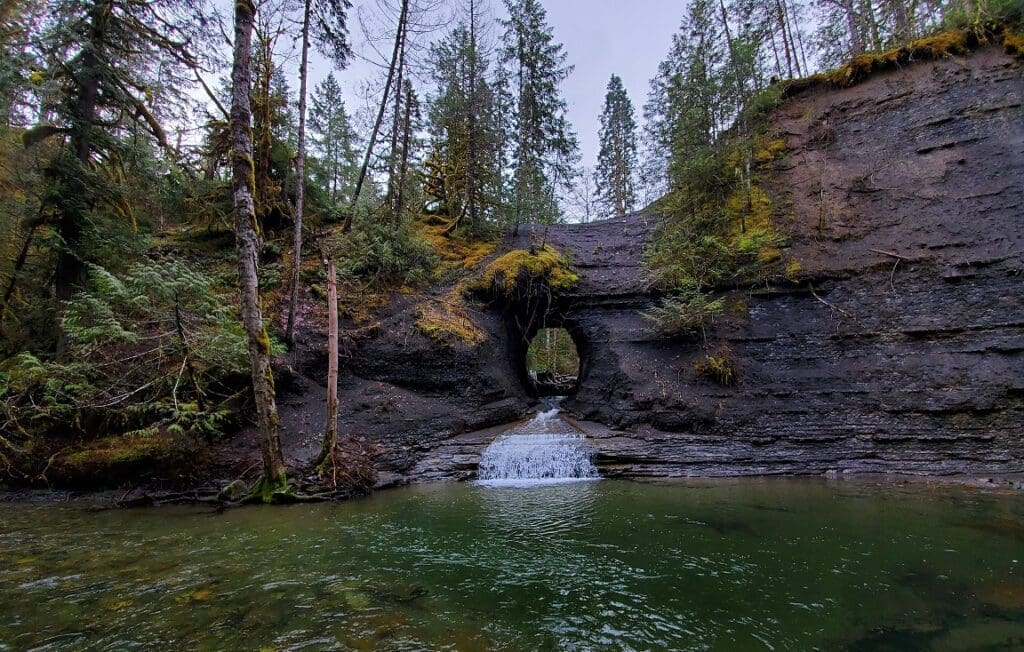 It's about half a mile from the parking area (point 4).
And I managed to get the location pretty quickly. There were no people and provided the weather was A LOT warmer, I might have even taken a dip in the river right by the Hole in The Wall or even hiked past it (it was tempting!):
So once you get there, you'll find 2 giant logs that were chopped down and lead up to a nice view of this waterfall. You can take them if you're not worried about slipping, but either way, this area is very peaceful, beautiful and provided I had more time, I would have further explored this area. 
But I wrote this article for you just in case you run into the same situation I did when I tried to get to this spot through the main road trail.
Hopefully it opens up in the future but in any case, this alternative trail was fairly easy to find and navigate through to get to this beautiful spot and if you have the chance to visit Hole in The Wall Waterfall, I strongly recommend it! 
It is one of the most beautiful spots I've seen on all of Vancouver Island and if you have a couple of extra days, because this location is in the north Vancouver Island area, you can and should go further north west on this island to explore more beautiful spots!
And if you decide to head east, here is a great article about my western Canada Road trip where you'll find plenty of other places worth exploring!