There is an area of Coyote Gulch where in order to get into it, you will need to climb down a fairly steep cliff and that is an area where rope is commonly used by people to get in and out of the gulch.
And this particular section of Coyote Gulch is hard to find accurate information on. In fact, prior to doing this climb myself, I did a lot of research to find out what was needed. I had questions like:
How steep is the cliff?
Do I need rope?
How much rope do I need?
Is it dangerous?
And so on.
And while I did find videos and content, most of it was pretty vague and I never felt completely comfortable or prepared to do that climb. Fortunately I did complete it, and will share 8 things I learned which you should also know before you go.
Either way, if you've been planning on visiting Coyote Gulch for your first time and had worries about the rope climb there, I am certain this post will answer all of your questions, and if it doesn't, leave your question below so I can answer it personally.
The 8 things you need to know about the rope climb in Coyote Gulch:
The rope climbing area is right by Jacob Hamlin Arch.
The rope climbing area is one of 5 to enter into Coyote Gulch with.
Getting to the rope climbing and Coyote Gulch requires a 1.5 mile hike.
You can actually do the climb without a rope.
If you have any doubts whatsoever, use a rope and make sure it's 200 feet long.
There is only one area on the cliff where you can tie the rope on.
The descent isn't that scary. It's the ascent that's really tough and draining.
Look for the white bird symbol. It'll be your indicator of where the cliff is to climb in and out of into Coyote Gulch.
I'll be explaining each of these things shortly. Before I get into it, let me explain some logistics about this rope climbing area:
The 8 things you need Coyote Gulch's rope climb (important details explained):
This video summarizes these important parts, and underneath it are also other details. I recommend checking out both resources to be best prepared for your climb down into Coyote Gulch:

1) For starters, the rope climbing section of Coyote Gulch is located right by Jacob Hamlin Arch.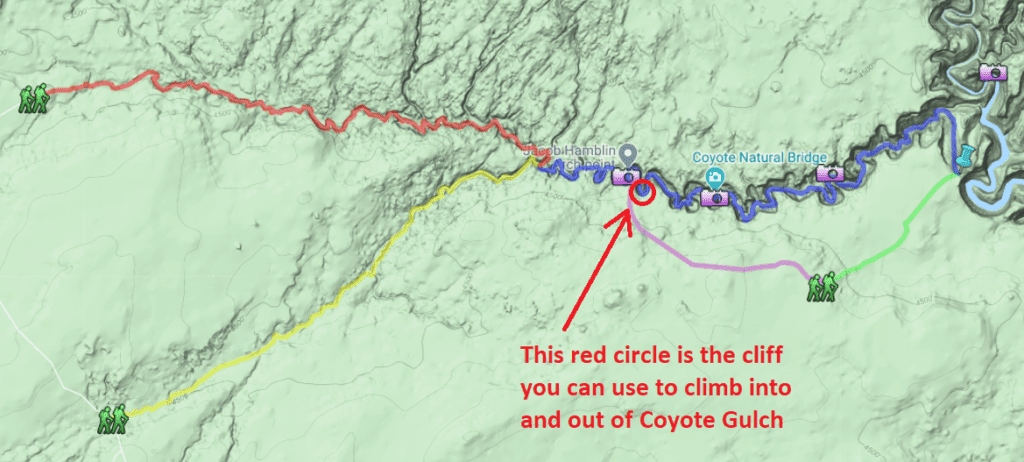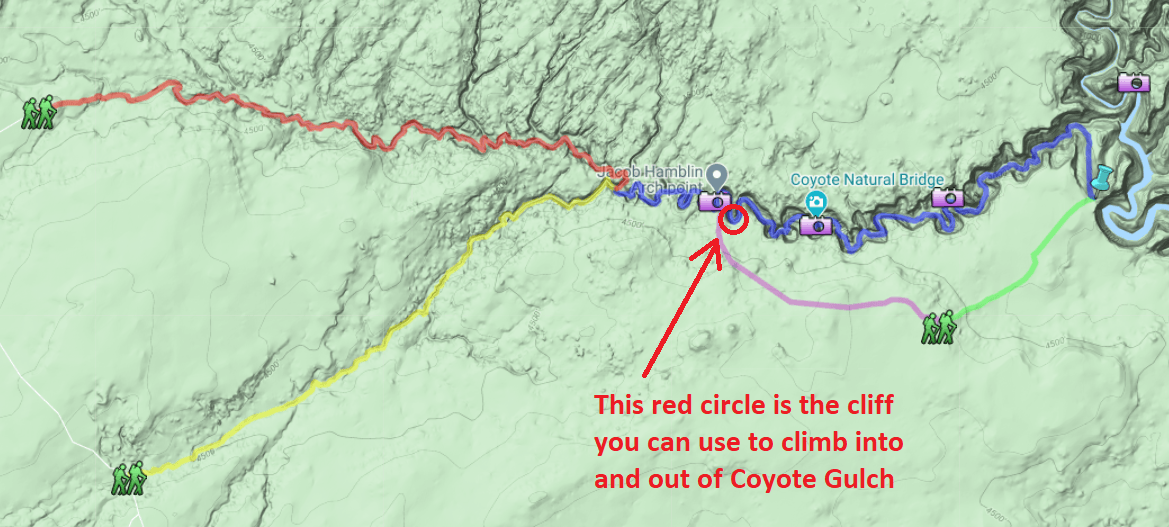 Lots of people use this area to climbing area for a number of reasons:
1) It's great for short hikes into Coyote Gulch.
2) It helps you see some of the best spots in it quickly.
3) It is great for getting into and out of the gulch quickly.
4) Some people use this area to get out of the gulch after doing overnight hikes using one or more of the longer trails (so they don't have to backtrack).
2) Coyote Gulch is accessible from multiple areas, and that rope climb section is one of them.
The blue colored trail on the map is all of Coyote Gulch and all the other colored trails are the ones that lead you to it. The rope climbing section is just another way to get into the Gulch, but it basically cuts down on the hiking time for many people, which is why they use it.
They'll do things like use the green trail (that starts you off at parking area, and goes to a spot called Crack in the Wall) to enter Coyote Gulch, then hike westwards to the rope climbing area and get back to the parking area.
Or they'll do a day hike in Coyote Gulch and use the purple trail or another unmarked one called the Sneaker Route to go straight to the climbing area, enter and then exit the same way.
Whereas the longer trails (like red and yellow) will have you hiking through Coyote Gulch overnight and likely for over 10 miles, these other options, which involve the rope climb can be under 10 miles and can really save you time.
3) Hiking to the rope climbing area is about 1.5 miles long.
The 2 shortest routes to get into Coyote Gulch are this:
Taking the purple trail above to the rope climbing section.
Taking the sneaker router trail (it's 5 minutes west of the purple trail) to the same rope climbing section.
But to get there, you will need to follow either a compass or rock markers. You will be doing a strenuous hike to the rope climbing section before you even reach it, so keep this in mind!
4) The climb down the cliff to Coyote Gulch can be done without a rope (but…):
Every bit of info I researched on the rope climb said that you can do it without a rope and I can confirm this to be true, BUT for anyone who:
Has a fear of heights.
Isn't used to hiking down steep cliffs.
Has ANY doubts about this area.
Or is doing this for the first time.
I recommend you bring the rope then because while some people can truly hike this spot easily, you'll see mixed opinions because everyone is different. I personally found that with a rope, the climb felt A LOT safer and a lot easier to do. In fact, when I was climbing in and out of the gulch, having that rope felt like a dependable insurance plan and it made me feel way more confident in doing it.
Plus I had heavy backpacks to carry and that really offset my balance at times, for which having that rope to keep in me check was a relief!
In regards to what kind of rope you can get, any reliable one you can find in a hiking store will work. The one I used was this rope that I actually happened to buy literally at the climbing area from a hiker who was exiting out of it. I brought my own, but it was too short to use and so I really put myself in a tough spot, but I'm grateful that I had (and have) this rope today. Here is how it looks:
5) The length of the rope needs to be

200 feet long

if you want to get to the very bottom of the cliff.
One of the reasons the original rope I brought with me wasn't long enough was because I got bad information from the person who sold it to me, and the information I found online was also giving me mixed messages as to what the length should be.
I don't blame the person who sold me the rope nor the bad information because most people don't really know how to pass on the right information and it's one of the reasons I decided to write this post. Anyway.
Here's how it works:
The climb down to Coyote Gulch from the cliff area is at least 150 feet and having a rope that is 200 feet (60 meters) or so will be more than enough to get you there.
So if you have any doubts, make sure the length of rope you bring is at least that long. And the picture you see to the right is the rope I used to get me down to Coyote Gulch (and out of it too).
It is very reliable, and if you want to get the exact same one, here is the link to that rope. You can select the size of it and I recommend 60 meters or more.
This rope isn't cheap, but it's very reliable and I very happy that I got it!
6) There's only 1 area at the cliff spot where you can actually tie the rope.
And it is literally underneath your feet as you stand by the cliff looking down to the bottom and Coyote Gulch. I didn't even know I was on it until the hiker I bought the rope from showed me where to tie it. Here is how it looks and what to look for if you plan on using it:
7) Going down the cliff is actually pretty simple (with rope). Going up is very difficult.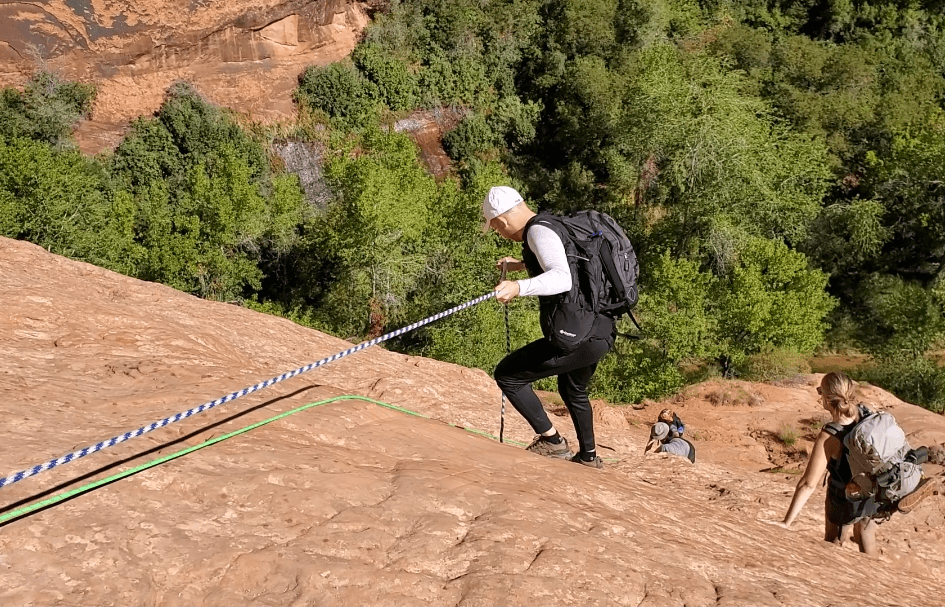 My experiences hiking in different areas always had be believing that going downhill is more dangerous and tougher than going up.
Coyote Gulch proved to be the opposite.
I was easily able to get down to Coyote Gulch with the rope without getting tired, but going up was testing all my physical resilience.
It's been a long time since I was so exhausted and out of breath, but that climb out of the gulch did it and on top of that, the 1.5 mile hike back to the car added to that, so if you want to prepare for this climb, work on those uphill climbs beforehand.
And again, the kind of rope I used will help A LOT for this hike.
8) You need to find the white bird symbol. This is where the climb down to Coyote Gulch is possible.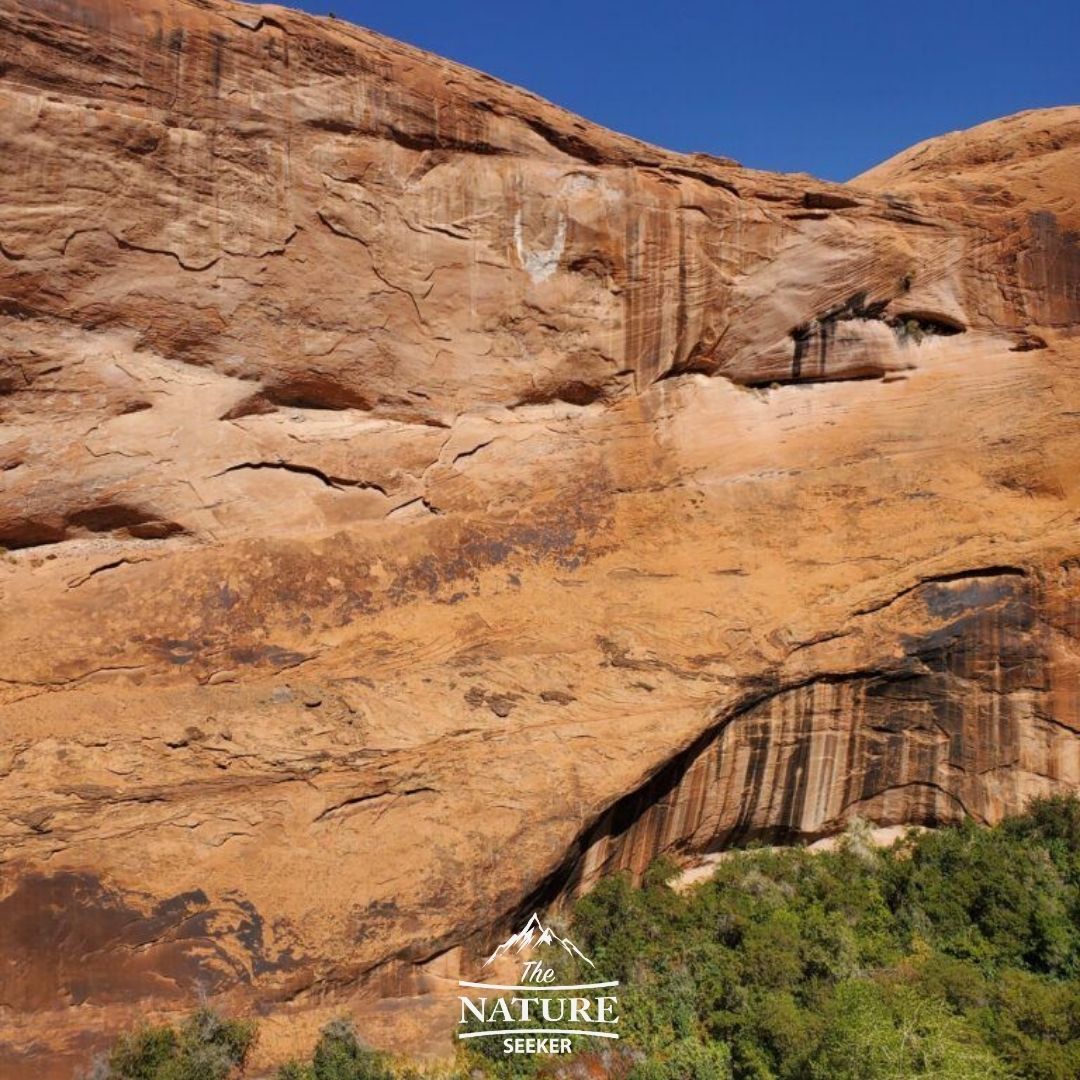 The thing about Coyote Gulch is that it's VERY hard, if not possible or deadly to access it anywhere other than the main trails and the cliff area which is why when you get to the cliff area, it's important to know that you're actually in the right spot and here's how to tell if you're there:
Other than seeing a slope which you can actually hike down into (vs the other areas which are just sheer drops), you need to look at the wall of Coyote Gulch and if you're in the right area, you'll notice what looks like a white bird symbol.
It's very huge and you can actually see it while you're making your way to the rope climbing section.
It's literally right by Jacob Hamlin Arch which I said is also where the cliff area to hike down into the gulch is. I'm not sure if it's natural or painted, but either way, this is your marker and it's rather easy to spot.
If you're walking towards the rope climb area, you'll see it about a quarter mile before you reach it and if you're hiking at the bottom of the gulch (from the east), you'll see it very close to Jacob Hamlin Arch.
And again, this is a very important marker you should keep an eye out for when you're ready to enter and exit Coyote Gulch because the climbing area is right by it.
Once you climb down, enjoy the views from Coyote Gulch, including this area:
First thing you'll want to see is Jacob Hamlin Arch since it's right by the cliff.
And after that, I would suggest heading east to see the other attractions.
If you're coming in from the west side area (from the Crack in the Wall entrance), Jacob Hamlin Arch will likely be the last area you explore before hiking up the cliff and back to your car.
Once you do this hike once, you'll understand the region of Coyote Gulch much better. The first time I went here, I was so caught off guard with how the area looked and I did get lost.
The second time around was a different story and I am very happy I went here. I do hope this article on the cliff area and every question you had about the rope climb has been answered and again, if it hasn't, let me know below!
Other details about Coyote Gulch (recommended):
1) How to explore Coyote Gulch in one day. If you're going to do the rope climb, you're likely going to be taking an express route into Coyote Gulch (one day). I would recommend reading this article to know where to go to make sure you find the right location, as Coyote Gulch has several access points.
2) 10 important questions answered about Coyote Gulch. This article explains very important details about the overall area of Coyote Gulch and how to prepare for a hike there.
Other areas around Coyote Gulch you can explore:
1) If you are spending more than a few days in Utah, there is more to see than just Coyote Gulch:
2) For starters, there's hikes around the Escalante area you can check out like Peekaboo and Spooky Gulch (see this list of amazing hikes in Utah for details).
3) Then there's the famous national parks there known as the Mighty 5 National Parks of Utah. Highly recommended, the closest of them to Coyote Gulch is Bryce Canyon National Park as well as Capital Reef National Park (2 hours away).
4) There are also amazing state parks in Utah you can explore, one of which is actually close to Coyote Gulch (Petrified Rocks State Park).