I had recently driven through pretty much the entire Icefields Parkway while in the Canadian Rockies and if you are seeking to go through it too, read this driving guide beforehand, especially if it's your first time driving through it.
The purpose of this guide is to help you:
See and get more out of this spectacular location.

See the most amazing spots.

And take in as many of the views as possible.
Here's a good sho
t of what you see in the Icefields Parkway: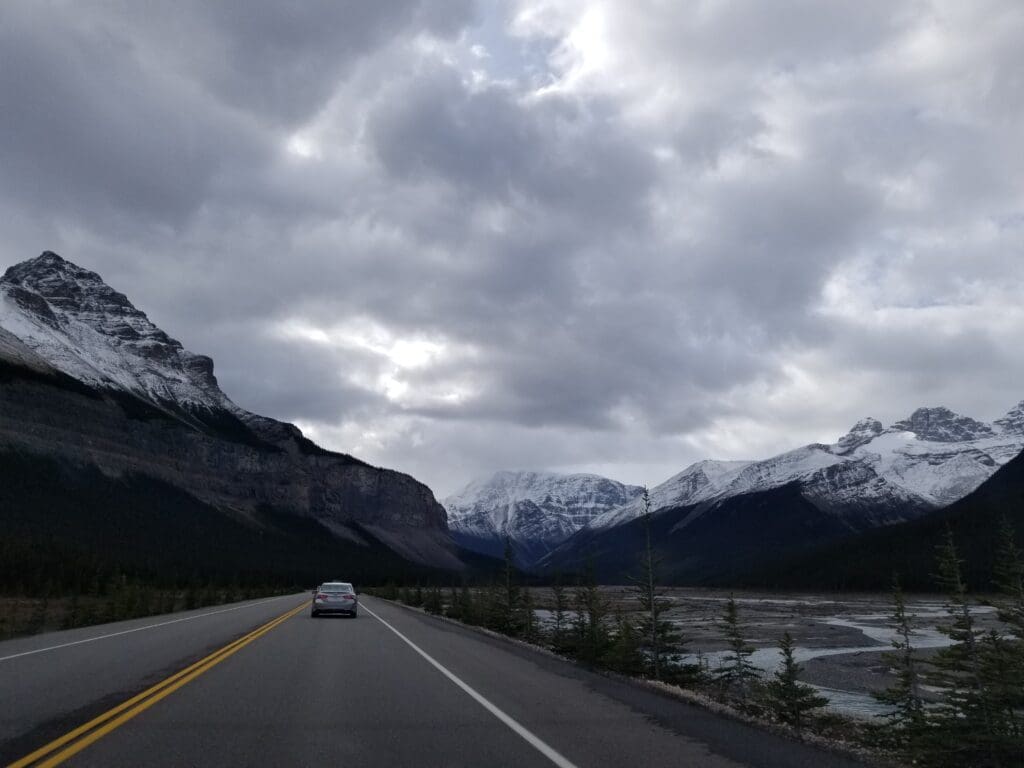 In my case, prior to going, I had done a bunch of research which pretty much came down to doing these things:
1) Bookmarking what I thought were the most beautiful locations in this region via Instagram and then plotting them on my GPS and my friend and I were going through this area. You can see my personal choices on my Instagram page here. 
2) I highly recommend that you use this IG strategy I did and in your case, you can select what you consider to be the most beautiful spots. That way, you can get the most out of the Icefields Parkway in your own subjective way.
3) Reading about the Icefields Parkway through blogs, Pinterest, and watching videos of it on YouTube. This didn't help much as most sites don't really show the best pictures or provide the best descriptions. Hence why I made this article (which will hopefully deliver, let me know).
Quick information about the Icefields Parkway:
So I will describe this location in my own way…
The Icefields Parkway is the MAIN road within the Canadian Rockies that spans for about 300 kilometers and goes through Jasper and Banff, 2 very popular locations within this region. 
Here is a map of the Icefields Parkway: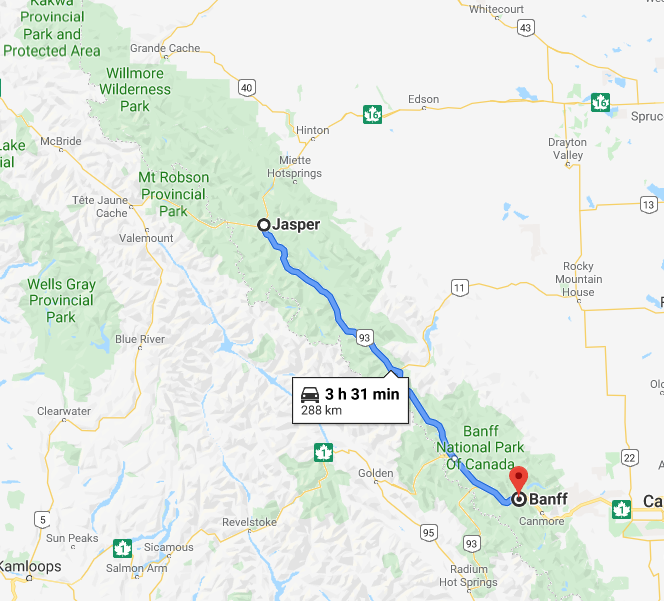 How to enter into the Icefields Parkway:
There are several ways to access the Icefields Parkway depending on where you are planning to visit from and if you are using a GPS, you have nothing to worry about as it is will show you the best spot to enter this region through.
In my case, I was headed to Jasper from Vancouver, and I ended up entering the Icefields Parkway from the north western end, then making my way south east, and exiting it to head to Calgary, where I would eventually fly home from.
When is the best time to drive through the Icefields Parkway?
I had visited this place in late September, an off season period which I would recommend.
Personally I don't like large crowds and I will tell you that in spite of visiting this place when it's not really crowded, it still was at certain places, so if you don't like crowds, mid-late September is probably when you'd want to visit.
It's not that cold there.

The crowds are low.

You are more likely to find accommodations in towns. 

You can also catch the autumn colors starting in the Canadian Rockies during this period and it is obviously beautiful.
That's why I say the best time to visit in after mid and late September, but if you believe there's a better time, let me know.
The other good thing is that in late September, you have good chances of seeing the northern lights, which are present there.
Unfortunately for my buddy and I, we had missed them when we were there, and literally the day we flew back home, they were back in the region again and you can see them from Jasper and Banff, although it is recommended to go further north in the Canadian Rockies to catch them.
We also had the misfortune to experience a snowstorm in this region for nearly 2 days (yes in late September) which gave me a preview of what it's like here in the winter and personally, I wouldn't recommend it. Although the nature becomes very beautiful, driving through the snow is not simple in these areas because there aren't really any towns between Jasper and Banff.
Here's some great news about driving through the Icefields Parkway:
If you took my advice on bookmarking locations to visit on this road through IG, don't worry about "missing out" on any amazing spots.
The beauty of the Icefields Parkway (and this is something I discovered when I was driving through it) is that this main road will literally take you through all the most popular spots in the Canadian Rockies, so you won't really miss anything. Funny enough, no website or person told me this, but I'm telling you that now.
As you drive on this road, you will not only have the opportunities to make stops and see the crazy sights, but there will also be PLENTY of official parking areas, signs and entrances to the most popular spots.
In other words, it's going to take a lot of effort for you to "miss these spots", because the main road will literally take you through them. But I still recommend you bookmark and LABEL the names of the places you wish to see, so if you see the sign on the road to it, you'll know it's worth stopping for.
Because I only had 2-3 days to see all the spots I had bookmarked, the friend I was with and I were able to see nearly all of them (and more) thanks to this strategy. Let me know if it helps you as well, and again, I have my own pictures I took on my IG channel here, and just about every photo has a location marked so you can use it too.
What are the most popular spots to see along the Icefields Parkway?
That is pretty subjective, but I'll give you a list of the places which had the most people when I was visiting.
Now in my case, I recommend seeing at least these 10 places in the Canadian Rockies, and some of them are NOT in this article, and in a later article where I will be going into detail on the entire road trip I did (not just through the Canadian Rockies, but also through the West coast of the U.S and Canada), I will be marking down every spot I saw.
Here are the 7 most popular spots along the Icefields Parkway you should see:
At least based on the crowds I saw (And my personal taste in views and beautiful places):
1) Athabasca Glacier.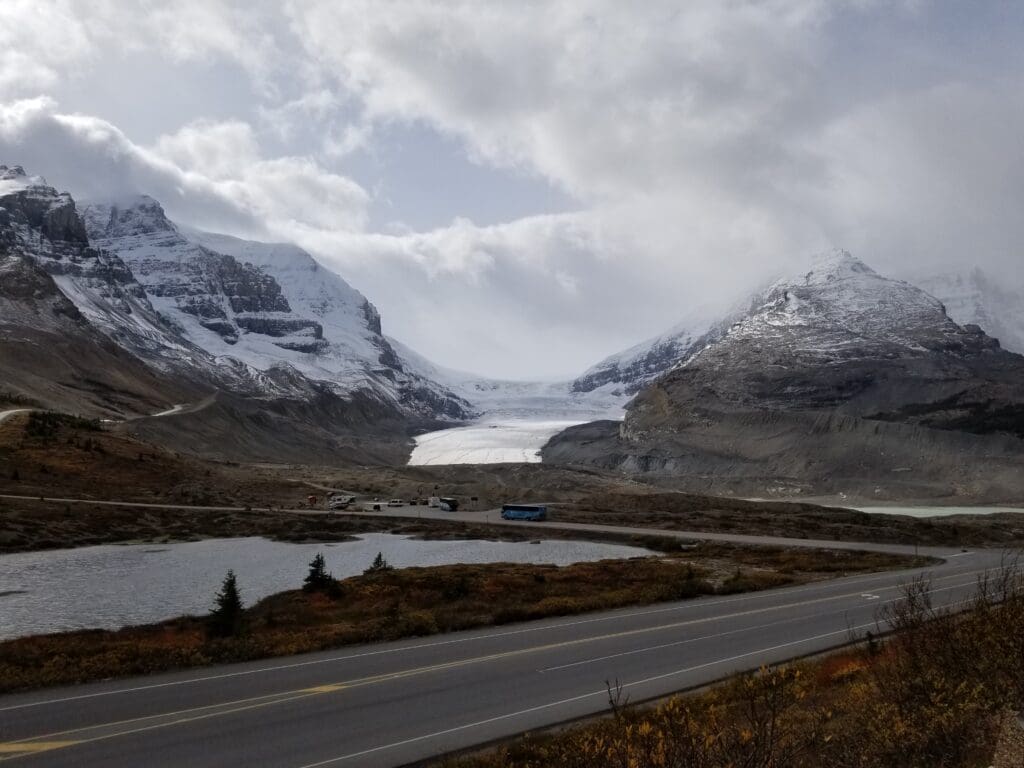 I think out of all the locations I saw in the Canadian Rockies, this was the most popular one. It is a glacier which have tour buses you can take to walk on and get close to on foot. 
There's also a large parking area and tourist location with buses and amenities close by. 
Here is where you'll find the Athabasca Glacier on the Icefields Parkway:
2) Columbia Icefields Skywalk.
This is a bridge that overlooks the Canadian Rockies. To reach this bridge, you actually have to take a bus at the Athabasca Glacier parking lot (requires a ticket). These buses are pretty crowded so keep this in mind, but the Columbia Icefields Skywalk is very popular, even though I thought it was overrated based on the fact that the views from it are views you can also see for yourself without having to take a bus to this spot and wait.
Here is information on the Columbia Skywalk if you are interested in going there.
Here is where you'll find the Skywalk:
3) Town of Jasper. 
It is one of the 2 main towns in the entire region (Banff being the next). The town itself is very pretty, and medium in size, but there are cool accommodations such as hotels with jacuzzi's on the roof you can enjoy as well as pretty good food.
Here is where you'll find Jasper:
4) Lake Louise.
The Icefields Parkway will take you through Lake Louise (one of the most popular lakes in the whole region and it is stunning). You will have to exit the road to get to it though (it's about a 5-10 minute drive).
5) Lake Moraine.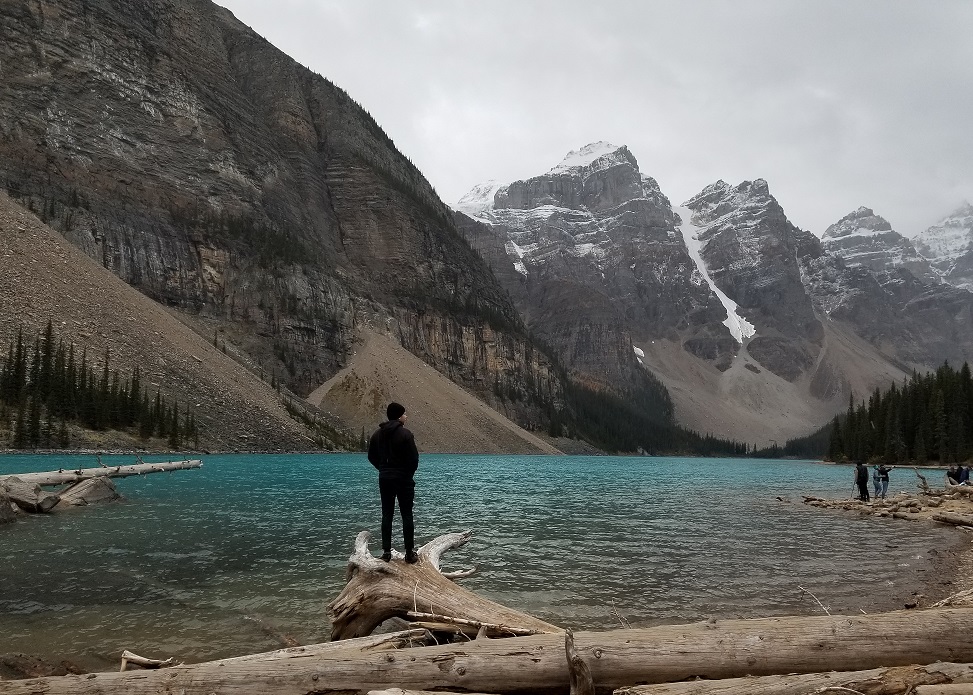 If you visit Lake Louise, you have to visit Lake Moraine, it's 5 minutes away from it and is also very stunning.
Here is where you'll find this spot:
6) Town of Banff.
Banff from what I saw was larger than Jasper but if you are on the southern side of the Canadian Rockies, I would recommend stopping in Banff. There are many accommodations, restaurants and entertaining/outdoors things to go.
I didn't stay there long, so I didn't have time to take a picture. Added to that, we also hit a snowstorm while there, so I wouldn't be able to show you much anyway. But here is the location of Banff:
7) Emerald Lake and Natural Bridges.
The first photo is of Natural Bridges: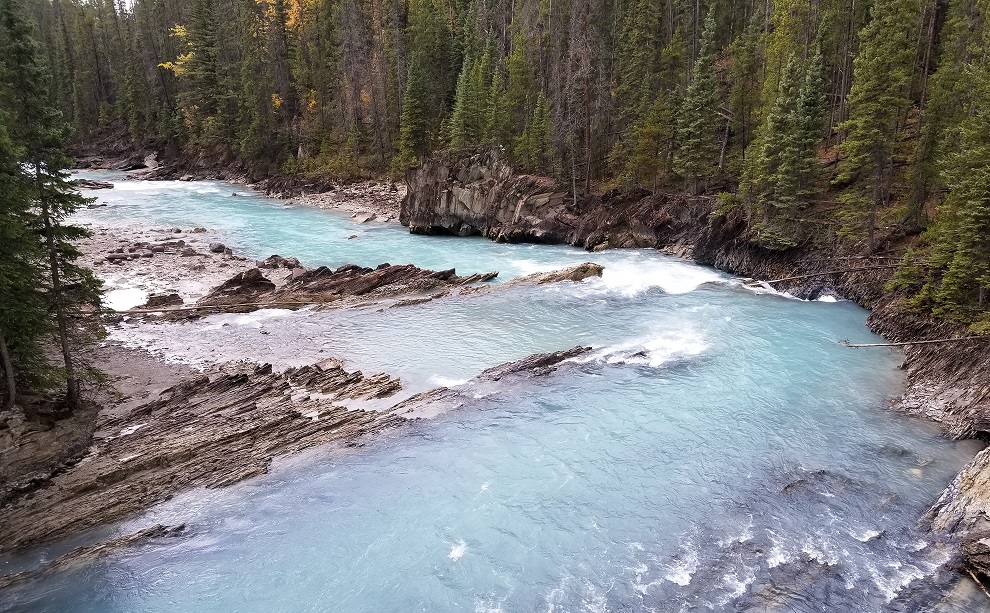 This will be the first place you cross when entering the exit into Emerald Lake and it's worth stopping at. After that, if you keep driving down the road (about 5 minutes), you will hit Emerald Lake's parking lot, and the lake itself is a short walk from it: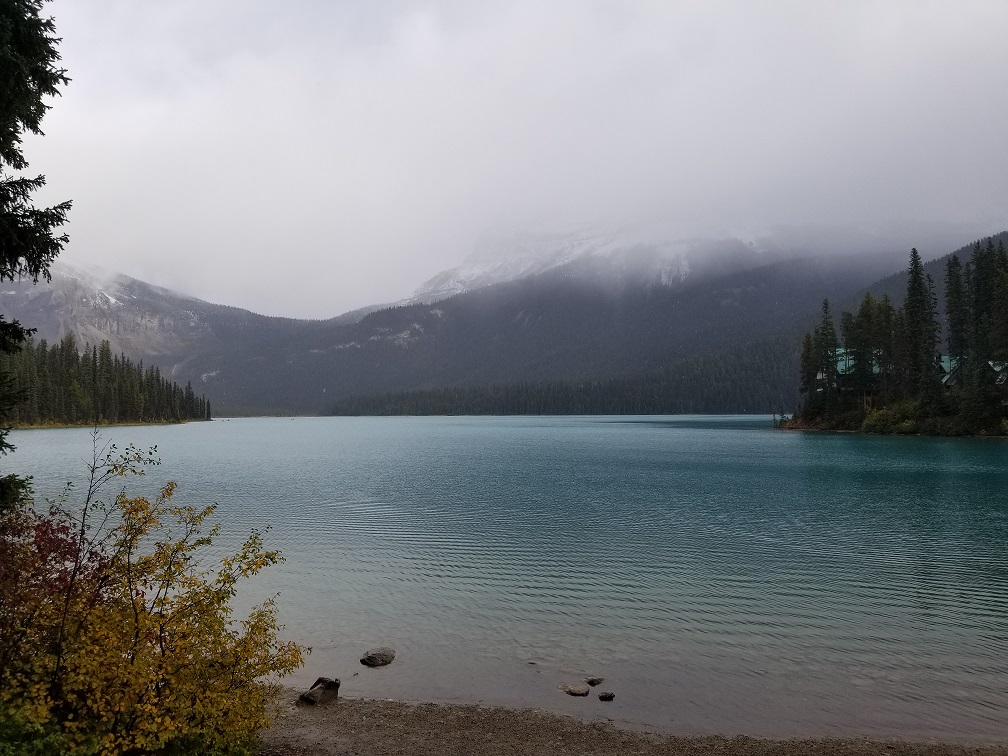 These 2 locations are close by off the Icefields Parkway road and while Natural Bridges was nice to look at (and crowded), Emerald Lake is where it's at in my opinion. It is a very crowded and a popular spot (for good reason) to see.
Now these 7 while being quite popular, it does NOT mean that this is all there is to see in the Canadian Rockies. Quite the contrary. What I just gave you is a list of 7 places out of a plethora of other beautiful spots to see and you will be able to add to this list by using the Instagram strategy I mentioned, and/or just driving through the Icefields Parkway on your own and deciding on the spot where to stop and what to see.
Don't just stop at the popular locations…
This is a mistake in my opinion. My friend and I found countless places to stop at off the road while on the Icefields Parkway. Here is one example:
There were no signs, no cars, and very often no people in these regions, yet the beauty of where this road passes through will make you want to stop and I recommend you listen to that instinct and do it, because you will find tons of undisclosed and stunning spots that were not indicated on the maps, on Instagram or any site for that matter, which you will be able to feel are your own discoveries.
Trust me when I say, that these spots will be plentiful along the road as you drive it. 
And also, do not rush driving through the Icefields Parkway. Take your time.
Even though just driving through the Icefields Parkway is itself a treat (and very distracting due to it's beauty so be careful), you should plan to take frequent stops. I don't know of anyone who would just drive through this region, unless they are locals, but if you are visiting, make sure to stop plenty of times, because the amount of places you'll be able to see thanks to the Icefields Parkway road are countless.
And of course, don't neglect the beauty of actually driving through this place either. The mountains, the nature, the animals, this whole location is just too difficult to describe to anyone even if you show them the best videos and pictures.
You just have to see this place yourself. You'll understand why I am saying this after you do. And let me show you one more photo to end this post, just to try and give you one more reason to drive through the Icefields Parkway: