Columbia Last Tracks Insulated Jacket Review: Pros And Cons
The Columbia Last Tracks Insulated Jacket is quite literally the warmest jacket I have ever worn and in this honest review of it, I'll be showing you why that is both good and bad, as well as if this is really a jacket you really need.
Basic information on the Columbia Last Tracks Insulated Jacket:
Company: Columbia
Also known as: Columbia Omni Heat Jacket
Price: $130.93 (Get it at REI.com)
Colors: Dark blue, and black
Is this jacket waterproof? Yes
Is it windproof too? Yes
How many pockets? 5
Do I recommend the Columbia Last Tracks Insulated Jacket?
For extreme weather circumstances, this jacket is perfect. Anything less than that, this jacket is overkill because it's just too warm (I'll talk about all of this in this review).
My rating:

4.5 out of 5
How I got my hands on the Columbia Last Tracks Insulated Jacket:
I've owned this jacket for 3 years and got it in an REI store in Portland, Oregon. The same day I got it, I also bought an REI Co Op Stormhenge 850 Down Jacket and the reason I got both of these jackets the same day was because I couldn't settle on which one was better for my needs (plus they were both on sale).
At the time, I was headed up from the Northern California coast (where it was warm) and making my way into Olympic National Park. Halfway there (in Portland), I hit my first west coast blizzard (it was my first time in this area) and when I felt how cold it could get there, and how much colder it would likely get further north, that's what made me hedge the risks and just get both jackets, figuring it was better to have a backup one in case the temperature got too cold.
The staff there told me the Stormhenge 850 Jacket was perfect for the hiking expeditions and more than enough, but I still insisted on a warmer option just in case, after which they recommended the Columbia Last Tracks Insulated Jacket, but said it would be too much.
My experiences with the Columbia Last Tracks Insulated Jacket: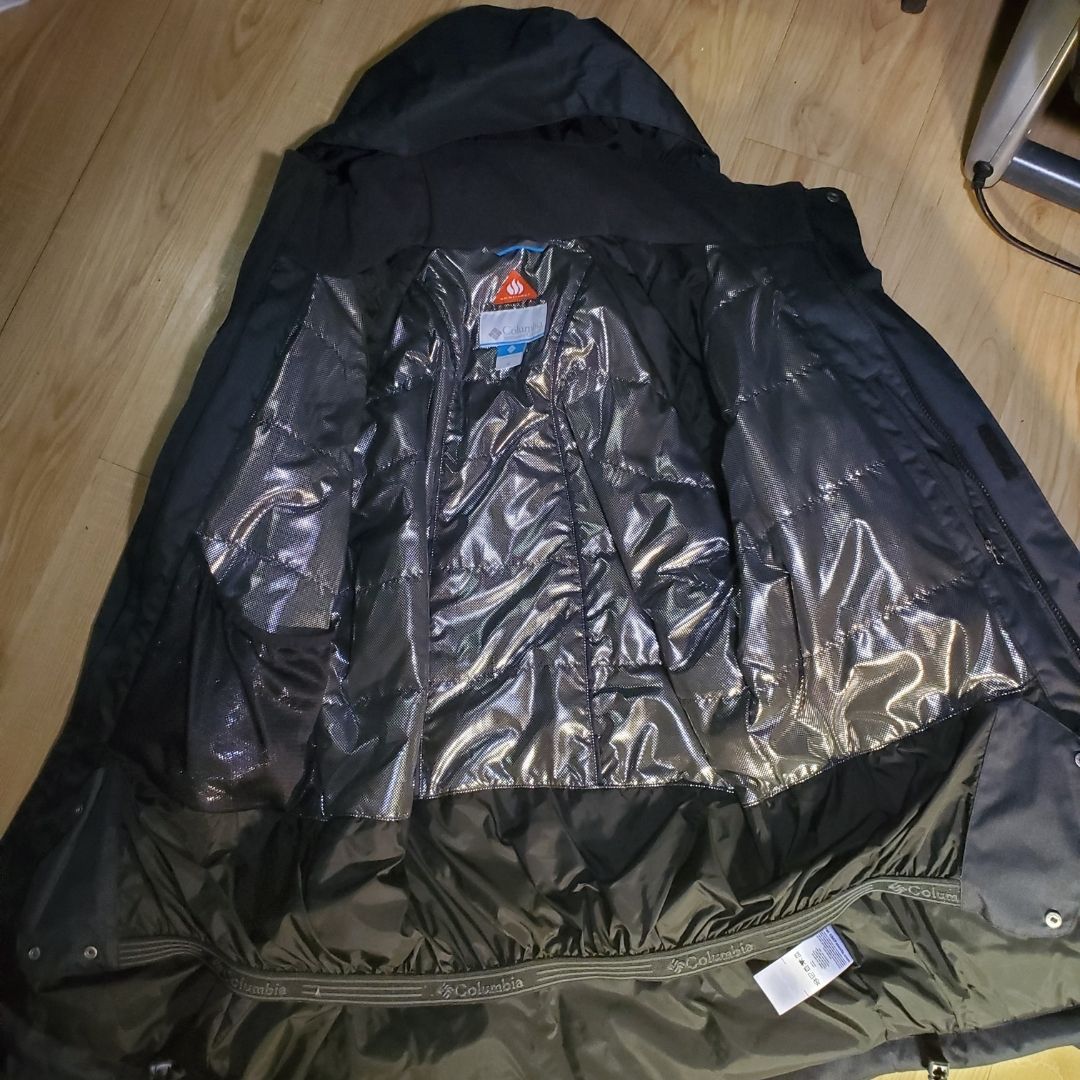 The REI staff were not kidding when they said this jacket would be too much. After I put it on, it only took a few minutes before I literally started to feel the heat from it on the inside. This jacket is designed in such a way that it acts like an internal oven basically by:
Insulating the weather from the outside.
Using your own body temperature and the omni heat fabric to basically reflect it back at you.
In the process, the more heat your body emits (from activity), the warmer it will feel inside this jacket and because it'll be insulated, it'll stay warm and even get hot at times.
As a result of this, over the next 2+ years, I have only worn this jacket a few times and that's because:
My REI Co Op Stormhenge 850 Down Jacket was truly more than enough for all my needs and future travels and no matter how cold it's ever gotten, this jacket has delivered.
The Columbia Last Tracks Jacket has so far been an experience where I can only wear it for about an hour before it gets too hot and after trying it out on several different occasions, in different temperatures, I've concluded this jacket:
Feels great to wear.
Is very comfortable.
Is very weather proof.
But it is only really good for truly extremely cold environments, which I will give examples of right now:
Pros:
This jacket is perfect for ridiculously freezing temperatures (-20F).
For skiing and snowboarding, it's awesome.
For climbing very high and cold mountains, it's awesome.
It has several pockets (in and out).
It truly and fully insulates your body heat like no jacket I've ever worn.
It only takes a few minutes for the heat to kick in once the jacket is on.
Very resilient jacket (hard to scratch the outside).
It's pretty lightweight.
Very weather proof (water and wind proof).
Cons:
It gets too warm/hot for most cold environments.
I would not wear this jacket on a cold hike.
The REI Co Op Stormhenge 850 Down Jacket might be better suited for more regular weather environments.
Conclusions: What I mean by that Columbia Last Tracks Insulated Jacket is "too good":
Have you ever seen the movie called The Day After Tomorrow? It's a cataclysm movie about a new ice age hitting the world and massive ice hurricanes sweeping nations. In this movie, the temperatures hit lows never before seen in history and you can imagine how that affected people there.
Now I'm using this movie as a reference because if people wore the Columbia Last Tracks Insulated Jacket there, they'd be fine.
I'm not even trying to be funny. I'm just trying to showcase how seriously good this jacket is, but it's for a ridiculously cold environment like I said before.
For any type of hike, outdoor jog in the winter time and even during freezing temperatures, this jacket is seriously overkill and if this is what you are thinking of getting it for, then just get the REI Co Op Stormhenge 850 Down Jacket.
You'll be shocked at how good that 850 jacket is for that environment and I've tested it in many cold ones, the coldest being in NYC and hiking trails there where believe it or not, it can get seriously cold.
But if you really are planning to go crazy and do some serious skiing, mountain climbing in way below 0 temperatures, then the Columbia Last Tracks Insulated Jacket will definitely do it's job and keep you very warm. You won't even need to wear a sweater underneath it since it's so effective at what it's made to do.
Ever since I bought it, like I said, I've only used it a few times, and for every other situation that involved getting out into the cold and doing outdoor activities, the Stormhenge 850 Down Jacket has been my first choice.
I'm really glad though that I got both jackets that day in Portland. While I still haven't found an ideal cold environment for the Columbia Last Tracks Insulated Jacket that my REI Co Op Stormhenge 850 Down Jacket hasn't already beaten, I know that if in the future I do decide to go into a cold environment I've never encountered before, I'll have the Columbia Jacket on standby.