One of my dream road trips became a reality in September of 2019 where I had several days to visit the Canadian Rockies and see the many places there. It's something I had dreamed of doing for a very long time!
In this post, I'm going to share 10 places I saw when I went there for the first time, and if you know anything about my road trips, you know I only look for the best spots and destinations! This is exactly what I saw there, and the Canadian Rockies certainly didn't disappoint!
For at least 15 years straight, I had seen epic pictures of the Canadian Rockies on calendars and social media sites. For many year during high school, I even had a picture of Lake Louise saved on my computer desktop, looking at it every single day and never really thinking I could actually see this place in real life. 
Well after making some serious changes in my life after I passed 30, I decided it was past due to see the Canadian Rockies (and other places on the lists I made). And so in 2019, the trip of a lifetime was made there, with my buddy. And in that time, here are:
The 10 places I explored on my road trip through the Canadian Rockies:
Sunwapta Falls.
Athabasca Falls.
Emerald Lake.
Peyto Lake.
Maligne Canyon.
The town of Jasper.
Mount Edith Cavell.
Takakkaw Falls.
Moraine Lake.
Lake Louise.
Of course, the Canadian Rockies have much more to offer but these 10 spots are some of the most popular (and for good reason as you'll literally see in a moment).
I've chosen these 10 places in the Canadian Rockies for these 3 reasons:
1) They are easy to get to and see.
Most of the locations I will be documenting have parking very close to the locations and/or amenities to easily allow you to see them, so if you're tight on time, can't really take long hikes and want to see the sights the Canadian Rockies have to offer (And believe me, this place does), this is easily accessible with at most a very short, yet easy hike.
2) They are easy to find.
No need to figure out complex directions, they are basically off the main road called the Icefields Parkway. And by the way, I recommend reading that article too, because I share more destinations you can find off that road that aren't on the list here.
3) They are truly gorgeous and unforgettable.
And while I didn't get a chance to explore everything this whole area has to offer, let me tell you, these 10 things are forever in my memory and they are truly surreal. You will feel that once you check them out too, trust me.
While I did my best to provide the best photographs of these locations, the truth is, no matter how good or bad photographer, photo or camera is, there is no amount of quality that can capture how beautiful this place is. You HAVE to go and see it to understand what I mean.
What are the Canadian Rockies? Here's a map:
The Canadian Rockies are a mountain range that spans from Northern British Columbia into Alberta.
That mountain range goes down all the way to the United States border and continues into Montana, Utah, Colorado (The Colorado Rockies) and so forth.
Officially when people visit the Canadian Rockies, they start from either the southern end of it near a town called Banff or near the northern end near a town called Jasper.
There is one major road connecting these 2 towns called the Icefields Parkway that takes you through the Canadian Rockies and this is what my friend and I drove on when we went here.
Let these 10 locations and the photos of the Canadian Rockies:
Be the bait that gets you there (thank me later!).
I will be listing the locations for each spot (as I usually do) and if you have questions on them or other spots nearby, do let me know. I'll also be documenting this road trip I did in another blog post fully, because it wasn't just the Canadian Rockies I visited, and the other spots I saw, also had their incredible beauties to see! 
1) Sunwapta Falls: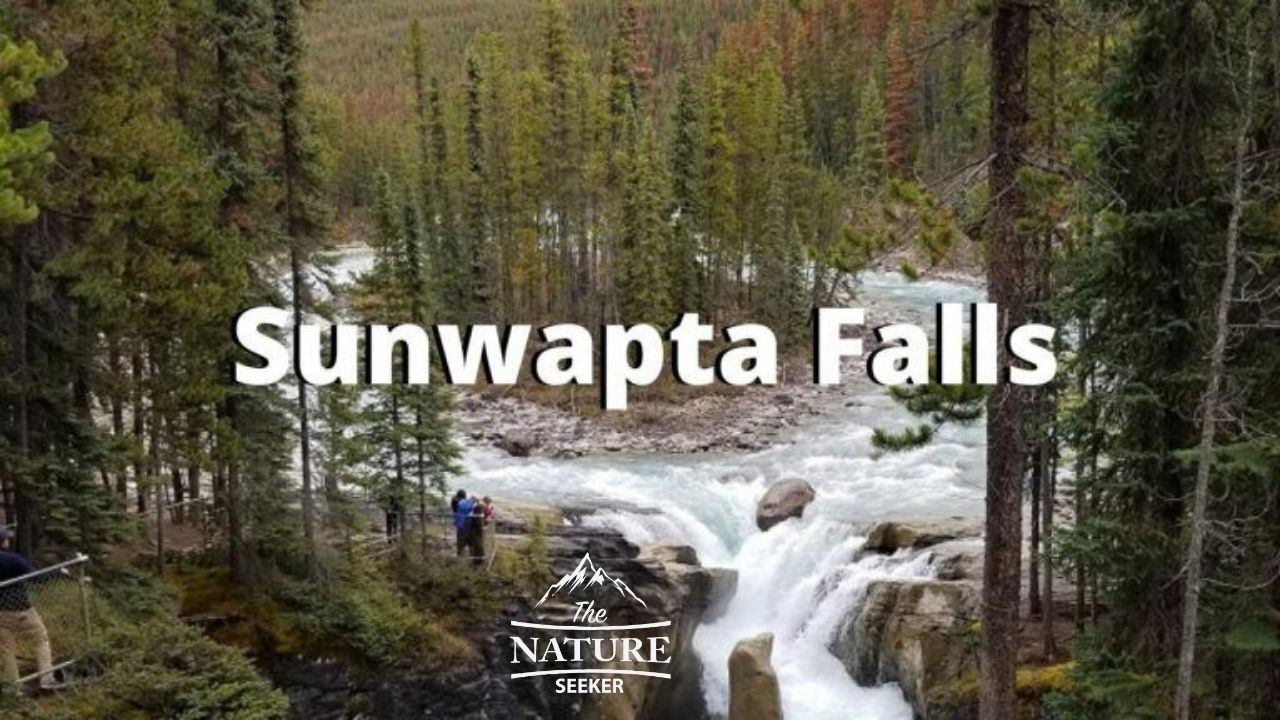 This waterfall and overall spot is very easy to access of the main road 93, which is the Icefields Parkway, another MUST do road trip I will document in the future.
But in any case, this waterfall has a large parking lot near it and the waterfall location is literally less than 100 feet away from it. 
Now this area is gated off and while some people did hop the railings to take better photos or get closer to the location, it is dangerous and I will say that it's not just the waterfall area you can check out in this location.
There are trails which take you through the canyon that follows the falls and it's pretty easy to hike through.
Sunwapta Falls is one of the most popular photos I see on Instagram when it comes to the Canadian Rockies and after seeing this location, I understand why. You will too.
2) Athabasca Falls: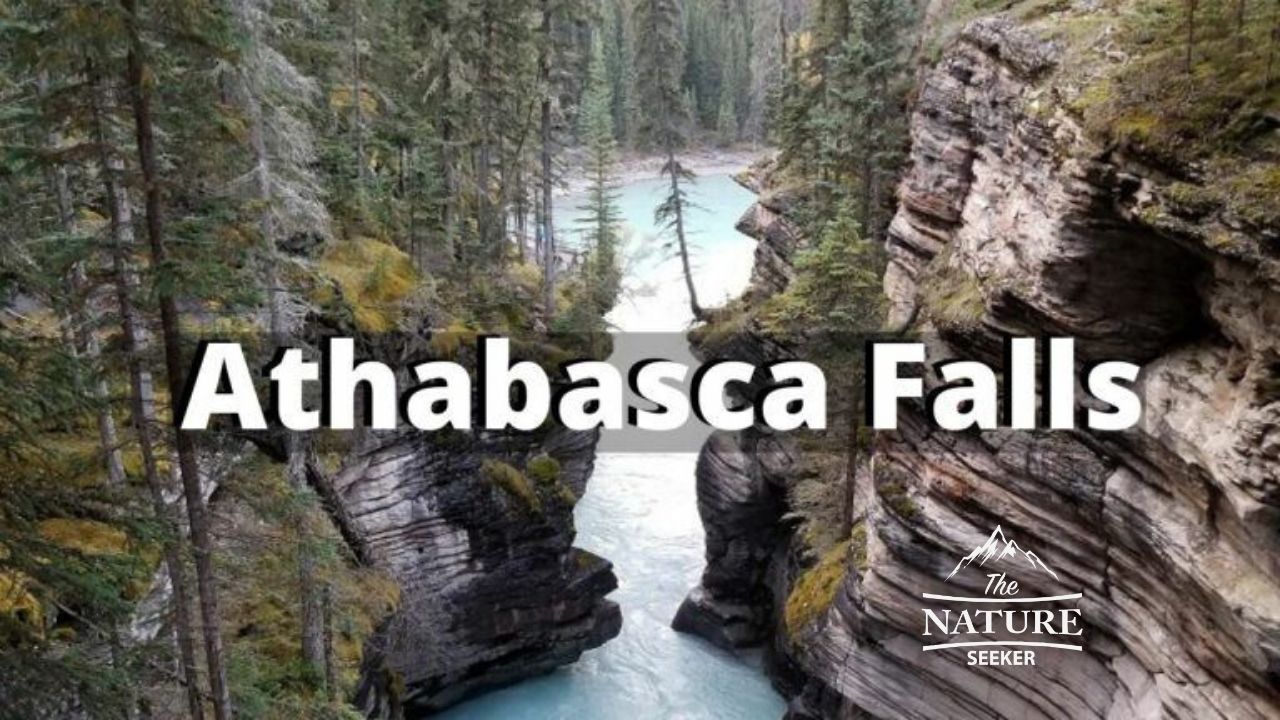 Insanely beautiful waterfalls are all over the Canadian Rockies and this, Athabasca Falls, like Sunwapta Falls is also highly recommended to see.
This waterfall is also located very close to the parking area and there is a built walkway and bridge you can take to see this falls
The waterfall is actually behind me in this photo and this spot where I took the picture is on the bridge that allows you to get this amazing shot.
Just like the other falls, this one is also easily accessible and there's also a canyon in this region you can check out which has overlooks, where on one side of it, there's railings to protect people and get a great view of the canyon. 
3) Emerald Lake:
A lot of the highly recommended spots on this list are lakes, and many of those lakes have an amazing light blue color to them which you won't believe, even while you're there.
But Emerald Lake however, like it's name is green, an so clear that it seems like an Emerald, so seeing this diverse kind of lake in the Canadian Rockies was really a treat for us:
This photo doesn't really show the TRUE green, emerald like color this lake has, but you will see it clearly when you visit.
If you look to the right of this photo, you will notice a house. I highly recommend you check it out. It is a small restaurant with a beautiful chimney and "old" look and feel to it, that we felt very relaxed when we entered. 
If you're wondering, boats and kayaks are available in this location to explore and hiking trails also exist which will take you around the lake and through peaks that engulf this lake.
Additionally, lodging is also available there but based on how popular this place was when I visited it, which was actually off season, I would recommend you reserve months ahead if you wish to stay in this area.
4) Peyto Lake: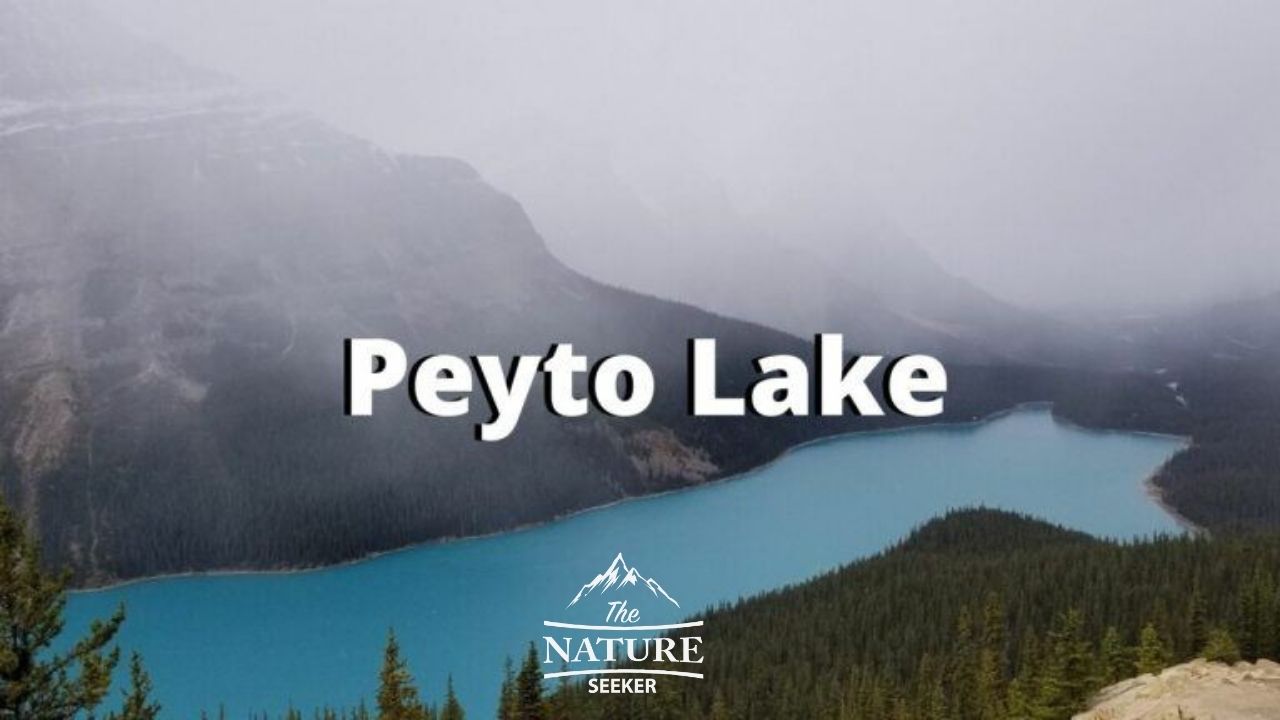 Out of all the lakes I visited in the Canadian Rockies, this was the one I could not get too close to, as the parking area, and overlook which showed me this beautiful spot was very far from the actual lake.
But I would say out of all the lakes I saw in the Canadian Rockies, this was the bluest of them all:
Now I assure you, this is the actual color of the water and if you're wondering how that's possible, we were told it's because the glaciers that are in this region rub against the mountains and cause powder to form from the rocks breaking.
This "powder" falls into the water and creates this "effect" you see and it is stunning.
Now even though a parking lot is available close to this lake, it was under construction when we visited and we had to park, along with all the other cars, off the road, and walk to this lake which took about 20-30 minutes.
5) Maligne Canyon:
This was the first official spot my friend and I stopped at when we entered the Canadian Rockies through the north western end (near Jasper).
This location is basically a beautiful canyon with a trail that leads through the entire thing that you can walk and this spot gave us our first taste of the beauty the Canadian Rockies had:
Now the trail down this canyon is pretty short (about 1-2 kilometers) but it is steep at times, so if you have knee problems or can't really hike up or down, I would not recommend this canyon to be on your list (even though it's gorgeous). 
The water in this area looks a bit greenish, but you will find that same light blue color along the river as you hike down the trail.
6) The town of Jasper itself:
Jasper has long been on my list of places to visit (including Banff) and we had a chance to stay one night there on our road trip through western Canada.
That post gets into the entire trip my friend and I did that also includes the days we spent in the Canadian Rockies.
But anyway, back to the post:
Many of the spots I am showing on this list are located close to this town, so it's really a great place to stay at and know that it won't take long to reach many of the destinations I am showing you:
This photo was taken the second morning we were in this town, right after we finished breakfast there and continued south to Banff. This town is very beautiful and lively during on seasons. 
One thing I will warn you about is that this whole region is filled with tons of elk and other wildlife, which literally can be seen on the streets. While we did see a bunch of elk on our trip and in the town, be careful not to approach them.
7) Mount Edith Cavell: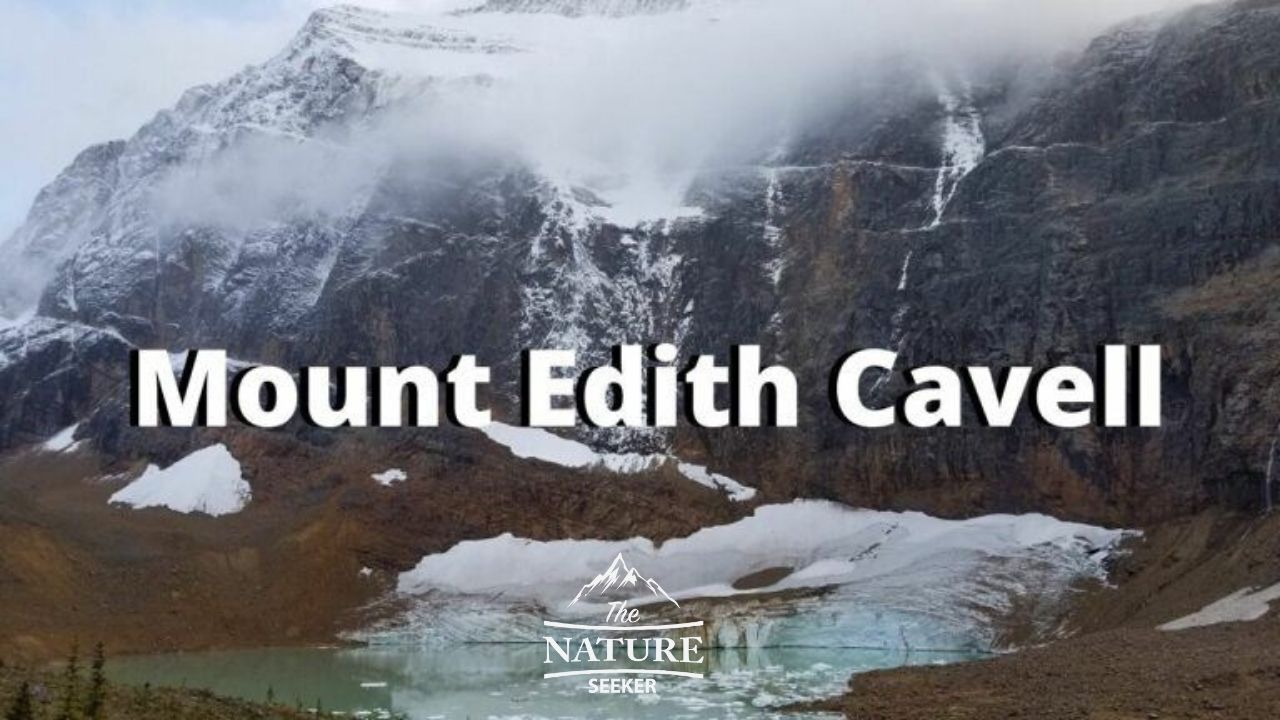 Located about 30 minutes south of Jasper, I am very happy to be including this amazing location on the list people.
This spot was pretty easy to access and hike to after we parked. There are 2 trails (a short and long one) which allow you to see this spot from a great point of view.
The short hike takes you to an overlook of the mountains, glacier and lake that formed from the glacier and that's the one we took with my buddy. It was a short hike, but it was a jaw dropping place to be:
Getting close to that water was not allowed, and one of the reasons why is because the glacier which is to the right of this photo (you can't see it), has risks of having chunks of it fall off. Edith Cavell is spectacular a must visit spot!
8) Takakkaw Falls:
This is thus far the highest waterfall I have seen in my life at over 1,200 feet high and you can find this amazing waterfall at Yoho National Park, which is of course in the Canadian Rockies.
Like most of the spots on this list, this falls is located very close to the parking lot and you can even see it from the moment you park, as well as when you make your way to the entrance.
Now do note that while this waterfall is the main thing to see in this location.
There is another about 5 miles on the left side of it that you need to hike to and there many hiking trails and camping spots in this region that I saw (as well as wild animals). Here is a picture of this wonderful waterfall.
9) Moraine Lake:
Other than the last spot on this list, it is arguable that Moraine Lake is one of the most popular spots to visit in ALL of the Canadian Rockies and once you're there, you will see why.
The beautiful thing, other than the lake, and it's convenient location is that it's literally "next door" to the last location on this list (Lake Louise), so you can see both these spots next to each other if you visit.
Anyway, Moraine Lake, very similarly to Emerald Lake, which I mentioned above feels very similar in that there is also a "cottage" and "restaurant and lodging right next to it that you can stay at (if you can find a spot). But the lake itself is not green, but light blue like many others I saw in the Canadian Rockies:
I have to say that if it weren't for bad weather (snow and wind) bombarding us in this location, we would have stayed longer, because as you can probably see, it's WORTH it.
There is also a hiking location to the left of this picture you can check out, as well as areas around the lake you can walk and boat on.
10) Lake Louise: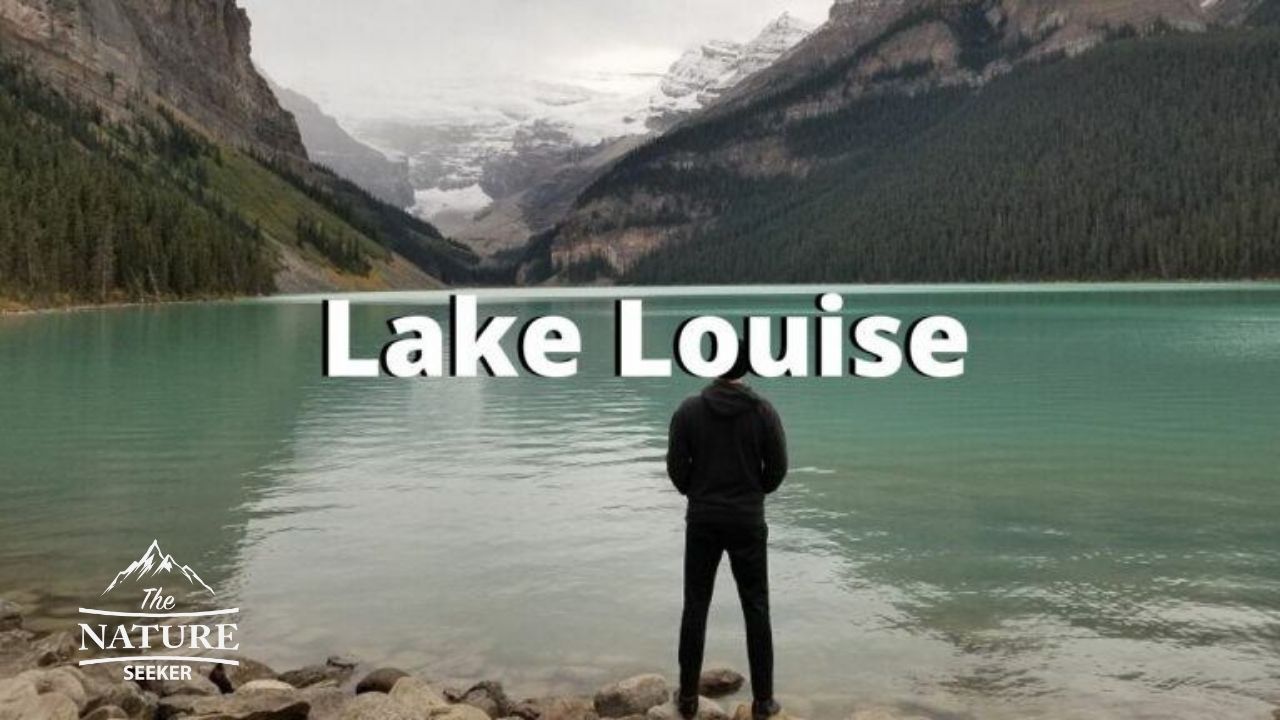 Located about 5 minutes from Moraine Lake, this is quite possibly the most popular and recognized spot in the Canadian Rockies.
As I said before, this was the same Lake I had saved on my computer screen and the same place I had dreamed of visiting 15 years ago.
By the time I got to this place, I had my own skepticism about how realistic the real Lake Louise would look compared to the picture I had seen of it. Well turns out, it looks even better than the pictures I saw! And the surreal feeling of actually standing there is something else.
Now let me warn you, Lake Louise is very popular, and despite me being the only person in the above picture, this place is packed nearly year round.
It is also very close to a VERY large parking lot, and hotel that you can stay at, and there is a very beautiful hiking trail around the lake to the right of me in that picture, which my friend and I took a day later and as luck would have it, snow set in and in literally a few hours, the entire environment of this landscape changed, to this:
Lake Louise in the winter:
And it was pretty shocking how a few hours can change the look (and temperature) of this place, but we witnessed it and took a hike around the lake where you'll find many more trails and places to see.
If you go here when it's winter time, I obviously recommend you dress properly. In my case, I wore a very nice and warm winter jacket called the REI Co Op Stormhenge 850 Down Jacket when it was winter time here.
Lake Louise is truly a place I cannot wait to go back to.
Other places to see near the Canadian Rockies:
There's the Canadian version of Glacier Park.
Further south of that is the Glacier National Park of the United States.
If you go further west, into British Columbia, there is Vancouver and Vancouver Island.
Best gear to wear for the Canadian Rockies (for hikes and exploration):
Questions about the Canadian Rockies:
What is so special about the Canadian Rockies?
The most special thing about the Canadian Rockies is their beauty and this includes the giant mountains, the large number of lakes with light clue water, the wildlife and towns to visit if you go there.
Where are the Canadian Rockies?
The Canadian Rockies stretch from British Columbia to Alberta Canada.
Is Banff considered the Rockies?
Banff is officially part of the southern Canadian Rockies region.
What parks are in the Canadian Rockies?
The 2 main parks in the Canadian Rockies are Banff and Jasper, but in between and around them are many other national and provincial parks like Yoho National Park.
Other road trip ideas you can do in the surrounding areas:
If you do a road trip through the Canadian Rockies, I do recommend going back and seeing more spots (there's countless ones).
But if you're looking for other ideas, I'll share some of my recent road trips that do compete with the beauty of the Canadian Rockies.
As difficult it may be to believe, there are places (in North America) whose beauty really does rival that of what you see even in this area!
1) One of my top road trip recommendations would be checking out the Pacific Coast Highway and:
2) If you do a trip in this area, it is highly recommended to explore places like the California Coast, Oregon Coast and also the Washington Coast.
3) One of my other road trips I recently did through the western United States involved going through desert areas like Utah State and the Mighty 5 National Parks there.
Let me tell you that while the landscape is completely different to the Canadian Rockies, one can argue that it's as good if not better looking and this is why I'm sharing that specific road trip with you here.
Anyway, to finish up on this Canadian Rockies article, I was very happy I went here.
Although we kind of rushed through many spots, we also got to see more places in the process! And I will absolutely return to it one day to explore even more!