5 Best Places to Kayak in Bradenton Florida
If you're a resident of Bradenton Florida or someone who is planning to visit it and you enjoy kayaking, this city has a lot of places you can see for that activity and in this article, I'd like to share one specific area in Bradenton that has tons of spots to explore while kayaking.
The best area to kayak in Bradenton is right by Coquina Beach: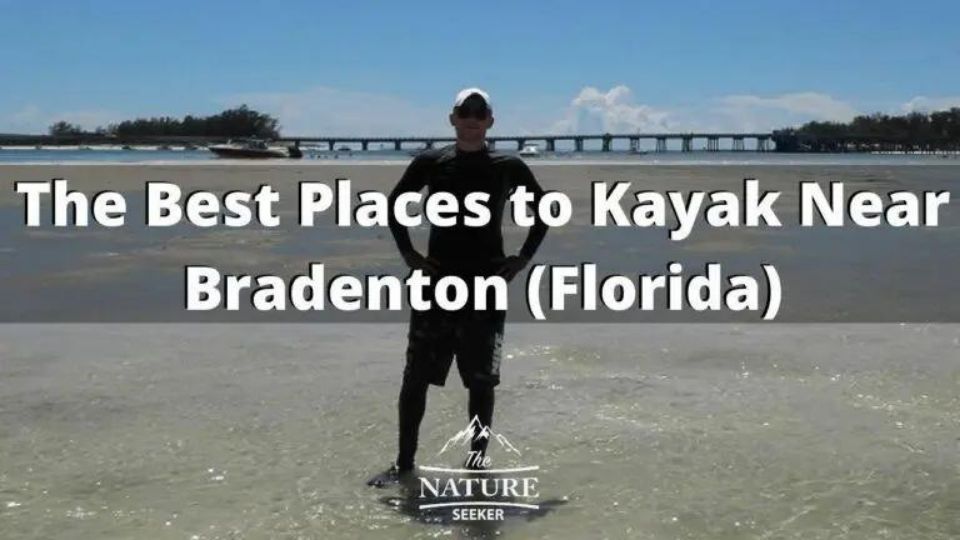 Coquina Beach is also known as Bradenton Beach and there is a giant bay area next to it where there are many open water and kayaking trails available to do the following things:
Just explore the area.
Get into some mangrove areas.
See wildlife like Manatees.
Explore the sandbar.
Visit different islands on the bay.
This small area of Florida isn't as known as other popular beaches but it has many beautiful little adventures you can do (while avoiding the crowds at the other spots).
Where to find kayak rentals

 in this region:
For starters, there are several spots where you can do this. And they're usually by the marina nearby (near Cortex Road). For about $40, you can rent a kayak for up to 6 hours and see places like the sandbar area I talked about (unless you already bring your own). There are numerous spots all across Bradenton Beach and the bay where you can set the kayak down and start paddling and that's exactly what I did.
5 spots to explore in Bradenton Bay on your kayak: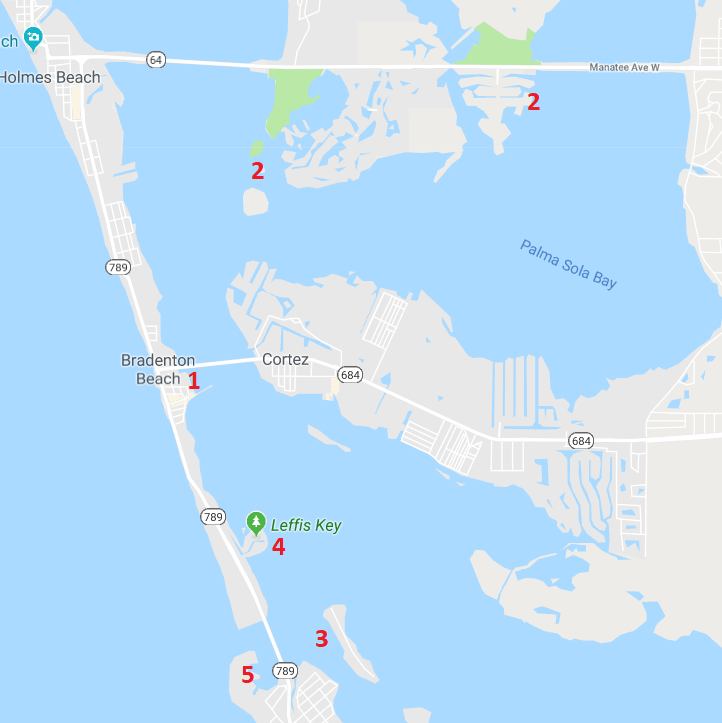 There are 5 specific spots within this whole bay you can explore, and it can probably be done in a day if you've got a lot of energy. Here's a list of things I recommend you do while you have that time:
1) Rental spots (where I get my kayaks):
First I have listed the location of where I rent the kayaks (spot 1). This is right underneath the Cortez Bridge.
There's one cool thing about this spot and that is if they are out of kayaks, they will call a partner in the area and they will literally bring one to you and it doesn't have to be in this spot, but anywhere near the bay where you wish to start your trip.
2) Exploring the islands of Bradenton Bay:
There are actually a lot of islands in this region of the map and some of them are actually wildlife refugee areas, so please make sure you do NOT disturb the wildlife there.
I also labeled 2 spots on the map as location 2 since they are connected. You may also run into some mangrove areas here too.
3) The sandbar:
There is a very popular spot (right) that people have boat parties at. Whether it's high or low tide, this sandbar is always shallow and easy to explore, especially on a kayak. I just recommend dressing properly to avoid the hot sun which is what I did in my case.
4) Explore Leffis Key Park by kayak:
Leffis Key is one of the spots I recommend checking out if you're just looking to do a little hike by Coquina Beach, but on kayak, you can explore the outer areas of it and get a different view of this park.
There's also a lot of wildlife and scenic spots by this area.
5) Explore this cool island on the outer edges of Bradenton:

This is a beautiful island that goes out into the Gulf of Mexico, but you can park your kayak there, walk around and also do things like enjoy some BBQ or just sit on the beach and watch the boats go through the area. This part of the bay is right by the sandbar region in Bradenton Bay.
This particular island has it's own little bay which goes into a great looking neighborhood which is part of Longboat Key, another beautiful area that is close to Bradenton and is worth kayaking through as well as enjoying a car drive through if you have that chance.
The 3 general safety rules of kayaking in this region:
1) You are not allowed to disturb the wildlife in some of these areas. You will see signs for where you can and cannot go as you kayak close to them.
2) You have to avoid the other boats, jet skis and basically give them the path to pass. Usually I just stick to kayaking next to the shore to avoid that problem.
3) You actually have a lot of more freedom to kayak in this region than with any other option (Jet ski, boats, ect…).
If you rent a kayak in this spot, you are free to pretty much go anywhere. With the other options, you will usually either have to obey strict rules and/or hire a guide to go with you which in my opinion makes for a very boring and red taped "adventure".
More kayaking spots to explore outside close to the Bradenton region:
There's actually a ton more spots, some within the Bradenton area and some that go outside of it, into Sarasota and St. Petersburg. For example:
1) Kayaking through the Mangroves by St. Petersburg (Weedon Island):
Further north, not far from Skyway Bridge is a mangrove kayaking area which I explored with 2 of my close friends a few years ago. They charge you about $120 per person for a 5 hour kayak rental there, but it's really worth it because of all the stuff you'll see here. Here is the kayak rental company website where I rented mine from when I visited this spot.
It'll take you through some beautiful, calm waters and scenic spots that are very peaceful.
This picture you see is a small sample of how beautiful the kayaking trails are there and it's about 5 miles long. I also consider this to be one of the most exotic places in Florida to check out.
2) Sarasota's kayaking trails (Heron Lagoon):
Located further south of Bradenton Beach is Longboat Key and other bays, all of which offer their own kayaking experiences. The only one I tried so far is called Heron Lagoon, which is located between Siesta Key and Turtle Beach off Midnight Pass Road. Here is at least one Kayak rental spot near that area if you're interested in going there. It has a similar kayaking experience like the St. Petersburg one where you go through Mangrove regions.
Questions about kayaking in Florida in general:
Where can you kayak in Florida without alligators?
Generally in any region that doesn't have a swamp or lake. Avoid places like the Everglades or similar regions. Bays and oceans in Florida usually don't have alligators, but that's never a guarantee.
Do you need a permit to kayak in Florida?
In most places no, but there are private areas as well as designated kayak regions where you may have to pay to kayak in it.
Do alligators go near kayaks?
Usually not, but you should never kayak in areas where alligators are known to live at.
Is kayaking popular in Florida?
Absolutely. There are countless areas to explore Florida state on a kayak and have amazing experiences while doing it.