In this post, I'd like to share where you can find the best places to kayak in Florida State. I'll give you 2 amazing locations that have great views and adventures.
The first place is in St. Petersburg where you can kayak for miles through a very scenic location within an animal nursery.

The second place is in a location near Sarasota which I frequently visit and that spot has sand bars, islands, a lot of sea life and amazing natural views. 
As I personally explore Florida more and more, I will add to this list, but I promise you, these 2 places are perfect for nature goers and those seeking to enjoy peaceful rides through very beautiful places. And if you are also a resident of this state or know of other good spots for kayaking, please add to this below.
Let me give you information, photos and location details on each spot:
1) Kayaking in St. Petersburg.
As a whole, the St. Petersburg area in Florida is VERY scenic and offers a lot places to go kayaking, but the specific place I went to was called Sweet Water Kayaks (official site). You can find the official location here:
Here's a picture from this area: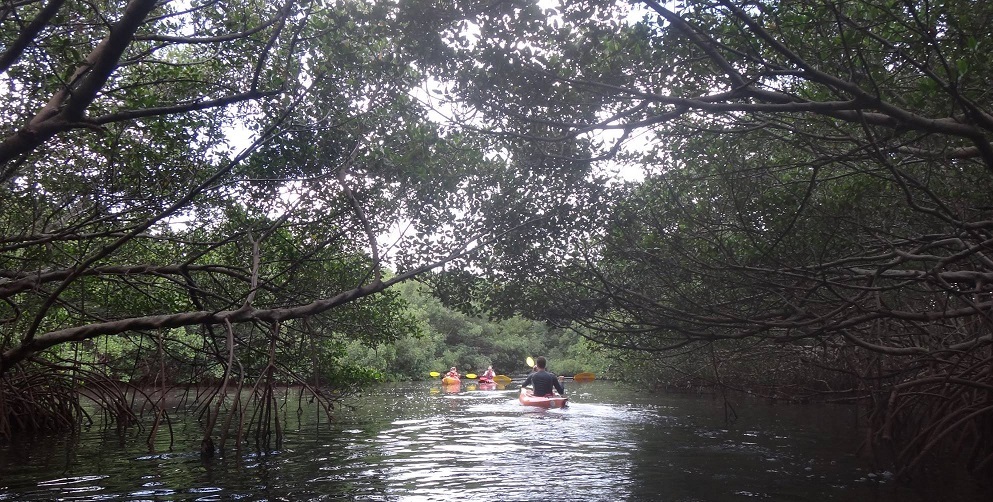 This spot is located in a place called Weedon Island. It is an area with a lot of wildlife that is protected and many scenic areas to view on foot and on water. In our case, my buddy's girlfriend was the one who found this spot and we spent several hours there. Within the Weedon island area are many places to explore, the most popular being the mangrove trees which are  in the water and have areas you can kayak through, as though you are in a tunnel.
The location is extremely scenic and feels like a calm adventure when you are there.
As for wildlife, you don't have to worry about anything dangerous. You will find dolphins, many different types of birds, crabs, and plenty of fish in these spots.
One other thing is that it is very peaceful in many spots around the trail and you can also find a bunch of spots where if you're tired or rowing, you can disembark, and just walk around. This place is also quite popular so you will likely see plenty of people.
It is also VERY shallow in most of the areas you'll go through and being that St. Petersburg is all around you, there's no way to actually get lost.
There is an official trail you can go through while kayaking through Weedon Island and it's exactly what did. That took us several hours to complete, but it all worth it.
There's even areas of the trail where currents take you through mangrove areas like you see to the right and that is quite the experience!
Just make you don't hit your head against those mangroves as they can pop out.
We did this trip on a weekday and there weren't many people there.
Make sure to take a lot of water, because this is FL State and you will be exposed to the sun, so make sure you wear a hat and hide as often as possible within the mangroves.
2) Kayaking near Long Boat Key, Sarasota. 
In Florida, there is one destination I frequently visit and it's this area in Sarasota. In addition to this beach being one of the best in the state (that's my personal opinion), it also offers a bunch of entertainment areas, and in this case, kayaking is one of them.
There's a bunch of places you can rent them from, but here is the one where I've rented from several times:
For about $40, you can get one for up to 6 hours and see places like this:
And in that period of time, there's a bunch of stuff you can do. Here's a list of things I recommend you do while you have that time:
1) First I have listed the location of where I rent the kayaks (spot 1).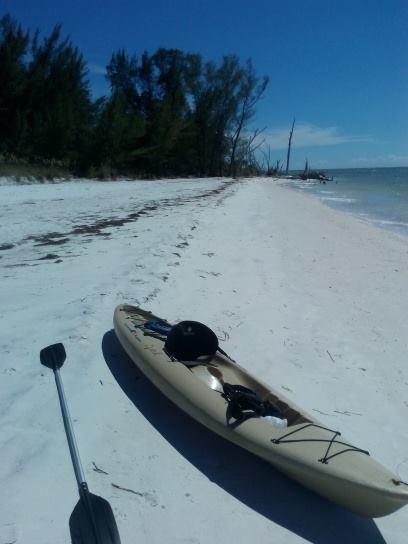 2) Explore the islands in the following areas I'll be listing on the map I screenshot. They are wildlife refugee areas, so please make sure you do NOT disturb the wildlife there (spots 2).
3) Go to the sandbar that is right near the bridge just before Longboat Key begins.
4) Check out Leffis Key which is a small park that is mostly in the water and accessible by foot and boats (like Weedon Island).
There are many beautiful spots and beautiful plant and animal wildlife.
5) This is a beautiful island that goes out into the Gulf of Mexico, but you can park there, walk around and also do things like enjoy some BBQ.
I did that once with my family, as we got there by jet ski and enjoyed a day of relaxing.
Most of the areas in location 2 are a lot more open so again, I have to warn you all about the Florida sun and to make sure you bring the right supplies to prevent a heat stroke (water, wear a hat, and clothing that protects your skin against the sun).
And here is a map of the location and the specific 5 spots I listed: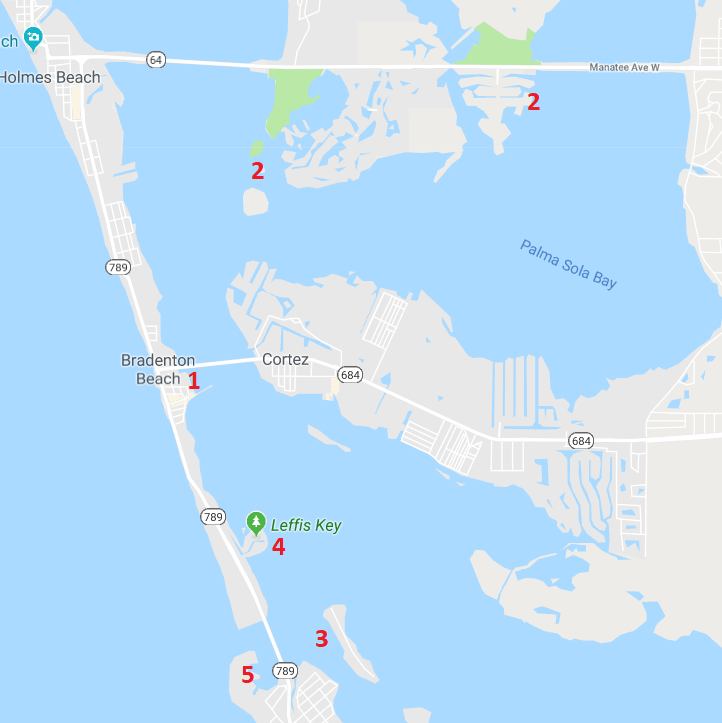 Both of these locations individually hold a entire day's worth of entertaining, relaxing and fun areas you can explore and I certainly enjoyed spending my times there.
Regarding Coquina Beach (which is in location 2), it has a number of other fun things you can do there as well. This is explained in this Coquina Beach post where I listed many of the activities I've done there.
Being that I explore Florida (usually once a year, anywhere from a week to 10 days), I actively look for spots like the ones I showed you in this article and will be updating them on this post when they come up, but as I requested earlier, if you're a resident of FL or know other spots within the state worth checking out for this activity, please let me know 🙂
And if you check out these 2 spots I suggested, let me know what you think of it!